Spider-Man Miles Morales is now available on PC through Steam and the Epic Games Store. This is a spin-off of Marvel's Spider-Man and originally came out on the PS4 and PS5 back in 2020. Similar to Spider-Man Remastered, Miles Morales was handled by Nixxes Software and Insomniac Games. Just like that excellent port, Miles Morales has many settings to customize, and all the great PC features one expects from a modern PC title. Still, if you're running into the Spider-Man Miles Morales crash at launch issue, we recommend a few things.
Fixing the Spider-Man Miles Morales Crash at Launch Issue
As expected, Nixxes Software has delivered an excellent port yet again, which allows players to fine-tune their experience and get the most out of their hardware. Some users are still facing crashing issues, either at launch or during gameplay. This is mostly due to outdated drivers, missing prerequisites, or even broken game files. Here are a few suggestions to potentially fix this.
Verify Game Files
As always, this is the first thing you need to check. It's possible that something went wrong during the download or installation process, and some of your files got corrupted. You can easily verify and redownload those files in Steam and Epic Games Launcher.
Steam
Open Steam, and navigate to your library
Right-click on Spider-Man Miles Morales in your library
Click Properties
Select the LOCAL FILES tab
Click on Verify Integrity of local files…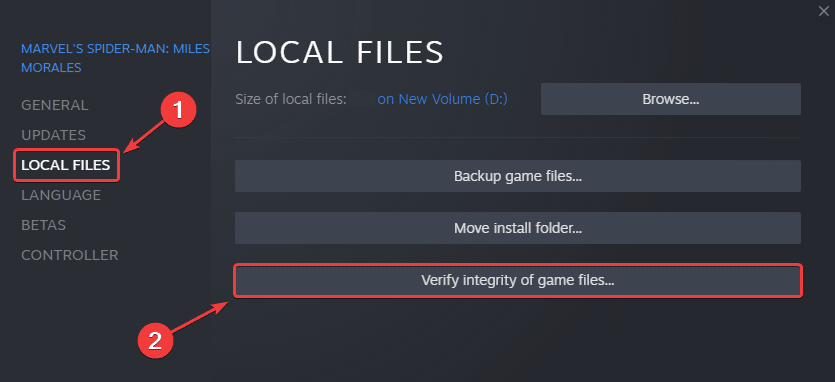 This will start a scan and check through your game files. If there are any broken or missing files, those will be downloaded by Steam and installed.
Epic Games Launcher
Open your Library in the Epic Games Launcher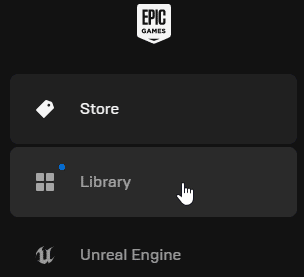 Now, click on the three dots next to Spider-Man Miles Morales
Here, select Manage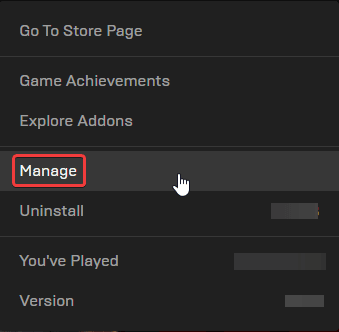 Click on the Verify button next to Verify Files
Like Steam, this will scan the game files and download any required files.
Update your GPU Drivers
Make sure that you have the latest drivers for your GPU installed. You can get the latest ones from the links below.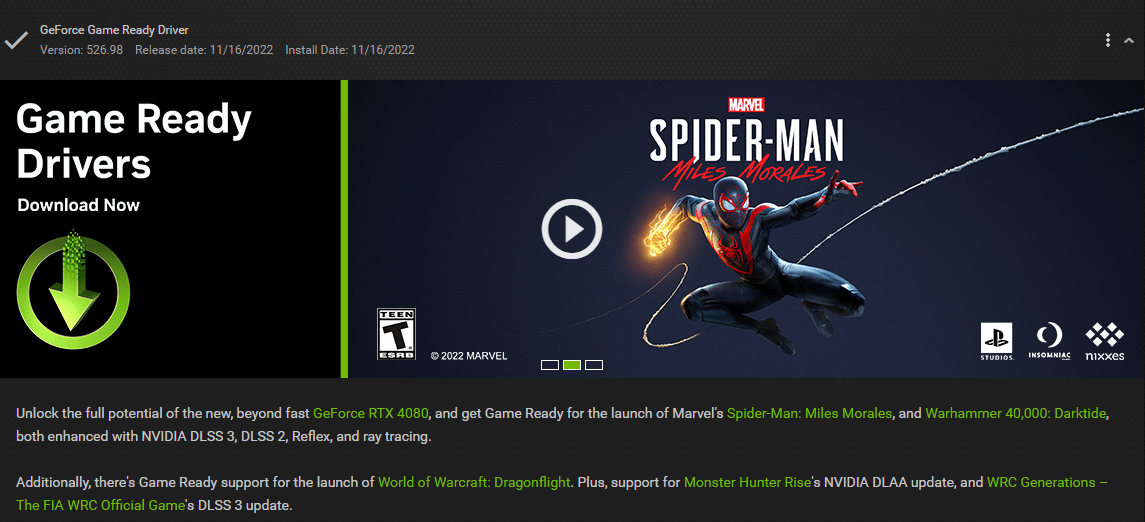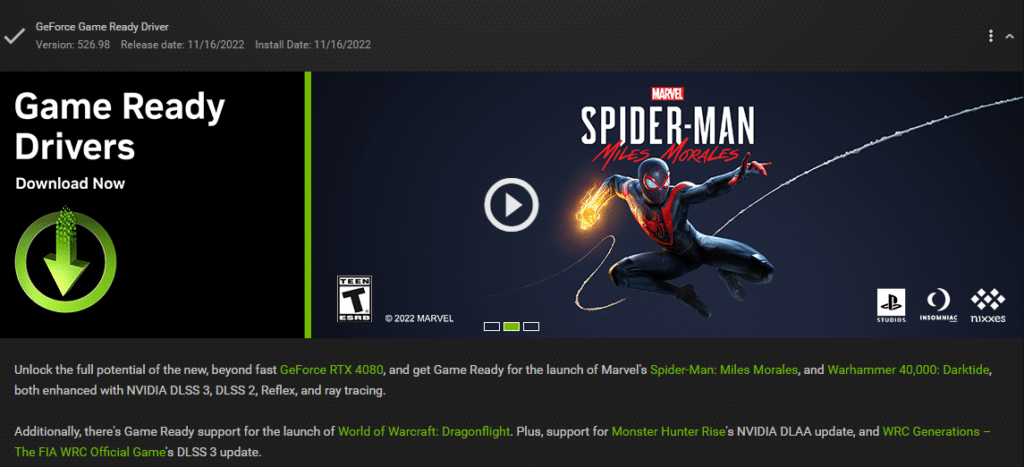 Windows 11 Users PSA
If you're on Windows 11, and even though everything is updated, you might still get a prompt that your Windows is outdated. The developers noted this for Spider-Man Remastered, which has to do with Steam running in compatibility mode. To fix this, follow the steps below.
Go to the Steam installation folder example: C:\Program Files (x86)\Steam
Right-click Steam.exe and select Properties
Go to the Compatibility tab and make sure "Run this program in compatibility mode" is not checked
Click change setting for all users near the bottom of the window
Hit Apply
Restart your computer
Turn Down Settings on Lower End PCs
If you're right at the minimum requirements or below those, it's highly recommended that you turn down some settings. This is especially helpful for PCs with a lower VRAM GPU. Turn down your resolution, or shift to a lower preset, and monitor the VRAM used as you do so.
Let Windows Automatically Manage Virtual Memory
For higher-end systems, it's possible that the Windows page file isn't offering enough space to allocate the VRAM budget. This is why it's recommended that you allow Windows to manage it automatically. This can be done by following the steps below.
In Windows Search, type "sysdm.cpl" and select the result under Best Match

Select the Advanced tab, and then select Settings under Performance
Here, select the Advanced tab
Click on Change under Virtual Memory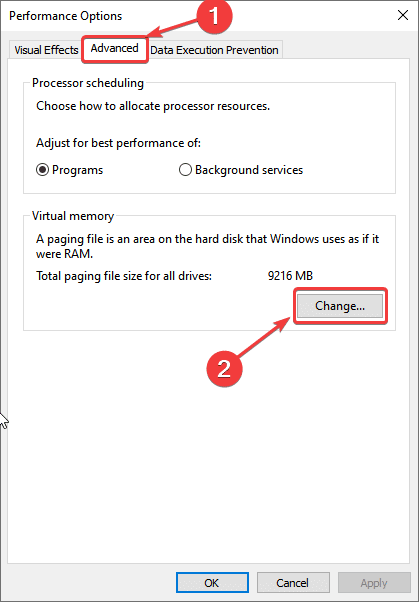 Now, check "Automatically manage paging file size for all drives"
Press OK after you've checked it
Update DirectX and Visual C++ Redistributables
Ensure that both DirectX and Visual C++ Redistributables are on the latest version.
Update your Windows
Spider-Man Remastered required that your Windows version was updated to at least 1909. It's recommended you do the same for Miles Morales as well.
In Windows Search, type "Update", and click on Check for Updates
This will take you to the Windows Update section, and you can make sure you are on the latest version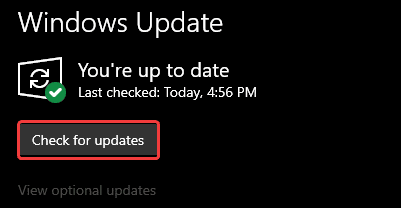 Run the Game as an Administrator
Running Spider-Man Remastered as an admin improved stability for some players, so it's also worth doing it for Miles Morales.
Open Steam and then your library
Here, right-click on Spider-Man Miles Morales
Click Manage
Then select Browse local files
This will take you to the location Spider-Man Remastered is installed in
Right-click on the executable and select Properties
Click the Compatibility tab
Check "Run this program as an administrator"
Switch to dedicated GPU (Laptop Users)
Ensure that your dedicated GPU is being utilized instead of the integrated one.
Switching to the Dedicated Nvidia GPU
First, open the Nvidia Control Panel
Then navigate to 3D Settings and then Manage 3D Settings
Open the tab Program Settings and choose Spider-Man Miles Morales from the dropdown menu
Next, select the preferred graphics processor for this program from the second dropdown.
Your Nvidia GPU should show as High performance Nvidia processor
Save the changes
Switching to the Dedicated AMD GPU
First, open Radeon Settings
Then navigate to Preferences, followed by Additional Settings
Here, select Power and then Switchable Graphics Application Settings
Select Spider-Man Miles Morales from the list of applications
If Spider-Man Miles Morales isn't in the list, click the Add Application button and select the executable from the installation directory. This adds the game to the list, and you'll be able to select it afterward.
In the column Graphics Settings, assign the High Performance profile to the game.
Add an Exception to Your Anti-Virus
Your anti-virus software may have flagged Miles Morales as a threat. Add the game's folder to the exclusions or exceptions list just to be on the safe side.
We have listed some popular ones and their respective FAQ pages.
Load a Backed Up Save (for Crash During Gameplay)
If you're running into a crash during gameplay, specifically during a certain mission, it's a good idea to return to a previous save. Just like Spider-Man Remastered, Miles Morales also backs up saves at important points in the game. These instructions are provided by the developers.
Make sure the game isn't running
Now, head over to Documents folder in Windows and then the Miles Morales folder
It should look something like this
C:\Users\USERNAME\Documents\Marvel's Spider-Man Miles Morales\
Open the folder with a long number or combination of letters and numbers
In here, the backup saves have the same base name as the save slot with a suffix added.

For example, slot0-s.save.backup01.

If you do not see the backup files, go to the View tab in the folder and click the 'File name extensions' checkbox.
There is a maximum of 10 backups, the backup with the lowest number is the most recent. You can confirm this by looking at the time and date the backup file was created.
To restore a backup, remove the ".backupXX" extension from the filename to overwrite the normal save.

So slot0-s.save.backup01 would become slot0-s.save.

Each profile has its own autosave and backups. The game has a maximum of 6 profiles.

Slot0 is Profile 1, Slot5 is Profile 6, etc.
Make sure you create a backup of your main saves either way, as this can still result in data loss.
Try Disabling Mods
Since the game updates from time to time to address issues, any mod you have installed may conflict with the game's version. If you're getting crashing issues with the game even after following the methods above, I recommend removing any mods installed and trying it again.
Please let us know in the comments below if you find another solution. We will add that to the list and credit you appropriately.
We hope this guide helped fix the Spider-Man Miles Morales crash at launch issue. Let us know if you have any questions in the comments below.