Sword Art Online: Last Recollection is out now on PC and consoles, and it's one of the best ports in the series yet. There are plenty of options to customize that we'd expect from a modern PC release. However, the ultrawide support isn't perfect and has minor issues. If you want to fix the Sword Art Online Last Recollection ultrawide issue, here is how you can do that.
Fixing the Sword Art Online Last Recollection Ultrawide Issue
While Sword Art Online Last Recollection has support for ultrawide monitors, there is a problem with the FOV which is a bit zoomed (Vert- behavior) in during battles at these resolutions. This is a common problem with other Unreal Engine releases, and it's pretty easy to fix with a simple edit.
Here are the steps to fix that:
Open Windows Run by either pressing Windows + R keys together or searching for it in Windows Search.
Enter the following address, and press OK
%LOCALAPPDATA%\BANDAI NAMCO Entertainment\SAO Last Recollection\Saved\Config\WindowsNoEditor\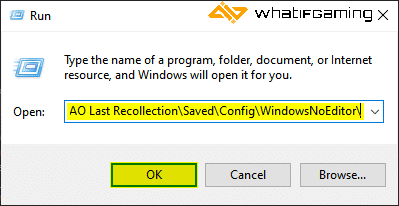 Here, open the Engine.ini file using a text editor like Notepad, or Notepad++
Add the following lines at the end of the file
[/Script/Engine.LocalPlayer]
AspectRatioAxisConstraint=AspectRatio_MaintainYFOV
Now, save the file (Ctrl+S), and exit out.
That's all you need to do, and the next time you launch the title, the FOV won't be zoomed in when you're engaged in battles, and it'll run properly.
Check out our other ultrawide guides for recent releases like Lies of P, Sea of Stars, and Starfield.
We hope this guide was helpful and that you were able to fix the ultrawide FOV zooming issue on your PC. Let us know if you have any questions in the comments below.