Tunic is an action-adventure game from Andrew Shouldice and published by Finji. The title is an isometric game and features Zelda-like exploration paired with some challenging combat. It's one of 2022's highest-rated titles and has been received positively from both fans, and critics alike. Despite the excellent performance, the PC version of the title does have some limitations though, such as ultrawide support. If you want to fix the Tunic Ultrawide Issue, here is how you can easily do that for the PC version.
Tunic is also available on Xbox Game Pass, was a surprise drop when it was released. If you have a subscription on either PC or Xbox consoles, you can play it right now as part of the subscription.
Fixing the Tunic Ultrwide Issue
If you have been following our ultrawide guides, you'll have seen one name pop up multiple times, and that is Rose from the widescreen community. Their contributions to the ultrawide scene on PC are immense, and they have not only added ultrawide support to Tunic but disabled any black bars that come with manual methods.
For this to work, you don't need to edit the executable in any hex editor or anything. Follow the steps below to enable support.
This will download the zip file which you need to extract using Winrar or 7zip
Now, run Tunic ultrawide.exe which you just extracted (Run as administrator if facing any access issues)

Here, all you need to do is target the file (GameAssembly.dll) mentioned in the tool in the right location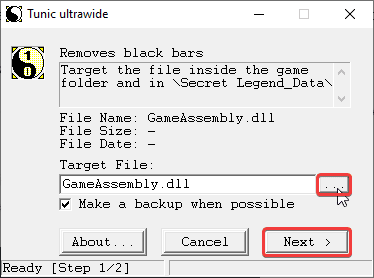 Do that for the other file mentioned as well
That's all you need to do, and the next time you launch the game, it will run correctly according to your resolution.
Here is a screenshot of the result below.


All credits for the fix to go Rose, and you can consider supporting them at Patreon or BuyMeCoffee.
Check out our other ultrawide guides for recent releases like Dying Light 2 and God of War.
We hope this guide was helpful, and you were able to fix the Tunic Ultrawide issue on PC. Let us know if you have any questions in the comments below.