Buying skins in Valorant is a process that most players go through once they have invested numerous hours into the game. However, we all sometimes go through occasional misclicks where we accidentally buy a skin. Luckily, Valorant skins can easily be refunded.
So, don't worry if you accidentally bought a Valorant skin or quickly regretted getting one. Here are 2 easy methods to refund Valorant skins.
Via the Valorant Player Refund Support Page
The first method is also the easiest method to refund Valorant skins, that's by using the Valorant player refund support page. This page allows players to request refunds for their in-game content. It's as easy as pressing a couple of buttons as long as the content meets the criteria.
Follow these steps to refund your Valorant skins:
Open a browser and go to the Valorant Player Support Refund page.
Click on the red "Log in" button and login to your Valorant account.
Click on the "Get My Order History" button to view your past purchases that are eligible for a refund.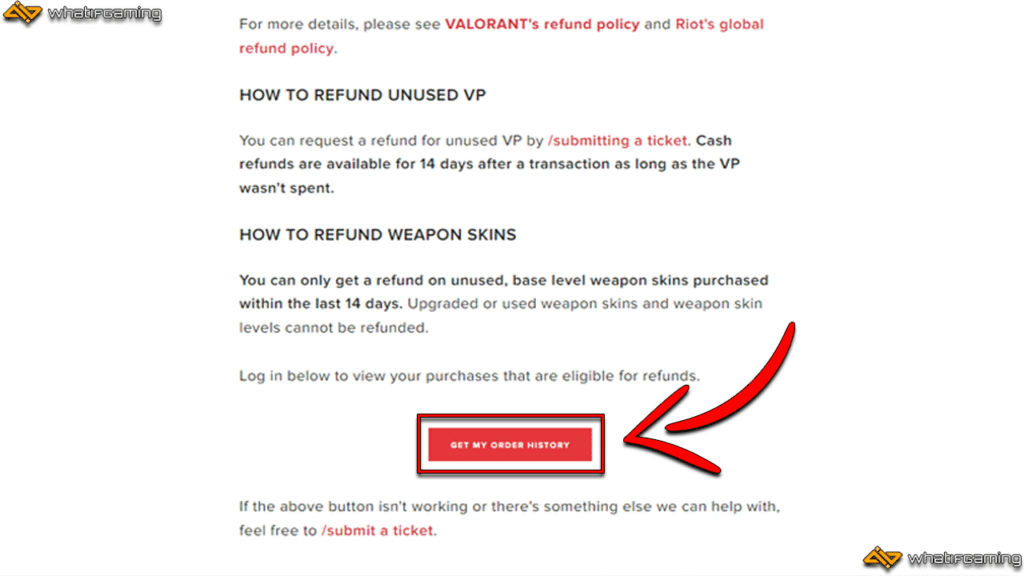 Each line will show the skin name, the purchase date, the VP amount, and the refund button. Find the skin that you want to refund and click on the "Refund" button next to it.
A final prompt will appear stating that you've successfully refunded your Valorant skin. The VP should appear in your account after a few minutes. Make sure to restart Valorant if you have it open in the background.
If you can't find the skin you are looking for here, then it means that it isn't eligible for a refund. Most items you've bought from the Valorant store can be refunded. However, they need to be unused, not upgraded, and purchased within the last 14 days for them to be refunded.
Here's the complete list of skins and purchases that you can't get a refund on:
Used in-game content like gun buddies, cards, titles, etc.
Premium Battle Pass skins and items
Purchased Premium Battle Pass levels
Radianite Point purchases
Weapon skin bundles
Weapon skin upgrades/ animation levels
Requesting a Valorant Skin Refund by Submitting a Ticket
The other method is by submitting a ticket via Riot's ticket submission page. This method can take a bit longer to get processed but requires Riot to manually check your refund request. It can be beneficial if you want an ineligible Valorant skin refunded. However, there are no guarantees that Riot will grant the request.
Open a browser, go to the Riot Games ticket submission page, and log into your account.
Select In-Game Question/Issue & In-Game Content Refund as the Request Type.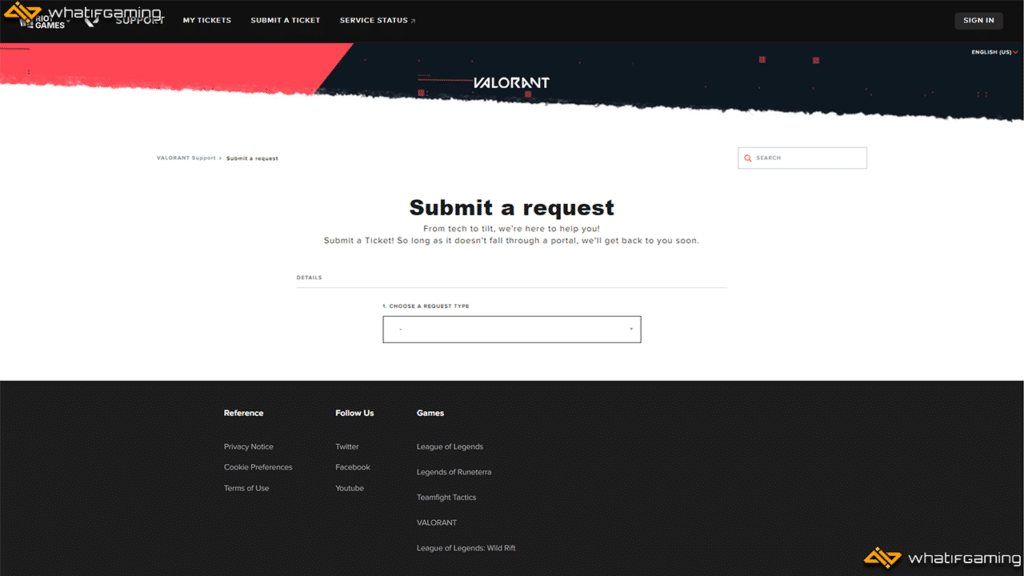 Enter the subject "Request for Valorant skin refund."
Select In-game content: Question, Issue, or Refund as your first inquiry.
Select I want to refund in-game content purchase as your secondary inquiry.
Choose Weapon Skins as the content type and VP as the currency used to purchase.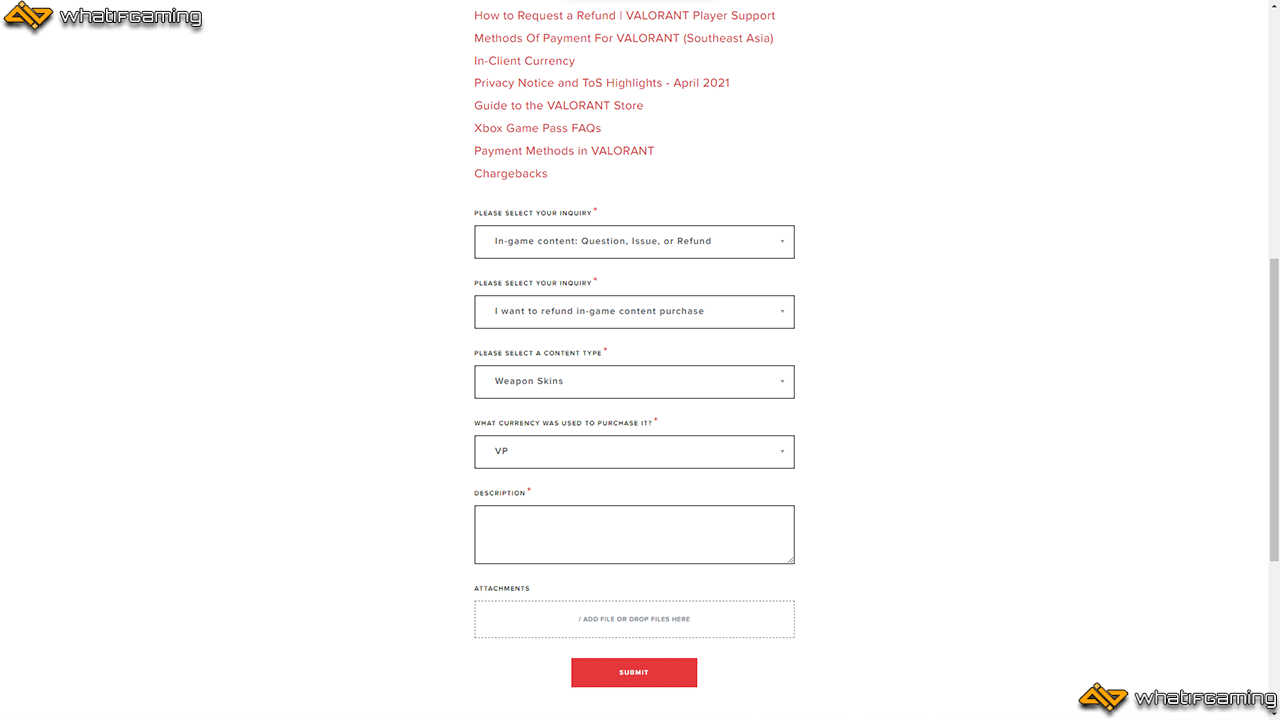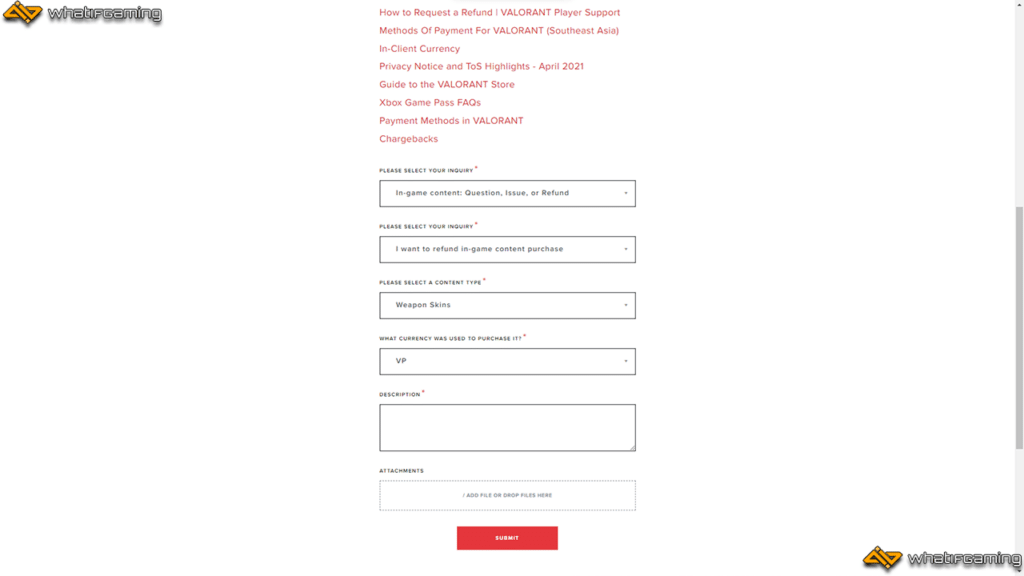 Write a short description of what Valorant skin you want to be refunded and your reason why.
Attach any relevant screenshots to help your case.
Click on the red submit button once you're done,
Those were 2 easy methods to get a Valorant skin refund. Now you can spend your VP on other skins; maybe you can even get that shiny new Valorant knife.