Do you regret buying a skin in Valorant? Don't worry. We've got you covered. Here's how to get a refund on Valorant skins.
Buying skins in Valorant can definitely help you enjoy the game more. These skins can help you create a more unique style and let you take your gameplay experience to the next level. Various skins have different animations that allow the players to experience the game in new ways.
However, skins can get very expensive. Some of the best Valorant knife skins can cost around $50, which can be more than most players are willing to pay. The hype surrounding each new release is unreal, and sometimes it can get you making some bad decisions.
Unfortunately, unlike CS:GO skins, you can't resell items in your inventory in Valorant. Luckily, you can ask for a refund. It doesn't matter whether you simply dislike the skin or regret that you made an impulse purchase. Here's how to get a refund on Valorant skins.
Refund Your Valorant Skins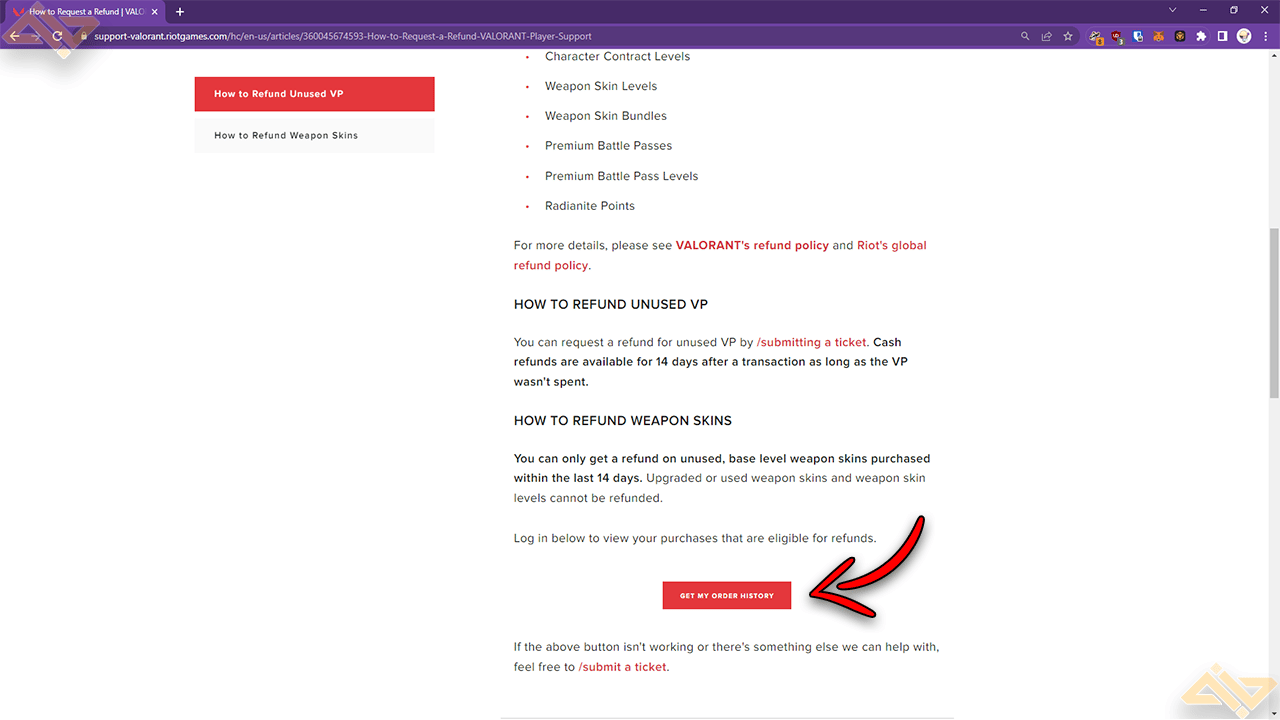 Getting a refund on Valorant skins is nothing to be ashamed of. We've all purchased something in the past that we didn't end up liking. Whether it be a Valorant skin, a different in-game item, or a store-bought item. The refund system is there for a reason, and it was made to be used.
You also shouldn't be afraid of getting a refund on your Valorant skins since the process is very simple. It also doesn't penalize your account unless you refund every skin you purchase. So let's get to it.
The Steps to Get a Refund
If you're really sure that you want a refund on your recently purchased Valorant skin, then you need to follow these steps:
Go to the Valorant Player Support Refund page.
Click on the red "Log in" button and enter your Valorant account credentials.
Click on the "Get My Order History" button to view your past purchases that are eligible for a refund.
Each line will show the skin name, the purchase date, the VP amount, and the refund button. Find the skin that you want to refund and click on the "Refund" button next to it.
That's it. A prompt should appear saying that you've successfully refunded your skin. The VP should now be back in your account, and you can use it to purchase other in-game items.
Unfortunately, this method only works if you want your skin refunded in VP, not cash. So you'll be stuck with the VP until you decide to purchase another skin or in-game item. You can try submitting a ticket and pleading your case.
However, there's no guarantee that it will work since it's explicitly stated in the Valorant refund policy that you can't get cash for used Valorant Points. But it's worth a shot, especially if you really need your money back.
The Riot Team is generally really accommodating, so just try your best to explain the situation and why you need your money back. If it was a fraud or if your account got hacked, they'll definitely address your concerns.
Get Back Your Money for Unused VP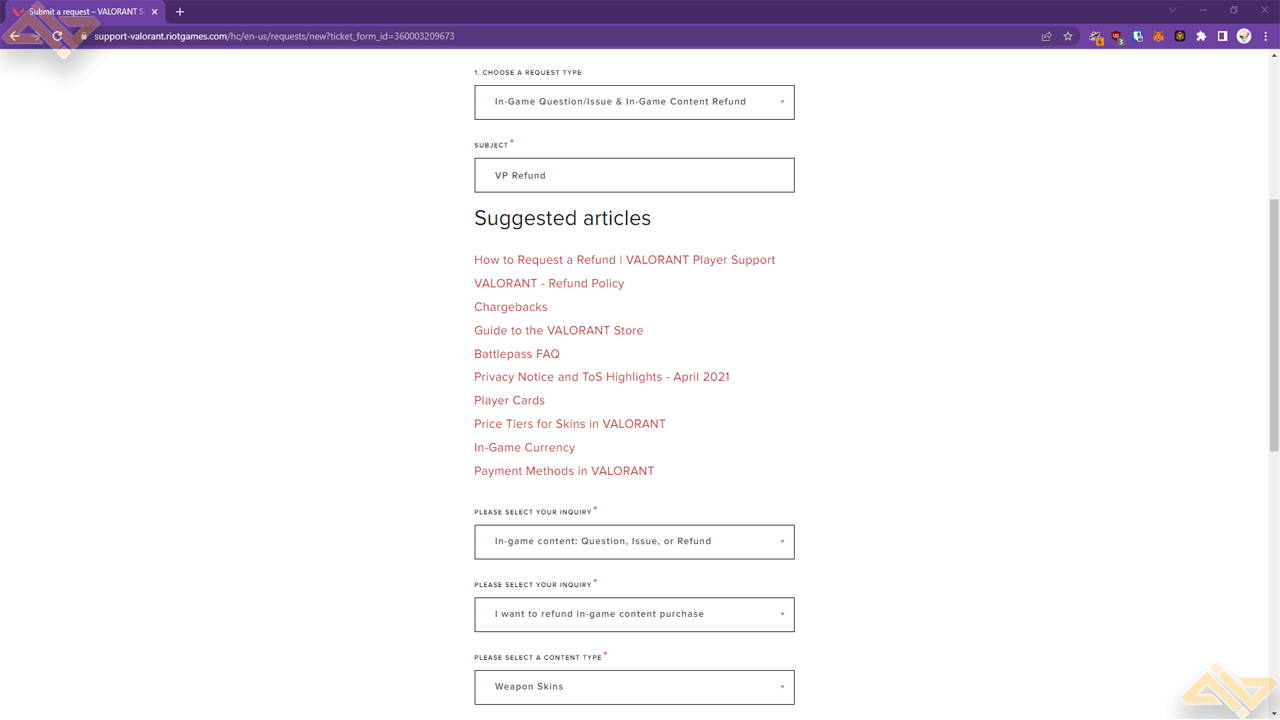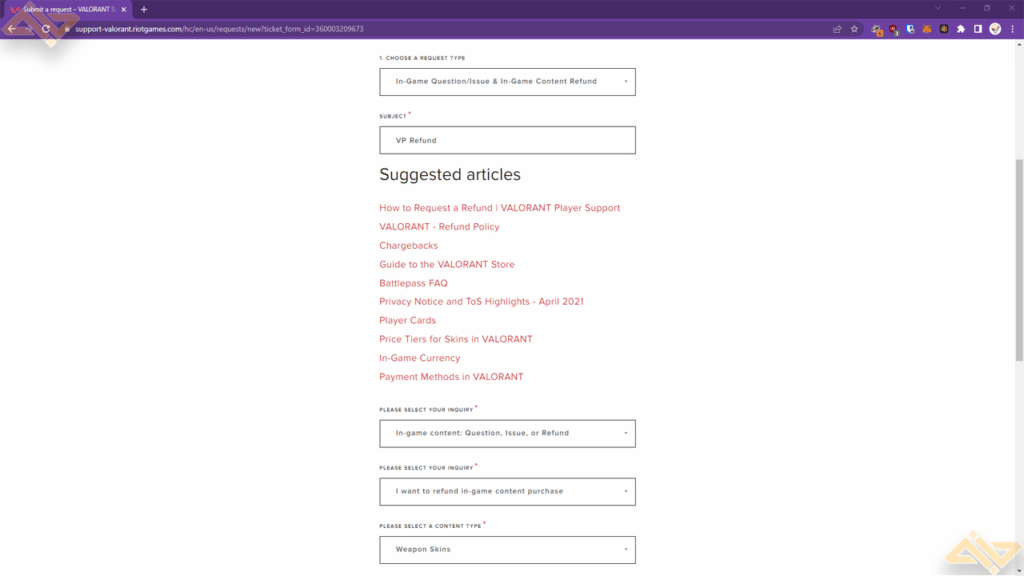 You can get a cash refund for unused Valorant Points. So if you ever find yourself topping up the wrong amount of VP or accidentally topping up, you can still get your money back. The process is a little bit more tedious and isn't as fast as getting VP refunded. But at least you'll still get your money back.
Log into your Valorant account and go to Riot's ticket submission page.
Choose "Billing, Payment, and Premium Currency Refunds" as the request type.
Fill in the subject as "Request for a cash refund on unused VP."
Describe what happened under the "Description" box. Include the reason why you want or need a cash refund.
Select the "I'm having an issue with Riot Premium Currency (RP, VP, Coins, Wild Cores)" option.
Select the "Requesting a Refund" option.
Attach screenshots and other supporting media, then click on the submit button and wait for a response.
As I said, this process is a bit longer than simply refunding a skin. However, Riot addresses concerns quite quickly and likes to keep the communication going. Remember, only unused VP can be refunded in cash. Cash refunds are also only available for 14 days, given that the VP wasn't spent in any way, shape, or form.
What Valorant Skins Are Eligible for Refund?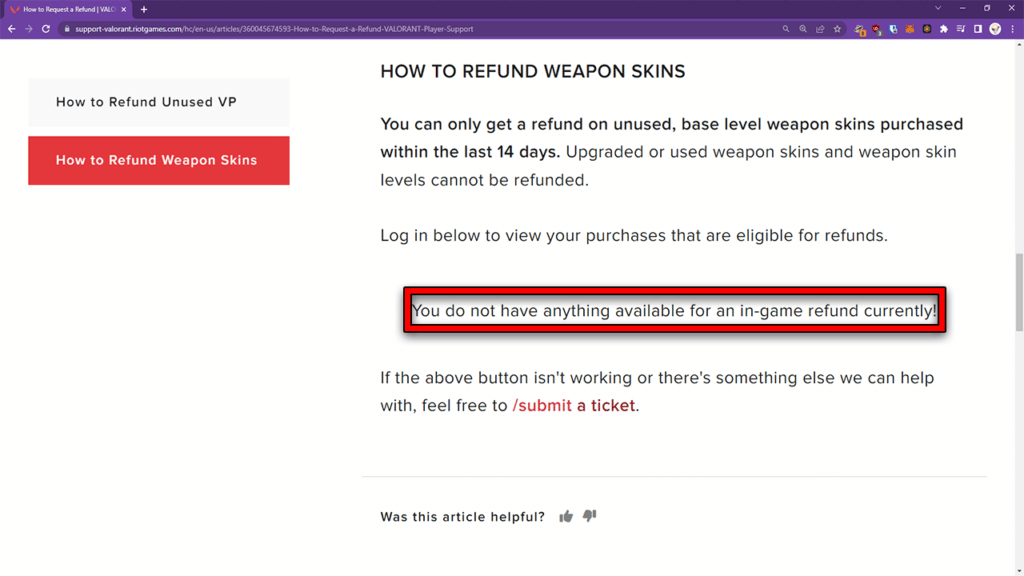 Most weapon skins found in your Valorant store can be refunded. However, they need to be unused, still on the base level, and purchased within the last 14 days. If they fail to meet at least one of these criteria, then they won't appear under the order history page and can't be refunded.
These basic requirements mean that you can't take a skin in-game, whether it be the practice range, an unrated game, or a competitive game. This also means that you can't upgrade it or unlock extra effects using Radianite.
Aside from being unused, being on the base level, and being purchased within the past 14 days, there are a few other limitations. Here's the complete list of skins and purchases that you can't get a refund on:
Used in-game content like gun buddies, cards, titles, etc.
Premium Battle Pass skins and items
Purchased Premium Battle Pass levels
Radianite Point purchases
Weapon skin bundles
Weapon skin upgrades/ animation levels
Agent contract level purchases
If you purchased an individual skin from the featured bundle in the Valorant shop, then that skin is still eligible for a refund. As long as it still fits the other requirements. However, once you purchase the entire bundle, the whole collection is no longer eligible for a refund.
I honestly feel like most of Riot's skin refund policies are fair. It's mostly targeted toward accidental purchases, though. I hope that they change their policies in the future and let people at least try out the skin for a game or two. This can help people decide which skin they prefer to buy and ensures that they truly like the look of the skin in-game.
Conclusion
Getting a refund on your Valorant skins is as simple as that. You should have no trouble getting your precious Valorant Points back as long as the skin meets Riot's refund requirements. If all else fails, make sure to contact Riot Support and submit a ticket.
What skin do you regret purchasing in Valorant? Comment it down below.