There are many Talismans in Elden Ring that will assist you to become stronger and have an advantage. If you are having issues with your equip load, that is where this Talisman comes into play. That is why this guide will show you how to get the Great Jar's Arsenal Talisman in Elden Ring.
To get the Great-Jar's Arsenal Talisman, complete the Great-Jar's challenge in Caelid and then talk to him.
Since the game features tons of great armor and weapons, many players will have a problem equipping them. Thankfully, this Talisman increases your equip load and allows you to wear heavier armor and truly live out your Strength build and defeat all bosses easily. With that said, let's dive right in and get started.
Elden Ring: How to Get the Great Jar's Arsenal Talisman
Getting this Talisman is easy but requires you to progress through a difficult area and fight tough enemies. However, we will show you an easy way to reach the Great Jar and complete his challenge. Keep in mind that you need to have a certain level so that you can partake in his challenge and complete it successfully.
Progress Through Siofra River Well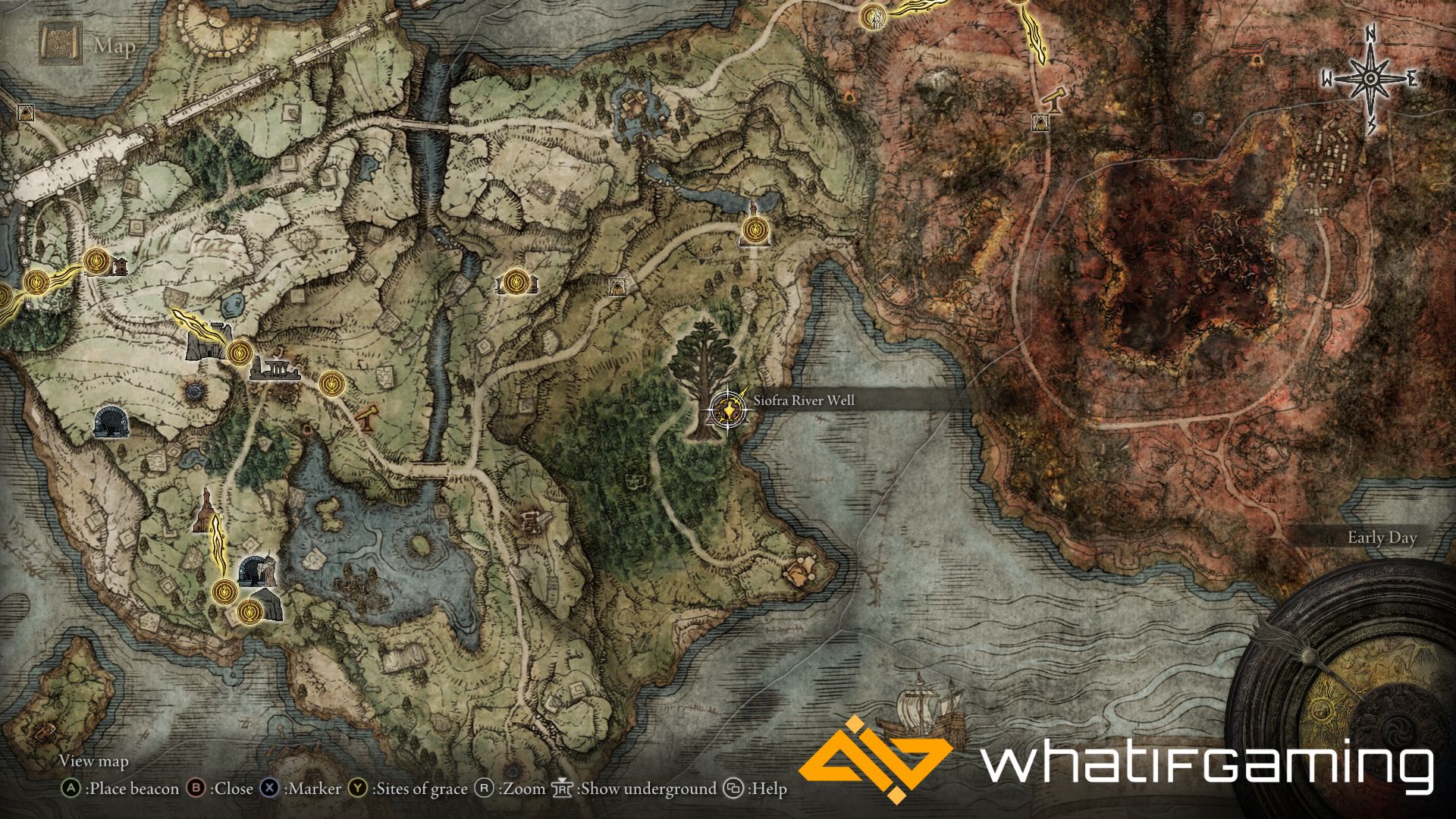 While the Great Jar is located in Caelid, you need to head through Siofra River Well to reach him. This massive underground area can be found in the south of Limgrave. The first time you enter here, you'll be amazed by the beautiful scenery and how long the elevator ride is to reach the bottom.
Once you enter here, you will see that this is a massive location with tons of areas to explore. However, if you just want to reach the Great Jar, don't roam anywhere or you can get lost and will have to fight tough enemies. Instead, mount on Torrent and continue heading north.
The area you want to head to is a starry area with a lot of torches and tons of enemies that look like Minotaurs but in a spirit form. In short, you'll have to go to the northeastern part of Siofra River Well until you reach the end of the area.
Keep in mind that you will come across tons of strong enemies on your way that will deal a lot of damage. Also, some Minotaurs will shoot magic arrows toward you that will instantly dismount you from Torrent and almost one-shot you. So, make sure that you avoid them and keep heading to the massive lift.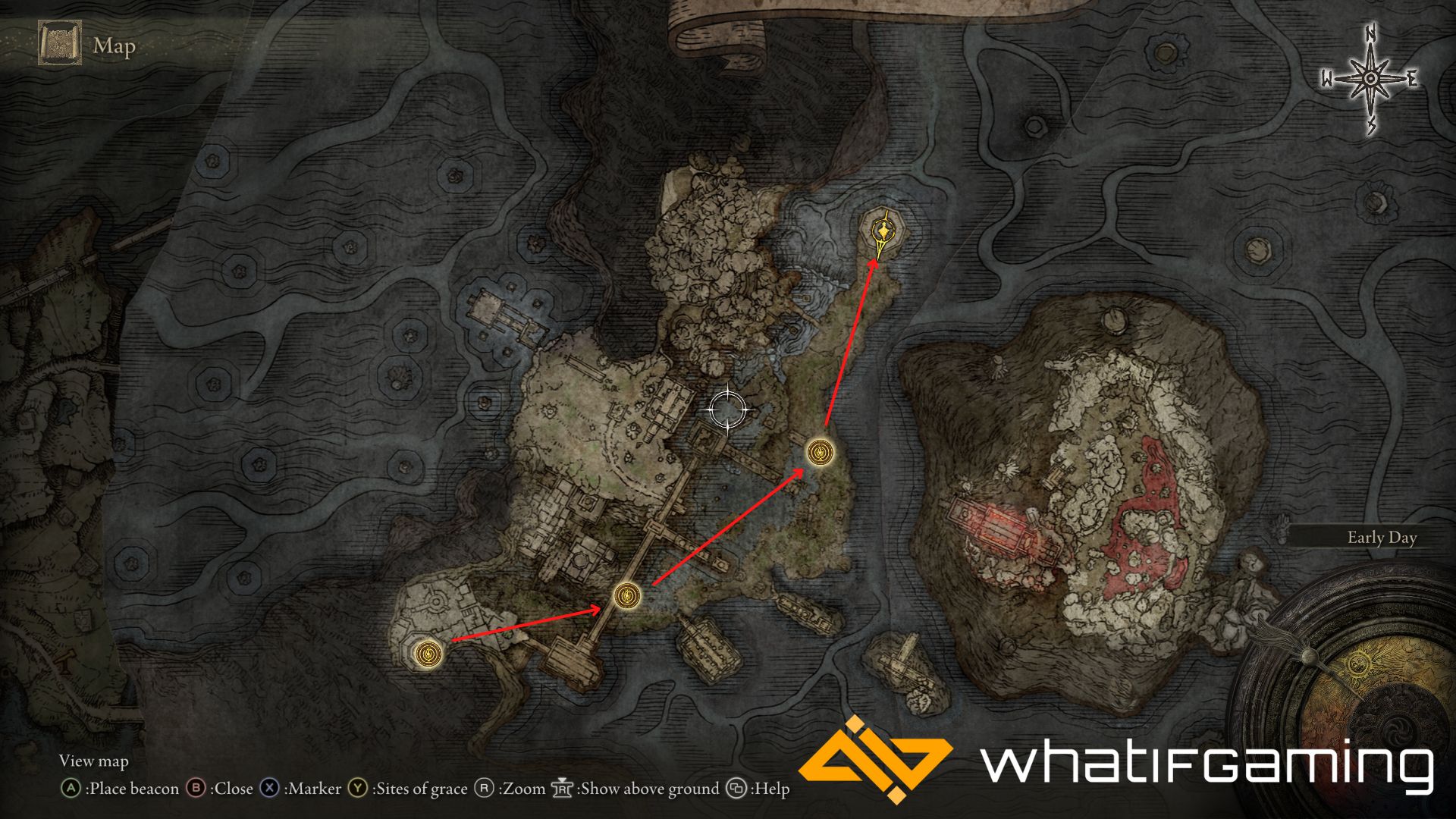 As you can see in the image above, you need to avoid the center area of this location at all costs. There are many large enemies like crabs, wisps, and other strong creatures that will attack you instantly. So, make sure that you stick to the side and make your way to the lift.
However, keep in mind that in the middle of the third Site of Grace and the lift, you will encounter Minotaurs that will use homing arrows. Make sure that you are on foot for this part since it is easier to dodge their arrows by rolling.
Use Stonesword Keys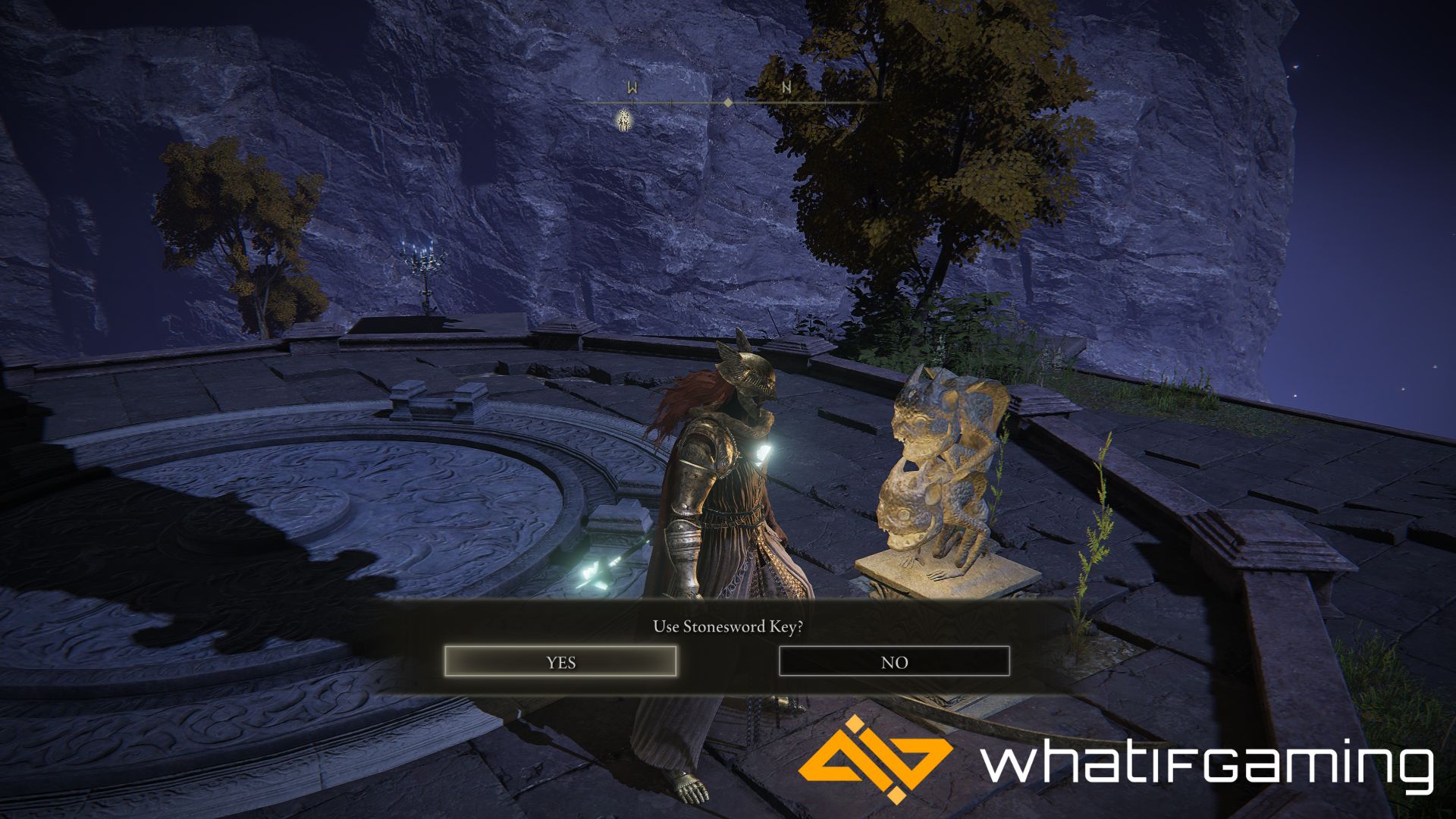 Once you reach the northeastern part of this area and are in front of the lift, you will have to use two Stonesword Keys to activate it. After unlocking the lift, hop on it and it will take you to the base of the northern Dragonbarrow cliffs. Here, you'll see a Site of Grace so make sure that you activate it to reduce the journey to this point.
Getting to the Great-Jar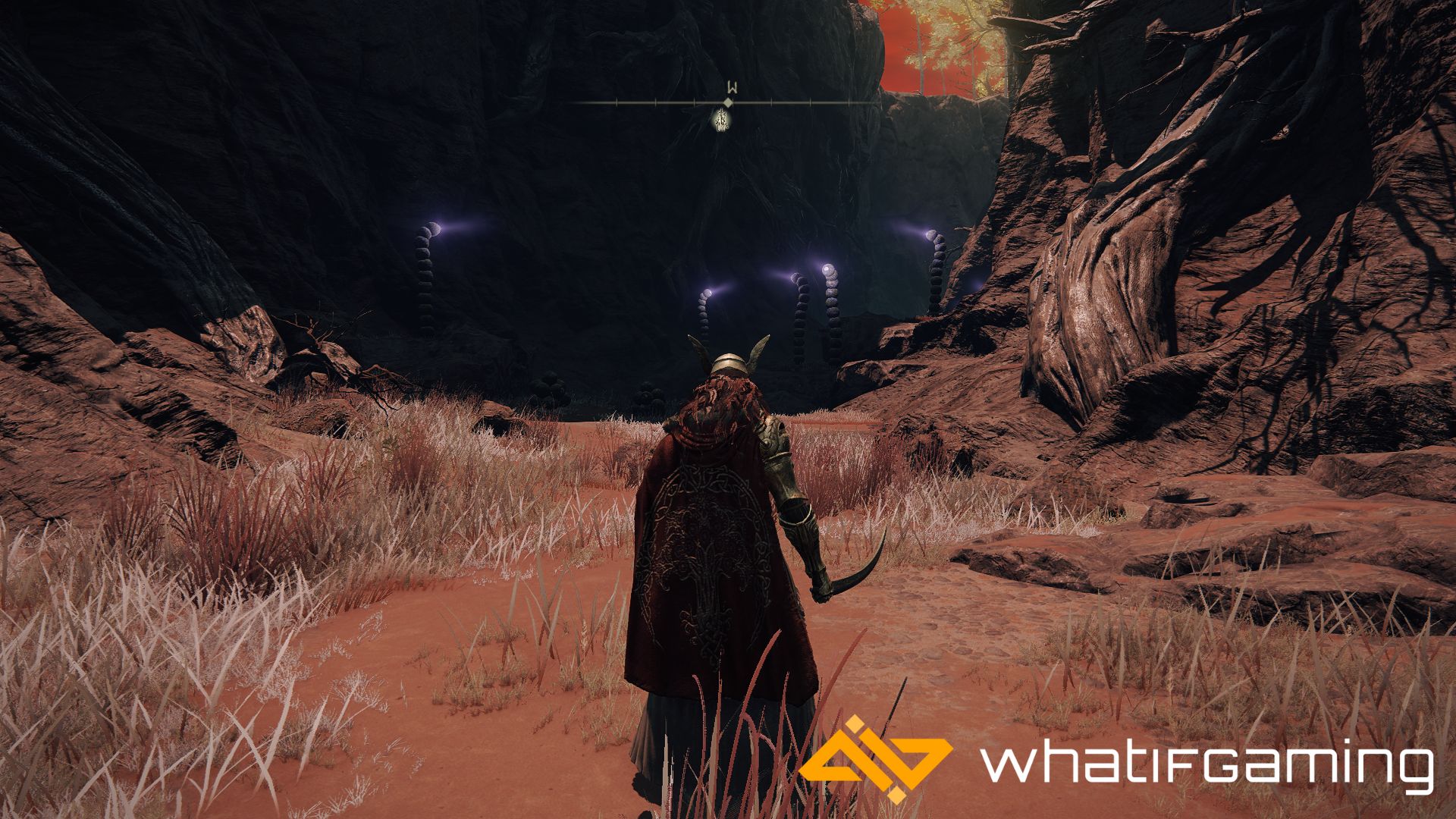 Now, keep heading in the canyon in front of you and avoid all enemies here. Since you are now in Caelid, the enemies will be quite strong than what you are used to in Limgrave or even in Siofra River. Run past all enemies and avoid the Golem that is firing arrows at you.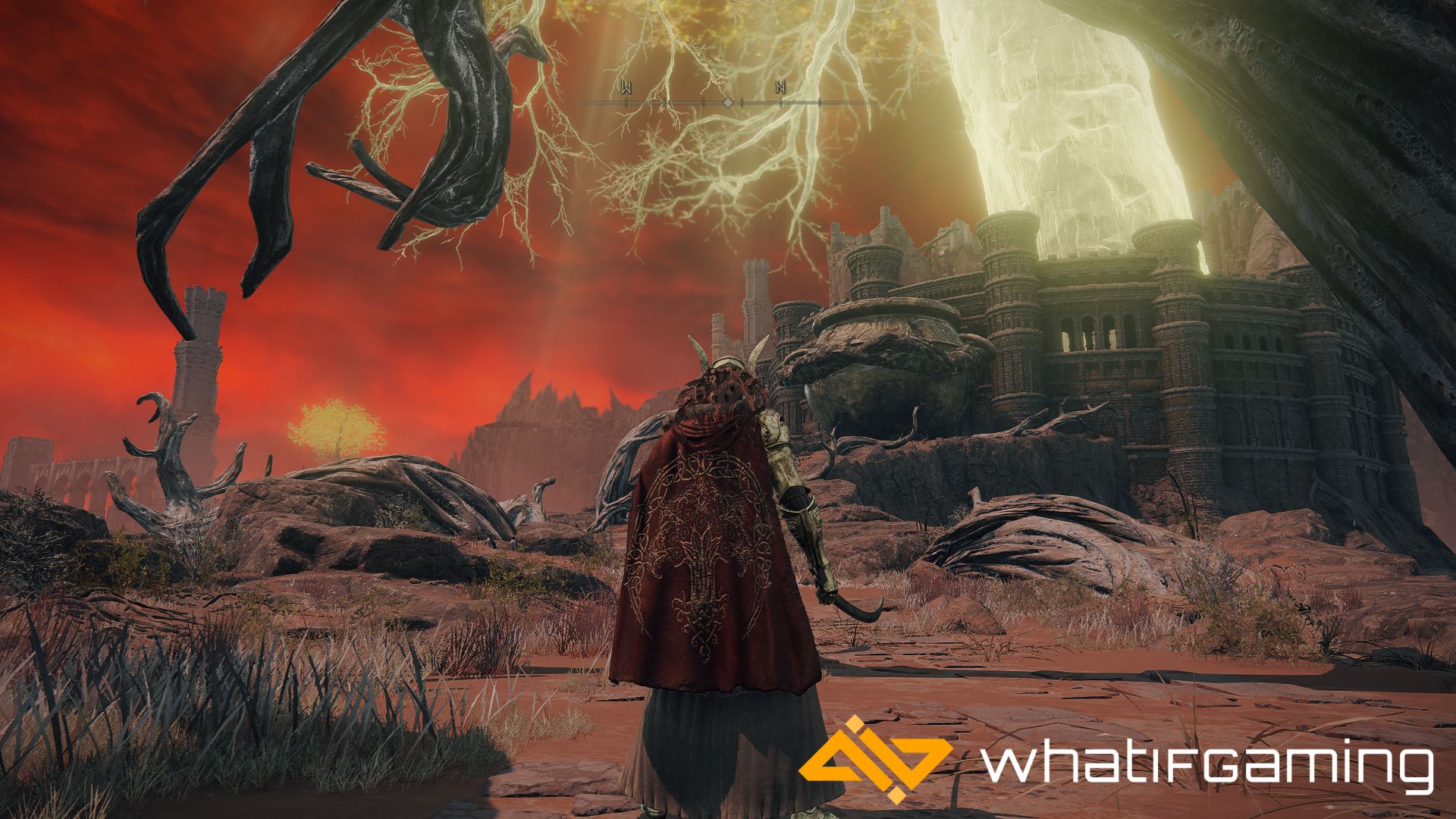 After exiting the Canyon, hide behind the cover to avoid the second Golems arrows. Continue running past them to reach the massive Great Jar. You can spot him from a distance so don't worry about missing him. The good news is that the Golems will stop firing at you once you stand near the Great Jar.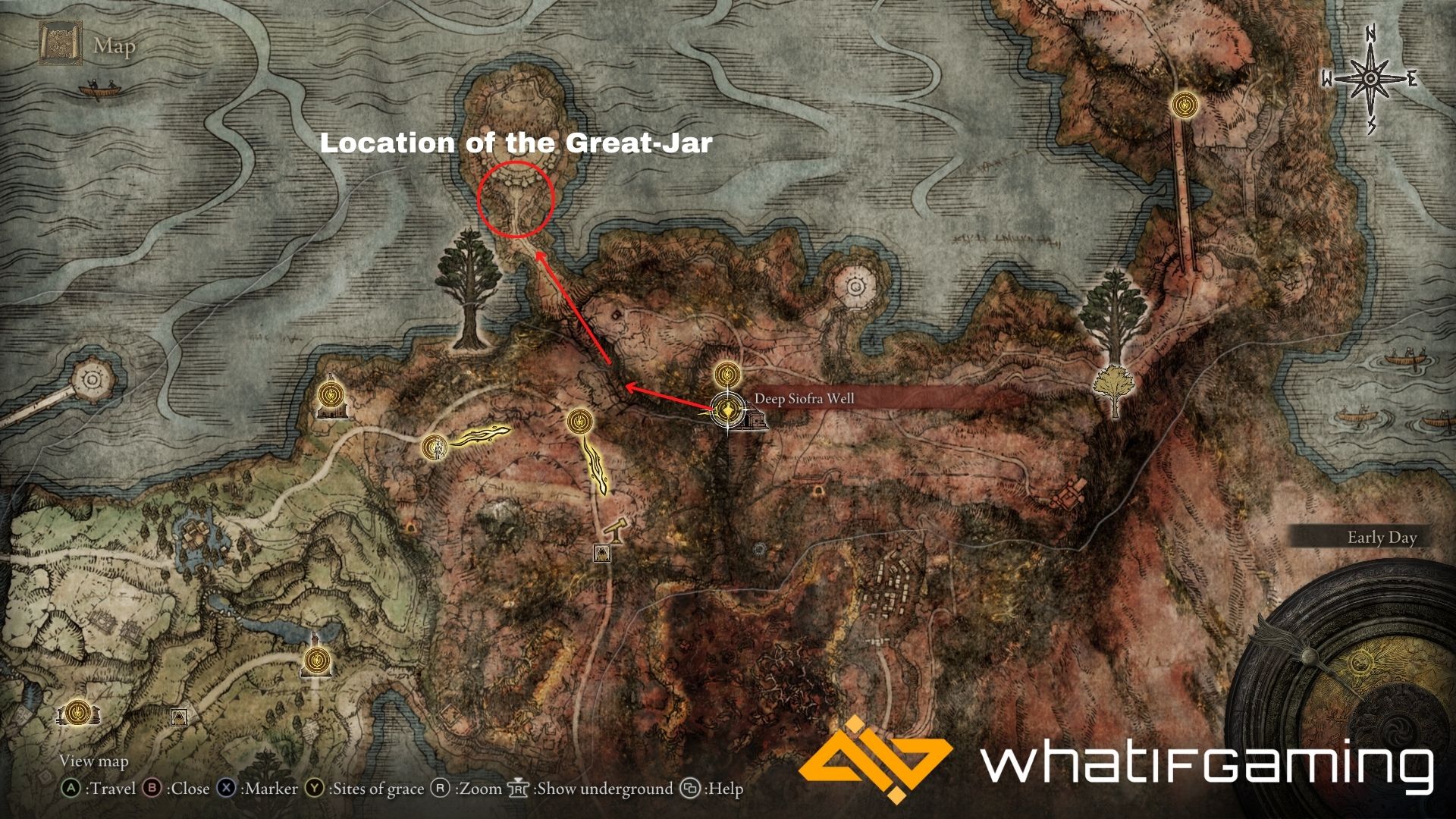 Talk to the Great-Jar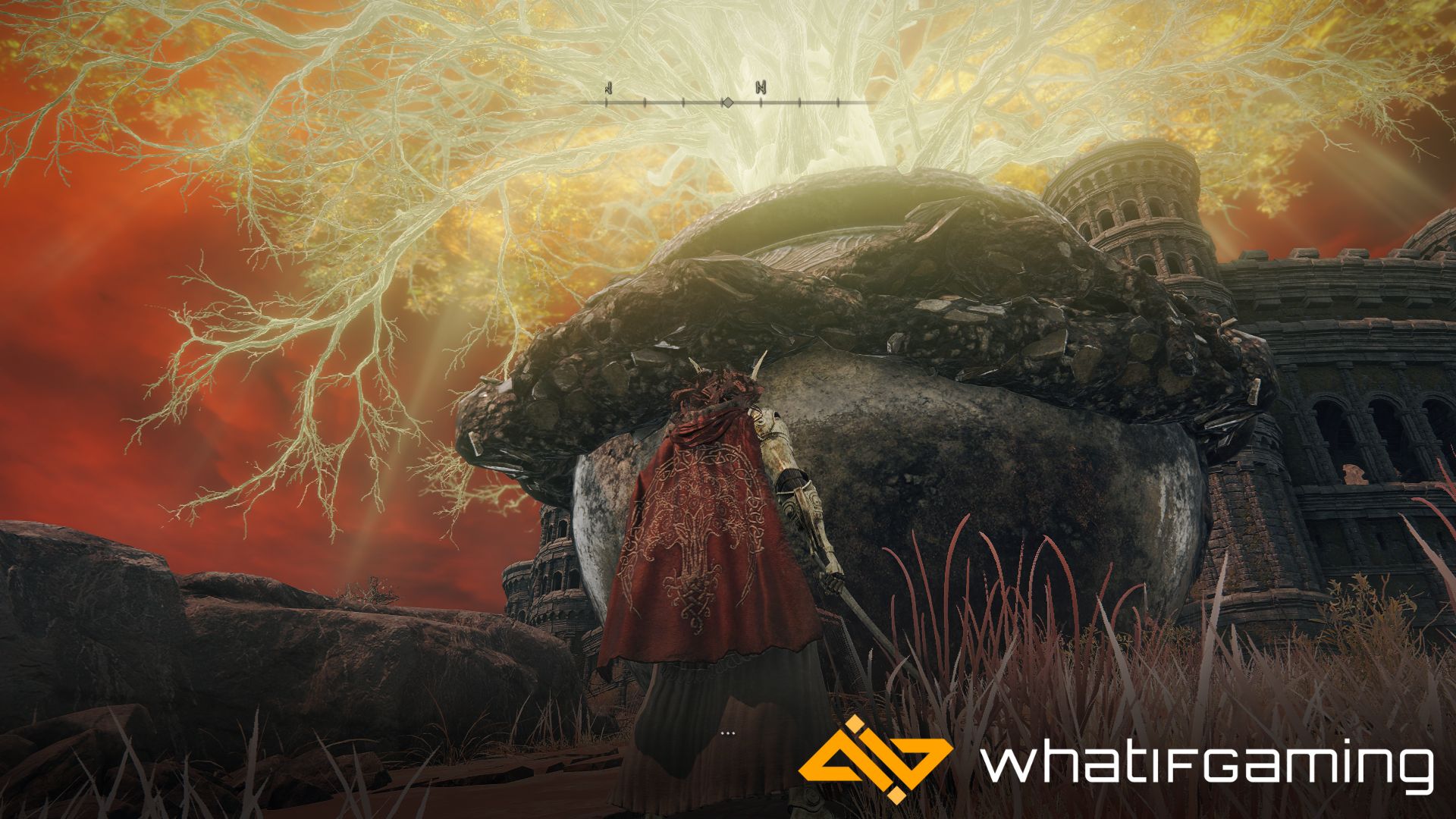 Now, you'll want to speak to the Great Jar and find out what he has to say. Oh, but what's this? All he says is "…". For most players, this might be a sign that you have to come to this place after doing something elsewhere. However, that's not the case at all.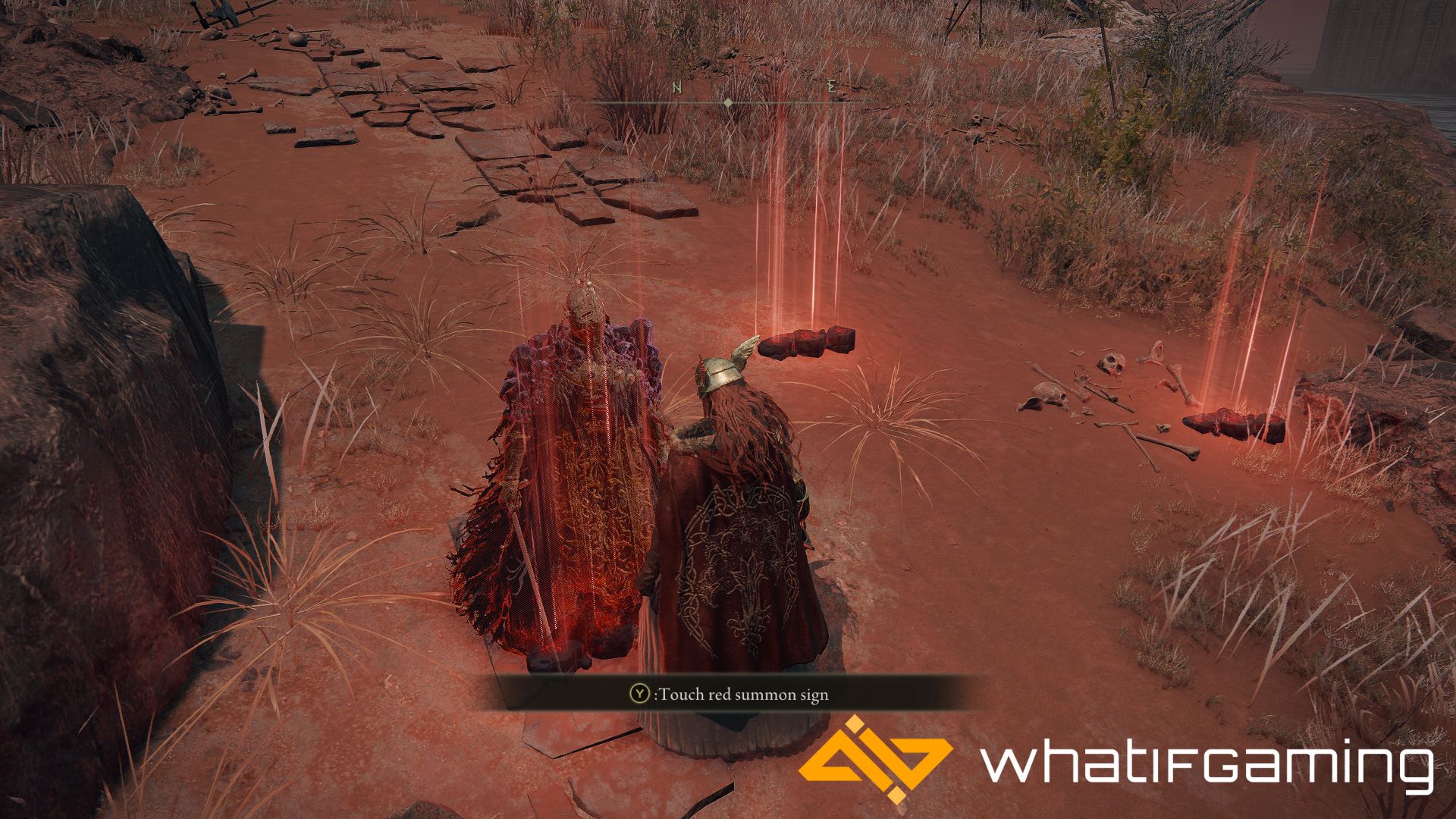 Once you interact with him, you will notice three red duelist Summon Signs on the path that leads to the Great Jar. To complete his challenge, you must defeat all three enemies in these Summon Signs and then interact with the Great Jar again.
If you are looking for a challenge, fight these enemies while you are playing the game in online mode. However, keep in mind that these enemies use the builds of real players. So, you will most likely fight them while they are using meta builds that will hurt you in ways I can't describe.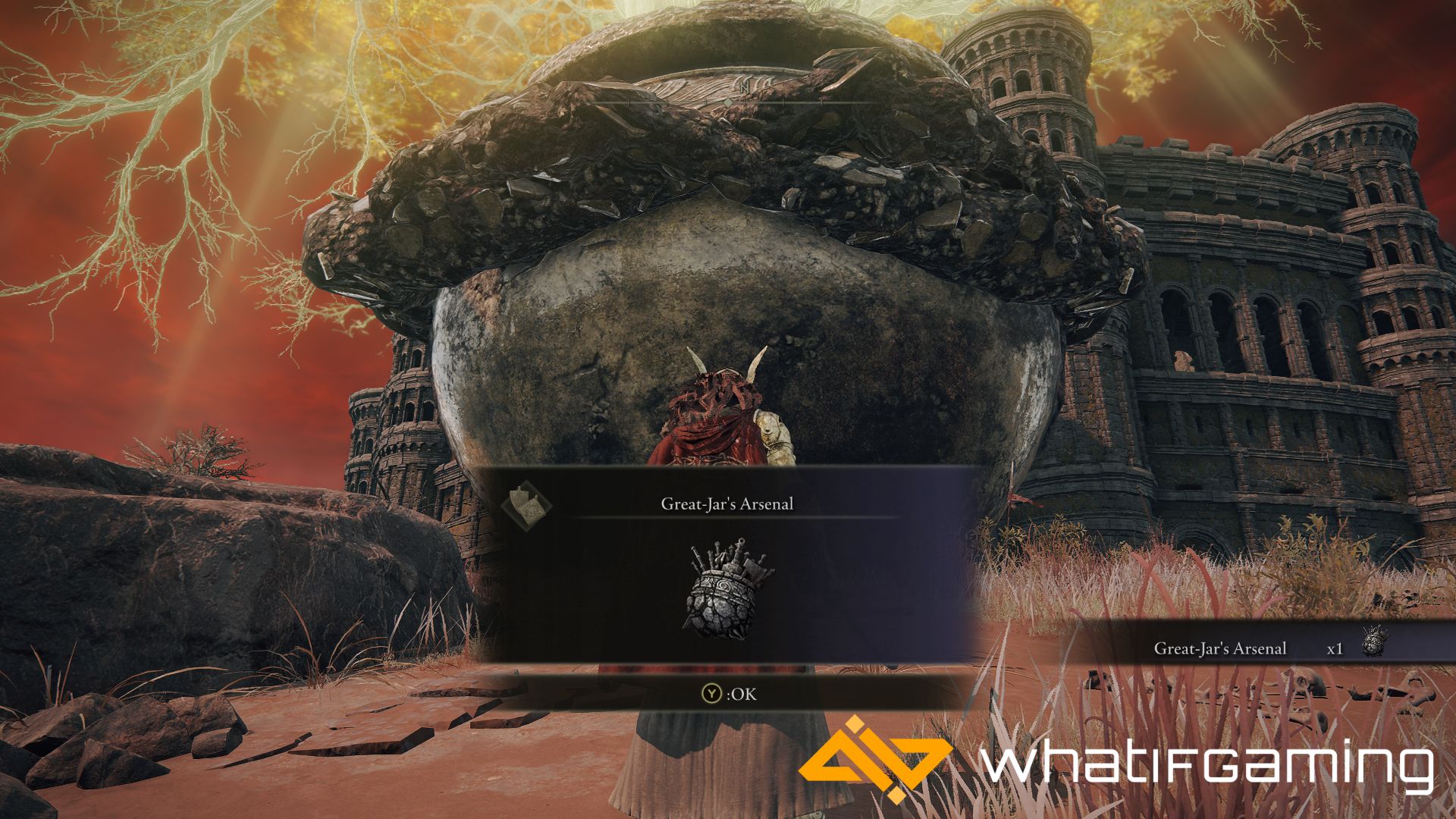 After you defeat them, you will want to talk to the Great Jar again to show him that you're worthy. Now, he will reward you with the Great Jar's Arsenal Talisman. If you are having issues with your item load, make sure that you equip this Talisman and have fun!
Tips to Beat the Jar Warriors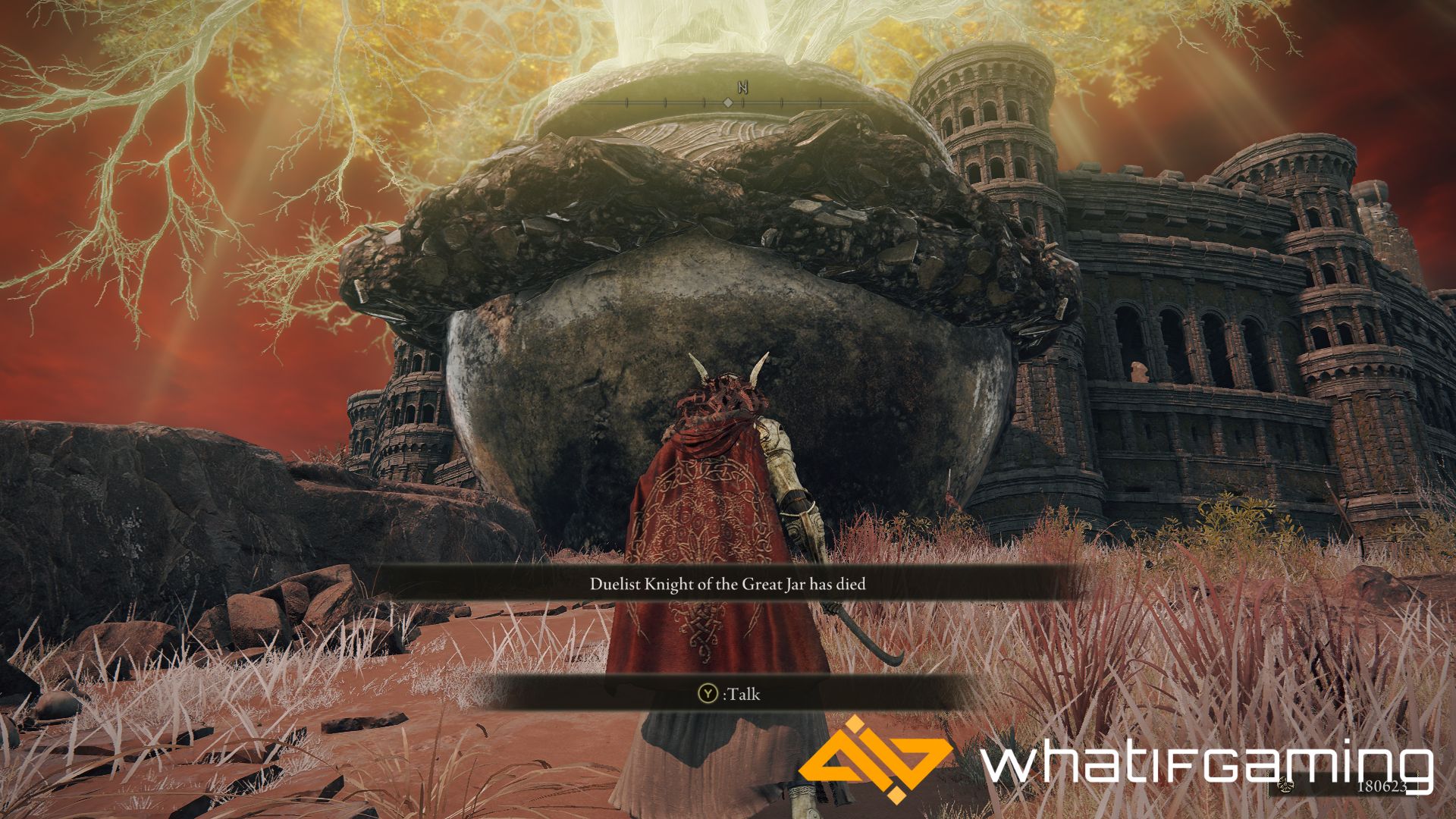 If you are like me and don't want to fight the meta builds, make sure that you turn the game to offline mode and then fight them. When I fought them, Rivers of Blood was quite common and extremely strong. Fighting all three duelists with this build was a pain, to say the least.
However, if you turn the game to offline mode, you will still have to fight strong enemies but with generic builds. These builds will consist of a mage, a Dex build, and a Strength build. So, you'll have an easier time as they are more predictable and will not deal an insane amount of damage.
If you have fought against Summon Signs before, you will want to use the same strategy and try to time your attacks. In offline mode, this fight is quite easy and you'll defeat all three in no time.
What Does It Do?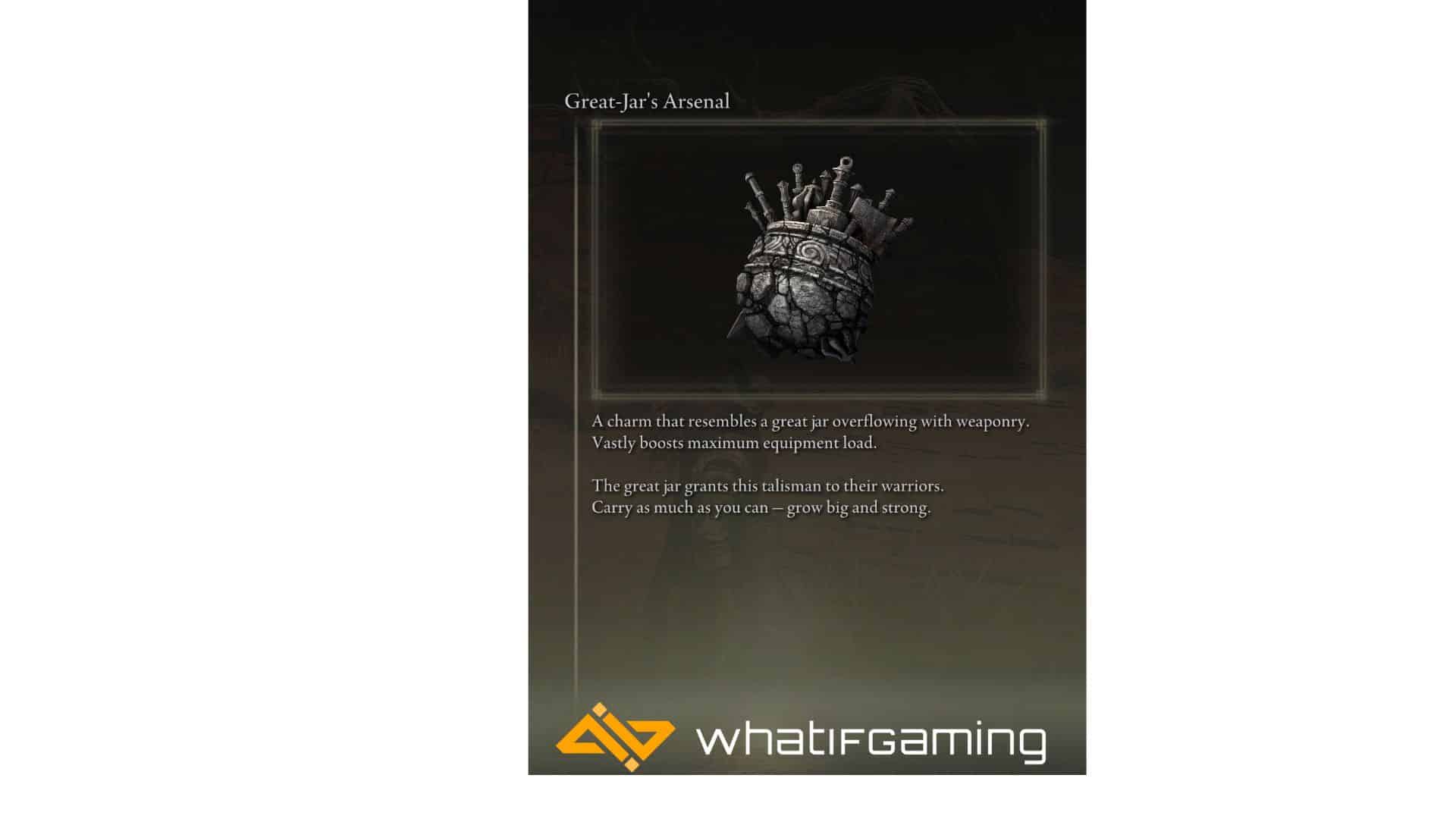 You'll want to know what it does now that you have finally earned the Great Jar's Arsenal Talisman. Luckily, it has a fantastic effect that will help you out a lot. This Talisman will raise your maximum equip load by 19%. For a new player, this might not sound like a big deal.
However, if you are a Souls player or have been playing Elden Ring for a while, you'll know that having more equip load is always a welcomed addition. This will allow you to finally wear heavier armor and weapons so that you can go for a proper Strength build.
Plus, thanks to the increased equip load, you will not fat-roll either. So, you can easily equip whatever you want and play the game normally without any issues.
Conclusion
That's everything you need to know about how to get the Great Jar's Arsenal Talisman in Elden Ring. This Talisman is extremely useful if you are planning to go for a build that includes heavy weapons and armor. While there might be a better Talisman out there, this one is superb in most cases.
Did you manage to complete the Great-Jar's challenge? Which Talisman is your favorite in Elden Ring? Let us know your thoughts in the comments below!