Driving in any modern open-world game is a crucial part and a common way of traversing. Most players prefer vehicles rather than simply walking around or running. It's the same case in Cyberpunk 2077, which features cars, and motorbikes. Now, the actual driving part leaves a lot to be desired, and it's not as good as games like Grand Theft Auto 5. If you are willing to install a mod, you can improve the Cyberpunk 2077 driving and handling of vehicles on PC.
Mods are one of the best things about PC gaming, and there's never a shortage of those, especially for RPGs. There are hundreds of high-quality mods for The Witcher 3 already, and Cyberpunk 2077 has plenty of great mods as well, like the walk button one.
Improving the Cyberpunk 2077 driving on PC
If you aren't a fan of how the vehicles handle in Cyberpunk 2077, this mod will sort you out. For the most part, it improves how vehicles turn, and slide when you apply the brake. The reduction in how much these slide can really provide some ease in gameplay. All credits for the mod go to the Nexus Mods user CalinZ2.
Installing the mod
To use this mod, follow the steps below.
First, download the mod files from Nexus Mods. (You need to sign-up for this)
There are two files here, but we recommend the first one as it isn't too sticky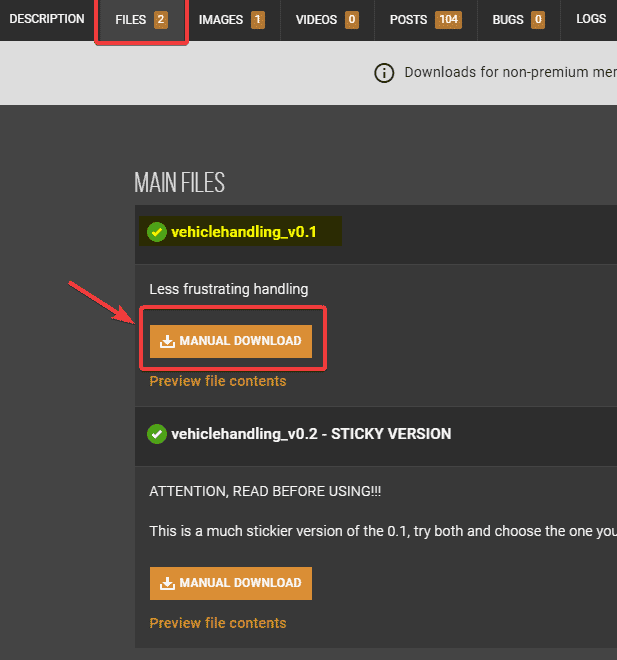 Now, simply extract the file using compression software like Winrar or 7zip, wherever the Cyberpunk 2077 folder is, and you are set to go
Launch the game, and you will notice how vehicles are easier to control and maneuver
Removing the mod
If for whatever reason you aren't satisfied with the mod, you can remove it. To do so, follow the steps below.
Head over to the following location
Cyberpunk2077/engine/config/platform/pc/
Here, delete the vehiclehandling.ini file
CD Projket Red will be releasing multiple patches over the course of the next months to improve the current condition of the game. There are many bugs, and graphical glitches in the game that players are currently running into.
We hope this guide was helpful. If you have any questions, feel free to ask them in the comments below.