Memory Slots – or Spell Slots – are slots that hold your spells. Each class starts with two Memory Slots where you can choose any sorcery or incantation. However, if you wish to use more spells, you'll want to know how to increase Memory Slots.
You will find tons of spells during your journey in the Lands Between. To use all – or most – of them, you need to know how to get more Spell Slots. This is especially true if you are going for a magic build. Since magic is quite strong in Elden Ring, you'll want to make the most out of it.
How to Increase Memory Slots
Increasing Memory Slots is easier said than done. Since you get a lot of advantages by increasing your slots, finding the item that helps you increase it is quite difficult. This item is extremely rare and can only be found in specific locations.
Plus, the quantity is limited so you can only increase your slots by 8 – giving you a total of 10 Memory Slots. However, there is another item that can help you get up to 12 Memory Slots to hold your sorceries and incantations.
To increase your slots, you need to find small Memory Stones spread across the Lands Between.
Memory Stone Locations in Elden Ring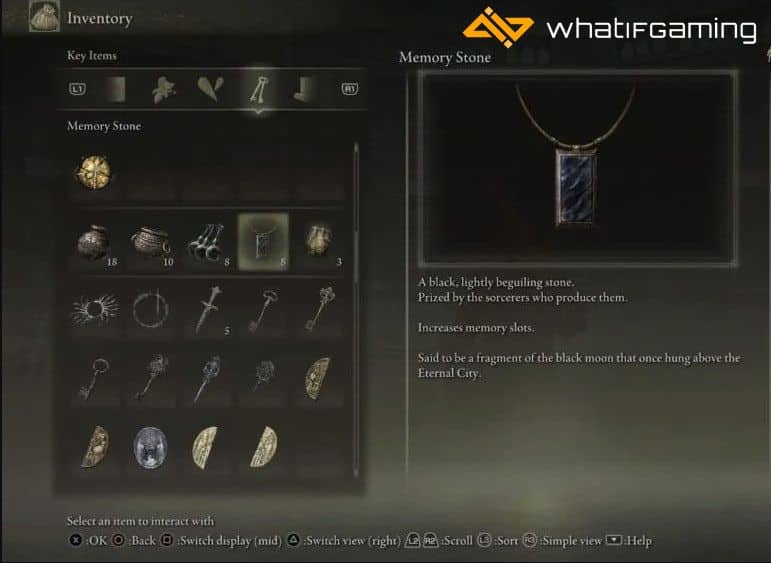 There are multiple ways that you can get Memory Stones in Elden Ring. You can either defeat certain bosses, pick them up from chests, or buy them. However, keep in mind that there is a limited quantity of Memory Stones in the game. So, you cannot stack these items as much as you can.
There are two bosses that drop this item after you defeat them. If you are curious to know which bosses drop Memory Stones, here they are:
Red Wolf of Radagon: Found at Raya Lucaria Academy. Drops 1 Memory Stone.
Demi-Human Queen Maggie: Found at the Hermit Village. Drops 1 Memory Stone.
Other than this, you can buy a Memory Stone from the Twin Maiden Husks as well. However, they only sell 1 stone and the stock will expire after that. No matter how much you wait or progress through the game, they will never sell a Memory Stone again.
Twin Maiden Husks: Purchase 1 Memory Stone for 3,000 Runes at Roundtable Hold.
You can also get Memory Stones from various chests located in the towers. These towers are special since you need to meet a prerequisite to unlock them and explore them fully. Once you do that, you can climb the tower and get the memory stones from within them:
Oridys's Rise
Converted Tower
Testu's Rise
Seluvis's Rise
Lenne's Rise
There is another way that you can increase your total Memory Slots to add more spells. Also, you don't have to equip these stones to use them. Once you have them in your inventory, your Memory Slots will automatically increase.
Getting the Moon of Nokstella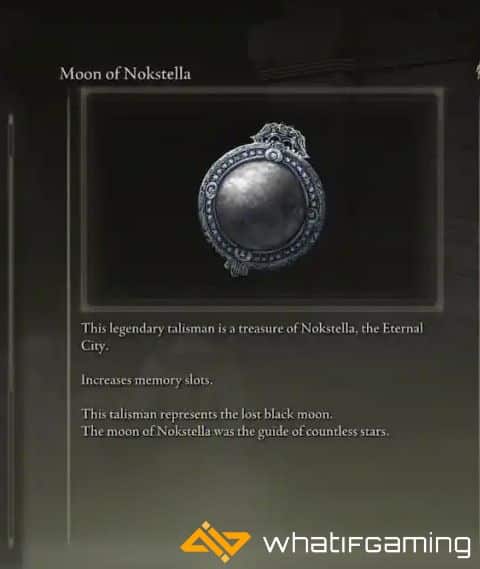 If you want to further increase your Memory Slots to a total of 12, you need to gather the Moon of Nokstella. To get them, you need to head over to the Nokstella, Eternal City Site of Grace, and climb up the stairs. From there, you must:
Keep climbing up the stairs and dodge the large boulder.
Go to the top of the stairs and turn right and go inside this area.
Now, go straight and enter a room that has a large throne.
You will be stopped by two Mimic Tears and a few other enemies as well.
Whether you choose to defeat them or ignore them, grab the Moon of Nokstella from the chest beneath the throne.
Unlike the Memory Stones, you need to equip the Moon of Nokstella to increase your Memory Slots. Doing so will give you 2 additional slots for you to equip your spells.
---
Conclusion
That's everything you need to know about how to increase Memory Slots and get additional spells. You can get up to 12 total spell slots if you get all Memory Stones and the Moon of Nokstella as well. So, if you are a magic user, make sure that you get all these items and use tons of useful spells!
Having more spells will allow you to defeat more bosses and enemies, and progress through the game. Plus,
Did you manage to find all 8 Memory Stones and Moon of Nokstella? Which spell is your favorite in Elden Ring? Let us know your thoughts in the comments below.