Elden Ring is FromSoftware's biggest release yet, and likewise, its modding scene is bigger than ever. Like previous Soulsborne titles, it's pretty easy to load up mods in Elden Ring on PC. In this step-by-step guide, I'll show you how to install and run mods in Elden Ring. So without further ado, let's get started!
How to Prepare Elden Ring Mods
As mentioned above, it's pretty simple to install mods. But before we get into modding, let's get into the nitty gritty of it so you won't mess up your game copy and save files.
1. Go Offline
Apart from obviously owning a PC copy of Elden Ring, first thing first, ensure running the game in offline mode. That's because the EasyAntiCheat (EAC) service is a headache to deal with, and it can ban you from using mods if detected. Here's how to go offline in Elden Ring:
Under the files heading, click manual download to download it.

Once you've downloaded it, extract the file anywhere on your PC using Winrar or 7-zip.
After that, open up the newly unzipped folder, and copy its content into your Elden Ring folder.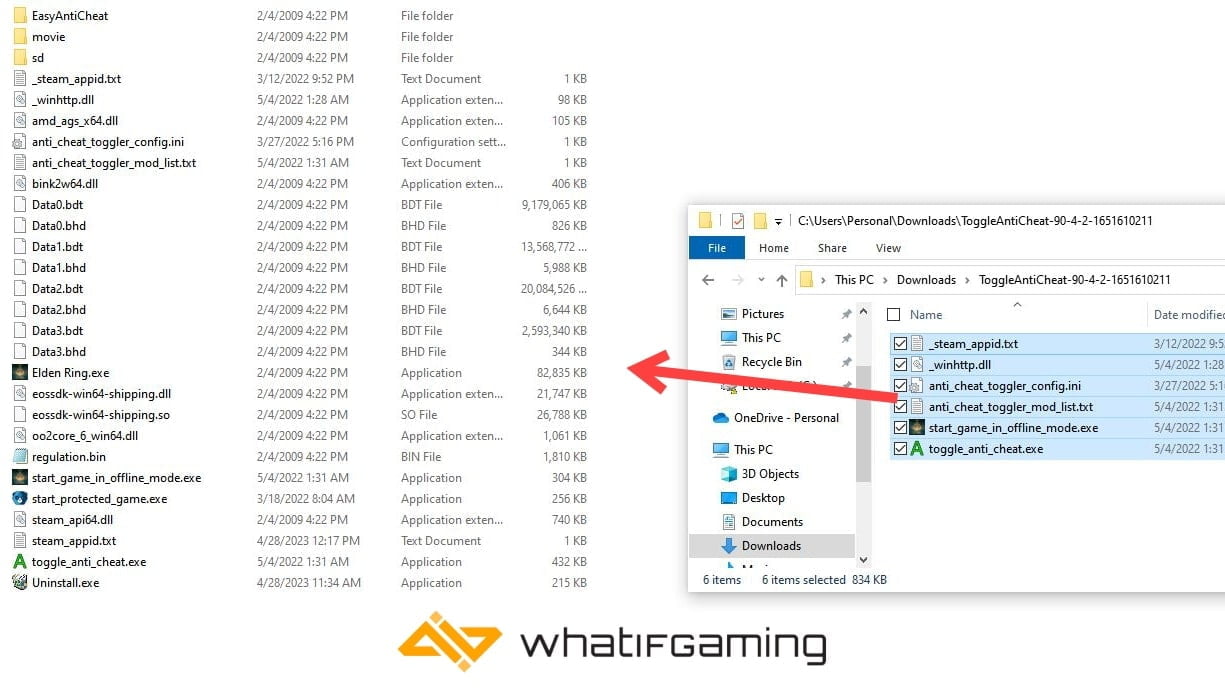 If you're having trouble finding your Elden Ring folder, open Steam, then right-click Elden Ring and hover your cursor over Manage, and you'll find Browse local files, which should lead you to the game files.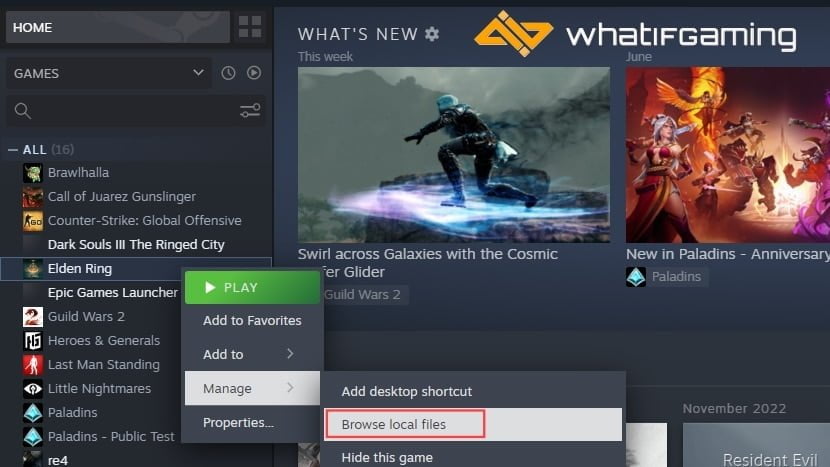 Now that you've copied the contents, running the toggle_anti_cheat.exe before booting your game will disable EasyAntiCheat.
Now, if you launch the game, there should be a pop-up saying "unable to start in online mode" before the main menu, meaning you're offline.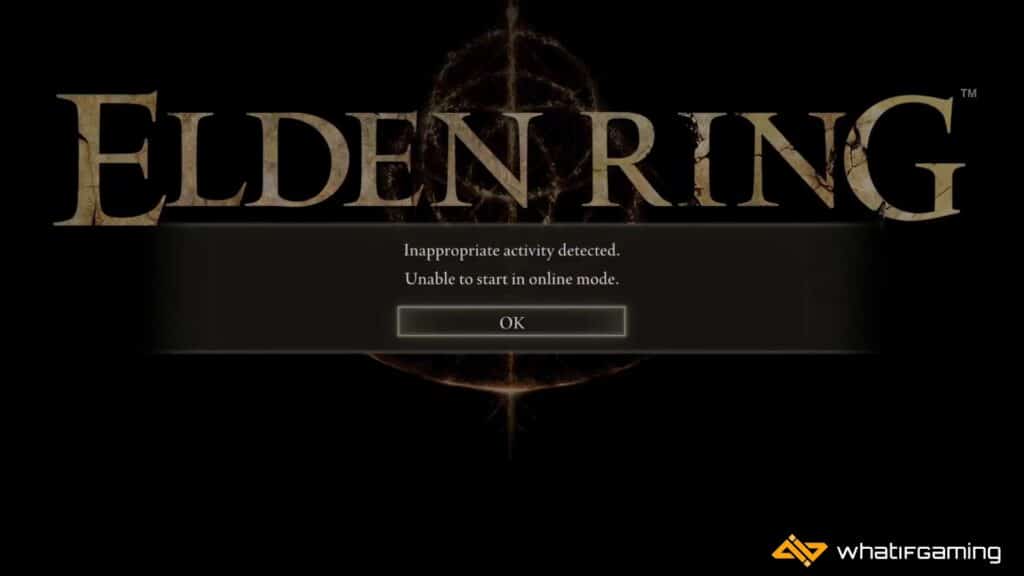 2. Backup your Save Files
Next up, you'll need to backup your Elden Ring save files. Some mods can mess up your vanilla save files and may cause you to lose your in-game progress. So, to be better safe than sorry, always create a backup of your saves.
To backup your Elden Ring save files, open up This PC and select the C Drive.

Inside the C Drive, select the Users Folder.


After that, select the username folder matching your user profile.
Inside it will be the App Data folder, so open that.
If the App Data folder is hidden, simply click the View option on top of the toolbar and check Hidden File.
After that, you'll find the save file folder for Elden Ring in Roaming.

Finally, copy the entire folder somewhere safe on your PC to create a backup of it.
3. Download an Elden Ring Mod Manager
You'll also need an Elden Ring Mod Manager to load the mods while playing the game. While there are several of these tools, the one that's well-received by the community is Mod Engine 2. The best thing about this tool is that it will help you organize your mod files and comes with its own in-built offline Elden Ring launcher, meaning you don't need to go offline manually.
Go to the following Github link to download Mod Engine 2.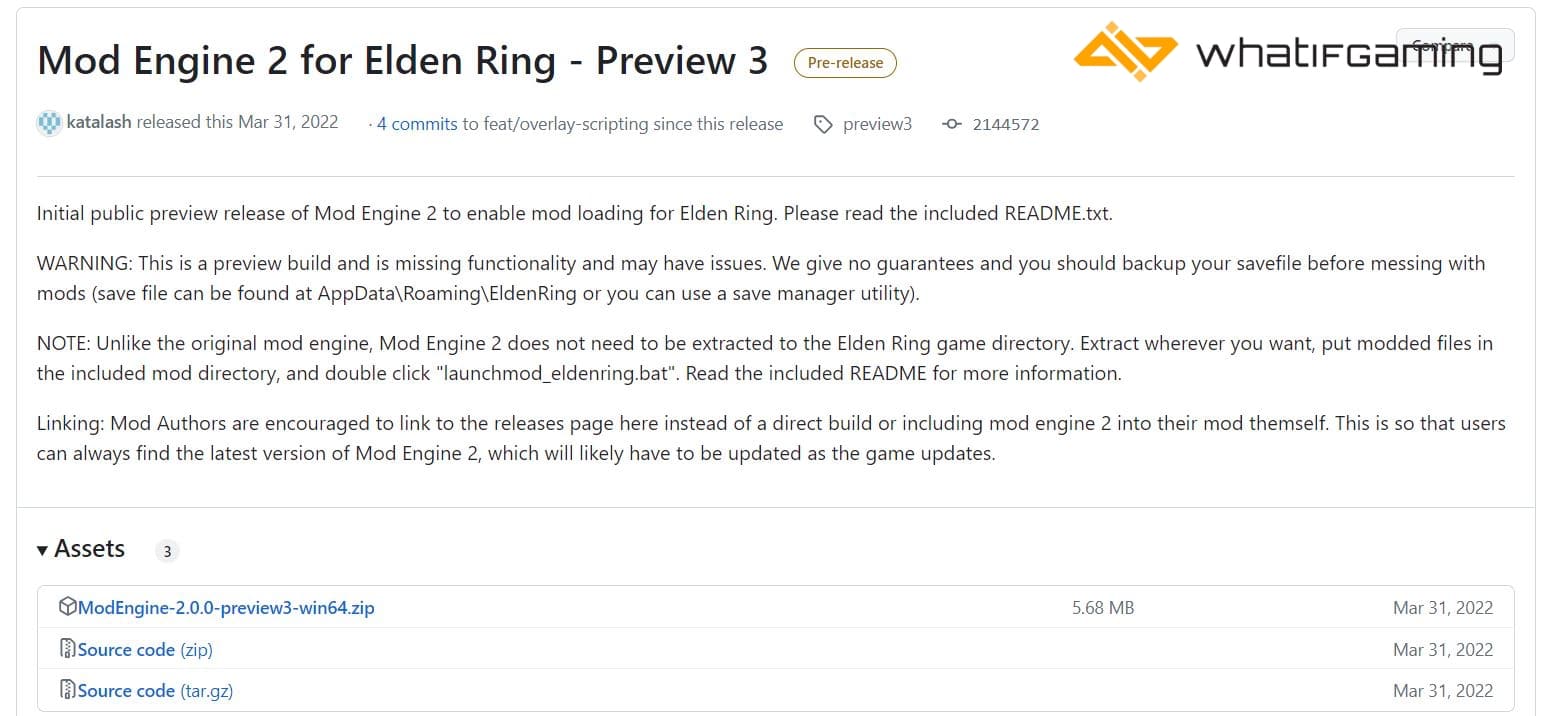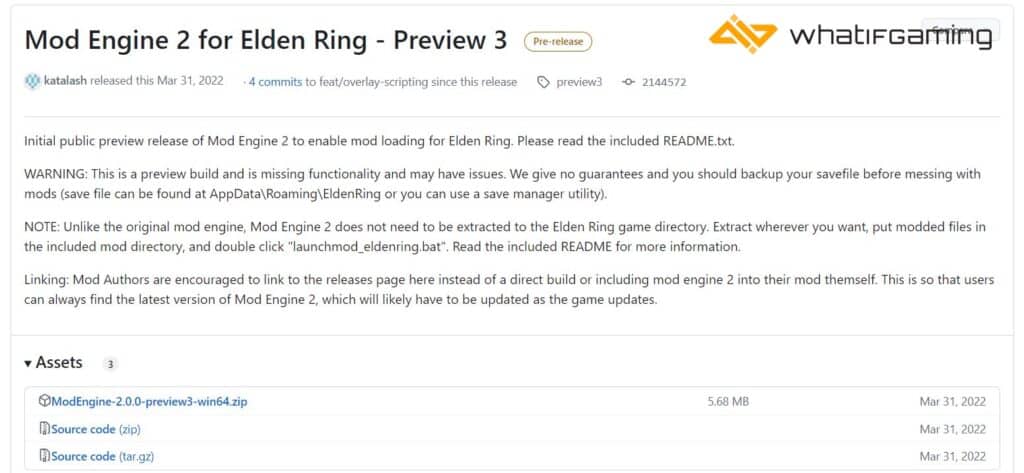 Extract the zip files using Winrar or 7-zip wherever you like.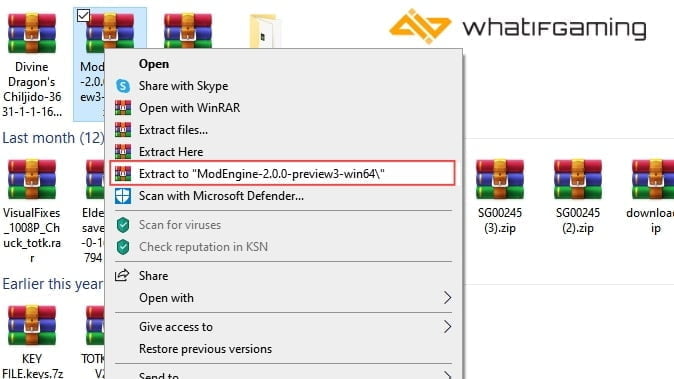 Open up the new folder, and you'll find the mod folder (that's where the mod files will go) and the launchmod_eldenring.bat (to launch modded Elden Ring).

That's it; you've now set up Mod Engine 2 for Elden Ring.
While Mod Engine 2 is the most generally accepted mod launcher for Elden Ring, some mods may require different tools. Fortunately, setting up other mod launchers is also pretty similar and doesn't involve jumping through many hoops.
Installing Mods for Elden Ring
Now, let's get to the good stuff, installing mod files for Elden Ring. NexusMods has a staggering repository of Elden Ring mods; you can look up all sorts of mods here.

Extract the files, and you'll see that this one comes with a parts folder.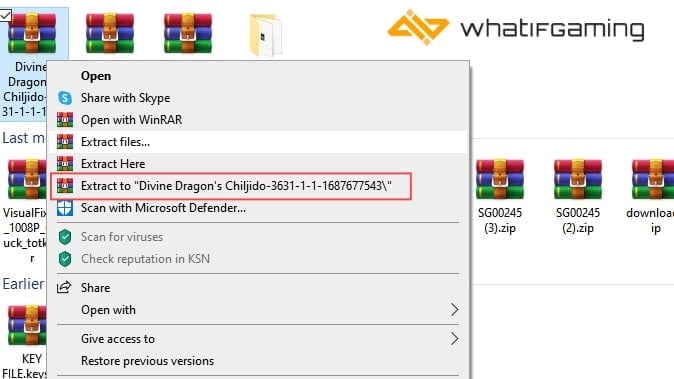 In case your mod files come with folders like parts, sfx, or chr, among others, copy the entire folder to the mod folder in Mod Engine 2, as shown below.
That's it; now run launchmod_eldenring.bat to boot Elden Ring in offline mode, and you'll have the mod installed.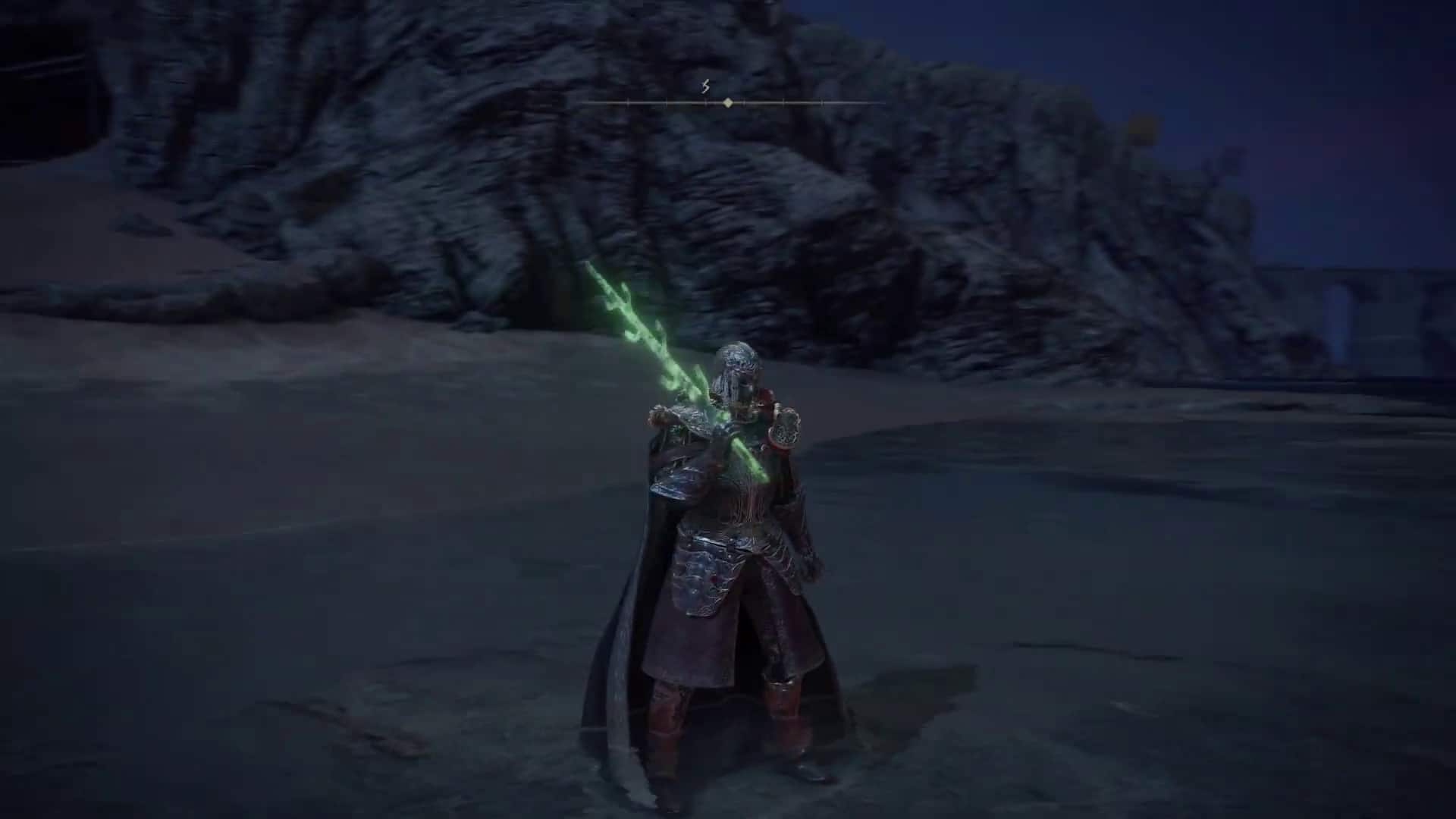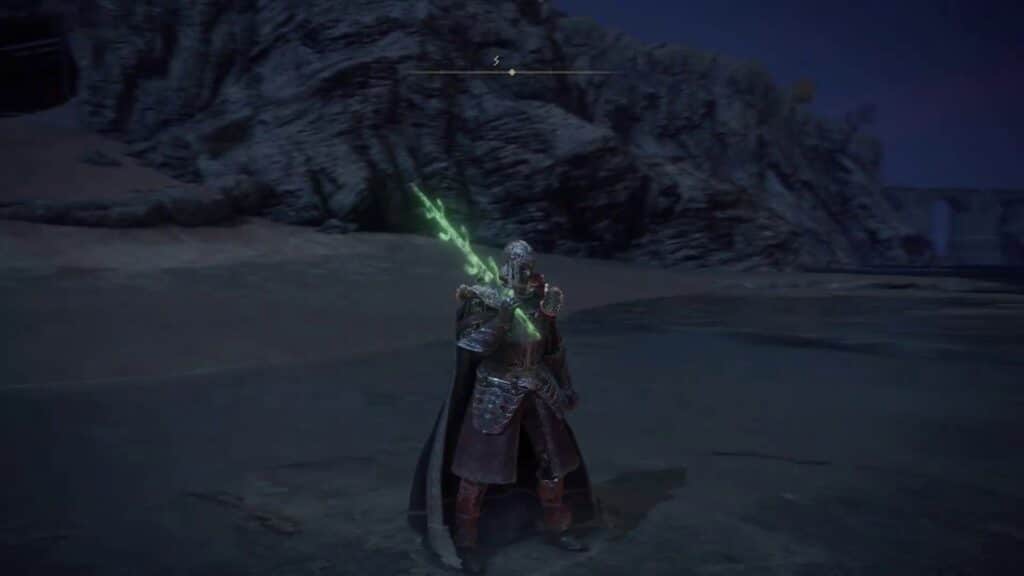 In this case, this mod will replace the Zweihander in Elden Ring.
How to Enable and Disable Mods on Mod Engine 2
Compared to other Mod Launchers, Mod Engine 2 grants you a greater command to organize your mod files. With this, you can also enable and disable your mods. Here's how to mod Elden Ring:
Inside the Mod Engine 2 folder, you'll find a file by the name config_eldenring.toml


So right-click the file, select Open with, and pick Notepad in the prompted pop-up.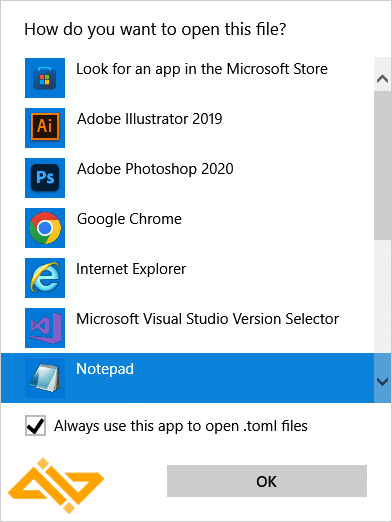 Once done, you'll find some confusing text, but only pay attention to the highlighted text in the image below.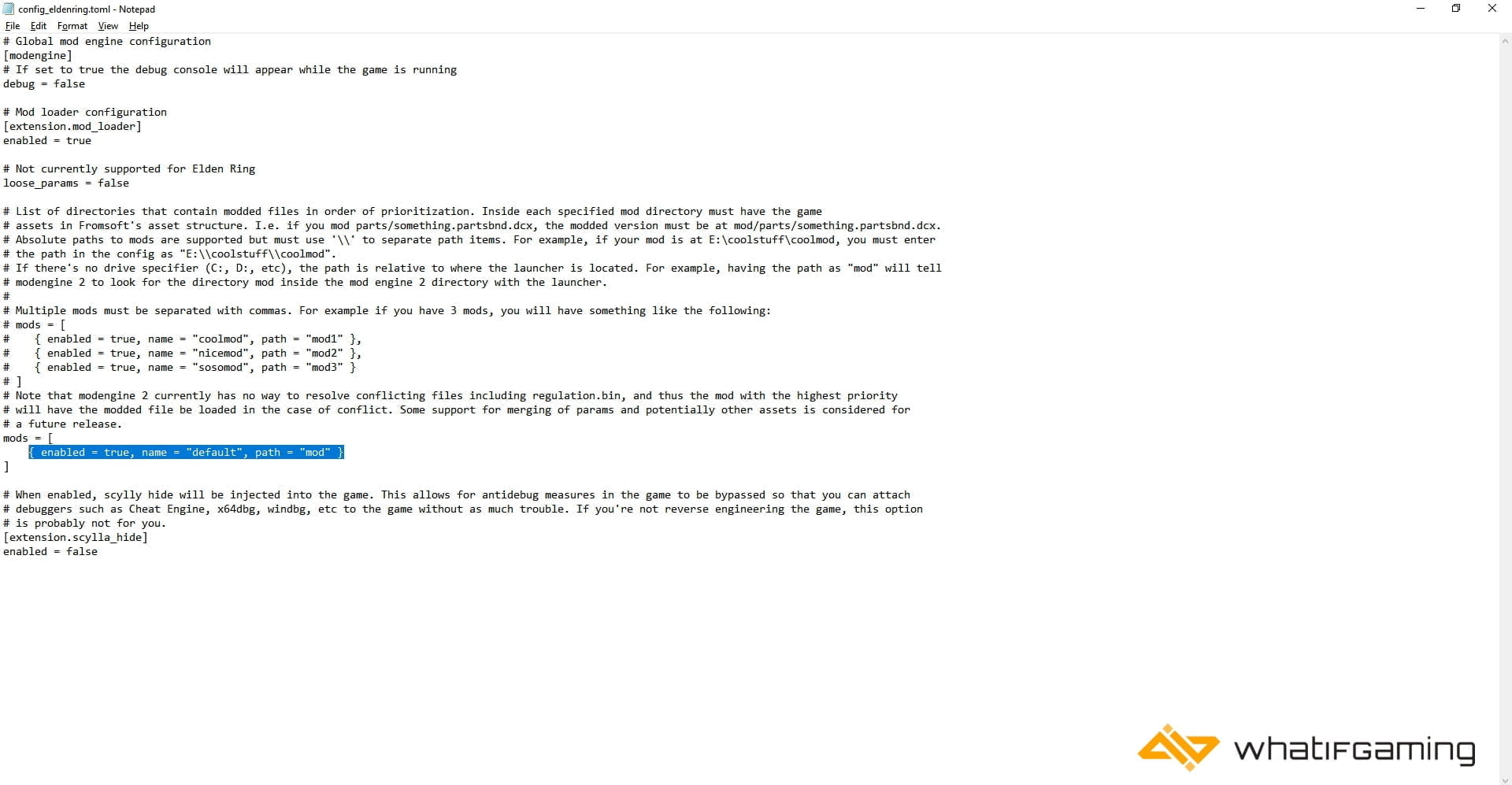 To disable your mods, simply replace true with false and vice versa to enable them.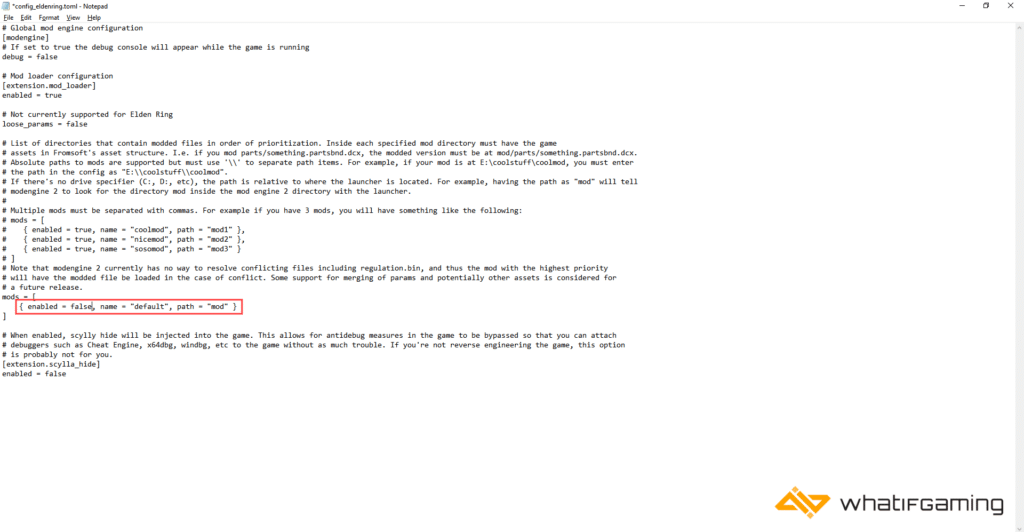 How to Organize Mods
Besides enabling and disabling mods, you can also run mods by creating custom mod folders inside Mod Engine 2. For instance, I've created a separate Divine Dragon's Chiljido folder with all the mod files inside.

After that, I simply copied the line, pasted it below, and replaced the name and path with the folder name, as shown in the image below.
Finally, ensure adding a comma at the end of every last line, as shown above. If you launch the game, the mod will be working perfectly fine. This will allow you to have greater control over your mods.
Final Thoughts
And there you have it; that's all there is to know about quickly installing Elden Ring mods. If you still have any problem installing mods, let us know in the comments below.