The latest version of Genshin Impact will be out in 2 days is out now and is one of the biggest updates yet. miHoYo has been true to their schedule, and we are getting an update every 6 weeks. Similar to previous updates, this one brings new playable characters, quests, and items. The developers have been hard at work to constantly provide new content for players on a tight schedule. Sadly, there still haven't been any improvements when it comes to the update process. Updating through the launcher is still a hassle, and for the most part, you won't get the speed you should be. If you want to manually update to Genshin Impact version 1.5, here is how you can do that.
If you have been following our Genshin Impact coverage, you'll know that we have provided a manual guide for each update. Aside from that, a common error, which is 'Game Verification Error' is also fixable, and updated for each new update.
Manually update Genshin Impact version 1.5
Now, if you can get the update through your launcher, that's the most ideal way. However, for a lot of users, that option simply doesn't work, and if it does, the download speed is super low. The biggest benefit of manually updating is that you can use whatever download manager you want.
Before we get started, you need to make sure that you are on version 1.4. You can follow this guide to manually update to 1.4.
After you have ensured that, you can follow the steps below.
Open the Genshin Impact launcher, and make sure it is updated (We are talking about the launcher itself, and not the game. It will give you a prompt to update it if there is a new update for the launcher available.)
Now, click on the Update button, and then Pause it
Close the Genshin Impact launcher, and make sure it is closed from the taskbar as well. Right-click on the icon, and select Exit, as shown below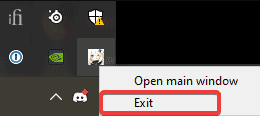 After closing it completely, head over to the following location
C:\Program Files\Genshin Impact\Genshin Impact Game\
Here, delete all the .zip_tmp files (these are the temp files downloaded during the initial download we initiated)
Now, download the following patch files (Yes, all of these)
After you are done downloading these, copy all 5 zip files to the Genshin Impact Game folder
C:\Program Files\Genshin Impact\Genshin Impact Game\ 
Important: DO NOT EXTRACT ANY OF THESE zip FILES. If you do this before version 1.5 is live, your game will be unplayable
Run the launcher, and it should say Game Pre-Installation Done. If you are following this method when the update is live, you will be able to play the game as you normally would.
Run the launcher, and click on Update, it will unzip the downloaded files and install/verify the game.
[UPDATE: After you have updated to 1.5, you can now update to 1.5.1 by following this guide as well]
We hope this guide was helpful. If you have any questions, feel free to ask them in the comments below.