2021 is already off to a great start when it comes to video games with amazing titles like Hitman 3 already out on the market. However, there are some games that came out last year that are still thriving in 2021, and one of those is the gacha title Genshin Impact. This game was developed by the Chinese studio miHoYo and came out in September last year. It is available for free on a variety of systems including PC, PS4, PS5, Android, and iOS. It is being updated with new content, and players have already invested hundreds of hours in the game world. If you are on PC however, and for whatever reason want to play Genshin Impact without the launcher, here is how you can do that.
With each new update, there are bound to be some technical problems, and errors that pop up. We have covered various errors including the 9910, 9906, and even 9107. Make sure to check those out if you are having technical difficulties.
Play Genshin Impact without the launcher
Some users run into problems with their launcher, even after the game has updated. This can happen for a variety of reasons, and to bypass it, you might have to manually launch your game. To do this, follow the steps mentioned below.
First, make sure the launcher isn't running in the background.
You can check that by opening the Task Manager and searching for anything related to Genshin Impact.
Close that program by right-clicking it and selecting End Task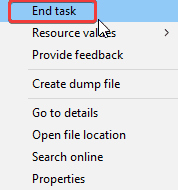 Now, right-click on the short for the launcher on your desktop, and select "Open file location"
Once the folder opens up, you want to open the Genshin Impact Game folder
Here, run the game by double-clicking the GenshinImpact executable
This will launch the game for you. There is a good chance that after you manually launch it, the launcher will be fixed as well. However, if you keep running into issues with the launcher, simply use this method.