Hogwarts Legacy is now available for PC and console users that purchased the deluxe edition. The PC version is a bit demanding, and there are several reports of lower performance and stability issues. Here are a few things we recommend to improve your game's performance and reduce the Hogwarts Legacy stuttering issues on the PC version.
Reduce Hogwarts Legacy Stuttering
Hogwarts Legacy is running on Unreal Engine 4, so it shouldn't come as any surprise that there are stuttering issues. This is beyond just the shader compilation, though, and it frequently happens, especially in its current state. Either way, the following tips should improve your performance and experience in general.
NVIDIA Users PSA: Update Your DLSS Version
If you're an NVIDIA user, here is how you can get a massive boost in performance by simply updating the game's DLSS version. If you've done this before, then simply update to 2.5.1, but if you're unfamiliar, here is how you can do this.
First, make sure the game isn't running. You can check from Taskbar for an additional measure.
Now, head over to the following TechPowerUp link
Here, click on the Download button under NVIDIA DLSS DLL 2.5.1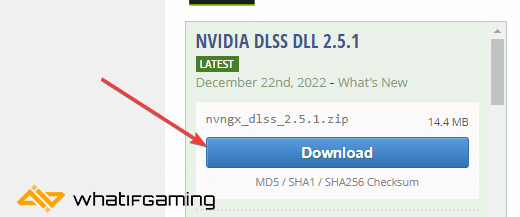 This will download a zip file that you need to extract with a compression tool like Winrar or 7zip
After that, copy the nvngx_dlss.dll file, and navigate to where Hogwarts Legacy is installed
Navigate the following folders
steamapps\common\Hogwarts Legacy\Engine\Plugins\Runtime\Nvidia\DLSS\Binaries\ThirdParty\Win64
In the Win64 folder, paste the nvngx_dlss.dll file, and if it asks to replace it, do it
Launch the game, and enjoy much better performance with DLSS enabled
This is the manual method to do it, and if you verify the game files, the previous version will be restored. If you want to use an application that handles it for you, you can use DLSS Swapper, which does most of the work for you. You can get that from GitHub.
Use DLSS and FSR 2.0
If you're an NVIDIA user, make sure you're making use of DLSS, especially after following the steps above. This will greatly improve your performance and reduce potential stuttering. NVIDIA users with a 4000 series GPU should definitely make use of DLSS 3.0 as well.


If you don't have an RTX GPU or are an AMD user, then using FSR 2.0 will net you a lot more FPS at the cost of reduced image quality. I recommend setting a higher resolution, like 1440p or 4K, and then using something like a "Performance" preset.
Install the Game on an SSD
Like other modern PC releases, the requirement recommends that you install Hogwarts Legacy on an SSD. This is to reduce any stuttering caused by asset streaming and can potentially improve the stability of your experience. It's highly recommended that you shift to a faster drive if you have it currently installed on a regular HDD.
Turn off Ray Tracing
It should go without saying, but if your GPU is mid-ranged, then you should turn off Ray-Tracing because this is easily one of the most taxing settings.


Update your GPU Drivers
Make sure that you have the latest drivers for your GPU installed. You can get the latest ones from the links below.
Update DirectX and Visual C++ Redistributables
Ensure that both DirectX and Visual C++ Redistributables are on the latest version.
Switch to dedicated GPU (Laptop Users)
Ensure that your dedicated GPU is being utilized instead of the integrated one.
Switching to the Dedicated Nvidia GPU
First, open the Nvidia Control Panel
Then navigate to 3D Settings and then Manage 3D Settings
Open the tab Program Settings and choose Hogwarts Legacy from the dropdown menu
Next, select the preferred graphics processor for this program from the second dropdown.
Your Nvidia GPU should show as High performance Nvidia processor
Save the changes
Switching to the Dedicated AMD GPU
First, open Radeon Settings
Then navigate to Preferences, followed by Additional Settings
Here, select Power and then Switchable Graphics Application Settings
Select Hogwarts Legacy from the list of applications
If Hogwarts Legacy isn't on the list, click the Add Application button and select the executable from the installation directory. This adds the game to the list, and you'll be able to select it afterward.
In the column Graphics Settings, assign the High Performance profile to the game.
If you have any suggestions, and if something worked for you, please let me know in the comments, and I'll add it to the list of fixes.
We hope this guide helped and reduced the Hogwarts Legacy stuttering issues. Let us know if you have any questions in the comments below.