Necromunda: Hired Gun is a first-person shooter set in the Warhammer Universe. It is developed by Streum On Studio, who brought us E.Y.E: Divine Cybermancy and Space Hulk: Deathwing. Focus Home Interactive is the publisher, and this isn't their only Warhammer title. The reception has been a mixed bag with critics praising the game's gunplay, and environmental design. There are some technical issues, and the developers are aware of those. If you want to reduce the Necromunda Hired Gun Stuttering Issues, here are a few things you can try.
The game has launched at a discounted price on Steam, and it will be available till 10th June. The user reviews are mixed so far, but we hope to see those improvements as the developers deploy patches. The known issues list mentions multiple problems that they aim to fix.
Reducing the Necromunda Hired Gun Stuttering
One of the known issues is that there's stuttering when an enemy spawns. This has been noticeable for multiple users, on a variety of hardware. To mitigate this, you can try the following methods. These fixes seem to have lessened the severity of stuttering somewhat until an official patch comes out.
Disable DLSS
DLSS is an extremely helpful tool that can improve your performance substantially. A few users have reported that turning it off actually helps in mitigating stuttering in this game's case. Try turning it off, or setting it to balanced, and see if that changes anything.
Enable V-Sync
While a lot of gamers prefer to leave v-sync off in most fast-paced FPS shooters, enabling it seems to improve performance somewhat. Head over to your graphics settings, and see if enabling that reduces stuttering.
Disable Texture Streaming
Since this is an Unreal Engine 4 title, we can make some config edits to improve the experience. Texture streaming reduces load times, but it might cause stuttering for some players. Disabling it will increase load times, but there's a good chance you will see a reduction in stuttering. To do this, follow the steps below.
Open Windows Run by pressing the Windows + R keys together, or simply searching it in Windows Search
In Windows Run, add the following address as shown below
%LOCALAPPDATA%\Streumon\Necromunda\Saved\Config\WindowsNoEditor\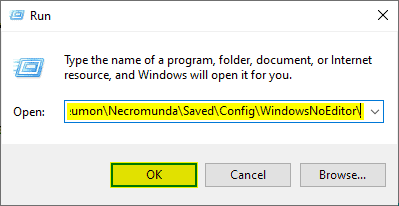 Open the Engine.ini file using a text editor like Notepad
Add the following lines
[SystemSettings]
r.TextureStreaming=0
If the stuttering isn't reduced you can edit the file again, and remove the lines.
Update your GPU Drivers
Ensure that you are on the latest drivers of your dedicated graphics card. You can download the latest drivers from the links below.
One of these methods should at least improve your experience somewhat, and reduce the Necromunda Hired Gun Stuttering. Other titles that suffer from stuttering issues that we have written guides for include Yakuza 6, Nier Replicant, Nioh 2, and more. Make sure to check these out to improve your gameplay experience.
We hope this guide was helpful. Are you enjoying the game so far? Let us know if you have any questions in the comments below.