Dying Light 2 is a sequel to the highly popular survival action game from Techland. The title was originally revealed back in 2018 and has been delayed multiple times over the past years. Now, after a long wait, the title is finally out, and available on PC, current, and last-gen consoles. The title has been received positively from critics, with scores pretty similar to the first entry. The PC version is arguably the most advanced, and feature-rich, just like the last entry. If you want to skip the Dying Light 2 Intro videos on PC, here is how you can do that.
If you are running into crashing issues, especially at launch, we recommend checking out our guide that gives a few pointers, and developer recommendations on how you can fix that. There are some technical issues currently in the game, but hopefully, those can be fixed with some patches. It is also recommended that players update their game, and ensure that the Day One patch is installed.
Skip the Dying Light 2 Intro videos
If you are tired of seeing the intro videos every time you launch the game, you can easily skip those. Unlike most tiles where you have to delete certain files, it's way simple in Dying Light 2. To do so, follow the steps below.
Open Steam, and navigate to your library
Right-click on Dying Light 2, and select Properties

Now, in the GENERAL tab, enter the following command under LAUNCH OPTIONS
-nologos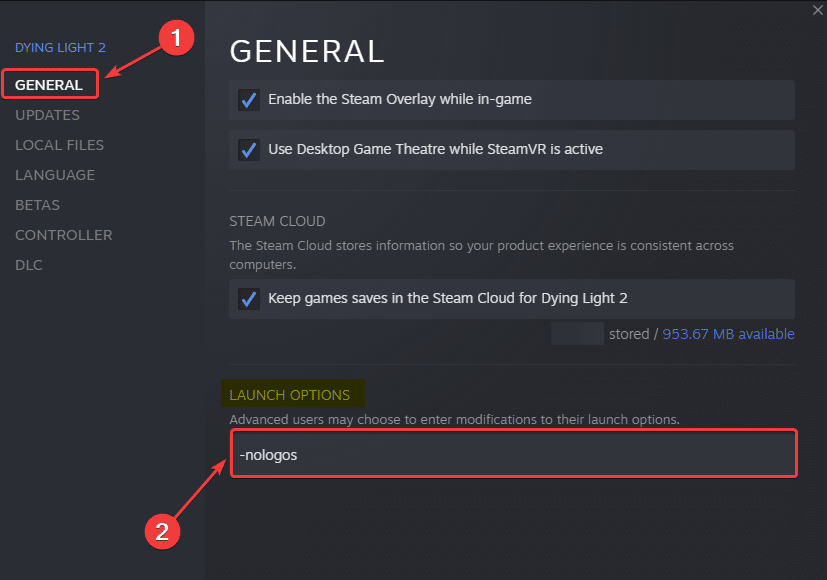 After you are done with these steps, you can launch the game without having to watch the logos. If you want to add additional commands, simply add those by leaving a space.
The game had a peak concurrent count of over 164K players, and it's been less than a day since it launched. It's a huge launch on Steam, and we expect it to be even bigger on consoles.
If you want to skip the intro videos in other recent PC titles, make sure to check out our guides for God of War, Deathloop, and the Ninja Gaiden Collection.
We hope this guide helped and let you skip Dying Light 2 intro videos. Let us know if you have any questions in the comments below.