Returnal is the latest PC release from PlayStation's exclusive first-party catalog. It's out now on Steam and the Epic Games Launcher, and the reception has been very positive so far. Booting it up can take a bit, though, and if you're looking to save a few seconds, here is how you can skip the Returnal intro videos on PC.
Skip the Returnal Intro Videos on PC
A bunch of logos show up when you launch Returnal, and you can easily skip past those by deleting a few video files, and here's how.
Open Steam and then your library
Here, right-click on Returnal
Click Manage
Then select Browse local files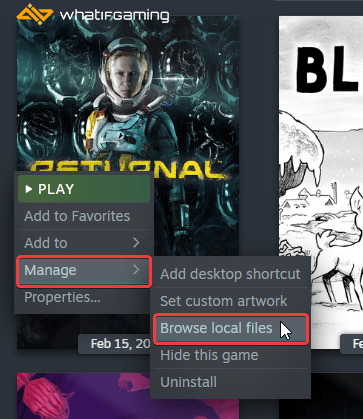 This will take you to where Returnal is installed
Navigate the following folders
\Returnal\Content\Movies
Here, delete or rename the following files (double-check what you're deleting because there are a bunch of files here)
Logos_PC.mp4
Logos_PC_UW21.mp4
Logos_PC_UW32.mp4
Logos_Short_PC.mp4
Logos_Short_PC_UW21.mp4
Logos_Short_PC_UW32.mp4

Now, launch the game, and it'll boot up way faster than before.
That's all you need to do to skip past the intro videos. Keep in mind that if you verify the game files, these videos will be back, and you'll need to follow the steps again. Additionally, it's possible that during updates, the client might redownload the files as part of the verification process.
If you're running into any crashes at launch, make sure to check out my guide for that. If you can't get your controllers to work properly, I have a simple guide to address that.
We hope this guide helped and let you skip the Returnal intro videos. Let us know if you have any questions in the comments below.