Shadow Man Remastered is one of the best remasters of the year. It brings back the cult classic and adds a lot to it. These additions include new enemies, levels, and even weapons. Nightdive Studios have put out an impressive port that even has ultrawide support, which isn't even common for modern PC titles. It's also available on multiple storefronts on PC right now, with a console release planned for later. If you want to make the experience even better, here is how you can skip the Shadow Man Remastered Intro Videos.
A few users also complained about a crash at launch, and you can fix that by reading our guide. Apart from that one issue, the port runs very well and provides enough options to feel like a modern game.
Skip the Shadow Man Remastered Intro Videos
There are a few intro sequences that aren't skippable, apart from a cutscene. This can be a bit annoying to sit through every single time you launch the game. The fix is quite simple, and won't harm your game files at all. To get rid of these, follow the steps below.
First, head over to where the game's location
To do this in Steam, simply right-click on Shadow Man Remastered in your library
Click on Manage, and then Browse local files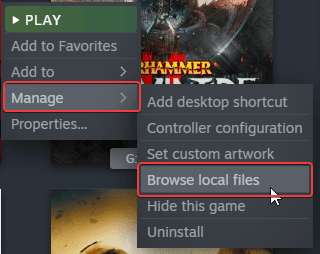 This will take you to the folder where the game is
Here, delete or rename the movie-folder with everything inside it (renaming is a safer option if you want to sit through the videos again)
After you are done with that, you can relaunch the game, and will only get into one cutscene, which is skippable with a keypress. Everything other than that will be skipped, and the main menu will show up.
Shadow Man Remastered is also coming to the PS4, Xbox One, and the Nintendo Switch at a later date this year in 2021. Nightdive Studios are responsible for tons of remasters of classic titles, and their contribution to game preservation is unmatched.
We hope this guide was helpful. If you have any questions, feel free to ask them in the comments below.