There are plenty of reasons why a Valorant player might want to uninstall the game. Uninstalling and reinstalling the game can help solve plenty of issues like corrupted files or installation errors. You can also uninstall it if you want to move it to a different drive. Of course, the most obvious reason to uninstall Valorant is to quit the game for good.
We're here to help you out whether you want to uninstall Valorant to fix issues, change installation locations, or quit the game for good. Here's how to completely uninstall Valorant in 3 quick steps.
Close Vanguard
The first thing you have to do is to close Riot Vanguard. Vanguard is Riot Games' own anti-cheat software that always runs in the background. It automatically gets installed when you download Valorant. You can't launch the game without it, which is why it's one of the most common Valorant errors people run into.
Follow these quick steps to close Vanguard:
Go to your system tray and find the Riot Vanguard icon.
Right-click on Vanguard and select Exit Vanguard.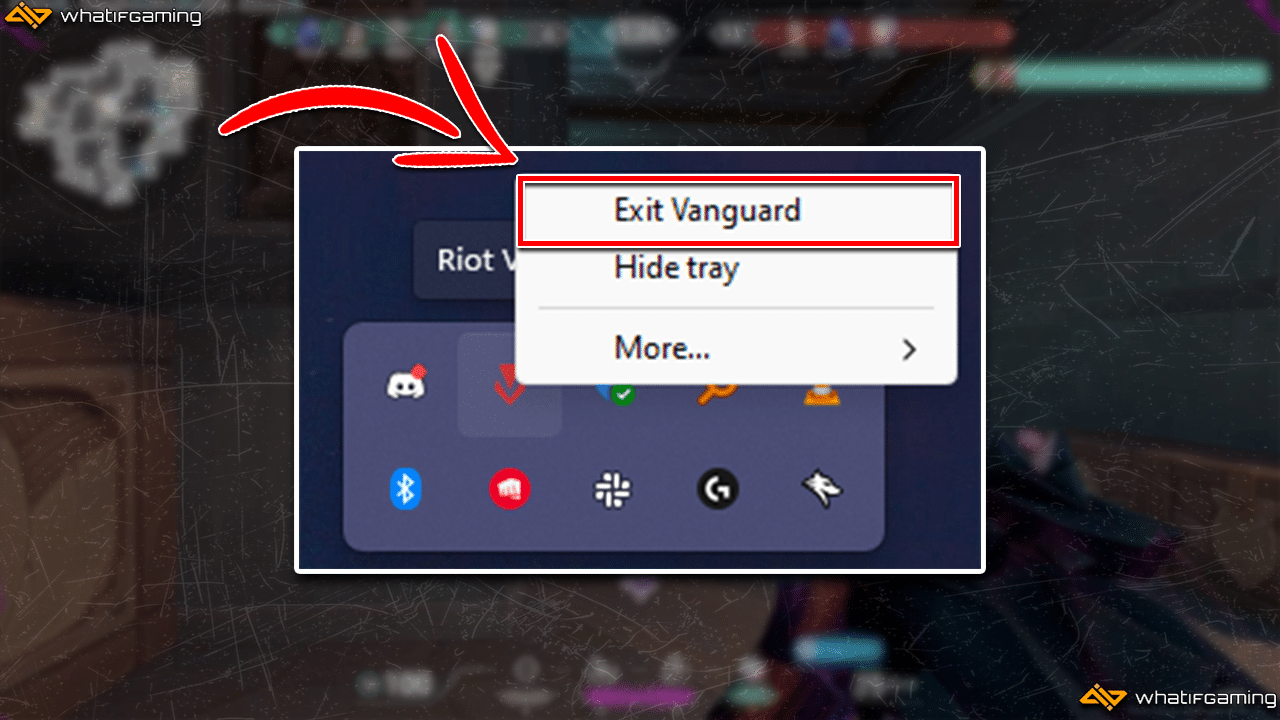 A confirmation message should appear asking if you want to turn off Riot Vanguard. Select Yes to proceed.
Uninstall Vanguard
The next thing you have to do is to uninstall Riot Vanguard. It's best to uninstall it before you delete Valorant since it can cause some issues with your system. It might also be a bit difficult to uninstall Vanguard once Valorant is gone from your program files.
Here's how to uninstall Vanguard:
Click on the Windows search bar, type in Add or Remove programs, and select the first result.
Once you're in your installed apps, scroll down and find Riot Vanguard.
Click on the three dots right next to the Riot Vanguard app, select Uninstall, then click on Uninstall again.
A pop-up message should appear confirming that you want to uninstall Vanguard. Click on Yes to proceed.
Uninstall Valorant
Now, let's move on to how to uninstall Valorant. The process is pretty simple and will be familiar to you if you've uninstalled apps like Steam, Discord, and games, among others.
Don't worry if you haven't, though. You can simply follow these steps to find out how to delete Valorant.
Click on your search bar, type in Add or remove programs, then press enter.
Wait for all your installed apps to load, and then find Valorant from the list.
Click on the three dots across the Valorant icon, select Uninstall, then click on Uninstall from the pop-up message that appears.
A Riot Games uninstall window should appear. Just wait for it to finish and then click on Done to exit.
That's pretty much it. You have now successfully uninstalled Valorant from your PC.