The Heroes in Survivor.io each have unique abilities that can assist you in battle. Unlocking a Survivor is a huge investment, and you wouldn't want to regret it in the end. It took me a long time to decide which character to prioritize and even longer to actually unlock them. So, commit now before finding out how to unlock the character Heroes in Survivor.io.
Unlocking Every Character in Survivor.io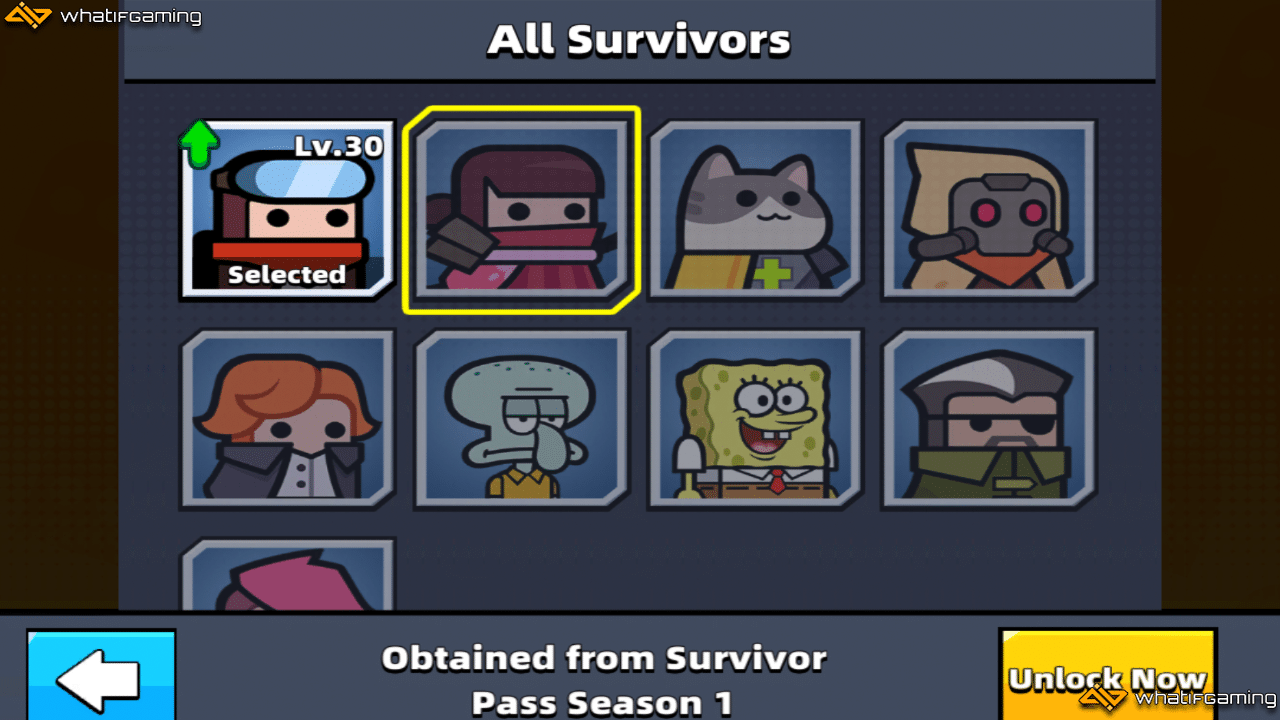 All Heroes in Survivor.io were released as part of a Season Pass or an event. Of the 8 locked characters, only 6 are currently unlockable. Squidward and Spongebob are exclusive to the Deepsea Survivor Support Brawl event. The rest can be obtained by purchasing their respective Season Passes or collecting enough Shards.
Buying the Premium Pass allows you to instantly unlock the Survivor tied to that season. However, this method is the most expensive at $19.99. A cheaper method to buy your way through a character is the Survivor Pass. With the Survivor Pass, you can slowly accumulate Hero Shards by progressing through the tiers. Once you have enough Shards, you can use them to unlock the character.
If you've missed the respective Season Passes of the Survivor you are aiming for, don't worry – there's still a way to unlock them. You still need to collect Shards, but the method is entirely different now. Here are the ways to collect Hero Shards in Survivor.io:
By opening Ender's Echo chests
From Ender's Echo Ranking Rewards
Exchanging Special Ops Coins
Through limited-time special events
These will usually be in the form of random Survivor Shards, making it a bit tedious to unlock specific characters. As long as you keep securing those victories, it shouldn't take too long before you can collect enough for your favorite character. I enjoy completing the Special Ops missions, so I highly suggest trying it out, but to each their own.
If you lack the patience to collect Shards, you can brute-force your way to a Survivor by purchasing them for money or Gems.
Here are the purchase requirements for each Survivor:
| Survivor | Number of Shards Required to Unlock | Direct Purchase For |
| --- | --- | --- |
| Tsukuyomi | 80 Tsukuyomi Shards | $29.99 |
| Catnips | 50 Catnips Shards | 6000 Gems |
| Worm | 80 Worm Shards | $29.99 |
| King | 80 King Shards | $29.99 |
| Wesson | 80 Wesson Shards | $29.99 |
| Yelena | 80 Yelena Shards | $29.99 |