Demon Slayer -Kimetsu no Yaiba- The Hinokami Chronicles is an anime 3D fighter from CyberConnect2 and SEGA. The developers are known for various other anime fighting games as well, including the Naruto series. These games have local, and online modes, and this Demon Slayer title is no different. However, there are some technical limitations, which players aren't happy about, especially the framerate. If you want to unlock the Demon Slayer The Hinokami Chronicles FPS, here is how you can do that.
Despite the framerate lock, the game has Very Positive reviews on Steam. Fans of the anime are quite happy to play as their favorite characters, and it's always nice to see more anime games make it to the PC market.
Unlocking the Demon Slayer The Hinokami Chronicles FPS
The game is locked at 30FPS, and the online combat is designed around that. Players are angry that a PC title is still running at 30 FPS when a vast majority of games support at least 60 FPS.
Note: This means that you won't be able to play online properly if you unlock it to anything above it. You will be running into extreme lag, broken animations, and more issues.
With that said, you can unlock the framerate for the adventure mode or for offline local play, where you won't be running into issues.
Open Windows Run by either pressing Windows + R keys together, or by searching for it in Windows Search
Enter the following address, and press OK
%LOCALAPPDATA%\APK\Saved\Config\WindowsNoEditor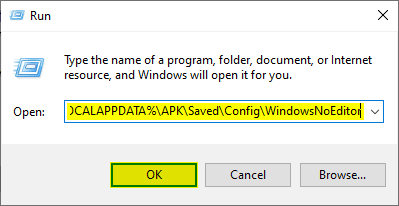 Here, open the Engine.ini file using a text editor like Notepad or Notepad++
Add the following lines at the bottom of the file
[/script/engine.engine]
bUseFixedFrameRate=False
bSmoothFrameRate=True
MinDesiredFrameRate=60.000000
SmoothedFrameRateRange=(LowerBound=(Type=Inclusive,Value=30.000000),UpperBound=(Type=Exclusive,Value=60.000000))
The above will set the framerate to 60FPS. If you want to use a specific value, simply set that in the "MinDesiredFrameRate=", and, "UpperBound=(Type=Exclusive,Value=" to whatever you desire.
Now, the developers are planning to release a patch that will add 60 FPS as well, but the timeline hasn't been confirmed yet. They are asking players to be patient, especially with the ongoing pandemic.

Again, this method above will allow you to adjust the framerate, but it won't be functional online, so this is for offline play.
We hope this guide was helpful, and you were able to unlock the Demon Slayer The Hinokami Chronicles FPS on PC. If you have any questions, feel free to ask them in the comments below.