If you're getting back into Apex Legends after a while or want to play with friends who've just started, you may be wondering about the game's cross-platform abilities. Considering how popular the game is, the developers brought it to every major platform available for gamers.
When the game was first released, the crossplay feature was noticeably missing. However, with the growth of such a popular BR title, Respawn Entertainment announced they would be adding this feature in response to the overall response of players. And in 2020, they successfully integrated this crucial feature into their game and enabled players from various platforms to play with each other.
Fortunately, with the addition of next-gen consoles in the mix, players can play cross platform with each other on PC, PS4/PS5, Xbox One, Xbox Series X/S, and even Nintendo Switch. This holds particularly well for a shooter game of such massive repute and a growing player base that exists across the entire platform spectrum.
Read on ahead to know more about the prospect of crossplay between platforms, how to enable it in-game, and everything else you may need to know about it.
Does Apex Legends Support Cross Platform Play?
It didn't take long for Respawn Entertainment to introduce this feature, and once it did players were overjoyed. Gamers can now play with friends and teammates regardless of what platform they're on playing on. It's also good to know you can pick up the game on any platform and take part in one of the biggest multiplayer shooter titles out there.
And the best thing about the game is that crossplay is always enabled by default. All you need to do is log in and invite your friends to your party, whether they're on PC, PlayStation, Xbox, or Switch, and jump right into the arena. However, despite the developers stating their plans for implementing cross progression soon, players can only stick to one platform for their account.
Apex Legends still does not support a cross save feature and players are unable to pick up their accounts from other platforms. You can still move from one launcher to another on PC, or one generation to another on console but overall, the much-needed feature is still missing from the game.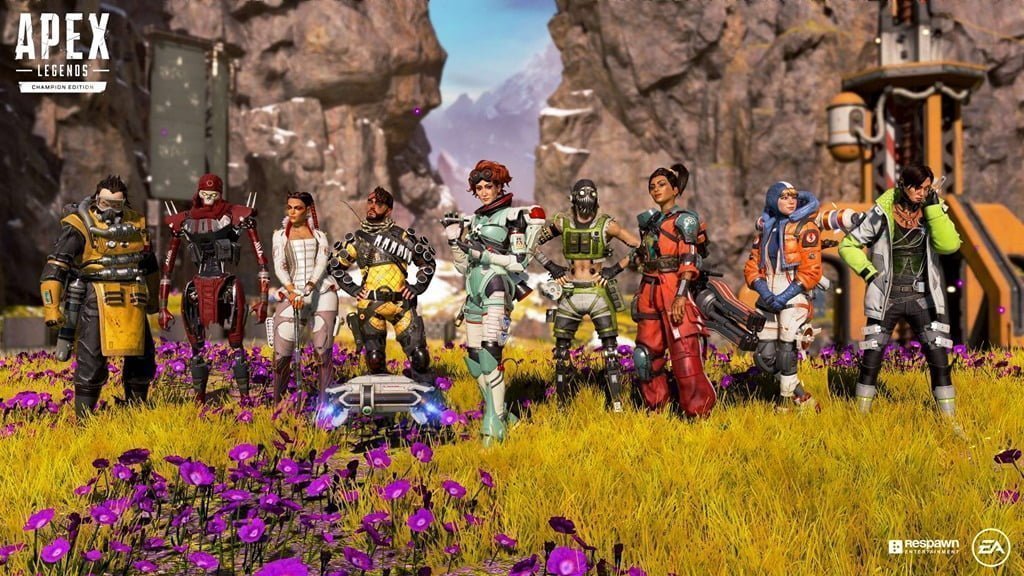 Should You Enable Crossplay for Apex Legends?
Considering players on a PC have a far greater advantage than console players, crossplay is a proverbial one-way street for some. Apex Legends crossplay is not worth it if you're a console player, although PC players may face no added difficulty enabling it.
However, if the added challenge as a controller user is something you can handle while playing with PC players then enabling crossplay should be no issue. Especially if you're looking to play with friends and don't necessarily care about fighting with better aimers.
When it comes to raw aim ability, players with controllers need to understand the major disadvantage against those playing with a mouse. The level of dexterity for PC players is far greater than anything controller players can compete with, even with console players having the option for aim assist. Sure, aim assist may help console players in some situations like close-quarter fights, but the overall precision and aiming prowess for PC players is leagues ahead.
How to Enable/Disable Apex Legends Crossplay?
The process to enable or disable the crossplay feature is super simple and requires just a few steps, regardless of what platform you're on. Note that on PC, the feature is enabled automatically and no option can be toggled. Follow these steps to get to the selected setting for it on consoles.
Launch the game on your console, and head over to the main menu.
Press the corresponding button on your console to bring up Settings.
On the very first tab labeled "Gameplay", scroll down to "Cross Platform Play".
Choose your desired option and simply head back to the main menu to start playing.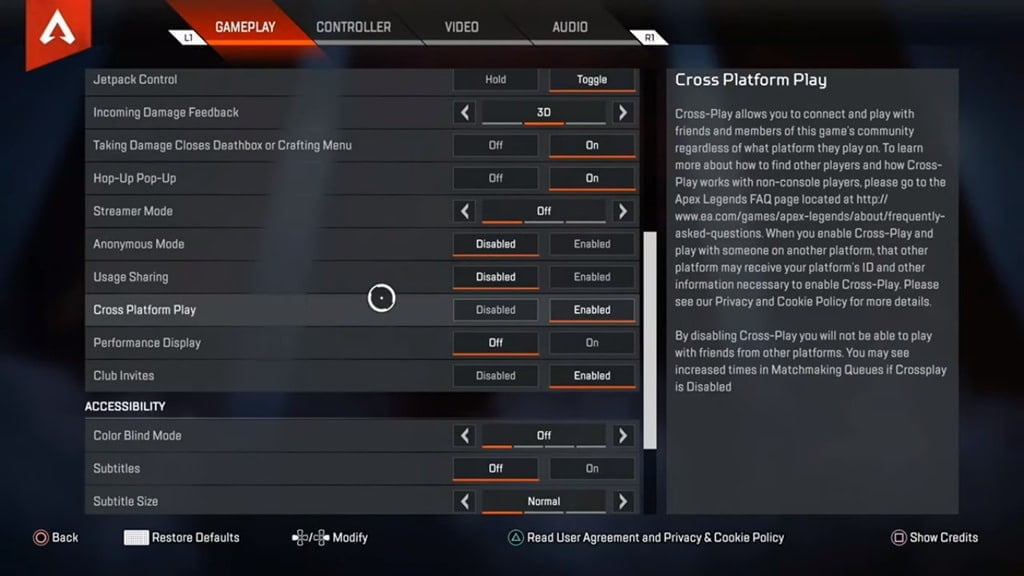 Note that disabling the option while in a party of players from other platforms will automatically remove them. So, only do it when you wish to matchmake with players on the same platform as you.
Is Apex Legend on Mobile?
Predators rejoice, for your favorite BR shooter is now available on mobile app stores for both iOS and Android. While the shooter won't feature crossplay with the main game, players can play within the mobile universe. Meaning, that players on Android can enter matchmaking with iOS players and vice versa.
The game will be treated as a completely different title since it would be unfair to match touchscreen players with PC or console ones. However, fast-paced combat is still prevalent in the mobile version and even features a TPP mode for more mayhem and exciting combat.
And that's all there is about Apex Legends crossplay and all the aspects of the game's cross platform abilities. Be sure to check out our other guides on Apex Legends and rise through the ranks to become the next big champion of the arena. In the meantime, let us know your thoughts about Apex Legends Mobile in the comments below.