Forza Horizon 5 is the latest entry in the long-running racing game franchise from Xbox Game Studios. This latest entry is set to launch on PC, and various Xbox platforms next month, as the game has officially gone gold. This is one of the biggest games in the series yet, with a massive open-world set in Mexico. Even though the title is coming to multiple systems, is Forza Horizon 5 cross platform between those? Here is everything you need to know.
Since this is a first-party Microsoft title, it is also coming to Xbox Game Pass. No matter what platform you have subscribed to the service on, you will be getting the game on the release date, and pre-loading has been available for some time now.
Forza Horizon 5 Cross Platform Details
One of Microsoft's biggest strategies with their Xbox platform is connecting all their devices in an efficient manner. Because of this, Forza Horizon is a cross platform title, across all devices. This means, that whether you're playing on an Xbox One, Xbox Series S|X, or PC, you can play with your friends on any platform.
These details come from the official FAQ, and you can read the specific part below.
Q: Does Forza Horizon 5 support cross-play and cross-save across console generations and between console and PC?
A: Forza Horizon 5 will support cross-play and cross-save across Xbox Series X|S, Xbox One, Windows 10 PC and Xbox Cloud Gaming.
Steam will have support for cross-play, but cross-save with Xbox is not supported.
This means, that players can easily connect with their friends on Steam, MS Store, and all Xbox devices. This isn't limited to just cross-play, but cross-saves as well, meaning if you own the game on one device, you can load your saves on the other as well.
Steam supports cross-play, but not cross-saves. If you head over to the Steam page right now, you can see the cross-platform support listed as well.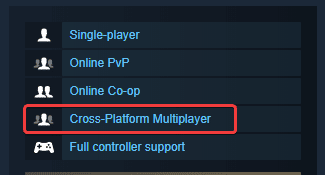 If you're getting the title on PC, we highly recommend checking out the system requirements for the game as well.
We hope this answered your question regarding Forza Horizon 5's cross platform capabilities. Are you excited about the upcoming racing title? Share your thoughts in the comments below.