Immortals of Aveum is an upcoming first-person shooter with magic elements from Electronic Arts, and Ascendant Studios. The title is coming to current-generation consoles as well as PC and is being developed on Unreal Engine 5.1 with fairly high requirements. Though, is Immortals of Aveum coming to Game Pass? Here is everything you need to know.
Immortals of Aveum: Is It Coming to Game Pass?
Immortals of Aveum is not coming to Game Pass. The only subscription service it is releasing on is EA Play Pro, which is available for PC players only.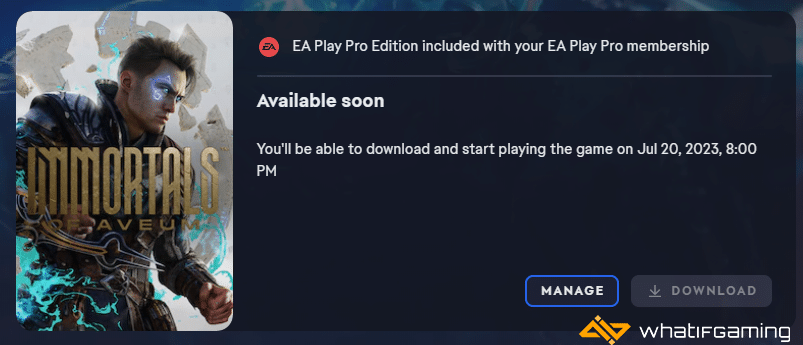 Since this is a strictly single-player title, we don't expect that Xbox Game Pass Ultimate or EA Play users will have access to a 10-hour trial either. This was also the case with Star Wars Jedi: Survivor.
Will Immortals of Aveum Launch on Game Pass Later On?
It's too early to tell at this point, but it's completely possible that this might make its way to Xbox Game Pass after a year or two. Many EA published titles have made their way to Xbox Game Pass over the years as well due to EA Play.
EA Originals like It Takes Two, Unravel and A Way Out have been out on Game Pass for a while now, and it wouldn't be surprising for Immortals of Aveum, which is also an EA Originals game to come out on the service at a later date too.
Immortals of Aveum Release Date
Immortals of Aveum is coming to PC, Xbox Series S|X, and PS5 on 20th July 2023. Make sure to read our detailed pre-order guide as well.
If you are interested in the PC version of the game, we recommend checking out the system requirements as well.
We hope this answered your question regarding the availability of Immortals of Aveum on the Game Pass service. If you have any questions, let us know in the comments below.