The Monster Hunter Series is well known for its breathtaking visuals and climactic fights. While that has remained constant even with the release of Monster Hunter Rise, the game has unfortunately offered rather debatable multiplayer options in terms of cross platform and cross play compatibility.
That being said, the game is meant to be played and enjoyed with your friends. However, does it stand side to side with games like Call of Duty: Warzone or is the online playmaking as limited as Elden Ring?
Unfortunately, Monster Hunter Rise does not feature any form of cross-play between platforms. This trend is evident in all Monster Hunter titles and is expected to remain the same in the near future.
Needless to say, the game does receive constant updates, and with the gaming industry switching towards online forms of play, we might get to see multiplayer improvements soon.
Multiplayer In Monster Hunter: Rise
Multiplayer sessions in Monster Hunter Rise are based on the lobby mechanic. You create parties with friends to challenge different monsters in order to earn rewards.
While all of this might seem lackluster at first glance, it works well for the premise of the game.
The multiplayer adventuring is an extremely fun part of Monster Hunter: Rise. However, the levels get progressively difficult the more players you have with you. Therefore, we recommend you choose who to take rather wisely as the rise is rather exponential.
Is Monster Hunter Rise Cross-Gen Compatible?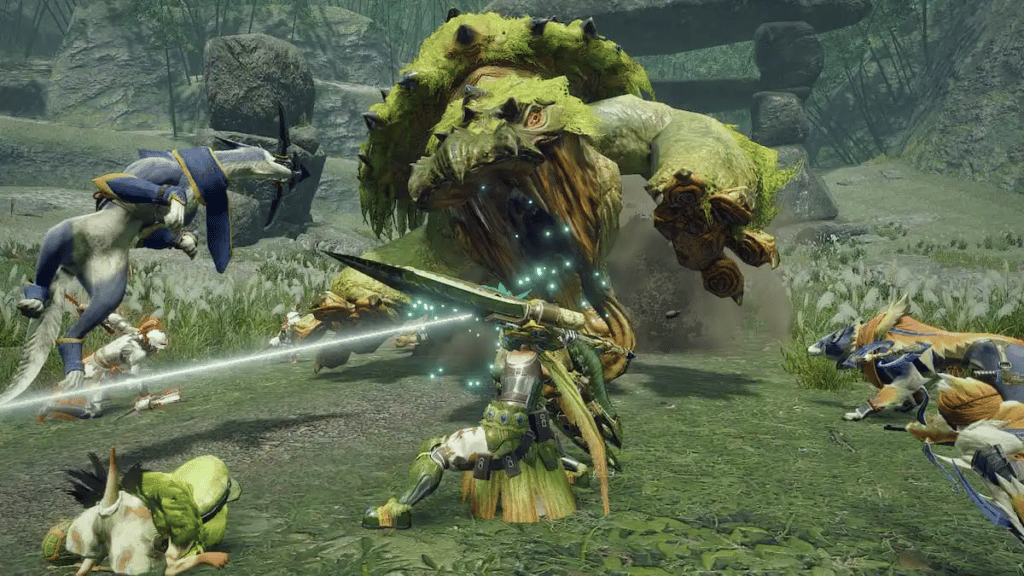 Similar to most games that do not support cross platform, instances of Monster Hunter Rise are not fully compatible with different generations of the same console. However, it is still possible for a player on a PS5 to play on PS5 through backward compatibility. However, there is no way for players on the PS4 to do the same.
For Xbox Series X and S, it is possible to play with players on an Xbox One. However, the game will then consider your console contingent on the older generation. Therefore, you will only be able to match against players playing on Xbox One or other Xbox Series consoles being registered as Xbox One.
Is There Crossplay Between Consoles?
Unfortunately, there is no cross-play compatibility between consoles. Therefore, players on Xbox will only be matched against players playing on the same platform. The same can be said about the PlayStation players with the exception of backward compatibility.
That being said, the current uproar of the community might let us witness a possible console cross-play in the near future.
How Many Players Can Play Monster Hunter Rise Together?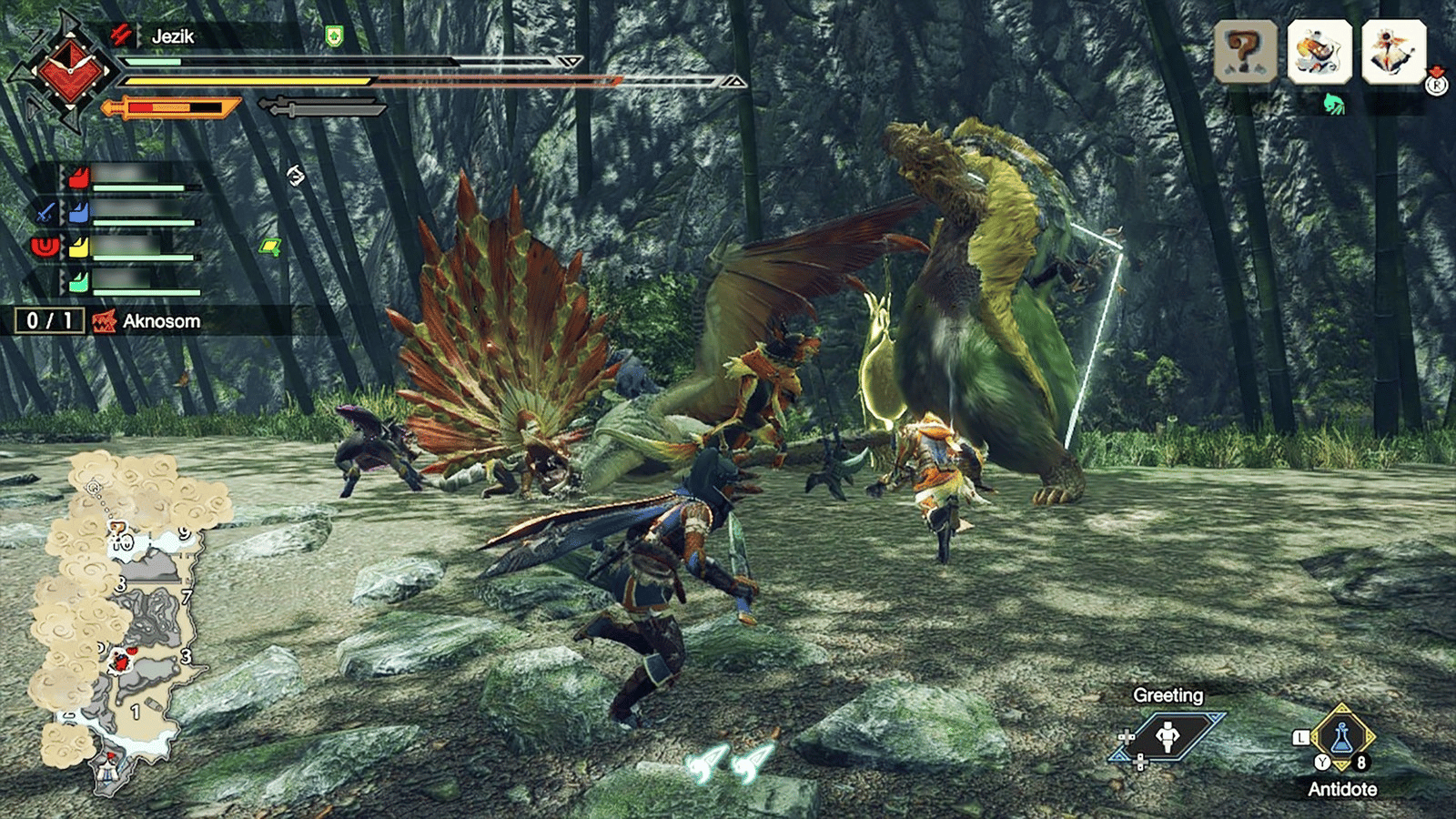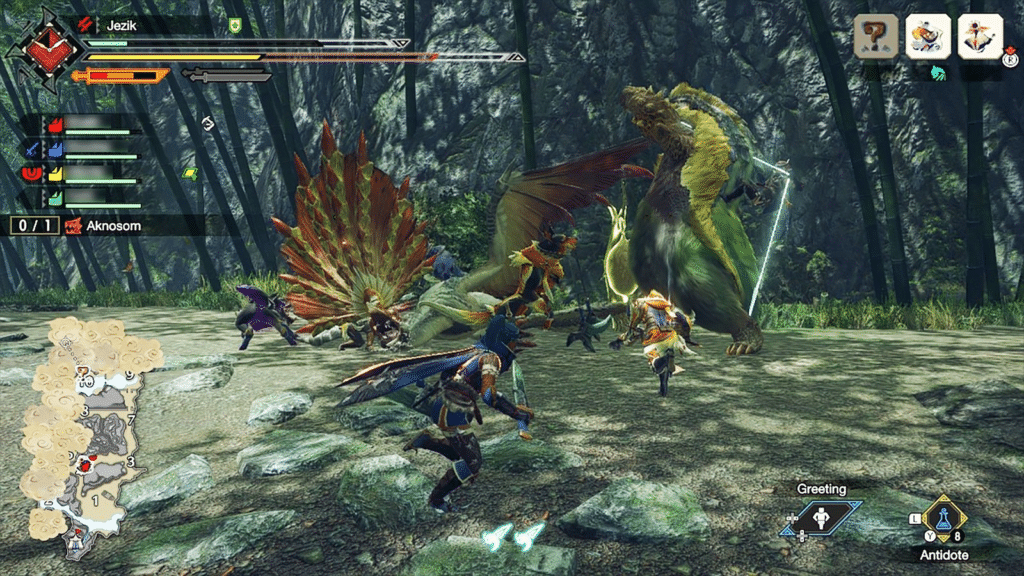 Monster Hunter Rise multiplayer works by issuing or accepting co-op quests. Such quests can house up to 4 players and are registerable through the Quest Board. That being said, the system isn't the easiest to work out. Therefore, get ready for a series of headaches while trying to progress through the in-game multiplayer route.
You need to party up online, invite friends and create lobbies in order to enjoy multiplayer. Furthermore, searching lobbies for a specific hunt is also possible. Therefore, you won't have to wait for your friends to come online to play a multiplayer session.
From what we can see though, the PC version of Monster Hunter Rise has mod support too. This too, is another reason why we won't be seeing cross platform on Monster Hunter Rise.
Does Monster Hunter Rise Feature Cross Save?
For those unaware, Cross save is a feature that enables users to save their in-game progress between multiple platforms. For example, Cross-save would allow you to play the game to a certain point on a PC and continue from there onwards on an Xbox or PS4.
As one might expect, there is no option to do that on Monster Hunter Rise. Therefore, every platform instance is unique and thus, cannot be migrated seamlessly. Monster Hunter Rise has issued an official statement regarding this in the tweet below:
Is Monster Hunter Rise Available on Mobile?
Unfortunately, Monster Hunter Rise is yet to be released on Android and iOS. However, the release of Monster Hunter Online has shown promise for the franchise to develop further.
Furthermore, the mobile industry has developed to the point where certain toned-down PC games can be played on mobile. However, there has been no official announcement from the developers as of yet.
---
All in all, Monster Hunter Rise does not possess any form of cross platform or cross generation play for that matter. So, while this iteration of the game doesn't seem to be honing these features, we can hope that the next release might!