Jason Schreier is a name well-known and recognized in the gaming industry. A nearly spotless track record when it comes to leaks, Jason is a well-known source of anything and everything when it comes to the gaming industry. However, According to a recent AmA (ask me anything), he did on Reddit, he didn't have much good news to share when asked about the potential of a Starfield 2021 Release Date.
Starfield 2021 Release Date – See you soon, Space Cowboy?
Starfield is easily one of the biggest gaming mysteries to take the internet by storm. With nothing else but a teaser trailer shown at E3 2019, the game, along with a plethora of other titles under development at Bethesda has gone years without any new updates.
There have been "leaks" the last few months which show a supposed screenshot of the game, but the authenticity of the image is still debatable.
In Jason's AmA on Reddit, he is asked about the likelihood of Starfield getting a 2021 release date, and to the users dismay, is met with a no.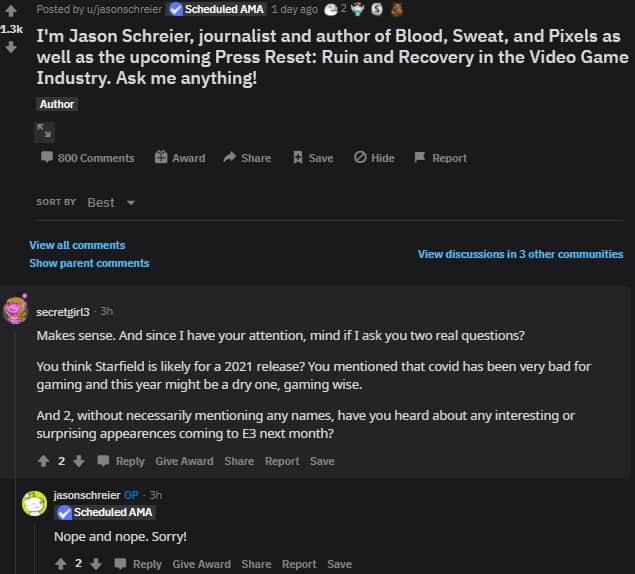 This of course makes concrete sense when you consider the events of 2020, that barely any proper gameplay is yet to be shown by Bethesda, and not to mention the recent acquisition of Bethesda by Microsoft may have had all hands on deck busy amidst all the events.
Yes, Microsoft is indeed attending E3 2021 and we can expect a line-up that can put the Xbox Series consoles on the map until the eventual release of Halo Infinite, but even if Starfield is announced at this years E3, the likelihood of the game releasing in the same year is absolutely minimal.
Bethesda games has a good track record of showing a plethora of gameplay for all their titles prior to release. Whether we are talking about Fallout or The Evil Within games, there is always going to be a massive amount of media surrounding a game prior to its release, enough to fill a portable flash drive.
For something on the scale of Starfield to release with no hype or no cohesive idea on what the game could be about, could be a fatal flaw from Bethesda.
For now, if any space cowboys were hoping to see Starfield in 2021, you need to keep your feet firmly grounded here on Earth.