Have you ever popped into a match of Valorant or a quick Warzone session with the buddies only to experience insane amounts of stuttering and lag? Well, regardless of how fast your internet connection is – it may not be directly correlated to how well your game will run.
This brings us to LagoFast Game Booster, a computer program promising to reduce your ping within games and provide a more stable stutter-free experience on your Internet. Today, we're going to take a look at the program and see if it actually lives up to its claims.
How Does LagoFast Work?
LagoFast Game Booster utilizes Smart Routing. Thanks to its network of game servers within 60+ countries and 150+ cities, the booster automatically routes your packets to the path that has the least latency and the most stable connection with the actual game's server.
In some aspects, it operates exactly like a VPN – allowing you to connect with the nearest server and node according to your real location. Moreover, you can always change your routes manually if you have a particular path in mind.
To understand this better, let's take two scenarios into account:
Scenario 1 (Without Lagofast): You connect to a Valorant match based in EU West. Your ISP automatically routes your packets through multiple nodes to get to the game server. One node in that particular route is slow. Because of this, your ping and overall stability shoots up.
Scenario 2 (With Lagofast): You connect to the same Valorant server. This time, LagoFast Game Booster identifies your poor routing and automatically switches you to a more stable route that has less latency and connects you to the same game server.
With the above scenario in mind, it's quite apparent that LagoFast will work for every gamer. However, the overall effectiveness of the booster depends on your initial route and your network's ability to take advantage of those multiple nodes.
LagoFast Features: What Makes It Different?
Besides just being an amazing ping reducer, LagoFast Game Booster also has a ton of other features that really complement its prime offering:
Easy Lobby
Alright, we absolutely adore this feature! Easy Lobby in essence allows you to connect to servers that are known to have more of an easier playerbase in your elo. For instance, Korean League of Legends servers are known to be harder than the EU.
But, with the help of this feature, you'll be able to connect to Easy Lobbies allowing you to get more elo or level up more efficiently. Currently, this feature is only supported for the following games:
Fortnite
Apex Legends
Call of Duty
FPS Boost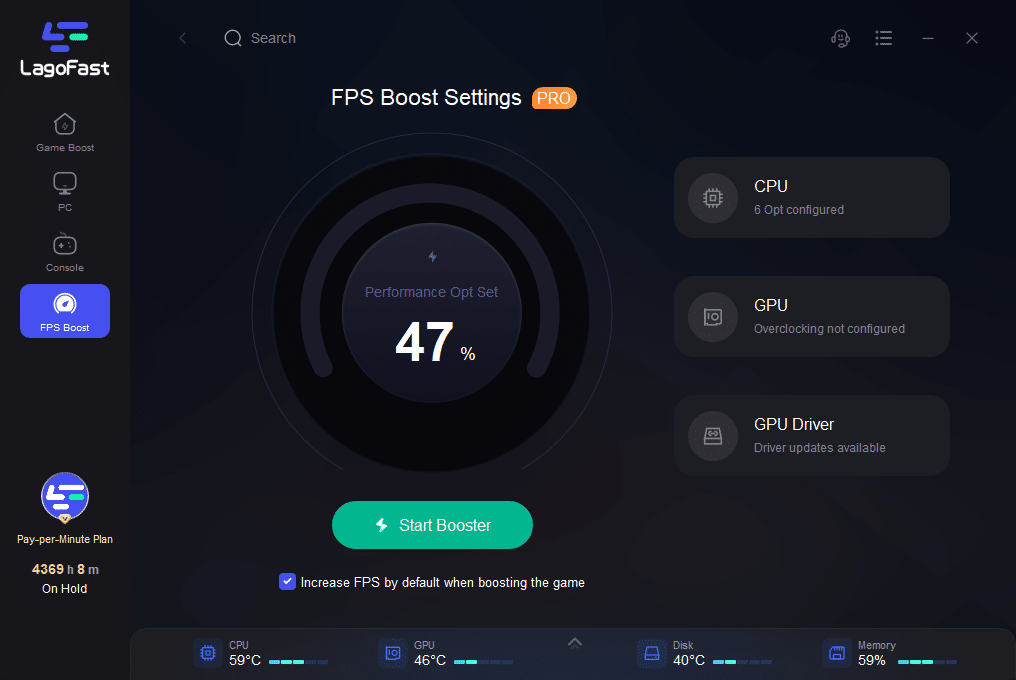 You don't need a Driver Manager when you have LagoFast Game Booster by your side. Detecting your GPU and CPU drivers, the tool automatically updates them for you. What's more, is that you'll be able to overclock your GPU and CPU right within LagoFast Game Booster.
Plus, there's a Game Mode option that closes down nagging background applications to ensure your system can spend all of its resources on the game you are running.
Multipath Connection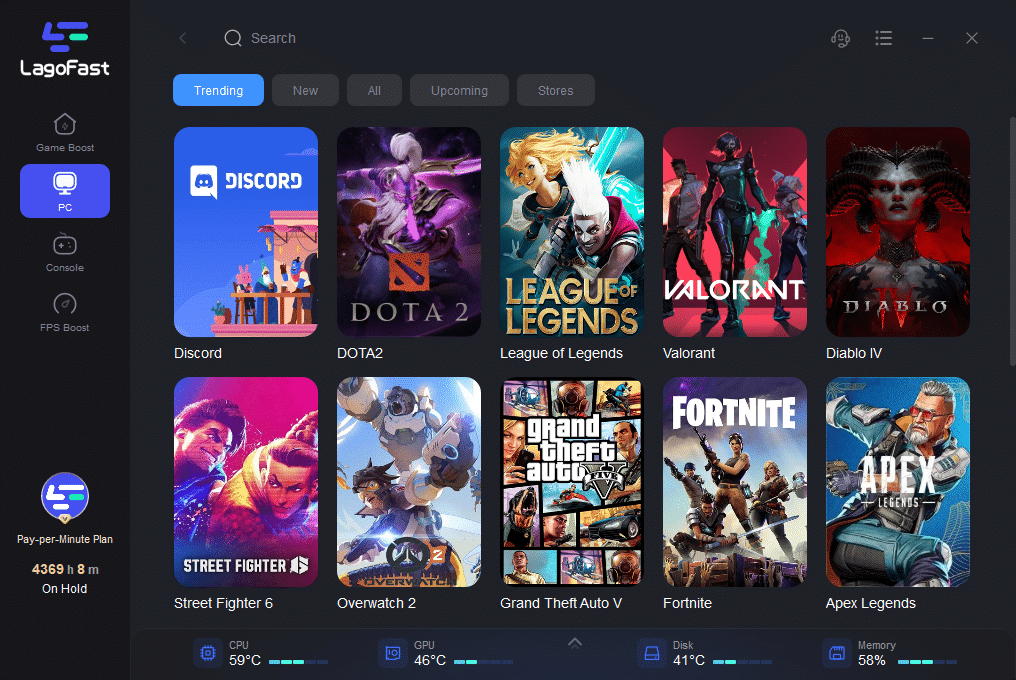 As we've mentioned, one bad node in a route can spell the end for your late-night gaming session thanks to unbearable lag. With LagoFast's multipath connection, if one of the route paths crashes down or is unstable, you will automatically be switched to the other route, ensuring smooth gameplay.
Real-Time Automatic Server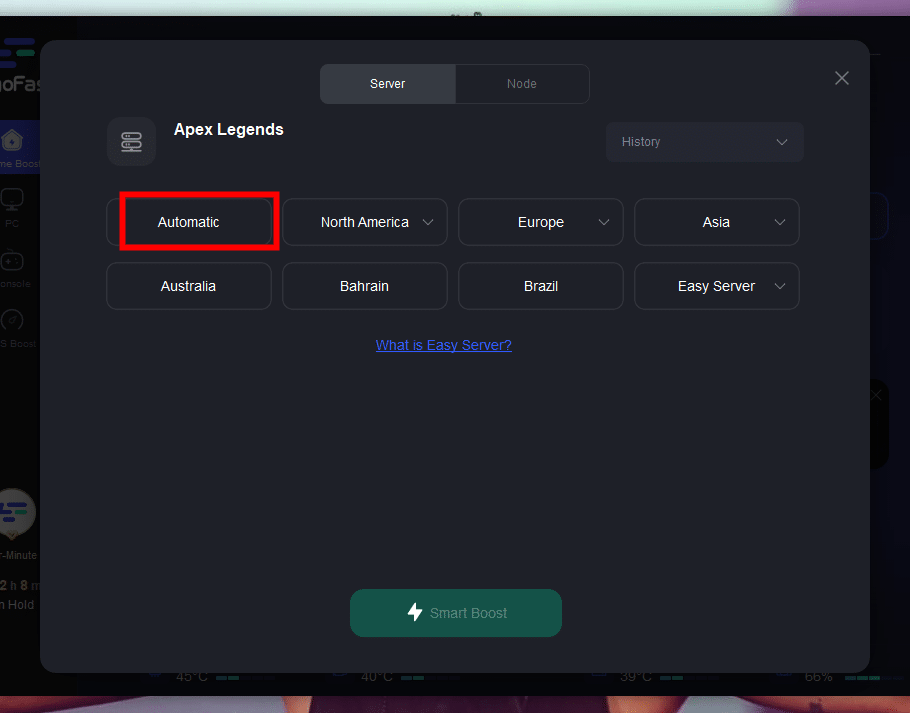 For games that support multiple servers, LagoFast Game Booster analyzes and transfers the servers' real-time status, such as its latency towards you and overall loss to find out which one is the most optimized.
Because of this, you won't be worried about occasional server errors. Multipath Connection and Real-Time Automatic Server contribute to optimizing your latency for multi-server games and are the bread and butter of why you are able to experience such great speeds with the tool.
Ping Checking
One feature we're tremendous fans of is the ability to check your ping and packet loss to any given route and server directly within LagoFast Game Booster. Games like League of Legends do not allow you to check your ping on multiple servers at the same time.
So, with LagoFast, you can easily check which server you have the lowest ping to and more importantly connect to it as well. So, if you've just switched ISPs or are on the move, checking your ping to all servers before you hop in a match turns out to be super useful.
Is LegoFast Game Booster Worth It?
Yes, LegoFast Game Booster is absolutely worth it. We've been having instances of Diablo 4 lag that the tool has been able to easily circumvent by routing us toward more stable routes. Couple that with quality-of-life features such as the ability to check your ping and overclock/update your GPU and CPU, and you are met with an absolute winner.
Your mileage with using LagoFast Game Booster may vary depending on a multitude of factors. The tool can improve your routing, but not invent a new route just for you. But, for all intents and purposes, almost everyone will be able to appreciate the fluid routes that LagoFast is able to provide you with.