It feels like wired mechanical gaming keyboards are falling out of fashion. With wireless optical boards being the new normal, it's almost strange to play with something more weighty. I'm pleased to announce that the Lang MK8 is a great entry into this space. While it does have a few quirks that I will explore in detail throughout this MK8 keyboard review, it's a solid board that provides a solid experience.
With fun RGB effects and 13 hot-swappable keys, the MK8 has a little something for everyone. If you are the type of player that prefers a grounded and tactile keyboard, there's a lot to like with the MK8.
Tech Specs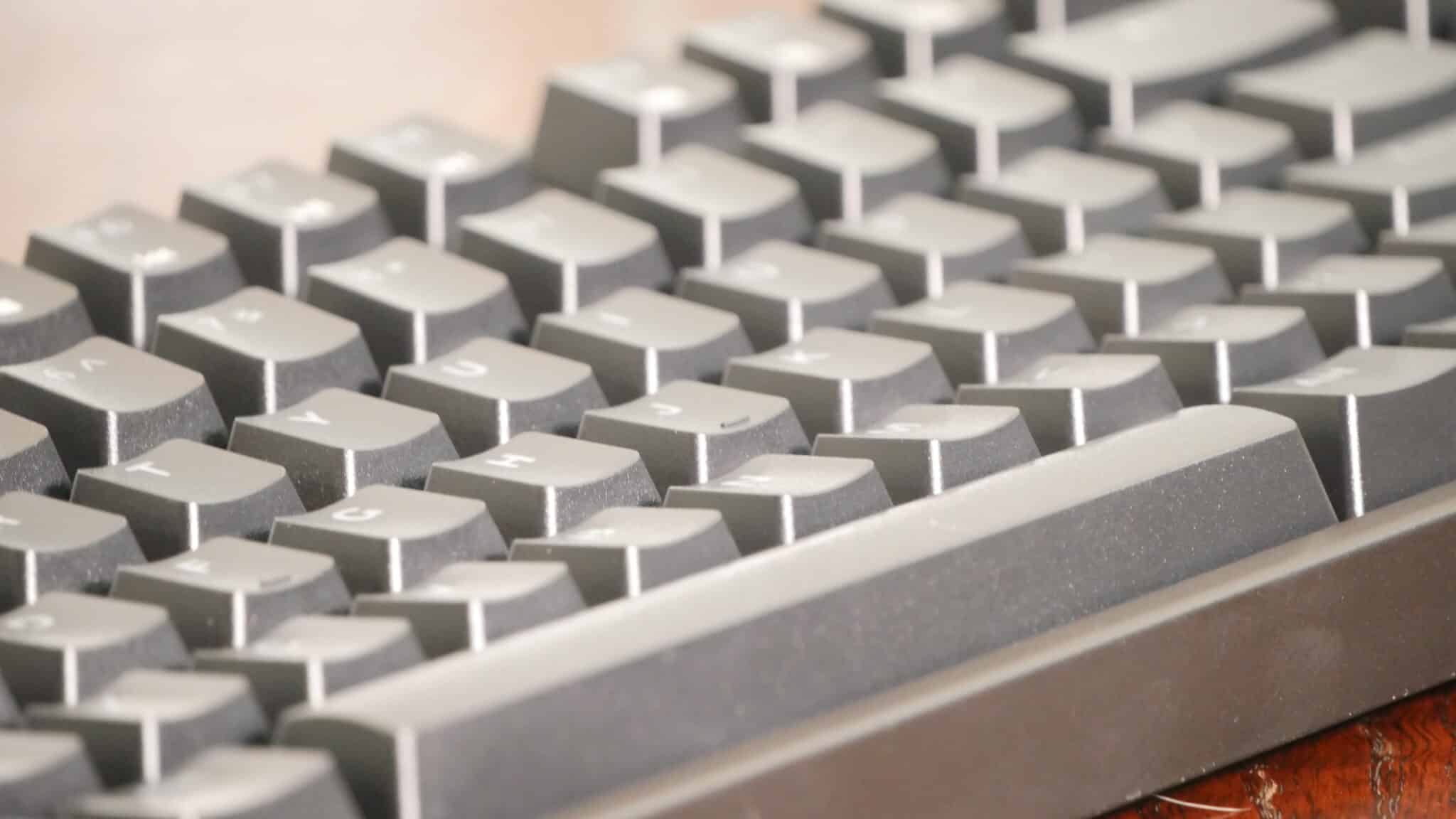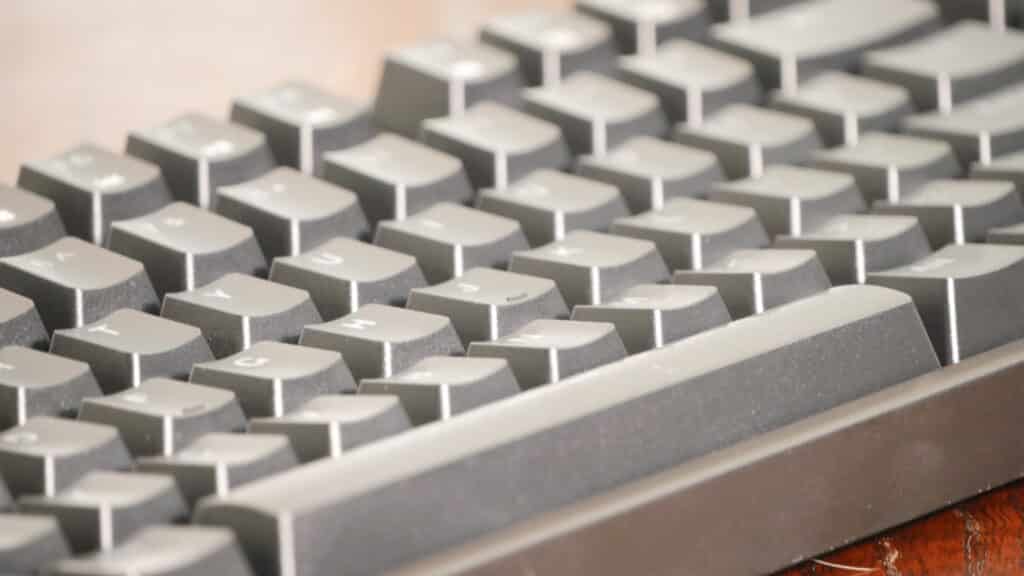 Dimensions – 14 x 5.2 x 1.3 inches
Connectivity – Wired (detachable USB-C)
Weight – 1200g (2.6lb)
Switches – Gateron Mechanical
Layout Scale – 80% Keyboard
Keys – 87 Keys
Packaging & Contents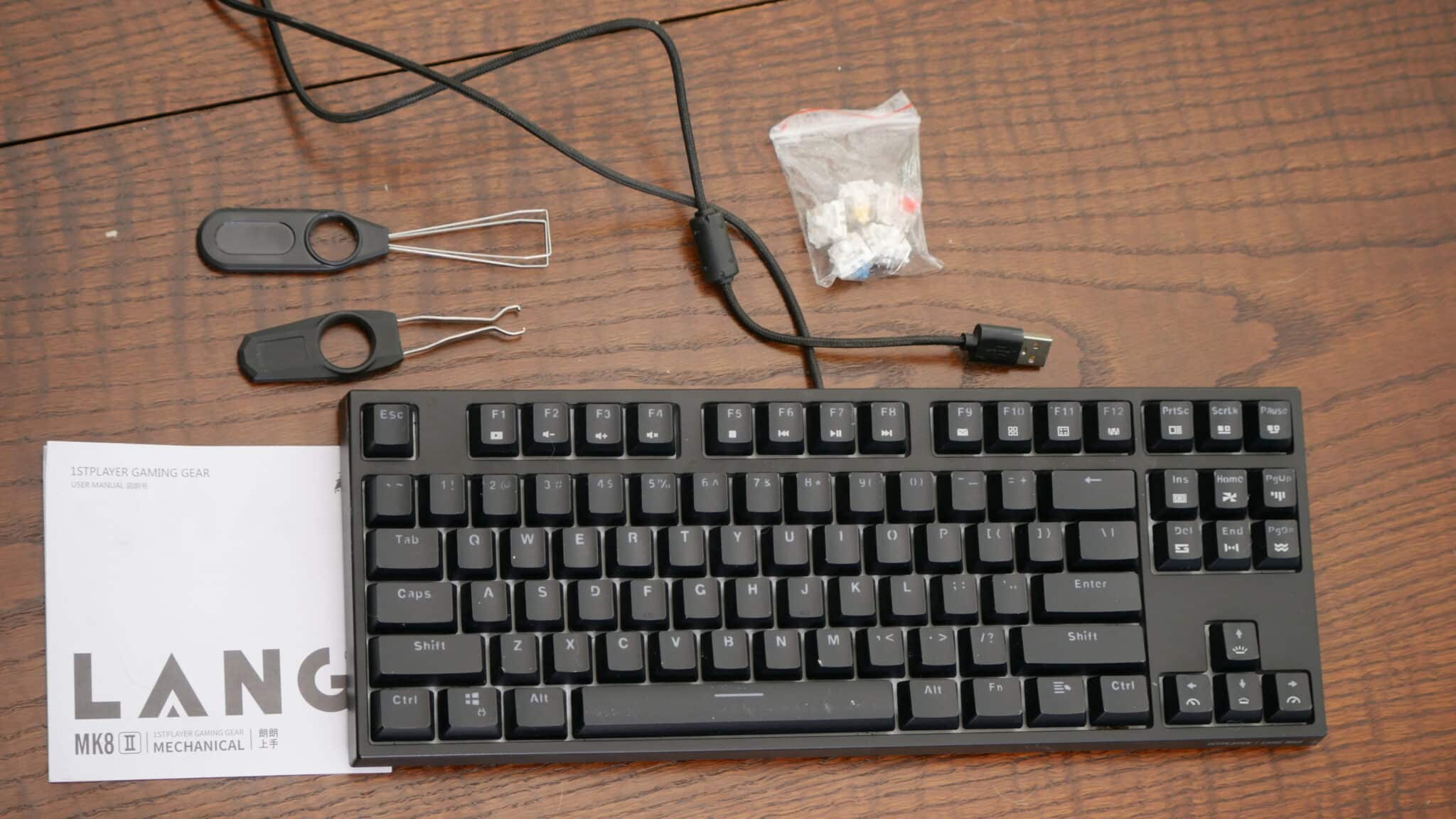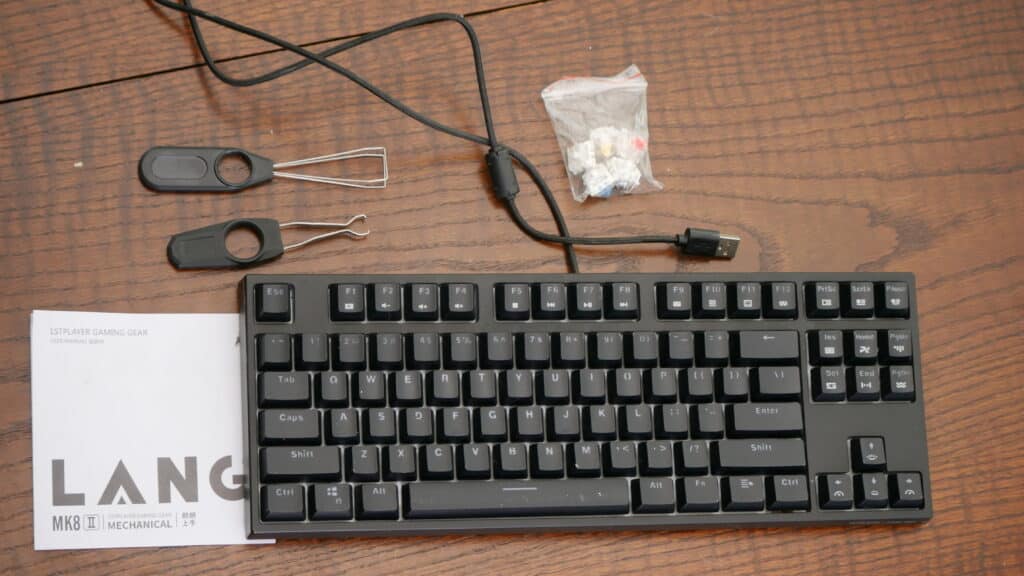 The no-fuss packaging opens up to reveal the sleek MK8 front and centre. With the additional goodies placed nicely underneath. It's a great first impression for buyers who want to jump into a game.
The box contains:
Additional Switches
Keyswapping Tools
Quickstart Guide
MK8 Mechanical Keyboard
Long USB-C to USB-A Cable
Build Quality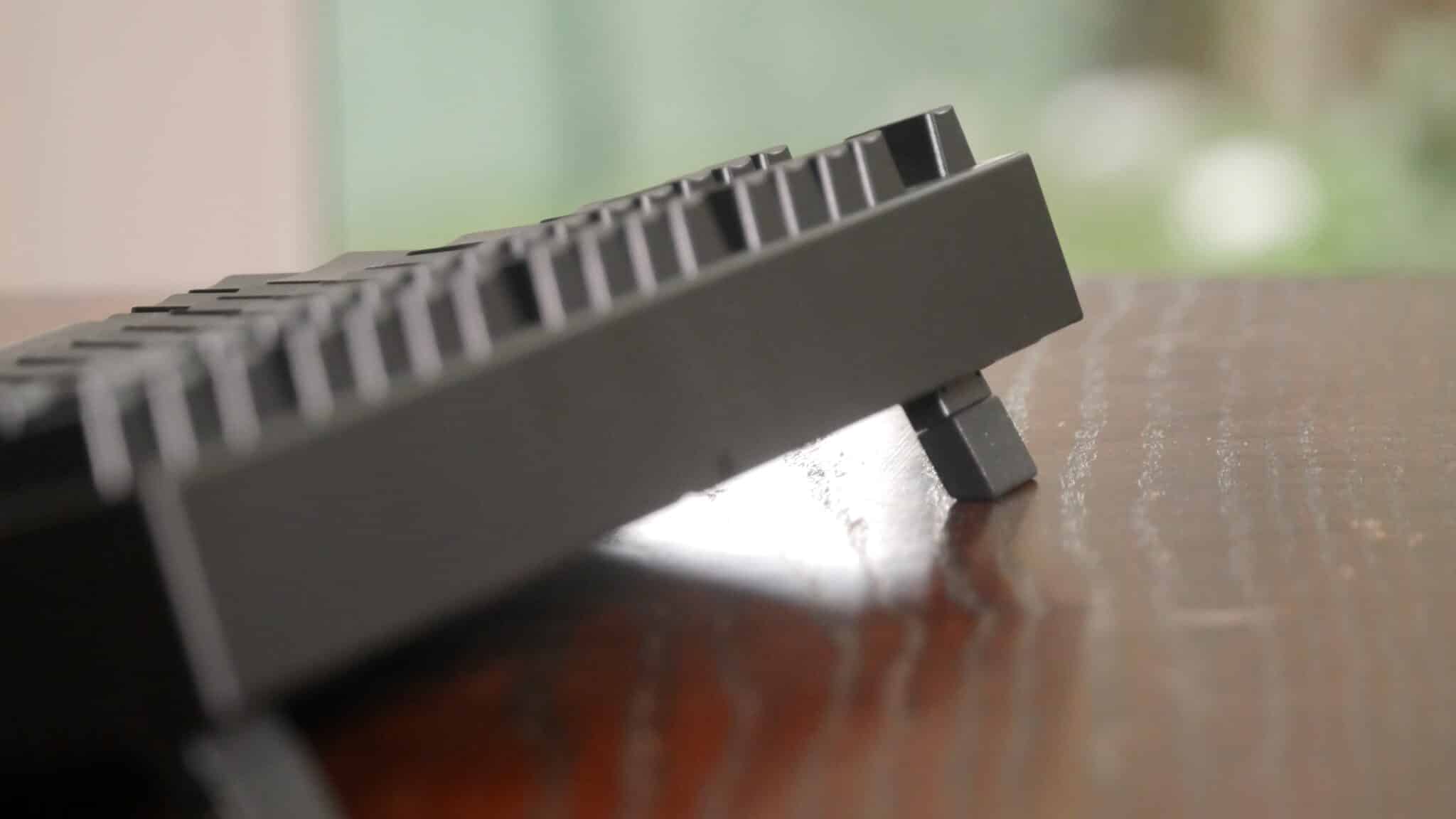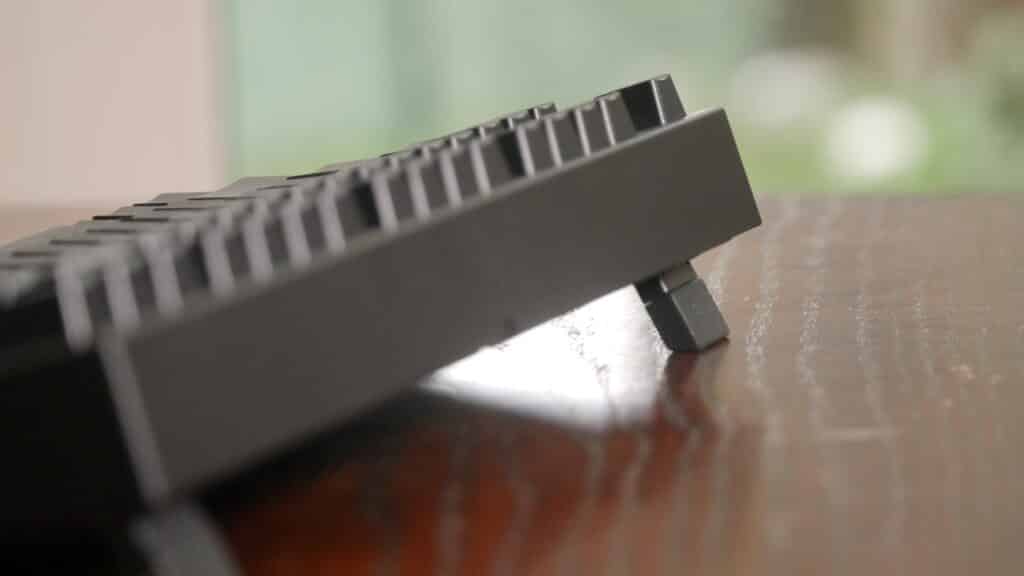 The first thing I noticed when picking up the MK8 was its weight. This is not a light keyboard. While some may have a problem with this, I immediately felt a sense of quality when looking over the board. Like the rest of the product, the feet are thick and stick to surfaces effortlessly. When used on a slippery desk, it took some effort to get the keyboard to slide. For a heavy-handed player like me, this is perfect. No matter how hard I played, the MK8 stayed exactly where I wanted it to be.
The stands are strong and snap into place with a satisfying click. They are confident and lift the board to a preferred height for players that don't like their board being flat on the desk. Even so, without the stands, the keyboard's thick case gives it a natural slope.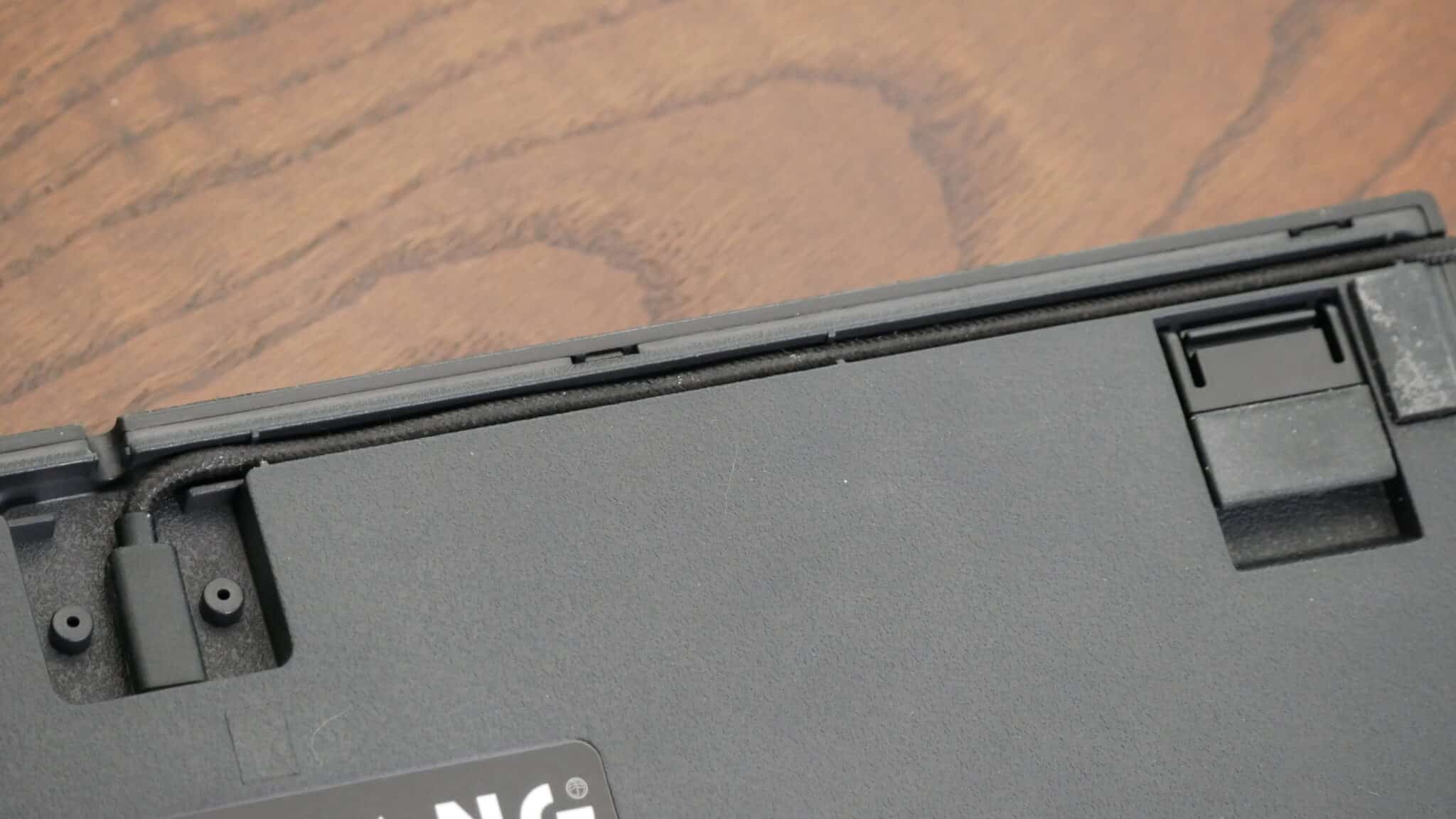 Connecting and disconnecting the wire is easy. Not only is there a typical cradle that holds the wire in place so it protrudes out the top of the keyboard, but there's also a space that allows you to lead the wire out of either side of the board. Little designs like these are great to see and make the overall experience better.
Keys
The mechanical Gateron switches feel great. They're snappy and react flawlessly. They do make a lot of noise, but the pleasant clack of these keys makes the extra decibels worth it. This board is also compatible with Kailh switches should you prefer that. Even though the layout is compact, I rarely hit the wrong key, with one exception that I'll explore later on in this MK8 keyboard review section.
13 of the 87 keys are hotswappable on this board. While they are arguably the most important keys for gamers (Q,W,E,R,A,S,D,F. + Backspace, Enter, Shifts, and Space), it's a little disappointing to be limited to the small handful of options. Fortunately, the 13 keys are simple to swap out, and the supplied switches are high quality even if the stock tools leave a little to be desired.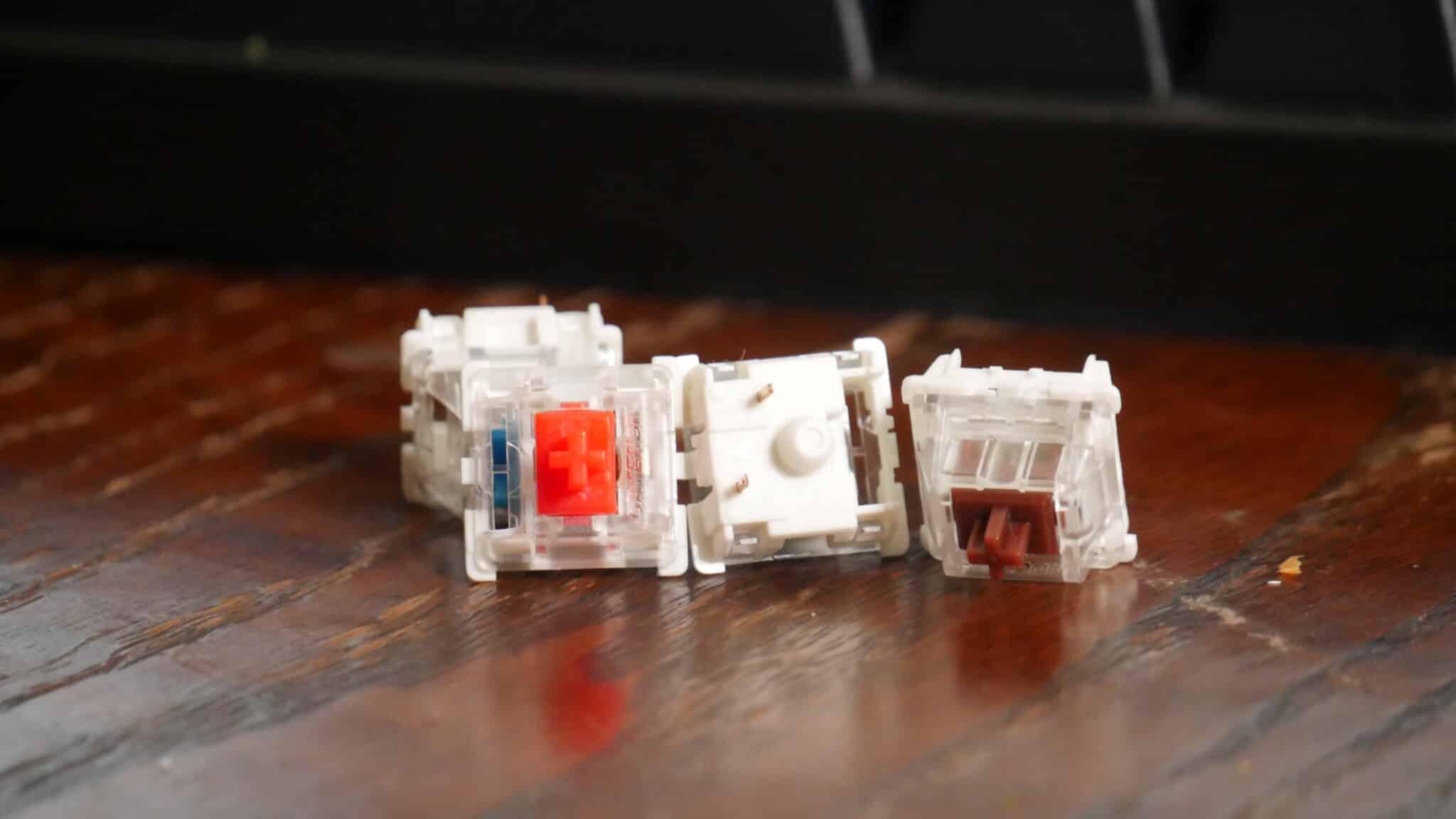 Though the layout of the MK8 is typical of 80% scale keyboards, I found myself missing the enter key frequently. The rest of the board is layered enough to tell which row your finger is resting on, but I feel the enter key, and the keys above and below it don't benefit from this. The enter key could do with being raised more so you can easily find it when not looking. However, this is a small issue that disappears the longer you use the keyboard.
User Experience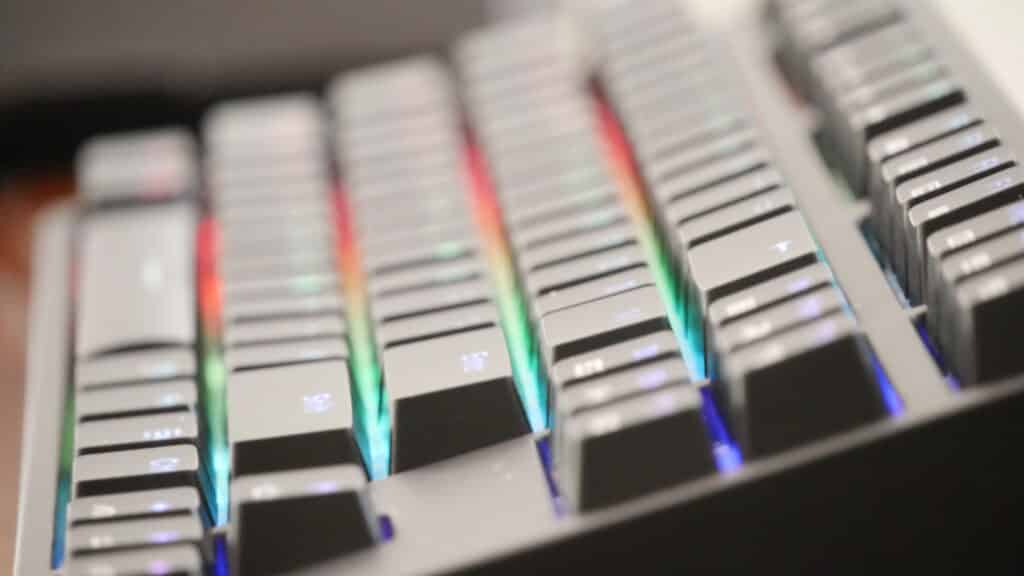 In short, playing with the MK8 is great. Not only does it provide a durable feel and accurate keys, but it's also effortless to set up. Just plug in, and you're ready to go. The pre-programmed RGB effects are a joy to watch and are sure to draw the attention of anybody in the room.
The weight of the keyboard makes using it reliable, and it stays with you even in the most intense gameplay sessions. There are some notable choices regarding the RGB effects that make the user experience even nicer. For example, when the caps lock key is pressed, the key lights up to make it clear it's active. A shortcut also locks the Windows key to prevent you from bringing up the start bar at an inopportune time. When this is active, the Windows key lights up in a similar way.
Software
As mentioned earlier in this MK8 keyboard review, this board doesn't require any software to work correctly. However, you can download software from 1st Player that opens up a few customisation options. Like similar software, you can make macros and customise the RGB effects, apparently key-by-key. I write apparently because I couldn't get the software to recognise my keyboard. I double-checked that the software was for the correct keyboard, reinstalled, and restarted, yet no luck. This isn't a great impression for a new user.
Poking around the software, the list of options available feels lackluster. We've been spoiled by other manufacturers' software options. The software used by the Genesis Thor 660, for example, is the bar set by the rest of the industry. And it's a bar the MK8's software struggles to reach. If you can get it to work.
Should you buy the MK8 mechanical keyboard?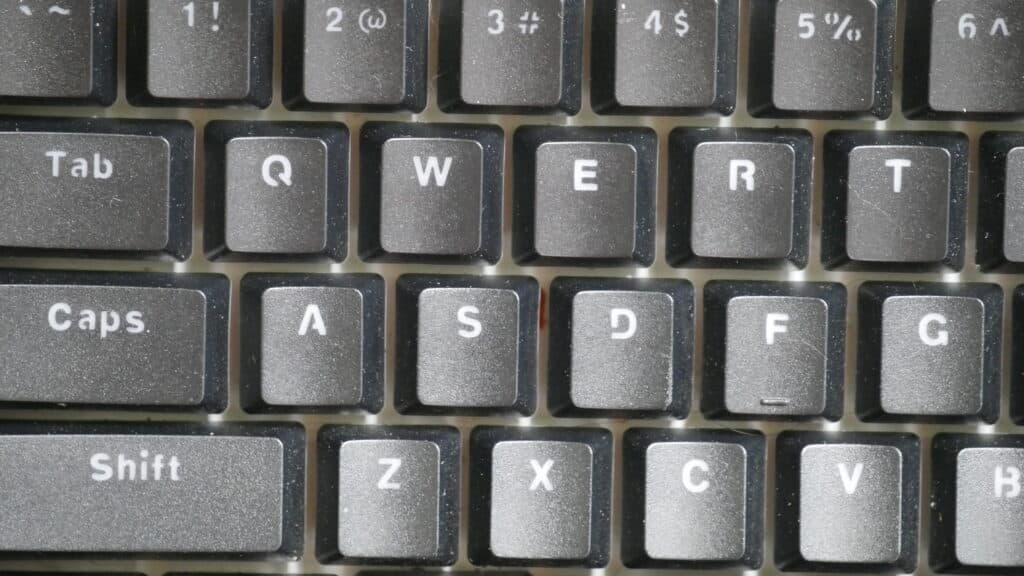 The Lang MK8 mechanical keyboard is ideal for games where fast key presses are crucial. With reliable keys, gliding through CS:GO is a breeze. You'll never be let down while trying to strafe or take cover.
Even though it's an 80% scale keyboard, thanks to the snappy keys, adventures like Hogwarts Legacy play incredibly on the MK8. Unfortunately, due to my issues with the enter key, I had a problematic time whenever I had to interact with chatboxes.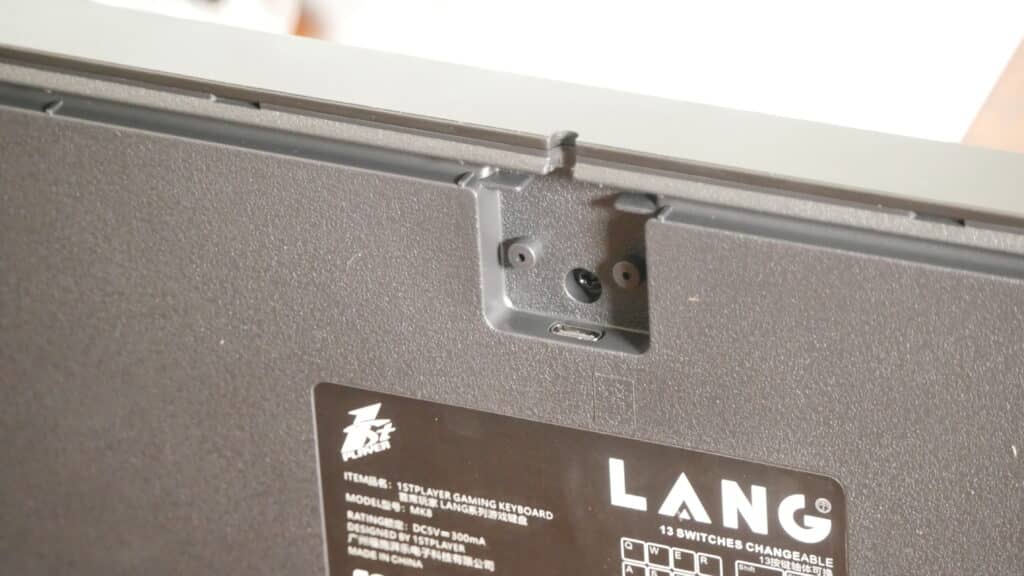 The trouble with the enter key also means that this board doesn't function well in a work setting. While it doesn't have an overly unprofessional look when the RGB effects are switched off, the keys being so tight together, coupled with the loud switches means it should be avoided in this environment.
If you are a gamer who wants a heavy, yet compact wired mechanical keyboard, and you don't depend too much on text communication, you can't go wrong with the MK8.
Conclusion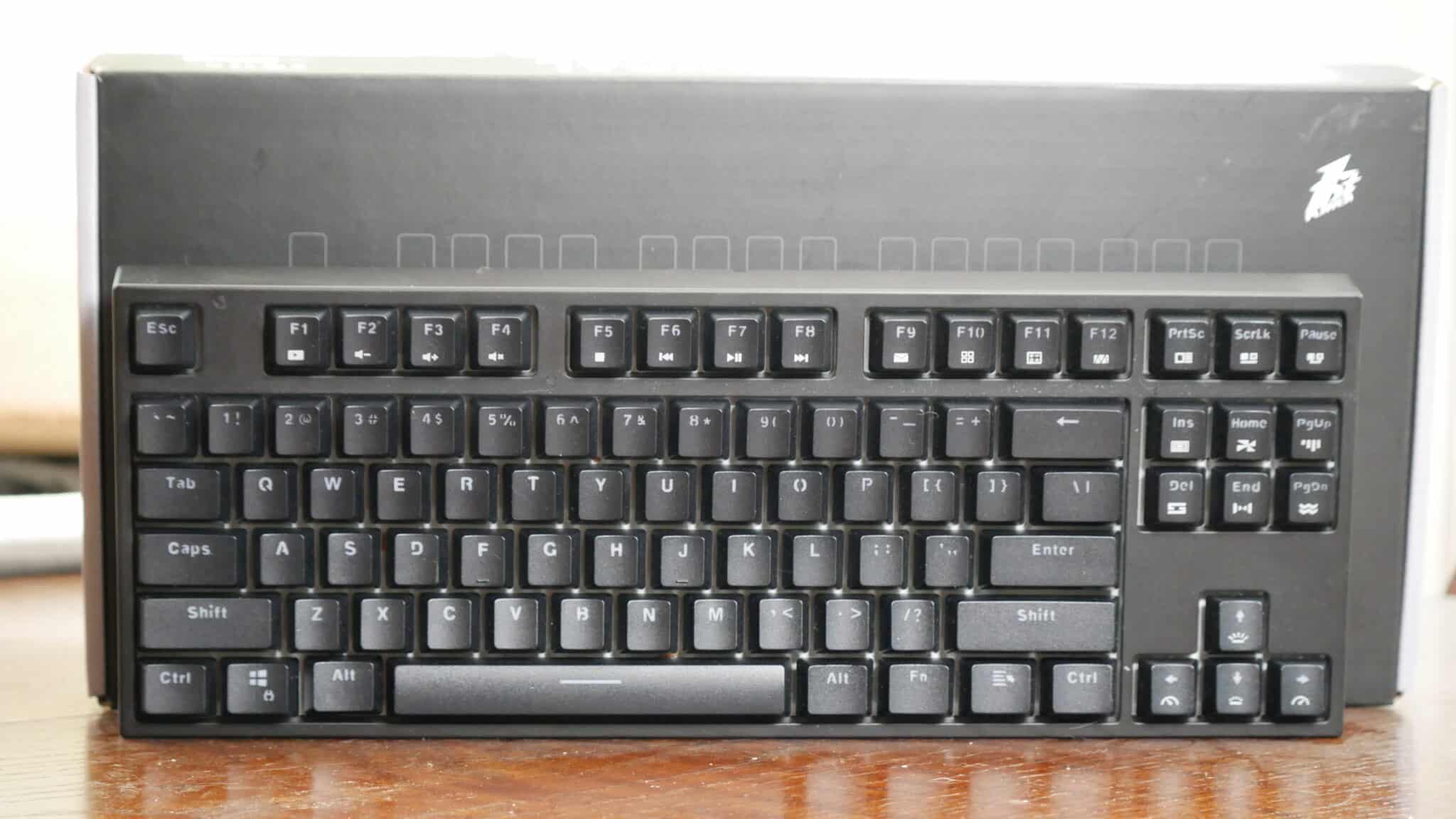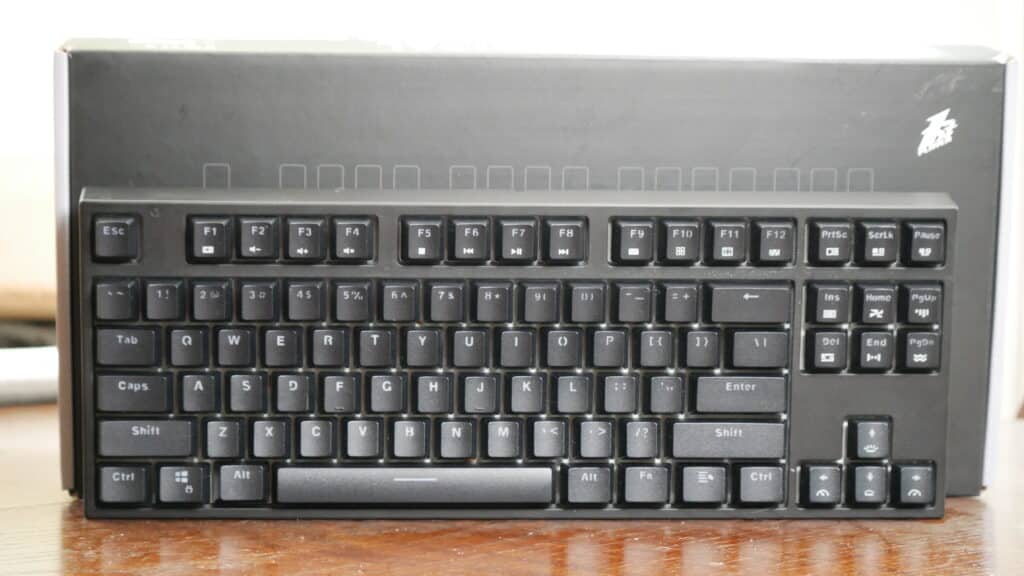 In terms of wired mechanical keyboards, the MK8 is a great choice. With pleasant RGB effects, easy-to-swap keys, and a great feel, there's a lot to like. However, the limited hotswapping options and unreliable software hold it back when compared to other similarily-priced products.
For players that want a no-fuss mechanical board, the MK8 is an easy recommendation. For gamers that want to tweak their keyboard to match their precise preferences, there are better choices out there.