Some of the best moments you experience in your Stardew Valley journey are those that you share with an NPC. You'll find 30+ Villagers in your playthrough, and all of them will have their own stories to tell! Leah, in this regard, is one of the sweetest characters you'll have the pleasure of encountering in Stardew Valley.
Knowing each character's story is an excellent rule to follow. Although considering the sheer amount of NPCs in the game, this can be quite arduous! There's no need to worry, though; today, I'll cover everything you need to know about Cindersap Forest's prominent resident – Leah!
Background
To be more precise, Leah is shown to be an artist or sculptor. She loves nature and prefers to spend her time outdoors. Following up on this, Leah can often be found foraging in the Cindersap Forest or spending time by the lake.
The Villager lives alone in a cottage inside the Cindersap Forest at the southern end of your farmhouse. Next to no information is known about Leah's family or their whereabouts. She explains that living alone in Pelican Town is her choice as she prefers the outdoors. Even at later stages of friendship, though, unlike Sam, family is a topic Leah never opens up about.
It's interesting to note that, unlike most other Villagers, Leah has no friends. She'll seldom be seen hanging out with other NPCs. Additionally, she hardly mentions being close to any other Villagers in her dialogue. Her birthday falls on the 16th of Spring; interestingly enough, she has her annual medical exam on the same day!
Much like Emily and Sebastian, Leah is included in the twelve marriage-eligible characters of Stardew Valley.
Behavior
Leah gives off a very nice first impression and stays that way for the rest of the game. The truth is, she's one of the most likable characters you'll encounter throughout Stardew Valley. Her attitude towards you is always respectful, and she proves to be an excellent friend time and time through.
It becomes apparent early on that she's a very talented sculptor; however, she's highly insecure about her art. Even though her work is something to boast about, the character remains hesitant to showcase it. At later stages of friendship, though, she shares that with you.
Leah's character development isn't as impactful or profound as Haley's or Shane's, but it's still noticeable. She goes from being an insecure artist to fully embracing her skills and presenting her work to all the Villagers!
This increase in confidence is most notable at the 7+ level of friendship. At this stage, she shares her outlook on life and general opinions with you – all of which are wholesome enough to make you cry!
Schedule
Leah's daily schedule in Stardew Valley changes depending on the in-game weather, active festivals, and the current season. Following is a breakdown of her daily routine and any deviations.
Summer
Following her regular schedule, Leah wakes up in the morning but stays idle till 9 am. At this point, she starts sculpting in her cottage, which she continues to do for the next three hours. At 12, Leah will head over to the beach region.
She spends the rest of her day here and returns once the clock hits 7 pm. Leah stays idle inside her house from 10 pm to 12 am before heading to bed. On rainy days, the character spends most of her time indoors and only leaves at 4 pm to visit the Stardrop Salon.
Spring
In the case of Spring, Leah stays inside her cottage, sculpting till 12 pm. She then moves over to the southwest edge of the island in front of her cabin in the Cindersap Forest. At 3 pm, Leah can be seen standing at the edge of the pier built on the pond in the forest.
Once the clock hits 6:30 pm, the character moves over to the western edge of the pond, where she'll stay for the next hour. Afterward, she returns to her cottage and spends the rest of the day inside – going to bed at 12 am.
On the 16th of Spring, Leah has her annual medical examination in Stardew Valley. Due to this, she'll follow an alternate schedule for the day. After sculpting inside her house till 9 am, she heads on over to Harvey's Clinic. The character heads into the examination room at 1:30 pm and visits the Stardrop Saloon once the checkup ends at 4 pm.
Leah will call it a day once the clock hits 11:40 pm and finally return home.
Winter
On regular Winter days, Leah always sculpts from 9 am – 12 pm. In the Winter season, however, she'll move over to her easel after this point and start painting. After doing so for 2 hours, the character will go over to her bookcase, where she stays for another 2 hours.
Once the clock hits 4 pm, Leah heads over to the Stardrop Saloon. She stays here till 11:40 pm before returning to her cottage and going directly to bed.
Fall
Following her regular Fall schedule, Leah will spend 3 hours (9 am – 12 pm) sculpting inside her house. Afterward, she heads over to the eastern edge of the river in town, situated above Clint's Blacksmith Shop. The character will spend most of her day here before returning home at 7 pm.
Leah spends the next 5 hours remaining idle inside her house before heading to bed at 12 am.
Heart Events
Heart events are unique interactions you can experience with each character after reaching a certain level of friendship. In Stardew Valley, Leah has eight heart events that you can experience. All of them have their requirements and can be experienced at the two, four, six, eight, ten, and fourteen hearts friendship milestones with the character.
Aside from these, you'll also unlock an additional heart event at the 6-Heart friendship and when she shows you her art website!
Gift Preferences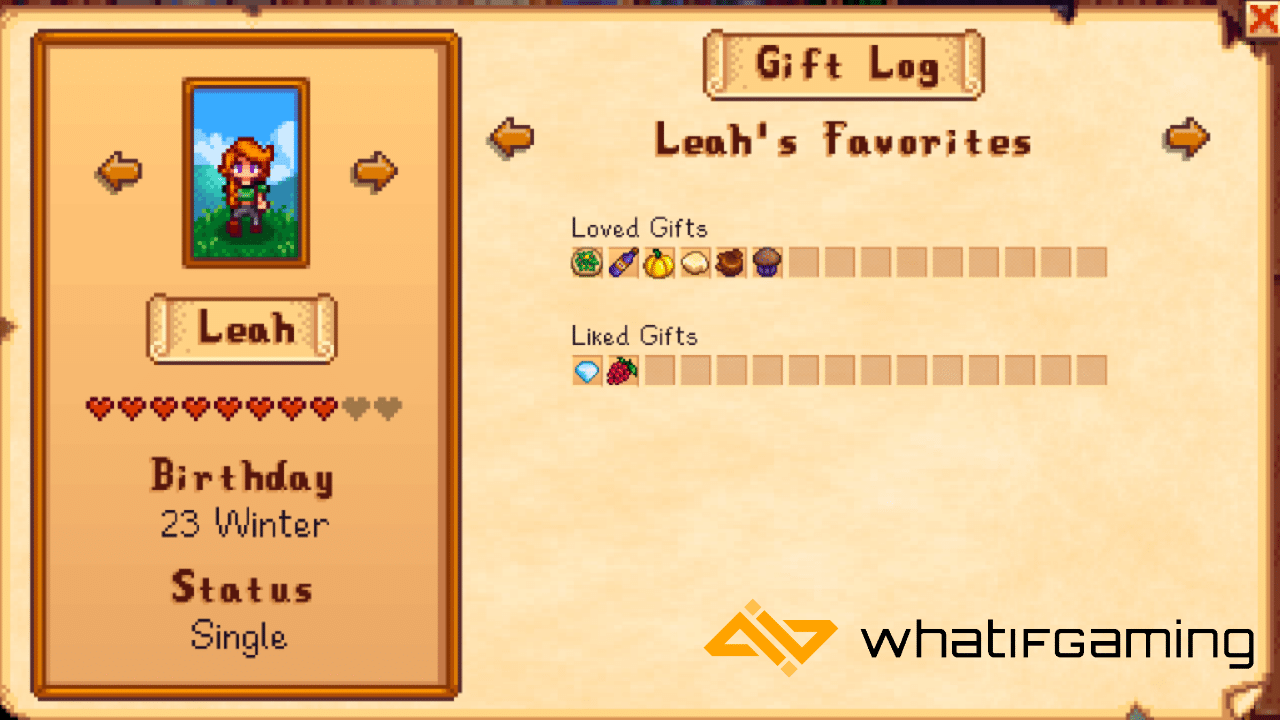 The following table showcases Leah's gifting preferences in Stardew Valley. You'll find all the items she loves, likes, is neutral to, dislikes, and hates. This list excludes all things to which overall villager sentiments are universal.
| | |
| --- | --- |
| Loved | Mysterium, Panzanella Salad, Stardrop Sorbet, Goat Cheese, Poppyseed Muffin, Salad, Stir Fry, Vegetable Medley, Wine |
| Liked | Natural Wonders: Exploring Our Vibrant World, The Brave Little Sapling, The Miracle At Coldstar Ranch, The Zuzu City Express, Wumbus, Chanterelle, Common Mushroom, Daffodil, Dandelion, Driftwood, Ginger, Hazelnut, Holly, Leek, Magma Cap, Morel, Purple Mushroom, Magma Cap, Snow Yam, Spring Onion, Wild Horseradish, Winter Root |
| Neutral | All Universal Neutrals (Except Fried Eggs, Bread & Truffle) |
| Disliked | It Howls In The Rain, Journey Of The Prairie King: The Motion Picture, Black Licorice, Fries, Joja Cola, JojaCorn, Nachos, Personal Pizza, Popcorn, Salted Peanuts, Carp Surprise, Cookie, Fried Egg, Ice Cream, Pink Cake, Rice Pudding, Seaweed, Survival Burger, Tortilla |
| Hated | All Fish, Prismatic Shard, Clay, Wild Horseradish, Bread, Hashbrowns, Pancakes, Pizza, Void Egg |