Lies of P is an upcoming action souls-like game from NEOWIZ and Round8 Studio. The title is inspired by the classic story of Pinnochio, and the developers have expanded that universe with their own take to create an action RPG. The release date for the upcoming game was just announced, and we now have more details about its editions. Here is the official Lies of P pre-order bonus you'll get for an early purchase.
Lies of P Pre-Order Bonus
If you pre-order Lies of P, you'll receive the Mischievous Puppet Costume Set.
The official website says that the costume is only available for pre-order customers, meaning it likely won't be available as an unlock in-game.
Pre-Order Lies of P
You can now pre-order the title from the following links.
Lies of P Deluxe Edition
There's also a deluxe edition, which costs $70, and includes the following additional content.
72 Hours Early Access
Mischievous Puppet's Clothes
Mischievous Puppet's Parade Hat
The Great Venigni's Signature Coat
The Great Venigni's Glasses
Mask worn by those preparing for the festival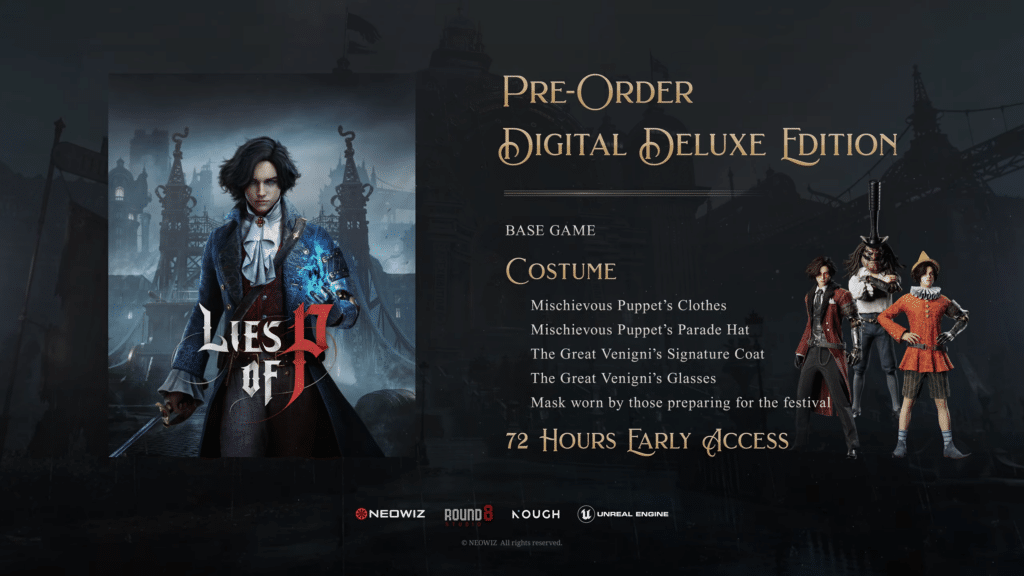 Lies of P Release Date
The game is coming to the platforms mentioned above on 1 August 2023.
While you're here, make sure to check out our other pre-order guides for other upcoming releases, including Immortals of Aveum, Lords of the Fallen, and Atelier Marie Remake.
What do you think of the Lies of P pre-order bonus content? Do you think it warrants an early purchase? Share your thoughts in the comments below and let us know.