Lies of P is out now for owners of the deluxe edition, and the PC version runs quite well on a wide variety of configurations. While the PC version does have cloud saves support, you can still back up your progress locally if you want. Here is the Lies of P save file location on PC.
Lies of P Save File Location
The save data of Lies of P is actually located in the installation folder. To access those, head over to where the game is installed and navigate to the following folders.
\Lies of P\LiesofP\Saved\SaveGames
Here, you'll open a folder with your specific Steam number and will have access to the save files.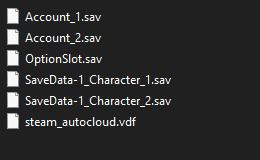 I recommend backing up all the files here, especially if you have a bad internet connection, and can't rely on cloud saves. It is still recommended that you have this toggled on to make sure all data is stored online too.

The above address is the for the Steam version, and I'll update this guide when I figure out where the Xbox app save files are as well.
We hope this guide was helpful and you were able to access the save file location for Lies of P. If you have any questions, feel free to ask them in the comments below.