The Logitech G Pro Wireless has been around since 2018. Yet, despite its age, it's remained a highly regarded wireless gaming mouse. With a sleek eye-catching aesthetic and remarkable performance, it's easy to imagine why. In this Logitech G Pro Wireless review, we'll find out whether this powerhouse of a mouse still stands up to newer competitors like the Xtrfy M8 or the Viper V2 Pro.
Logitech's peripherals are known for being all-rounders. Able to keep up with intense gaming, slower matches, and even business use. Is the G Pro Wireless able to continue this trend?
Tech Specs
Dimensions – 12.8 x 6.8 x 4.4 cm
Weight – 80 grams (0.17 lbs)
Buttons – 7
Switches – Omron D2FC-F-K
Sensor – HERO 25K
Cable – USB-A to Micro-USB
Connectivity – Wired or 2.4 GHz wireless
Battery Life – 60 hours
Packaging and Contents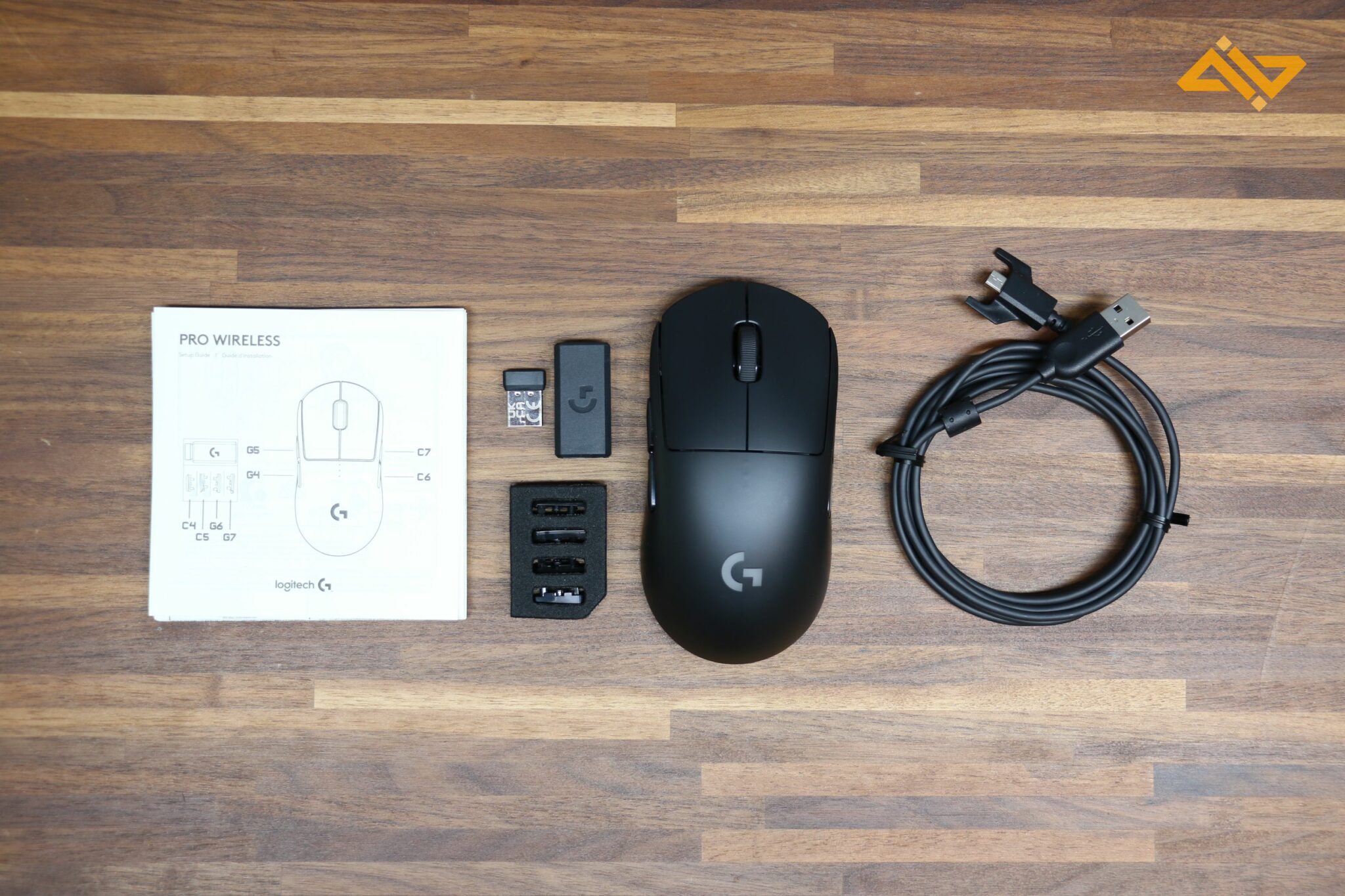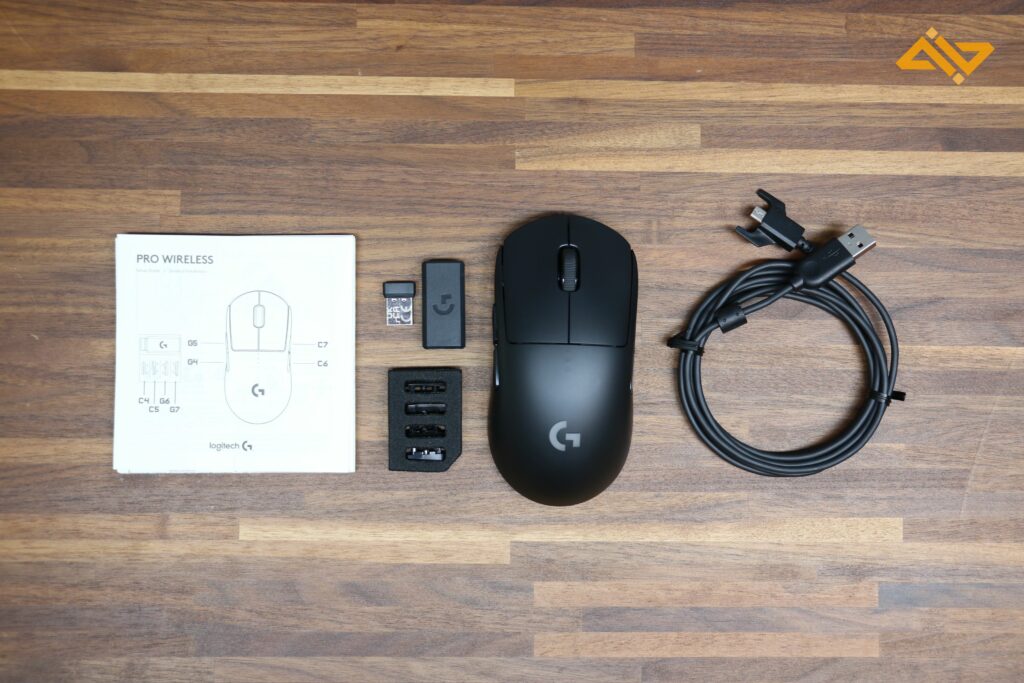 The G Pro Wireless is presented in the box as if it's emerging out of water. The cradle gives a rippling effect which pulls your eyes to the mouse. Matching the standard of premium gaming mice, the box includes everything you might expect from similar products.
The box contains:
Quickstart guide
Wireless dongle
Receiver extender
Logitech G Pro Wireless
Lengthy USB-A to Micro-USB cable
Additional side button caps
Weight
At 80 grams, the G Pro Wireless can't be considered super light (pun intended), but I wouldn't call it heavy, either. While there has been a recent craze of making mice as light as possible, the G Pro Wireless certainly isn't affected by this.
While it is much heavier than the 61 grams of the G Pro X Superlight, 80 grams is perfectly serviceable for the rest of the quality the G Pro Wireless brings. It's a decent weight that still provides a great, deluxe feel.
Build Quality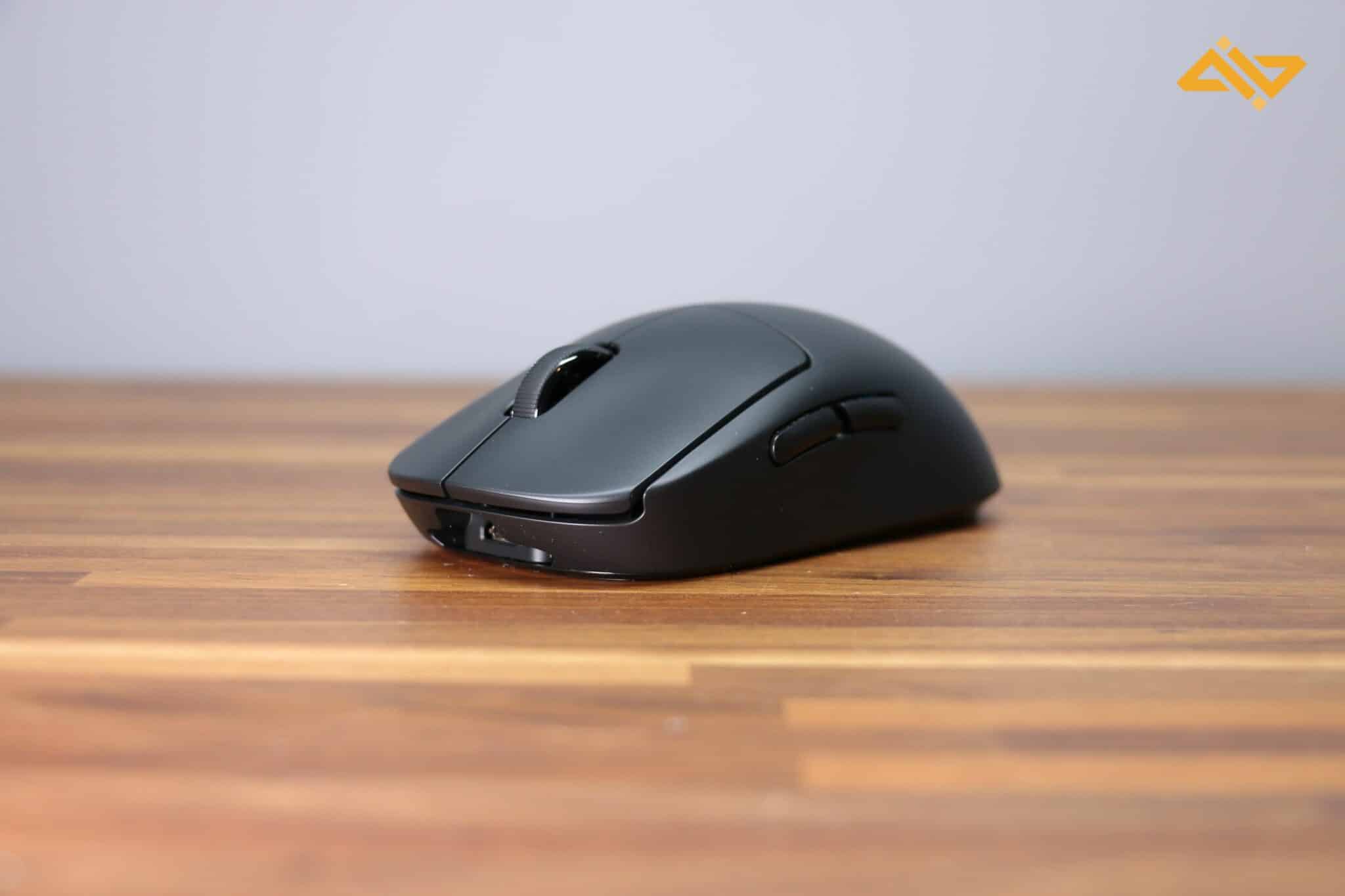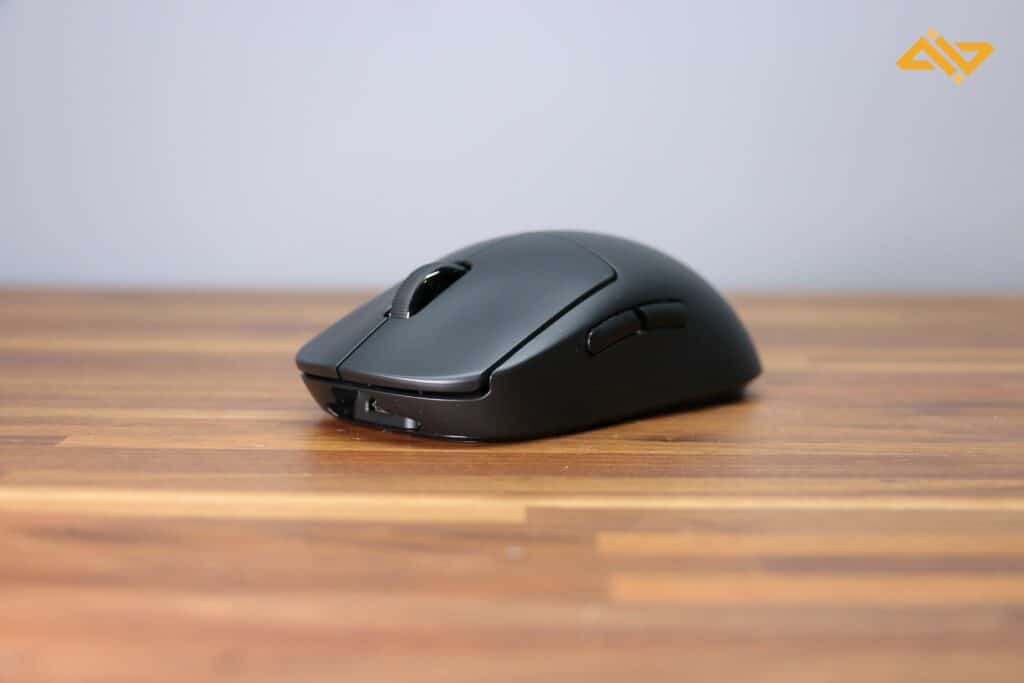 Immediately upon handling the G Pro Wireless, it's clear no expense has been spared when it comes to its quality. No amount of shaking makes any part of the mouse feel or sound loose.
The feet are of great quality and provide just the right amount of glide for competitive gaming. While it is missing the additional optional aperture glide of the aforementioned G Pro X, it doesn't feel like it needs it. As you'll see throughout this G Pro Wireless review, one of the biggest flaws of this mouse is the lack of customisation. If you want to tweak the feel of the feet, there's very little you can do.
Buttons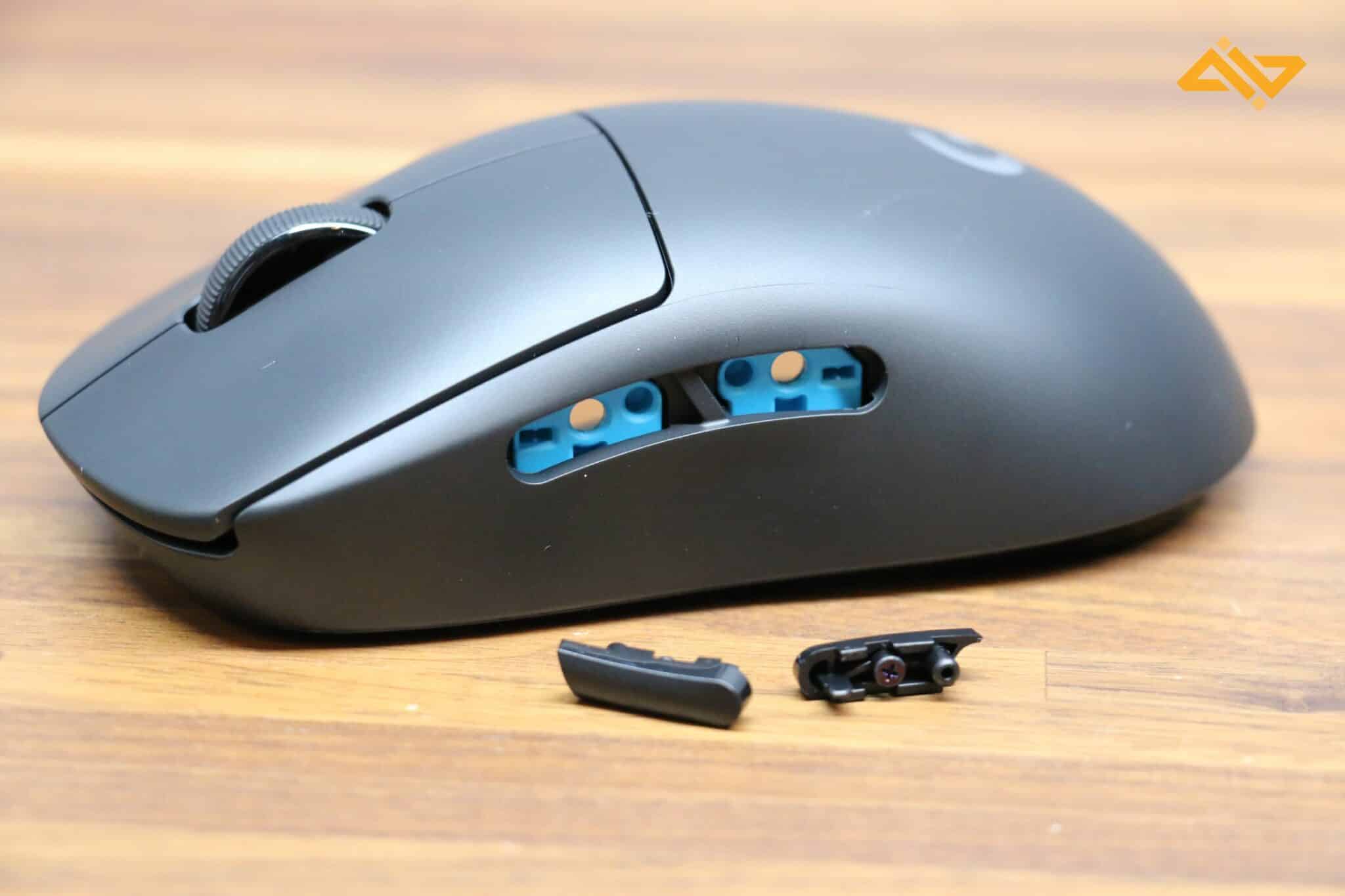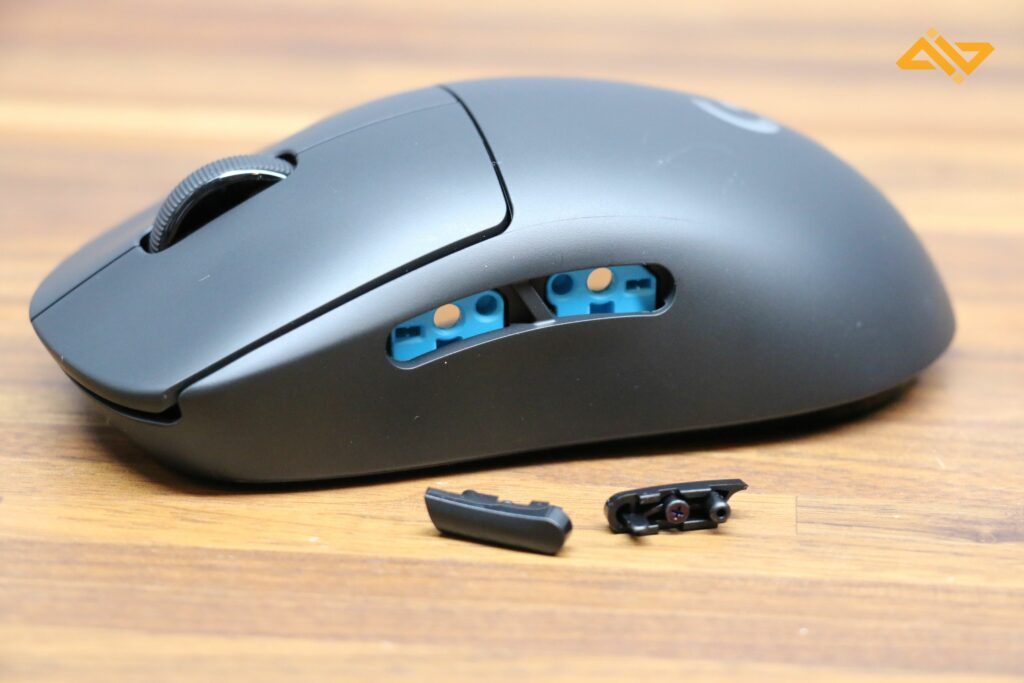 The Omron switches are simply brilliant. The front mouse buttons are low and responsive. Allowing for easy, rapid clicks. Even though a feather touch is all that's required, you'll always fire when you want to. The side buttons are just as accurate and easy to reach.
The mouse wheel is tight and doesn't wiggle under a good amount of pressure. This allows for accurate scrolling and provides a lovely click. You'll be left content with the feel of this wheel.
The mouse has four side buttons in total (two on each side). They also provide the option to remove the buttons and replace them with flat caps instead. While my type of playstyle welcomes as many buttons as possible, if your preferred type of grip has you pushing the side buttons accidentally, you can just remove them. This is an unnecessary, but welcome design choice. And honestly, having them removed looks a bit odd.
User Experience & Sensor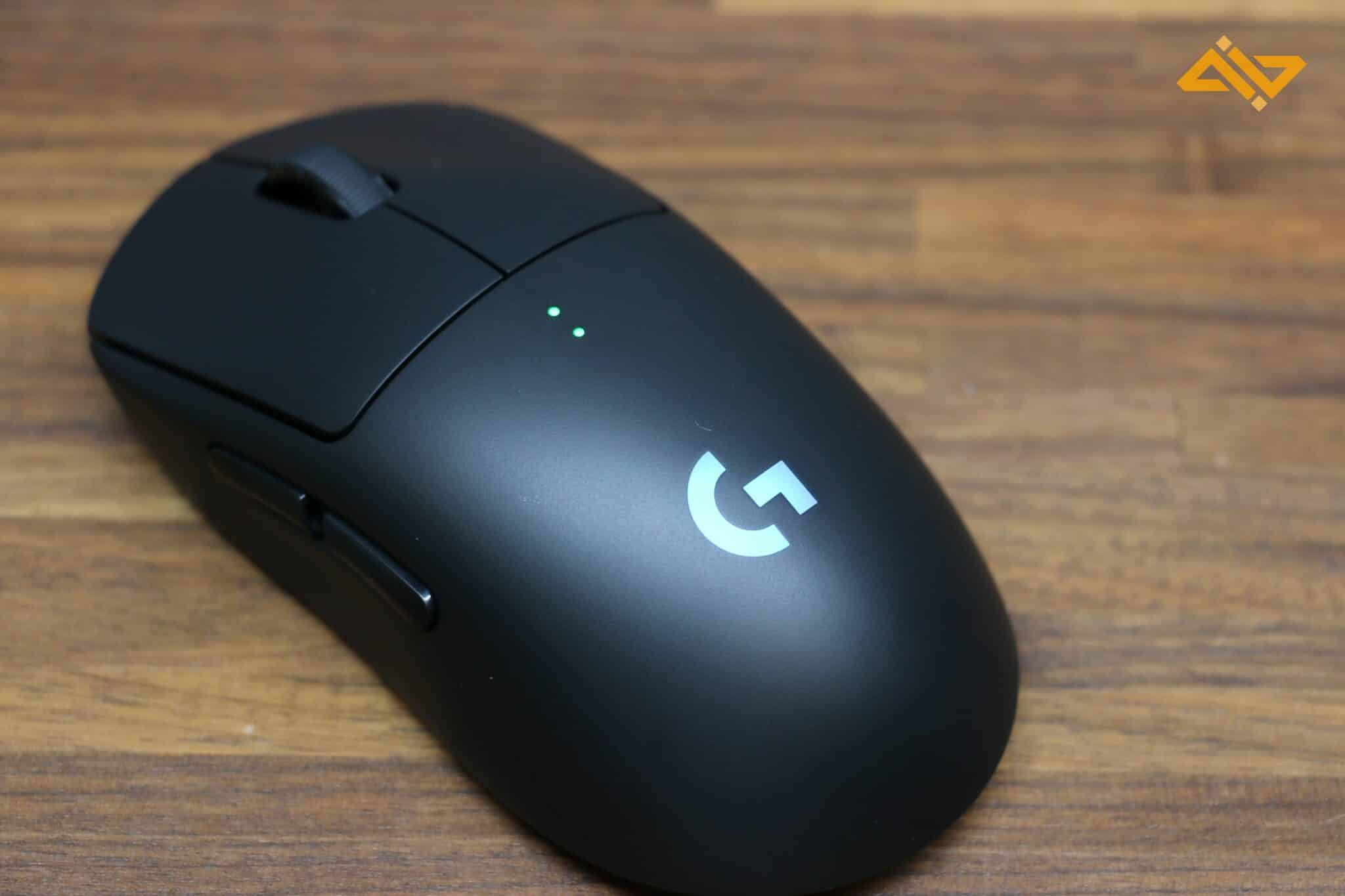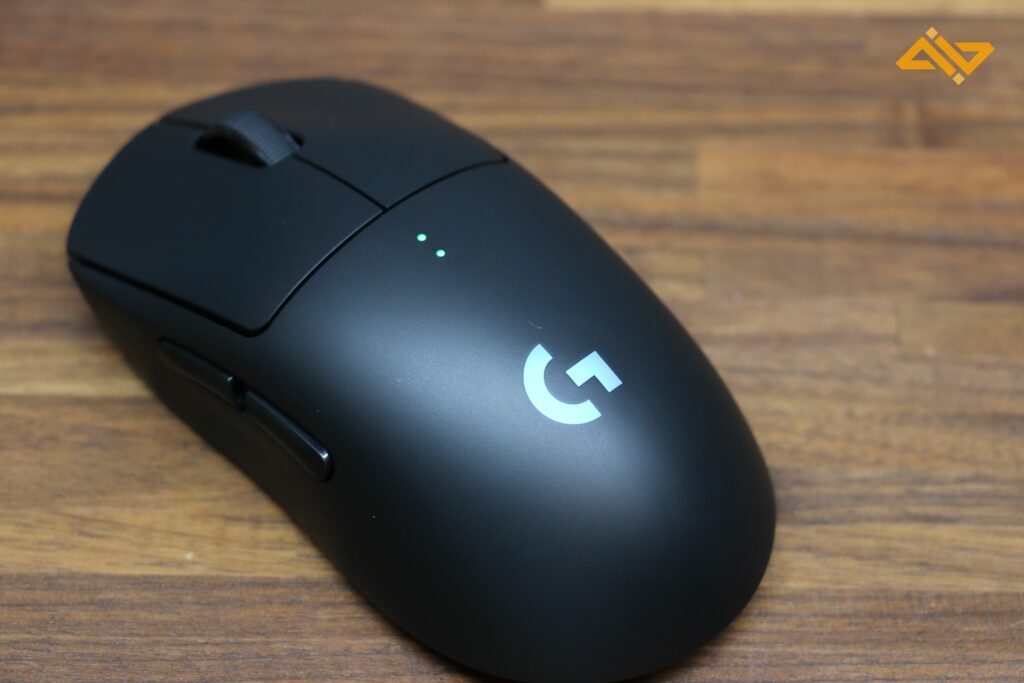 Logitech has put a lot of effort into making the G Pro Wireless a pleasure to use. It's a bigger mouse, so gamers with big hands don't need to worry, and thanks to the customisable side buttons, it supports a variety of different gripping styles. Claw and palm seem to work best, but its ambidextrous design means any type of player is sure to find a comfortable style.
While stylish LEDs are always nice to see, it's great to see a functional use for them. Below the mouse buttons and above the glowing Logitech symbol you'll see a few colourful dots. These represent the battery level, meaning you'll always know how much life your mouse has left at a glance.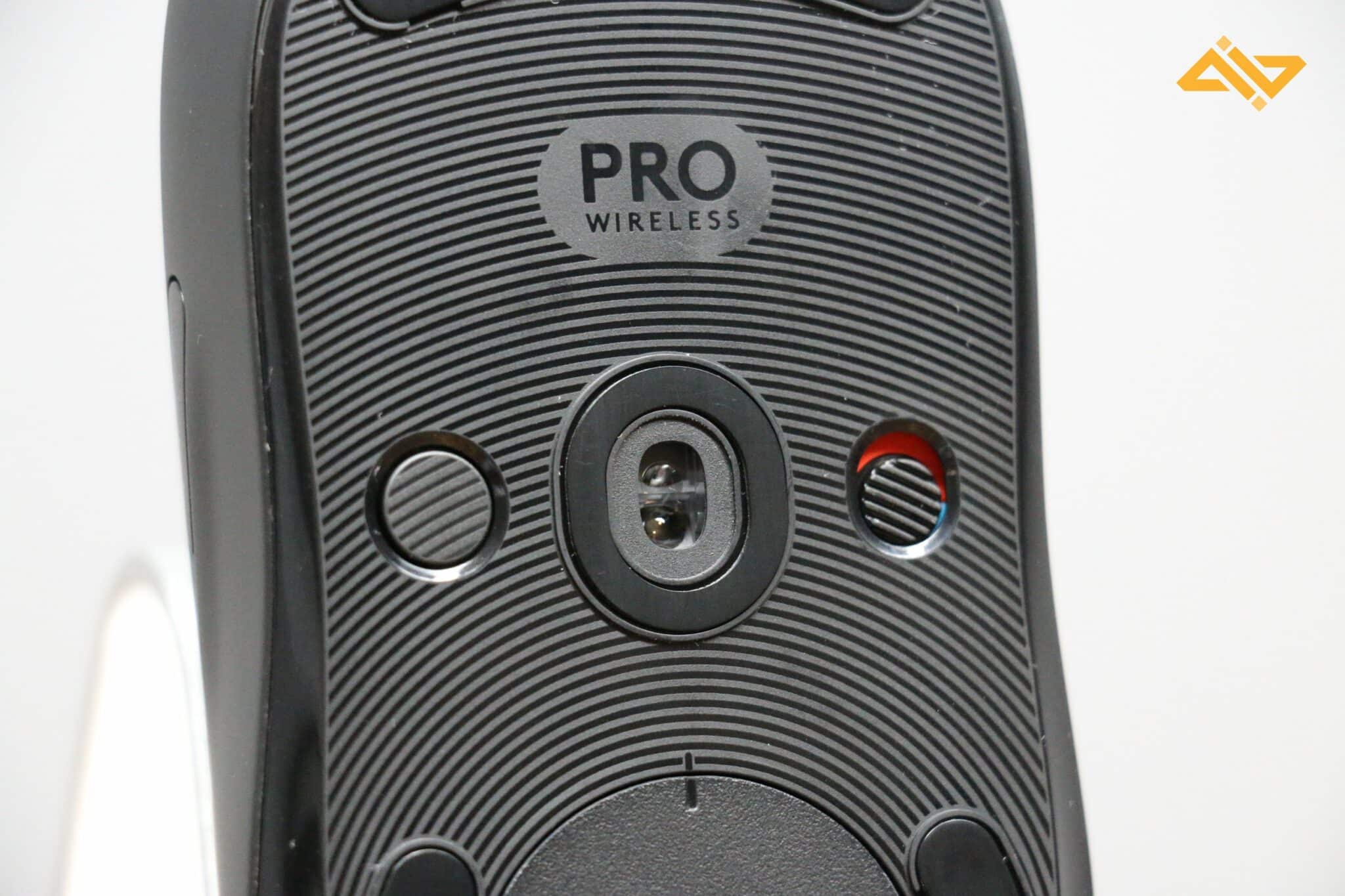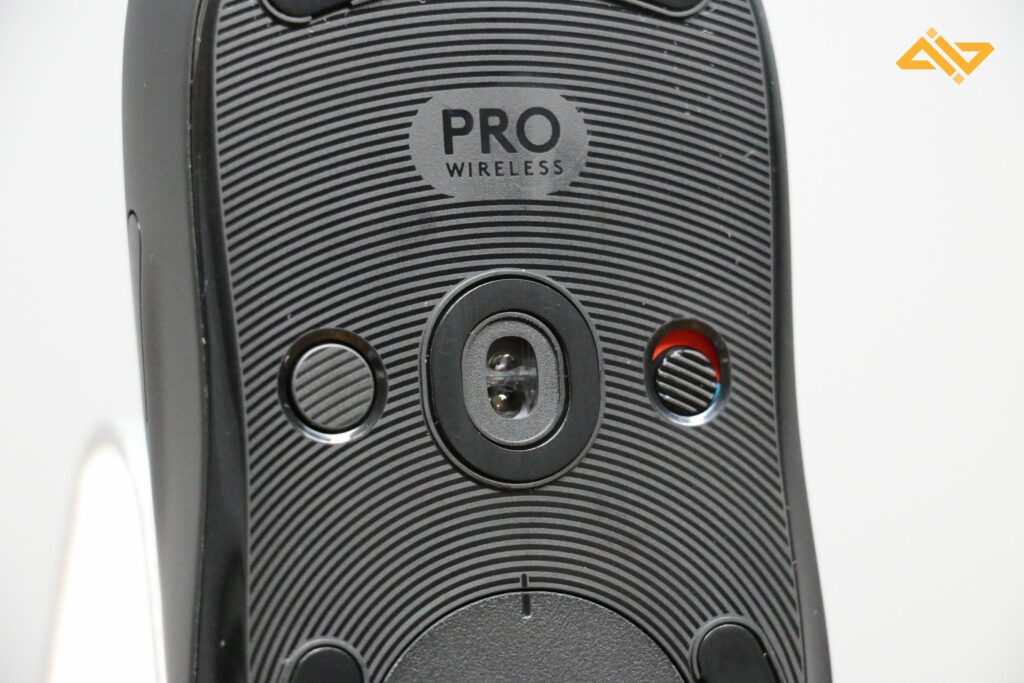 I want to bring attention to the inclusion of an aperture that twists off the base of the mouse. This provides storage for the wireless dongle which is an often forgotten feature. Being able to securely store the wireless dongle when taking the mouse on the move is always a big plus.
The HERO sensor is a pleasure to use and keeps up with very quick movements on glossy surfaces. While there are no surprises when it comes to the sensor, that's not necessarily a bad thing.
While this Logitech G Pro Wireless review has been mostly positive, this mouse does have what could be considered a major setback for a lot of competitive gamers. Being able to quickly switch the DPI while in-game is crucial for a lot of players. However, this is made much more difficult in the G Pro Wireless due to the switch being placed on the base of the mouse. It's an unfortunate blemish in an otherwise brilliant package.
Battery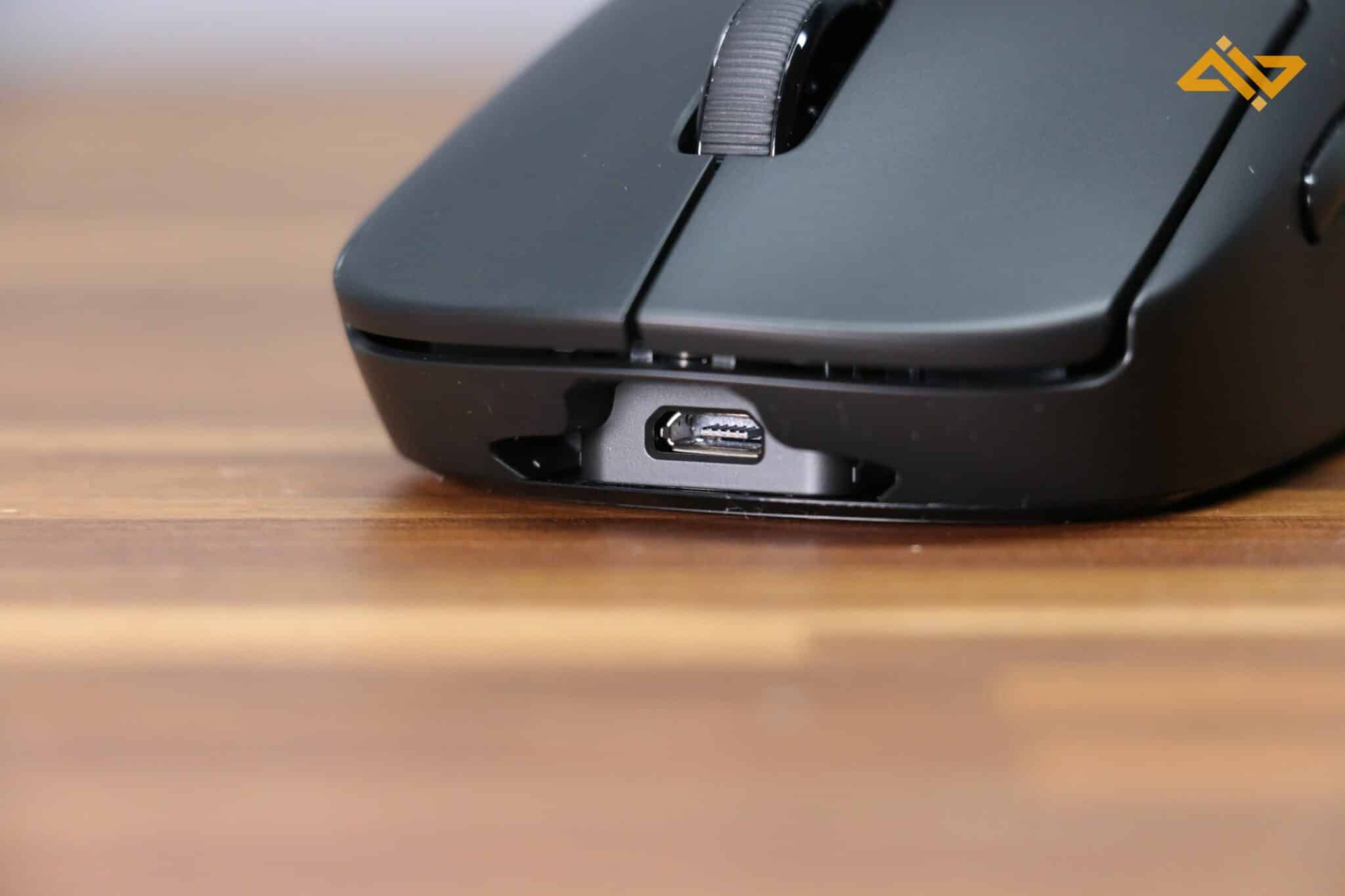 60 hours is a perfectly serviceable battery life for a mouse of this kind. While this may have been a lot more impressive when the G Pro Wireless was first released, there are now much lighter mice with much bigger battery lives, like the Fnatic BOLT's 110 hours to name just one.
Take note that the battery life can be reduced to about 48 hours if the RGB effects are kept on. Even then, with quick charging and the ability to play while charging, this isn't much of a setback.
Connectivity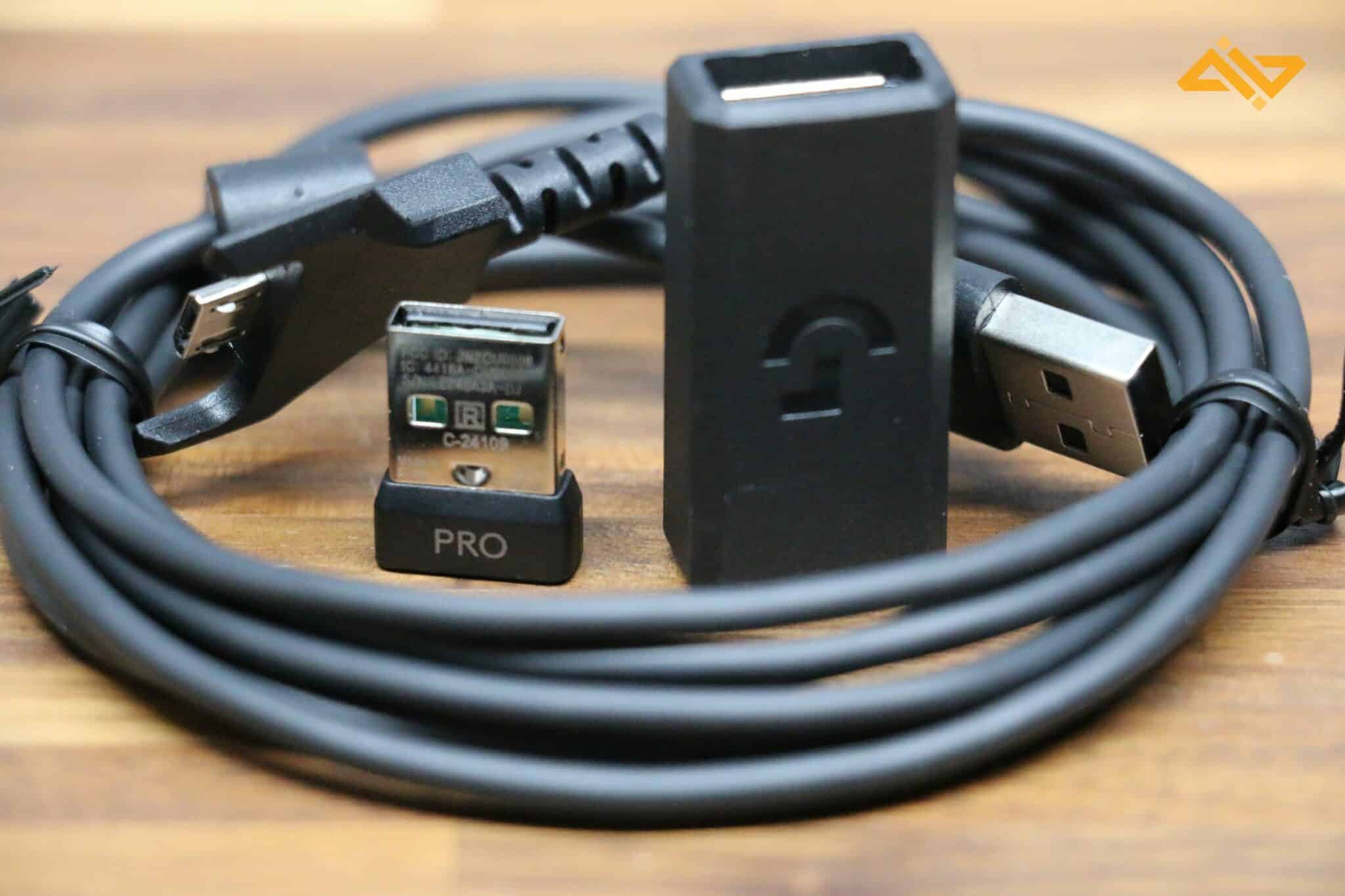 The fear of wireless mice is the latency between input and execution. However, the Logitech G Pro Wireless has such incredibly low latency, it may as well be wired. As low as 10ms clicking latency, it can keep up with casual games as well as the most intense firefights.
Software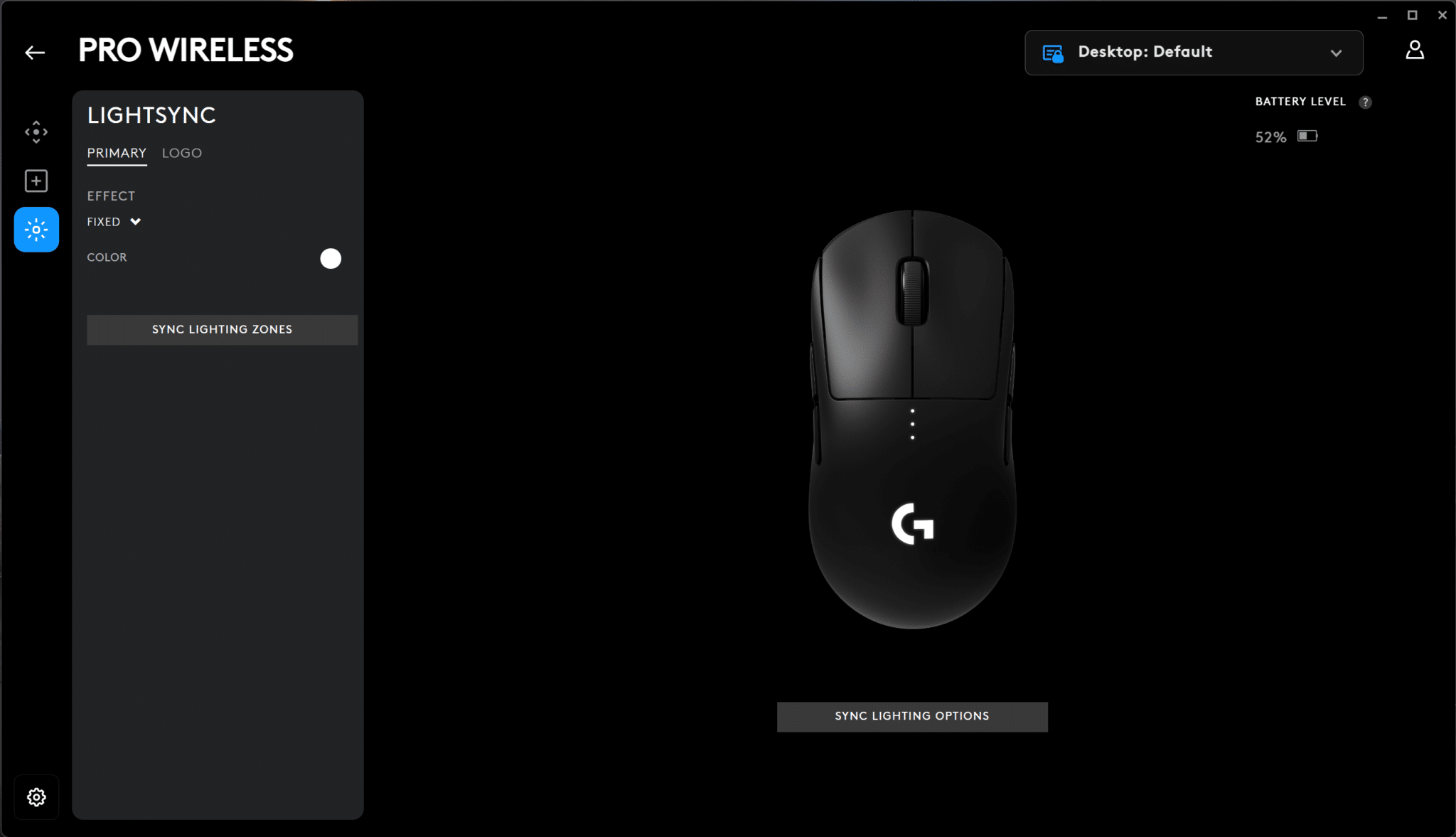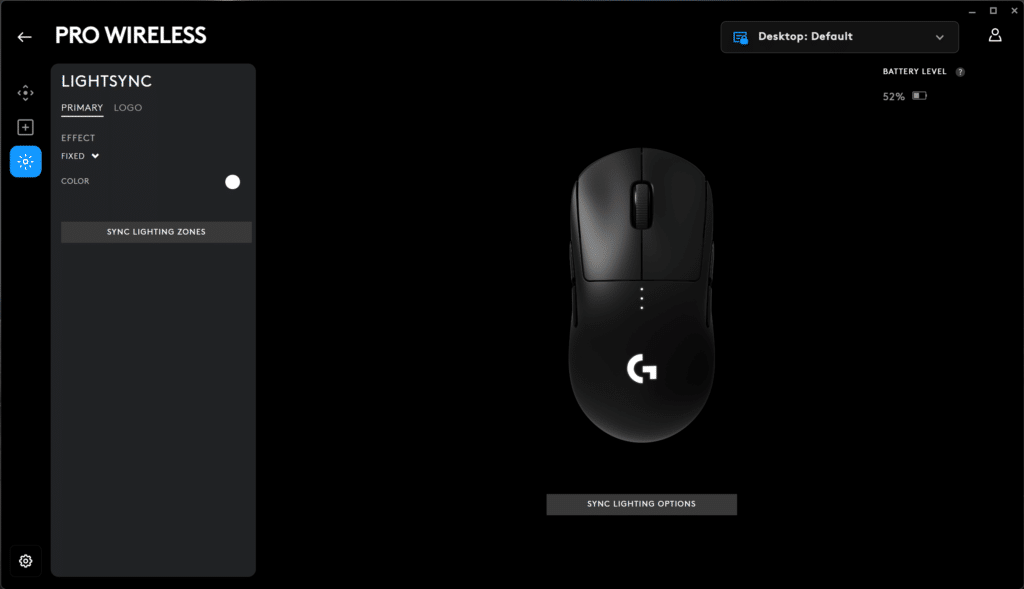 Like with most modern gaming mice, the G Pro Wireless will work straight out of the box for those that just want to get going. However, if you want to truly customise your experience, you'll need Logitech G-Hub to unlock everything this mouse can do.
G-Hub is intuitive and allows even people who have never tweaked mouse settings before to understand what's going on. There's a DPI changer that allows you to change the pre-programmed DPI profiles to match your game. This program also allows you to remap every mouse button, which is even more crucial if you don't want to use all four side buttons.
Should you buy the Logitech G Pro Wireless Gaming Mouse?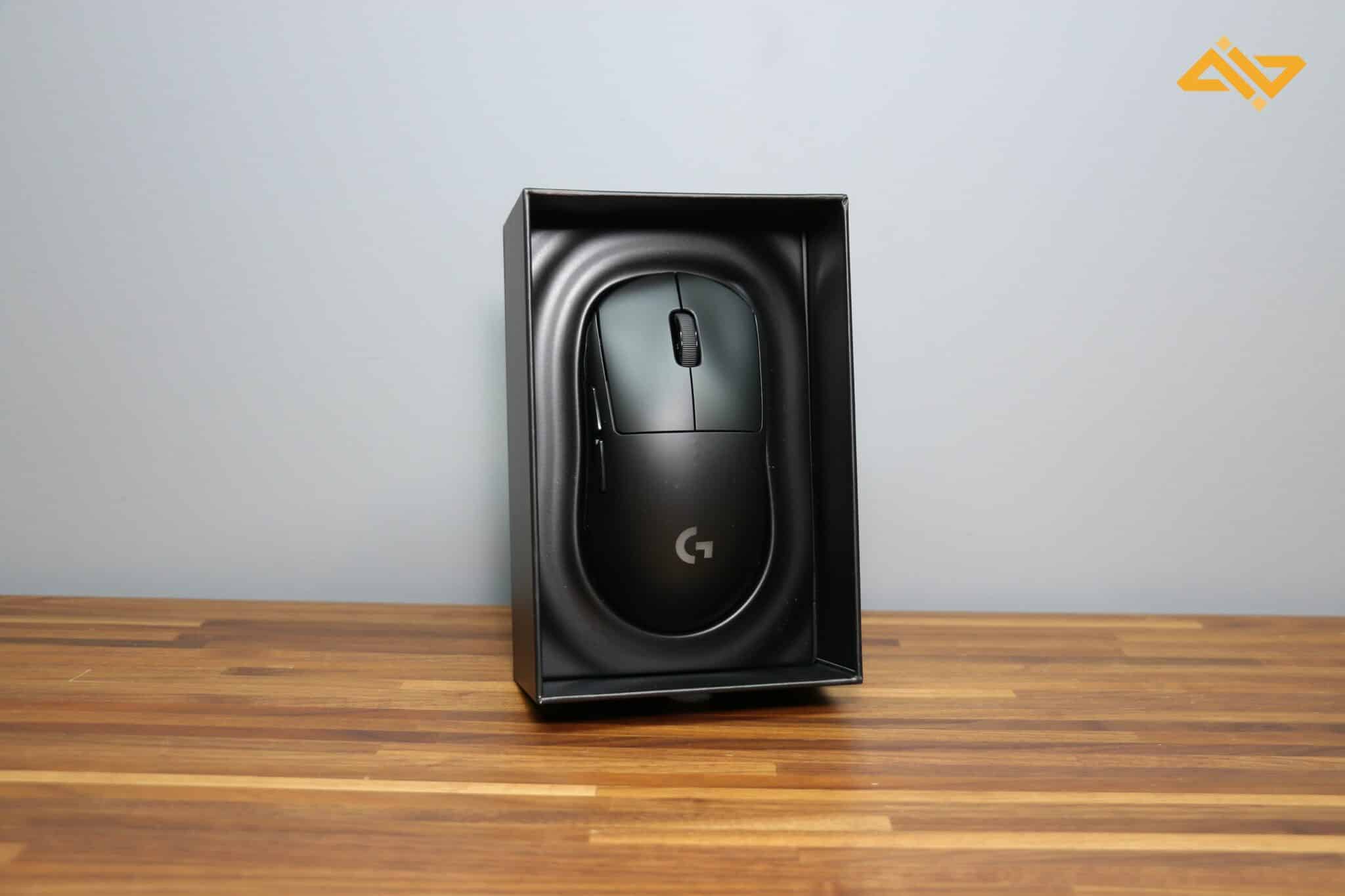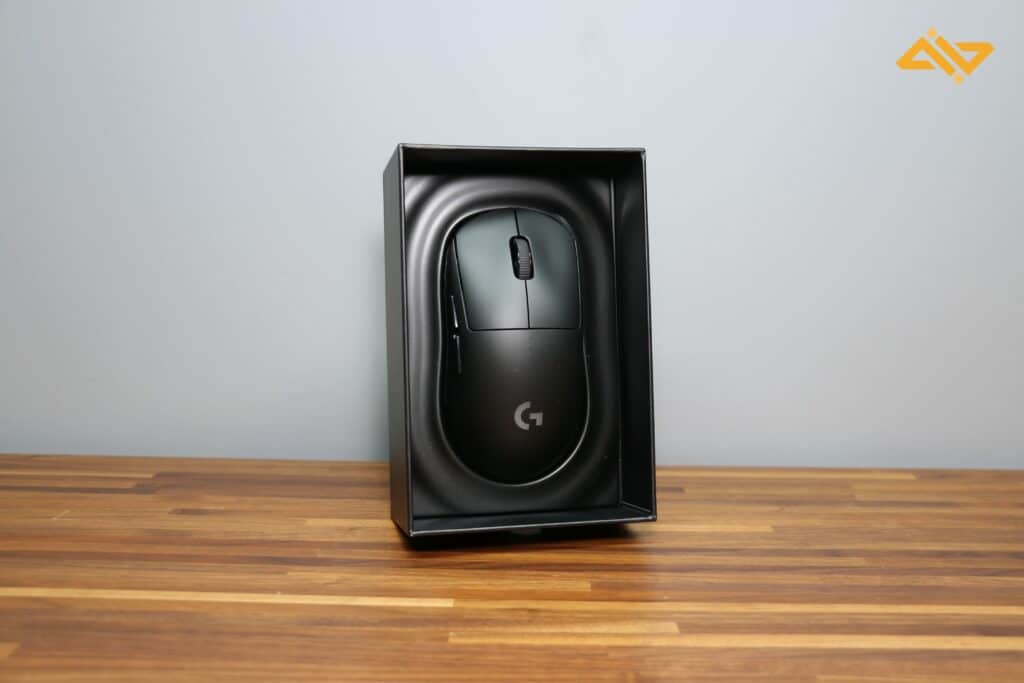 While the G Pro Wireless is an older mouse, it still stands tall when compared to peripherals released this year. Originally designed for competitive gamers, it shouldn't be a shock that it handles well in shooters like Valorant
That being said, it's also an excellent piece of hardware for MMO gamers, thanks to its four side buttons. With all the skills available in Final Fantasy XIV, having the two extra inputs helps make the experience all the better.
It's rare for gaming mice that perform well in shooters and RPGs to also be ideal for business use, but this is what Logitech do well. Accurate movements and the brilliant scroller make sifting through documents easy. The ability to disable the RGB effects means you can even use it in an office setting without issue. While the four side buttons are definitely not needed in this aspect, they can be removed if necessary.
Conclusion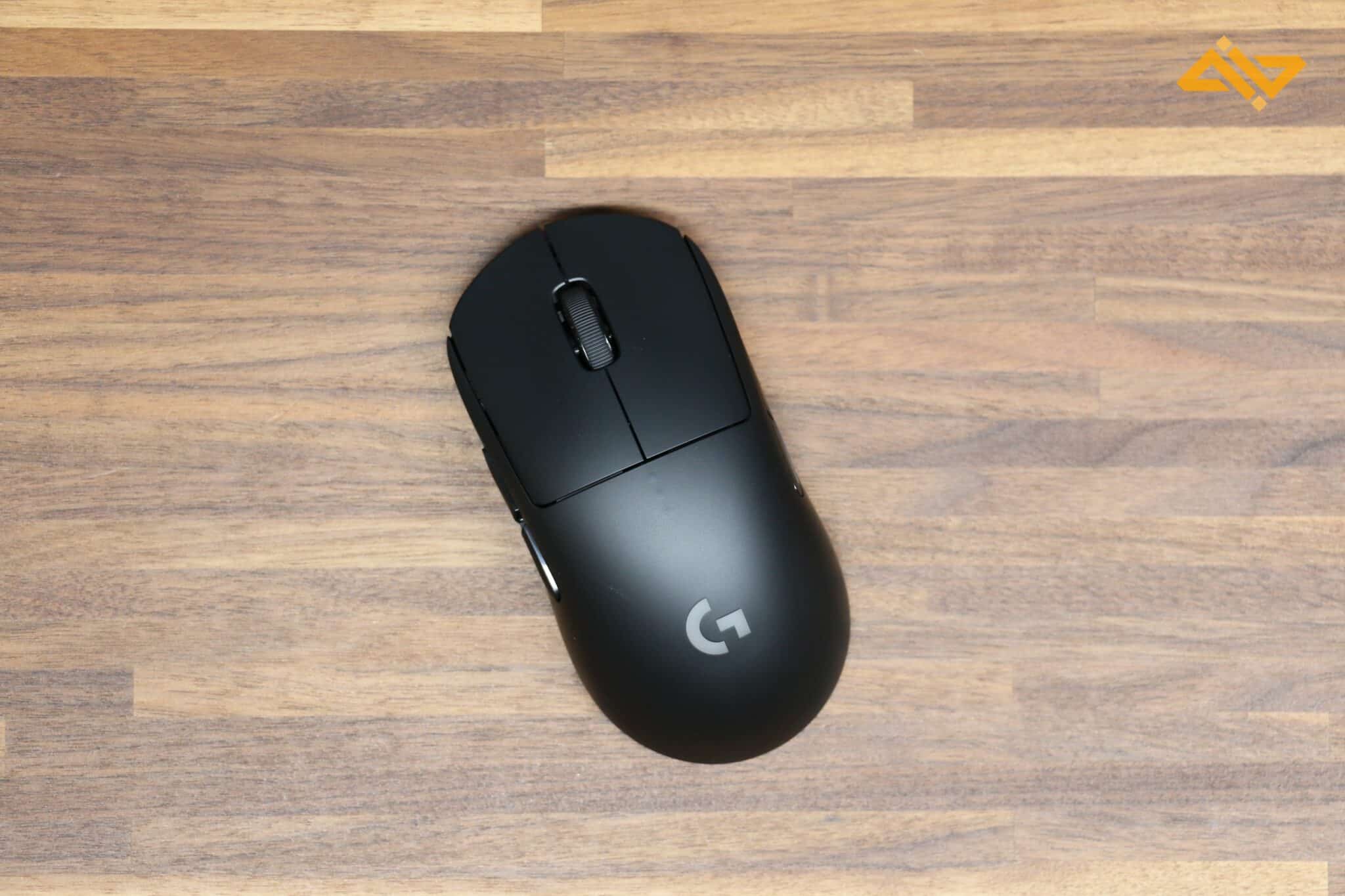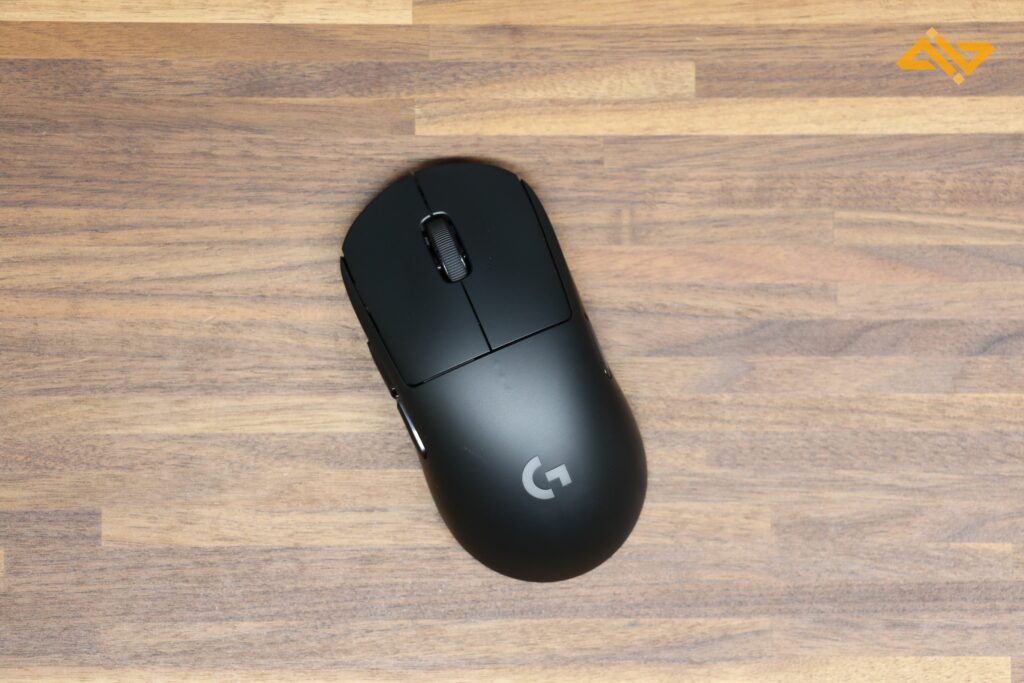 Even though the G Pro Wireless isn't the newest and lightest gaming mouse on the market, it still holds its own against the competition. With great buttons, flawless connectivity, and plenty of buttons, the few flaws on display here don't do much to take away from how brilliant this mouse is.
If you're looking for an all-rounder wireless mouse that's dropping in price each day, the Logitech G Pro Wireless is for you. While the lack of customisation and less-than-ideal placement of the DPI switch placement are problems, with how stellar the rest of this product is, they're small hurdles at worse.
Logitech is known for its durable mice, and this one is no exception. It is sleek, minimal, and doesn't scream GAMER when you place it on your desk. If you are looking for an all-rounder that's no slouch when it comes to FPS titles and any other aim-sensitive tasks, the G Pro Wireless is an absolute no brainer.