Here's a medieval city-building sim under early access that's sure to keep you playing for hours. Take charge of a procedurally generated map where you build your kingdom while managing your countrymen in this Lords and Villeins review.
We'll talk about how to play through this magnificent sim and teach you some pointers to take note of so you won't get lost with playing around with a lot of resources.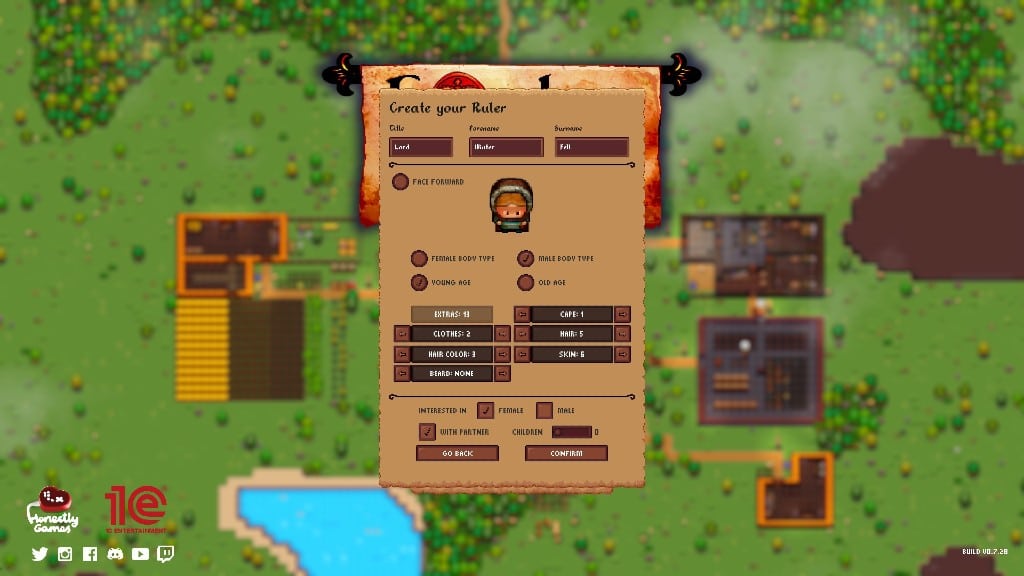 Medieval Sandbox Done Right
After a few hours of playing the game, the art style and music just sucked me right in. This sim is just one of those titles that tell you that you don't need high-quality graphics to make great games.
The closest popular titles that I can think of when I'm playing Lords and Villeins is somewhat a mix of Prison Architect and Stardew Valley.
Although I have to admit that I got lost in my first tutorial playthrough because it was so comprehensive. It might even take you around four hours at max just to finish the entire tutorial.
But keep reading as later on, I will give you some quick tips on managing your sandbox kingdom so you don't experience the frustrations of trying to decipher this game as much as I did.
Prepare for Family Planning and Meticulous Zoning
One of the most interesting features that I find enjoyable was the fact that you can assign zones to your villagers (or "villeins" as the game calls it).
At every start of the game, you will be provided with farmers and foragers and you either start with plenty or few people. So it's up to you how many villagers you would like to manage.
I'd recommend starting out with a few villagers so you don't get pressured with improving their mood every now and then.
Give your villagers enough space to live in and expect them to flourish and multiply. Also, make sure you also have lots of food to feed everyone because no one likes a starving settlement.
Every household should at least have the following:
Bed
Cooking Table
Cauldron
Regal
Wooden Block
Ground Storage
I would sometimes put the walls and floors last at least for this early access build and focus on the essentials above. Not having any storage can cause your villagers to scatter their resources around the map and we don't like that kind of chaos.
Tutorial Tips and Tricks To A Peaceful Kingdom
Here is some in-game advice to make your Lords and Villeins experience a bit bearable. These tips are all based on my tutorial playthrough so let this be your guide when playing this game for the first time.
Don't dwell too much on reading the help text because you might get bored. It's better to learn by doing.
Zoning doesn't cost any money so don't be afraid to allocate large portions for building. Click on the scroll icon so you can assign a family to own that specific plot.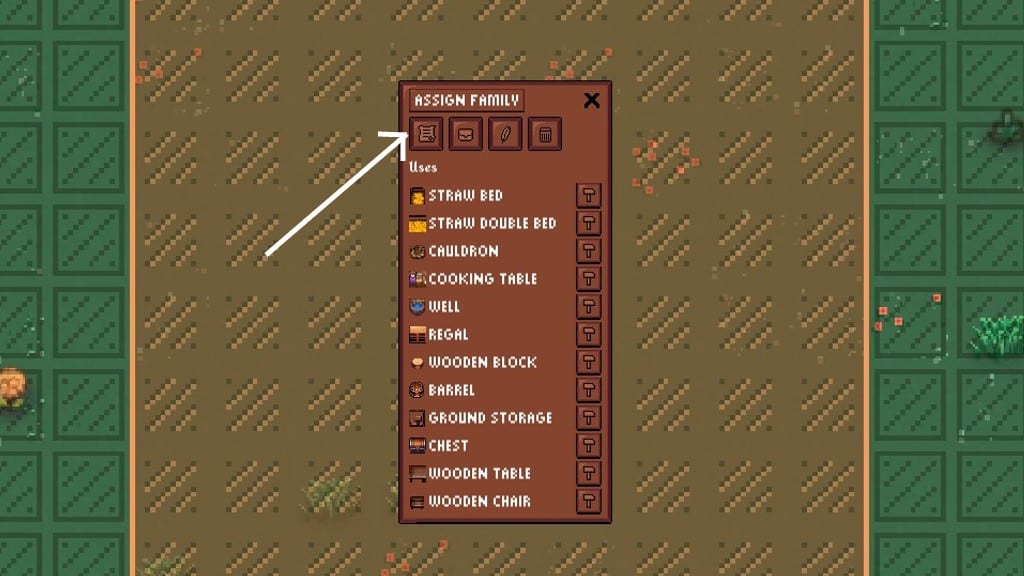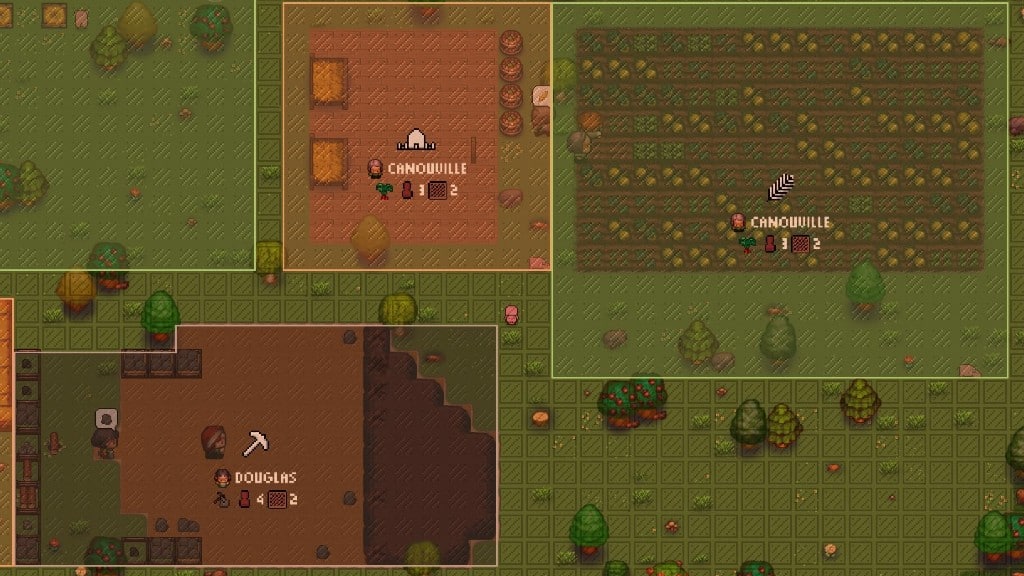 Don't worry about collecting gold in the early game. Even in my first playthrough, I never found a good use for it during the tutorial.
Focus on how resources work because this will help you prioritize later on which families would need certain foods and materials.
There's no punishment for being overly creative but it helps to analyze your procedurally generated map so you know what building materials to focus on.
As much as possible don't seize resources from your families unless it's absolutely necessary because this can affect their mood. Take advantage of the tax system and play around with the percentages.
For some reason, the Sell feature in the Warehouse doesn't really work well even if you set resources to give away for free. A workaround for this is to provide the family with resource grants instead of going directly to selling at the Warehouse storefront.
Be Prepared For More Complexities But Don't Panic
I'm not really sure if you'll encounter different family types but at least from my experience, the tutorial stops once you've completed the Bakery quest and you can start a new game from scratch.
However, don't be discouraged to explore Lords and Villeins at your own pace if you're suddenly bombarded with more zone types once you start playing a new game.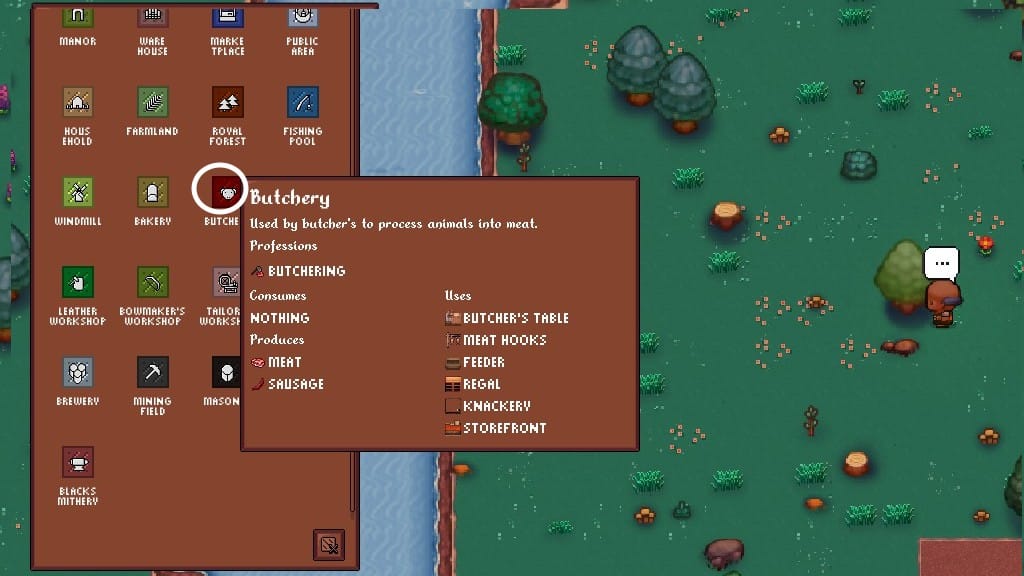 The zones will entirely depend on what family profession visits your settlement. So if you can't accommodate a family into your kingdom, you always have the option to say no.
Once autumn starts, the King will give you some resource targets for the year so you need to hit them or face some consequences.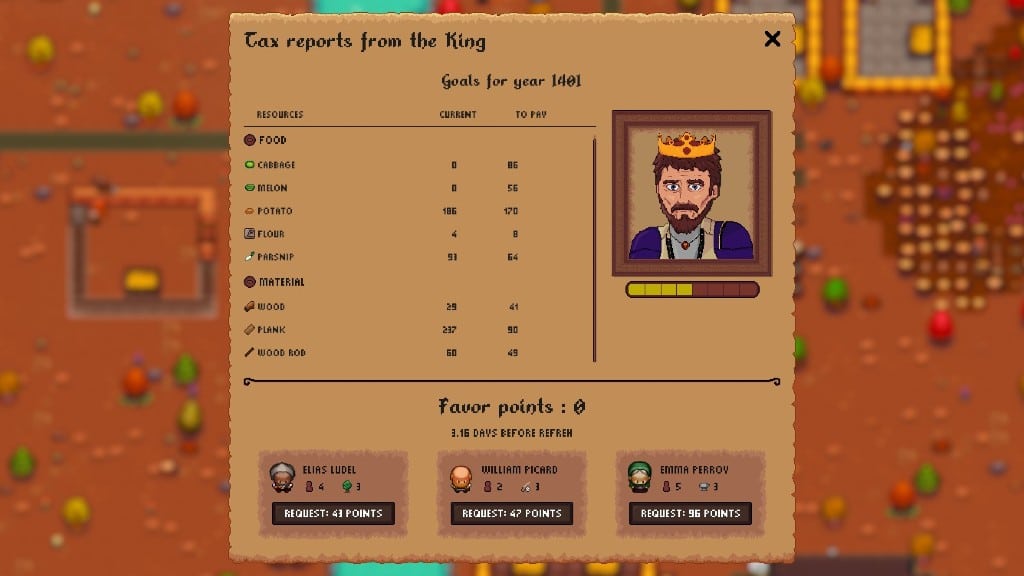 After a year, tax collectors will visit your settlement and go to your warehouse to retrieve the required resources as requested by the king. Completing all resource objectives will grant you plenty of favor.
Doing well in these tasks will improve your relationship with the king and your reputation will increase, giving you other options to request families from the capital city via favor points. Failing to reach these targets will put your settlement at risk so plan accordingly.
The Verdict
For an early access game, I feel like this can boom in the future especially once they roll out more content. I'm not saying that what they've released wasn't enough – it actually exceeded my expectations.
They do have a promising roadmap so the game's worth watching until its estimated full release in 2022.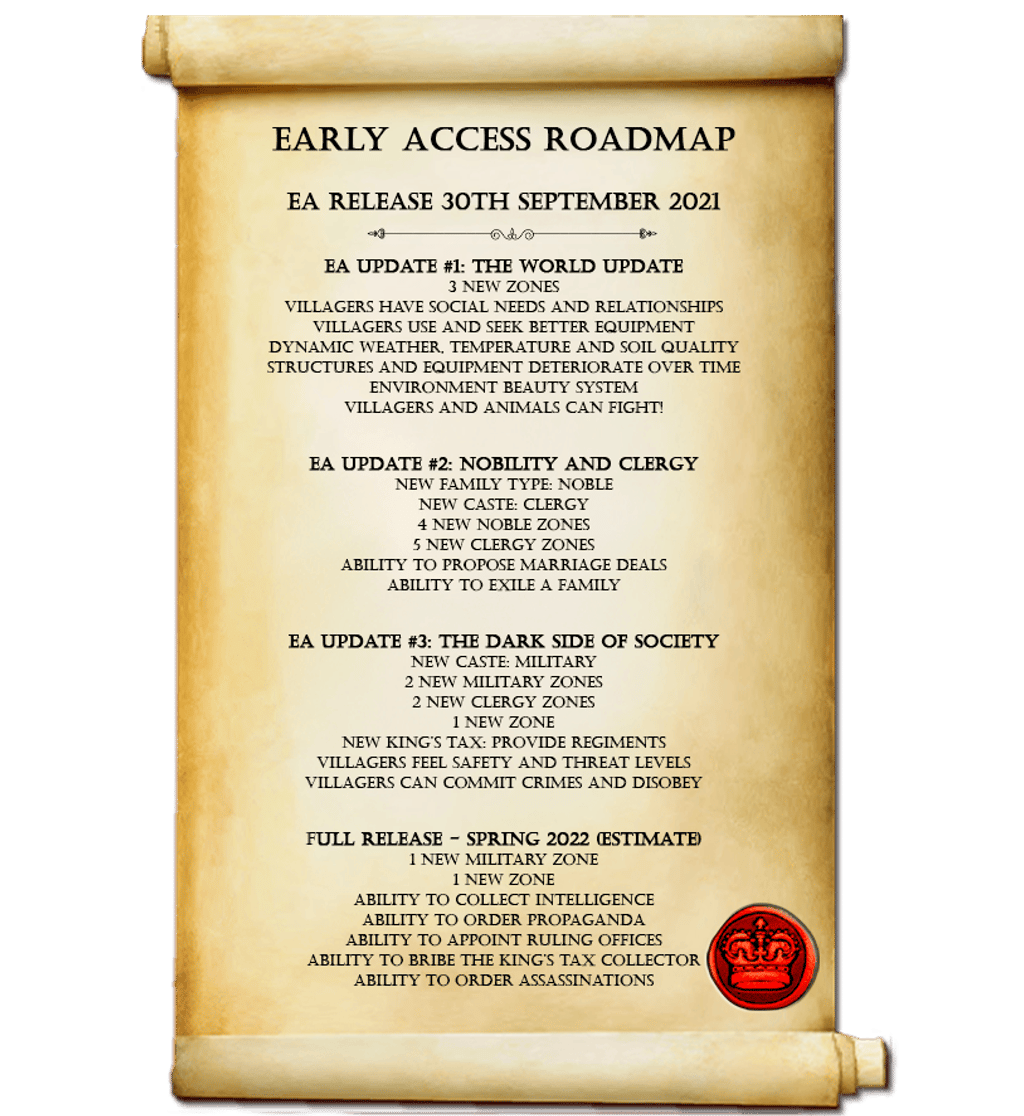 There are some nuances here and there when it comes to resource management but at least they've managed to pull off a decent box art. I love the fact that you can assign lands fairly to your constituents, at least you can find a way to make them happy.
Though the tutorial makes you feel a bit lost at first, the mechanics were easy to pick up especially when doing your zoning. Lords and Villeins actually give you subtle hints on what to build next.
I just wish that the UI elements were a bit bigger since some of the text is pretty hard to read. Also, it took a while for me to decipher what the icons meant but the devs could do better in their next updates.
We hope you enjoyed this Lords and Villeins review. Get this game on Steam and immerse yourself in ruling a feudal society.
If you like more of these types of games, you can also check out our reviews on Dorfromantik and Dice Legacy.
This review is based on the PC version of Lords and Villeins. The key was provided by 1C Entertainment