Lords of the Fallen is an upcoming action RPG soulslike from HEXWORKS and CI Games. The title finally has a release date of October 2023 and is coming to current-generation consoles as well as PC. With its store pages finally up, we now have more details about the extra goodies, and different editions. Here is the Lords of the Fallen pre-order bonus content you'll receive for an early purchase.
Lords of the Fallen Pre-Order Bonus
If you pre-order Lords of the Fallen, you'll receive exclusive Bronze, Silver, and Gold Armour Tincts, 3 XP Items, 5 MP Items, and 5 HP Items.
The armour tincts allow you to re-colour any in-game wearable armour item. Aside from that, you'll receive 13 consumables of different categories including XP, MP, and HP. That's a fair amount of extra content that players will receive, and will likely aid them in the early hours. The armour tincts are a nice touch and should come in handy with customization.
Pre-Order Lords of the Fallen
You can now pre-order the game from the following links.
Lords of the Fallen Deluxe Edition
Apart from the standard edition which costs $70, there is a deluxe edition as well, which costs $80 and includes the following additional content.
Lords of the Fallen game
Dark Crusader Starting Class
100 Page Digital Artbook
Digital Soundtrack
3D Model Viewer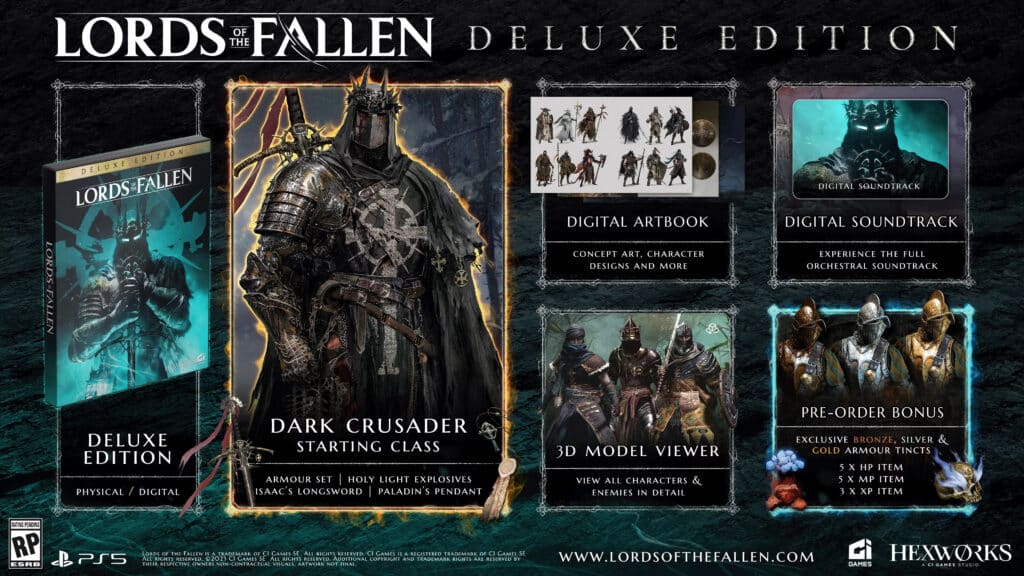 Lords of the Fallen Release Date
Lords of the Fallen is coming to PC, Xbox Series S|X, and PS5 on October 13, 2023.
While you're here, make sure to check out our other pre-order guides for other upcoming releases, including Immortals of Aveum, LEGO 2K Drive, and Atelier Marie Remake.
What do you think of the Lords of the Fallen Pre-Order Bonus content? Do you think it warrants an early purchase? Share your thoughts in the comments below and let us know.