The gaming industry has seen a relatively linear model over the years. Game studios develop games, and players end up indulging in them. With the advent of mods, players had some semblance of control over the final end product. But, it always was treated like a third party.
With the introduction of creator platforms like Fortnite, Dreams, and Roblox, players can now create their own experiences and games, albeit within a very limited ecosystem. This is where Megamod comes in, which aims to provide creators with an even higher degree of control over their products, assets and games.
Getting Started with Megamod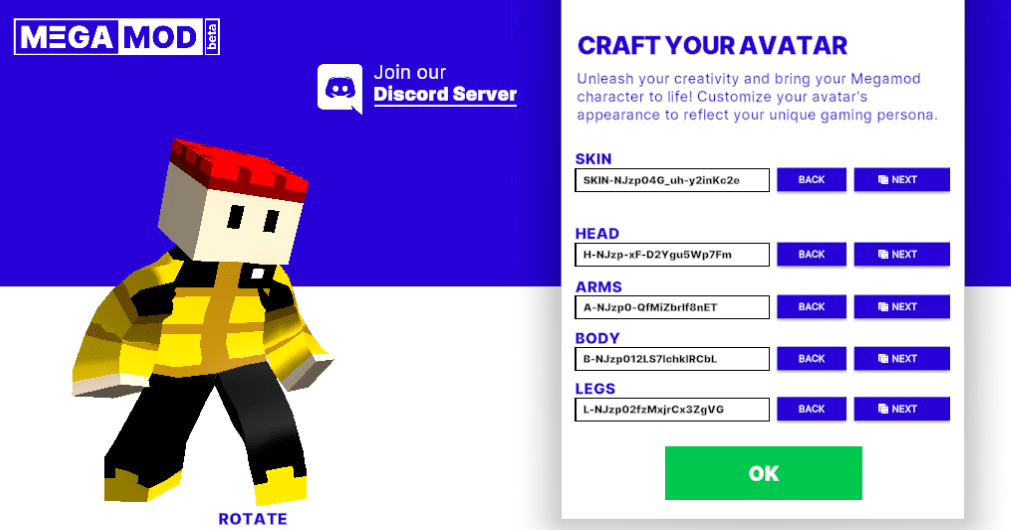 Getting the ball rolling with Megamod is super simple; you head on over to their site and are greeted with a login / register screen. After you go about doing so, you are tasked with creating your character – which can vary in design according to your preferences.
After you are done with creating your character, you can head on to MegaBuilder and start creating your own assets. For instance, here's my attempt at some failed pixel art:
If you are happy with your creation, you can click on the Save icon and get handed a unique code for your chunk, which you can then utilize and load up to edit / modify or place in larger worlds to create a cohesive map.
The Gameplay
It is clear that currently, Megamod is aimed at creators and innovators. You won't find a ton of games that are ready to play on the site just yet. However, there's a lot of potential involved. And, we feel like the developers don't necessarily wish to indulge in creating the experiences/games themselves, but rather provide creators the tools they need to create these experiences in an accessible manner.
We can already see the potential on display with multiple projects up to visit for players themselves. The tools provided here allow for different creations, and I was quite impressed with how variety there is.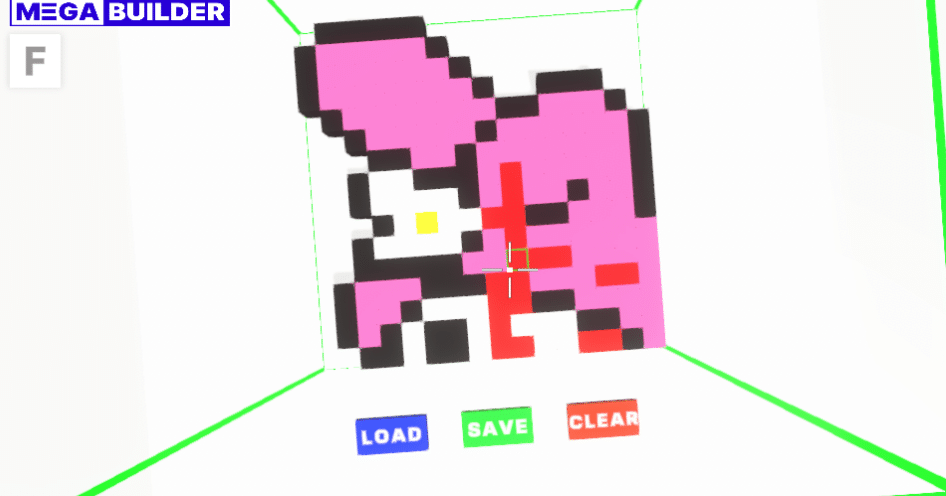 For instance, you get greeted with a color palette that you can use to place blocks in your chunk. You are also able to manipulate, move, and rotate around the chunk granting you complete freedom of what you can.
The Emphasis on Creation
Based on my experience with the toolset, it's clear that the developers are dedicated to streamlining the creation process for creators. You won't find a lot of pre-made titles to test out, but the potential becomes abundantly clear as you familiarize yourself with the interface and available options.
The Art and Aesthetics of Megamod
From voxel graphics to vibrant color palettes, Megamod offers a lot of visual options for designers and artists to express themselves. The visual design, while simplistic, is easy on the eyes, and works in tandem with the accessibility aspect.
You aren't bombarded with an array of high-quality assets and menus but are gradually introduced to its toolset and available graphical capability.
Expanding on the Creator Economy
At first glance, you might assume that Megamod, in its essence, is a platform aimed at young creators and gamers only. But, taking a look at their early birds, we get to find out that adults and even entire families are enjoying the platform.
A Social Platform for All Ages
The creator economy of Megamod is what makes it truly special. During my dive into the different projects developed by its community, I came across the "Megaigrulka" family. They documented their experience with Megamod, and here's what I found.
During the game's recruitment drive for builders, the advert was found by the grandmother of a young girl named Ksyusha. Although Ksyusha was too young to be hired, her father, Igor, decided to try his hand at creating games in Megamod.
This turned out to be an excellent decision as he has since become a valued member of the community, creating valuable worlds which you can see here:
But, that's not the end of the story. Igbor's daughter, Ksyusha, records and shares videos about their creations on her TikTok channel, 'Megairgrulka\'. While it\'s still in its early days, the channel promises to grow along with the Megamod universe.
With the blend of social interaction, family involvement, and the promotion of creativity, Megamod has very real potential to make game development accessible, and exciting for a variety of demographics. I had a lot of fun exploring different creations throughout my time with Megamod, and look forward to seeing what talented developers are going to make next.