Microsoft published a blog post today talking about Xbox Series X newest feature, Smart Delivery. The ability to buy a game on the Xbox One and get to own it on the Xbox Series X once the game is available the console. The details on Xbox Smart Delivery still had some questions which are now answered.
Xbox Smart Delivery – Buy the game once
The latest blog post from Microsoft has outlined the plan for Xbox Smart Delivery. With the system, players will be able to buy games on the Xbox One and get the Xbox Series X version of the game (if supported) for free. Currently the most popular game for the program is CD Projekt Red's Cyberpunk 2077, slated for a September 2020 release.
In their latest blog post, Microsoft has made the program crystal clear. For starters, Microsoft has stated that certain games on the Xbox Game Pass will still count toward the program. So in the instance of Gears of War 5, you will automatically get the Xbox Series X version once you activate the console on your account.
In the case of Halo Infinite and Cyberpunk, Microsoft stated that Halo Infinite will allow you to own the same game on two different consoles. You can play Halo Infinite with no troubles on the Xbox Series X and the Xbox One by just buying one copy of the game.
For Cyberpunk 2077, buying the game on the Xbox One will let you play the game on Compatibility Mode on the Xbox Series X and when the Xbox Series X version is released by CD Projekt Red will automatically give you the next-generation version.
Microsoft has also announced the current line-up of Xbox Game Pass games that are also part of the Xbox Smart Delivery program: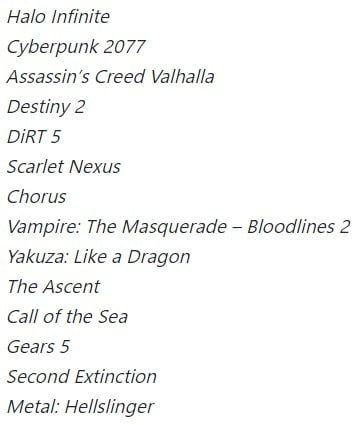 With the ability to have Xbox Game Pass and Smart Delivery work in sync, games on the Xbox One and Xbox Series X are definitely in for a treat.
Sony has not yet outlined their plans of a program similar to Smart Delivery, but with an August show as the next show for Sony, we will have to wait and see how Sony will handle this program.
What are your thoughts on the new program? Let us know in the comments section below!