Are you looking for the best Minecraft bedroom ideas to get you building?
A 16×16 grid in Minecraft can host a variety of complex designs, such as a garden, a kitchen, and even a gaming room.
But as the moon rises, we'll have to return to our bedrooms and sleep eventually. Lest we get chased down by phantoms and the hostile mobs of the night.
If a hut with a tiny bed and a chest won't cut it, let's look at the 10 best Minecraft designs designed by some of the most creative minds of the community.
Closed Bedroom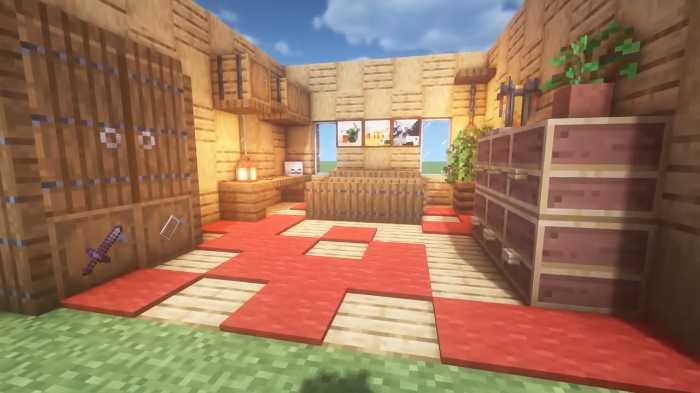 This Closed Bedroom by FullySpaced is a cozy and ambient Minecraft room design that's entirely made out of wooden materials.
At the corners, well-designed drawers surround the area as compartments to store your swords and resources. You can furnish that space and go for a more natural look as well by adding some potted plants as designs atop cabinets to spruce up the area.
At the back-most portion of the room, an enclosed bed adds a rustic feel to the bedroom – almost making it camouflage against the checkered Skinned Log wall design. A few lamps and plants add to the ambience of this cozy bedroom design as well.
The carpeting looks slightly oddly placed for me, but you're always free to mix and match any part of this room to your liking!
Cabin Bedroom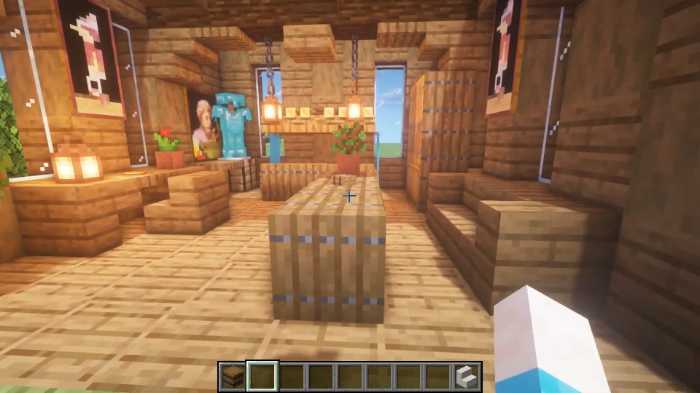 Another fantastic Minecraft bedroom creation is this Cabin Bedroom by FullySpaced. Just like the previous one, this one's made entirely out of wooden materials, making it a bedroom design that you can build on day one!
Inside the bedroom, you can find a perfect cabin-themed design – featuring some artworks, a long table, a bench, and, the most eye-catching part of all, a mannequin endowed in diamond-plated armor.
The chained lamps acting as a light source also add a rustic feel to the bedroom. And during the day, natural sunlight stream through the windows to allow a fantastic bright glow of daylight to greet you in the morning. It's the sort of place I'd like to visit myself!
Yellow Bedroom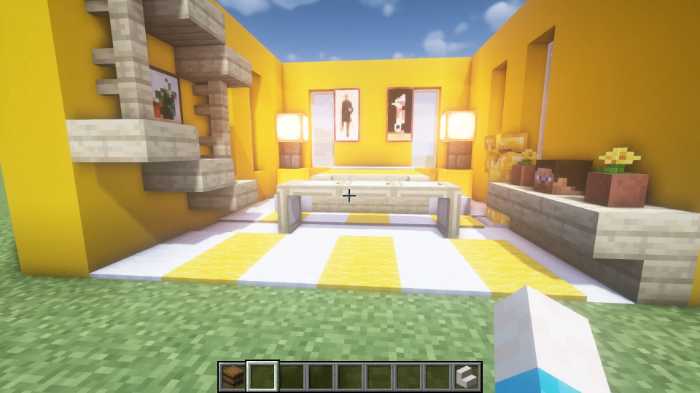 What do sunflowers, bananas, rubber ducks, and this room have in common?
You probably didn't have to think twice to arrive at your answer. And you're right! This Yellow Bedroom by FullySpaced is a great Minecraft bedroom that's themed around the sunny color we all know and love. It utilizes a fully yellow wallpaper as the backdrop and striped white and yellow carpeting as the flooring.
Gold-plated armor, a potted yellow daisy, and lit Glow Stones also add to the yellow ambiance of the place. It's a fun Minecraft bedroom design that's fairly simple to build as a starter house, so long that you have the resources for it.
Modern Bedroom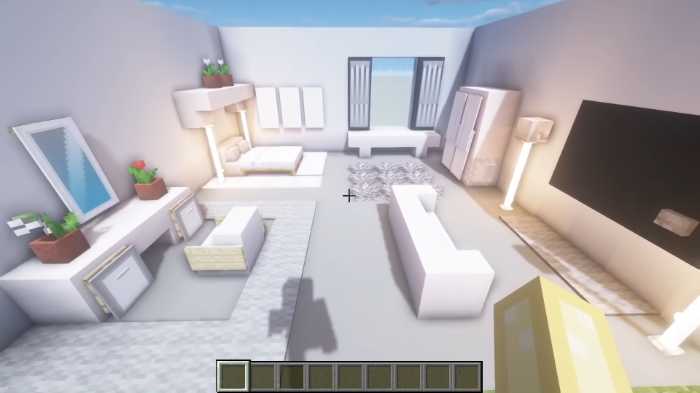 This Modern Bedroom by Blendigi is built with modern-themed components, lending it a unique look that's reminiscent of a luxurious studio unit in a big city.
While you can mostly thank shaders for that, there's much to boast about the materials needed to recreate this unique Minecraft bedroom idea as well. For one, this room has a ton of cool stuff: its own vanity mirror, a flat-screen TV, and even a lounge sofa.
Everything about this place feels contemporary and estate-like. The gilded light fixtures, the blinds, and the tiny floral touches here and there also add to the fine ambiance. This place is a winner, that's for sure.
Dark Aqua Room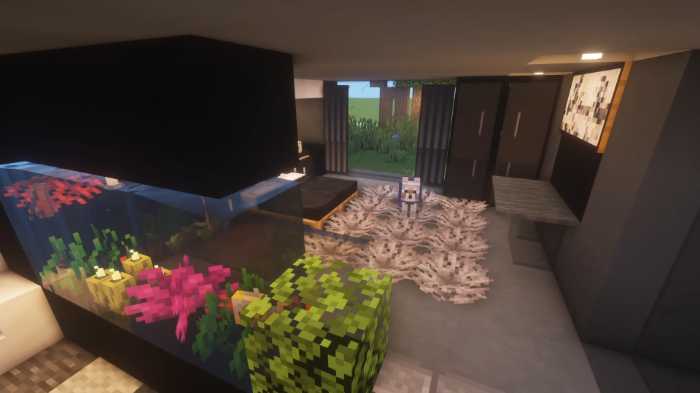 If you would rather opt for a darker modern room, this Dark Aquarium Bedroom by MCram can be a great alternative.
One furniture piece that stands out in this Minecraft bedroom idea is the central aquarium. It features an array of sea life from corals to sea cucumbers, adding a new dimension to this modern and snazzy-looking room.
There black bed sheets, curtains, and flooring also make this Minecraft bedroom design look phenomenally sleek. And who could forget to mention that good boy sitting all prim and proper?
Shelf Bedroom Design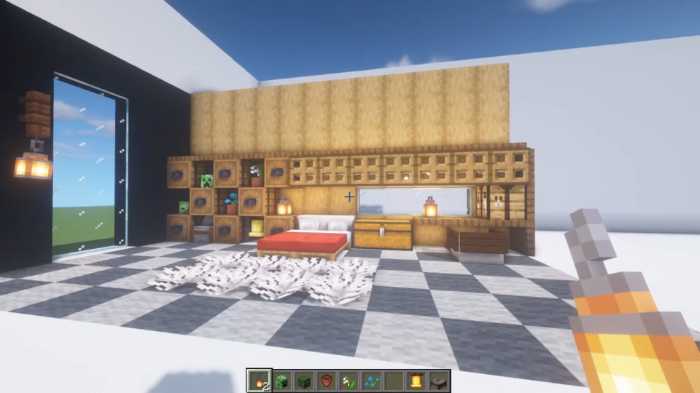 This Shelf Bedroom Design by 6tenstudio draws inspiration from modern furniture designs utilizing alternating cubby holes to balance both space and a pleasing design to a single bedroom. And, I'd say it works!
The checkered flooring is a refreshing touch to include in this unique Minecraft bedroom idea, as the other ones mostly utilize plain flooring or striped ones instead. The trapdoors on top of the bed space are also a neat idea, acting like a drawer to store hidden chests or a compartment of sorts.
Loft Bedroom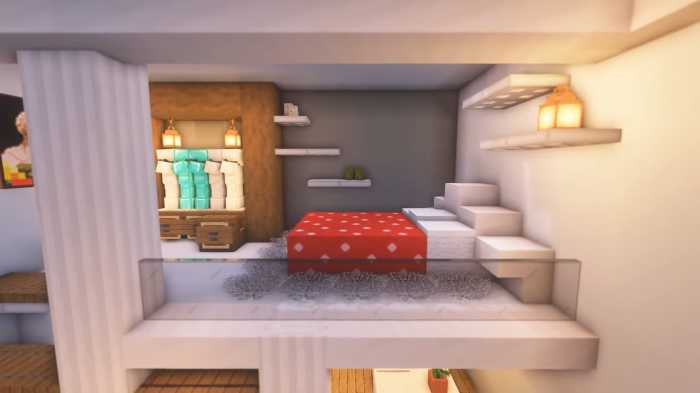 Have you ever wanted a bedroom that overhangs a main portion of your home? If it can't happen in real life, having it done in Minecraft is perhaps the next best thing.
This Loft Bedroom by BlueNerd Minecraft is an elegant design that makes your private quarters feel like a joy to sleep in. Not only do you get a grand king-sized bed and gorgeous shelving surrounding you, but you also can access your own wardrobe of armor to get you prepared for the next day's adventuring. A unique building, if I could say so myself!
Pink Bedroom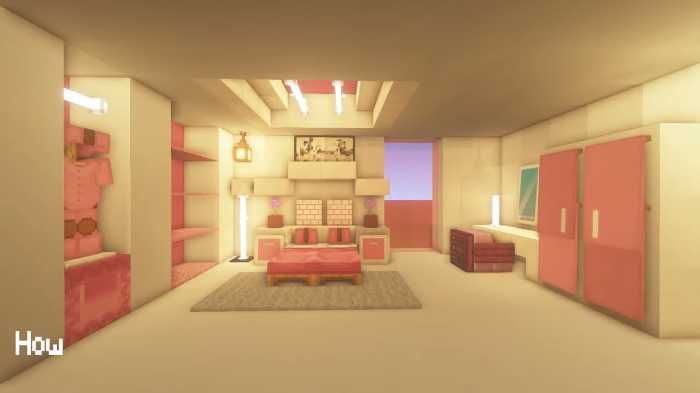 Does a splash of pink suit your fancy? If so, this Pink Bedroom by AmyYeah might be your next great Minecraft build!
This entire room is adorned by furniture designed in pink materials: from the bed and cabinets to the painted walls. There's also a vanity section for you to get your hair and makeup done in-game, making it fairly true-to-life.
End Rods are also the primary light source of the area, making sure no shadows permeate even the farthest corners of the room. If you're a fan of bright and pink tones, this room might be just the bedroom that gets you all dolled up!
Modern Room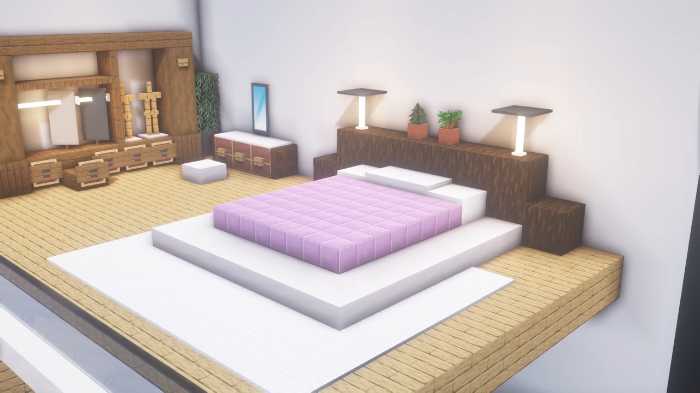 While you can't exactly sleep in this bedroom, you can't disagree that this Minecraft bedroom idea gives off some fine regal vibes, no?
For starters, the headboard of this Modern Room By JINTUBE uses logs as its primary material component, making the bed area feel extra snug and homey. To the right, a vanity mirror, some cabinets and an open wardrobe provide a place for you to store your items.
The baby pine trees and other natural bits scattered around the room also create a calming atmospheric tone to the build. If you like spacious Minecraft bedroom builds, this bed idea is a fantastic one to get some inspiration from.
Real Life Room Replica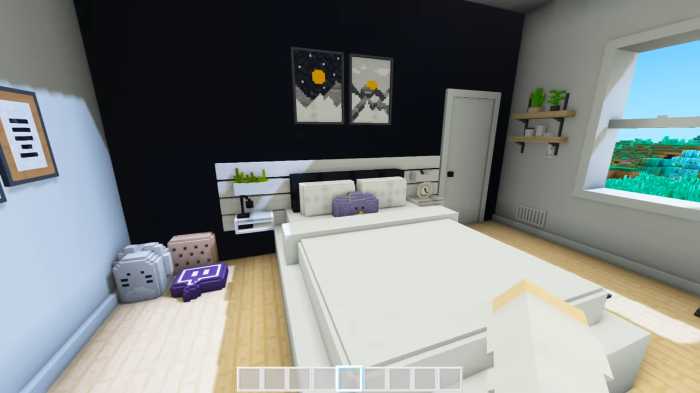 Fun fact: This is the only bedroom among all the other Minecraft bedroom designs that's built in the same likeness as the creator's real-life bedroom!
Yes, this Real Life Room Replica by Katherine Elizabeth Gaming is self-made. Although the creator uses a bunch of shaders to add to the realism of some items (such as the Twitch icon plush), many of the items are found within the game too, such as the flooring, wallpaper, and furniture pieces.
While you may not find much reason to recreate her bedroom, perhaps your next Minecraft bedroom build should be your own room as well! It's more than possible, as this creator has shown, and it can be all the more rewarding having a digital replica of your bedroom in Minecraft.