Are you struggling to come up with some awesome Minecraft Building Ideas?
When it comes to building in Minecraft, the sky is the limit. Sure, that's a great selling point. But imagine I handed you a hundred stacks of blocks and complete creative freedom. You might struggle to come up with fun things to build in Minecraft. So perhaps there should be a term for it: 'builder's block.'
That's why we at WhatIfGaming have decided to put together an expansive list of 80 awesome Minecraft building ideas!
On this list, we'll cover everything from massive building projects to neat little decorations. So, there will be something to set the creative juices flowing for everyone!
Our list is updated monthly, so be sure to check back for new ideas regularly; you can see some of the older Minecraft building ideas at the bottom of the article.
Want to see your idea featured on our list? Leave us a comment below
Cherry Nether Portal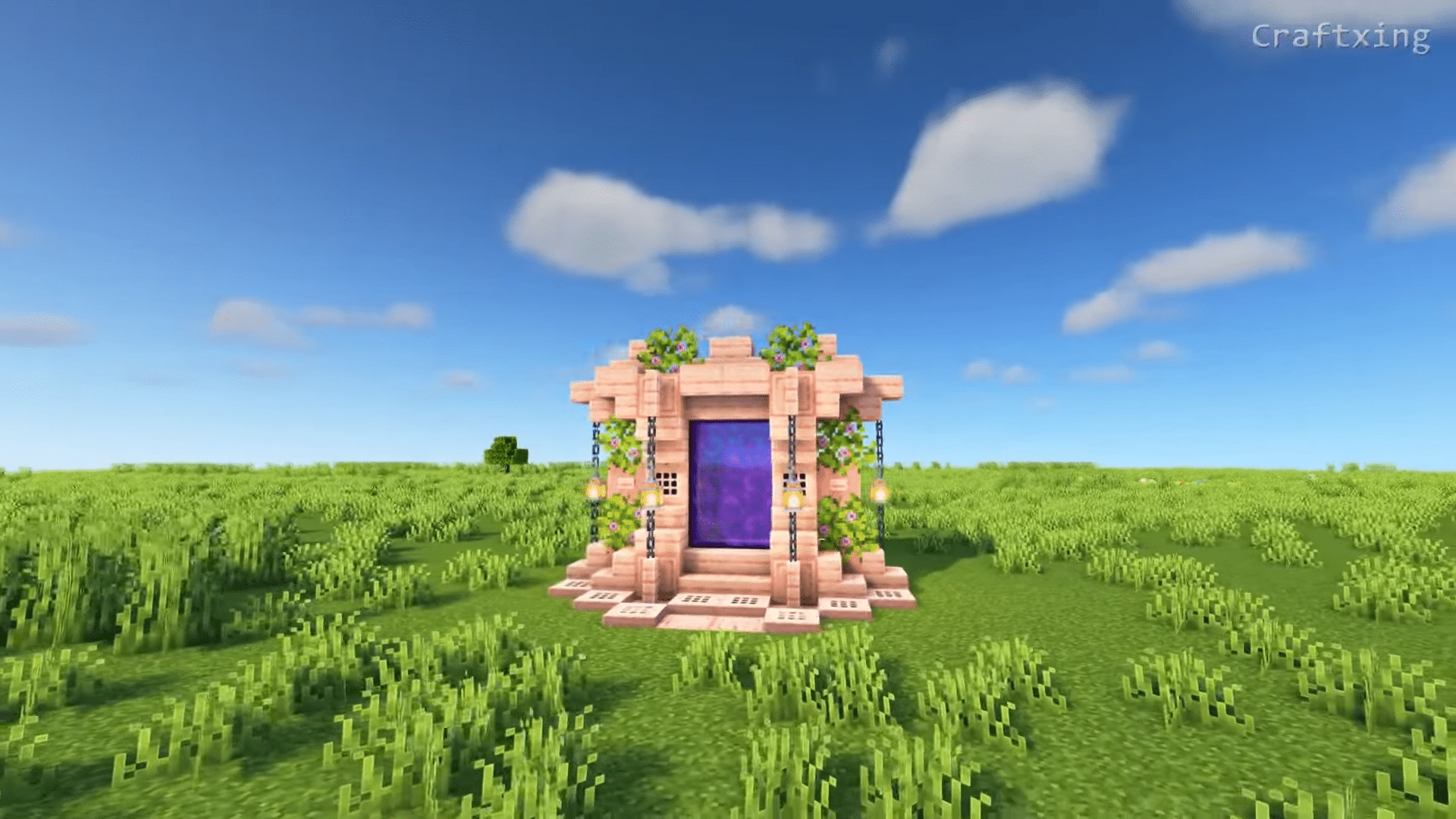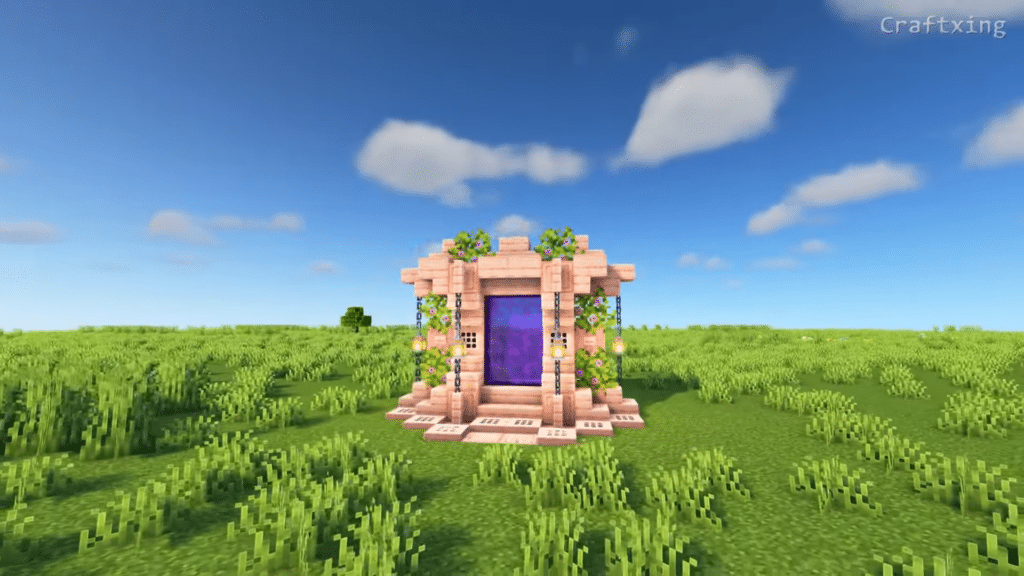 Here's another build idea from Craftxing based on the new cherry blossom biome. If you are tired of the old nether portal, you can bring some new life to it with this cherry nether portal idea.
Everything from the portal's base is not changed. Obviously, the portal is still made from obsidian, and the cherry blocks are just placed for aesthetics.
Materials used for the cherry nether portal include cherry stairs, cherry planks, and cherry fence
Japanese Pagoda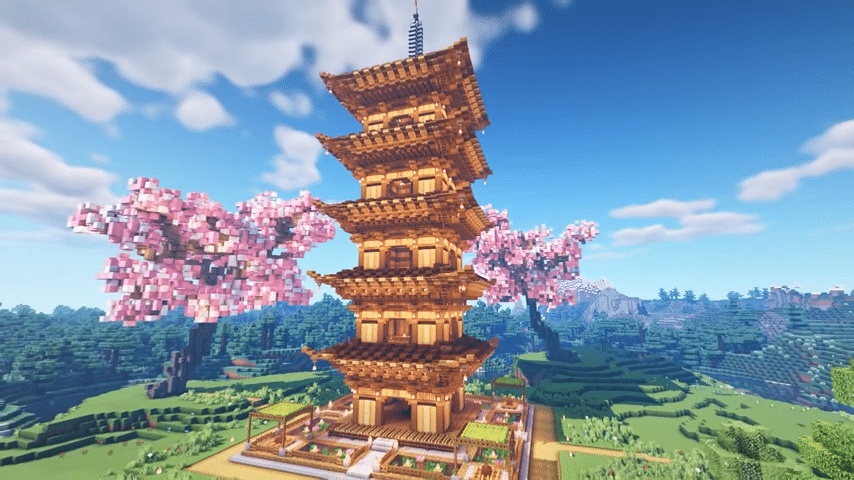 Does Japan's beauty catch your eye? You can bring the wonders of the Far East much closer to you by constructing a Japanese Pagoda to suit your needs, courtesy of SheepGG. It features Wooden-type blocks that are layered with gorgeous symmetry five floors high. Moreover, it's topped with a roof finial to cap off the build.
Aside from the massive-scale, brilliantly designed architecture that's sure to tower over the mighty skies, you can also grow blossoming sakura trees to bring out the East Asian atmosphere in your Minecraft world.
Not Your Ordinary Aquarium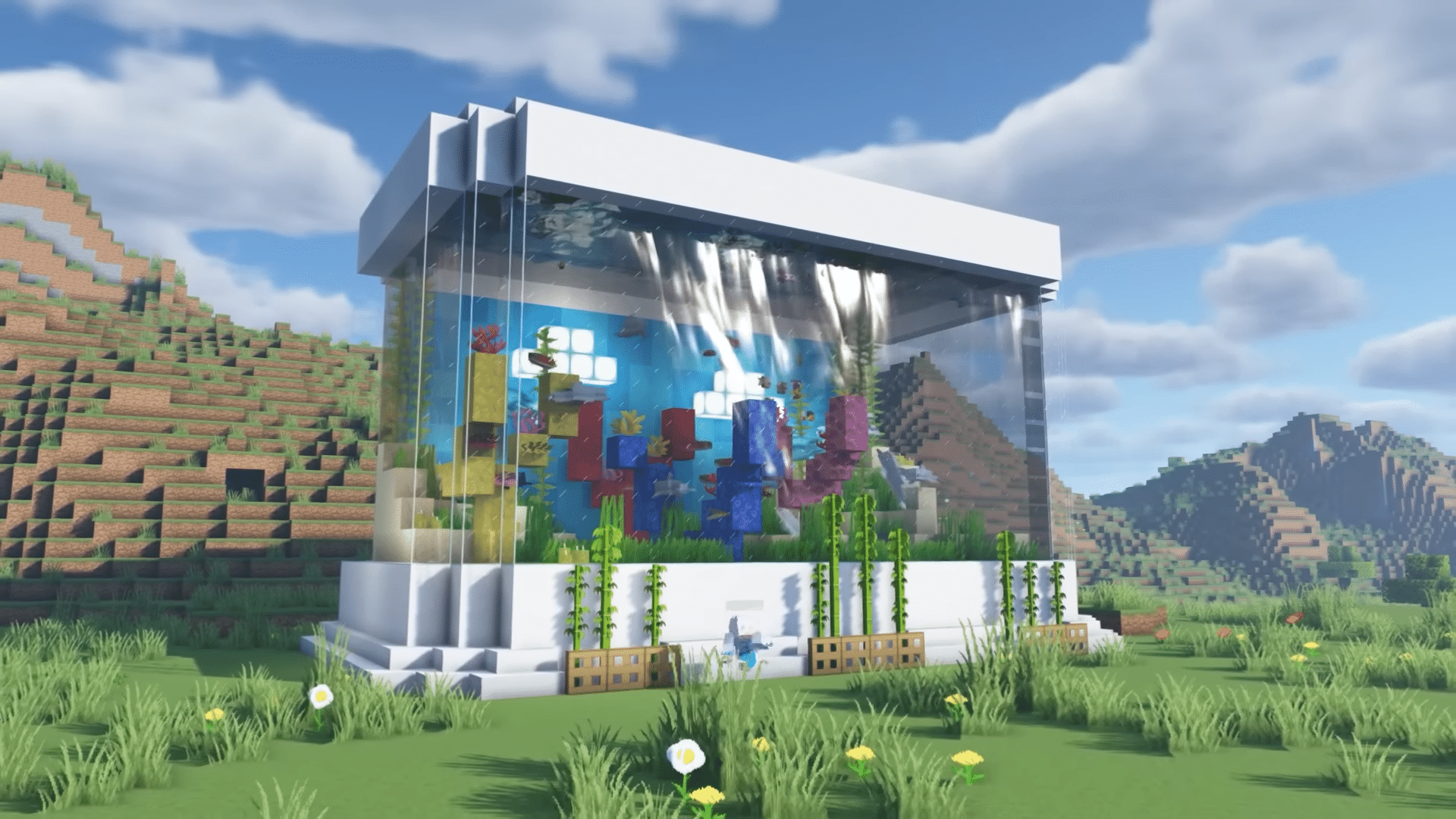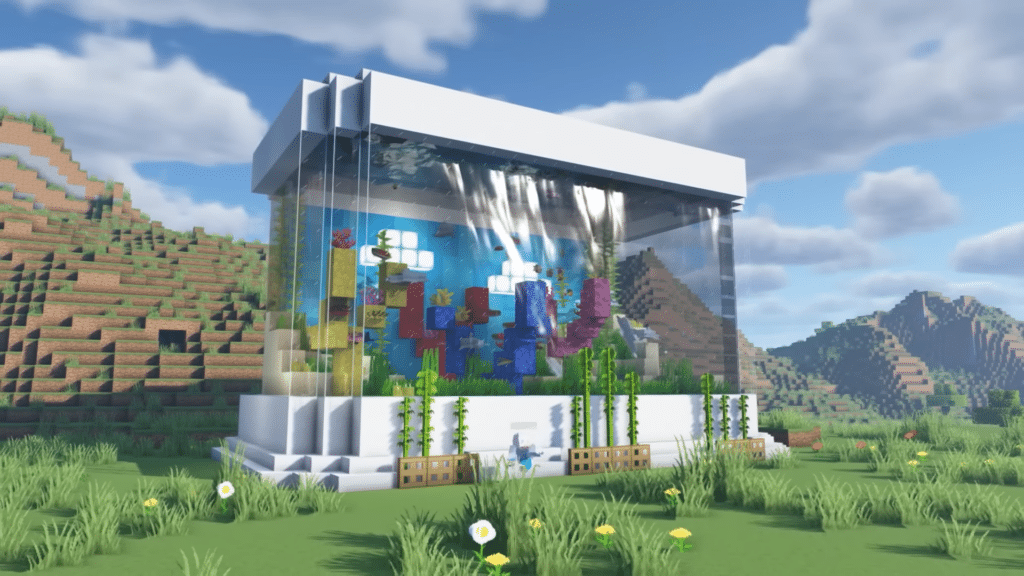 There are countless pond and fountain builds in Minecraft. While they are all great, there's something very appealing about ManDooMiN's massive aquarium.
The aquarium sits on a 20×10 grid and will look great in your yard. Chiseled quartz makes up the aquarium's frame, and moss blocks are used for the flooring. Like any aquarium, the walls are made from glass.
Thanks to its vast footprint, you can easily fit an assortment of aquatic mobs in this aquarium without looking crowded.
Cube House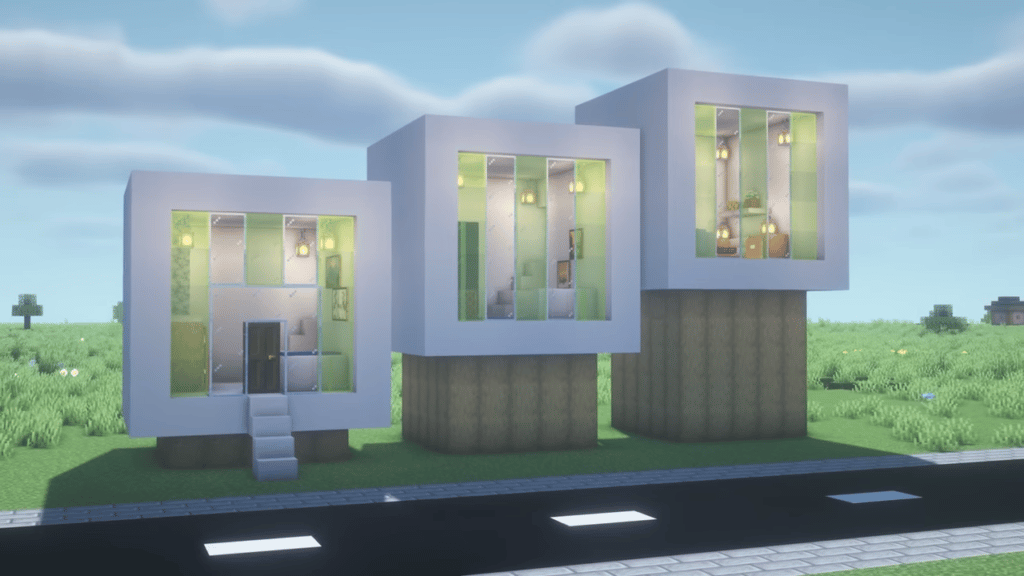 Anyone who's looking for a modern and stylish Minecraft living area will find a lot of appeal in this Cube House design by HALNY.
Featuring three cubic-style quarters with ascending elevations, as well as colored windows, this design is perfect for anyone who wants an unconventional and chic home.
One of the coolest parts about this design is the hidden passageway that connects all three levels – perfect for keeping the place loosely accessible.
You can even kick things up a notch and create a fourth (or even fifth) room parallel to the next! Expanding isn't only easy but straightforward.
Nintendo Switch House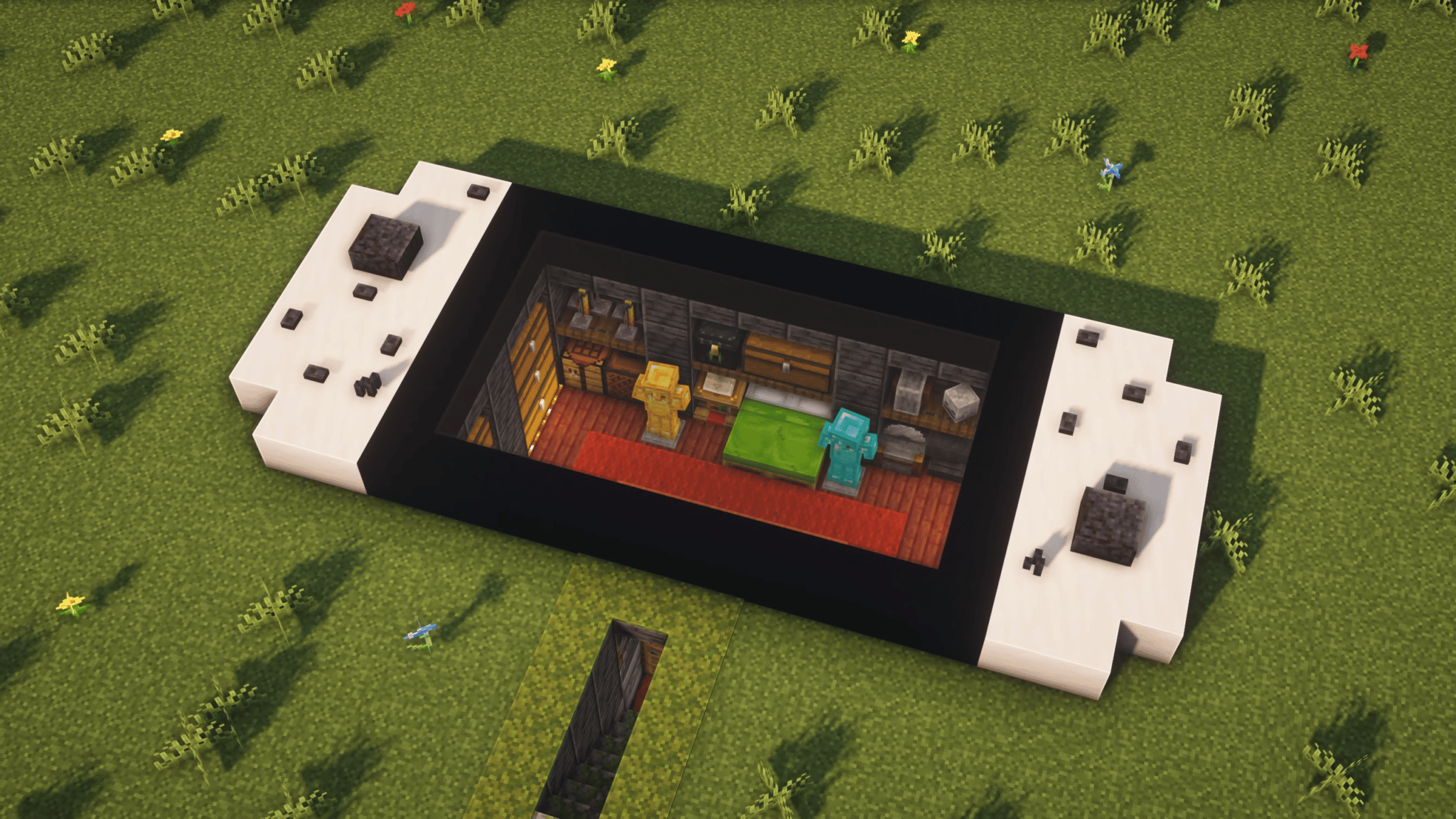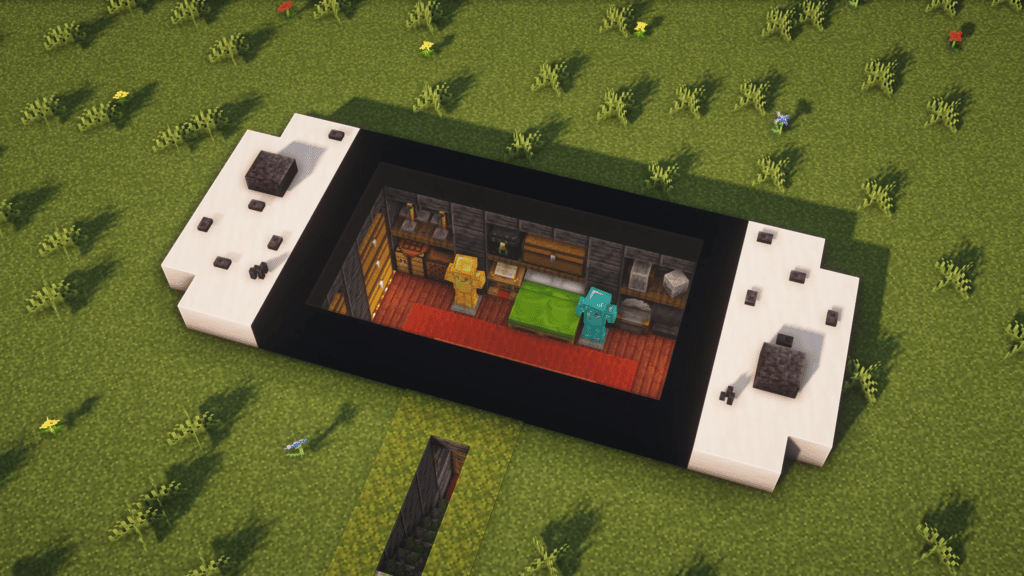 Are you obsessed with the Nintendo Switch? Like, really obsessed?
If you're practically on your Switch multiple hours of the day, you might as well be living in it, right? This Nintendo Switch house allows you to literally house yourself in the confines of a replica of this console.
The controllers and bezel are made of various decorative blocks to represent the various parts of the Switch. The "house" aspect of the Switch resides in the screen, which is essentially a trans
Cliffside Cube House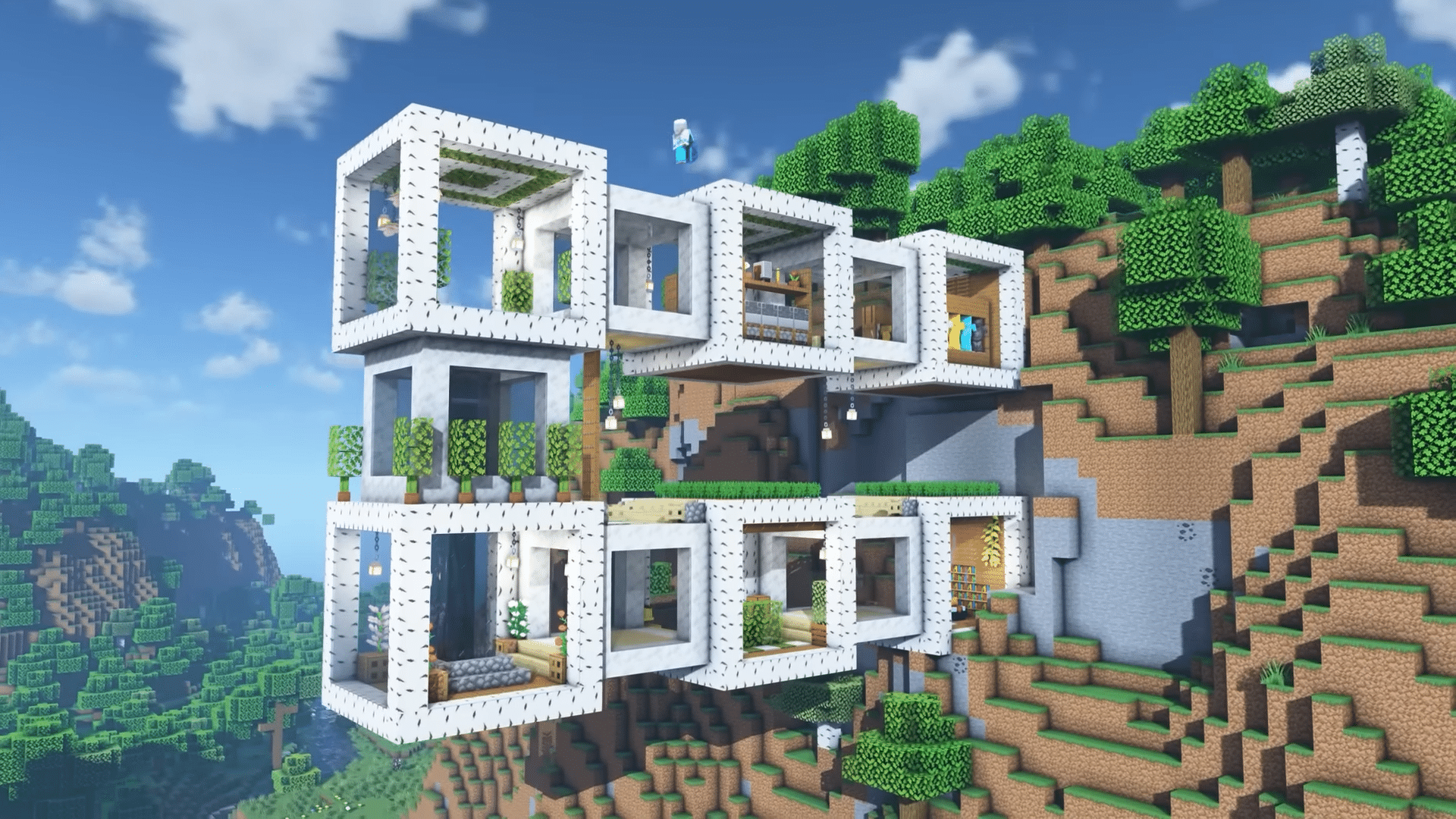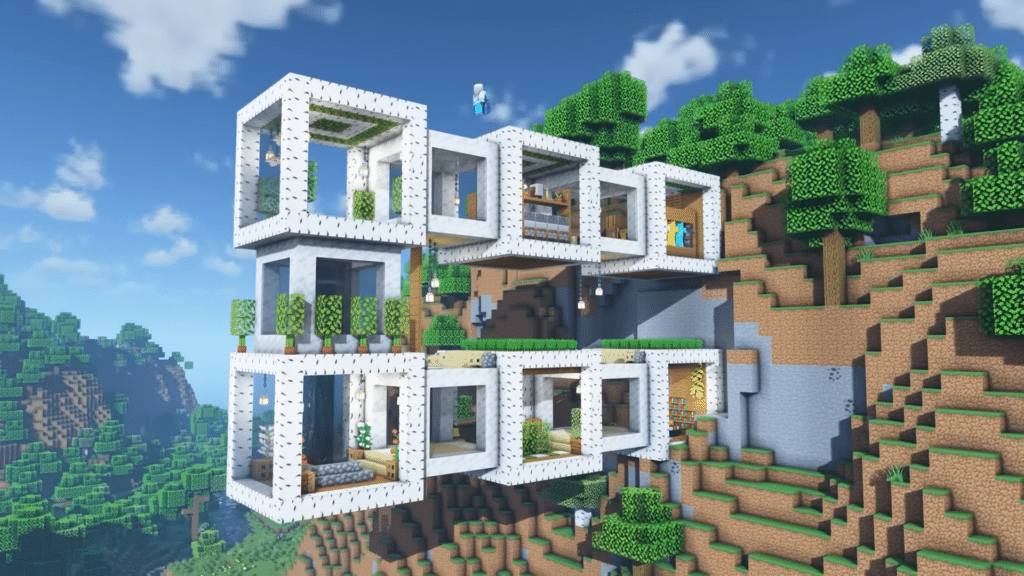 Not a fan of traditional Minecraft houses? This cliffside cube house from ManDooMiN will surely appeal to you.
This amazing mountain home features six big cubes with different amenities like a storage room, crafting room, library, and more. Each room is connected by smaller cubes that look great on the outside.
It even features a sky garden separating the first and second floors. 
Custom Cherry Trees
The Trails & Tales update brought a lot of new things to Minecraft, including the cherry blossom biome. While the new biome already looks great, the default look of the trees isn't close to the famous cherry blossom trees in Japan.
This fantastic build allows you to revamp the vanilla cherry trees in Minecraft to make them look more realistic without changing their main components.
Custom cherry trees are made from cherry wood, stripped spruce, dark oak, nether brick, cherry leaves, and some pink wool.
From MrMattRanger's tutorial video, you'll learn to make various cherry trees.
City Hotel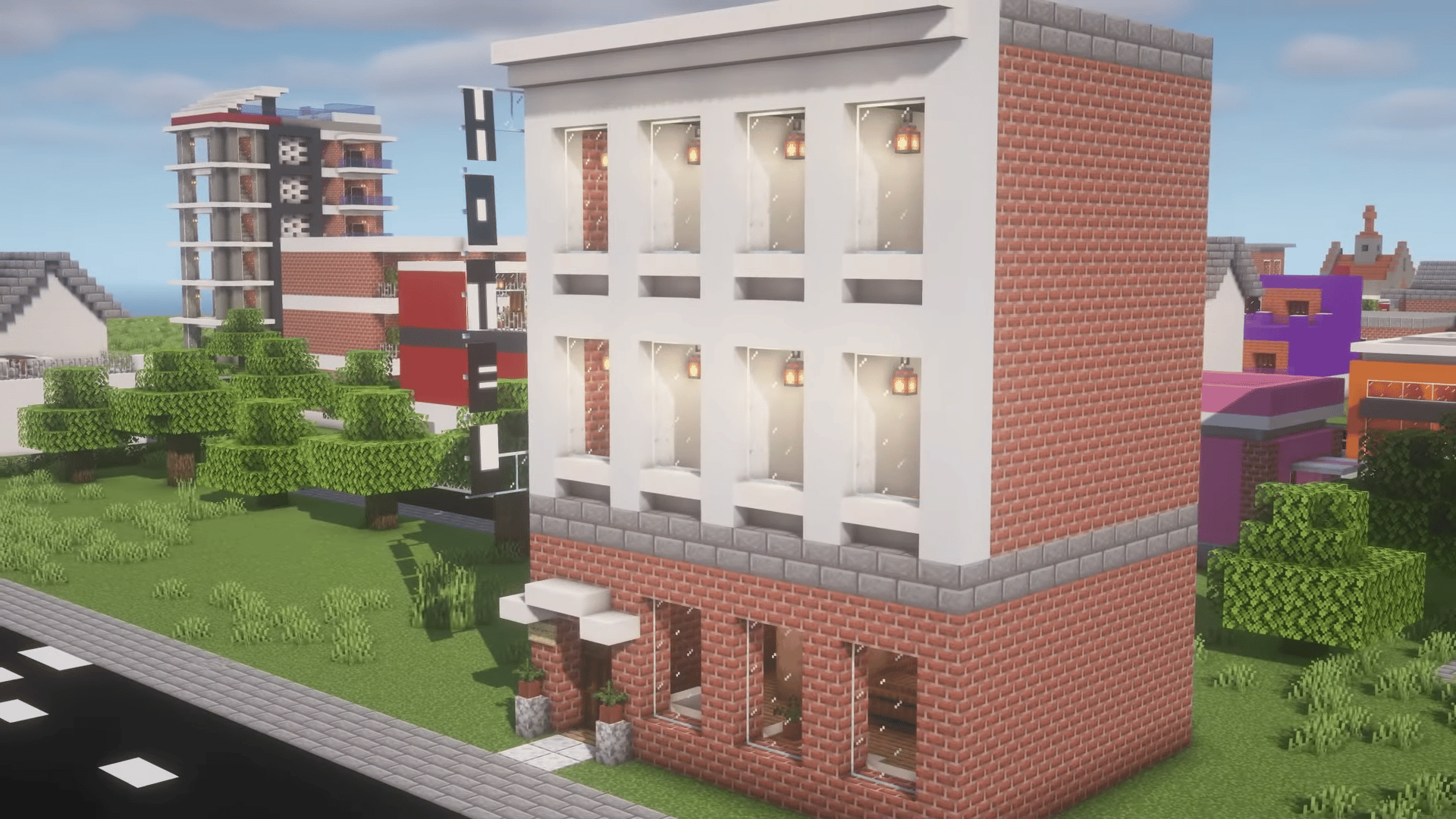 While it's no Minecraft mansion, this Hotel by HALNY is an imposing structure that can easily serve as a player's home turf.
Featuring three stories, a hanging signpost, and eight front-facing rooms, this design is perfect for players who want to feel like they're living in the heart of the city.
Numerous decorative elements (like the eaves, warm lights, and brick walls) closely resemble realistic creations. There's also plenty of space to store all your belongings.
Plus, with open windows and a rooftop terrace, you'll have plenty of room to relax and take in the sights.
Coca Cola Truck
Looking to add a truck to your Minecraft city or highway? Then this is the perfect Minecraft build for you. It's a stunning red Coca-Cola truck designed by Halny. The talented Minecraft creator has yet again delivered a fantastic build that will suit any modern Minecraft world.
The truck consists of materials that can be hard to find, including red concrete blocks, red Shulker boxes, smooth quartz slabs, and looms. From cobblestone wall exhaust pipes to iron trapdoor steps, this red truck has it all. It even has a grate at the front as well as side mirrors!
Sky Base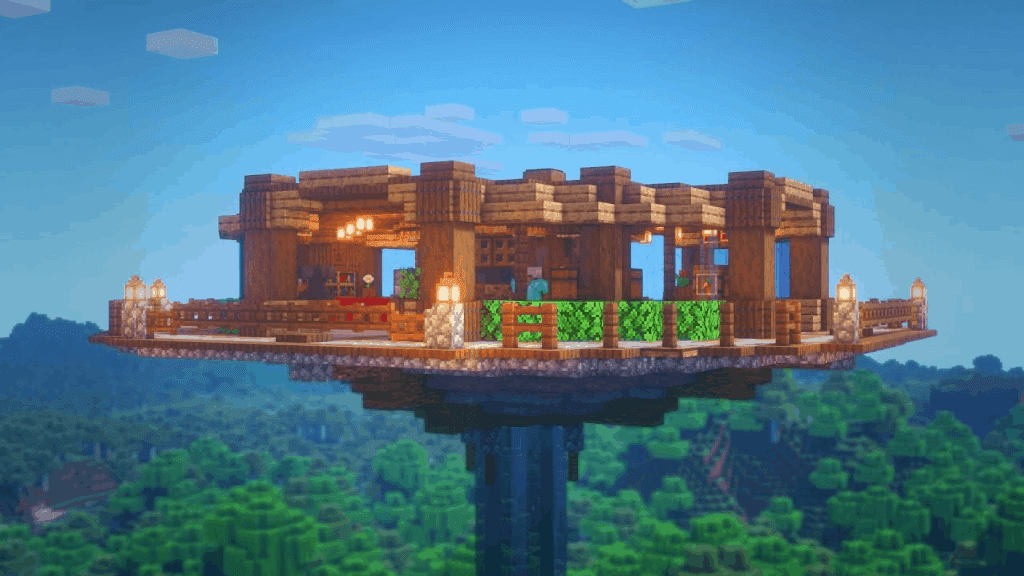 Of course, the underground is a safe place to be. Then again, it has its fair share of perils, too: unanticipated lava pools, monsters, not to mention other players mining.
If you are looking for a unique premise for your next super-safe Minecraft base, look no further than this impressive tutorial from Folli.
It features a large platform high in the sky, accessed only by a single waterfall. This means that it will be difficult for intruders to enter uninvited. Plus, it looks awesome!
Nether Sword Portal
Nether portals are a mainstay in any Minecraft world, and this Nether Sword Portal by Goldrobin takes the concept to a whole new level.
Featuring a giant Nether Sword that bisects the ground, this design is perfect for players who want a grand design of massive proportions.
Want a cool idea? The area where the sword strikes the ground can be repurposed into cracked, rolling ruins that can double as a base to store your chests before exploring the Nether.
I don't know about you, but this design gets me super excited for my next mob hunt excursion down the Nether!
Epic Infinity Pool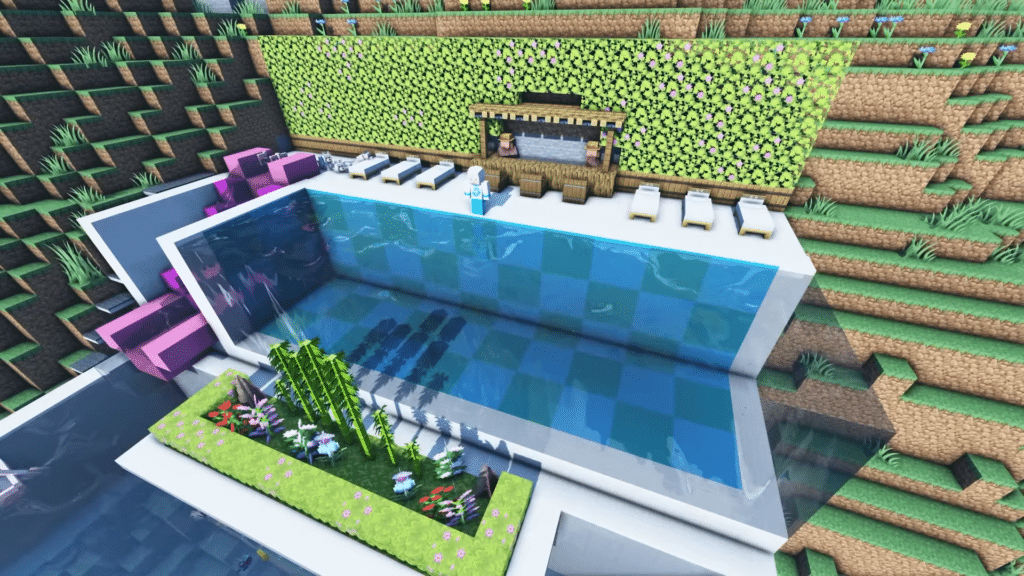 This epic infinity pool by ManDooMiN will look great regardless of what version you're playing and what biome you place it in.
This features two connected swimming pools that are made from glass. A water slide on the side goes from the top to the secondary pool at the bottom. This infinity pool is made mainly from blue/cyan concrete and glass.
The exposed sides of the infinity pool are covered with chiseled quartz, and white carpets are placed on top to make the edges of the pool pop.
ManDooMin's infinity pool will look good on modern or futuristic builds.
Theme Park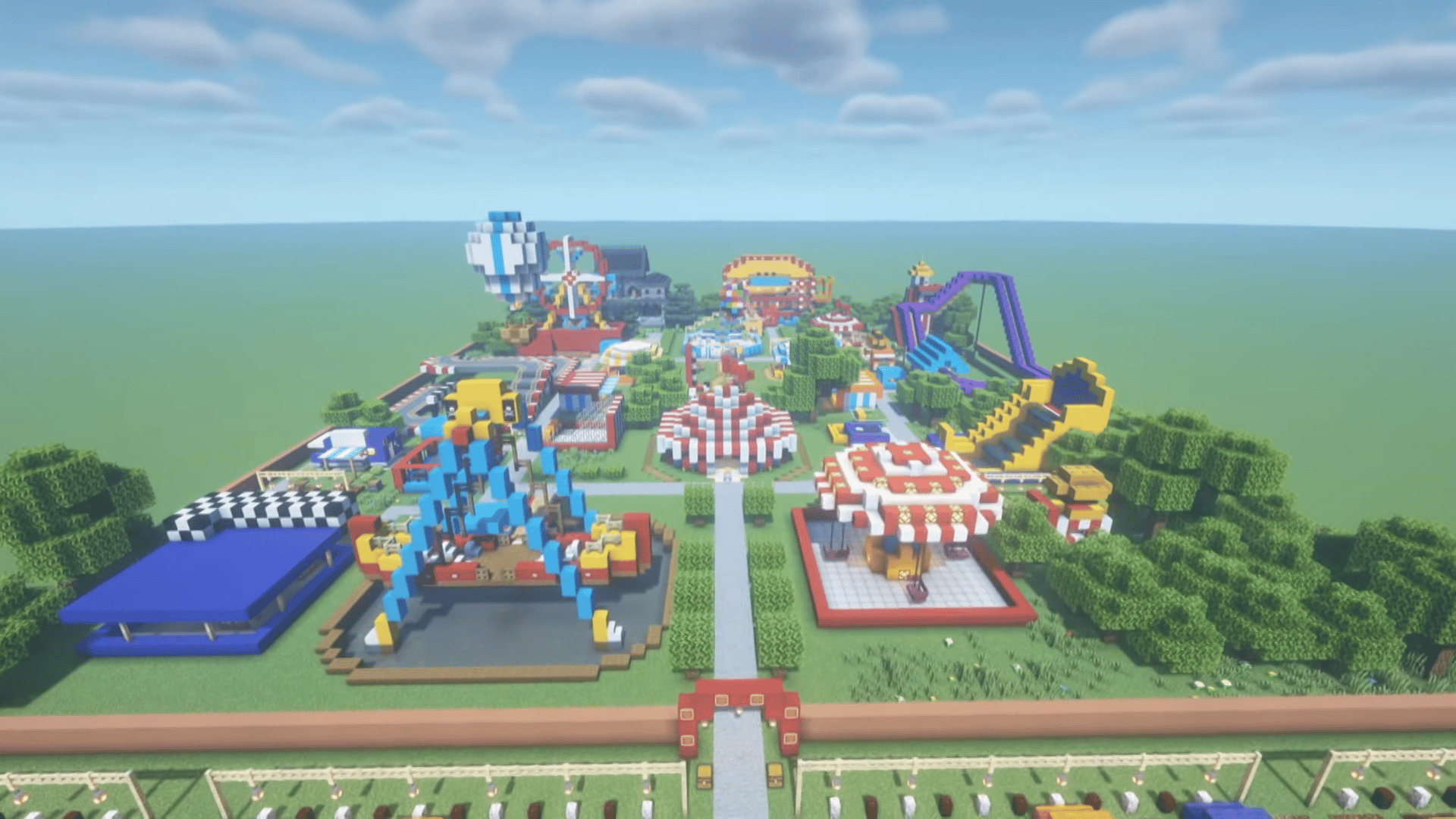 Step aside, Rollercoaster Tycoon and Planet Coaster fans. Minecraft players also have all the resources they need to build their own city-like designs in the guise of theme parks. From a fully-functional Ferris wheel to various food booths, there are projects of all shapes and scopes that you can consider when building a Minecraft theme park.
You don't have to learn the intricacies of Redstone and object interactions by yourself, either. There are plenty of tutorials online that can help you recreate theme park essentials in Minecraft. You can start simple with food booths, dartboards, and other such objects. Once you get the hang of things, you can move on to more complex structures like roller coasters!
parent glass roofing that streams sunlight into the inside of your home. It's as if you're in a game itself!
Japanese Pink House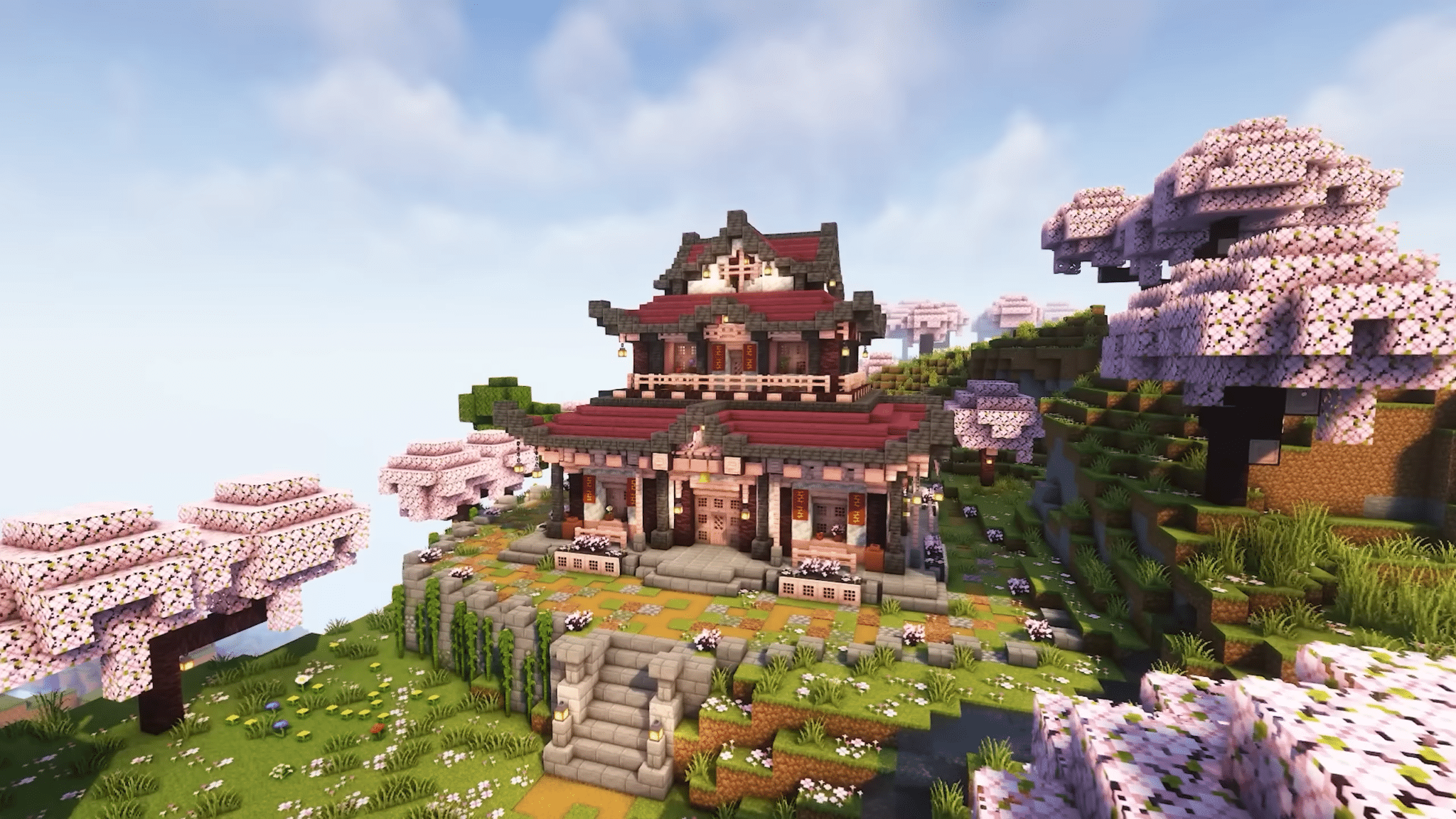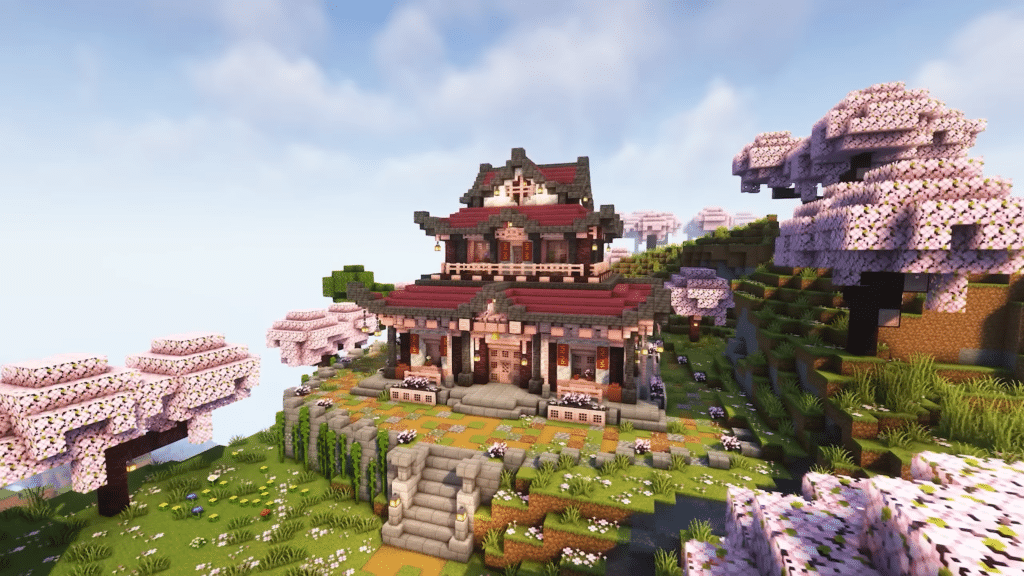 This cherry blossom-themed Japanese home is one of the best building ideas for the current version of Minecraft. For one, this pink Japanese house by Stevler will fit nicely on any cherry blossom biome in version 1.20.
The house sits on a 26×25 grid, giving you tons of room to set up your working area. Most of the materials used for this house are made from cherry trees, including trapdoors, stairs, slabs, and wood planks.
Overall, this design provides a pleasant, spacious Japanese house that looks great on any cherry-themed build.
Squid Game Glass Tiles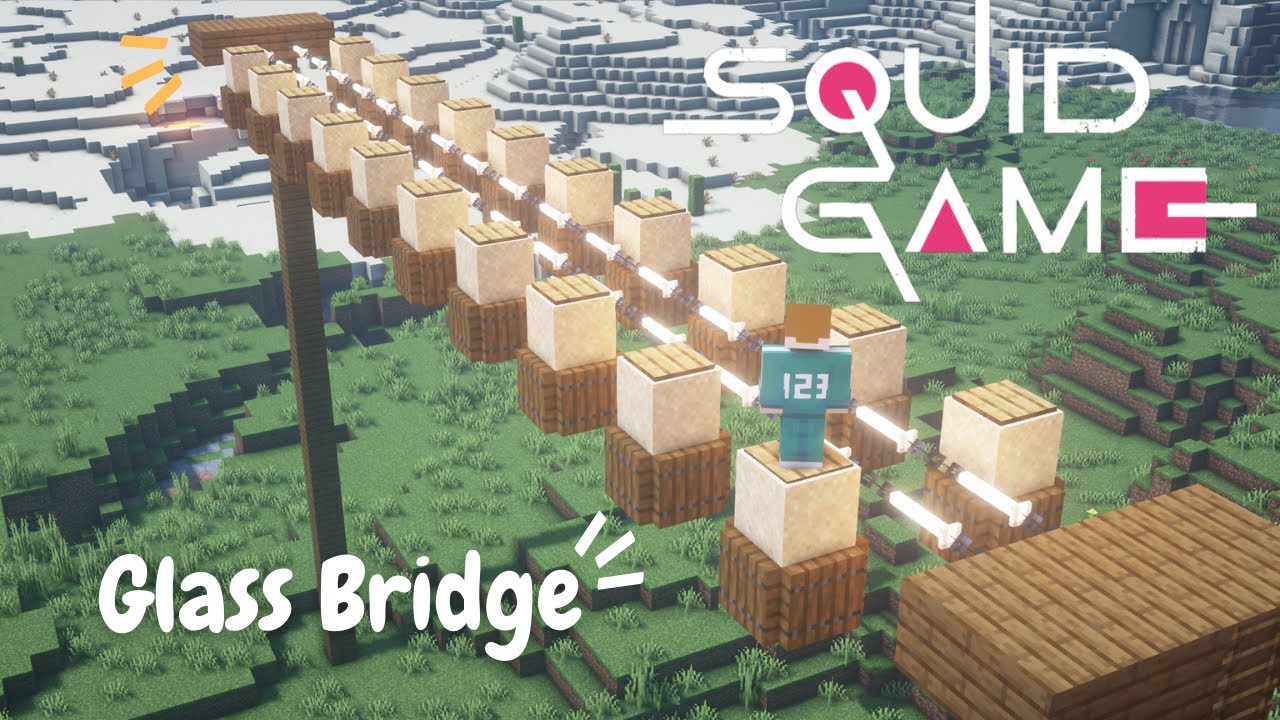 If the Squid Game craze still hasn't left you, we've got some good news!
You can create one of the sets found in the series by following Shibbaz's Squid Game Glass Tiles build idea.
Not only does it functionally resemble the game from the Netflix series, but it also works exactly like it too.
So what are you waiting for? Grab your pickaxe, build this structure, gather some pals, and enjoy a load of tense moments with this Minecraft build idea.
Be sure to also refresh yourself with some PVP tips to secure those Ws.
Realistic Subway Train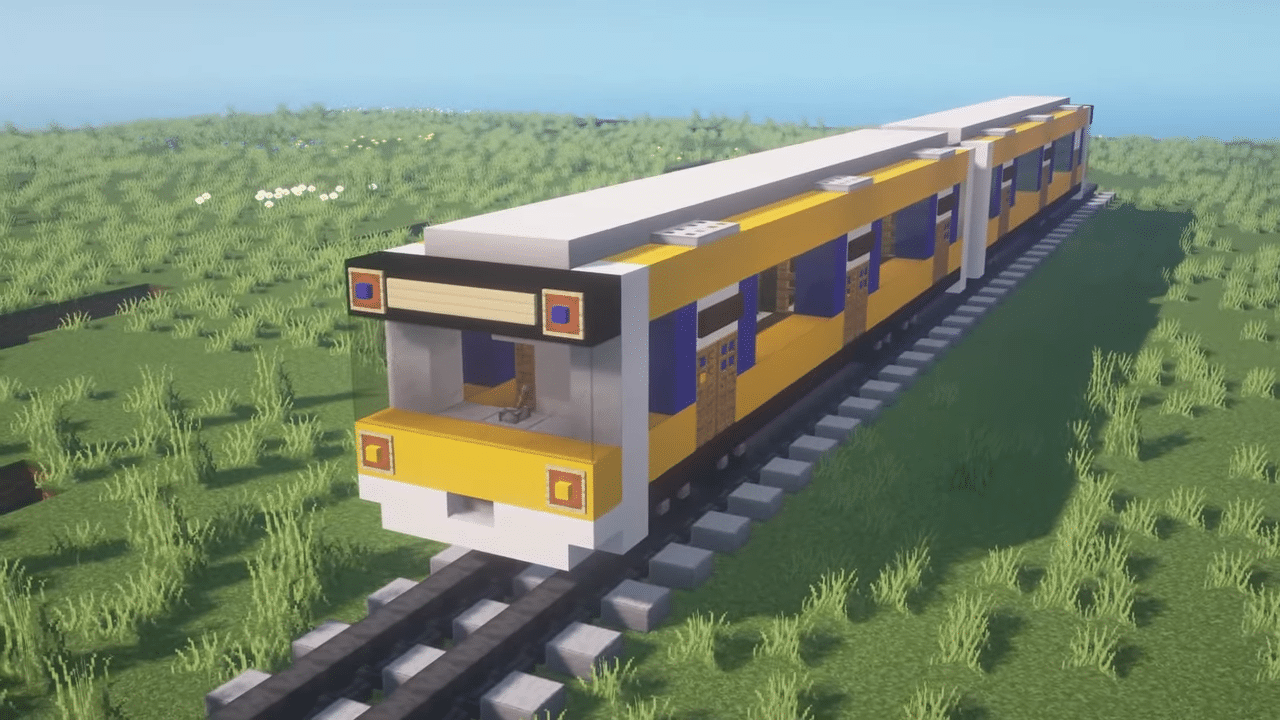 Look who it is again: Halny delivering another build perfect for Minecraft cities or metro lines. This realistic subway train consists of anvils, yellow and blue concrete, smooth quartz slabs, and oak doors. That means this Minecraft build won't be too hard to build in the early stages of city planning.
The build not only includes a stunning exterior but a fully-fleshed interior that really adds an element of realism and decor to your Minecraft world. Wooden stairs line the walls of the train, while ender rods represent railings for passengers to hold onto. We really love this build and can't wait to try it for ourselves!
Epic Playground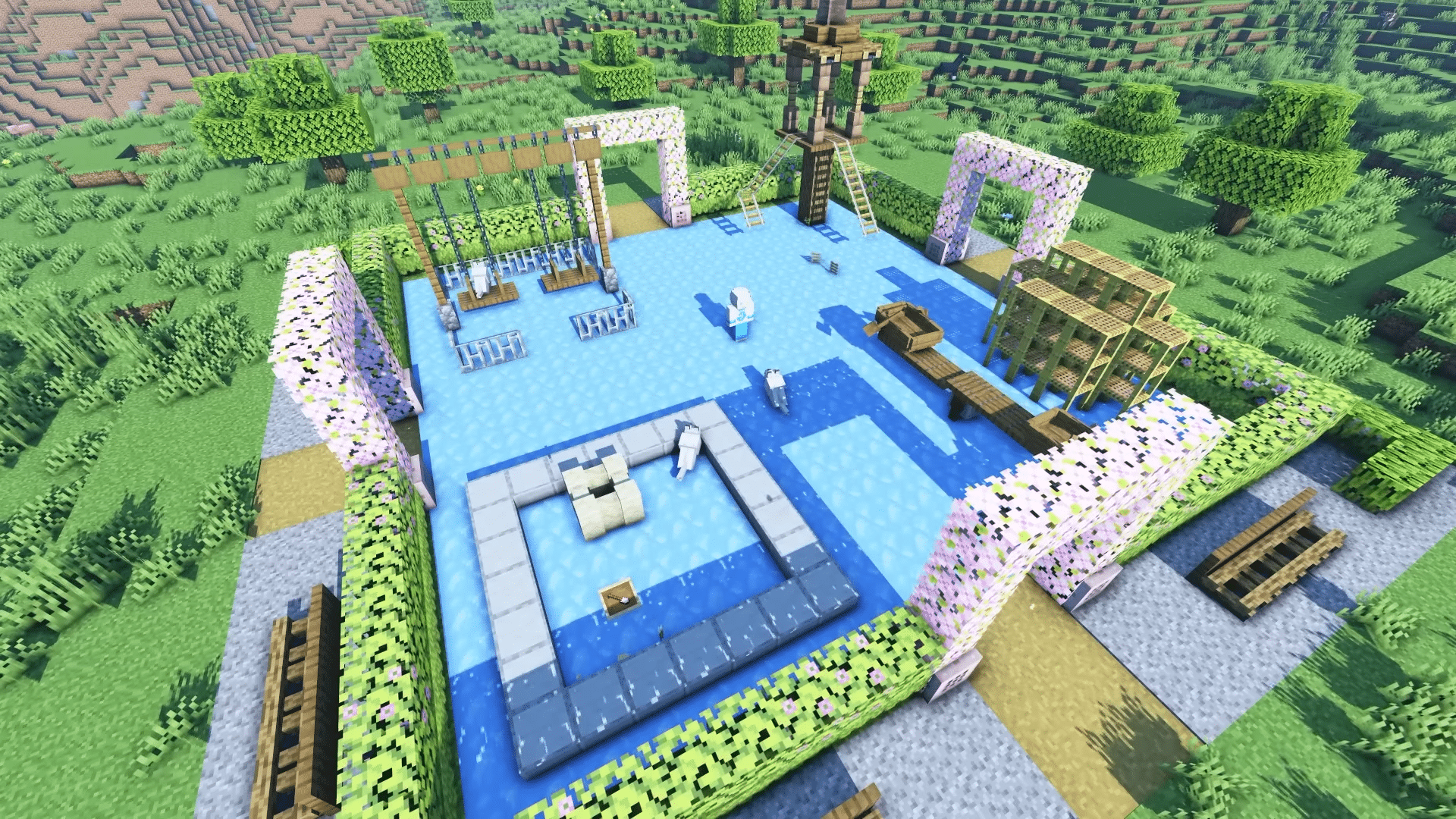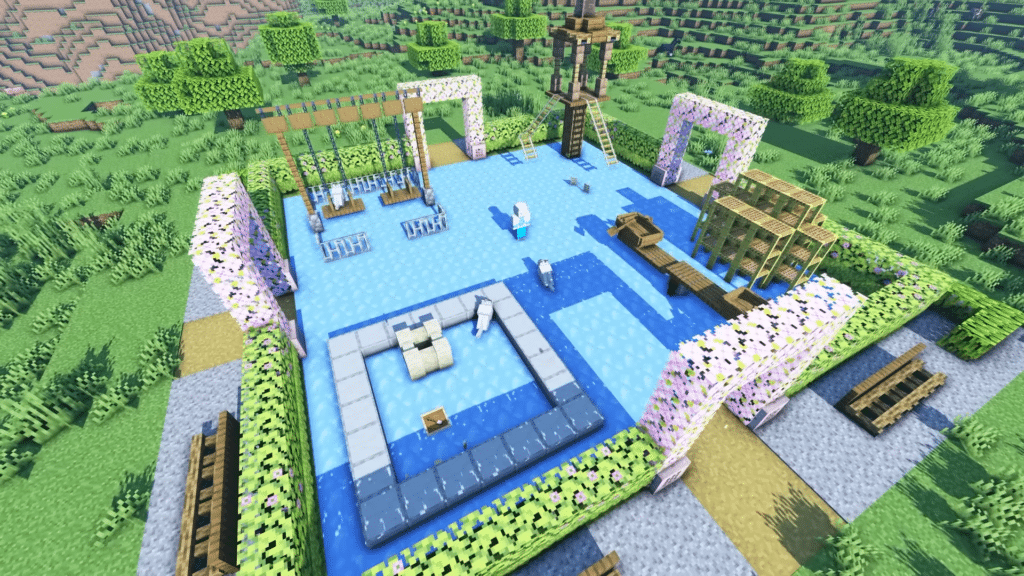 If you just finished building your base and looking for something to put on the outside, you can use this epic playground idea from ManDooMiN. Compared to Minecraft gardens or farms, having a playground in your yard is something unique and fun.
This amazing playground sits on a 23×23 grid, leaving plenty of space to put on swings, slides, and more. You can even make it bigger to have more room to run around and have fun with your friends!
ManDooMin's playground features platforms, swings, a sandbox, and even a small boat ride.
Mini Biomes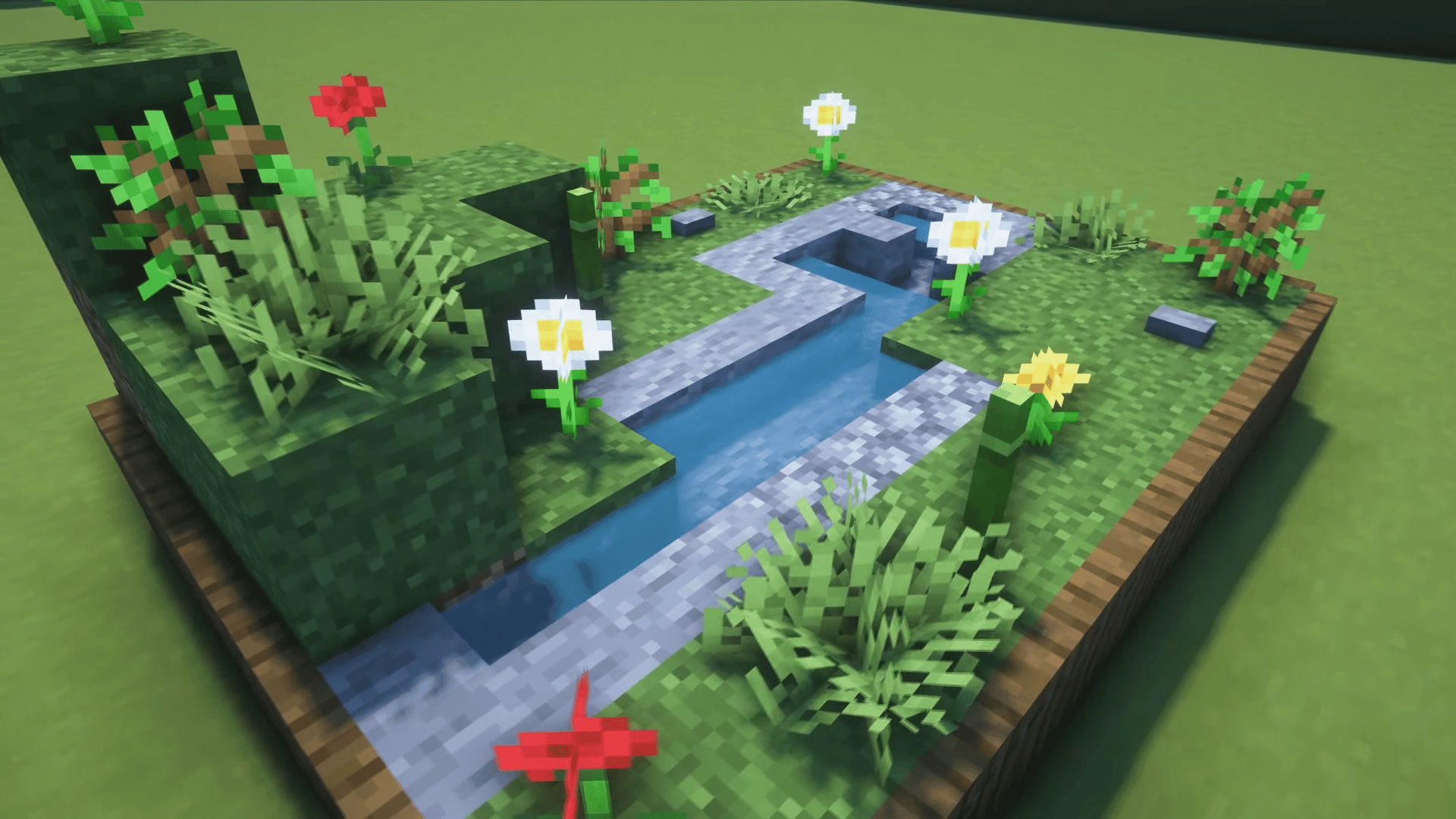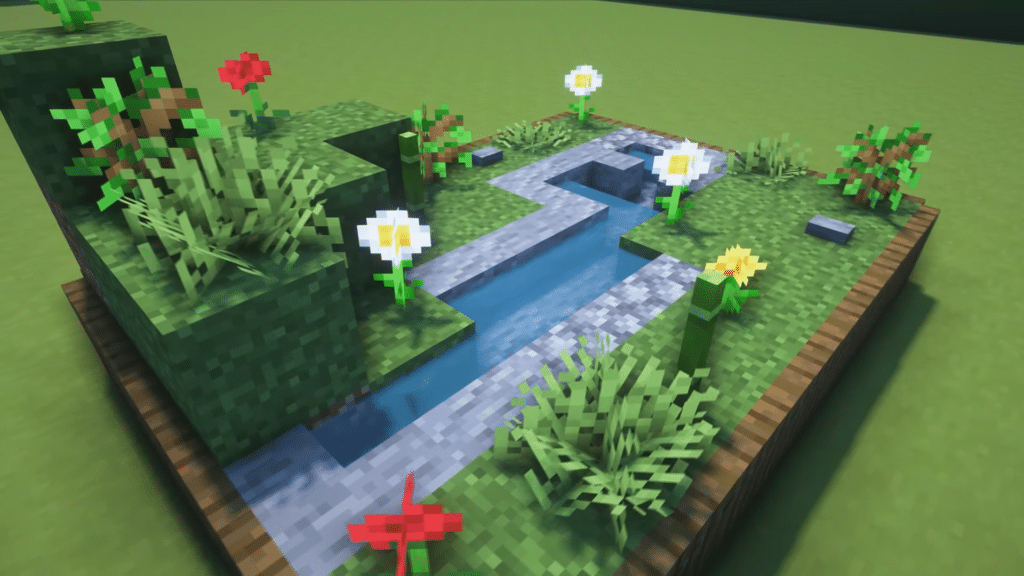 In real life, there's a subset of people who enjoy taking care of bonsais, terrariums, and any miniature versions of natural landscapes. The Minecraft version of this fascination, you could say, is a fascination with making mini biomes.
This activity is perfect for players who want to take remnants of their adventures and recreate them back home. For example, if you're home is in a desert biome, you can venture out into a field biome and forage some unique resources, which will then be put to good use as a decorative mini biome back home.
Since you don't use up a lot of resources for this project, you can be as creative as you want and make endless little slices of the overworld at home!
Greek Temple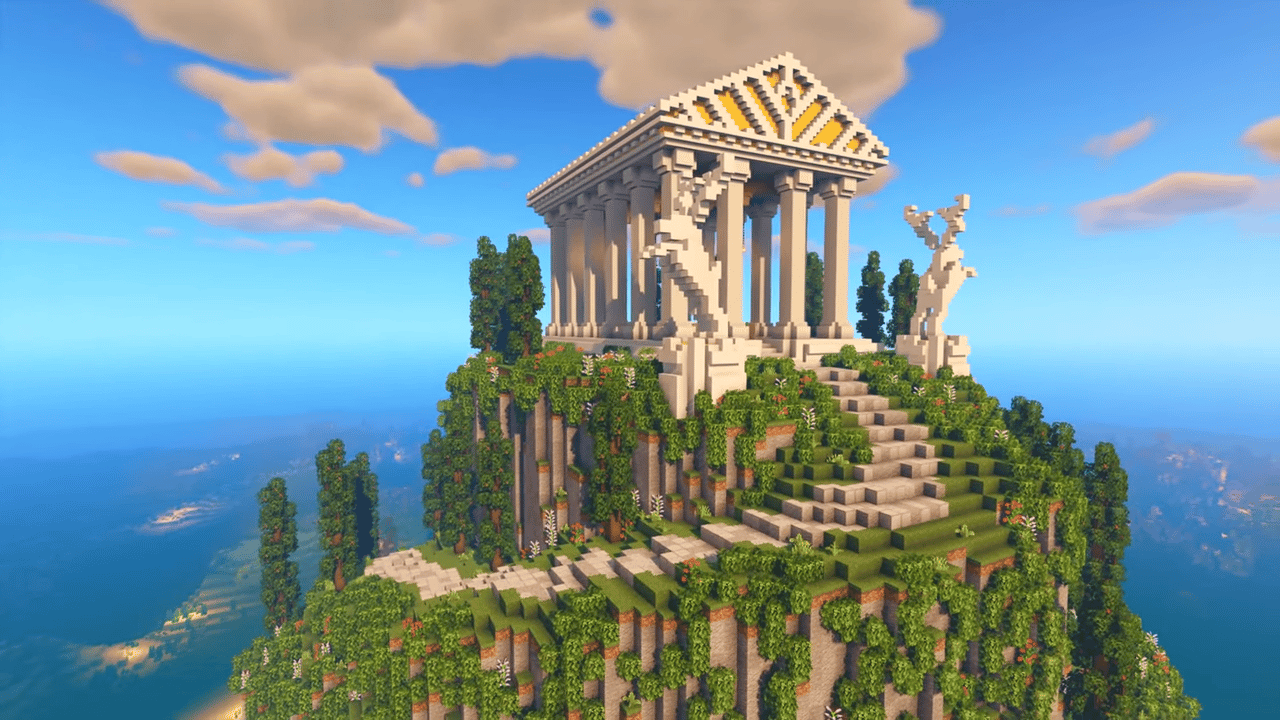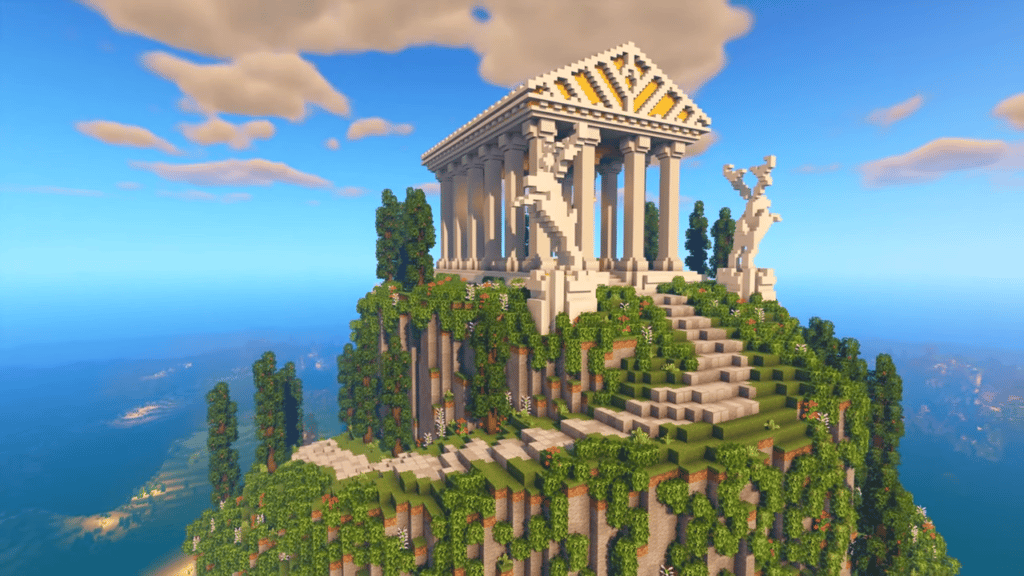 If you were given the opportunity to go on an adventure anywhere in the world, where would you go?
If you answered Greece, then we have some news for you! This Greek Temple by Lytezcraft is a faithful recreation of Greek-style buildings like the Parthenon, molded with a more creative and personalized touch befit for a savvy Minecraft player.
Sitting atop a mountain with a pair of marble statues guarding the premises, this temple is perfect for players who want a majestic home to call their own.
Minecraft McDonald's
There's always something fascinating about making modern, real-life brands come alive in the Minecraft world. This Modern McDonald's Restaurant by TSMC does just that — featuring the bold and iconic McDonald's symbol on a building that replicates architecture that stays true to this fast-food chain.
While the interior is full of neat furniture ideas that make this restaurant pop, the exterior also places some cool true-to-life quirks like a parking lot and a little lawn arrangement. Perhaps you can consider building an In 'n' Out or a KFC building beside it to round it off.
KFC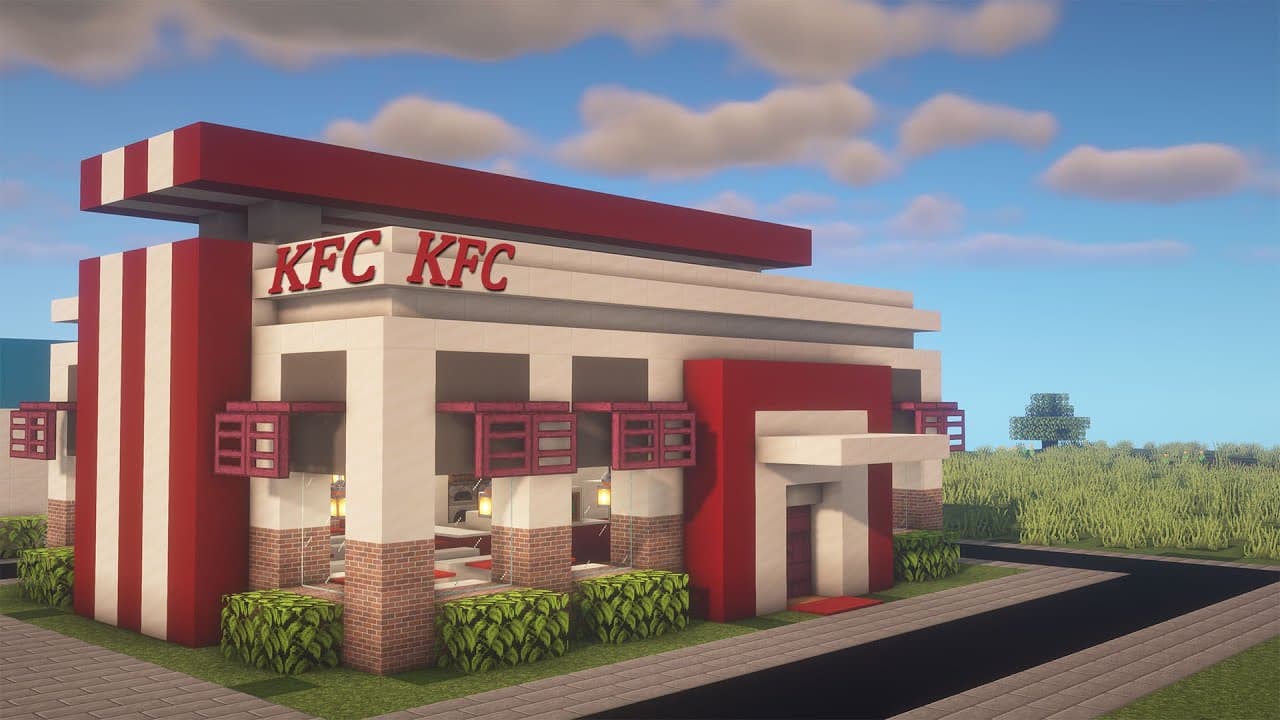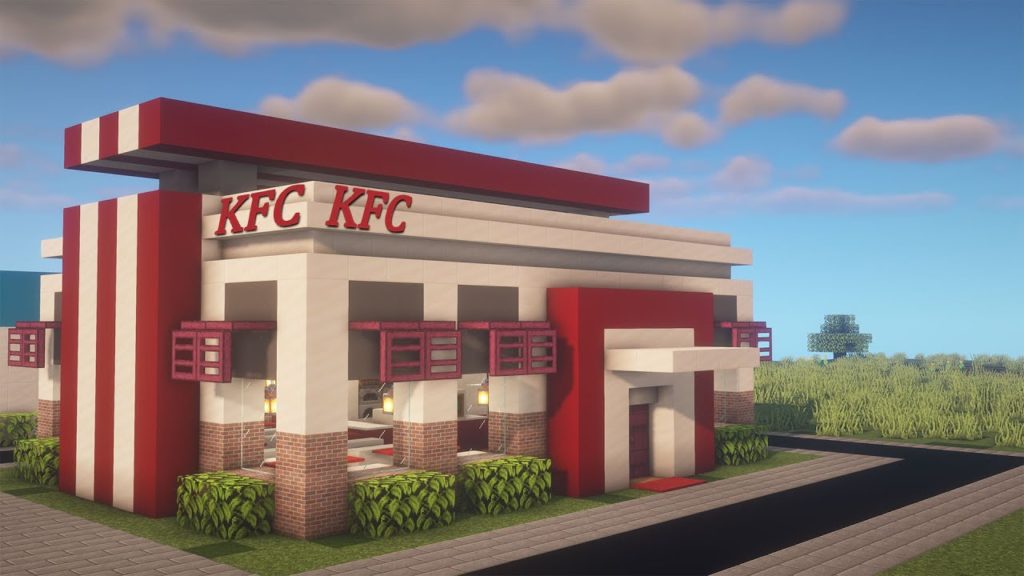 This KFC Restaurant by HALNY is one of our favorite Minecraft ideas that are instantly recognizable thanks to the white-and-red backdrop and simple architecture. You can even choose to add a couple of realistic mods to make it look even more true-to-life.
Plus, you have plenty of room to add on your own little details to make it look authentic. And if you're looking for a quick pick-me-up, the furnaces inside can prepare fried chicken as needed, much like in reality.
Huge Modern Mansion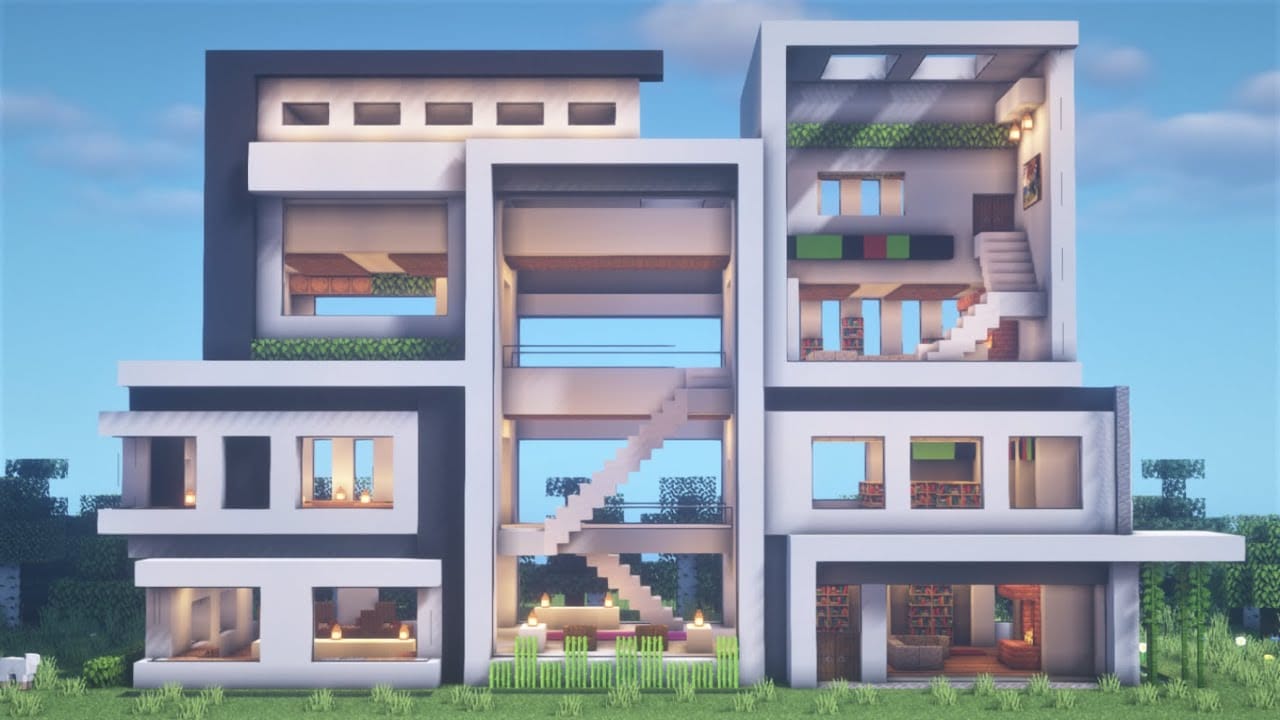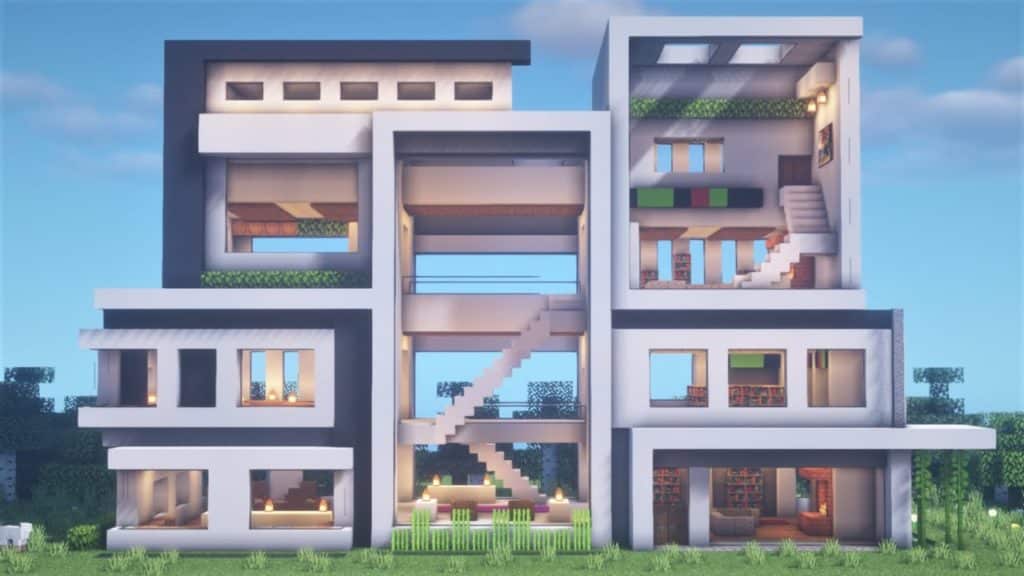 If you're tired of dirt and log builds, this Huge Mansion by FlyingCow is one of the best Minecraft building ideas that can give you some inspiration.
With contemporary, sleek, and modern themes, this is one of the cooler Minecraft build ideas that you can create.
The central section of the house is cut, making it a perfect contender for home ideas with multiple people. Inside, you can find six major rooms: living room, kitchen, bedroom, library, lounge, and roof terrace. A beautiful and well-kept garden also provides a calming view of nature.
Starbucks Cafe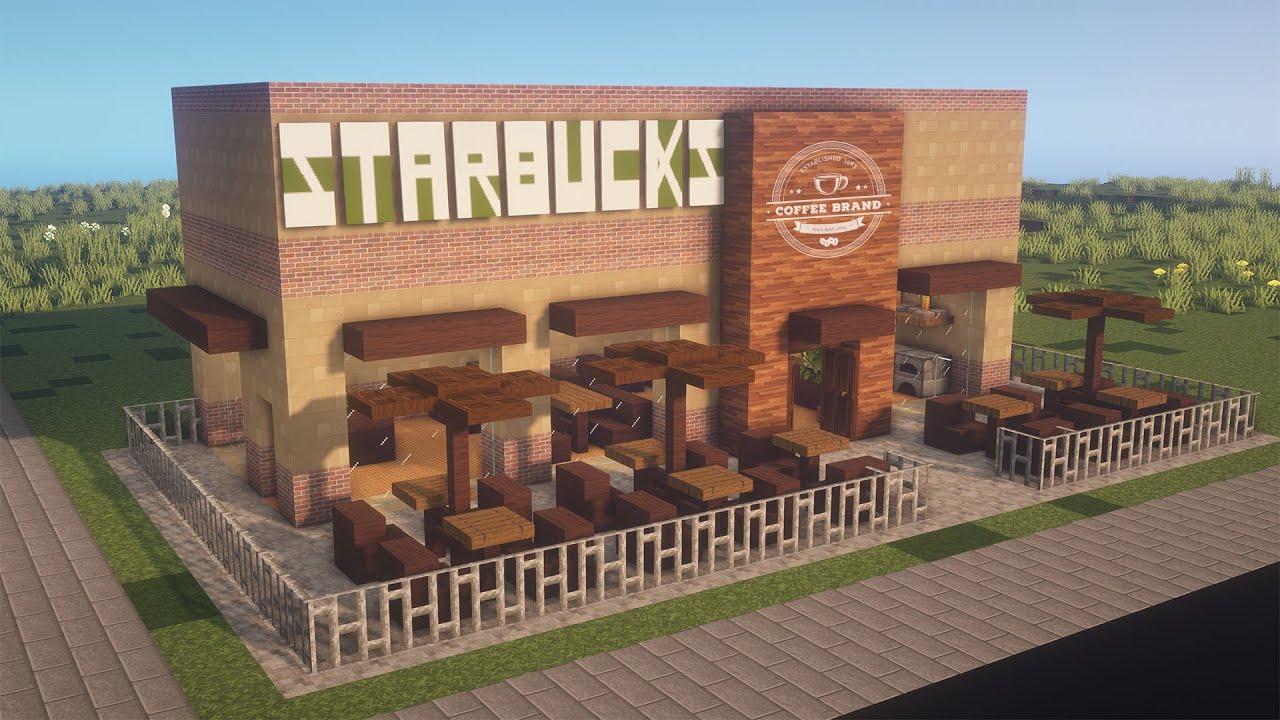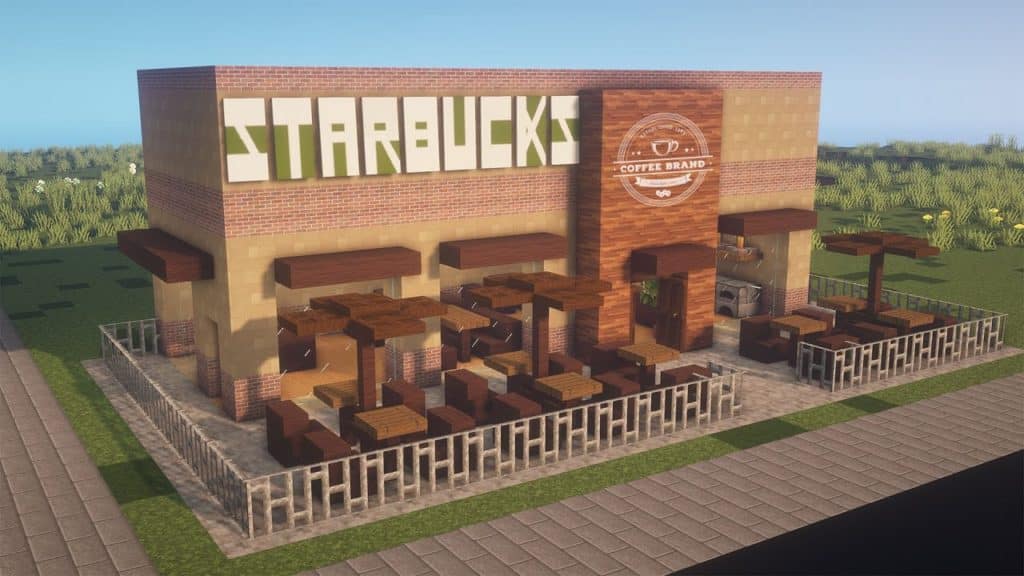 If you're looking to get inspired for Minecraft builds for a city-themed world, this Starbucks Building by HALNY may be what you're looking for.
This replica coffee shop, with its iconic coffee-colored palette and distinct reddish-brown bricks, is easily recognizable for anybody familiar with the chain.
And if you're indecisive like I am, you can also choose where to eat; inside to marvel at the beautiful interior design or outside under the awnings and umbrellas that line the perimeter.
Underwater Living Complex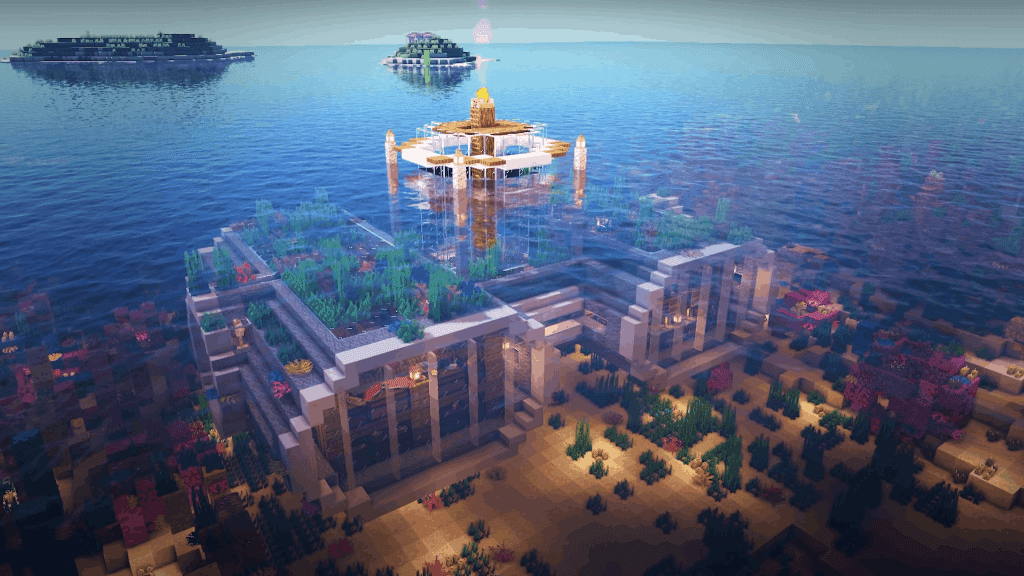 If you have read our list of Ten of the Best Minecraft Base Designs, you will know we are fans of underwater bases.
But you can go a lot further with your underwater construction, too. If you are looking for an intricate building project to get your teeth stuck into, then SheepGG's tutorial for building a sprawling base complex attached to the bottom of the ocean is one of the best places to start.
It has massive, sprawling glass windows, a beautiful angular design, and enough floor space for all the mod cons. A brand-new underwater house could be just the thing needed to breathe a bit of life back into your Survival world.
If you love building underwater bases, be sure to check our top 15 underwater base ideas for inspiration
Creative and Dynamic Ceiling Lights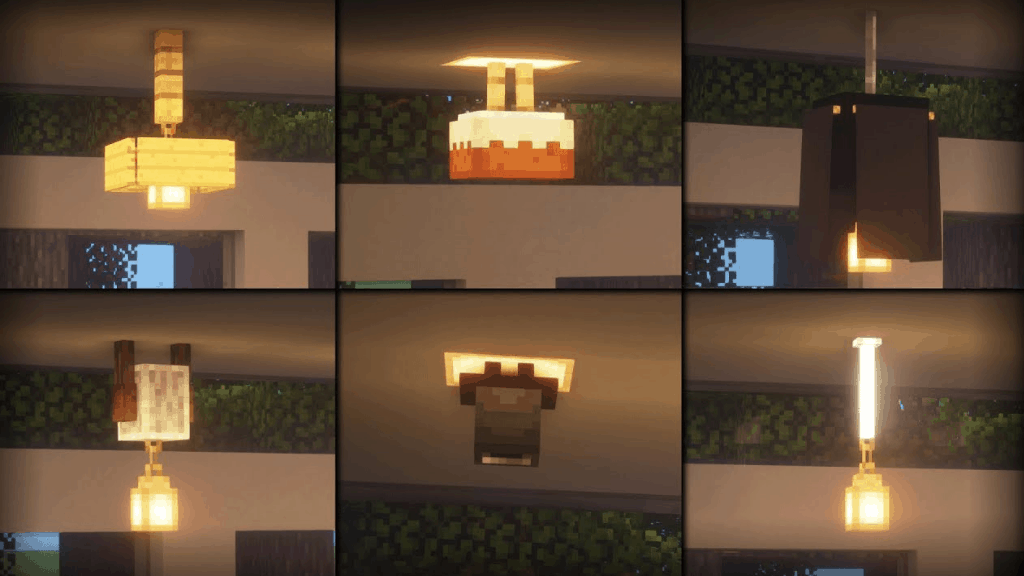 You need to light your house. Why? Because if not, it will fill up with monsters. Not a pretty sight.
But that doesn't mean you are limited to torches and glowstone. In fact, in recent updates, your options for lighting have increased exponentially, as evidenced by this awesome Minecraft ceiling lights tutorial from MCram.
If you are looking to learn more about all your options when it comes to Minecraft lighting, why not check out our guide to the Best Minecraft Light Sources You Can Use Anywhere?
Finally, your lighting is going to look infinitely better if you use the Optifine mod. Here's our guide to Installing Optifine in Minecraft in 2021.
Minecraft Bank
This Minecraft bank build bank by Halny includes tellers, stunning interiors, quarts slabs as marble floors, and private consultation rooms. You'll also find vaults with barrels for all your precious items, such as emeralds, gold, and diamonds!
It's a modern build that would fit into any modern city! The front facade includes towering windows and a front pergola welcoming clients into the building. It fits perfectly against a sidewalk, and players are sure to love exploring the interior of this build!
Food Truck
Minecraft builds ideas that revolve around food and are sure to attract the hungry. But if you really want to stand out, a food truck is one of the cool things to build in Minecraft.
This Food Truck By HALNYALNY has a lovely mix of striped textures, an adorable design, and a cozy interior that can tempt hungry passersby to queue for food.
The best thing about this build is the ability to plop down the truck anywhere in the world. Middle of the jungle? Sure. By the seaside? Absolutely possible!
Minecraft Gas Station
Constructing a contemporary city? You'll need a Gas Station similar to HALNY's build to fuel those imaginary cars.
This gas station provides an aesthetic pit stop for your Minecraft city build. To start off, you'll need End Rods, Bricks, and Stone Bricks. All laid out exactly like in HALNY's tutorial.
The indoor building will also benefit from black and white checkered flooring. Though you're free to pick any floor design you wish. Your city, your rules.
Wooden Castle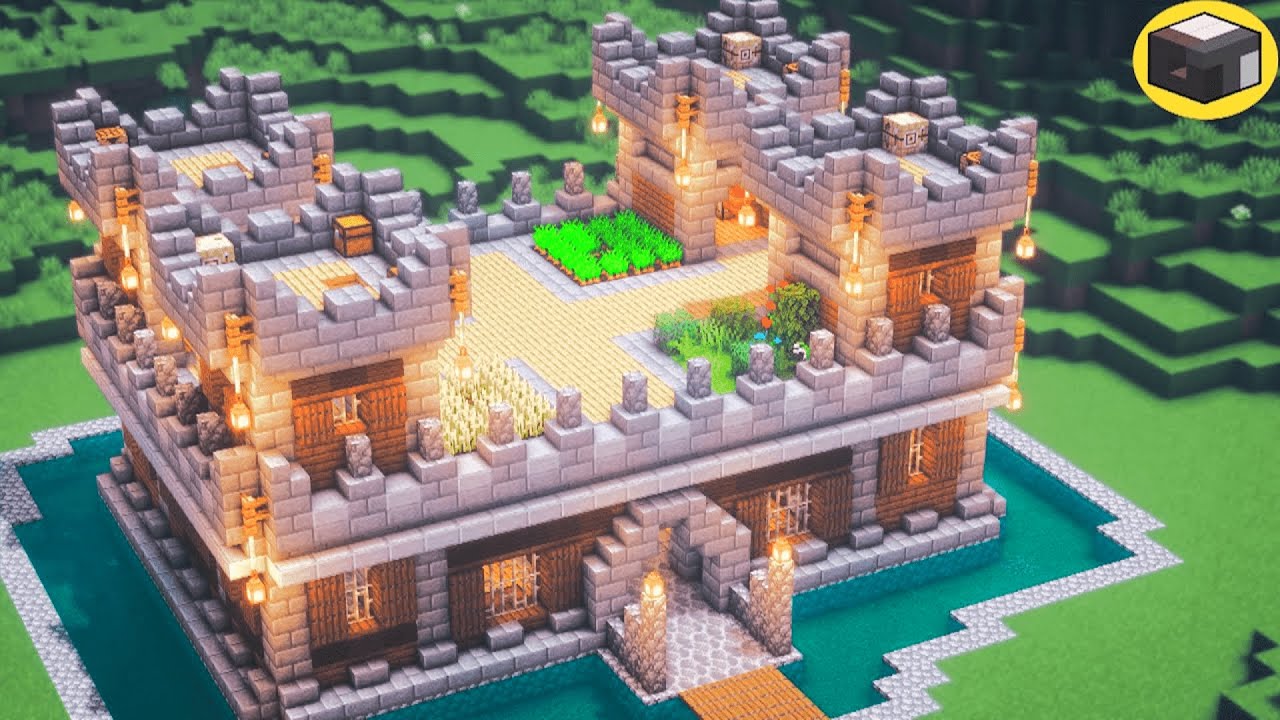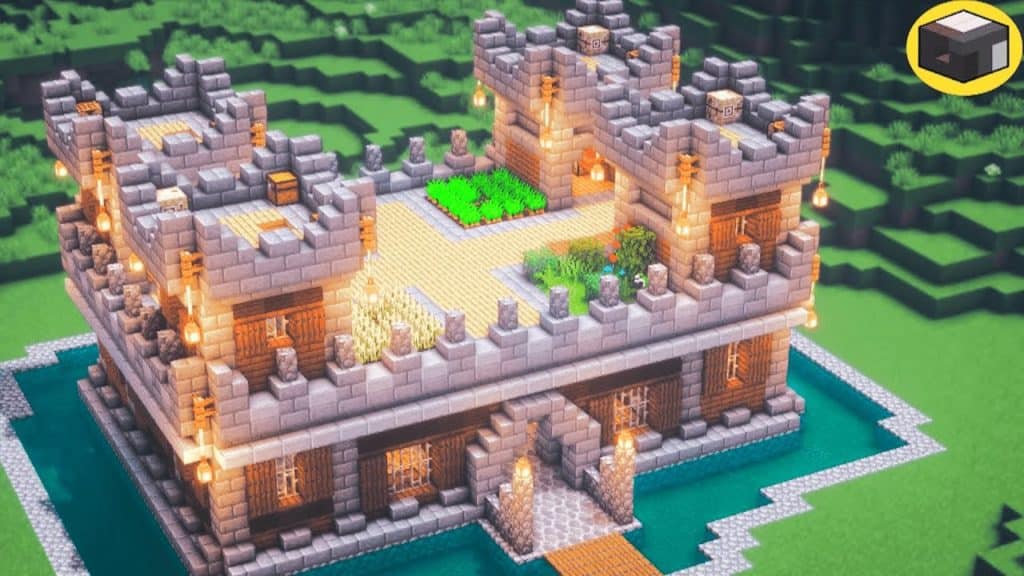 The world of Minecraft is teeming with villagers and monsters—and maintaining order in a land with no ruler is ultimately your call.
Up for the job? This Wooden Castle can be your trusty base, with a structure that offers a distinct and medievalesque charm.
Complete with a moat to fend off sieges in PVP servers, a high wall for maximum security, and a portcullis to restrict entry points, you can rest easy knowing nobody's stealing your valuable stash of potions.
Apartment Block
Tone down the skyscraper a little bit, add some aesthetic touches to it, and you get this Minecraft Apartment by HALNY. This four-story high apartment complex features eight rooms, four hallways, and balconies on each floor.
The bottom floor is adorned with plant shrubs as well for an all-around minimalist look. Each room looks identical in this build too, but no one's stopping you from picking it apart and making your own creations. All in all, this apartment build is a perfect, modern home base for you and the gang.
Clothes Store
This Clothes Store by HALNY is another one of the top things to build in Minecraft we'd recommend.
With contemporary wallpaper, simple checkered flooring, and a wooden base, this simple Minecraft building has all it needs to look good.
On top of that, this building can also double as both a building and a place to showcase and store your armor collection.
So if you've ever wanted to flex your complete armor collection to your friends, this is the perfect chance to do it. Don't miss your chance.😉
Hanging House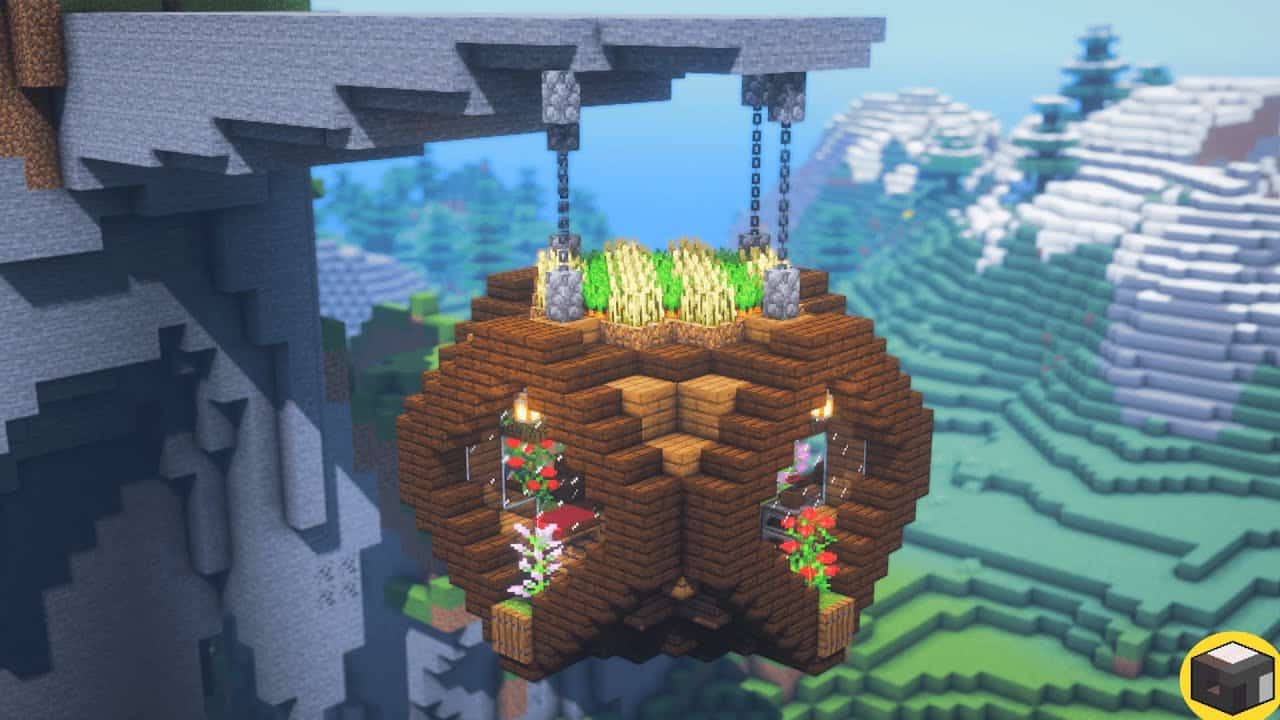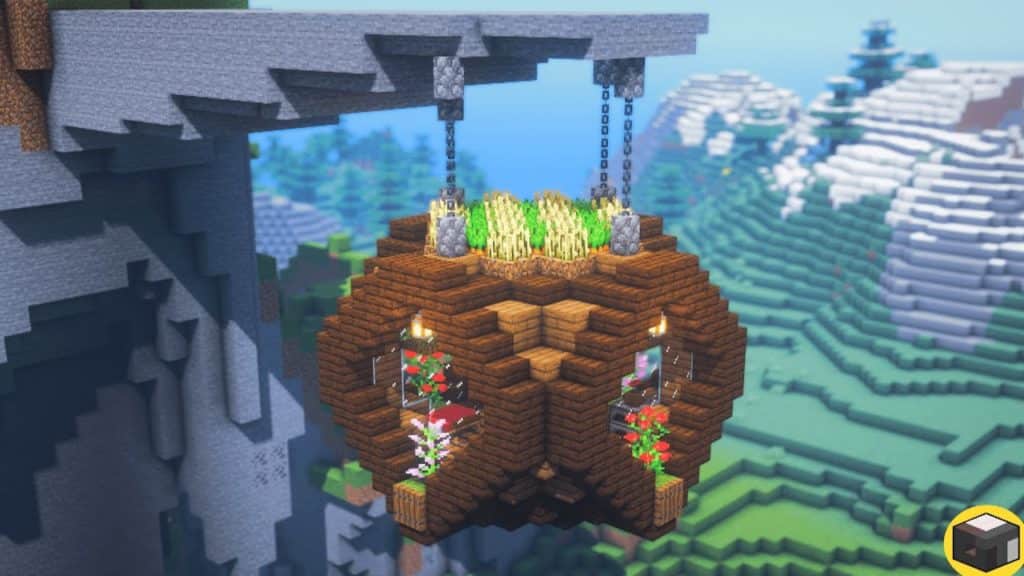 With block gravity being virtually non-existent in Minecraft, you have a staggering amount of creative freedom to create some crazy designs.
This Hanging House design by One Team, for instance, is one such Minecraft build.
Hanging by a jutted portion of a mountain face, this house, frankly, looks like a Minecraft treehouse on steroids.
It's also quite practical, with a fully-functional wheat farm that you can mod to your heart's desire.
Cherry Tree
There's something undeniably magical and calming about cherry blossoms. Not only do they look mesmerizing, but their rarity makes them quite elusive.
Unfortunately, we don't always have the pleasure of getting spawned close to a Cherry Blossom Grove. But that shouldn't stop you from enjoying the beauty of these marvelous pink trees!
With a little bit of planning and effort, you can create your own cherry blossom tree from scratch. If you need a little help visualizing your project, you can watch a video by Cortezerino, who made a spectacular video on how to build a Japanese garden with a cherry blossom centerpiece.
Japanese Tower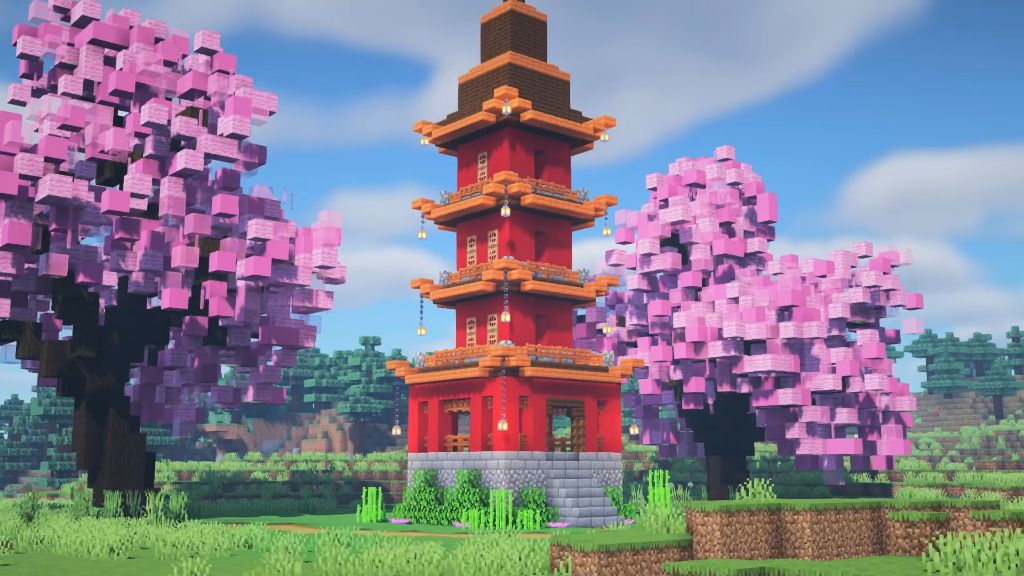 Pagodas in Minecraft builds can be just as visually stunning as they are in real life. This Japanese Tower by One Team features a beautifully-ornate design with intricate roofing. Thanks to its massive height, this structure may also be used as a lookout point for your base thanks to its numerous tiers and lamps on each corner.
Add a couple of cherry blossom trees as decoration ideas, and you got yourself a real eye-catcher!
River Bridge
Is your town split by a river or lake?
If you're not recreating Venice canals or anything of that sort, you'll need a bridge. The Fairy Tale Cottage Core River Bridge by Kelpie The Fox offers an aesthetically pleasing solution to all your watery woes. Aside from function, it also looks gorgeous and cute with its dazzling display of hanging lanterns, some potters and plants along the bridge, and a rooftop to protect you from the sun.
Cute Cafe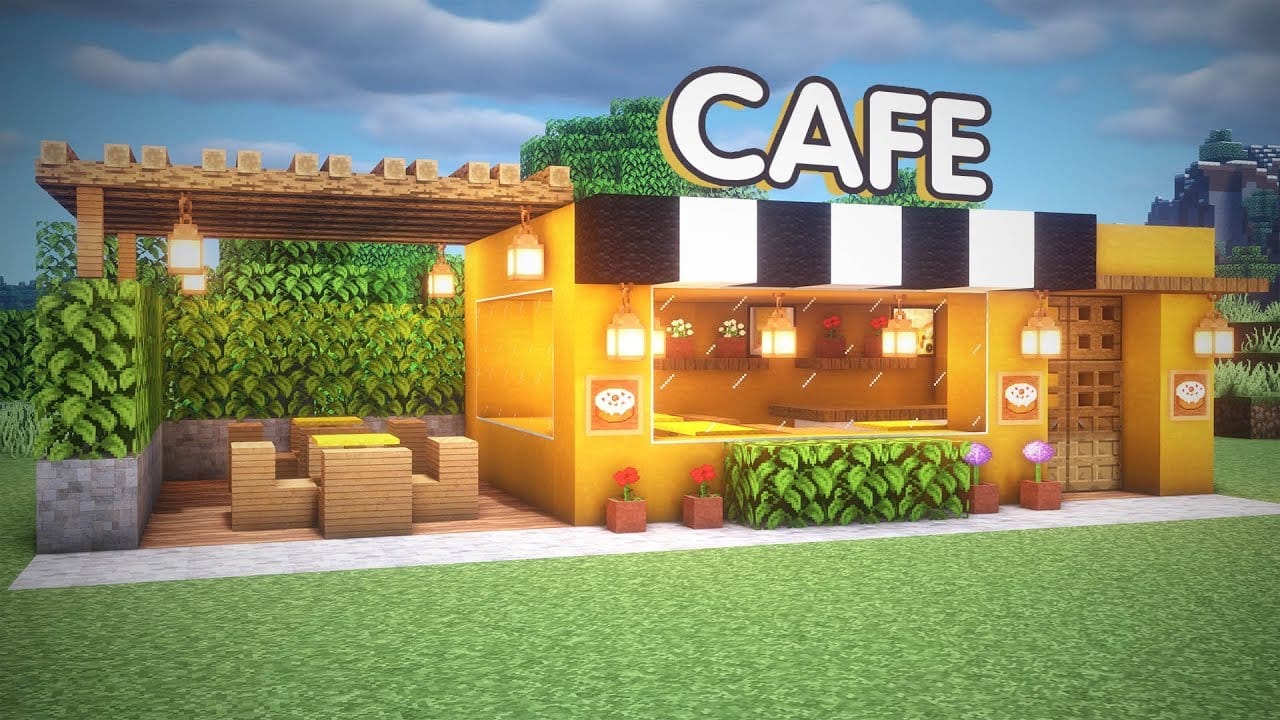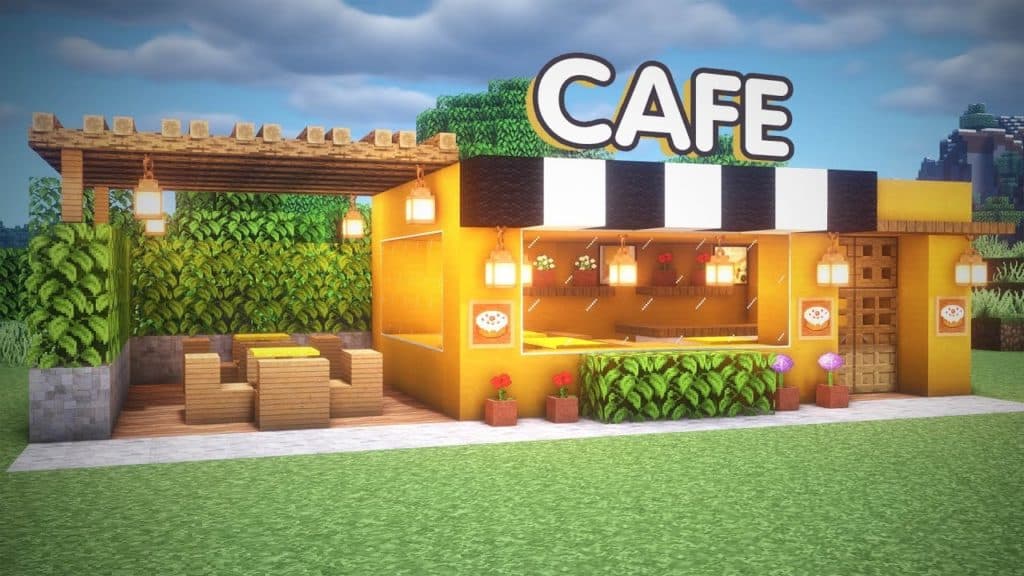 This Cute Cafe by HALNY is an incredibly small Minecraft design, there's no denying that.
But don't let its size fool you—it takes a lot of creativity to make a small design work well in Minecraft.
And our thoughts? This one absolutely steals the show with its minimalist and compact design.
Housed within an 11×6 grid, this cafe manages to squeeze in a baking area, some seats, and even a few floral arrangements outside the premises. All without looking too cluttered!
Minecraft Gym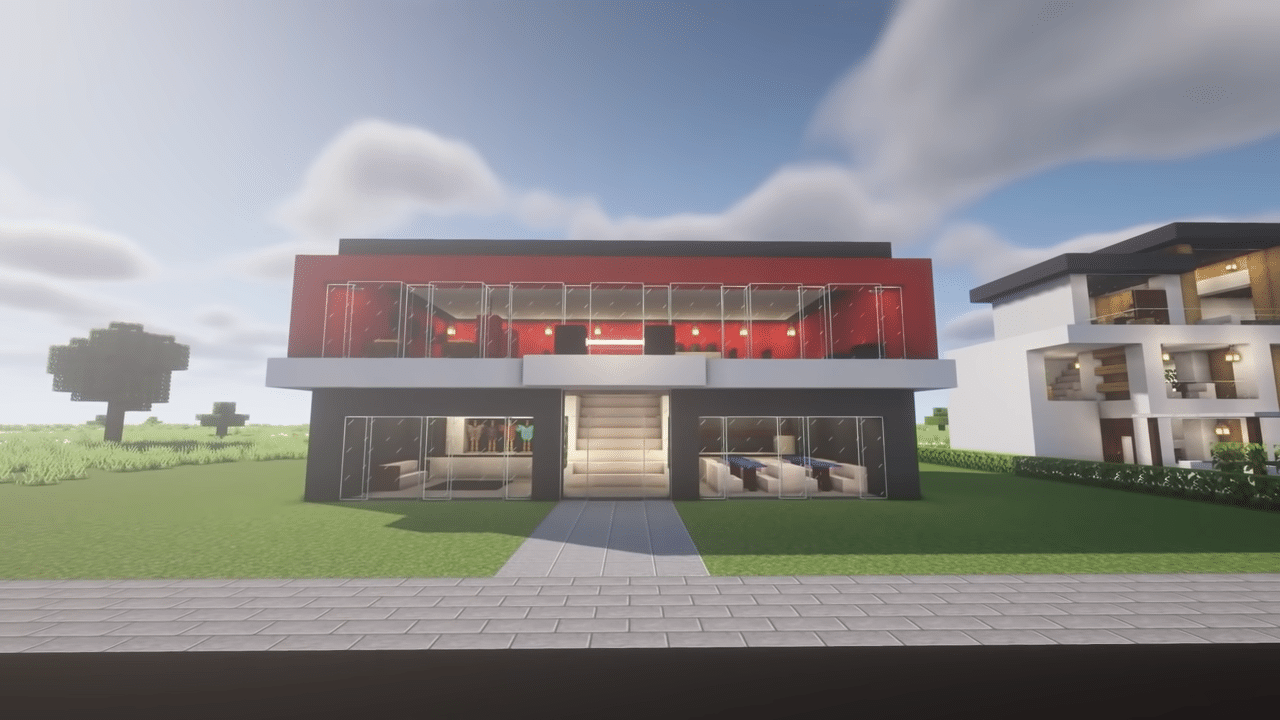 Hit the gym with this next Minecraft build. This build features gym machinery like boxing bags, bench presses, and even weights for deadlifting. It uses Nether Skeleton skulls to represent dumbells and has a lounge/juice bar on the first floor.
The exterior consists of various concrete blocks like dark and light gray concrete with a red second floor. Other blocks include lectures, chains, armor stands, and all five chest plates.
It's yet another perfect modern build for those with Minecraft cities. It would look perfect next to the Minecraft bank we mentioned earlier.
A Massive Windmill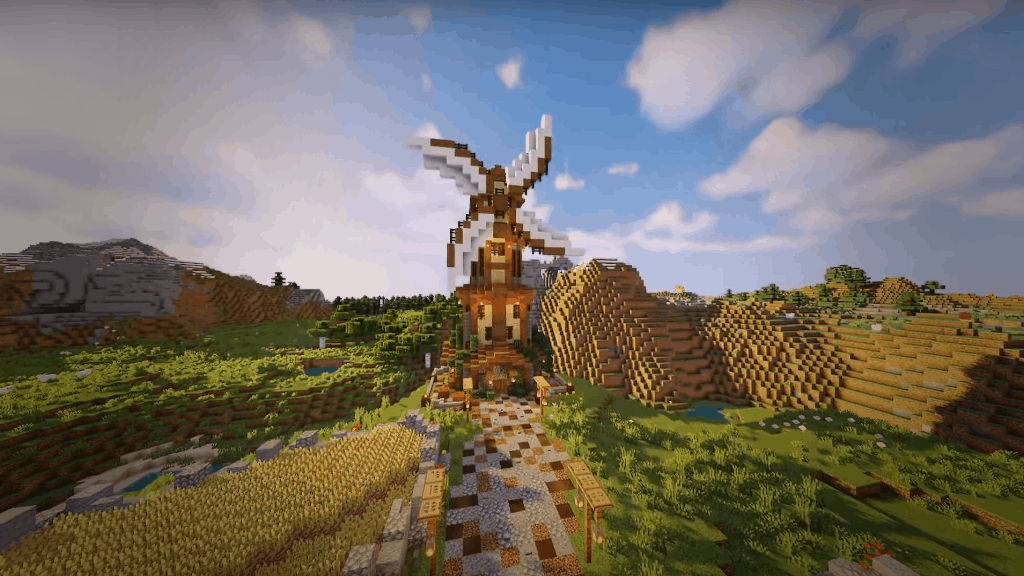 If you have a base built on farmland, your home structure is essentially calling out for an awesome-looking windmill to steal the show.
This in-depth tutorial from WalkTheWaffle walks you through every step of the process. From living quarters to suspended pieces that give the illusion that the windmill is spinning, the detail and scale make it one of the most attractive builds I've seen in some time.
This is one to try out as you proceed later in the game. It is MASSIVE, too. If you are looking for something similar but a little more subtle, this tutorial from Akila Gaming may help.
An Aquarium (With Real Fish!)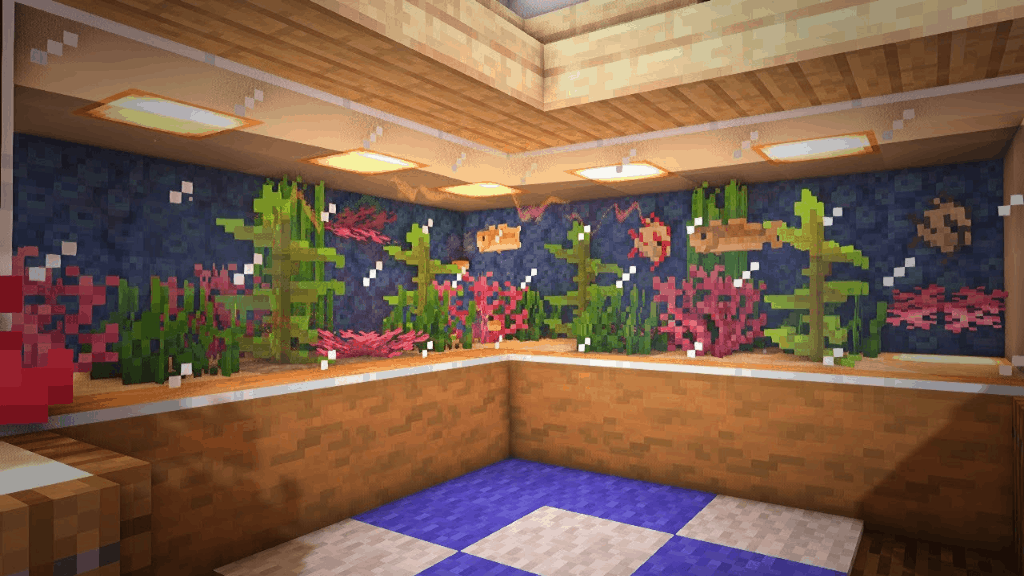 I think Minecraft is a lot better since Mojang decided to fill the oceans with innumerable species of fish. From colorful to mundane, most players will never get a good chance to lay eyes on their new aquatic friends.
So, wouldn't it be good if players could have a tank full of fish in their homes? That's exactly what VexelVille's easy modern aquarium tutorial hopes to achieve. Filled with natural underwater decoration, it can even be constructed in survival mode!
Modern Villa
Sometimes, all we want is a grand estate where we can enjoy the summer views of the outside world. And that's totally ok — who wouldn't want to see the sunlit views from outside your bedroom? This Modern Villa by Akila Gaming is a contemporary house design that boasts impressive architecture.
From the second-floor outdoor garden with bamboo soaring high in the air to the open-window design of the house's center, this grand estate is truly one of a kind.
Haunted Mansion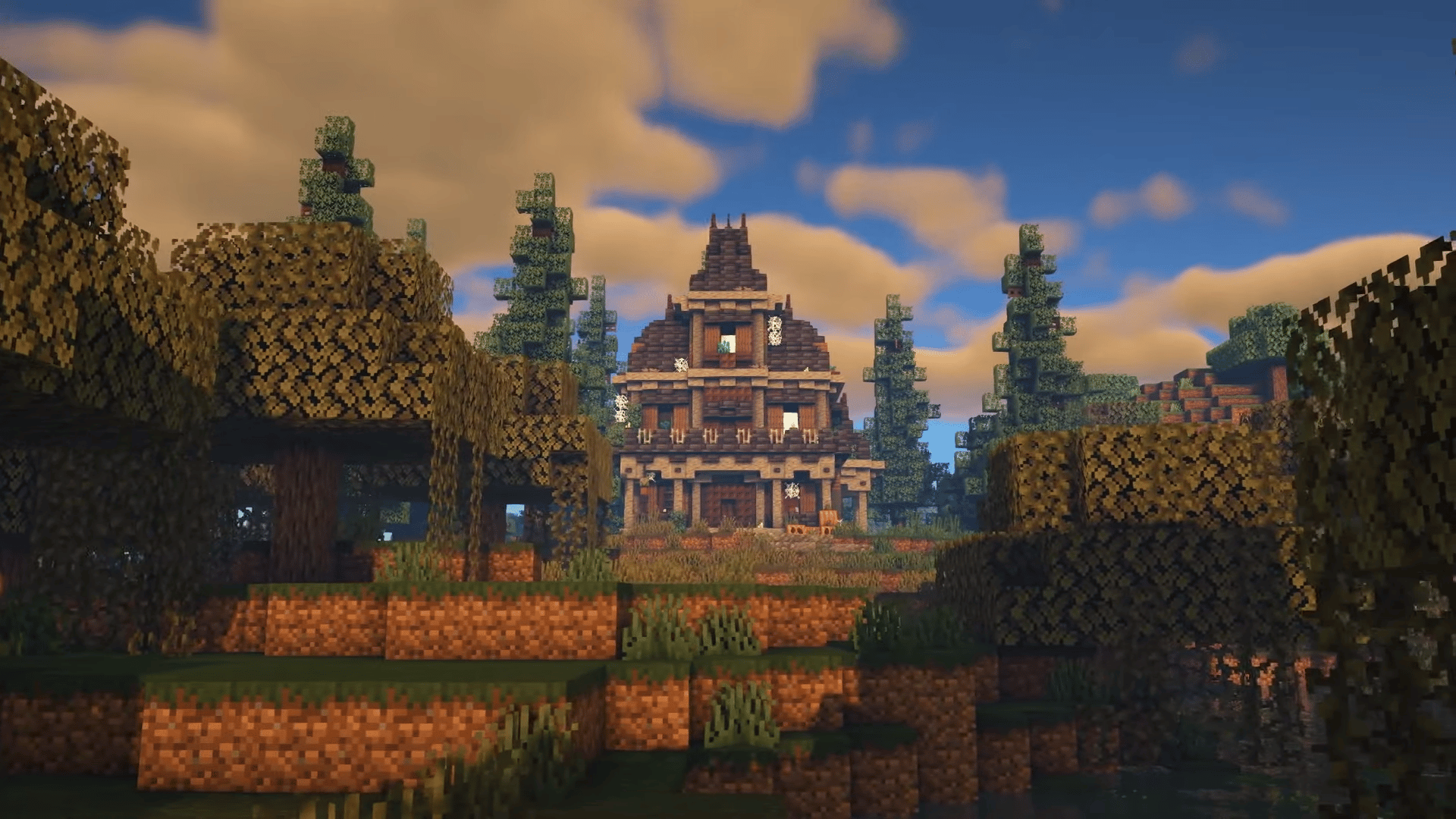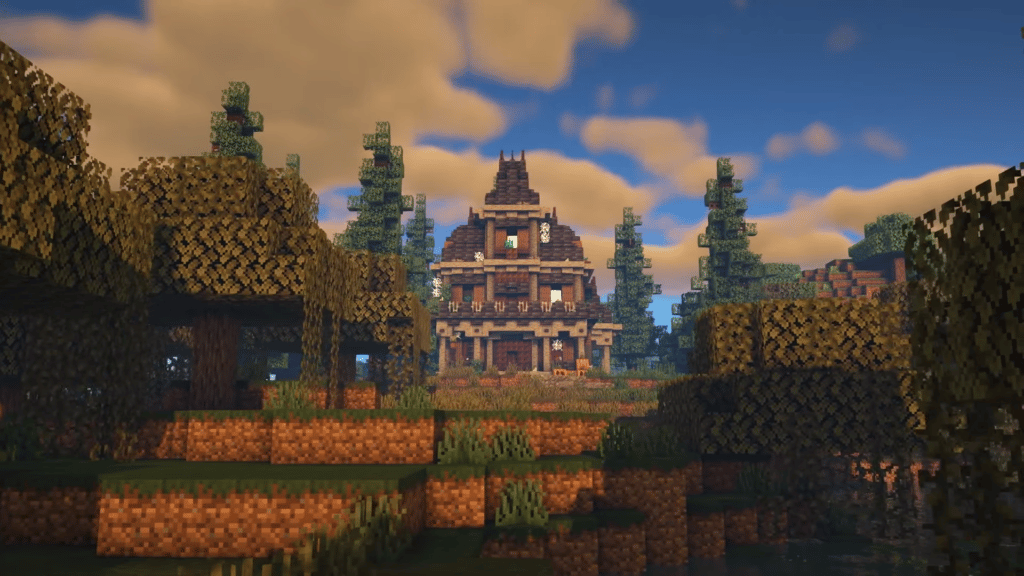 Want to spook your friends? Consider recreating a haunted mansion in Minecraft and give them a fright as they explore its abandoned and frightening halls.
This old mansion is almost entirely made out of Wooden blocks, which gives off an old and dilapidated vibe. Various decorative elements like cobwebs and a Jack o' Lantern head on the building's facade only adds to the eeriness of this building.
That said, you can always introduce your own spin and use Cob
Minecraft Treehouse
I have seen a lot of people try to build a Minecraft treehouse. Don't get me wrong, some of them turn out just fine. But by far, the big problem is almost always the same: the tree is too small.
In part, that's what makes Typface's Minecraft Treehouse tutorial so impressive. They don't just build a killer above-ground base with a lookout station and all the necessary amenities. They also build the perfect tree itself, which is both big enough to accommodate the base of the house.
A Modernist Masterpiece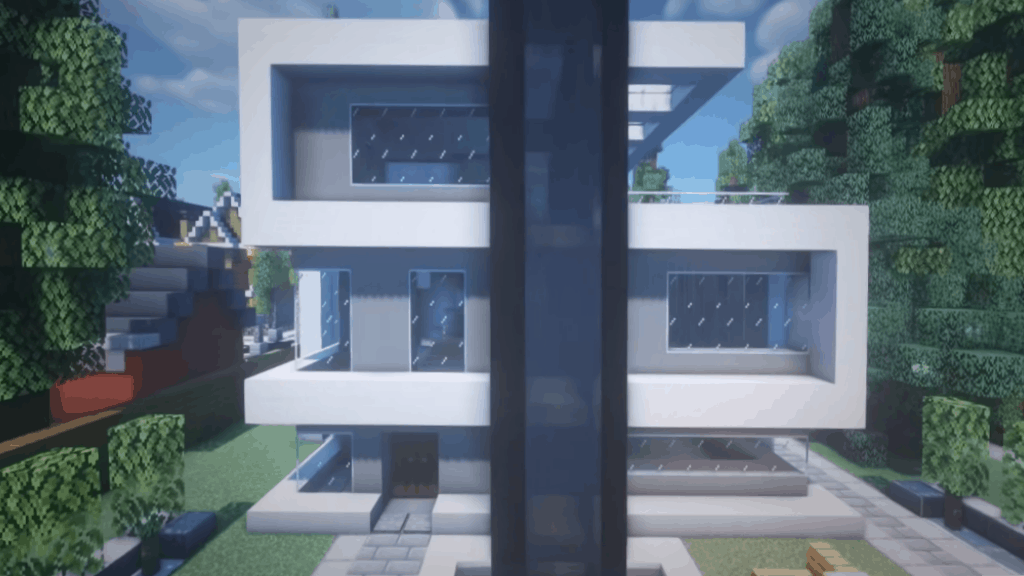 Don't worry if you build wood and stone blocks to reside in. I can't lie, I often do the same.
Are you looking for new and inventive Minecraft-building ideas to survive the night? Why not check out this tutorial from JUNS MAB, demonstrating how a real architect would approach building a fashionable living quarter?
The result is a Modernist masterpiece, the likes of which you have likely seen in the fanciest areas of town.
Minecart System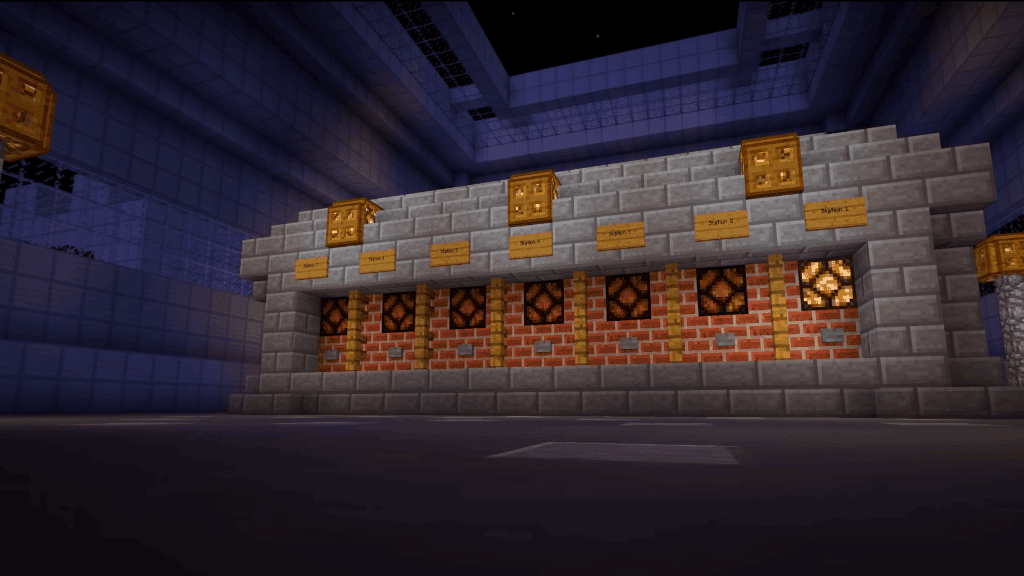 If you are looking for something complex, extremely fun to build, and useful beyond comprehension, look no further than this fully automated Minecart transport system tutorial by Cubey.
From a base departure system, players can launch Minecarts to any location in their world. It can carry either themselves or chests of items, making it extraordinarily useful for transporting building materials from your storage base to your latest build site.
Perhaps the Redstone wiring may be a little complex, but the time investment will certainly be worth it in the long run.
Floating Islands
Building on land is overused and overrated. Create a Floating Island inspired by SlowPayz instead!
According to the video creator, to build it you'll have to find a suitable location, place a block and build up 7 blocks high, put a cross on the second block's layer, then cascade it until you reach the top, like an upside-down pyramid. That'll be the base of the build.
From there, your island can house anything that fits. Personally, a Sakura tree there would be mighty fine there.
Modern Skyscraper
Let's face it, we've all thought about building a skyscraper at one point. But think about it, how many of us have actually gone on and done it?
If you're looking to replicate a cool design, this Modern Skyscraper by HexRegulus is a majestic white concrete marvel that has swirly, see-through shatter-proof glass as the exterior. Build this skyscraper in a city or as a standalone—you're sure to turn heads with this building idea penetrating the skies.
Frog Water Fountain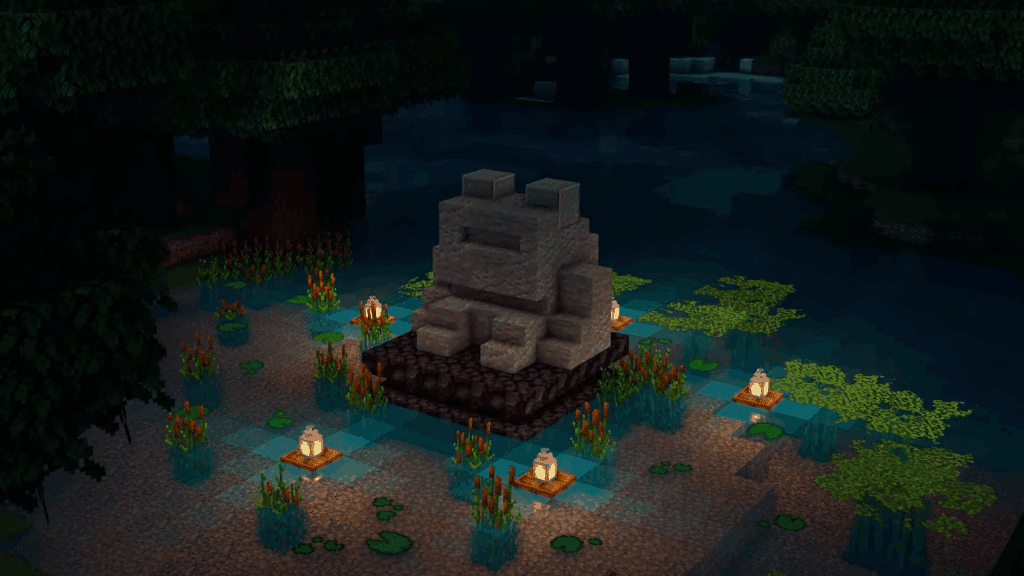 Houses are something you are going to want in every Minecraft world you play. But the fun doesn't stop when you've got furnishings, four walls, and a roof.
Some of the make-or-break elements of a great Minecraft house are what adornments you surround it with. YouTuber BitGarden has a really interesting take on a waterworks set piece: a fantastic-looking stone frog that will fit into any pond or lake house you are putting together.
Using some Redstone magic and a couple of daylight sensors, this frog fountain can activate and then deactivate in line with daylight cycles. This grants you a low-effort dynamic statue that looks exceptional, too.
It would look extra awesome if you had one of the Best Anime Minecraft Texture Packs to go with it!
Town Square Statue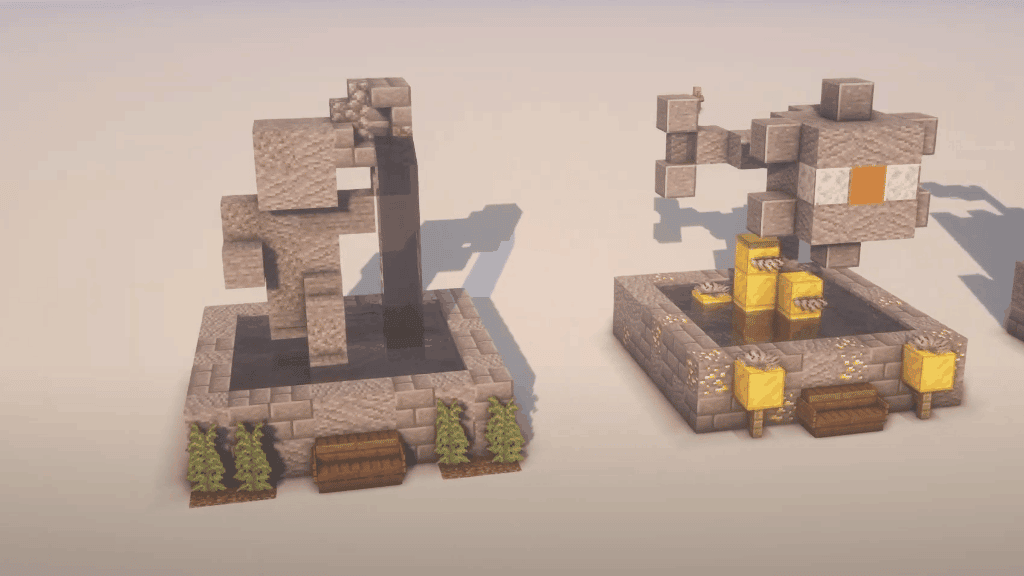 If frogs aren't your thing (what is wrong with you?), but you are still interested in a Water Fountain of sorts, why not build one… of yourself?
This awesome tutorial by YouTuber Phelps features quick instructions for three custom fountains. But in my opinion, the coolest is of a featureless Minecraft Steve, posing on one knee, carrying the weight of the world like Atlas.
With only a few minor customizations, you could replicate your custom Minecraft skin. Or you could just keep it just vague enough to maintain plausible deniability. It is not arrogance, it is self-appreciation, and these days that's hard to come by.
Dream Skin Base
If you're a fan of Minecraft Youtubers, you're sure to have heard of Dream. If you're a Dream fan, why not try out this Dream skin base? This design comes from the talented Minecraft creator Devon Hawes. It is the perfect tribute to the Minecraft Youtuber and content creator.
The build is pretty simple on the outside but contains many decorative and functional blocks on the inside. You'll need green, white, and black concrete and other blocks like green glass and paintings. Other blocks include smooth quartz slabs, ender rods, and jungle leaves.
Traditional Village Well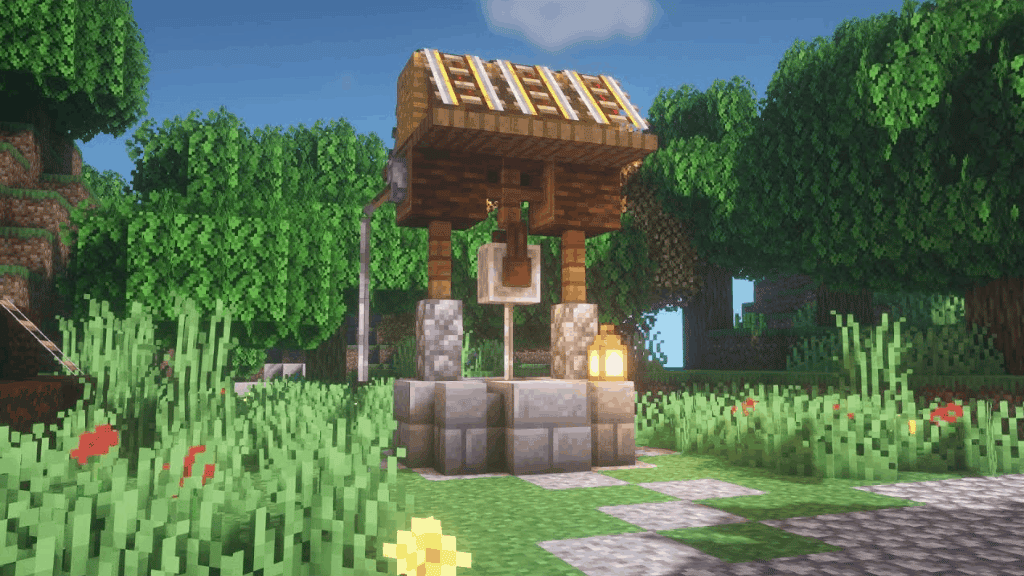 If you are tired of using that 2×2 dirt cut-out with a bucket of water on each side to constantly replenish your supplies, why not check out Michael Heist's guide to building an awesome decorative well?
It's a very simple design, but one that will fit well with any grassland home or base set-up. Best of all, he demonstrates a couple of easy ways to mix it up and make it look unique without the need for a high material investment.
Marshland Roofed Bridge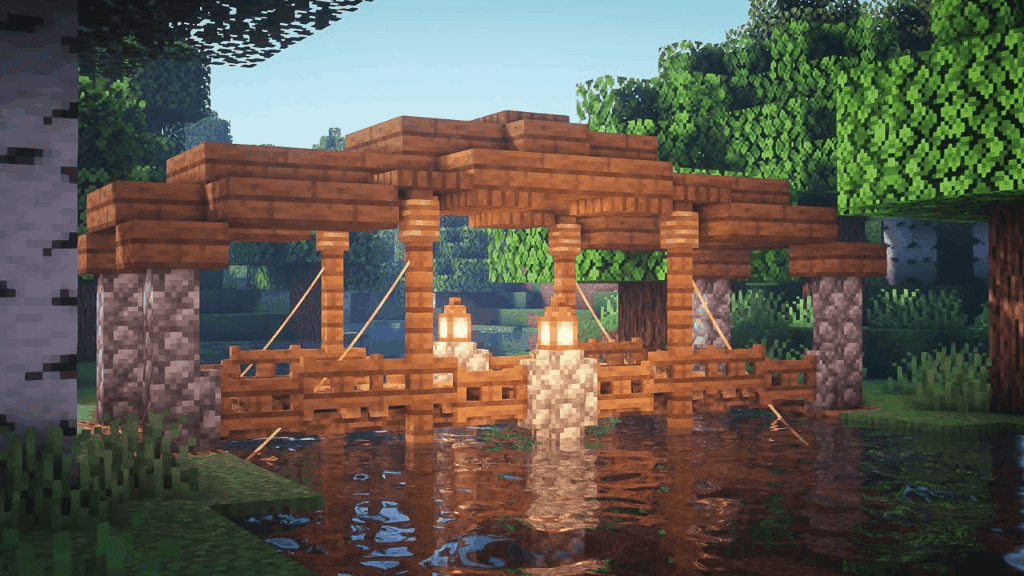 You can't get wet in Minecraft, so we are no strangers to wading through marshy waters instead of walking around them. But what if I told you there was a way to cross over short stretches of water that is simple and looks amazing?
Look at this tutorial by Typeface, which shows us how to put together a shockingly simple roofed bridge. It is made with wood, cobble, and some clever floor placement to look almost as if it required custom textures.
Nether Base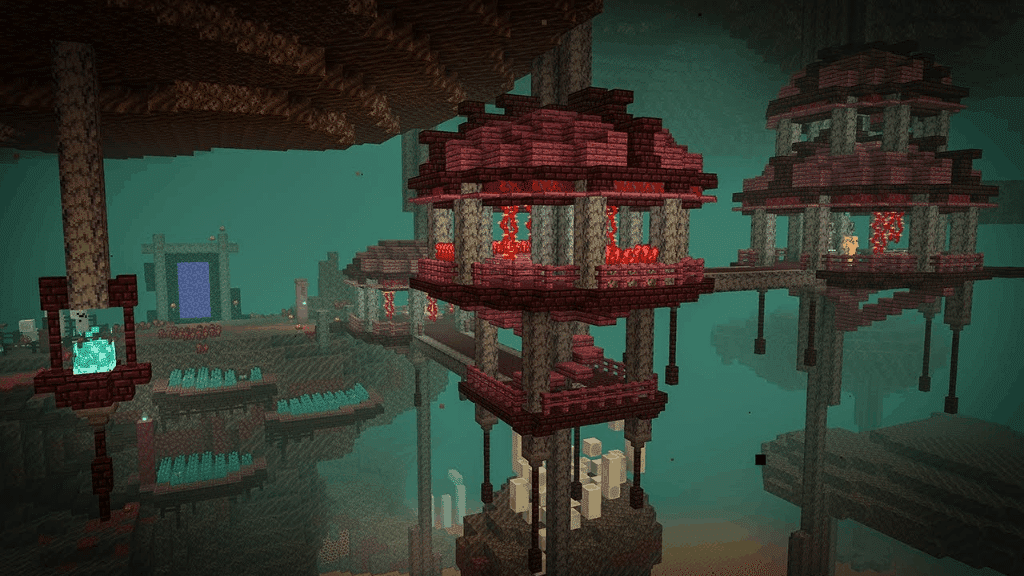 The Nether Update fundamentally transformed the underworld. The biggest change was that it stopped being that place you go for five minutes and leave.
Now, the Nether is an attractive place to spend a lot of time in-game. So, it just makes sense that some players would opt to build a massive permanent base in the Nether.
It is fitted with everything you'd expect from its overworld counterparts and a few extra defenses to deal with all the horrors the nether must throw at you.
One of my favorites out there is GeminiTay's Ultimate Nether Base, which is so impressive that I'd probably prefer to use it as my main base, ditching my overworld residence entirely.v
Minecraft Television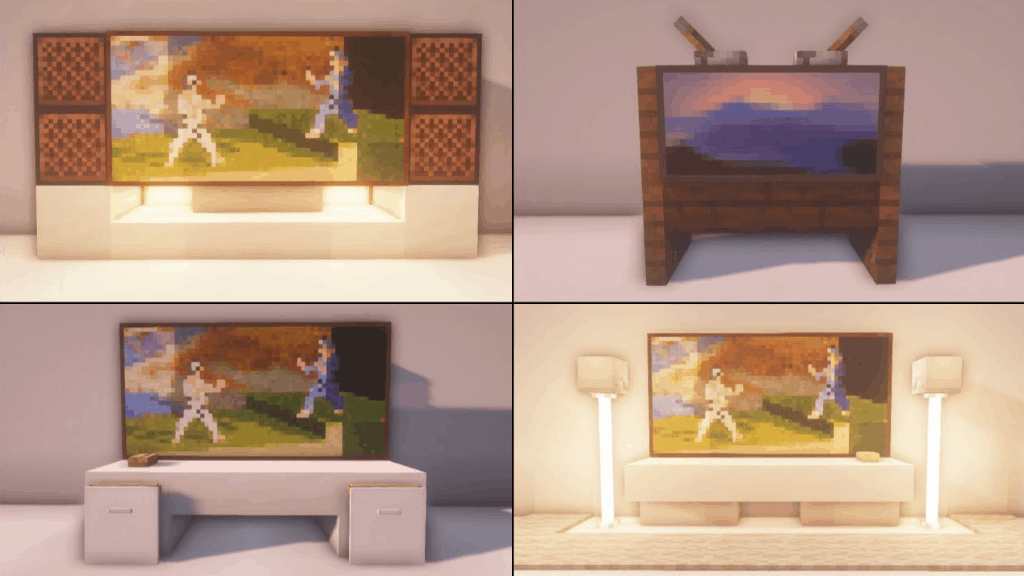 And speaking of your blocky man cave, what use will it be without your very own television, too?
This tutorial by BlenDigi shows you how to put together any of 6 unique Minecraft TV designs, each looking fantastic and with a size and style that can fit any base design.
Minecraft Airport (With Flying Planes)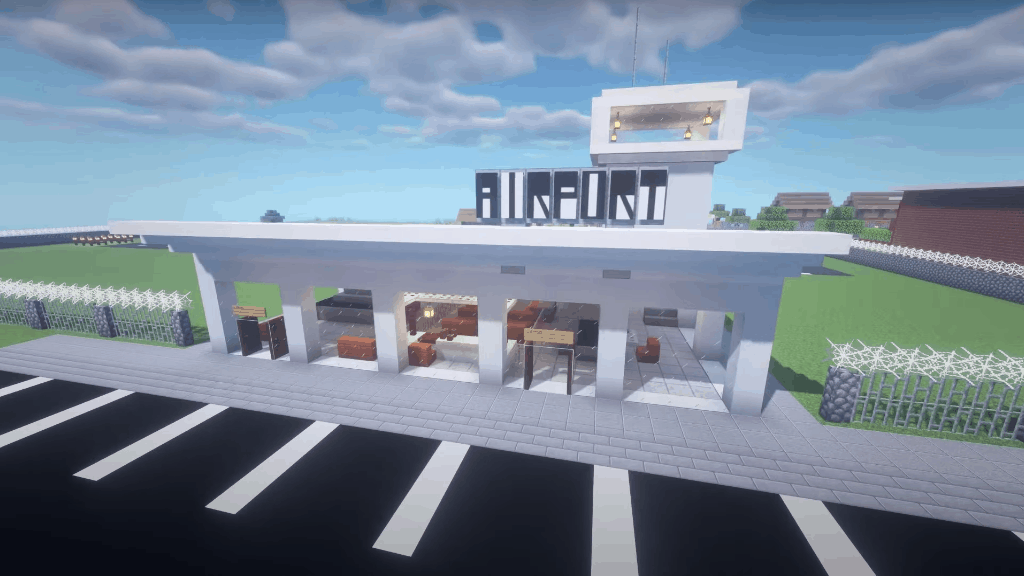 The Minecraft world is big and this is why an airport has made it on our list of things to build in Minecraft. So, when trying to get from A to B, it is no surprise that the citizens of Minecraftia might need to hop on a plane now and then.
Luckily, you will have seen this awesome tutorial by YouTuber HALNY, which shows you how to build a convincing-looking airport with a landing plane still in the sky!
Whether fitting this into a modern Minecraft city or adapting it for something a little more rural, this is a design feature bound to draw attention whenever you are next showing off your Minecraft world.
Minecart Roller Coaster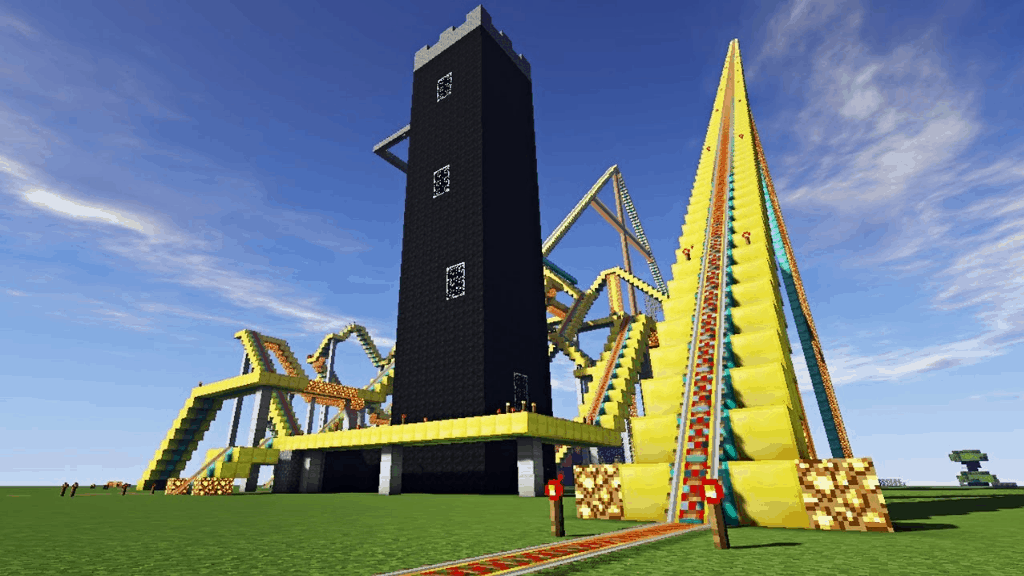 If you ever played Rollercoaster Tycoon or Thrillville back in the day, you would know how much fun it is to build your custom rollercoaster attractions.
It may not seem entirely obvious – after all, the Minecart physics systems aren't nearly intricate enough for loop-the-loops and barrel rolls – but with a bit of creativity, you can easily throw together a killer Minecraft Rollercoaster that will keep you entertained for hours.
It is likely to require a lot of Redstone and tracks. So, it may not be a practical project for newly opened survival worlds. But if you are looking to see what excitement simple Minecart tracks are capable of, check out this demo by YouTuber KudilStyle.
Boat Water Slide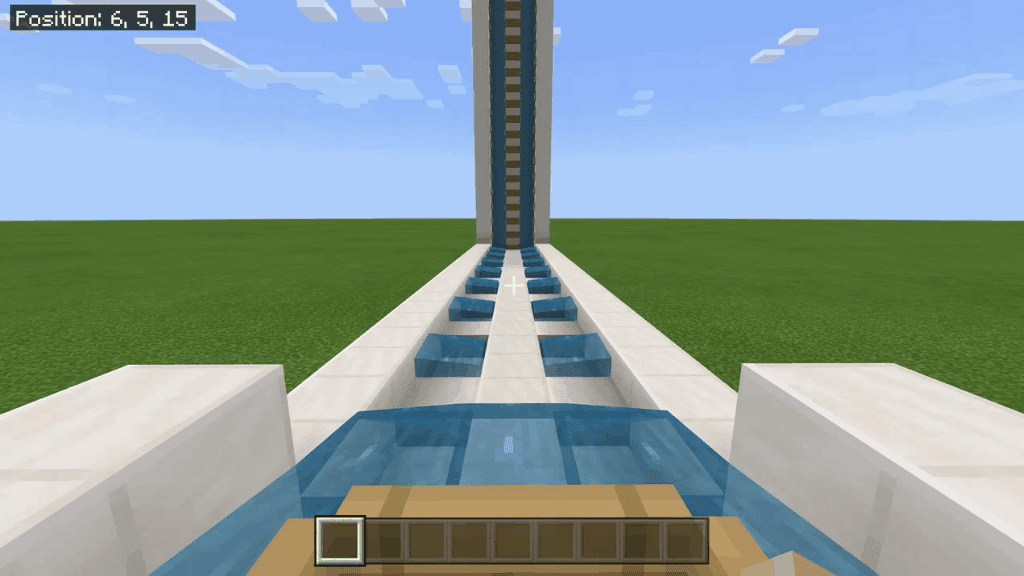 Minecarts don't have the most intuitive physics, though. Instead, many users opt to build something resembling a water slide, a rollercoaster that utilizes boats instead of minecarts.
Boats can bounce, jump, climb, accelerate, and decelerate with ease, making them the perfect tool for builders creative enough to bypass their limitations.
For an awesome Boat Water Slide with jumps, lifts, and ramps to inspire your next Minecraft build idea, check out this tutorial from Youtuber Swifters287.
Street Lights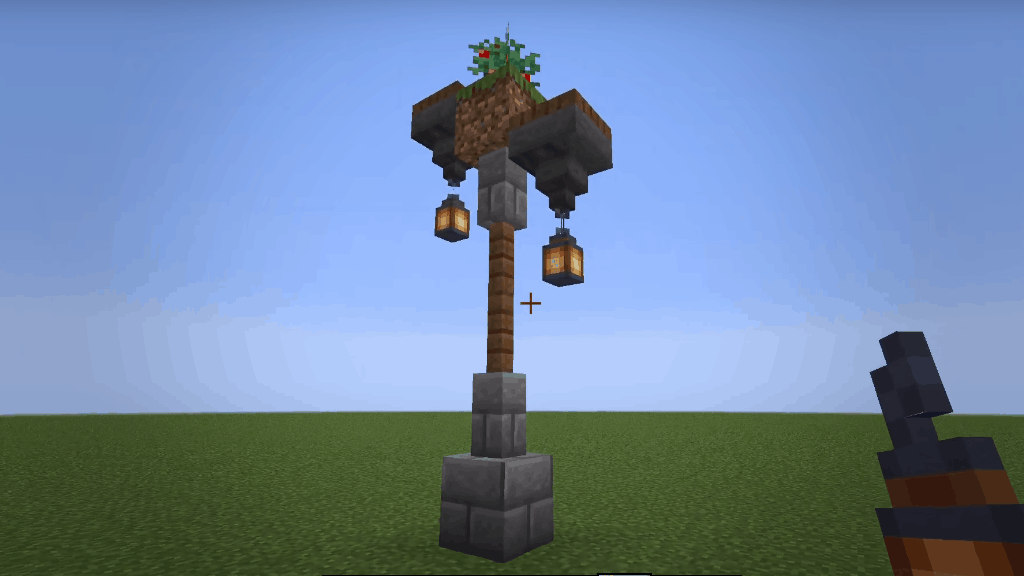 When you've put together something of a village or a small town, something you need to concern yourself with is outdoor lighting. Luckily, Redstone daylight sensors allow you to build a series of stylish streetlights that turn on automatically whenever it starts to get dark.
As far as stylish streetlight designs go, I like this collection of 8 tutorials from Kenneth. Match it with this tutorial for automating them by iDonPower, and you'll never have to run Revenge style through the dark again!
Mining Camp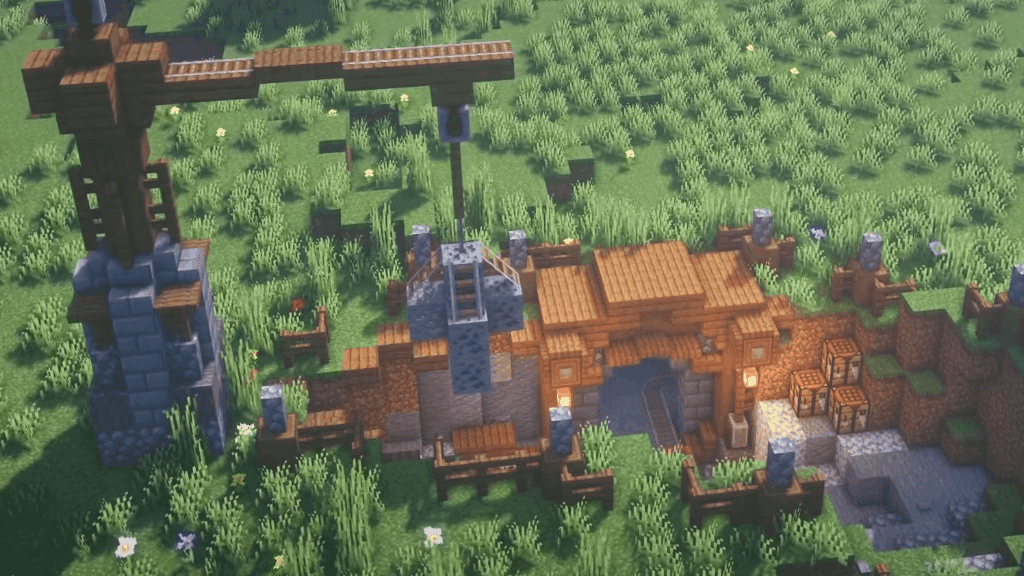 Mining is one of the most enjoyable parts of playing Minecraft. But I'm not afraid to admit that, at times, I can grow a little bit used to it. This is especially true when it comes to designing my mines, where staircases cut in mountains unannounced are the norm.
That is, up until I saw this awesome Mining Camp tutorial from Reimiho, with a crafting station, custom lighting, and even a massive crane to sell the aesthetic!
Usually, mining is something I do in preparation for the later stages of the game. But if I planned a mining camp like this for my next few Minecraft projects, I'm not sure I'd ever been out of it!
Realistic Bathroom Design
Many Minecraft projects don't have to involve massive structural undertakings, though. Others could just be new ways to think about building. Take a look at this awesome idea for realistic bathroom furniture from this tutorial from MCram for a perfect example!
Of course, unless you have some sort of urination mod, there is no need for a bathroom or toilet. But if you were to add one, it would add a new element to your base. It could even be a lot of fun to come up with original designs!
Vending Machines, Arcade Cabinets, and More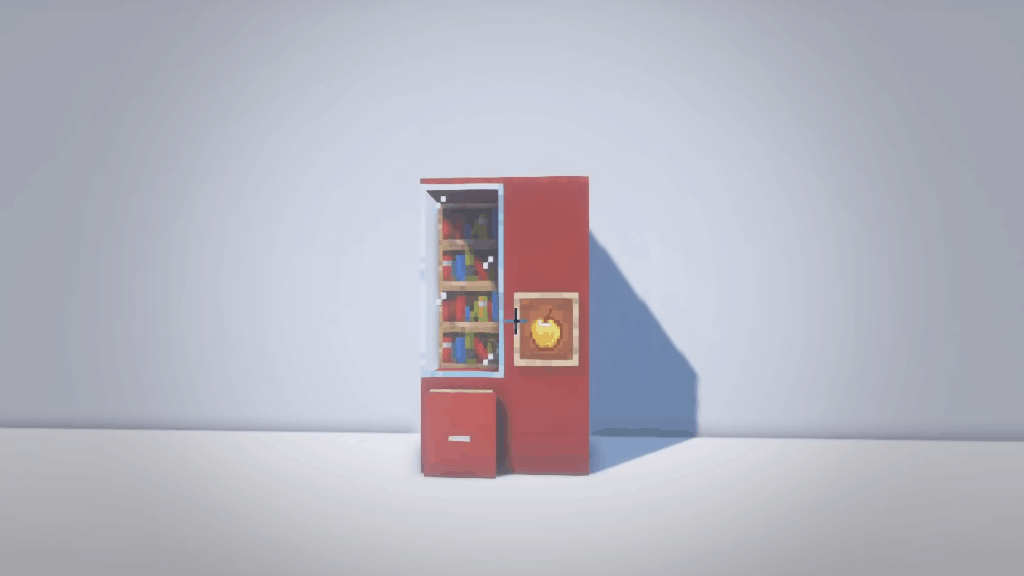 A big problem I've had when filling my Minecraft houses is that I often have a lot of free space and not a lot of cool ideas to fill it with. A fence-and-pressure-plate table and chairs, maybe. But it would be cool to be able to include vending machines, arcade cabinets, kitchen furniture, and more.
Both Volume 1 and Volume 2 of this series by BlenDigi feature instructions for crafting all of the above.
Unfortunately, none of them will be functional. But they will still look amazing when you have finished putting together your blocky man cave.
Custom Parkour Course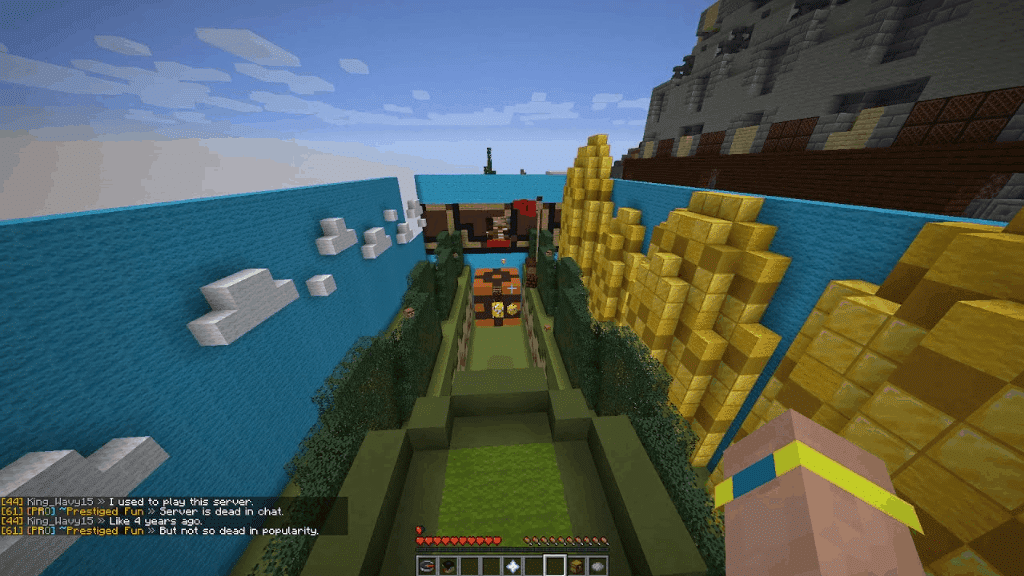 Minecraft parkour maps are a mainstay of many online servers and challenge maps but attempting to build your own could be a great addition to your creative or survival world.
Essentially, parkour maps are mid-air platform challenges where players must judge large and small jumps from block to block. In the more difficult maps, blocks are replaced with more unconventional items with unique hitboxes, like cobwebs and fences. It takes a lot more skill than regular Minecraft, so check out our list of the Best Mouse for Minecraft in 2021.
If you are not sure where to start and you would like a refresher on the basics of creating an awesome Parkour map, check out this tutorial by YouTuber Ragon Akashi.
Obsidian City in the End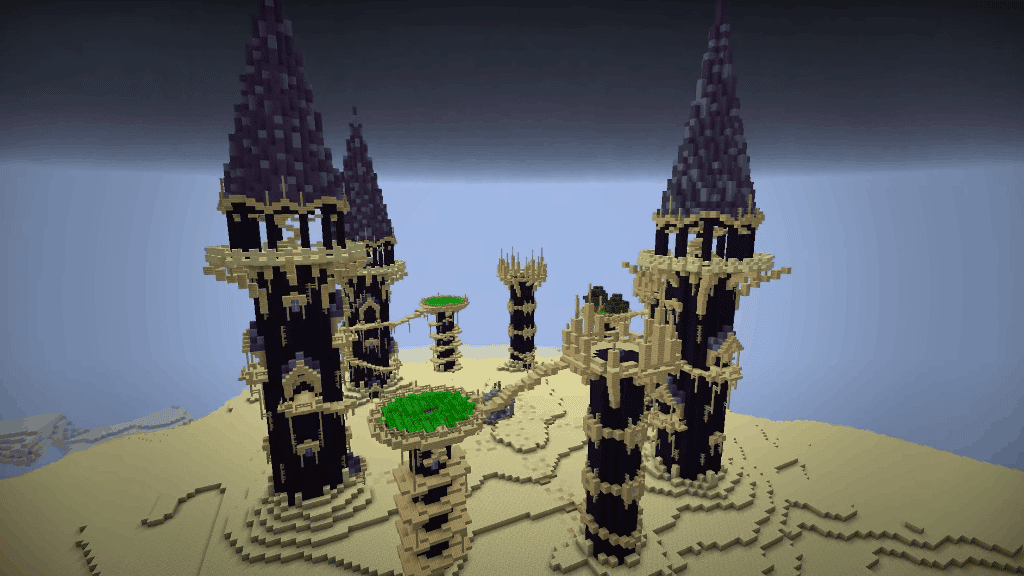 Minecraft doesn't officially have an end. But when you get as far as defeating the Ender Dragon, you get the sense that you should start thinking about making a new Minecraft world.
But stop! Why would you quit before you have made good use of The End? It's an often neglected but incredibly fertile bit of space to build something truly impressive, and I have some ideas if you don't know where to start.
By far, my favorite is this Minecraft City built exclusively around the End Towers. Best of all, creator Grain has uploaded an entire speedrun of him building it so you can follow along, too!
Perform Your Favourite Song with Minecraft Note Blocks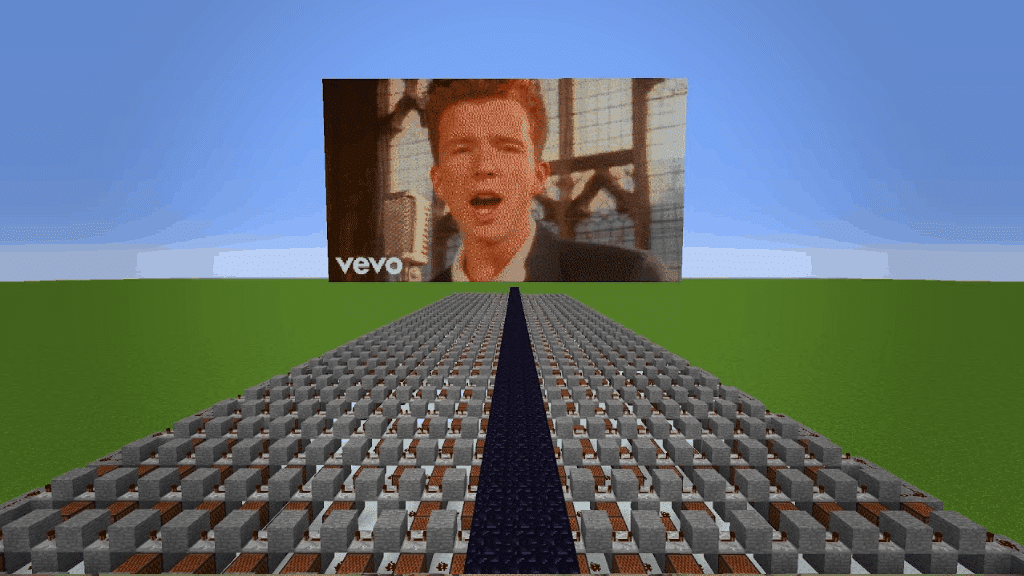 Minecraft note blocks have been a staple of the game for as long as I can remember, dating back to the first 'Minecraft Note Block Cover videos in 2011.
Essentially, note blocks are Redstone-powered devices that play a single note when Redstone power is passed through them.
Their tone and sonic qualities can be varied based on which block they are connected to. This allows users to create elaborate performances of any song they can think of.
One of the most impressive is this Note Block Cover of Rick Astley's Never Gonna Give You Up by YouTuber Brui.
If you are looking for a great starting point for what is a complex science, this tutorial series by Amosdoll is easy, accessible, and gets you straight into the action.
Mushroom House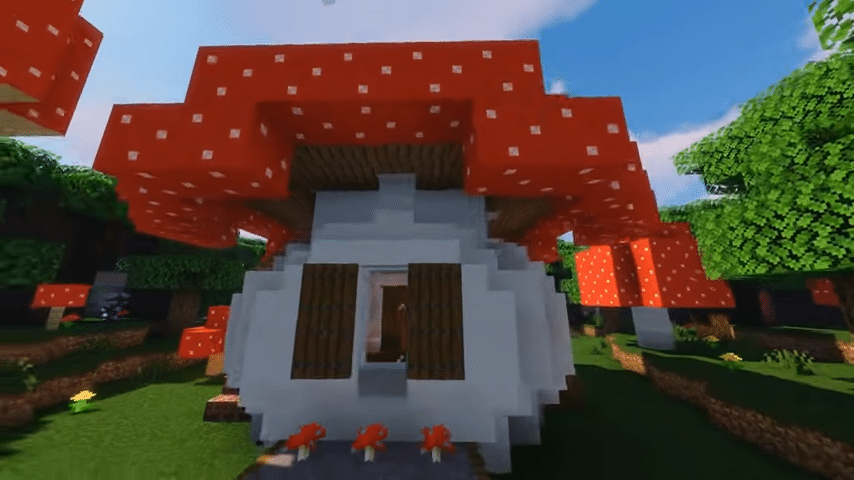 One of the many things that make Minecraft fun is the unbridled creativity you can exercise in the game. This Mushroom House by Dad's Guide is a testament to this fact, featuring a bright-red capped mushroom building idea that doubles down as a lodging cabin as well.
Inside, you can build a modern cottage, a cozy cabin, or a mystical enchantment room — whatever makes your heart run wild! After that, you can make your fantasy come true and create an entire village of Mushroom homes. Just be careful with monsters lurking at night.
Lake House
Wouldn't it be nice to just wake up to the sight of pristine waters surrounding the four corners of your home? This Lake House built by DayPixel recreates a home where you can fish and swim to your heart's delight.
It's a two-floor log cabin with a miniature garden, outdoor port area, and all the rooms you'll need to stay cozy. Glowstone blocks light up the area at night, too, keeping the monsters at bay.
Survival House
It's your first day in Minecraft — and you're sick and tired of recycling the dirt block cabin for who knows how long.
This stilted Survival House by SheepGG can inspire you with some neat ideas to use for your next "New World" build, from a garden balcony to an underground portion to grow your next meal. It's well-fortified too, elevated to fend off any surprise visits.
Minecraft Pond Design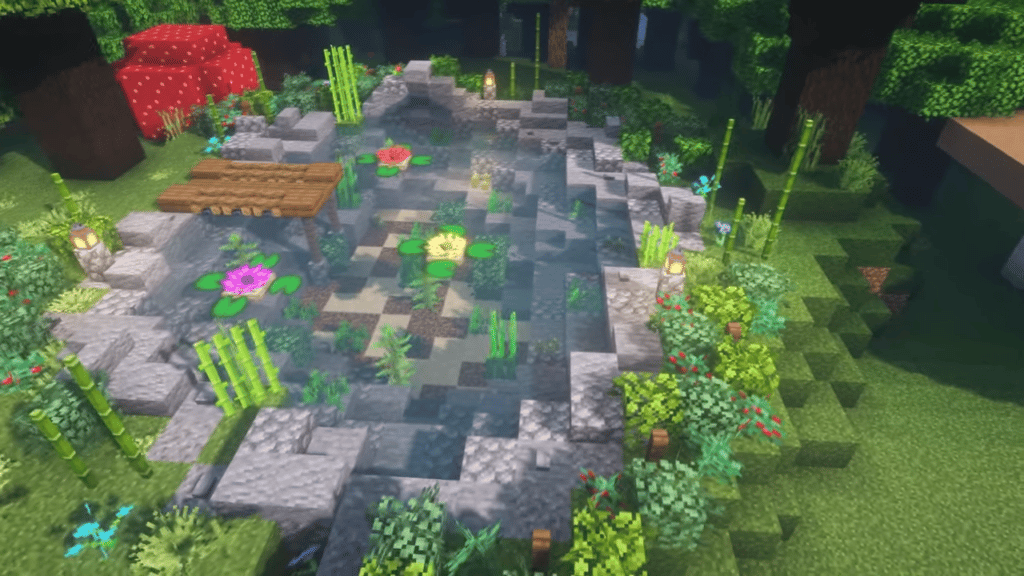 I don't know about you, but nothing beats strolling past a silent pond with vibrant lotus pads and various flowers and plants scattered around every corner. This Pond by One Team features an array of beautiful and natural adornments with the pond as its centerpiece.
Aside from the pond itself, a tiny boardwalk serves as a private fishing spot too. Perfect for when you want to break free from all the back-breaking mining and monster killing.
Cattle And Livestock Pen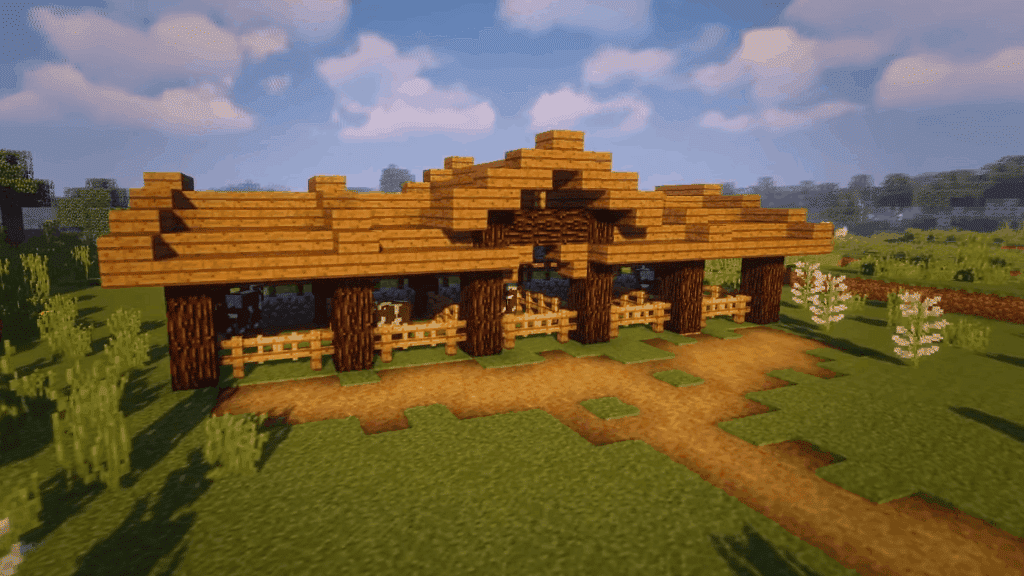 I have seen it in just about every survival world my friends show me. A house with a large fenced-off square beside it, filled with just about every farm animal available on the game.
If you are looking for a fun project to make your base even more aesthetically pleasing, why not try out this Cow Pen tutorial from Fresh Joy?
Concise and well-designed, there will be enough space here for all your favorite farm animals. It will also be a handy way to get close to your farm animals, given that they aren't free to roam about a massive square of land.
Redstone Door Minecraft building ideas
A pressure plate door where you don't have to flick a lever or touch a button to let it open? Yes, please!
This Redstone Door by BlenDigi harnesses the power of Redstone dust to create an automated entryway. All you have to do is step into a designated area — and the blocked-off wall in front of you will magically open like a secret passage.
Better yet, find more cool Redstone contraptions for your next creative home.
Unbreakable Wall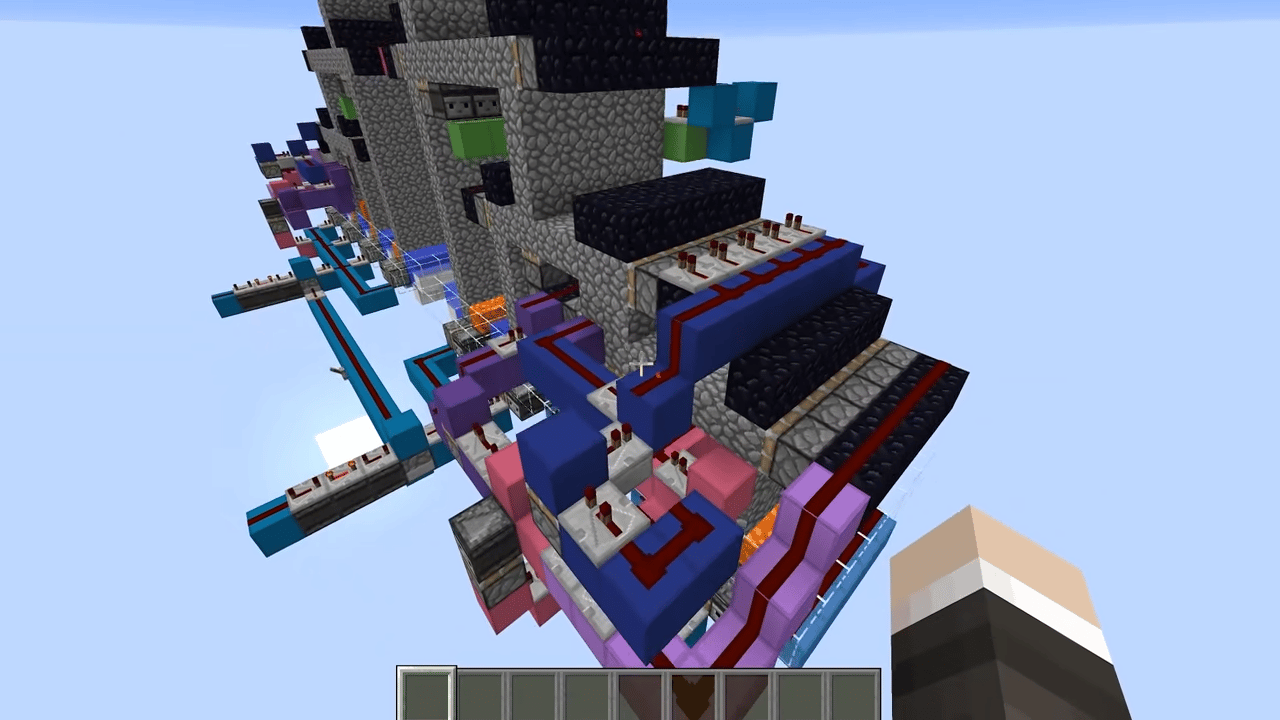 Have you ever been chased by an ill-intentioned looter in PVP? Have they broken through your base—leaving your home in ruins?
With this Unbreakable Wall by Mumbo Jumbo, you won't have to worry about them breaking in your home. Doing so would send Cobblestones blocks falling back into place, leaving your infiltrator stuck with no way of getting in.
The build will require heavy knowledge of Redstone contraptions, but nothing a little patience and dedication can't fix.
Minecraft Volcano
Volcanoes don't naturally spawn in Minecraft, as the lava tends to cluster around the Bedrock layers below the surface. But who's stopping players from setting up their own ones themselves?
This massive-scale Volcano built by Shannooty is primed to defy expectations. I mean, seriously, look at the size of that thing! From the gargantuan desolated island that makes up the volcano floor to the jagged rock formation jutting out towards the sky, this hundred-hour-long project is one Minecraft building idea to rule them all.
Torii Gate
If you're feeling drowsy at the thought of constructing more buildings, creating a pretty path design can be a nice change of pace.
This Japanese-inspired Torii Path Design by ZayPixel is a true-to-life rendition of the actual Torii gates scattered across places around Japan. Aside from the iconic gate, there are also Glowstone lamp posts that provide lighting as you stroll past the area. This design fits well in a Zen Park or a rural, Asian-themed village.
Skull Banners
If you're in PVE mode or playing against multiple factions, it's important to mark your territory and declare your boundaries. This Minecraft Skull Banner Design by BlenDigi can be a threatening way for you to ward off any unwanted visitors from entering your property.
Having it hanging on your rooftop is like saying, "If you come any closer, you're D-E-A-D!" Whether your character is jacked with mega-powerful armor or only has scrawny Iron armor to save their skin, anyone can feel the fear emanating from a Skull banner design.
Underground House
Instead of building your base up, up, and up, why not consider building your base low to the ground? This Underground House by Spudetti displays a circular base area that's divided into four quadrants. Each section represents a room—a dining room, a bedroom, a library, and so on.
While it may seem disadvantageous to have a base so low to the ground, you have to admit: it does look impressive. Plus, you can always add floors on top of it, sort of like a spire or the Colosseum.
Perfect Minecraft Igloo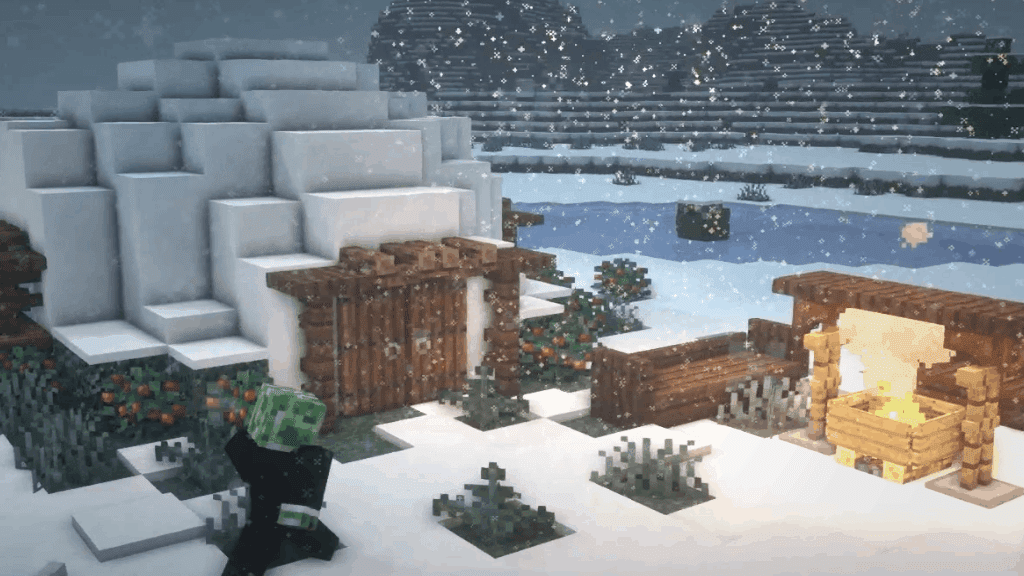 It isn't just desert biomes players usually avoid like the plague. I've had my fair share of Survival worlds doomed by spawning in a vast tundra, where quitting and making a new world with a different seed is usually a better alternative to slaving away in the snow. But this survival igloo tutorial from YouTuber Mr Mirror is a doozy. It looks outstanding while harnessing only the resources which are available in the tundra biome. Fit with an outside seating and campfire area, this is your golden bullet for never avoiding the snow again.
Build an Entire City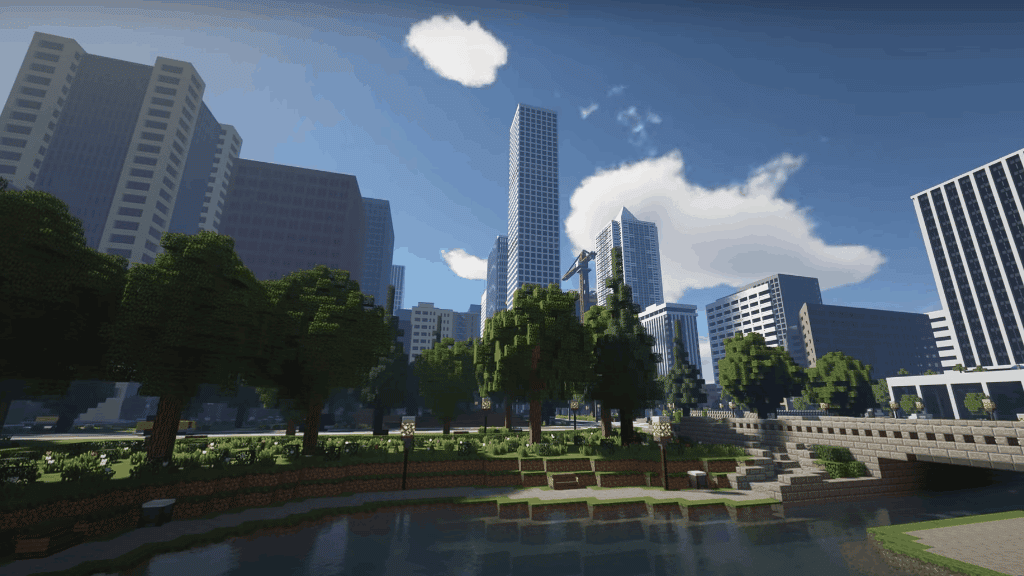 At this point, you have seen just about every unique Minecraft building idea I could find. But we still have more and believe me when I say: it is a whopper.
When it comes to Minecraft Cities built by hand, there were a couple of impressive ones to choose from. But one stood out as the most impressive in the lot, thanks to the immense creativity and commitment the build must have taken to complete. This is one of the biggest things to build in Minecraft ever.
The Minecraft City by YouTuber The Building Duck is awesome. Featuring everything from expansive skyscrapers to a nuclear power plant, the bricks were laid entirely by hand and by only one builder.
The Building Duck has also uploaded a 100-part time-lapse series of them constructing the entire project. So, feel free to follow along block-by-block… if you dare.
For a build this expansive, you are going to need enough power to prevent your game from degrading. Here's our guide to allocating more RAM to your Minecraft Server or our list of the Best White RAM For Your PC in 2021.
Underground Survival Bunker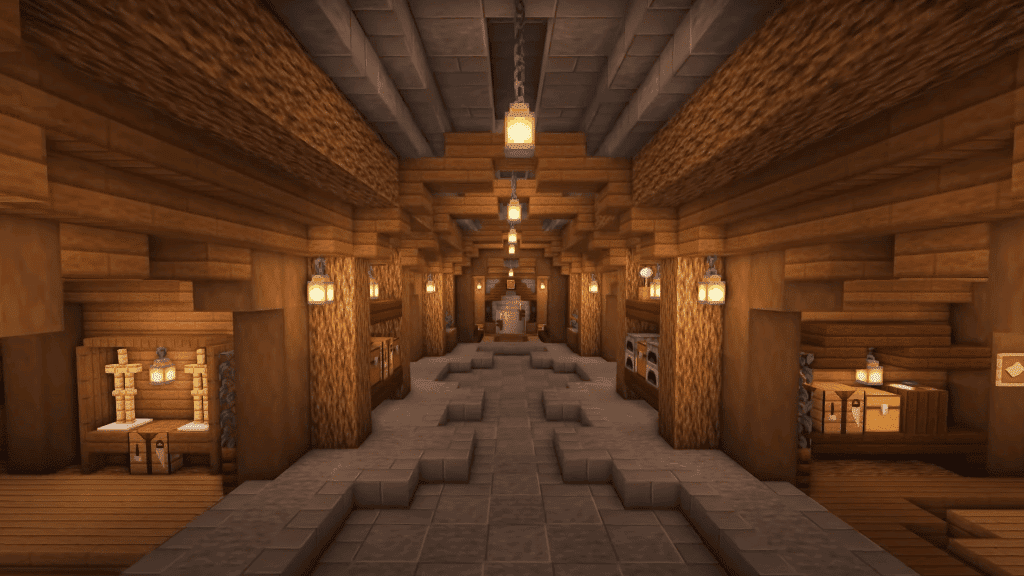 Implying that Survival is difficult is a bit of a meme at this point, but it can be a challenge. Throw in a couple of crafty other players vying for valuable resources. The need for a safe place to live, craft, and defend is doubled.
This showcase tutorial from Spudetti shows just how awesome a fully kitted-out survival bunker can be. With more storage than you will ever need, it's the perfect base from the game's beginning to the game's end. Best of all, it's hidden away completely out of sight.
Build Your First Adventure Map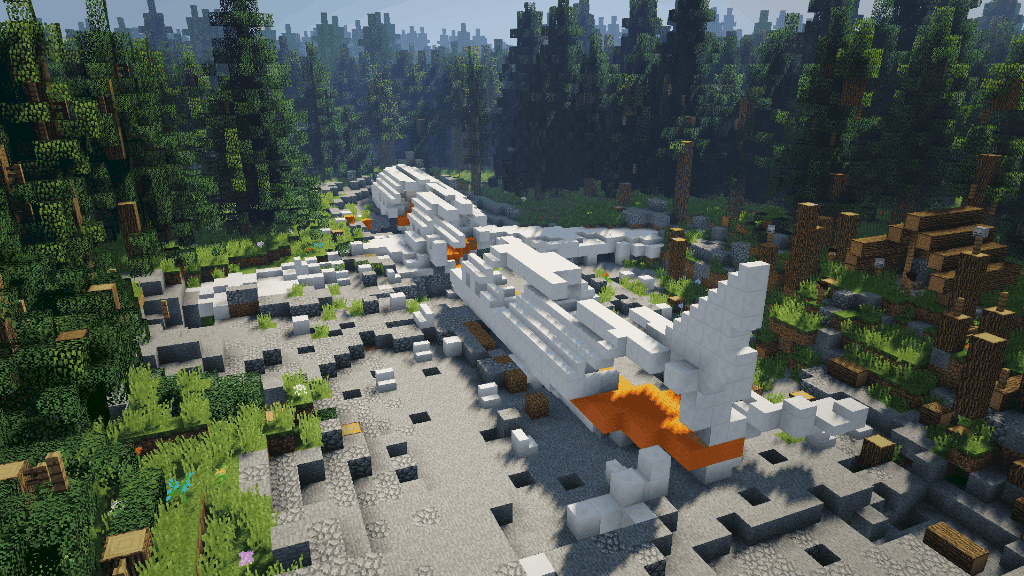 I don't know about you, but I remember when Adventure Maps were huge. They can be anything from parkour courses to detective simulators and include everything from intricate Redstone programming to programmed command blocks.
The process of building an adventure map involves creating custom skins, writing dialogue, coming up with plotlines, and building expansive spaces for your story to play out. An unconventional Minecraft building idea, to be sure, but one I bet many players have never thought about.
Finally, why not play through some of the most popular adventure maps to get started? From challenges, and puzzles, to Minecraft RPGs, find them all on minecraftmaps.com.
Nether Portal Entrance
A doorway to Narnia? Nope, it's the Fairy Tale Nether Portal Entrance by Kelpie The Fox!
This Fairy Tale Nether design is a relatively simple structure that requires only Wooden material and Nether-producing resources. But don't let its simplicity fool you. Creating this design helps against monsters randomly spawning in your world or the Nether.
Underwater House 2
There's no question that Minecraft players are one of the most creative people on the planet. Once more, they create an impressive Underwater House, courtesy of Random Steve Guy, that makes for a beautiful aquatic home. Unlike the other building ideas in this list, this building idea has rooms that rise above the waters.
On one floor, you can watch the sunset. On another floor, you can watch fish swim through corals in your storage room. I'd say that's neat!
Bonus Building Ideas List
Our list is updated on a regular basis so we are constantly adding in new ideas and removing the older ones, this small list on the next page is the ones that just made it through without being removed.