When it comes to Minecraft design ideas, people first think about creating sky-high buildings, lifelike statues, and medieval fortresses. This is a pity since coming up with Minecraft garden ideas is highly underrated.
Not only do they look great as a solo attraction, but they can also complement your main attraction by helping it stand out a little more.
If you're looking for some sources of inspiration for your garden, here are 15 Minecraft Garden ideas to get you excited.
Zen Garden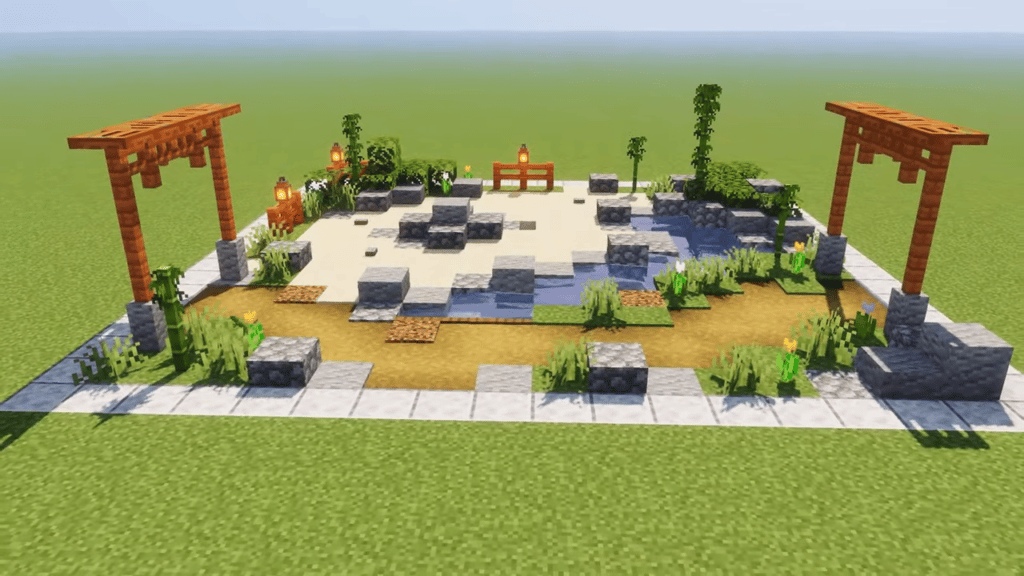 While not quite the Ryoan-ji in the far-eastern land of Kyoto, this Zen Garden replication by Cortezerino is a worthy addition to any Minecraft world. Upon entering, you'll be greeted by wooden Torii gates, almost as if you're being magically transported to the other side of the world. Peer inside, and you'll see a varying mix of sand, foliage, and flowers all making up this meditative Zen garden.
The large flat boulders are also a nice touch, as it provides some variation from the flat surface landscape in Minecraft. There's also just enough room to add some cute props here and there.
Yin Yang Rock Garden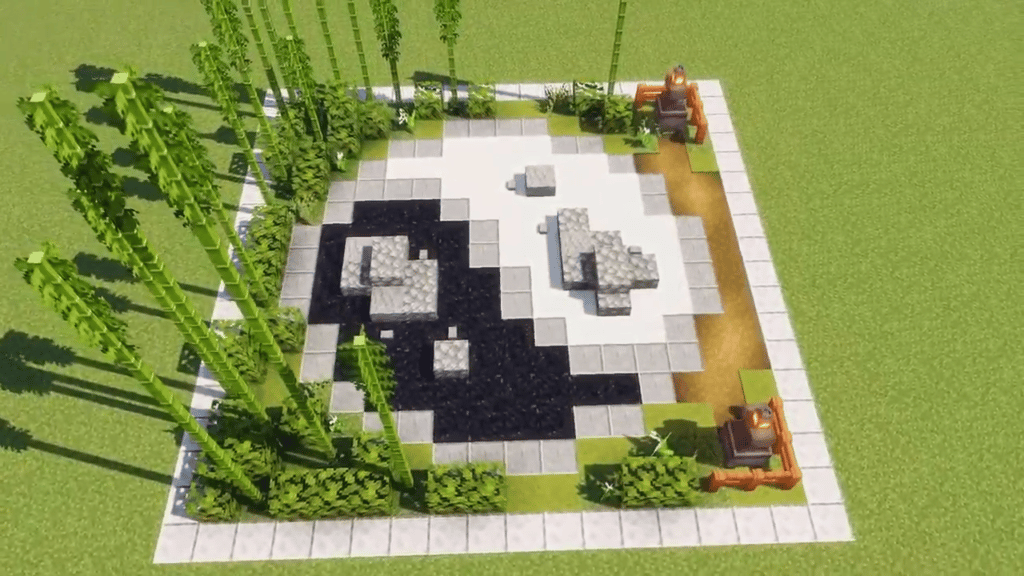 The Yin Yang Rock Garden by Cortezerino is a cool, thematic Minecraft garden build. It features an assortment of dark and light-colored stones arranged in what looks like a Yin Yang symbol. The entire garden is filled with tall bamboo trees in one corner and plants and lamps in the other. Of course, the bulk of the attraction is the centerpiece that features the iconic yin yang symbol—serving as an excellent focal point for this garden.
You can stare at this garden for hours before you notice that there's something missing; the lack of shelter under drizzling storms! Check some neat Minecraft roof designs for inspiration.
Oriental Garden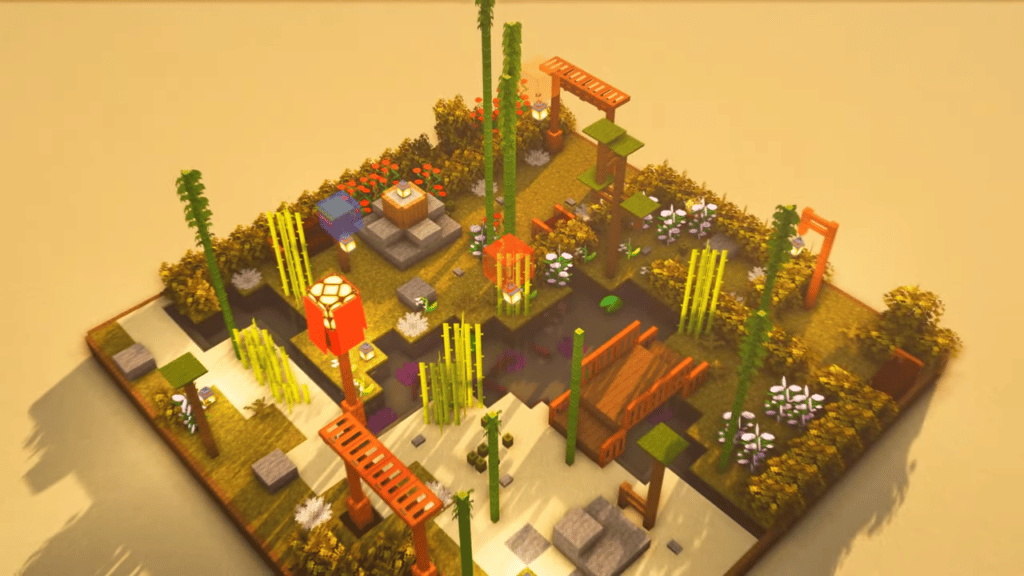 This Oriental Garden by A1MOSTADDICTED MINECRAFT build design is a magical amalgamation of various decorative pieces that you'll surely want to stroll to see. You get a wide array of foliage as well as mushrooms, sand, and rocks to give you that satisfying and lush garden look. There's even a bridge connecting the two separate sections of the garden, as well as a small stream.
One unique quirk about this garden design is the Glowstone acting as a light source! It's not usual that you get to see it used over a lamp for a natural glow, but this Oriental Garden design does well with it beautifully.
Koi Pond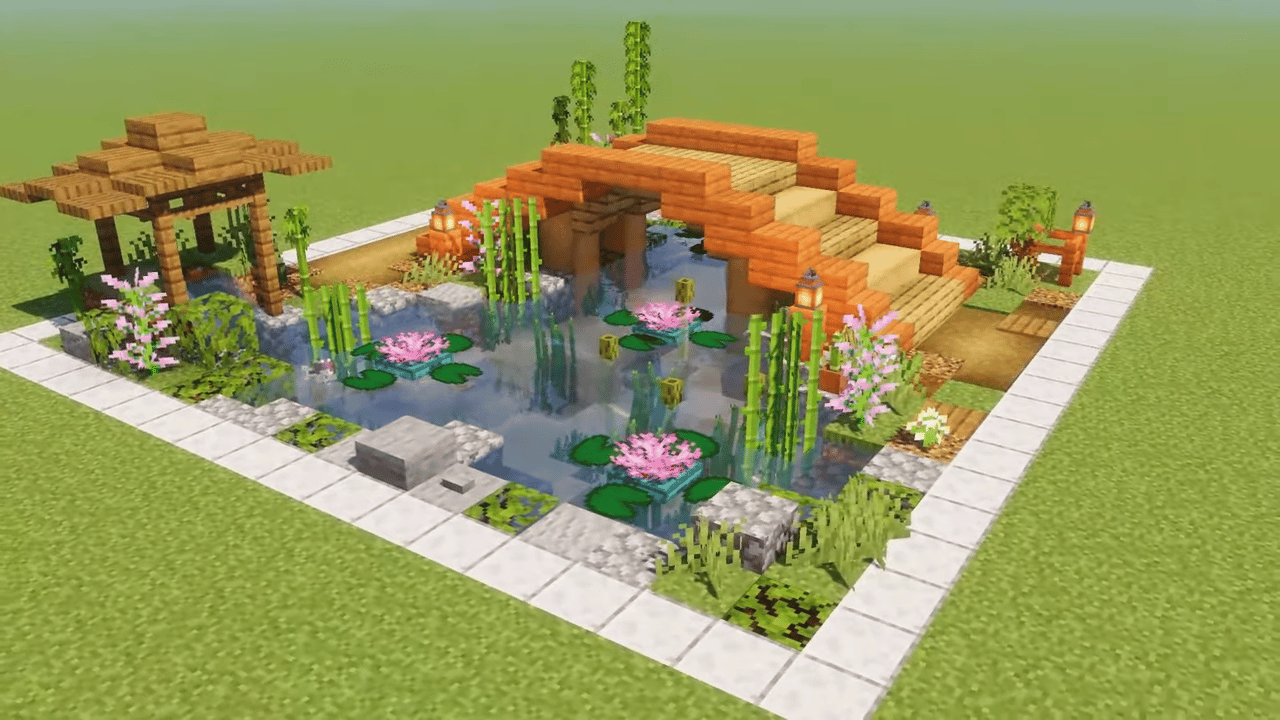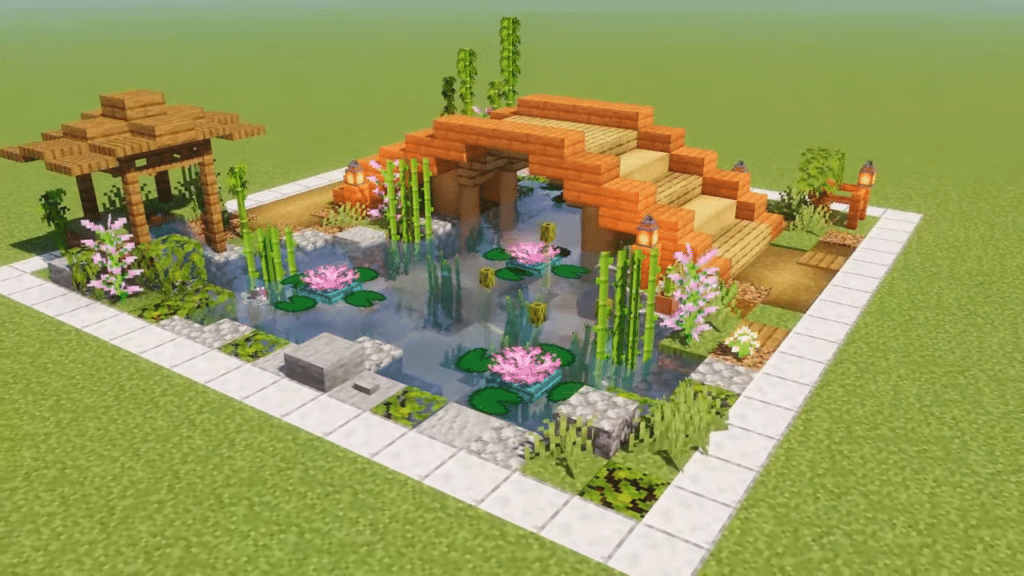 If you're planning to build your garden over a river or stream, this Koi Pond Garden design by Cortezerino can be a great slice of inspiration for you! 
The pond is topped with lily pads, flowers, and has an abundant number of koi swimming in its vicinity. A bridge allows you to cross over and observe these colorful fish swim around the gardens. A wooden gazebo also provides shade to your rarest and most valuable plants, while acting as a fine decorative piece.
The entire garden is a lovely view to behold. It would be a shame if the whole Minecraft world gets destroyed beneath your feet, though, wouldn't it?
Minecraft Courtyard Garden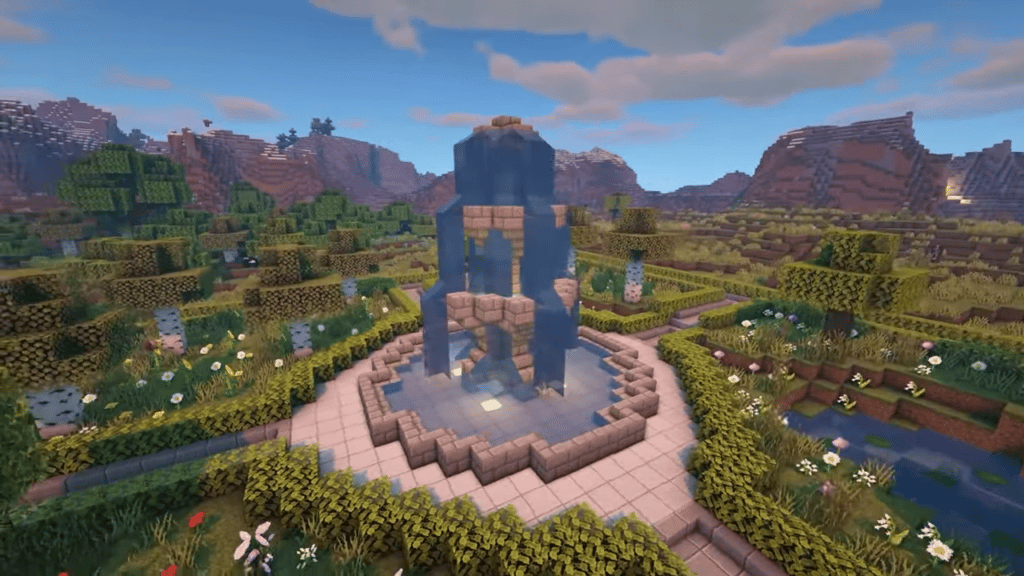 Enclosed between castle walls and adorned with hedges, tiles, waterscapes, and trees, this Minecraft Fountain garden design by Spudetti is an enchanting design to build if you want your courtyard to feel like royalty.
The garden has a magical feel about it—thanks to its beautiful paved pathways, tall grasses, and gorgeous stone fountain at the center. Just imagine strolling through this garden at night after a well-fought journey out into the open wild. Build this garden in a castle, a fortress, a hotel, or even your own base for a sparkly and spanking look.
Desert Theme Garden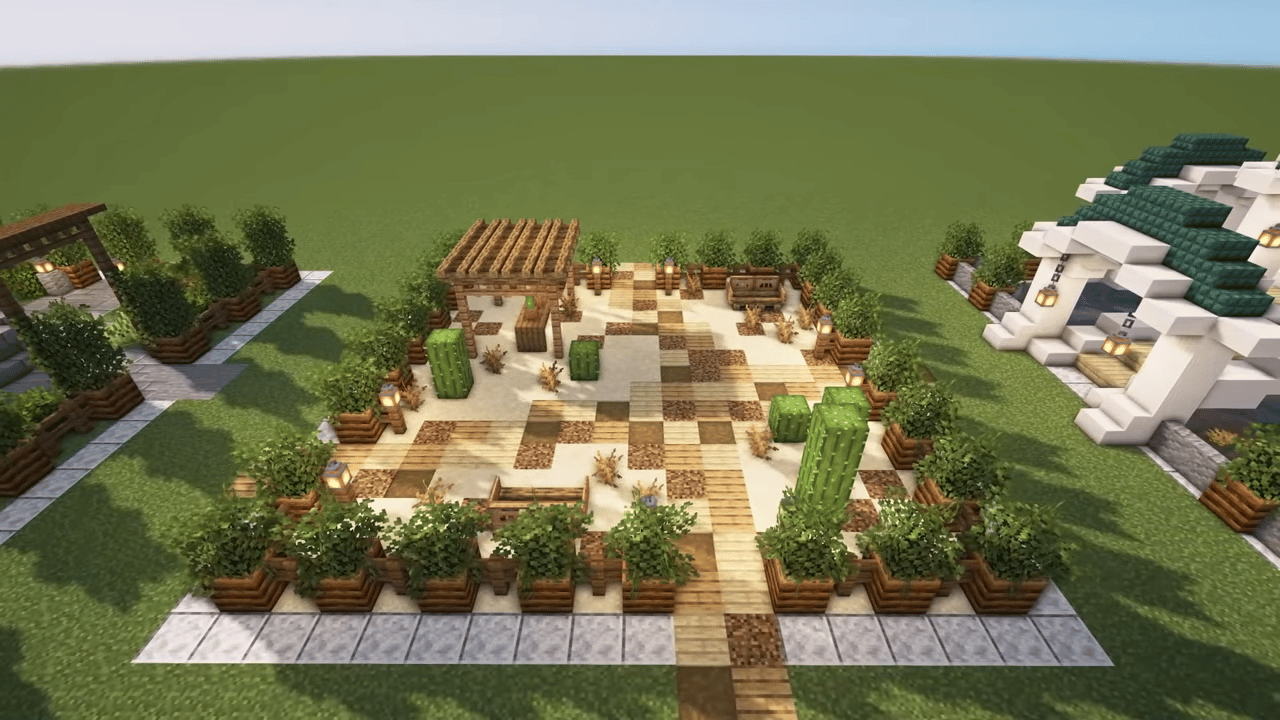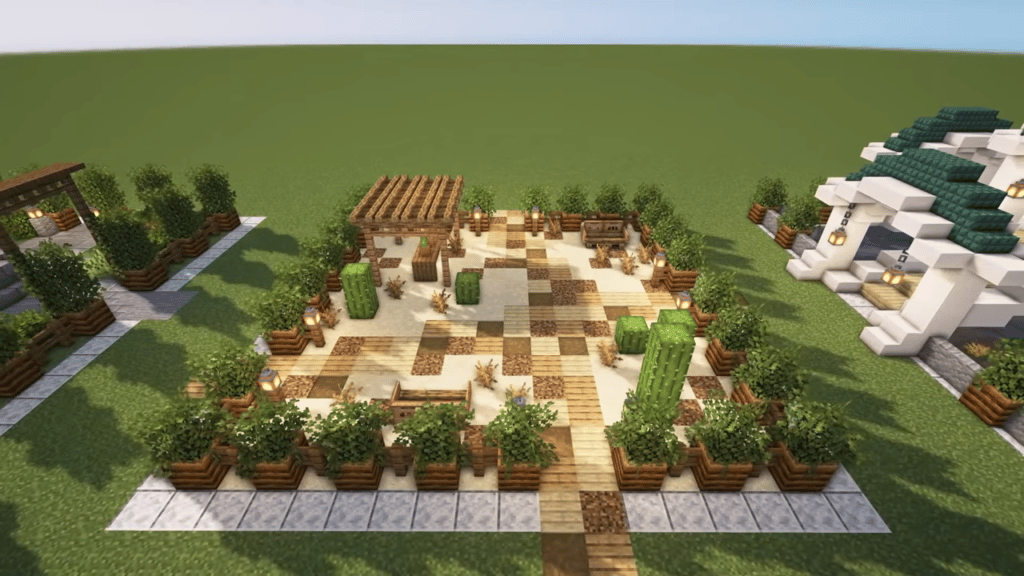 If you want some sandy fun in your Minecraft Garden, then this Desert Theme Garden built by BlueNerd Minecraft might be just the build you're looking for.
At the borders, potted cacti and desert plants surround the garden to give you that sandy, near-desert look. The floor alternates between coarse sand, wooden planks, and dirt—giving a sporadic and authentic feel to the garden. A little roofed area rounds the build off, giving wanderers and guests a place to rest after trekking under the scorching sun.
If you find the floor designs too basic for your needs, check this list of great Minecraft flooring ideas here.
Paved Rose Garden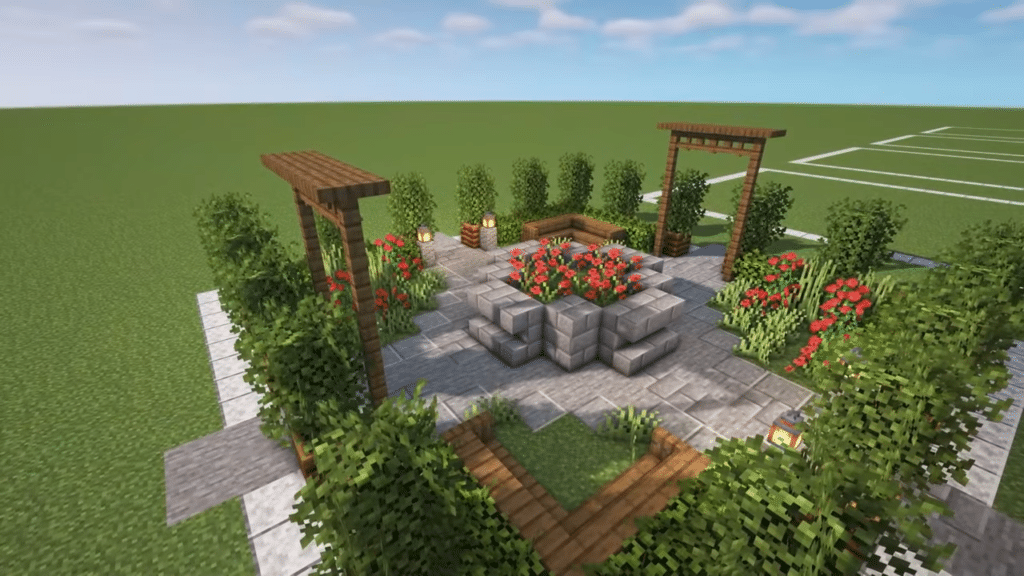 Another creation by BlueNerd Minecraft, this Paved Rose Garden is a small yet pretty-looking 17 x 17 block garden. It's adorned with tall potted plants on all sides, two wooden arch entry points, and an elevated center area that holds a bouquet of flowers. 
On the corners, some wooden benches also provide passersby with a place to rest and enjoy the garden's organized beauty. Paint in some wall designs on the sides—and you've got yourself a beautiful outdoor lounging area to invite guests over!
Elven Water Garden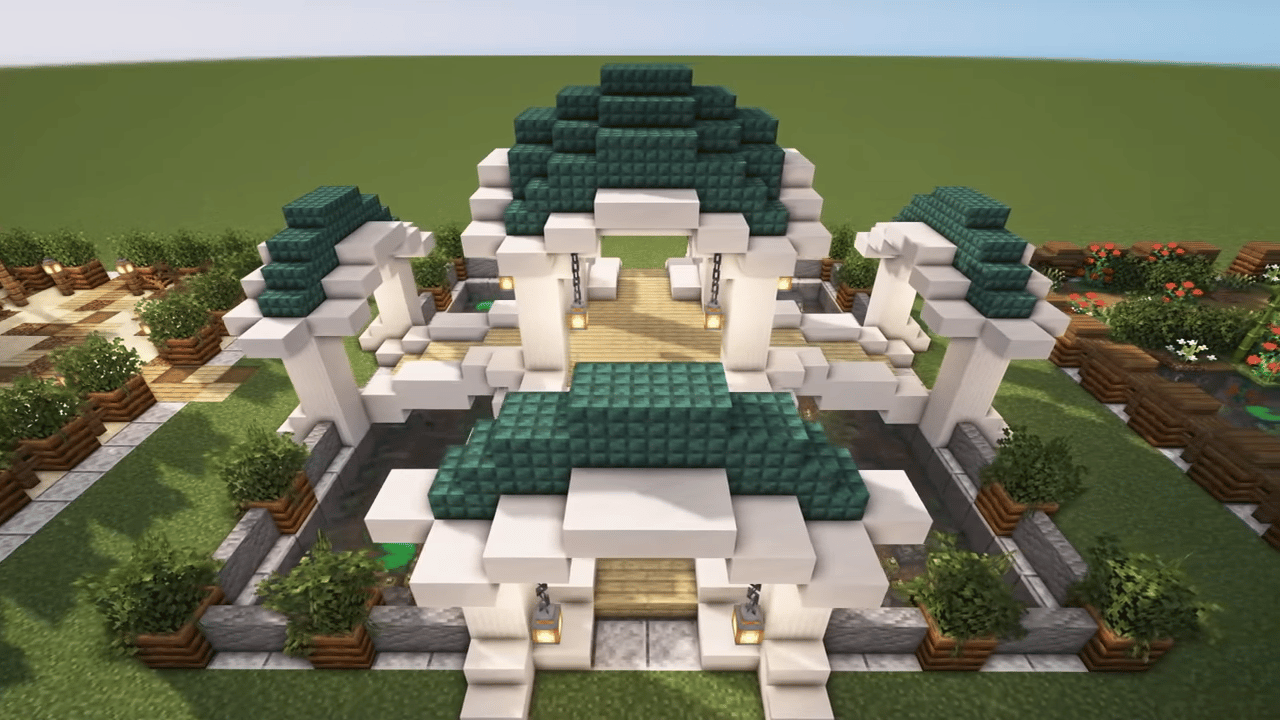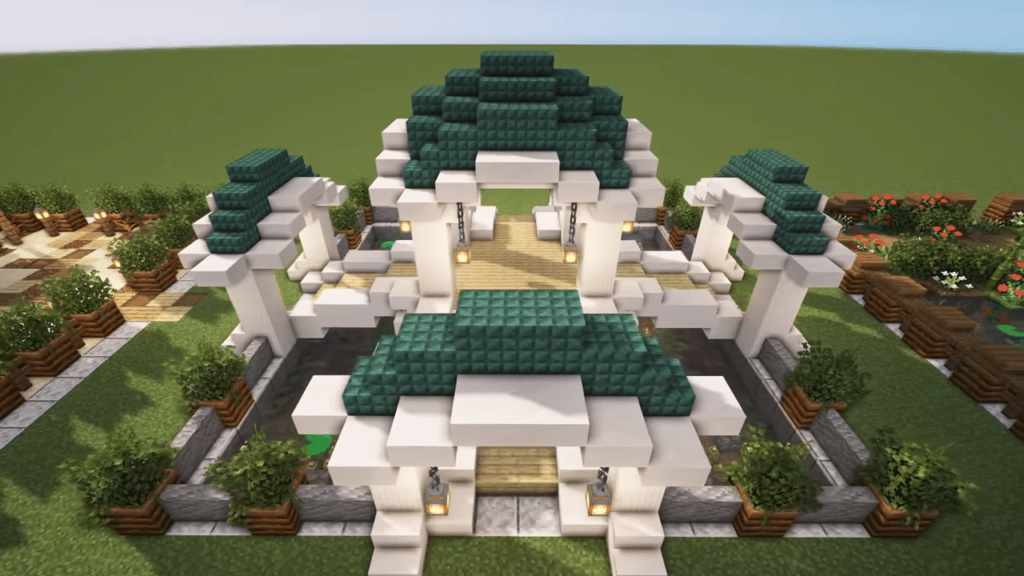 This Elven Water Garden by BlueNerd Minecraft is a majestic outdoor building with a two-tiered building that features white walls, white wooden planks, and a Jade green-tiled roof. Lamps also provide a form of light source for your Minecraft garden ideas. While not your conventional outdoor build, the architecture of this build is too good to pass up—and it looks awesome on any garden!
Below this building design is a body of water surrounding the structure. Some fences and planters act as barriers to prevent anyone from falling down under—and rightfully so. The thing looks deep enough to build an underwater base in!
Relaxing Garden Minecraft Idea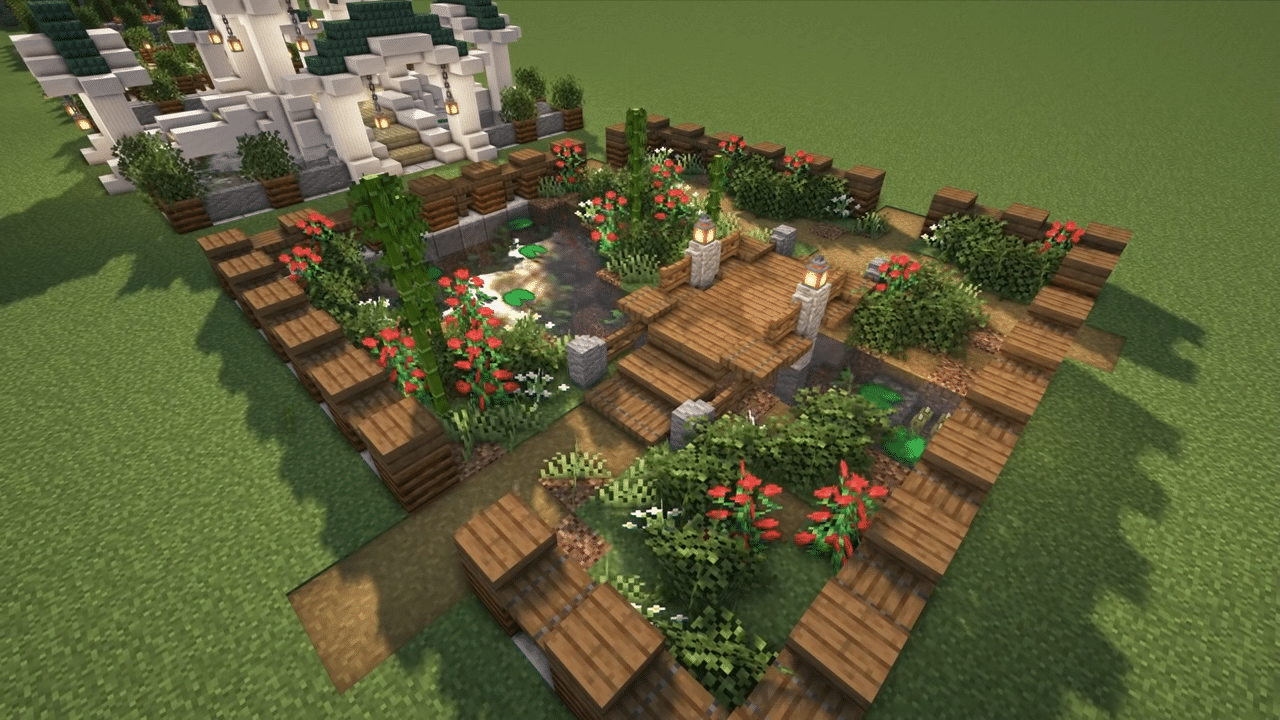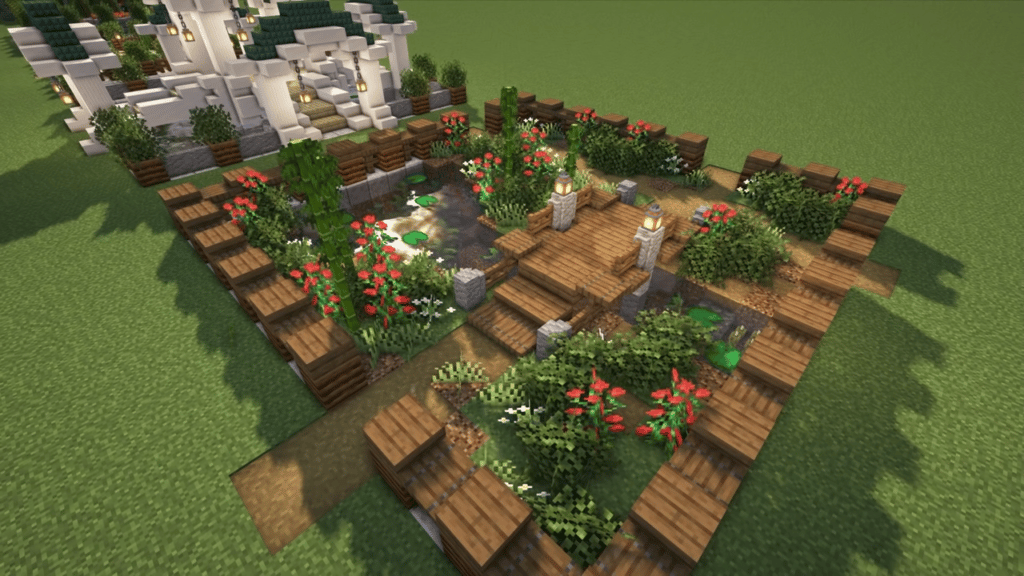 Another mesmerizing Minecraft garden, this Relaxing Garden with Water Stream by BlueNerd Minecraft creates a deluxe garden with a woodsy vibe to it. A wooden fence encircles the entire garden—giving it a closed-off and private feel that makes entering it feel even more elusive.
The middle of the garden features a wooden bridge that holds up a few lanterns, positioned to help you look over the peaceful stream below. Quite a tranquil place to walk in!
The water stream in the center is perhaps one of the most interesting parts of this build. It's perfectly angled, runs smoothly, and has placed some nicely scattered foliage that adds to the all-natural look.
Sunken Castle Garden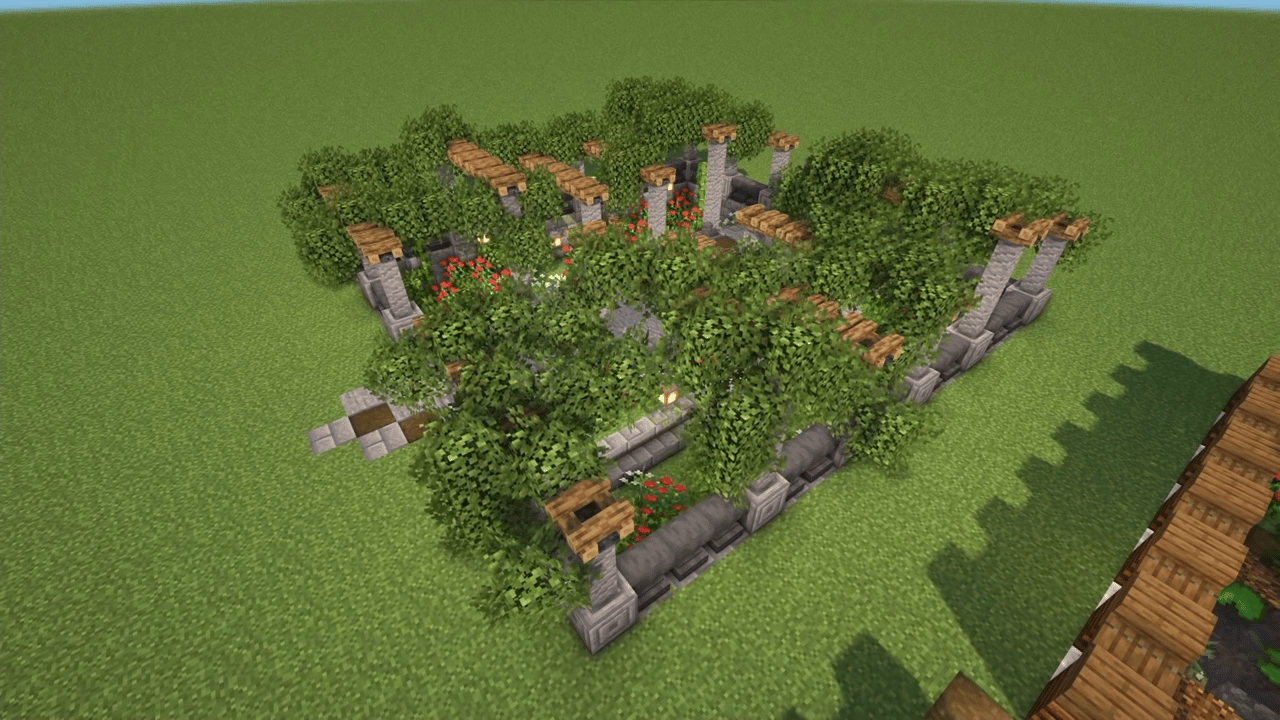 Below the artificial tree canopies is a pathway that passes through a dizzying array of colorful flowers and nicely paved stone ledges. This Sunken Castle Garden built by BlueNerd Minecraft captures the experience of wandering through the dense brush of an abandoned forest.
This is one of the Minecraft garden ideas that would look great as a lead-up to an even grander spectacle. Maybe a looming castle, a Minecraft temple, or even just your mob spawner area. Whatever it is, this cool garden build is sure to be a great opener.
Aesthetic Flower Garden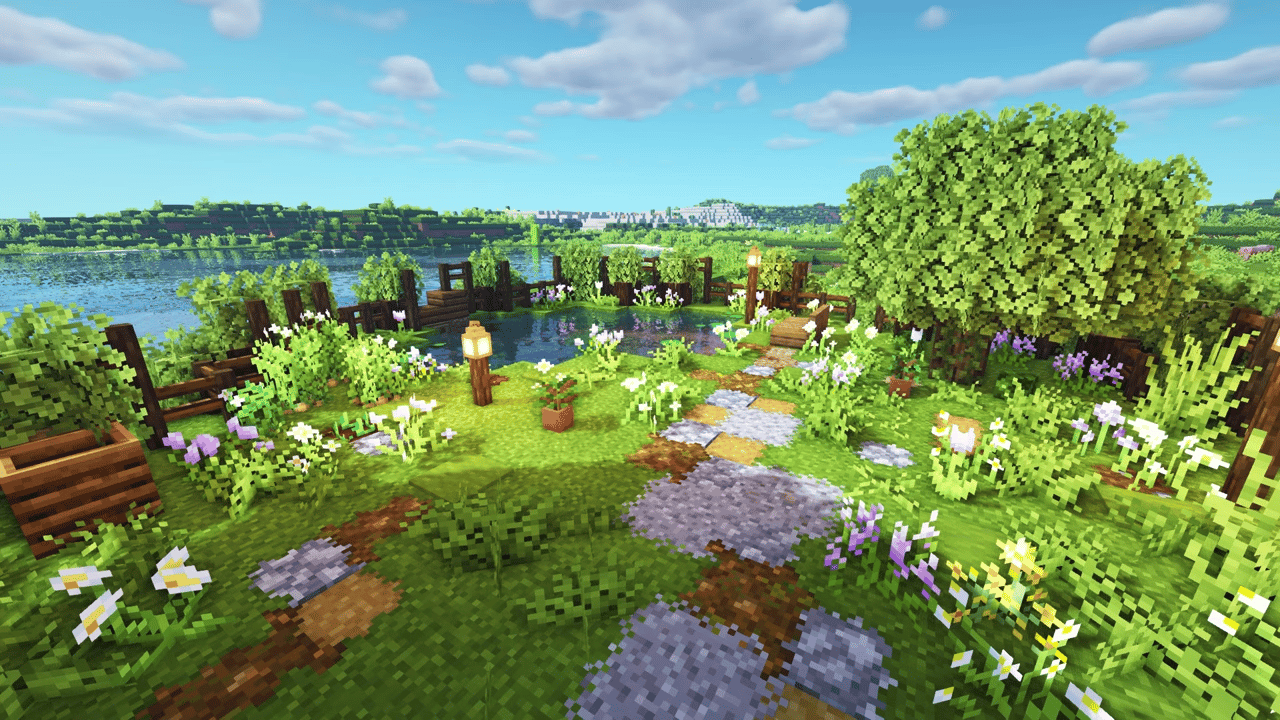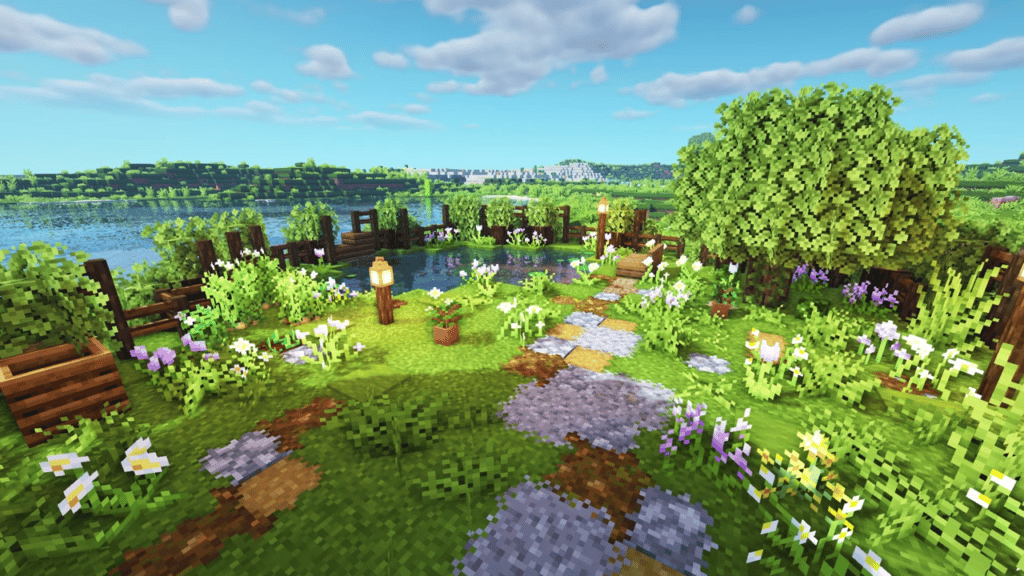 Sometimes, we just want to go for that au naturale look. This Aesthetic Flower Garden by Angelbee allows you to do just that, with flowers, grass, and wooden fences dispersed to craft a simple yet charming garden design that's sure to spice up your front lawn.
If you want to level up your Minecraft garden ideas, maybe you can insert a Redstone contraption or two to engineer some interesting ideas by the wonderful world of automation.
Circular Botanical Minecraft Garden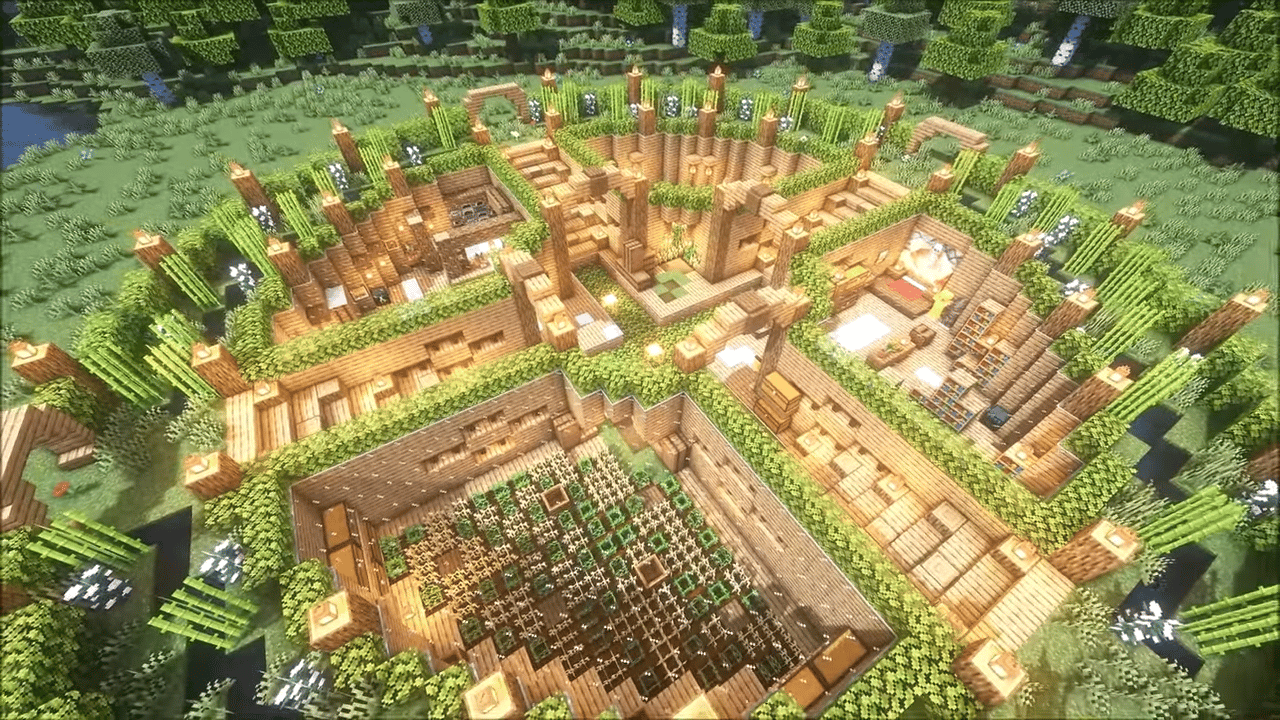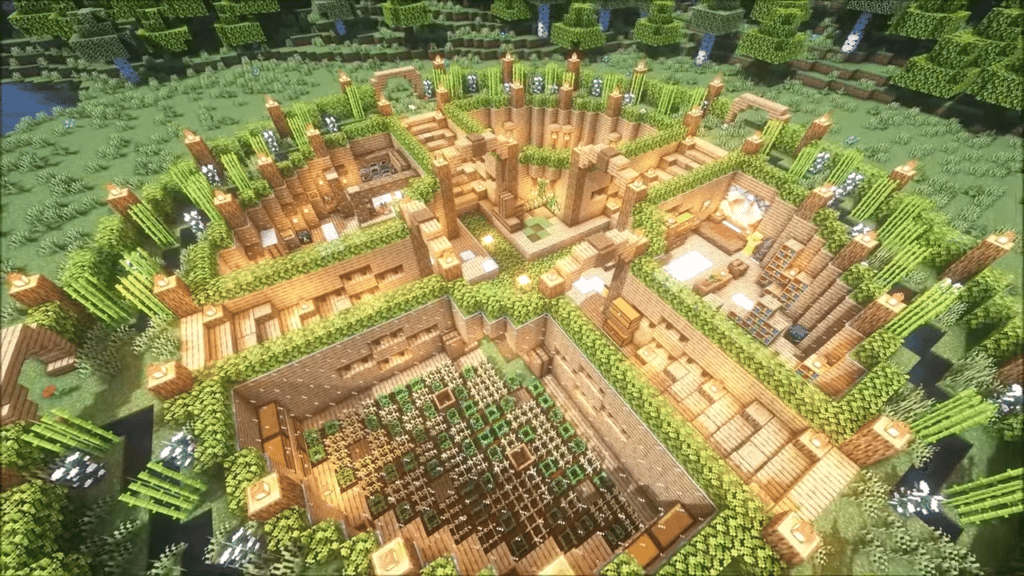 OK, we get it. You don't want some run-of-the-mill garden design that anyone and their mum can make in a few minutes or an hour. You want something grander, more massive, created at a scale unprecedented.
If you resonate with creating the grandest design, this Circular Botanical Minecraft Garden by Julious makes for a worthy challenge. Four separate sections require different themes and materials to build, from storage compartments to furniture designs. Crops can also be grown in one section as a resource builder, making this place a good, self-sustaining area. Hedges also add decorative elements that look aesthetically pleasing. 
Fairytale Pond Minecraft Garden Ideas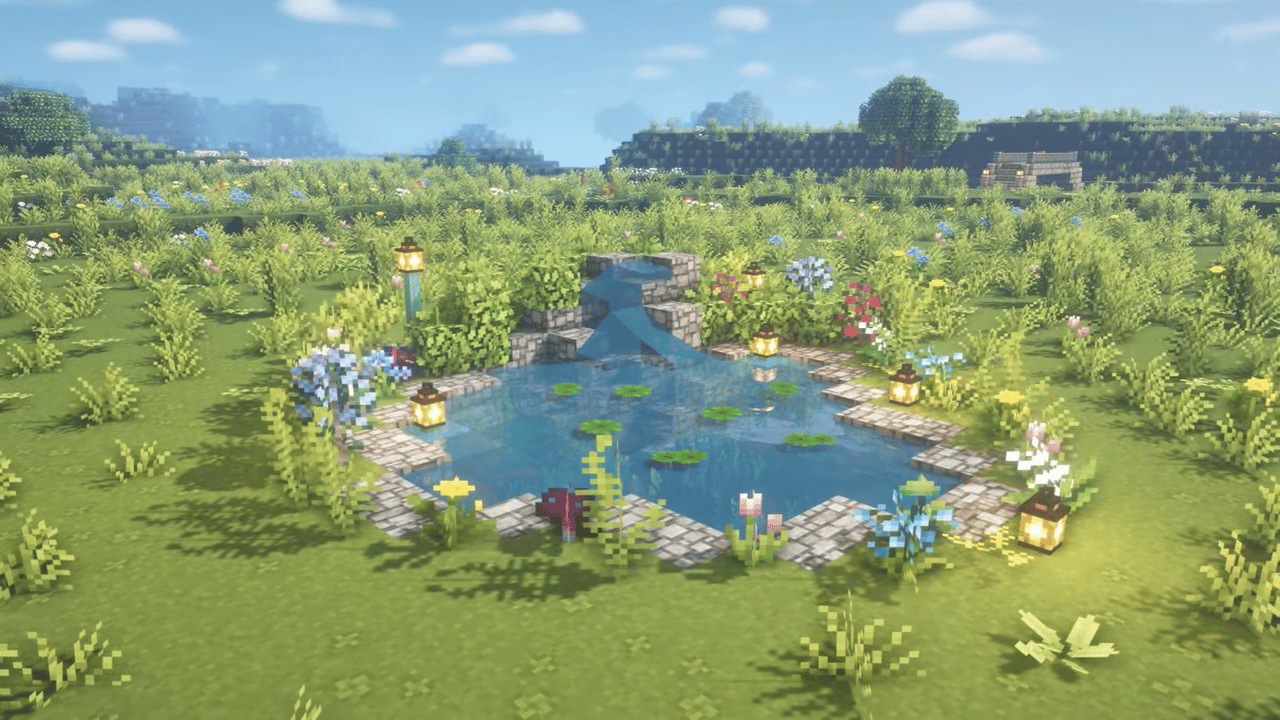 Something simple and alluring like a Fairytale Pond made by Kelpie The Fox is a fine Minecraft garden idea too.
This garden build is small yet full of character. Various lamps litter the pond atop Cobblestone blocks. A small waterfall provides the sound effect for nature and a place to rest your feet. Some flowers add a touch of color to the area. And finally, some grass and plants create a lush green look that breathes life into the place.
Cherry Blossom Tree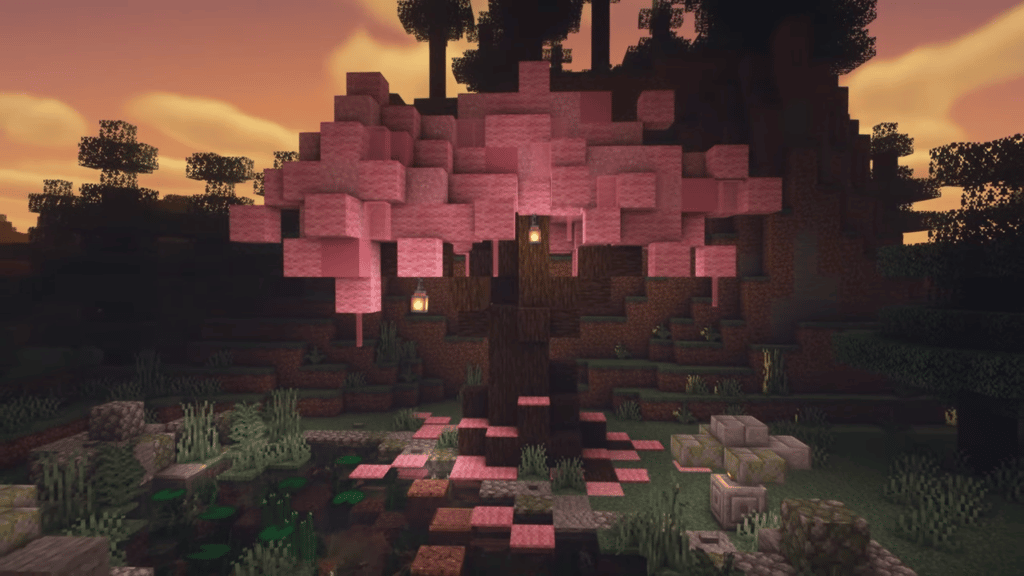 Let's face it, a Cherry Blossom Tree looks utterly spectacular under the dimly lit glow of sunset. This Cherry Blossom Build by Herbivorous Dragon adds a classy focal point that you can integrate into your overall build. The Pink Wool, Fences, and Carpet are all furniture that helps bring this tree to life. A lush garden, stone statues, and a tiny creek also make the build 10x cooler.
Cabinside Garden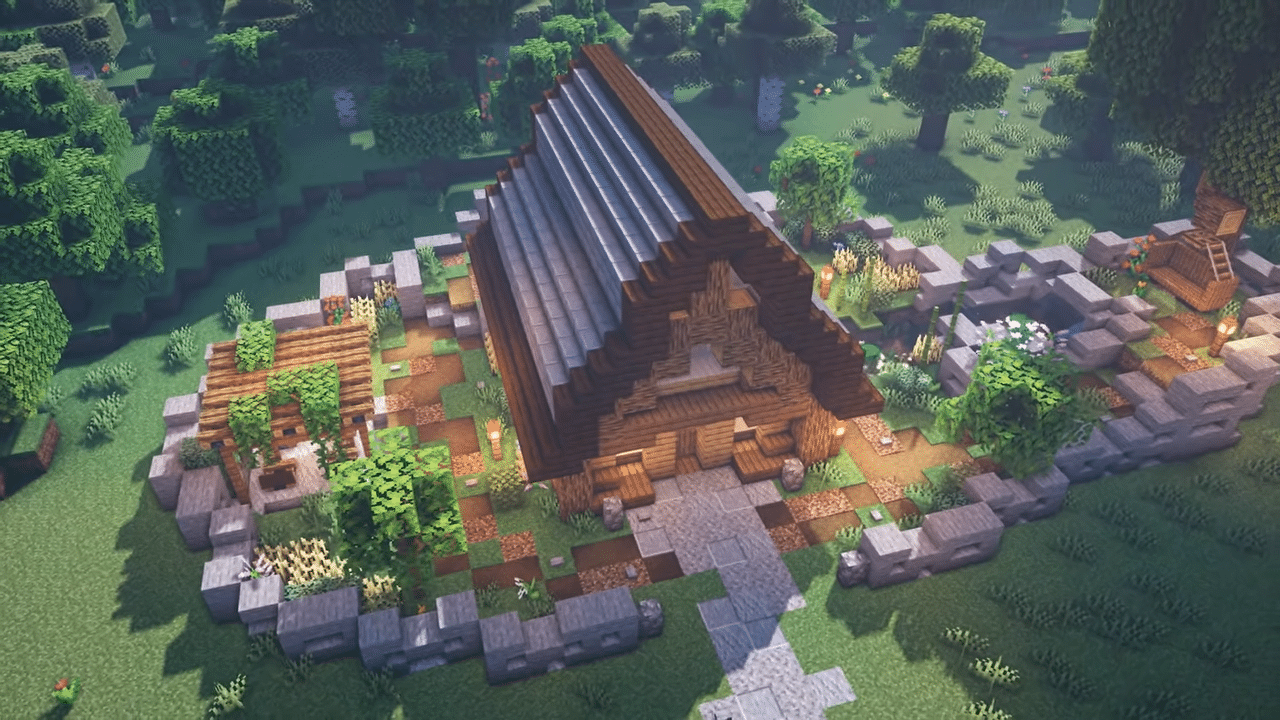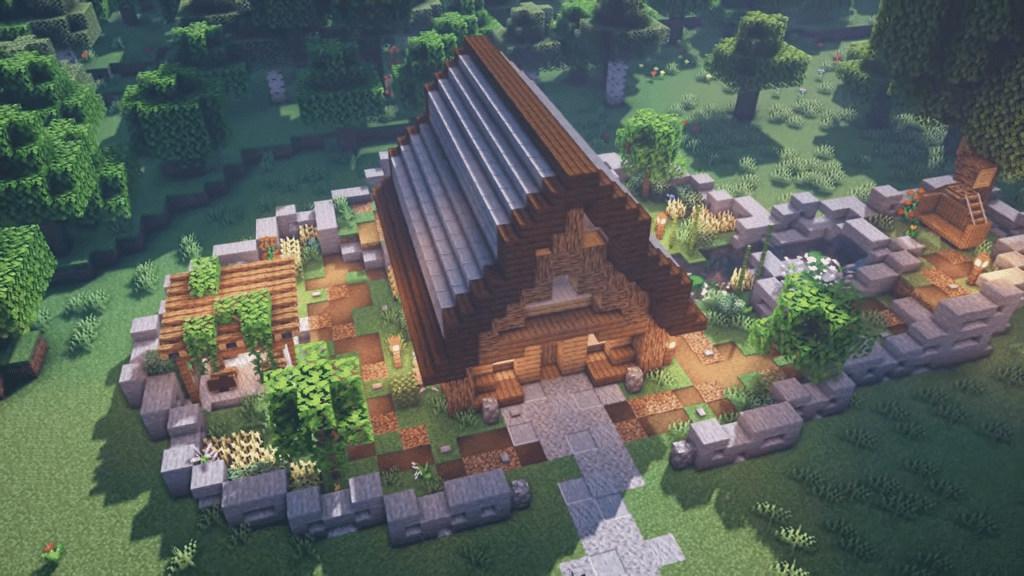 Like most Minecraft players, you probably want to build a garden right by your house. This Cabinside Garden by Typface doesn't surprise you with any twists or surprises to make your build stand out. It's simple, minimalist, and ordinary—and you know what? That's totally OK!
As long as your building looks good, your garden can be as detailed or as minimalist as you want it to be. But of course, we encourage you to make your Minecraft garden design the best it can be. After all, you've made it this far to just settle for mediocrity!