When you think about Minecraft, finding the best Minecraft kitchen ideas may not be the first thing on your mind. After all, you could be building life-size replicas of the pyramids, taming giant pandas, or digging straight to Bedrock – all in one day.
But what about when you get hungry?
With all of the work involved in making creative structures, you'll need to rest up in base camp eventually.
And let's face it: while food is food, having your kitchen fail to match the grandeur of the projects you're creating outside is utter blasphemy!
Hence, I've compiled 10 of the best Minecraft kitchen ideas to get you inspired.
Let's start cooking!
Blendingi's Modern Kitchen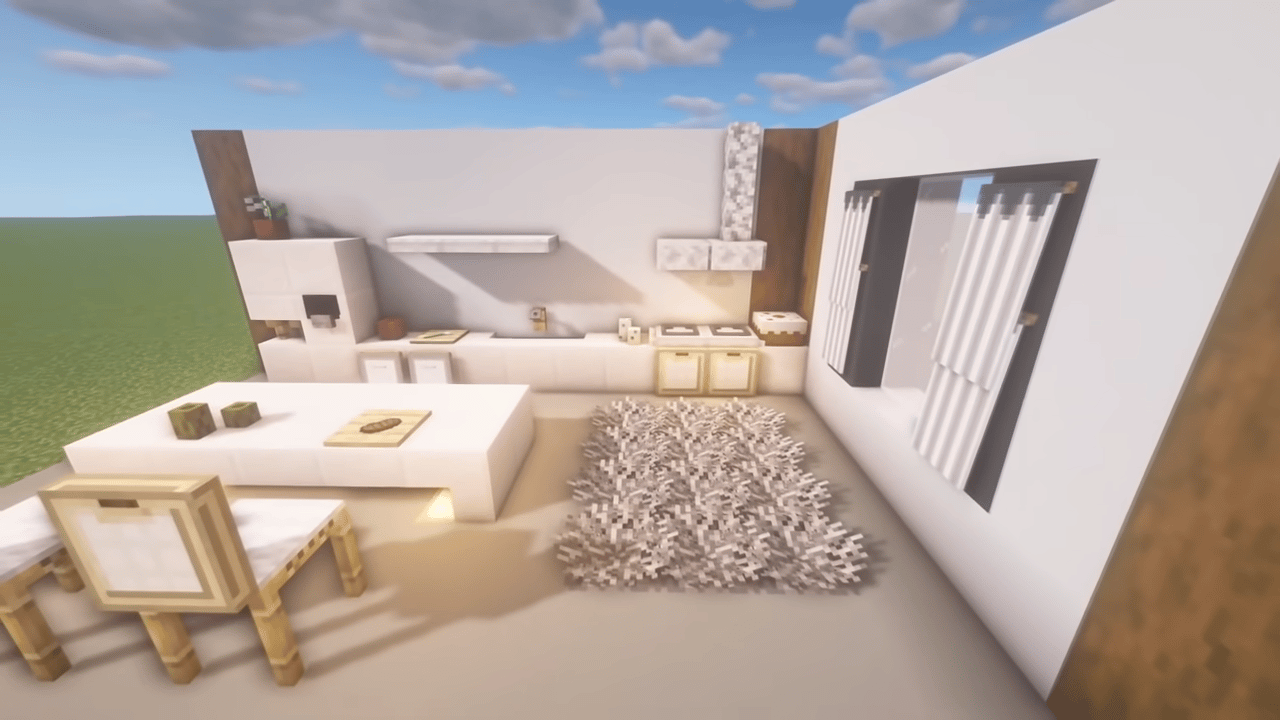 This Modern Kitchen by Blendigi is a simple, clean, and aesthetic extension for any modern Minecraft home. It features the basic furniture set of a kitchen and dining room build – a low dining table, beige wooden chairs, a wall shelf, a sink, a fridge – and some other aesthetic frills such as potted plants and a wooly carpet.
In addition, a large window and some blinds allow natural sunlight to stream through the kitchen – brightening up the place and creating a nice and inviting aura to it.
This kitchen design is simple to build and uses white space effectively – a perfect blend for looks and functionality.
MCram's Modern Kitchen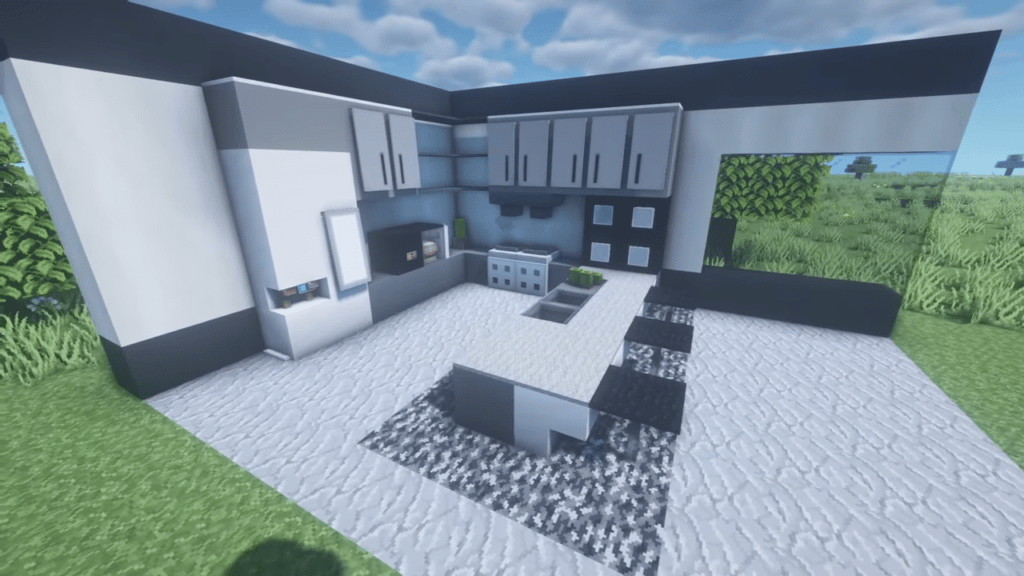 This Modern Kitchen by MCram makes use of black and white tones to create a stark contrast that allows the color accents to really pop. The kitchen island comes with its own distinct flooring as well, highlighting its place as the centerpiece of the kitchen, all while still making the overall design feel cohesive and orderly.
In addition, using some hoppers as a ventilation system above the main cooking area is an ingenious move! Even if you don't build a replica of this kitchen exactly, any Minecraft kitchen build would have a layer of depth to it with those hoppers.
6tenstudio's Modern Kitchen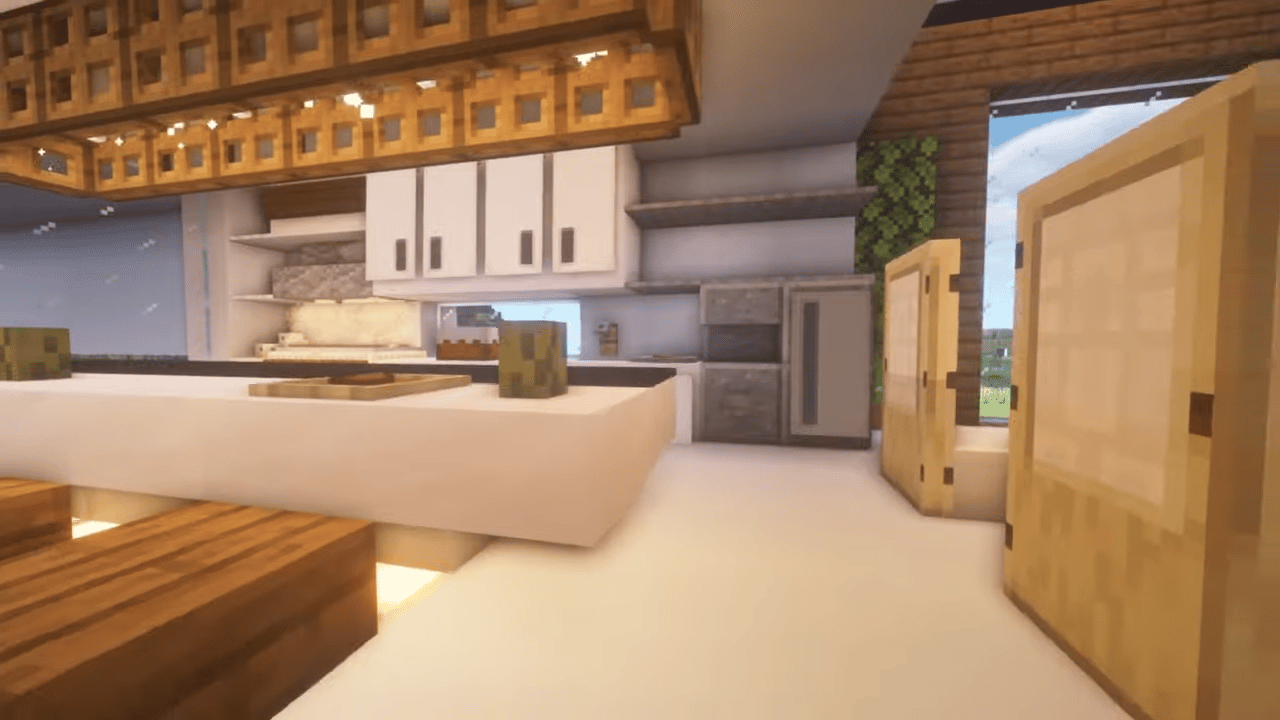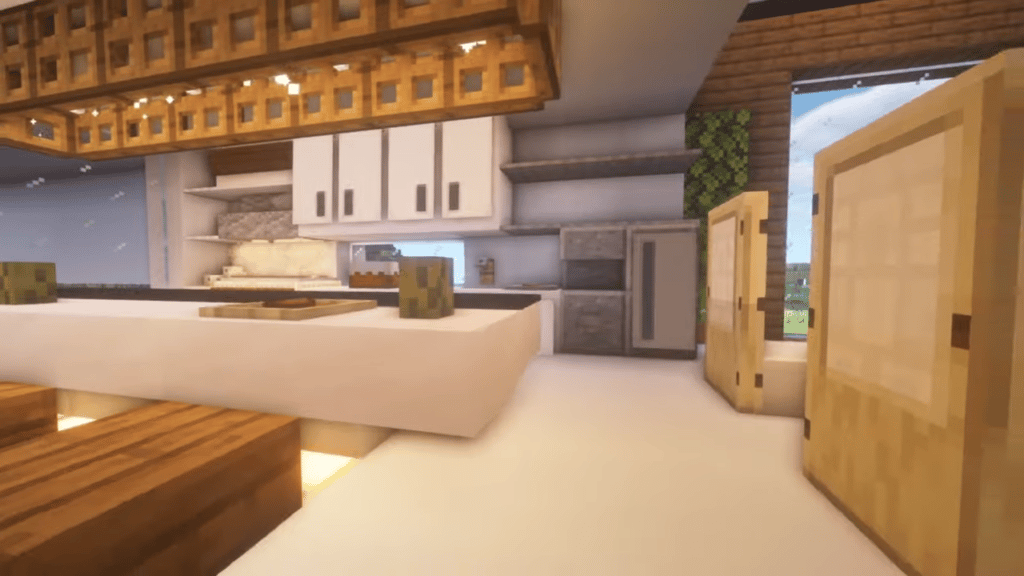 This Modern Kitchen by 6tenstudio is a bit more crowded than the first two on the list, but I wouldn't say that's a bad thing; just different. In fact, I like how this one makes good use of variety – namely the stone fridge, wooden doors, and log furniture and decorations. They do spice up the room quite nicely.
This kitchen's beauty lies in the simplicity and ease of accessing the resources needed to recreate it. With the right amount of items and some moderate effort, you too can create a picture-perfect kitchen for your next Minecraft home.
MCram's Simple Kitchen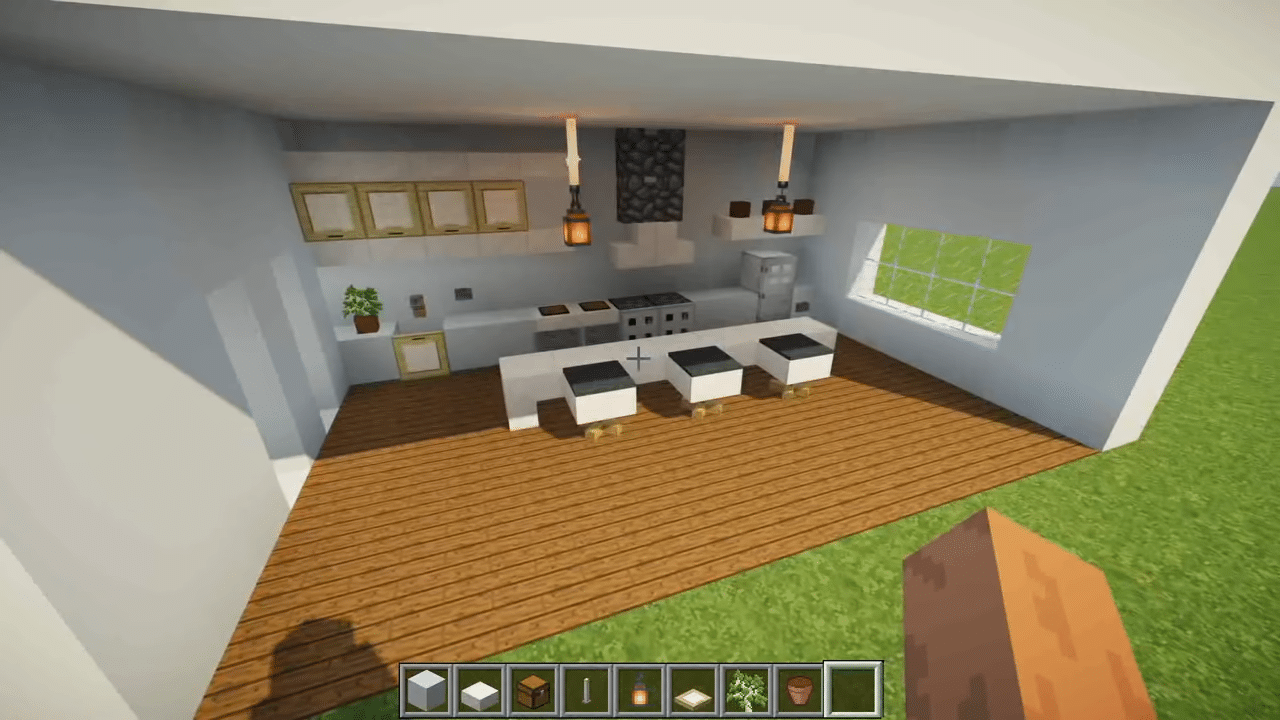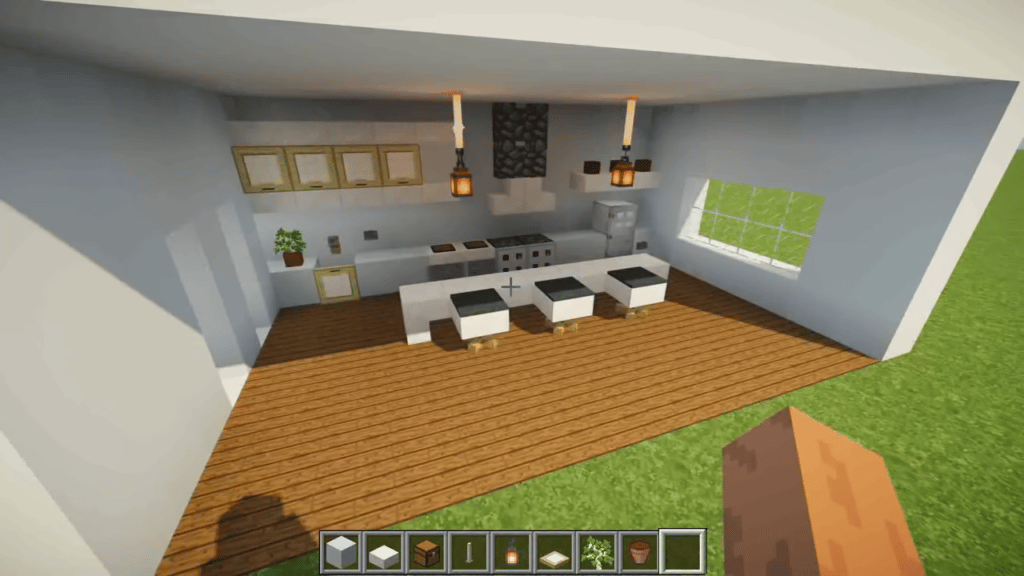 This Simple Kitchen by MCram utilizes wooden floorboards and hanging lamps, a slight deviation away from the other kitchens previously mentioned in the list.
It also comes with the necessary amenities, including a table and chairs for dining, cupboards to store items in, a sink, and even an oven!
The shelves and plants are also a nice touch, allowing you to display your prized possessions (or maybe, the spoils from your enemies). And if you're not fussy about the extra plants flanking the corners of this kitchen, then you have extra space for these natural touches as well.
Kitchen Interior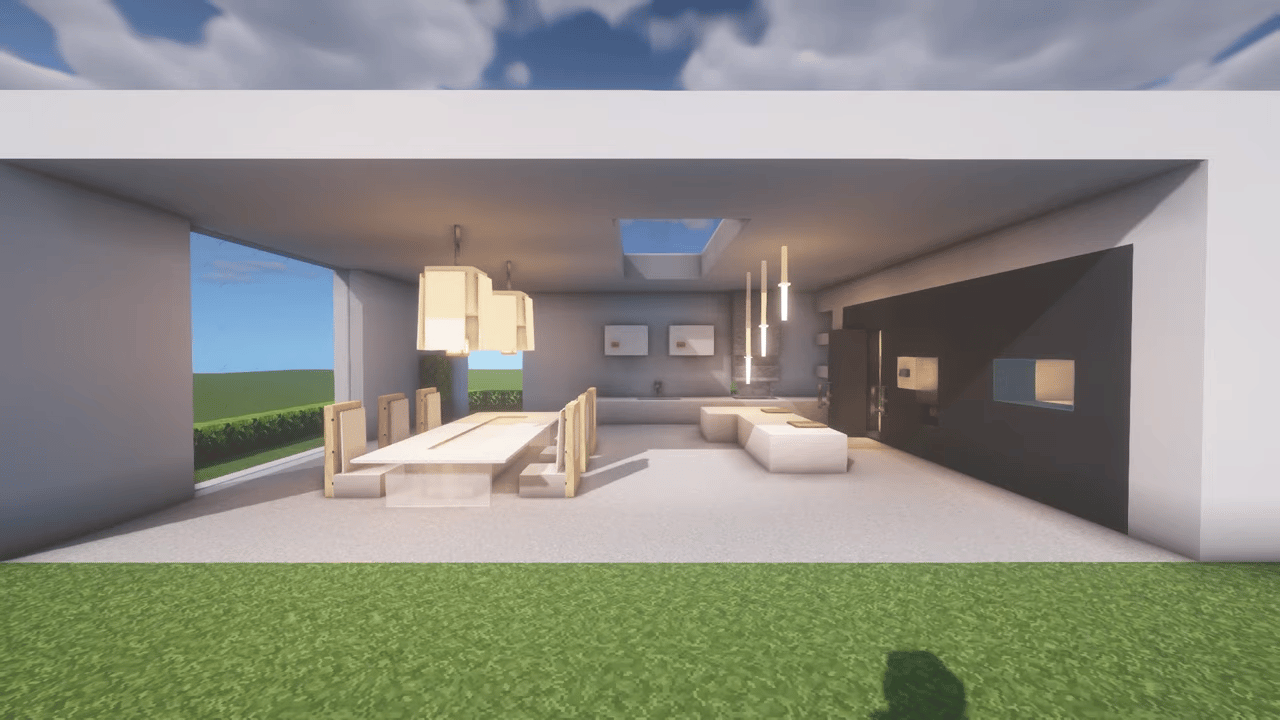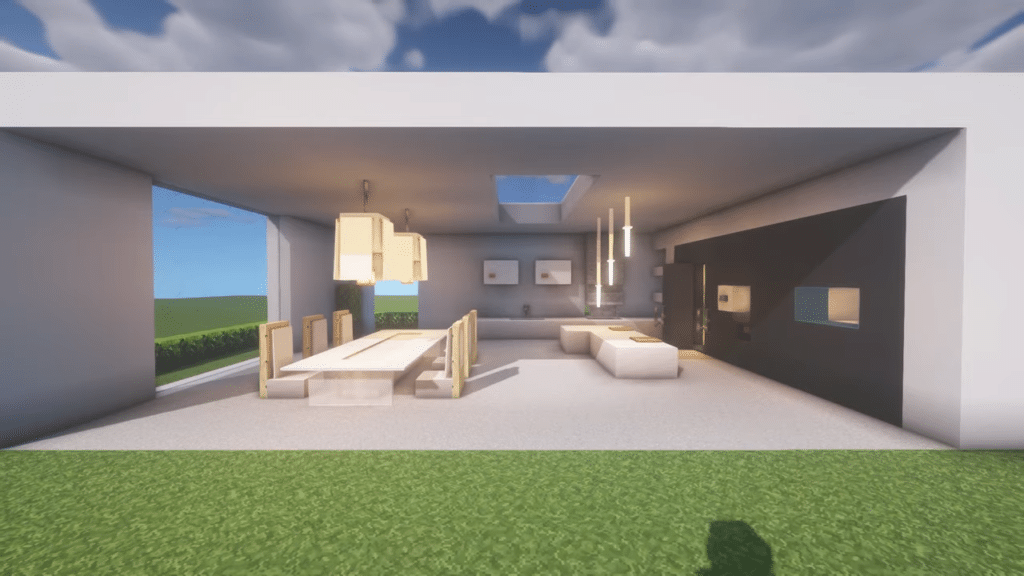 If you've read our other Minecraft ideas series, or have browsed Minecraft YouTube frequently enough, you may have encountered the name JINTUBE more than once before. And yet again, he continues to impress us with a stunning Kitchen interior that I can't help but admire.
I love how this Kitchen Interior maintains a sleek and stylish look across all fronts. I mean, look at those overhanging End Rod lamps! The smooth low table! It's the perfect Minecraft kitchen for a small house or mansion.
Not to mention, there's also a sunroof above the kitchen area, helping to brighten up this part of the house even more during the day.
Medieval Kitchen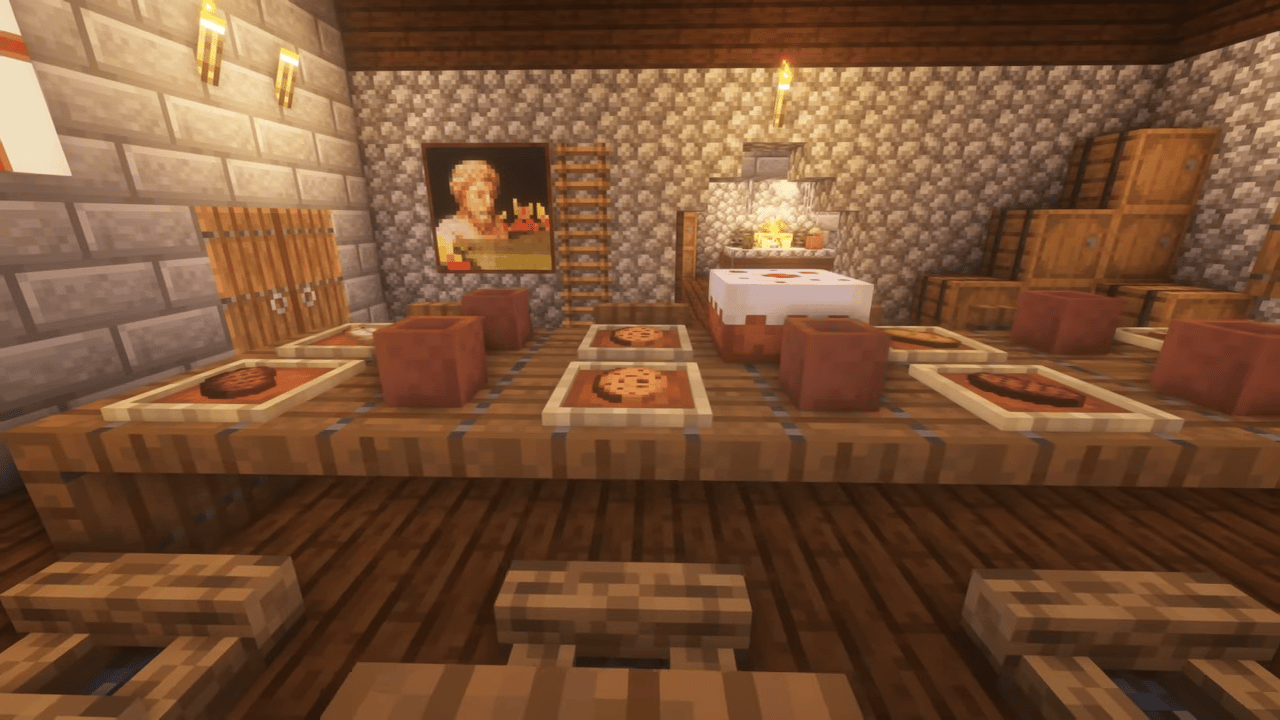 Fantasy-themed builds are commonplace among the Minecraft community, and this Medieval Kitchen by MCram is no exception.
I love how this kitchen's design takes cues from ancient building motifs – cobblestone walls, stone brick reinforcements, a Renaissance painting, and, of course, a large central dining table to hoist copious amounts of cake, meat, and beer.
Whether you're building this kitchen on a castle or as a standalone tavern, you can bet that this is one of the best Minecraft kitchen ideas to stand out from the crowd. So if you're planning to make a medieval village, don't pass up the opportunity to make this Minecraft dining room build!
Royal Dining Table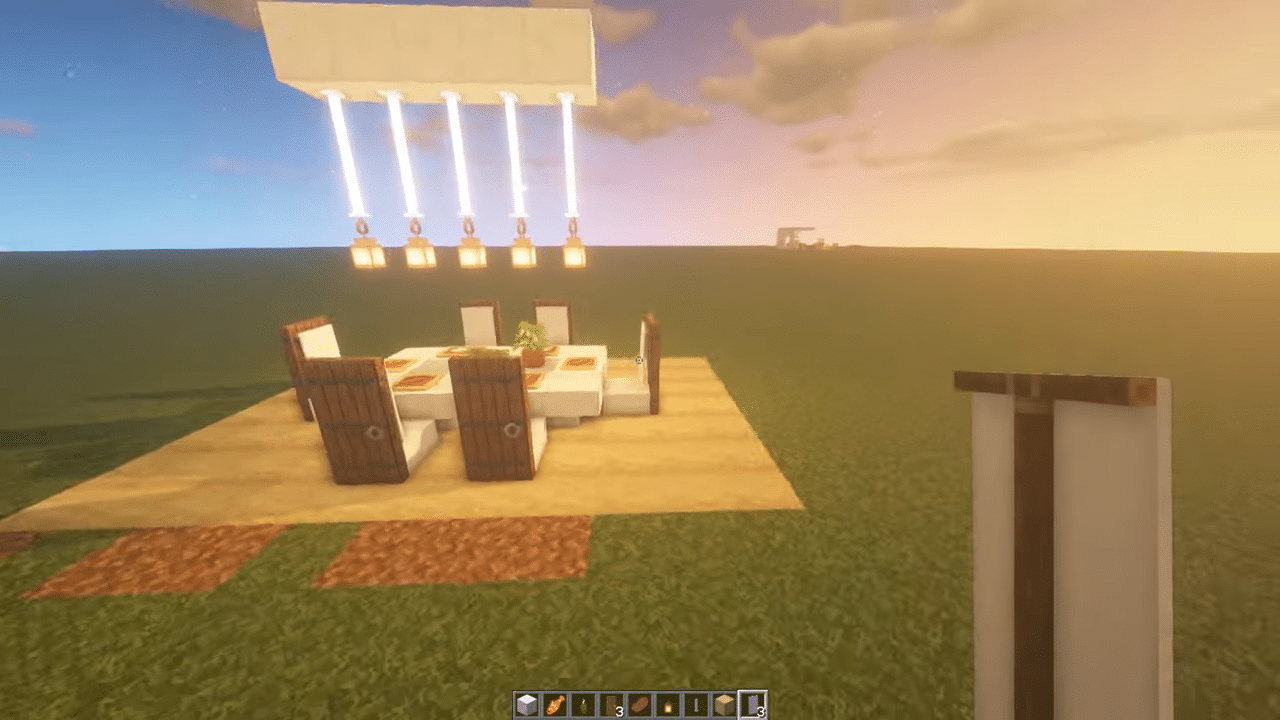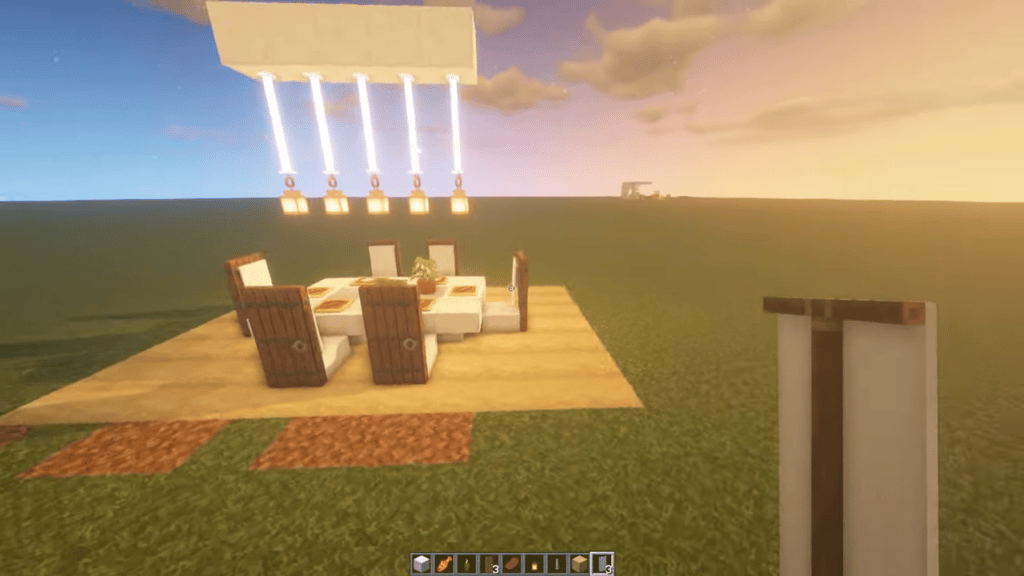 Fast forward a few hundred years from medieval times, and you can find another interesting Minecraft kitchen design such as this Royal Dining Table design by Eagle MCraft to recreate.
If your Minecraft base doesn't have its own dedicated kitchen space, you can add some chairs and a long table in a corner and make that work instead. Trust me: it works just as fine – and I bet you a crisp dollar that no one will bat an eye for your little shortcut.
Simple and Modern Kitchen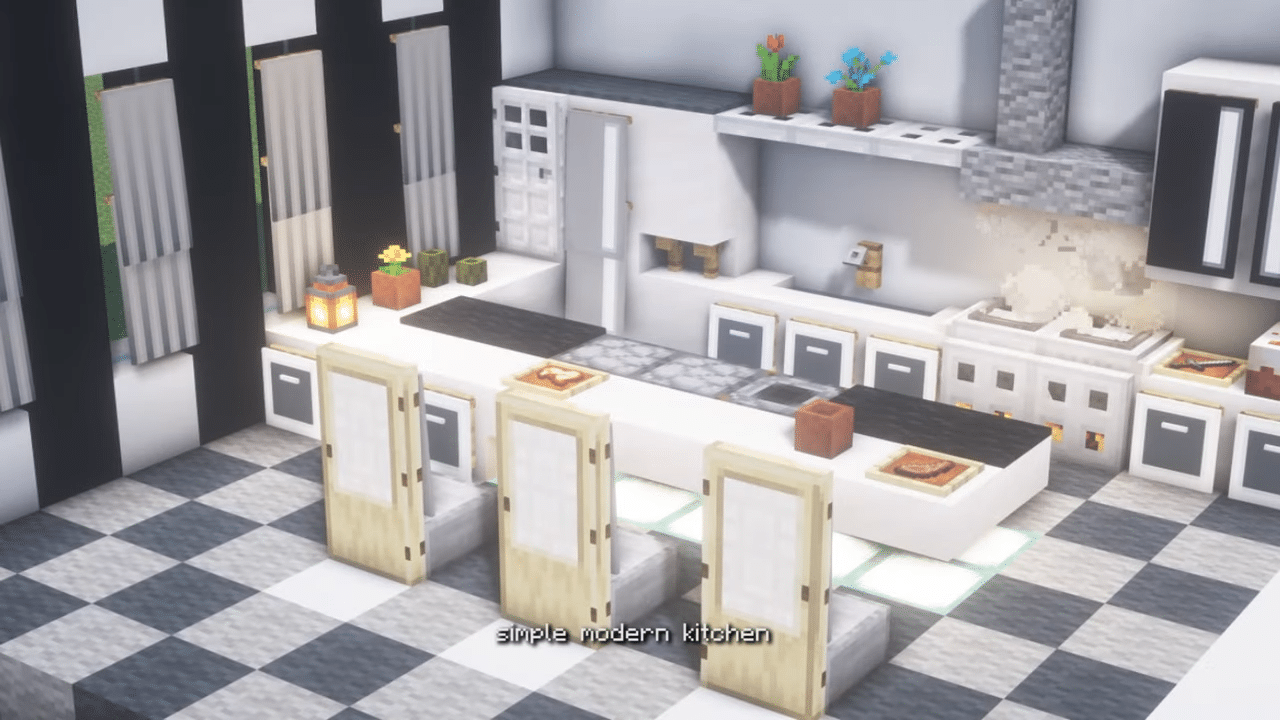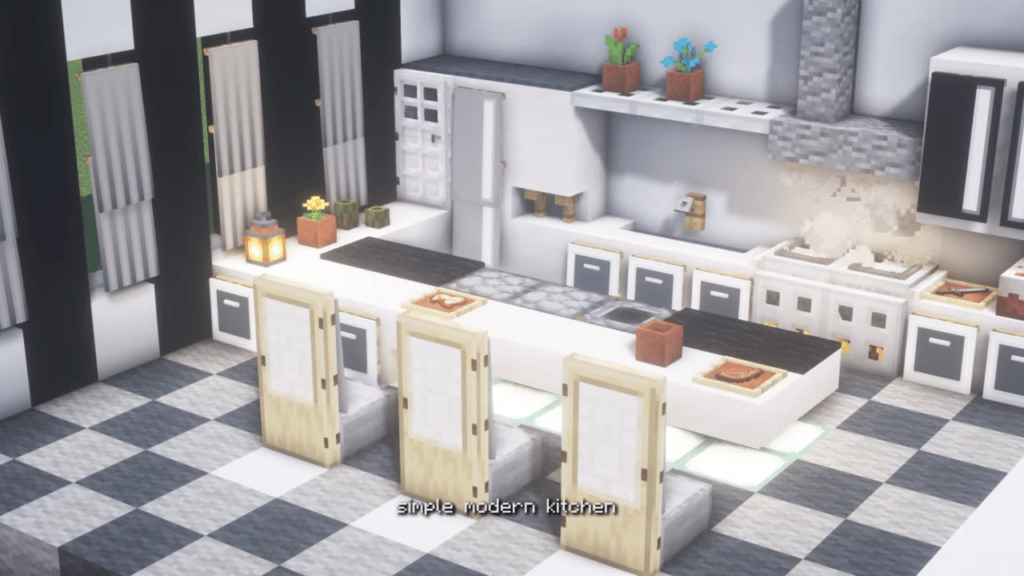 Perhaps a full-fledged kitchen is more your alley. If that's the case, this Simple Modern Kitchen by 6tenstudio featuring a checkered flooring and patterns might suit you well.
Not only do the color contrast add the distinctive "kitchen" touch that we all know and love, there are also a wide array of amenities that you can toy around with in this kitchen area.
A quick glance – and you can see a stove, some cabinets, a sink, a fridge and all the things that can complete a kitchen. The color scheme resembles something you can see in diners as well if that's your sort of thing.
Checkered Kitchen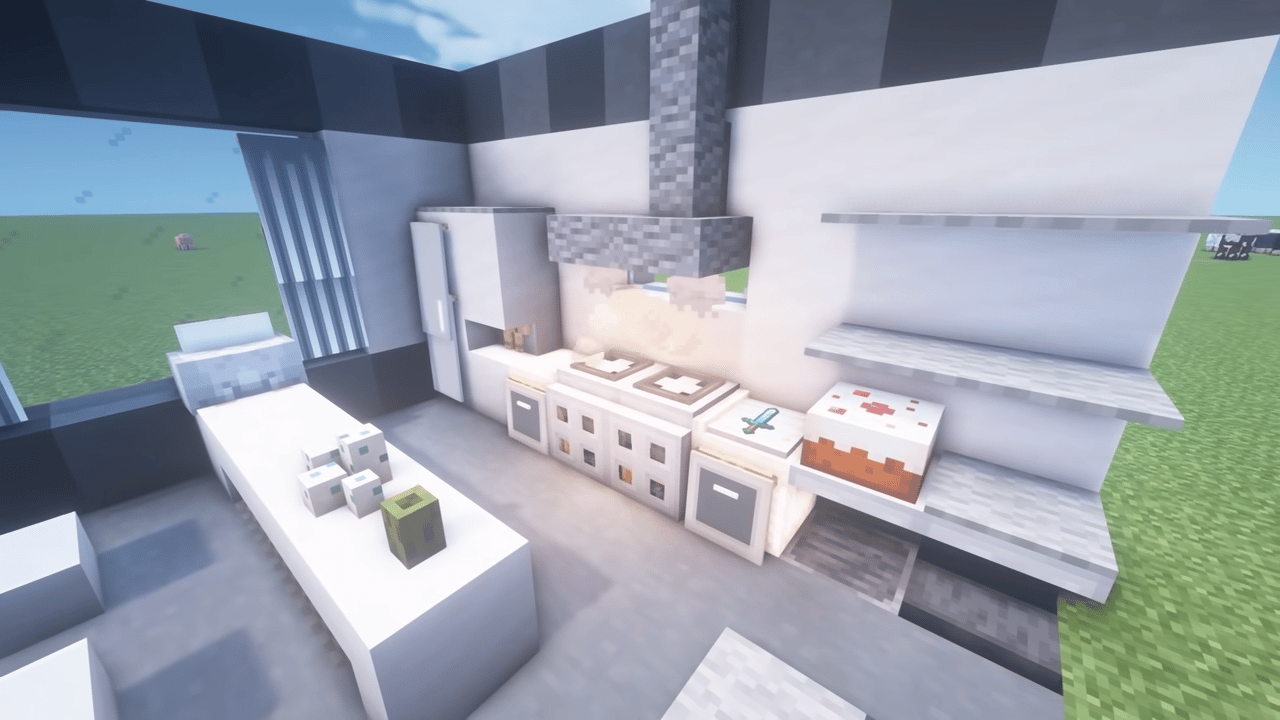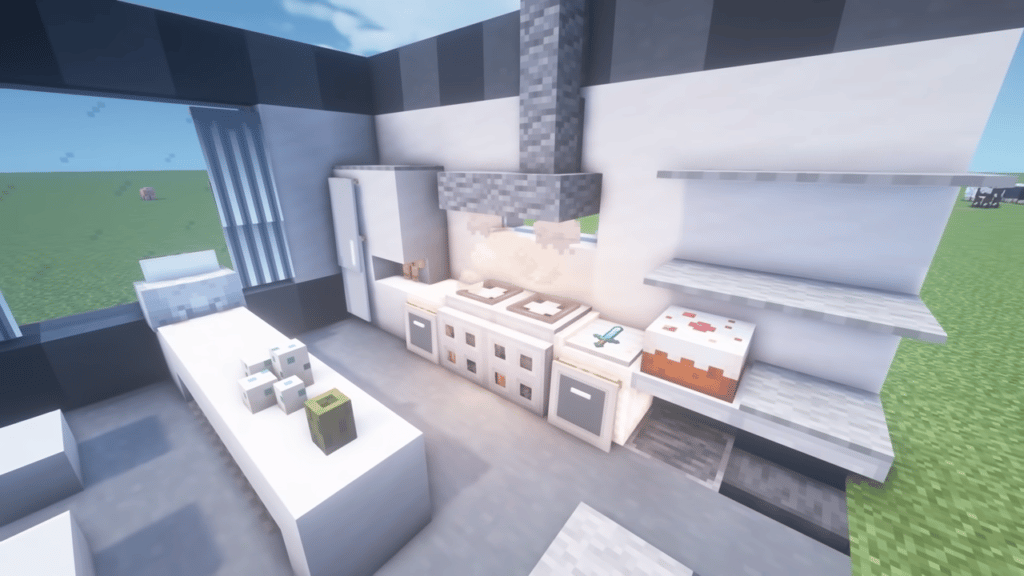 If you feel the design above is slightly too cluttered for your taste, this Simple Checkered Kitchen by ManDooMiN features the same color palette and kitchen feel while staying as minimalist as possible.
The large window allows natural light to pour into the room. Depending on where you built it, this Minecraft kitchen idea can even allow moments of orange hues to sparkle across your kitchen drawn from sunsets and sunrises, creating a beautiful spectacle each passing day.
But if you're more of the out-and-about exploratory guy, this kitchen can serve as a great place to store your weapons and food for your expeditions. Those shelves on the right aren't just for display, after all!
Nerdak's Simple Kitchen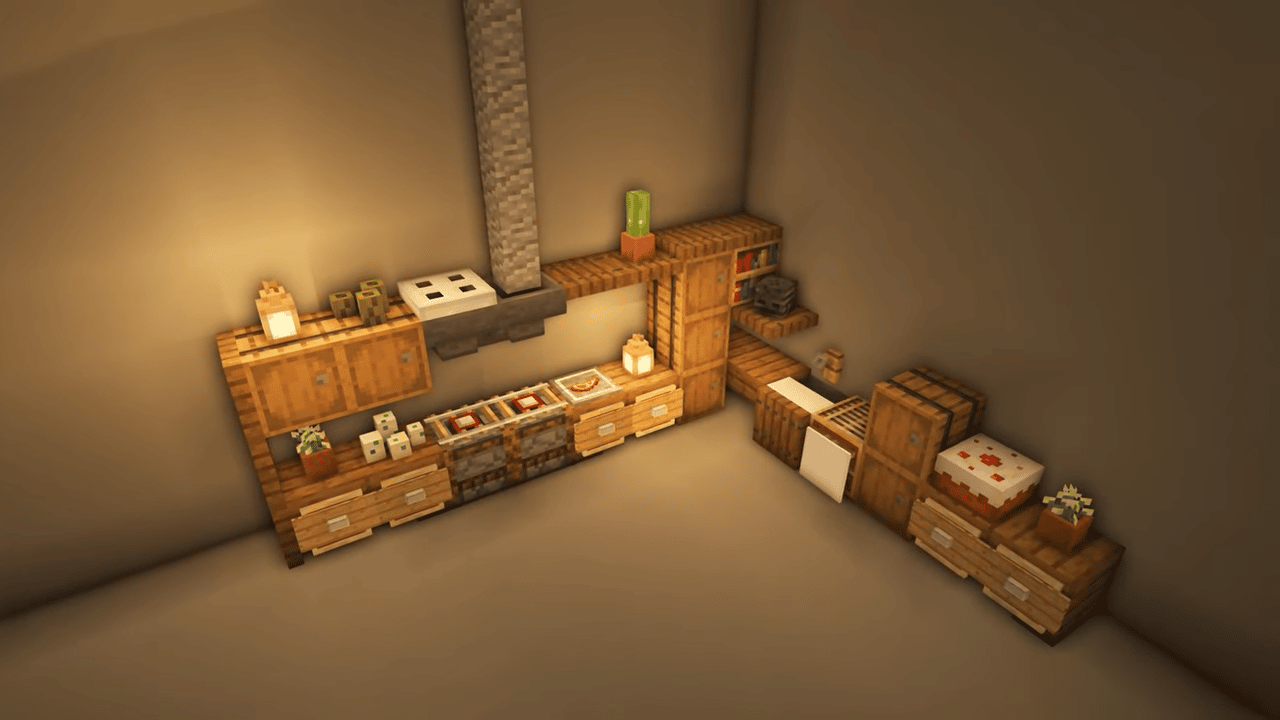 To top off the list, this Simple Kitchen by Nerdak takes up little room but is still a stylish kitchen idea for any Minecraft home. It wastes little room, featuring an oven top, knobbed drawers, and cleverly placed light fixtures to give this modest kitchen some good lighting.
For those who like simple yet functional designs that don't require too much fuss to build – this is one of the best Minecraft kitchen ideas to consider building for your home.
And if you want to build something grander, you don't need to worry! You can easily add extensions such as shelves, plants, and amenities to spruce up the place in your own personalized way.