Minecraft Live was streamed on the 15th of October 2022, and we were introduced to exciting new content! While the live event wasn't what we fully expected, it unveiled news for Minecraft Legends, Dungeons, the Mob Vote winner, and what we can expect to see from Minecraft 1.20.
If you missed it, the live event streamed from Stockholm, Sweden, on the 15th of October, 2022. Running for almost two hours, Mojang announced new content that honestly excited us for what the next year holds. It even convinced us to revisit Minecraft Dungeons through intriguing gameplay.
However, the live event has received some criticism. Firstly, the presenters emphasized how Mojang listens to their community. However, many players believe they don't, and it's been a controversial topic since their new chat reporting system.
Secondly, Minecraft 1.20 was announced – well, sort of. Unfortunately, no theme, title, or complete description was unveiled, which was anticlimactic for those anticipating Minecraft 1.20 news. That said, Agnes Larsson (Minecraft's Game Director) didn't leave us entirely in the dark.
Below, you can find the full breakdown of Minecraft Live 2022 and everything the event taught us.
---
Minecraft Legends – Minecraft Live Updates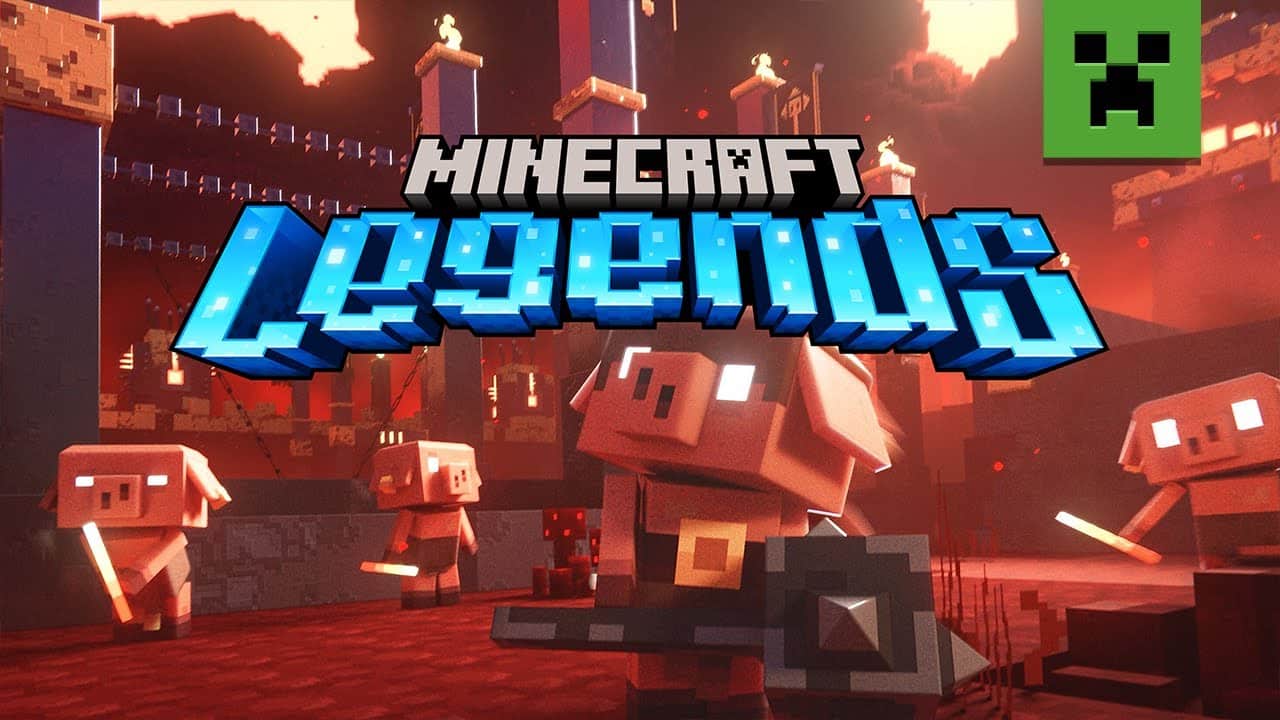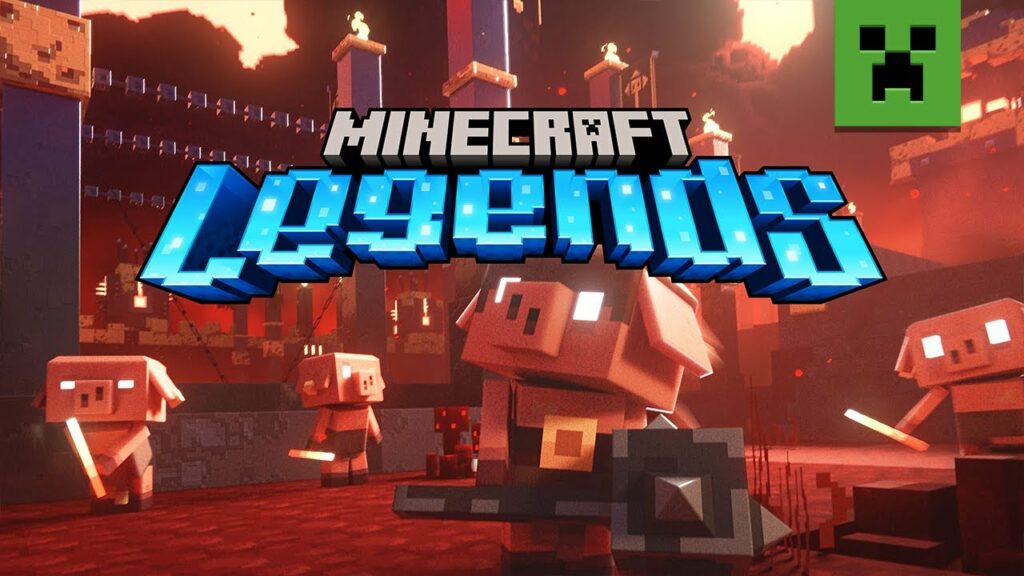 Minecraft Live kicked off with Minecraft Legends. We saw engaging content, gameplay, and cinematic looks at the brand-new game, expected to be released in Spring 2023. We were introduced to Magnus Nedfors (Creative Director) and Kevin Grace (Narrative Director) on stage. They walked us through Minecraft Legends and unveiled new characters and what we can expect from Minecraft Legends.
To discover everything we know about Minecraft Legends as well as brand new details, check out our article: Minecraft Legends: Release Date, News & All We Know
---
Opening Cinematic
First, let's look at the opening cinematic for Minecraft Legends. The video begins with the classic Zombie x Villager scene, which takes an unexpected scene. Before we know it, a Nether portal appears in the sky, and a Piglin tumbles out.
Through the portal, we see a massive army of Piglins preparing for battle and strategizing how they will rule the Overworld. The cinematic revealed the overall narrative and what we can expect throughout the Minecraft Legends story.
---
Exploring Minecraft Legends
We also got the opportunity to take a deeper look at Minecraft Legends through the eyes of Jens as he explored the new mystical world. This quirky and entertaining video unveiled entities named Foresight, Action, and Knowledge. We also saw new mobs we can expect to see in the game and a better understanding of how the gameplay would work.
Before we move on, can we just say that the Blaze Rod Swords that the Piglins use is something we wish was in Minecraft Vanilla. Who wouldn't want a flaming sword that players could throw at mobs?
---
Gameplay First Look
Our first impressions? Absolutely excited to get our hands on this game!
The gameplay kicked off as the team showed us the basics of the game. While riding on one of the many mobs available, the aim is to explore the world, collect materials and spawn allies to help you defeat the Piglins.
They announced that each world is randomly generated, just like Vanilla Minecraft. All players start off at the Well of Fate and have a Banner of Courage that lets you rally any allies around you. In addition, your Allay friends collect materials and build structures for you while you ride around. Lastly, players can generate spawners in the game using the Flame of Creation. These spawners are used to spawn in allies like Creepers, Golems, and more!
Once your team rallies, it's time to attack the Piglins and stop the corruption as it spreads through the Overworld. Strategy is vital here, and choosing the right allies will help you destroy Piglin bases and reclaim the Overworld!
Check out this gameplay clip from Minecraft Live 2022!
---
Minecraft Live: Dungeons Season 3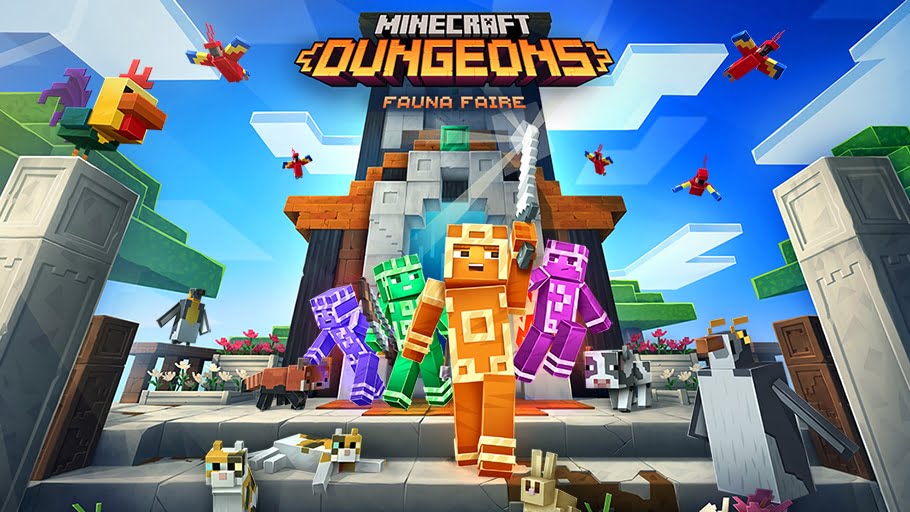 Minecraft Dungeons has been around since the 26th of May 2020 and has since received an average rating of 7/10. Mojang unveiled new content for Season 3 and a multiplayer mode for Minecraft Dungeons Tower during the live event. Season 3 is titled Fauna Faire and allows you to collect pets that can help you through your journey! Additionally, they announced a new character called the Enchantsmith, whom you can now take back to your base and trade with.
---
Season 3 First Look
Season 3 of Minecraft Dungeons has been titled Fauna Faire, as players might have noticed in their Minecraft Launchers. The seasonal adventure is set to launch on the 19th of October, 2022. It revolves around new animals that players can collect as pets.
Additionally, all rewards throughout the season will be pet-themed such as emotes and capes. New flairs are added to the game, like cat or peacock flairs.
Lastly, a new mission, "Tree Top Tango," takes place in the Jungle Biome. Players run around a massive tree on branches and through a temple. The mission will be free and available to all Minecraft Dungeon players.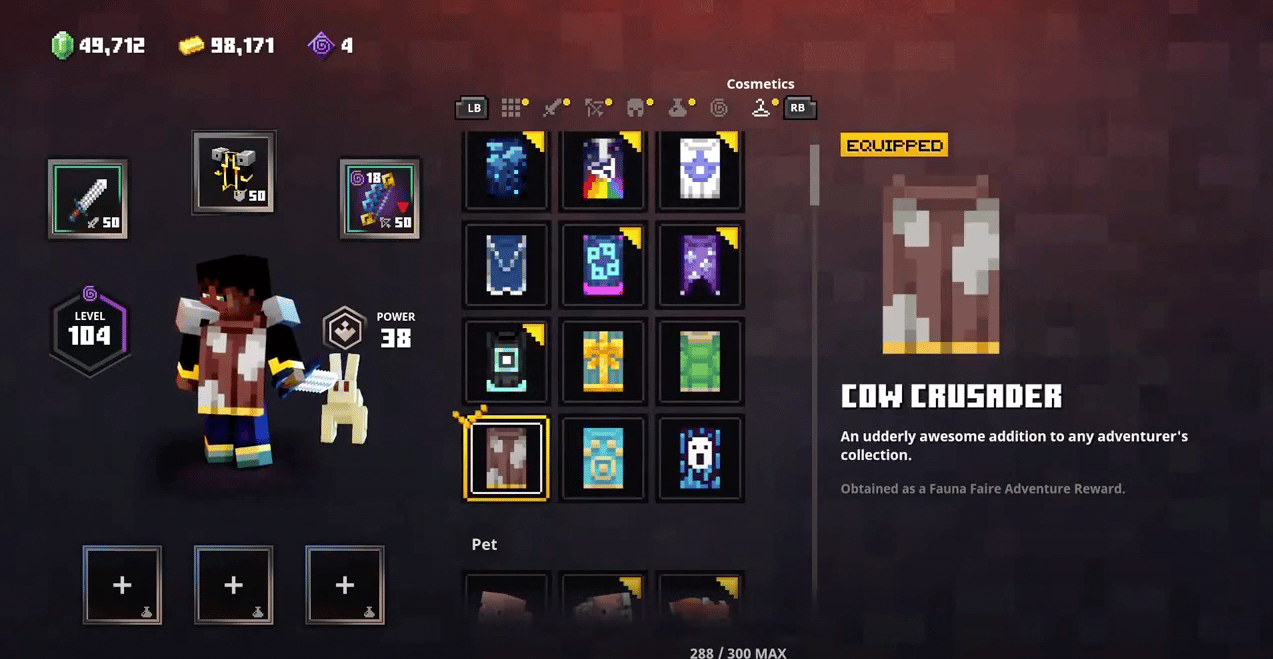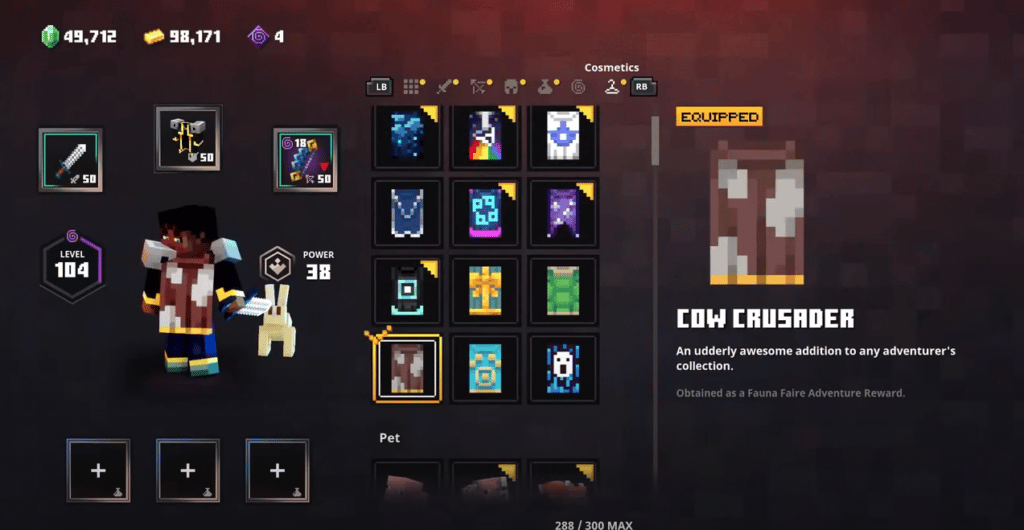 ---
Enchantsmith
Minecraft Dungeons has announced a new way to replace enchantments on weapons through a new merchant named the Enchantsmith. They'll move into your camp and allow you to clear and change the current enchantments on your weapons.
Once the Enchantsmith has moved into your camp, you can head to their booth and select a piece of gear you'd like to enchant. Then, simply pay a bit of gold, and the enchantsmith will re-roll your enchantment.
---
Minecraft 1.20 Update Announcement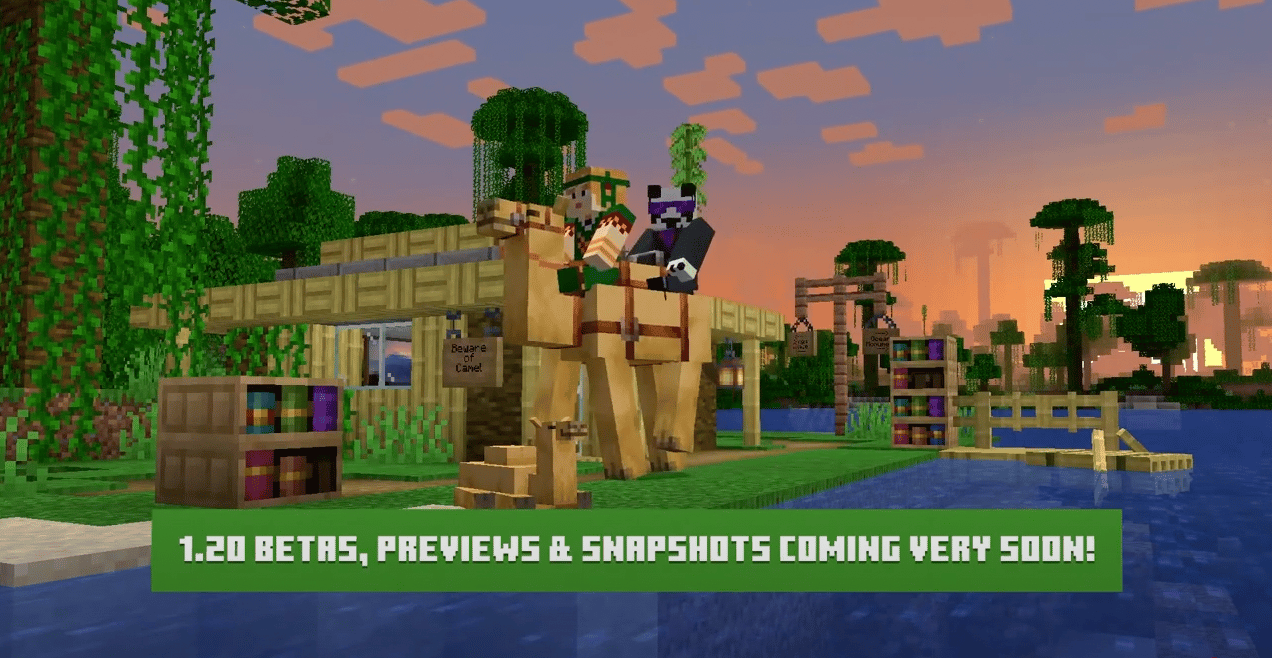 The next Minecraft update was announced a little differently this year. After the previous update was split into two pieces, Mojang decided to work closely with the community to develop the next update. While the theme has been decided on, Mojang hasn't titled it, nor did they announce all the new features.
This may have been a little of an anticlimax for those watching Minecraft Live 2022 just to find out the next update. For an in-depth look at Minecraft 1.20, head to our article to find out everything we know, expected release dates, and more!
That said, let's take a look at what they did announce and a few features we can expect to see very soon in snapshots:
---
Bamboo Blocks
One of the first things we can expect to see in Minecraft 1.20 is a new wood block set. This set is made from bamboo and has many textures to play around with. In addition, they've added a bamboo mosaic block, the first woodblock of its kind. Lastly, using bamboo, players can now craft rafts that look great on rivers – especially when transporting Pandas!
---
Hanging Signs
Hanging signs allow players to officially create signs that hang from other blocks. They can be crafted from all wood types, allowing you to play with color and create festive banners. However, they are slightly more expensive to craft than regular signs as they require chains. Additionally, they come in three variations which you can see below.
---
Camels
Camels are one of the new mobs we expect to see in the new update. They carry two riders allowing one to "drive" the camel while the other is free to look around. This is particularly helpful when fighting off hoards of mobs. Another feature is that mobs like zombies and husks can't attack the player while they're on a camel as the player is too high.
---
Chiseled Bookshelves
Another new block announced is chiseled bookshelves. These blocks allow players to store books in them, building working libraries and storing enchanted books in them. In addition, they have an additional Redstone feature that allows players to craft hidden walkways behind bookcases. We're excited to see where Mojang goes with this block and if they'll add different wood variations.
---
Minecraft Live Mob Vote 2022
Lastly, Minecraft Live 2022 concluded by announcing the winner of this year's mob vote. If you're not sure what that is, Mojang suggests three new mobs every year and lets the community vote on which mob enters the game.
This year, there were three candidates:
The Sniffer
The Rascal
The Tuff Golem
Each mob had its own unique features and benefits that it would bring to the game. For example, the Sniffer can find rare and valuable seeds, while the Rascal gives you loot if you spot it three times.
Unfortunately, the Tuff Golem (17.2% of the votes) was the first mob to be voted out. The Tuff Golem would have allowed players to create moving art galleries as these mobs acted as statues that randomly came to life.
---
Winner: The Sniffer
With no surprise, the Sniffer won the mob vote this year with 55.1% of the over 3.5 million plus entries. The mob was hugely popular amongst the community and comes with a unique backstory.
It's said that the Sniffer is an ancient mob that used to roam the Overworld but has since been extinct. However, the player can bring the species back to life by finding its egg.
The Sniffer will allow players to find seeds that have been thought to have been long lost. Minecrafters can expect to see new plants along with the Sniffer.