When you see so many different PC cases you'll notice they all have one thing in common. They're all fairly common with generally the same shape. Sure, there's some design involved here and there but on the whole, they are all very similar.
If you are building a new PC and looking for some unique PC cases to work with, or if you are just here to check out some cool pc cases then this is the article for you.
Cougar Conquer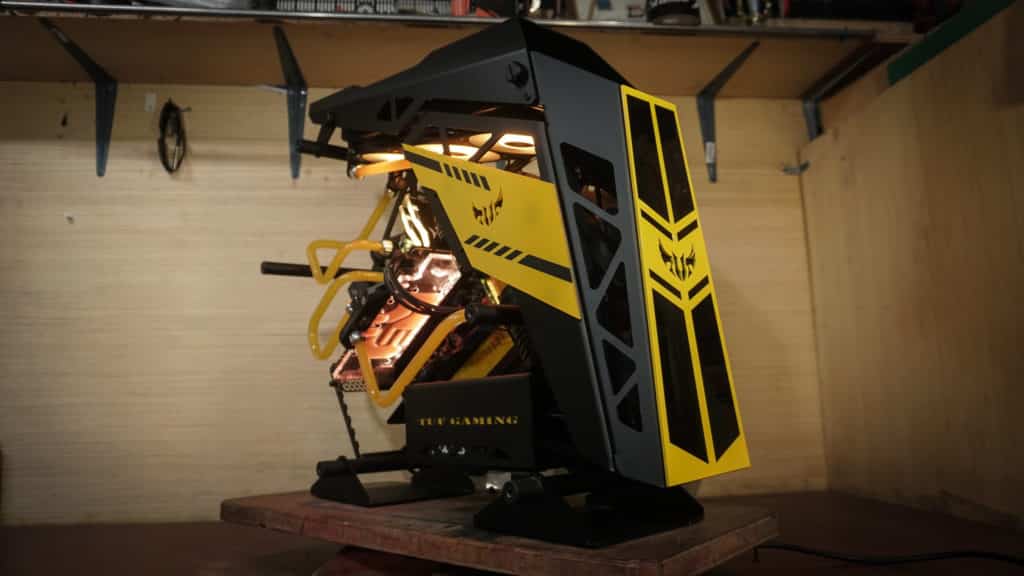 Case Type: Mid Tower | Fans: 5 | GPU Length: 350mm | CPU Heatsink: 190mm
Easy to re-paint
3 Pre-installed fans
Orange side panel can be replaced
Handle with care
The Cougar Conquer might not look like a helicopter but it doesn't weigh as much as one! When it comes to unique computer cases, PC builders can easily go bonkers with it. Lots of custom PC builders like to include custom paint jobs. With the Cougar Conquer, it's all too easy to re-paint. This case comes mostly disassembled. With this, you can paint it up all you like before fully building your custom PC.
To get things started, the Cougar Conquer comes with 3 cooling fans. This will either save you some time, money, and effort or you'll replace them! One of the coolest parts about this case is the orange-colored side panel. You might think it's just some plain, orange side panel (ok, it is!). Nope. You can replace it with a RGB panel. Otherwise, you can custom re-paint it all you like. Being a partially open-air PC case, you'll have a little less to worry about for cooling. In any case, this PC case will definitely let you show off the insane guts of your custom PC builds.
Typically, the handle with care label is meant for the shipping folks. However, the case is made out of aluminum. It's not flimsy but it's also not bulletproof. Having a few "oopsies" here and there is possible. The good news is that even as is, it's a good looking PC case. It's the heavy-duty customizing that can cause mishaps. So just be careful with it. The usual following any assembly instructions should help you to avoid such problems.
Azza Pyramid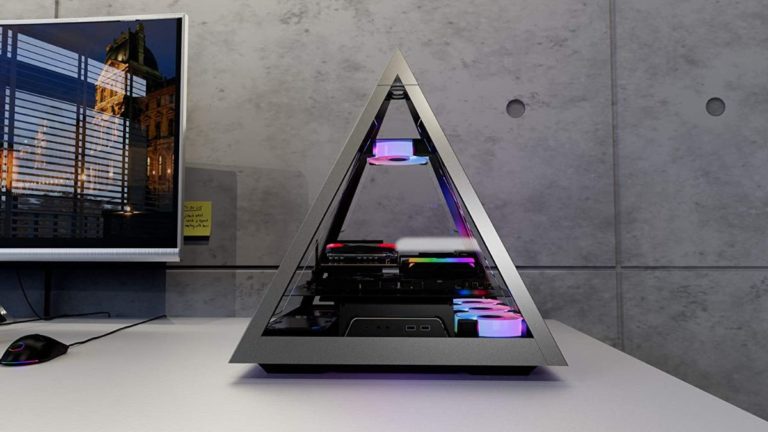 Case Type: Mid Tower | Fans: 4 | GPU Length: 300mm | CPU Pump/Header: 95mm
Handles any size PSU
Laying down GPU style
360° of good looking
Better get an AIO
In terms of unique PC cases, the Azza CSAZ-804V Pyramid is like no other PC case before it. Ok, it's a freaking pyramid! Are you kidding?! We're not exactly Egyptians here but seriously, it's a freaking pyramid! We know you want one. Who wouldn't?! As it turns out, it's four sides and 360° of yeah it's looking good! Not only is it this seriously cool, but it's also rather gentle on your GPU(s).
One of the biggest problems with current PC builds is the GPU. If your GPU starts sagging at the connector, it'll eventually bend or break. Not a problem here! The motherboard lays flat inside this case. Your GPU(s) are vertically installed so they're resting on their connectors. Beyond that, this PC case can handle up to 300mm E-ATX motherboards. Yes, you have some space in there! The impressive part is that your RGB setup can be seen in every direction. As long as you didn't use Blind Drunk Cable Management, it'll be a thing of beauty no matter which way you look at it!
The recommendation is to check out several YouTube videos because this PC case can be a challenge to get built. Once you see it being built once or twice, you shouldn't have much of a problem. The bigger problem is the cooling. Yes, it's a partially open-air case. Unfortunately, the cooling fan options are not great. The better bet would be to get a 240mm or 360mm sized AIO. Beyond that, it's definitely something to have. Just don't try to get buried in it!
Thermaltake AH T600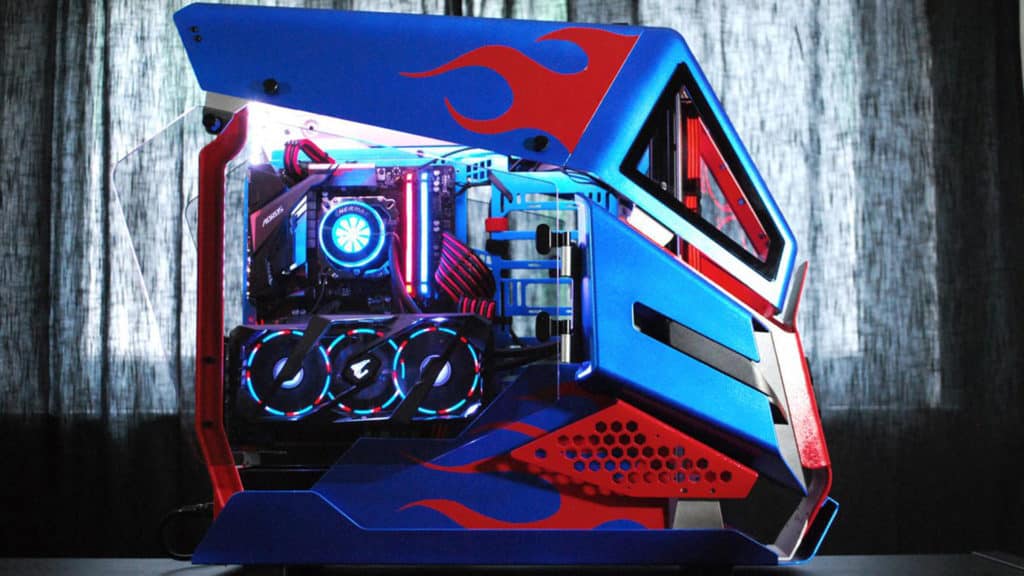 Case Type: Full Tower | Fans: 10 | GPU Length: 440mm | CPU Heatsink: 195mm
Fully modular design
GPUs can be vertical or horizontal
Great build quality
Weighs a ton
When you check out the Thermaltake AH T600, several things come to mind quickly. Weyland-Yutani happens to be one of them. Avoid "Tiny House Nation" is an immediate thought! Apache helicopter would be the obvious one! Then again, the design really is based on a helicopter. A few PC builder folks might even chuck in an "Airwolf" here and there! In any case, this is one of the nicer custom PC cases to get. You'll definitely save a lot of saved Band-Aid money due to its sheer size! Just for fun, it comes in a couple of different colors.
The main question for any PC case buying is will my parts fit in this case? Without doubt, without question, and while keeping all hand skin, yes they certainly will in the AH T600. Honestly, this thing is pretty big. To customize things, the fully modular design lets you take it completely apart and reassemble it as needed. To make things easier for you, the AH T600 includes slots intended for horizontal or vertical GPU installations. That thing rotates! To top it off it's built as rock-solid as they come.
With such a large size, of course, this thing is not going to be featherweight! As it turns out, it's expected with a PC case so well built. Then again, once you add in up to 10 cooling fans and the rest of your parts, it's going to get heavier! The good news is that if you don't really need certain parts on it, you can remove them.
JONSBO TR03-G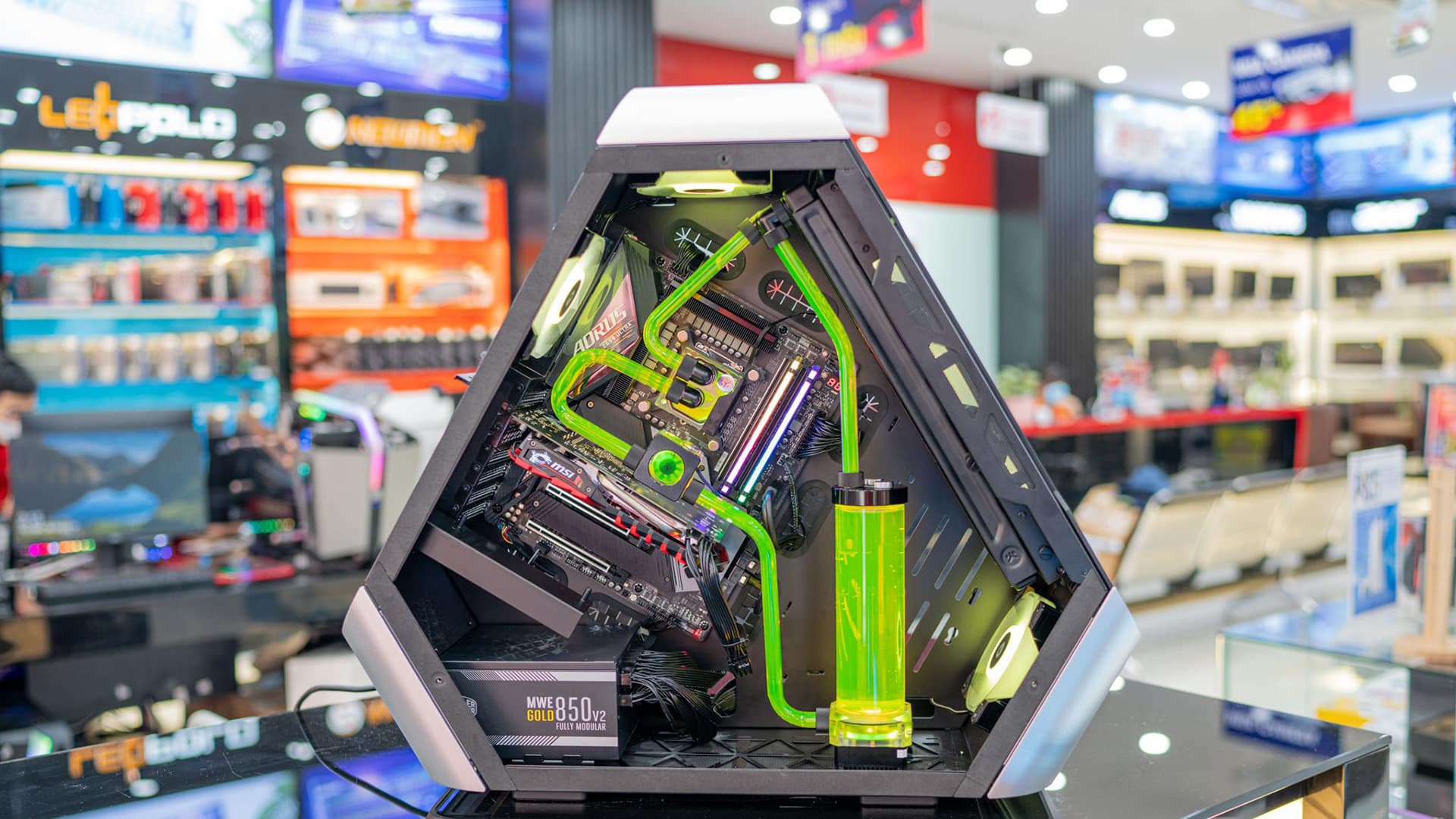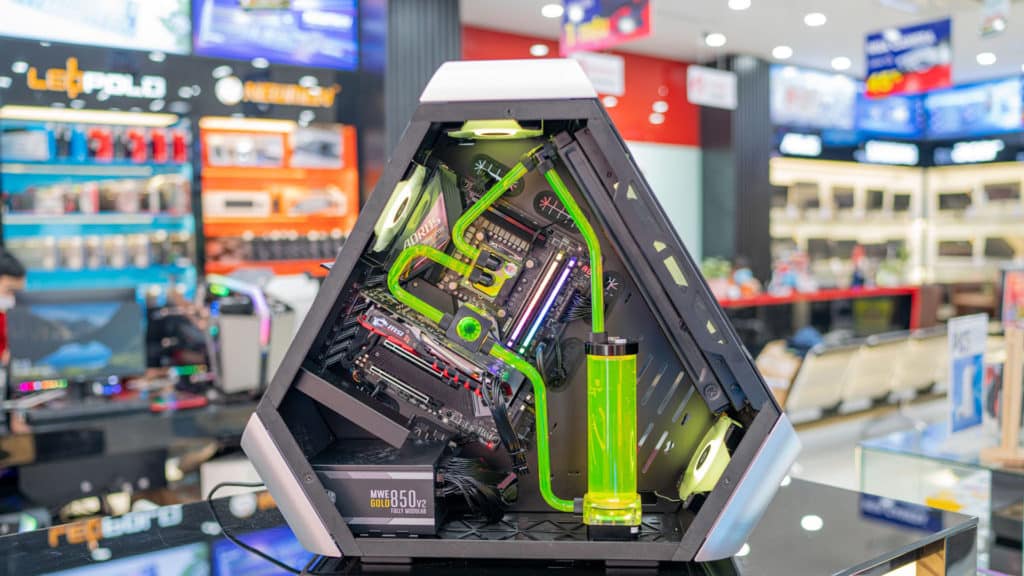 Case Type: Full Tower | Fans: 10 | GPU Length: 320mm | CPU Heatsink: 175mm
Stunning triangular design
Great airflow
Support for heavy GPUs
Pricey
This triangular case by Jonsbo is in a league of it's own. Getting this case practically means that regardless of what kind of set up you have, this is definitely going to be the star of the show. It's an aluminum casing with alloy steel and metal for added durability. The case is highly versatile and supports both 240mm and 360mm fans.
GPUs are getting pretty beefy these days and to accomodate that, Jonsbo included built-in brackets that are great for the RTX 3000 series lineup. The case does support only 320mm max length for the GPU so you should definitely check compatibility as some RTX 3080 and RTX 3090 variants will go overboard.
As far as air flow is considered, the vents are placed at the perfect spots to provide optimal air cooling. Apart from that, the case also has an anti-dust design that uses air filters to block out dust.
Overall, it's a good case but it's definitely on the pricier end of things and I'm not really sure if the price is jusitifed.
One of the main aims for custom PC building is to show off the installed hardware (the guts). The Lian Li 011 Dynamic makes it all too easy to do just that. It's to the point where your artistic capability will be on full display. Of course, if you struggle to draw stick figures, you should get help before building with custom PC cases! Perhaps an artistic family member can be called in? However, if your cable management and other skills are beyond the well-known Blind Drunk methods, you can have a lot of fun with the 011 Dynamic!
One of the main features of the 011 Dynamic is to showboat your hardware with the side and front tempered glass panels. All too easily the guts of your custom PC will be on display. Naturally, that's not the limit to this case. It's built plenty tough with alloy steel. Instead of holes all over the place, the cut-outs have covers to help hide and protect your cables. The coolest part is in the customizing options. Custom loop builders can go nuclear in knowing there's plenty of space for almost everything! Even as is, you can have one very sweet-looking PC on your hands.
Make no mistake about it. The 011 Dynamic can be one serious showboat for your hardware. So yes, do yourself a favor and start it with a fully modular PSU! Otherwise, you'll be listed among the Blind Drunk techniques users. That and it'll turn out uglier than 22 kinds of sin! Beyond that, you'll be fine.
InWin D Frame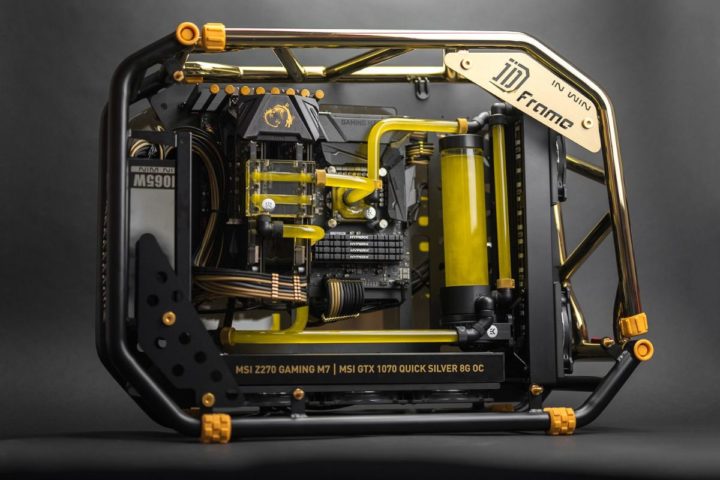 Case Type: Full Tower | Fans: 4 | GPU Length: 330mm | CPU Heatsink: 160mm
Rock solid build quality
Very open air design
Excellent thermals
Very modular design
InWin has this funny knack for cranking out some very unique computer cases. So why would you think the D Frame would be any different?! Not only will it make you wonder if you should ride it (please don't!), it'll look good no matter how you build it. That's the fun to having an extremely modular PC case. Whatever you do, try not to bring it to your favorite mechanic for assembly. They will look at you funny! Then again, you won't have to since it's all too easy to build with.
Start out this very open air designed PC case by being built with aluminum. While being so open air in design, this will help provide some incredible thermals. It's to the point where a PC case this size works well with only 4 fans installed. Beyond that, you can go nuts with custom loops since the interior space is plentiful. In being an all-out modular design, the D Frame also comes with an adjustable PSU holder. Your cable management just got easier that way. Top it all off with the top section which is actually the back of your motherboard. This allows for a nice loop down tactic on the back for your cables.
Being an easy to build with PC case is one thing. It's when you show up as fully modular PC case you get a whole new level of fun. Oddly enough, the D Frame shows up completely in pieces. That might have been a bit too modular! The good news is that you have a mountain of options here.
When going modular with a PC case, you'd want to be able to build how you need it. The Thermaltake Tower 900 does exactly that. If you want to build it with a custom loop, you simply remove parts that are in the way. Likewise, if you needed to include an optical drive into your PC build, simply use the included device racks. Basically, it's a custom PC builder's jig saw puzzle! That's what earns its place here as one of the most unique PC cases available.
As is, the Thermaltake Tower 900 can stand on its own and do pretty well for you. The very spacious interior ensures that pretty much everything you want in there fits in there. The vertical GPU makes sure your video card(s) are safely installed and cozy. There'd be no need for a GPU support piece. Calling this PC case "customizable" is a galactic sized understatement. You can use the included case parts all you like or next to none of them. PC builders that happen to be fabricators can have an absolute field day with this. Lastly, pretty much any custom loop you can cook up will fit in there.
When the Thermaltake Tower 900 is fully built with all the included parts, it weighs in at 54 pounds. Yes, many will get a hernia just thinking about lifting it. Yes, having a crane is rather handy! No, we don't recommend asking 6 year olds to help you move it! Despite all that, we do recommend the Thermaltake Tower 900 for those who really know how to custom build PCs.
One of the best features of custom computer cases is having plenty of room inside. This serves two purposes. Yes, it's nice to have plenty of space for all your PC parts. It's nicer to keep skin on your hands from not crashing into the PC case so much! While they were at it, Antec was nice enough to make a lightweight PC case. Even when it's fully loaded, the Antec Torque doesn't require a crane to get it in place!
Start off your custom PC build using the Antec Torque PC case which has 14 different aluminum panels. Several of which can be removed for various customizing ideas. The fun part is how much room you have to work with from the start. It's so roomy that a rather huge 450mm GPU can be installed. Then keep the idea going with 215mm of CPU Heatsink clearance. Even though it's a mostly open-air case, you'll either be relying on the 6 fans or a liquid cooling system. Either way, they'll fit pretty easily! Top it all off with a nice "Gundam" look/feel to it to make gamers and viewers just feel great to have it!
Despite how cool this PC case is, the downside happens to be the customizing options. Any PC builder can go completely bonkers for days just trying to decide how to customize it. It's not that it's difficult to do. It's that there're that many options for customizing it. The top and front panel pieces can be removed as simple examples. What's stopping you from replacing them with custom made pieces?!
InWin Diey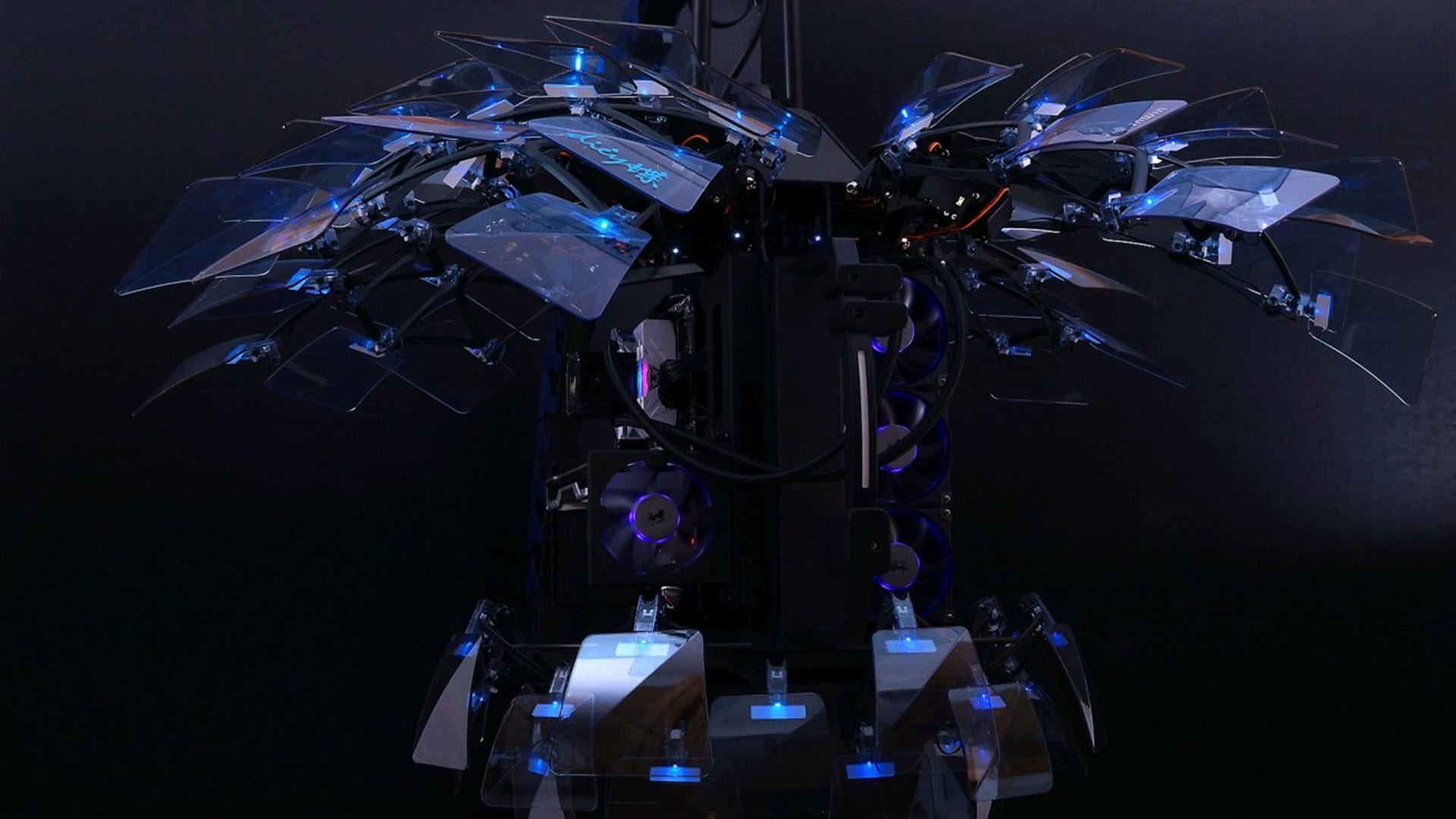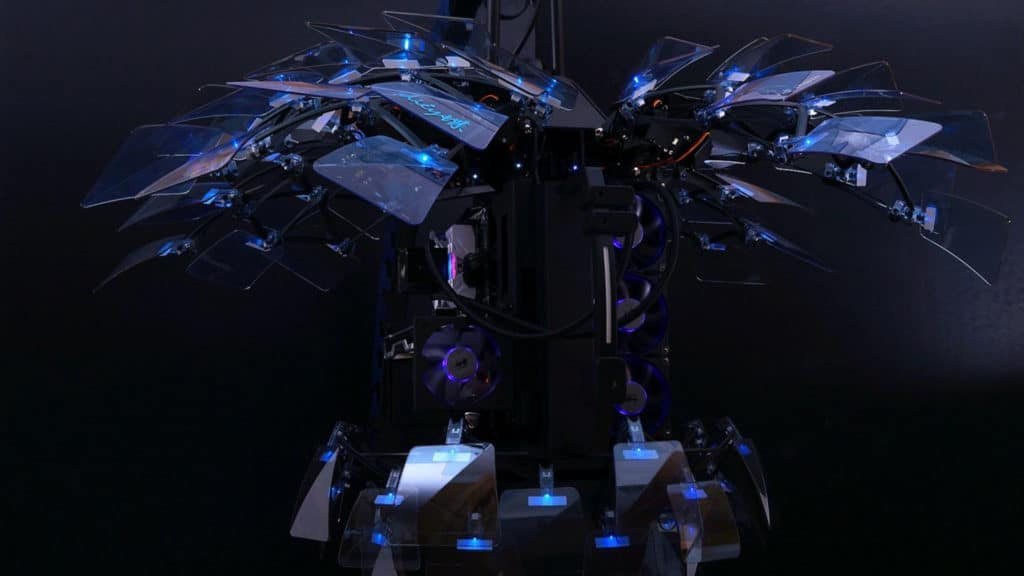 Case Type: Full Tower | Fans: 5 | GPU Length: 360mm | CPU Heatsink: 170mm
Absolutely unique design
Very cool features
Offline virtual assistant
Extreme price tag
InWin is known for a variety of PC parts. However, they really draw attention when it comes to unique PC cases. Then again, take a look at the above image and you'll see why. That's not the only PC case they custom designed. It happens to be one of their top PC cases. It also happens to be the one with the most unique features. It's to the point where you might play with the box more than its contents!
Upon first glances, it looks like it's just covered in plexiglass panels to make it look like a ball. The truth is that each panel has an array of ARGB. So going colorful takes on a whole new hell yes! They also fully open up to give you access to the PC you build into it. The main virtual assistant (VA) built into the Diey is named Jarvis. No, not the Ironguy one! However, it's still pretty cool. Yes, you can also use a different VA if you wanted to. All in all, this PC case is a features marathon and a design to make your GF/friends/wife jealous!
Despite the exceptional amount of unique and cool this PC case offers you, it's not cheap. Honestly, its price tag resembles a serial number! Unfortunately, looking this flaming good is costly. However, the deep look of absolute jealousy on your GF's/wife's/friend's face is priceless! Be ready with as many cameras as you can to record the moment, forever, when they see this thing. We just hope you matched it with a worthy PC first!
Hey, your parts are showing! This time, it's with the Thermaltake Core P90. What makes the Core P90 one of the coolest PC cases out there is how customizable it really is. Basically, it's a dream come true for custom loop builders. Even with the not so custom designed loops, you can be happy in knowing pretty much every water cooling setup fits. Sure enough, you can even go with fully air based cooling systems too. It's just the water cooling systems look way cooler in the Core P90!
Start this PC case out with the fact that you can put it pretty much anywhere. Yes, it can even be wall mounted. You'll see a lot of wall mounted monitors but a wall mounted PC? Ok, that'll grab attention in a hurry! It is a large sized case. However, you can lay it down on the non-tempered glass side. The separated sections of the Core P90 are both good looking and keep parts from frying each other. They also help keep parts from getting in your way. Top it all off with the vertical GPU bracket that keeps your GPUs nice and safe.
The main assumption is that your walls are not super reinforced. Yes, that's a common thing. However, when you're dealing with a PC case that starts at 37.9 pounds, you should consider wall mounting carefully! Make note of that part saying "starts at". So yes, this beasty of a PC case can easily get 45+ pounds. The wall you mounted it to might not be there long!
Streacom DB4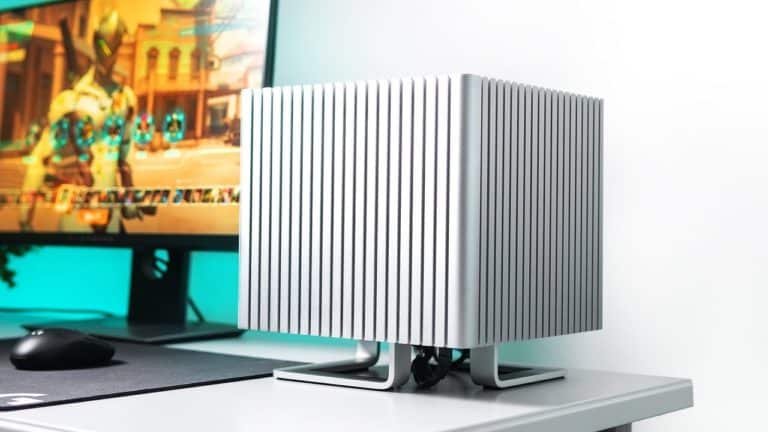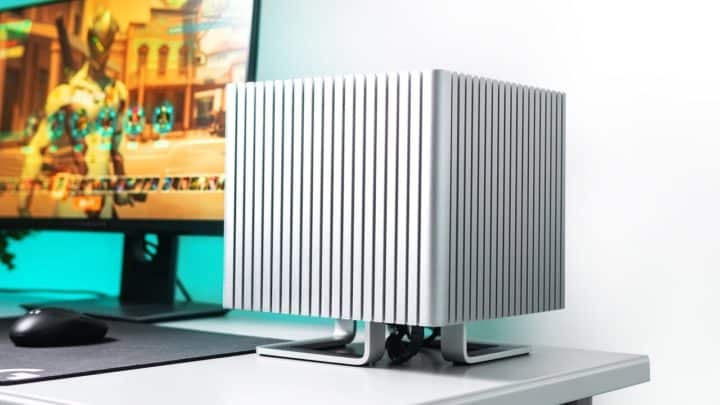 Case Type: CubedTower | Fans: 0 | GPU Length: 200mm | CPU Heatsink: Included
Incredibly lightweight
Very silent with no fans
No internal showboating worries
Needs specific PSUs and the GPU cooler
Once again showing some love for the Tiny House Nation folks is the Streacom DB4. When it comes to unique PC cases, here's one with some real nifty features. It comes complete with a deep lack of having to worry about what fans can work with it. It also comes complete with a deep lack of CPU cooling worries. If built properly, it also reduces or removes the worries over BBQ prevention!
Being able to hold up to ITX motherboards, you had to anticipate not needing a crane to move it around! The DB4 comes with a CPU cooler that attaches to the case. So much for the joys of looking for a CPU cooler! Just try not to touch the case too much! Now what's all this about having no fans? Basically, the entire exterior is a heatsink. The design allows for very nice heat dissipation. That's great but where's the fun in customizing it? That'd be in the top panel which happens to be acrylic. Yes, we're pretty sure you custom acrylics folks are already drooling with ideas!
The DB4 is definitely not a showboating PC case. However, it still looks pretty cool with no effort. If you really want this thing to be one seriously moving PC, you'd get a GPU for it. Unfortunately, you'll also have to get a separate GPU cooler for it. Otherwise, you can get a Ryzen APU and not really have to worry about it. Even though the DB4 works without fans, if you needed to you can install them.
NZXT H1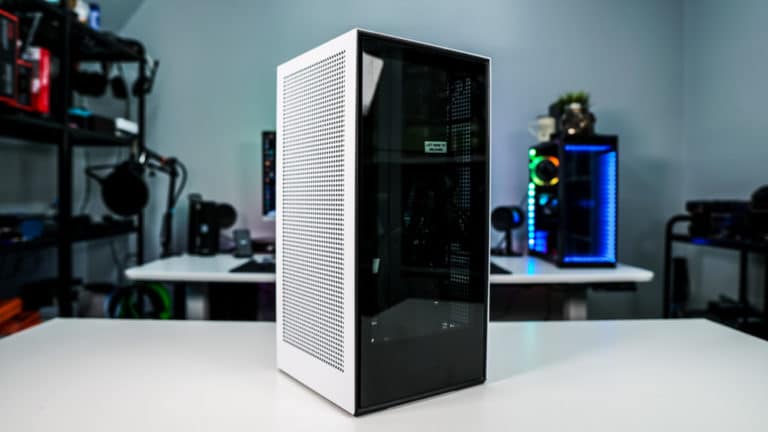 Case Type: Vertical SFF | Fans: | GPU Length: 305mm | CPU Heatsink: included
Integrated AIO
Integrated 80+ gold PSU
Pre-routed cables
A couple of issues
Not to be outdone in the custom PC cases arena, NZXT is showing up with the H1. Once again while including the love for Tiny House Nation setups, here we have another SFF tower. Is that a bad thing? No. It just means your chiropractor might start to miss you! That's ok since you can use the money you spent on that doctor to get a nifty H1! For all of you that are interested in tiny and potent, this can certainly cover you!
The NZXT H1 will certainly bring back memories of sliding off PC cases! That part aside, it'll certainly get you going very easily with the pre-routed cables. This will reduce cable management needs drastically. To save you some time at the minimum, the H1 comes with an integrated AIO. So your CPU cooling is already covered. With the integrated 650w 80+ gold PSU, you'll have to spend less time looking for a PSU. Finish it off with the included 140mm Aer P fan to keep the air flow nice and the heat removed.
The first concern is the fewer storage options. Your better bet is to check the M.2 slot usage of your selected motherboard. The next issue is the front panel. The main aim to most custom PC builds is to have a rather pretty showboat. Unfortunately, the front panel doesn't really show or boat! The good news is that you can skip out on a lot of RGB concerns at the same time. Beyond that, it's a small case which can pack a hefty punch.
InWin H-Frame 2.0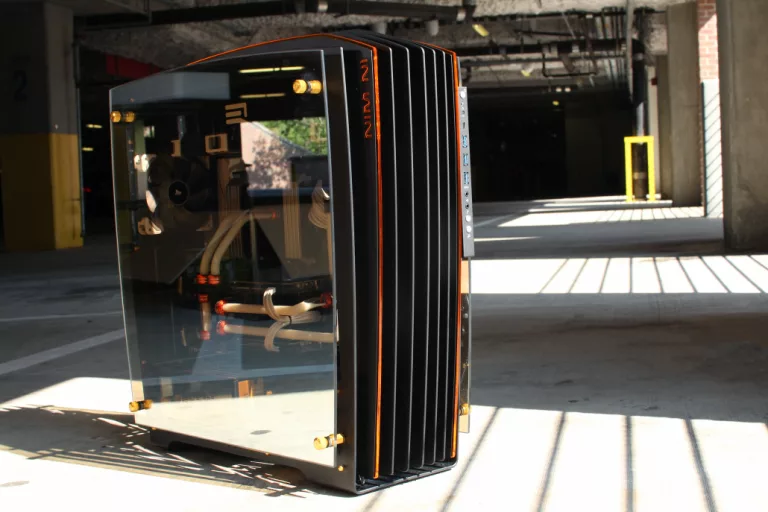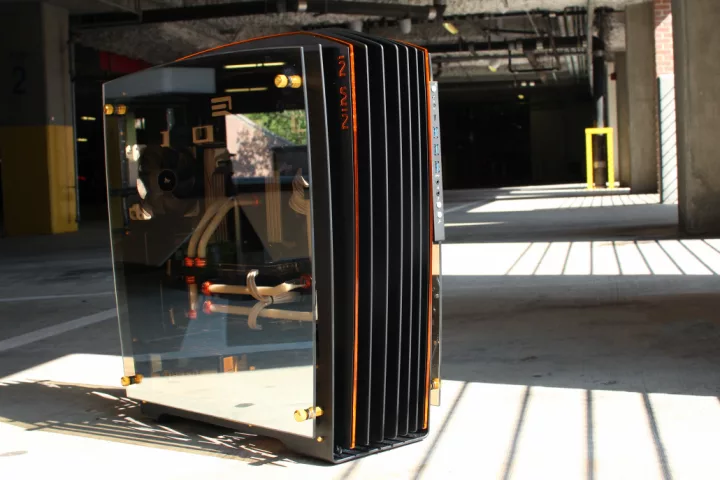 Case Type: Full Tower | Fans: 4 | GPU Length: 330mm | CPU Heatsink: 185mm
Nice front side LED controls
Includes 80+ platinum PSU
Serious storage options
Wallet will be upset
Basically, slice a PC case repeatedly as though it was a loaf of bread. Then make it look really good when put together. Here we have the InWin H-Frame 2.0 to do exactly that. Don't let the above image trick you. That is a very open air PC case. That's why it qualifies as one of the coolest PC cases currently available. Then again, InWin tends to cook these things up every so often. The H-Frame 2.0 is a limited edition case meant as their 30th-anniversary bundle. That should already tell you it's going to be packing features!
When mentioned as one of the "coolest" PC cases out there, that has a couple of meanings. Yes, the thermals are going to be low ("cool", huh?!). It also looks great even as is (also "cool"!). It's when you're using your PC with this open air style case in colder environments; the thermal worries get reduced. One of the cooler features to the H-Frame 2.0 is the side panel. It's like tinted glass. When your PC is running, you'll see inside it depending on your lighting/RGB setup. When your PC is shut down the side panel works like a mirror. So you either have your PC uses or your hairstyling/makeup uses. It's a PC case that keeps giving!
With all the features, "pretty" and customizing potential, something had to give! Unfortunately, the H-Frame 2.0 hits your wallet hard. The good news is that with its features, you won't mind. InWin sure went the extra 200 miles to make it hard to find fault here.
Lian Li DK-05F
Case Type: Full Desk | Fans: 18 | GPU Length: 400mm | CPU Heatsink: 185mm
Height adjustable
View switching glass panel
Absolute features marathon
A couple of weird issues
By now you've most likely heard of a "gaming desk". It seems Lian Li took that idea as a personal challenge with the DK-05F! For those who enjoy using multiple PCs for different things, the DK-05F can accommodate 2 complete, and completely different, PCs. Want a pair of PCs entirely for gaming or for different purposes all together? You can mix and match pretty much all you like. This will certainly make it easy to find space for them!
Start this PC case turned desk (or vice versa?!) with the adjustable height frame. It does exactly as implied and has a set of memory heights. Try this for unique computer cases. You can adjust the top glass panel to show off your PC guts or show nothing with a single button press. A lot of folks like to have 1 PC for gaming and 1 for various other things. They can both be installed here with little difficulty. Then keep it all artic cold with pretty much any cooling solution you can think of. It's nice having massive internal space!
As completely cool as this PC case can be, it does show up with a few issues. The first and obvious would be to do your best to get it built in place. The sheer size of it demands this! Otherwise, you might have to remove a wall or 3 to get it through the door. You'll also need several weightlifting champions to get it in place! The other would be to keep it away from those who are prone to "Gamer Rage"!
Vetroo K2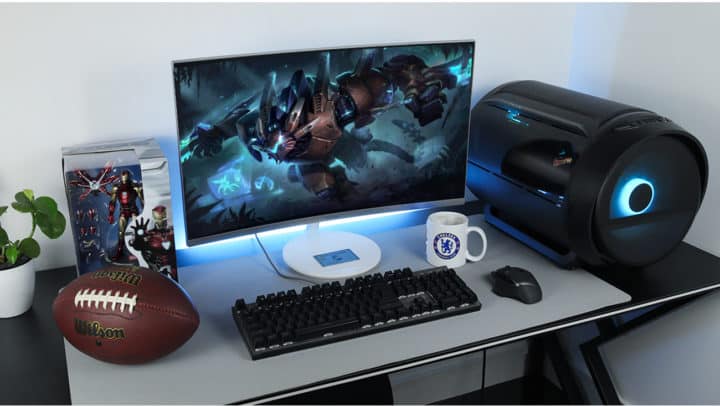 Case Type: Mid Tower | Fans: 4 | GPU Length: 320mm | CPU Heatsink: 165mm
Confusing but fun appearances
Fairly easy to build with
Big for a Mini-ITX/ITX case
Need to mod front panel
Did you ever want to tell your friends "Hey, don't stand in front of my turbine engine." or "Hey, go ahead and try out my new Bluetooth speaker."? With the Vetroo K2, all this and more becomes possible! In staying with the unique PC cases theme here, it's rather difficult to not say this "tube" isn't unique. The fun part is making your friends wonder how you're gaming with a speaker! That or making them wonder where you managed to get a turbine engine!
You can get this PC build going with your choice of a Mini-ITX or an ITX motherboard. Either way, ITX will be in the name! Now for having something nifty, the drawer-style drive bays can salvage some of your building time. The cable management is eased for you in two ways. First, it's a bit more spacious in there than it looks. Second, much of your cables would be stashed away in the lower sections for a very clean look. Lastly, this is one of very few cases which have a Reset button (refreshing!).
Even though the upper front panel is a nice little piece of tempered glass, it can get in the way. Your choices include live with it or mod it. This is why it's handy to have friends which own a drill press! The other option is to look into custom plexiglass making or use other materials. In any case, the included front panel shows off the included RGB fan nicely. Unfortunately, the K2 didn't vent the front side piece.
AZZA CSAZ-802F Cube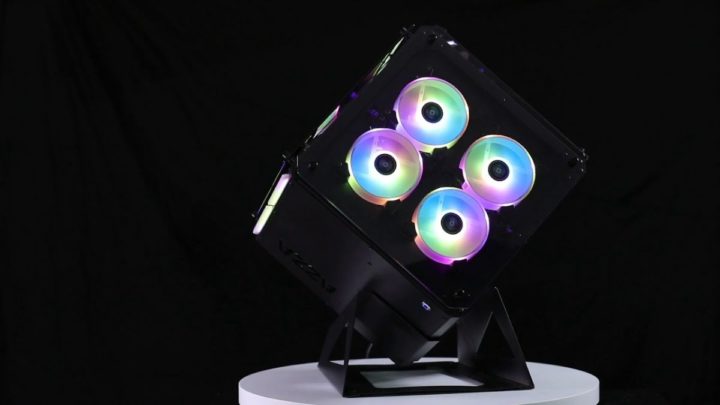 Case Type: Mid Tower | Fans: 5 | GPU Length: 320mm | CPU Heatsink: 165mm
Dual Chamber setup
Very easy to build
Very easy cable management
No front side ports
Somehow, Azza managed to make a cube look really good. Yes, good enough to make The Borg want one! We all know they really like cubes. We'd wager you want one too! It's one thing to have one of the coolest PC cases out there. It's another in finding out just how easy it is to put together. In any situation, the Azza CSAZ-802F Cube isn't some block of dull!
Naturally the first part that's noticed is the front panel covering the included ARGB fans. To most folks, they'll see a nice tempered glass panel just like the other 2. True blue custom PC builders will see a chance to replace it with a custom front panel. Especially since the RGB is already there to light it up! The dual chamber setup to this case means you can keep parts from heating each other up. That and it's what makes the cable management so easy. You don't have to plan out your cable routing much at all. Just stuff the extra wires into the concealed lower section and you're pretty much done. It doesn't get much easier!
Despite the good looks and easy-peasy PC building setup, the Cube has a problem. Many would consider this a major problem. It's the lack of front side ports or any kind. The only constant towards this is the power button. You'd really have to decide if those are important to you before buying the Cube. Otherwise, you'll have to plan its location well for easy access to the back of your PC.
Fantech CGX7 Cobalt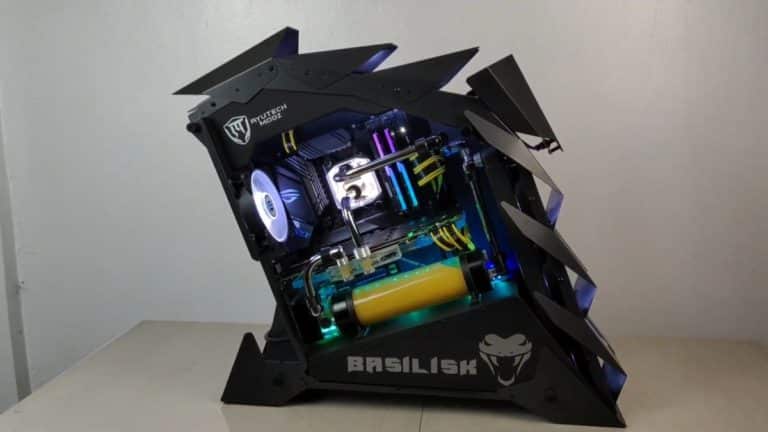 Case Type: Mid Tower | Fans: 7 | GPU Length: 350mm | CPU Heatsink: 170mm
This will turn heads
Excellent build quality
Aggressive "Decepticons" look
It gets heavy
For those of you that are unfamiliar with Fantech, they provide a selection of PC gaming parts and related gear. It happens to be a very large selection. It'll take you a while to read through it all. Here's the shorter version. They have one of the most unique computer cases out there. It happens to have this aggressive Decepticons vibe to it. So much so that you might not want to look funny in its general direction! In any case, it sure gets more attention than an earthquake whenever someone sees it!
When you get started with the Cobalt, you'll quickly notice the very solid steel frame. That won't fall to pieces anytime soon! The inside is a lot more spacious than it appears to be. It's also a lot wider than it appears to be. That's just the Decepticon sneakiness! Depending on how sneaky you get about it, you can most likely get a custom loop going in there too. Even without liquid cooling, the temps can stay pretty low with the partially open air design for lots of airflow. Lastly, you can have some fun with the wide variety of AIOs that will fit/work with this case.
Yes, when put together, the Fantech CGX7 Cobalt weighs in at a puny 21 pounds. Initially this sounds pretty puny for custom PC building. That's because it is pretty puny for custom PC building! It's when you get it fully built with all your parts you'll want a back brace. That or you'll want a crane. Or someone else to lift it! Warning, it gets heavy!
KEDIERS 570 Panoramic Viewing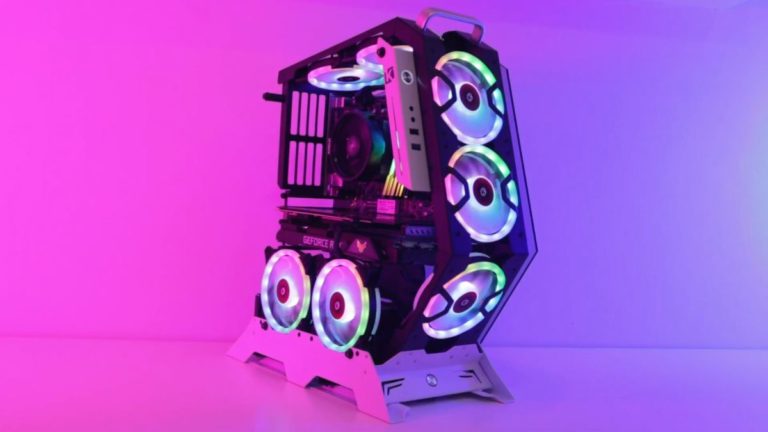 Case Type: Mid Tower | Fans: 7 | GPU Length: 340mm | CPU Heatsink: 150mm
Very wallet friendly
Comes with 5/7 RGB fans + remote control
Nice airflow for cooling
Cable management gets tricky
It's one thing to have a PC case that comes with nice cooling fans. It's another bundle of fun when it comes with up to 7 RGB cooling fans and the remote control. Why stop there for all you RGB lovers?! The fan hub is also included. To make sure no one thinks this is some cheesy, "one way" deal, there's also a front side button to control the RGB fans! If RGB fans don't exactly "float your rock", yes, there're plenty of options for a custom loop too! In terms of custom PC cases, this one can rank high.
You'd think that there's something fishy going on with the 2 RGB fans directly on the side panel. As it turns out, nope, they're not directly on the side panel. They're close enough but still produce good airflow. Being a partially open air case helps the airflow and all the fans. Next, check out the top handle. If by chance you need to lug your PC around, that'd be how! Otherwise, you can use it as a headset holder. Being a "Panoramic" case, you can check out most of your PC guts from any side. Yes, you can fit a lot of PC guts in there!
The biggest problem encountered with this PC case is that the cable management is a bit tight fitting. If you're using SSDs and/or HDDs in your PC build, you can expect concerns. When using NVMe drives, you're concerns are reduced! In any situation, it's a pretty cool PC case to have.
Cougar Conquer 2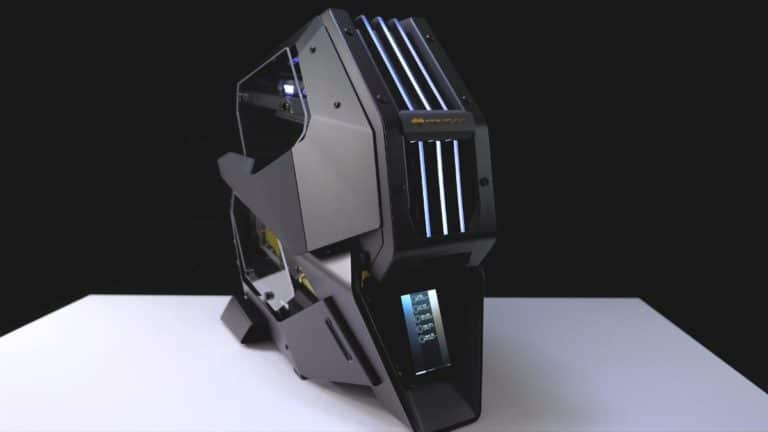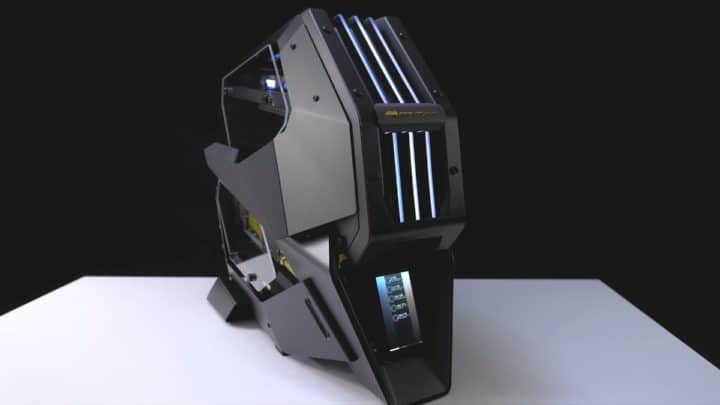 Case Type: Full Tower | Fans: 6 | GPU Length: 400mm | CPU Heatsink: 150mm
Very cool pull out design
Spacious despite initial appearances
Nifty customizing for the bottom front
Orange side panel blocks inside view
Did you ever feel like performing open heart-brain surgery mechanics on a PC? Custom building PCs with The Cougar Conquer 2 will make you feel like you just did! No, you won't need a PhD for this. You'll just need customizing ideas to use on it. With the potential of this case, it won't be hard to come up with 1 or 44 of them. Quite literally, if you have the tools, talents, and ideas, this case has the space for it. In terms of custom PC cases, you can go all out with the Cougar Conquer 2.
The first part that stands out is the entire front end of the Cougar Conquer 2. The middle and top sections are ARGB so you can easily color match things. It's that bottom section where coolness is only limited by your creativity. Yes, you can even put a LCD panel in there for various display purposes. The pull out design makes it feel as easy as opening a drawer. Just don't pull hard on it once the front side connections are made! Lastly, make sure everything fits with the surprising amount of internal space. It's to the point where custom loops are not a problem.
The main concern sticking out like a sore thumb is the orange side panels. As to why they exist is a universal mystery. The good news is that they can be painted to match whatever customizing you like. Or you can change them. Or you can remove and destroy them. Your choice!
Dareu CS-8856 White Tiger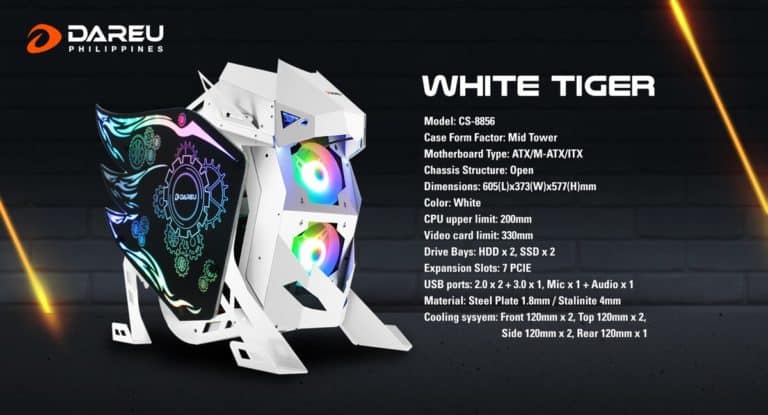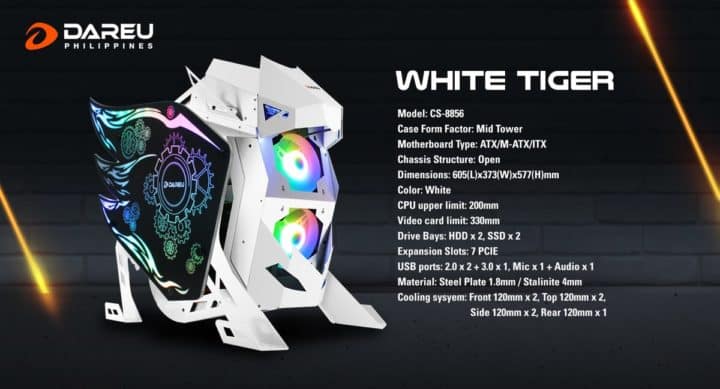 Case Type: Mid Tower | Fans: 5 | GPU Length: 330mm | CPU Heatsink: 200mm
Comes with 5 fans
Good CPU heatsink clearance
Good price tag
Standard front side ports
You most likely haven't heard of Dareu. For those that have not, they have a nice variety of PC parts. If anything, they sure make one of the coolest PC cases you'll ever see! The really nice part is that you don't have to worry much at all about the RGB inside the case (AIOs and etc.). As you can see in the above image, the side panel lights up according to the installed RGB. When it comes to being really cool, it's not easy to beat this one. No, it also won't present you with a heart attack price tag!
The usual first thought when you see the White Tiger is "Must customize it, 30 seconds ago"! That's the beauty of it. You can customize the insides all you like (RGB setups). You can also do next to nothing for customizing the insides. The way it's designed with the custom wing tip side panel, you won't see the insides much at all. However, the stalinite side panel and front end glow with your fans and other RGB. Yes, it definitely has the space and features most PC builders aim for.
Despite how sweet and capable this PC case is, it's those front side ports that might make you consider things. Yes, it does have the standard front side ports and they work fine. It's that they're not the latest ports like in other PC cases. However, a lot of that is already not worried about depending on the motherboard you install. In any situation, it's nice to have a tiger that won't eat you!