NetEase and 24 Entertainment has released a fast-paced, parkour 60-man battle royale in Naraka: Bladepoint and so far it's been getting mostly positive reviews on Steam.
It wouldn't be fair to rank every weapon in this game because it will all depend on how you will build around the weapon. For example, a dagger might not blend well with most characters but if you let Matari use it, she can be a threat.
So we'll tackle our quick impressions of each weapon in the game in order of appearance through this Naraka weapon tier list.
Tier Summary
S Tier: Bloodrippers*, Swarm*, Flamebringer*, Katana, Repeating Crossbow
A Tier: Longsword, Spear, Bow, Dagger**, Flamebringer*
B Tier: Greatsword, Cannon, Musket
C Tier: Dagger, Pistol
* – These weapons are only obtainable through Morus' Blessing
** – When you're playing as Matari or if you get the highest rarity
Melee Weapons
Bloodrippers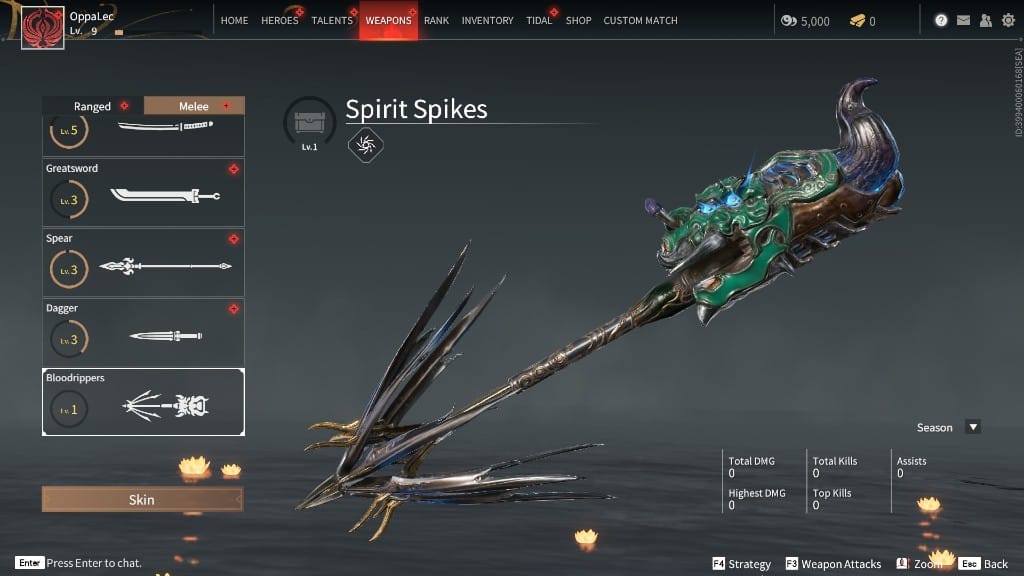 This is one of three weapons that you can get through Morus' Blessing by quickly checking the gold circle on your map. Be careful though, other enemies might also come after the rare loots so be on your toes.
The Bloodrippers act like a drill, chainsaw, and battering ram in one and if you get caught by its rolling blades, you'll probably throw in the towel and hop on to another Herald's Trial.
It's a no-brainer that this weapon top's the Melee Tier list.
Longsword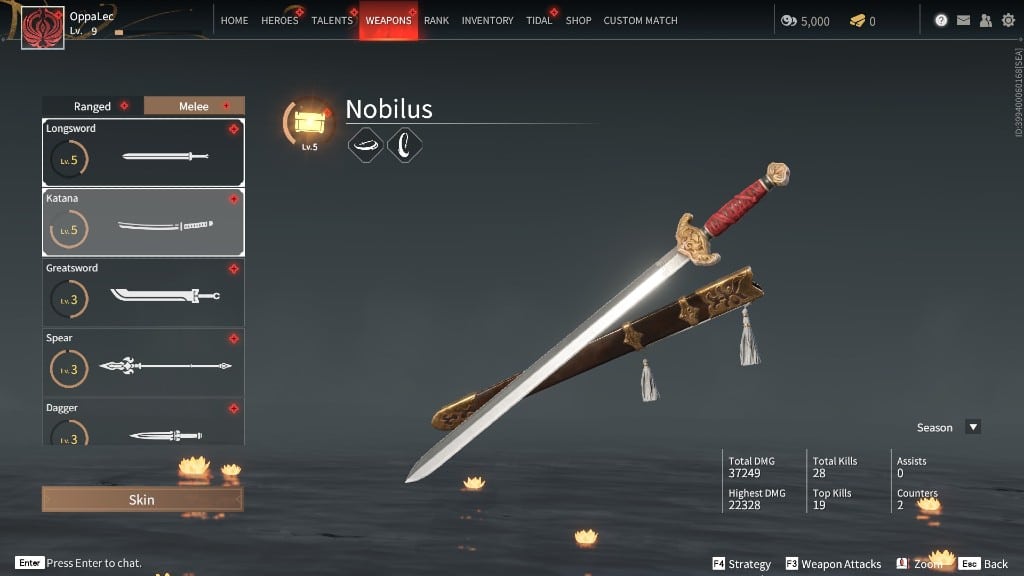 The Longsword is one of the most common items that you might be able to pick up in Naraka. Doing a Blue Focus attack with this weapon gives you further range but it's not the fastest sword that you will wield.
Its horizontal and vertical focus strikes will also send out ranged shockwaves so this is useful for escaping targets. Just be careful not to get caught in a parry and you're offensive plans might backfire.
Katana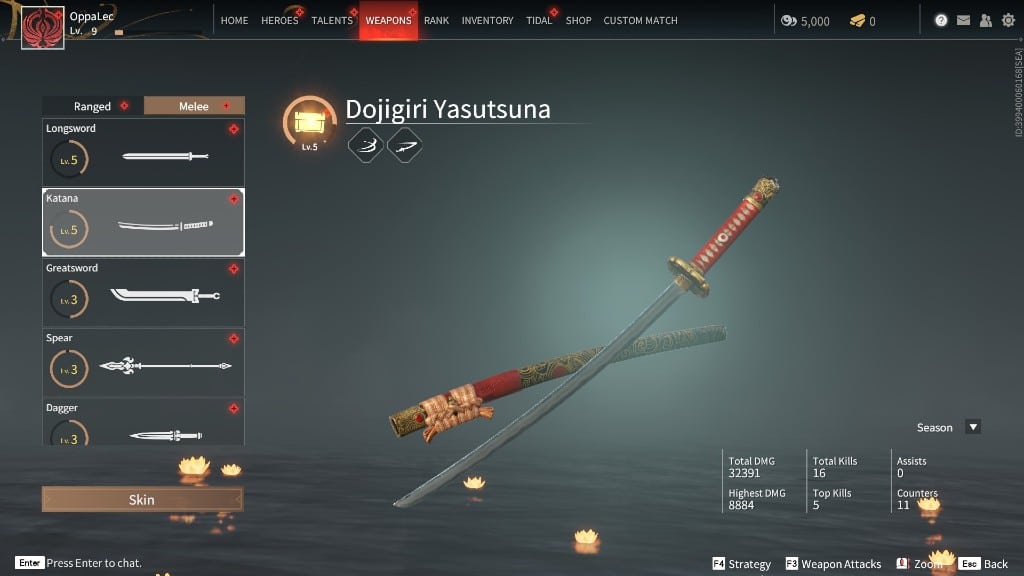 The Katana is probably one of our favorite weapons that you can get in Naraka giving you the full samurai experience. The follow-up attack after landing a grappling hook onto your opponent is one of the most satisfying combos that you can dream of as long as you don't get parried.
Additionally, its Blue Focus attack gives you the chance to quickly do a follow-up in your combo making it the fastest sword that you can get your hands on in Naraka.
Greatsword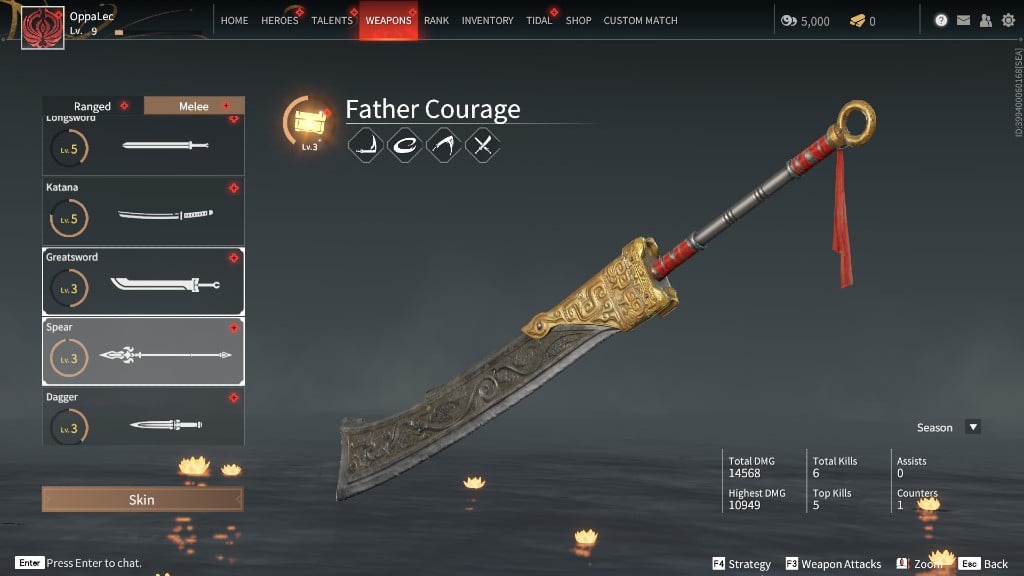 If you wanna feel like Cloud from Final Fantasy VII then this weapon might interest you. Although its attack animations are slower than the Longsword and Katana, their damage is devastating enough to punish enemies.
However, the Greatsword can be easily read by veteran players who know how to parry properly. This weapon might suit Temulch with his Zephyr Prison ultimate which could greatly knockback opponents surrounding him.
Spear
The spear is a great weapon if you want a slightly farther attack reach from your opponents while sacrificing a bit of speed when it comes to combos. Once you grapple hook onto an enemy be ready to launch a flurry of stabs.
Dagger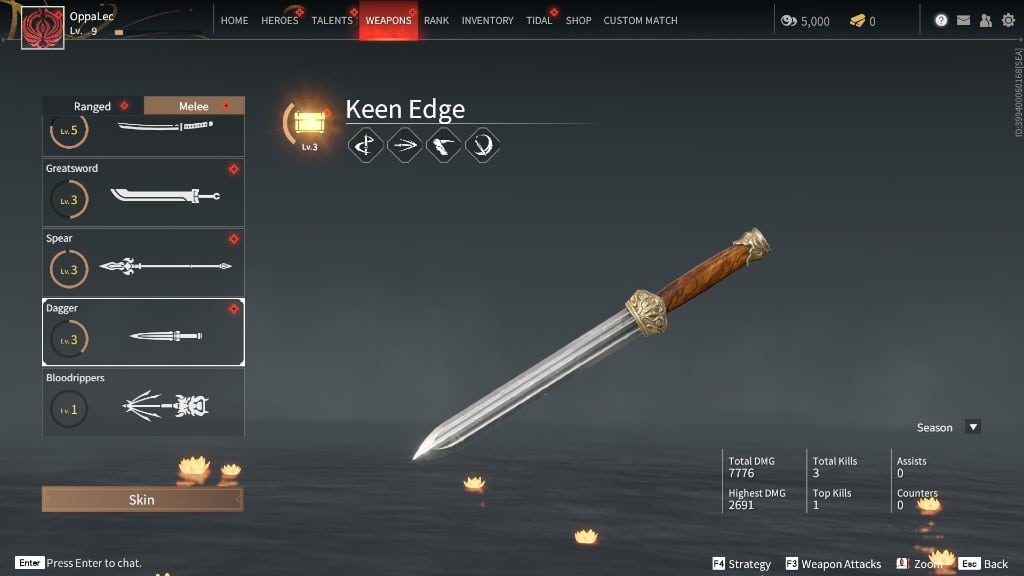 The Dagger doesn't give you stagger, but it's the fastest weapon of the game. If you're lucky during your battles, you might even get a legendary variation of this weapon which gives you a greater offensive advantage against your opponents that is if you'll be able to strike first.
This is more of an assassin's weapon choice like Matari since the dagger complements her Silent Flutter F skill and Unseen Wings ultimate which gives her blink and stealth abilities, respectively.
Maybe a good weapon when starting early but it gets weaker during the late game unless you're great at dodging.
Ranged Weapons
Swarm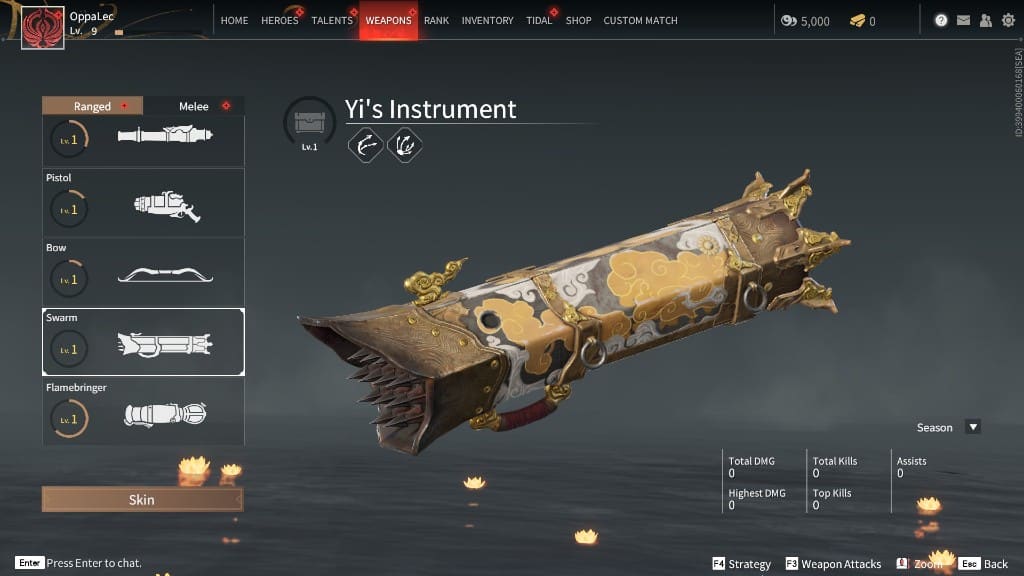 One of the top-tier weapons in Naraka and two of three that you can obtain with Morus' Blessing think of the Swarm like a Cannon but with a rapid-fire rate. You might as well feel like Rambo after touching this weapon.
If ever you have the chance to wield the Swarm, give it a go and wreak havoc! Here's a random clip we found where a Temulch grapples an enemy while his teammate fires off the Swarm.
Flamebringer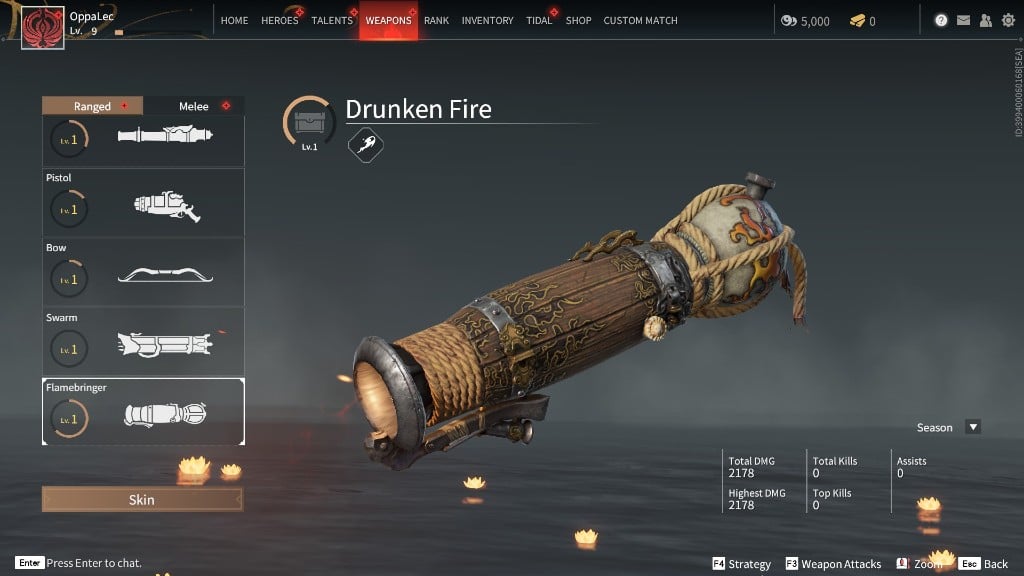 Another weapon in our Naraka: Bladepoint weapon tier list is the Flamebringer which you can also obtain only through Morus' Blessing. Its best used in medium-range and gives higher damage the closer you are to an enemy.
Not to mention that it has 150 worth of weapon durability also making it a great AoE weapon if you're lucky to burn multiple enemies at once.
Repeating Crossbow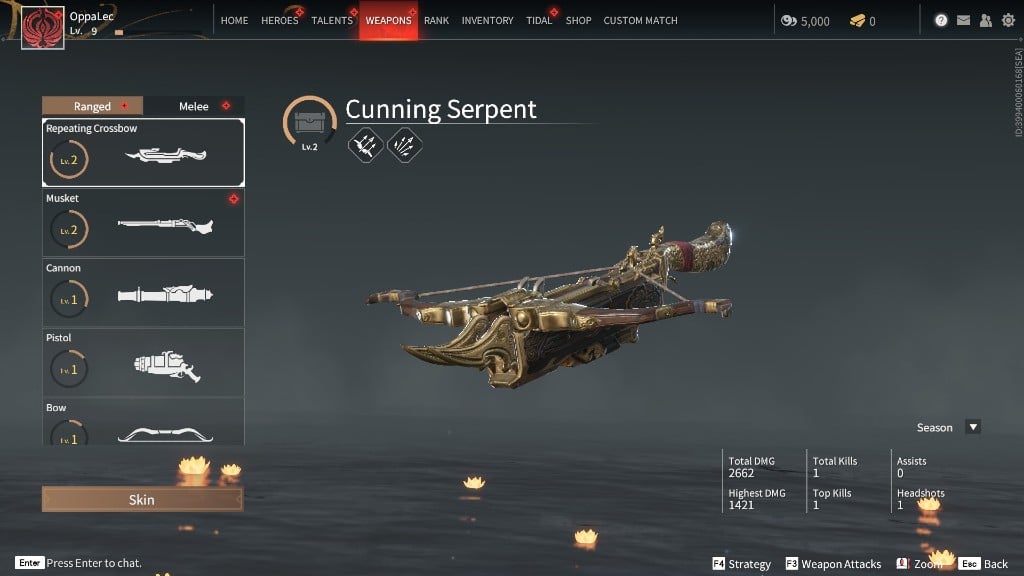 Ranged weapons in Naraka are probably the hardest to handle and mostly situational because most of the time, you'll see people running around and you're going to need great aiming to take advantage of these weapons.
But the Repeating Crossbow is one of the exceptions to this rule. Its fast fire rate can quickly weaken your foes if you hit all your shots right and finish them off with your melee main weapon.
Musket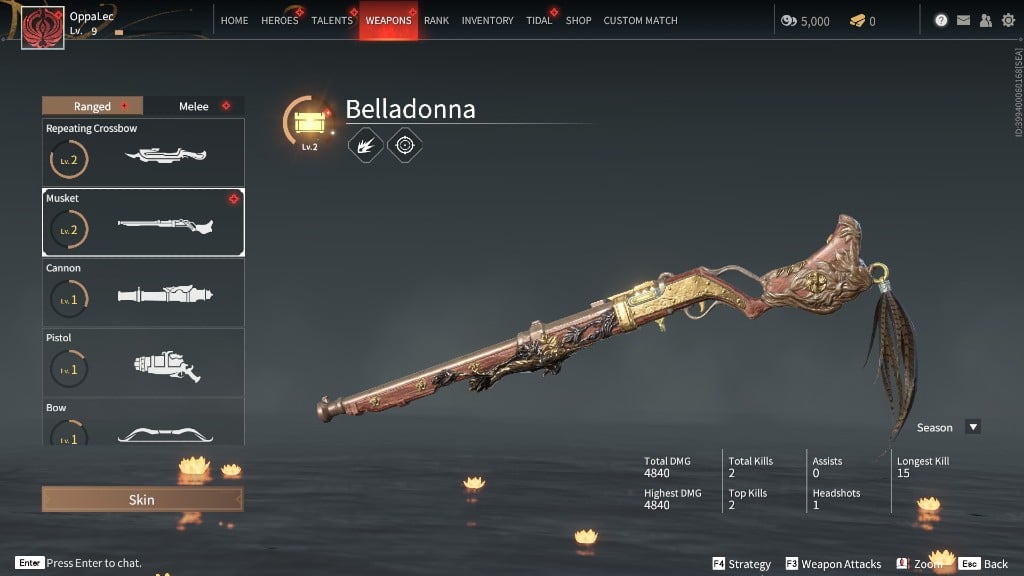 The musket isn't the best weapon in the ranged category but having a well-placed shot can be deadly despite its slow bullet travel time. If you hit the enemies just right it can make you feel like a sniper in the game together but if you want better precision and a faster fire rate, you might as well take the bow.
Cannon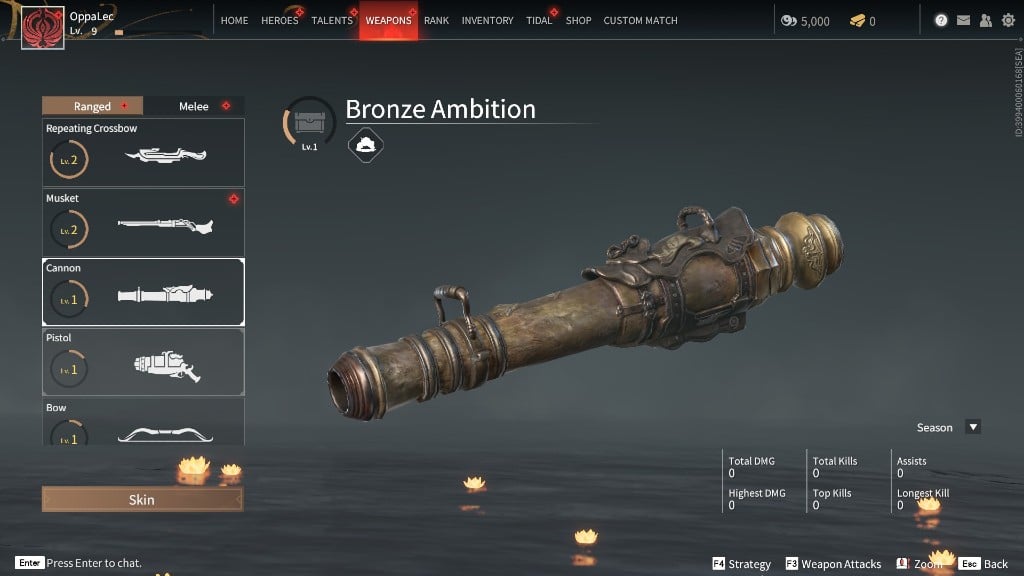 The Cannon is a decent ranged weapon to have in Naraka, although it has limited durability, it can deal enough explosive damage to send your enemies running. If you're lucky you might even kill two birds with one stone if you see an ongoing swordfight and you suddenly interfere.
Bow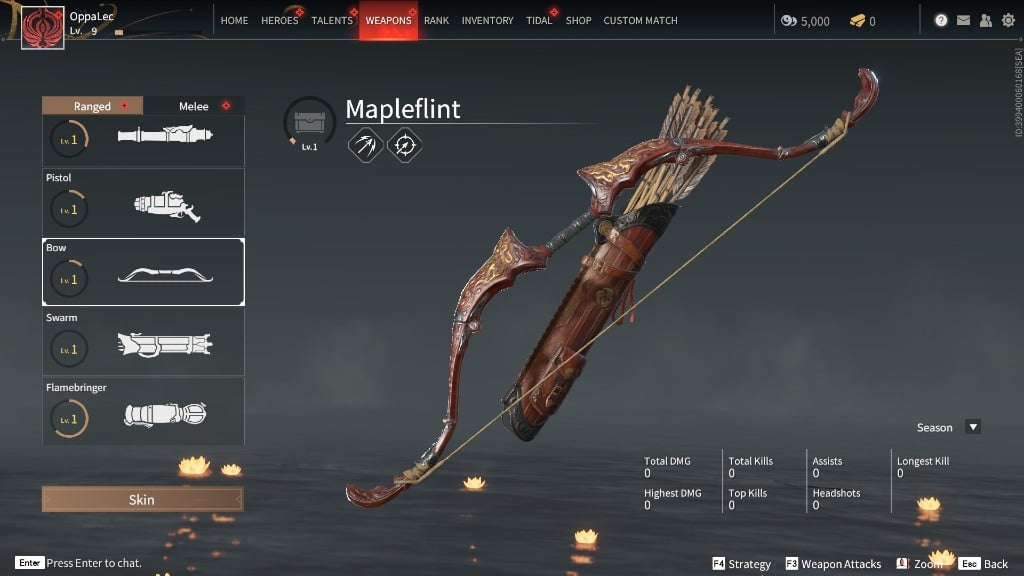 Feeling like Aloy from Horizon Zero Dawn? Then you might want to pick one of the most accessible weapons in Naraka. For those who prefer hiding in the trees and spotting vantage points, the Bow might be for you.
Charge it enough for big damage and you can even send your enemies disarming their weapon once you hit them on the head. Imagine landing a grappling hook combo, that would send them sweating.
Pistol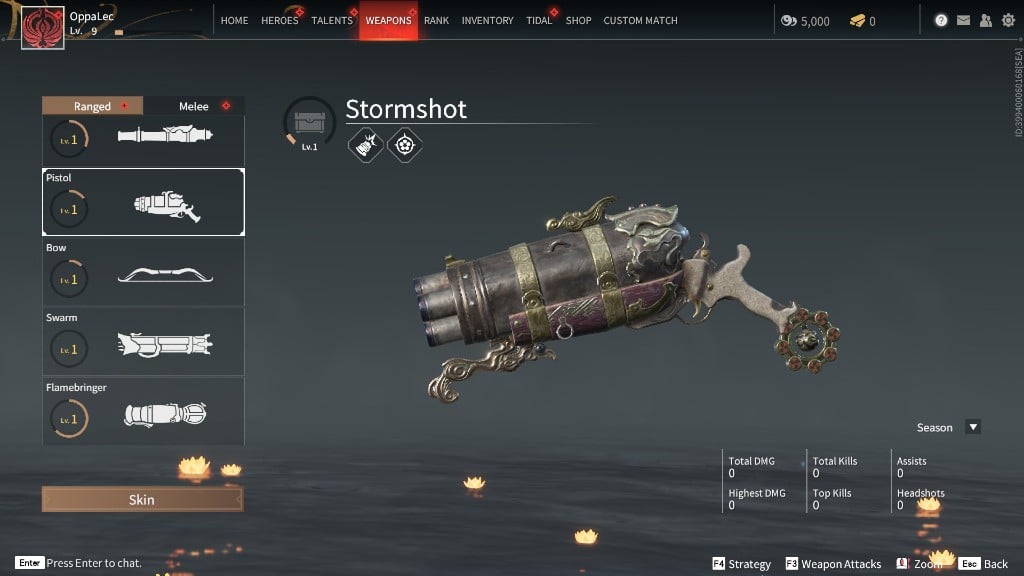 You might use the Pistol rarely because the main feel of immersing yourself in Naraka is melee combat.
This will probably fall into the low tier because there are plenty of better weapons to pick up in this game anyway and the Pistol might just be added weight on your backpack which I would do all the time.
It also feels like a close-range shotgun so you might as well be better off playing other battle royales if you're gonna treat Naraka like Apex Legends or PUBG.
We hope you enjoyed our quick rundown of this Naraka: Bladepoint weapon tier list. What's your favorite weapon in this collection? Feel free to share your thoughts in the comments.