A first of its kind Need for Speed 2022 Leak has shown us some very early and rough look at the latest unnamed new entry to the series, but without a name or further details on it yet, we would ordinarily have to use our imagination, but some leaked media for the game has taken that liberty away from us and now we want to see more!
Need for Speed 2022 Leak Is Abundant
On the Need for Speed Discord, a leaker dropped a lot of content for the game: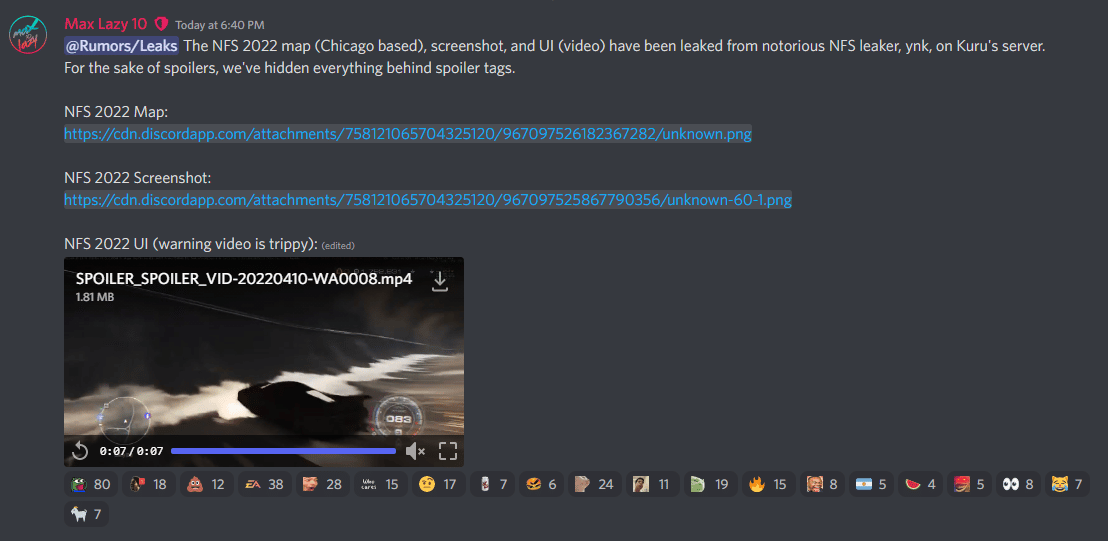 You can find attached all of the content attached in their message below:
The game is set to take place in a fictional version of Chicago, and while we don't know the name of the city, the game or any other markers, we are tentatively going to call the game Need for Speed 2022.
The leaked video is 7 seconds long and is not for the people who are easily irritated by fast motion.
It appears that the game is in a very rough state and this is the developer mode of the game to show off the game in a rough and unpolished state.
Tom Henderson has speculated that the game is set to release later this year, if that is the case then we should be expecting an EA Play 2022 sometime later this year, perhaps that would be the right place to announce this game, and Skate 4 release date.
The Need for Speed has had a long absence, with the last game in the series releasing in 2020, Need for Speed: Hot Pursuit. Perhaps this 2022 entry is just the breath of fresh air that the series needs to get back on the map.
With the rising popularity of the Forza games, this is now the best time for Need for Speed to return to the fans.