Valorant's Episode 7 release is here. You know what that means, a rank reset, a new agent, and a bunch of fresh features. One of the features that Riot is going to introduce is a new Valorant progression system.
The new system is a quality-of-life update that will be the new avenue for unlocking agents, acquiring accessories, and buying old battle pass items, among a few others. It's definitely an exciting system that has the entire Valorant community wondering how it will work.
A New In-Game Currency: Kingdom Credits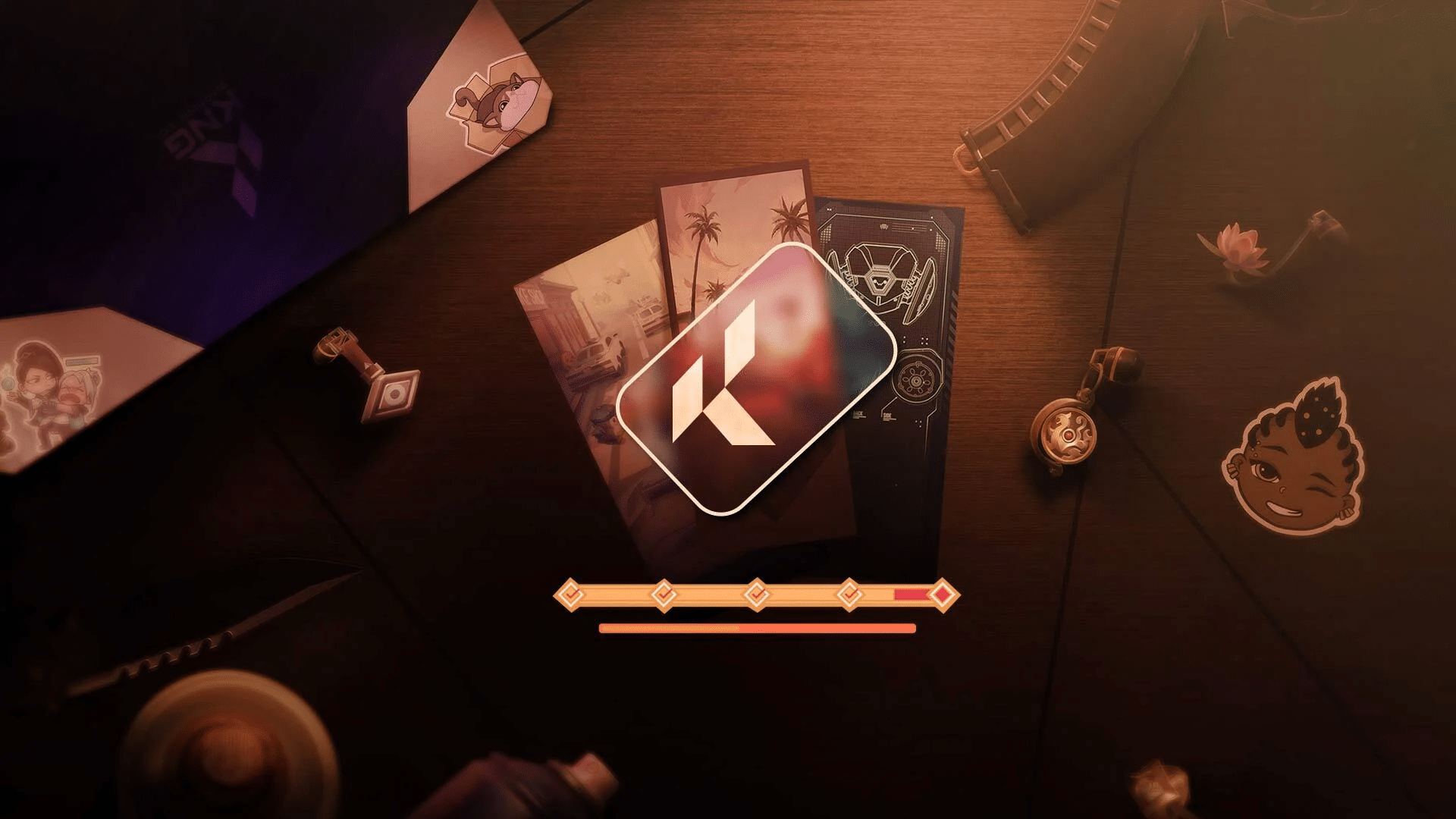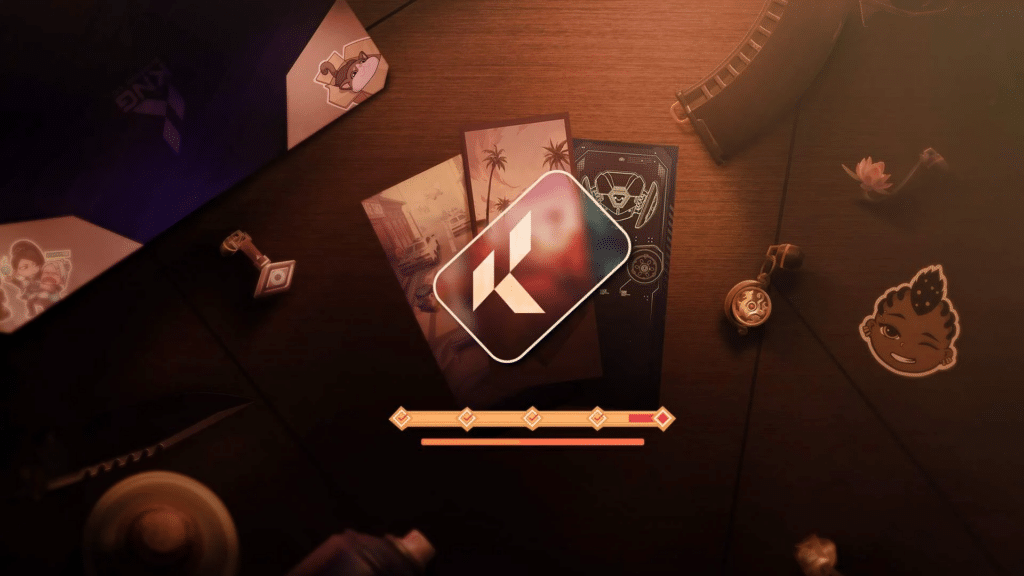 As part of the new Progression System, Riot is introducing a new in-game currency called Kingdom Credits. Using Kingdom Credits is the only way you can purchase items that are available in the Accessory Store and Agent Store.
Don't worry. It's not going to cost you any money and can't be obtained the same way Valorant Points or Radianite Points can. Kingdom Credits can solely be earned in-game and can't be bought using real money.
There are two ways to obtain Kingdom Credits. You can get them by playing games from all game modes. You can also get bonus Kingdom Credits for winning more rounds. Lastly, you can also earn Kingdom Credits by completing Daily Checkpoints, which will replace the Daily Missions we got from previous Episodes. We'll talk about Daily Checkpoints later on, so be sure to continue reading.
As we've mentioned above, Kingdom Credits can be used to purchase Agents, Agent Gear, and previous Battlepass items. Previous Battlepass items will only include the accessories like Gun Buddies, Player Cards, Sprays, and Titles. This means that weapon skins will remain exclusive to Battle Pass buyers.
Riot is promoting heavy use of Kingdom Credits. They want you hoarding that stuff up like crazy, which is why everyone has a credit cap of 10,000. If I were you, I'd spend as much as possible and as often as possible. Maybe keep a few for some items you're waiting for.
A New Accessory Store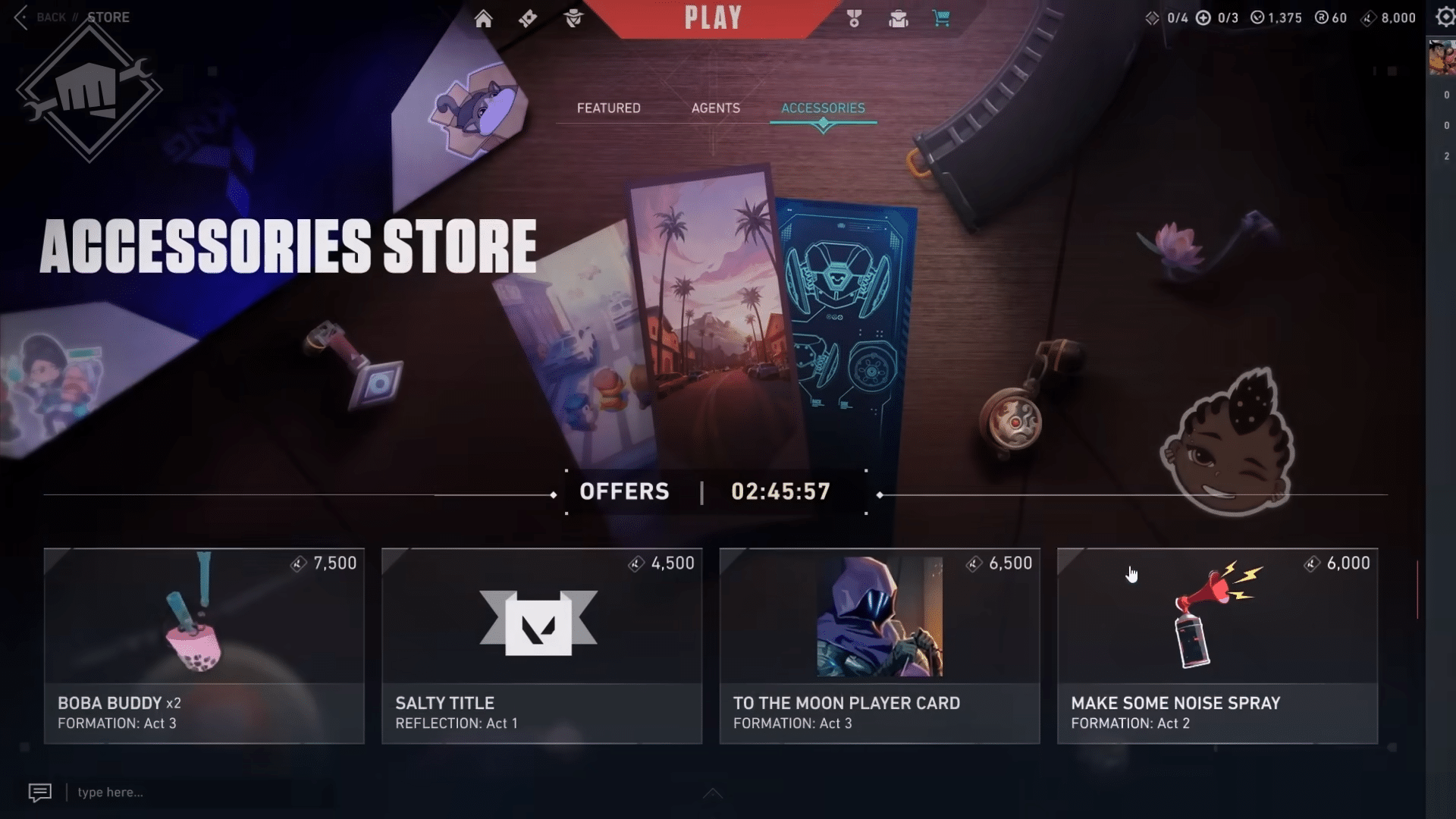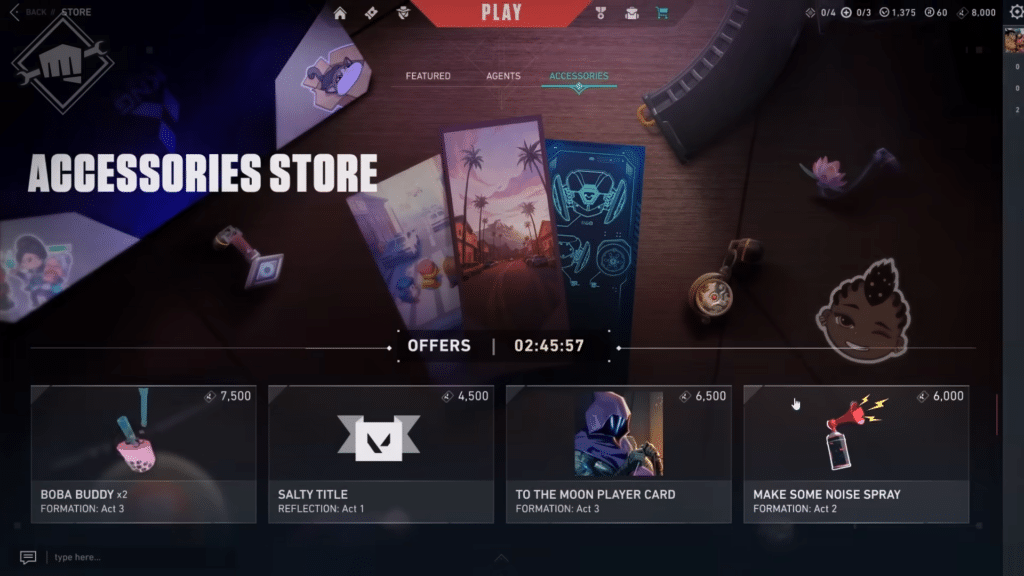 As we've mentioned above, a couple of new stores will be introduced so that players will have a place to spend their Kingdom Credits on. One of those stores will be known as the Accessory Store.
The Accessory Store will be quite similar to the regular Valorant Store but will contain items from previous Battle Passes. All of the items in the Accessory Store can only be purchased using the new Kingdom Credits.
Like the regular store, items found in the Accessory Store will be randomized and unique for every single Valorant player. The store will reset every week, and everyone will get randomized items again.
The Accessory Store will never contain any weapon skins or knife skins from previous Battle Passes. It also won't include anything from the three most recent Battle Passes, including the current active one. This is one of the more exciting features that the new Progression System will bring, especially since it allows players to unlock more items for free.
A Modified Way to Unlock Agents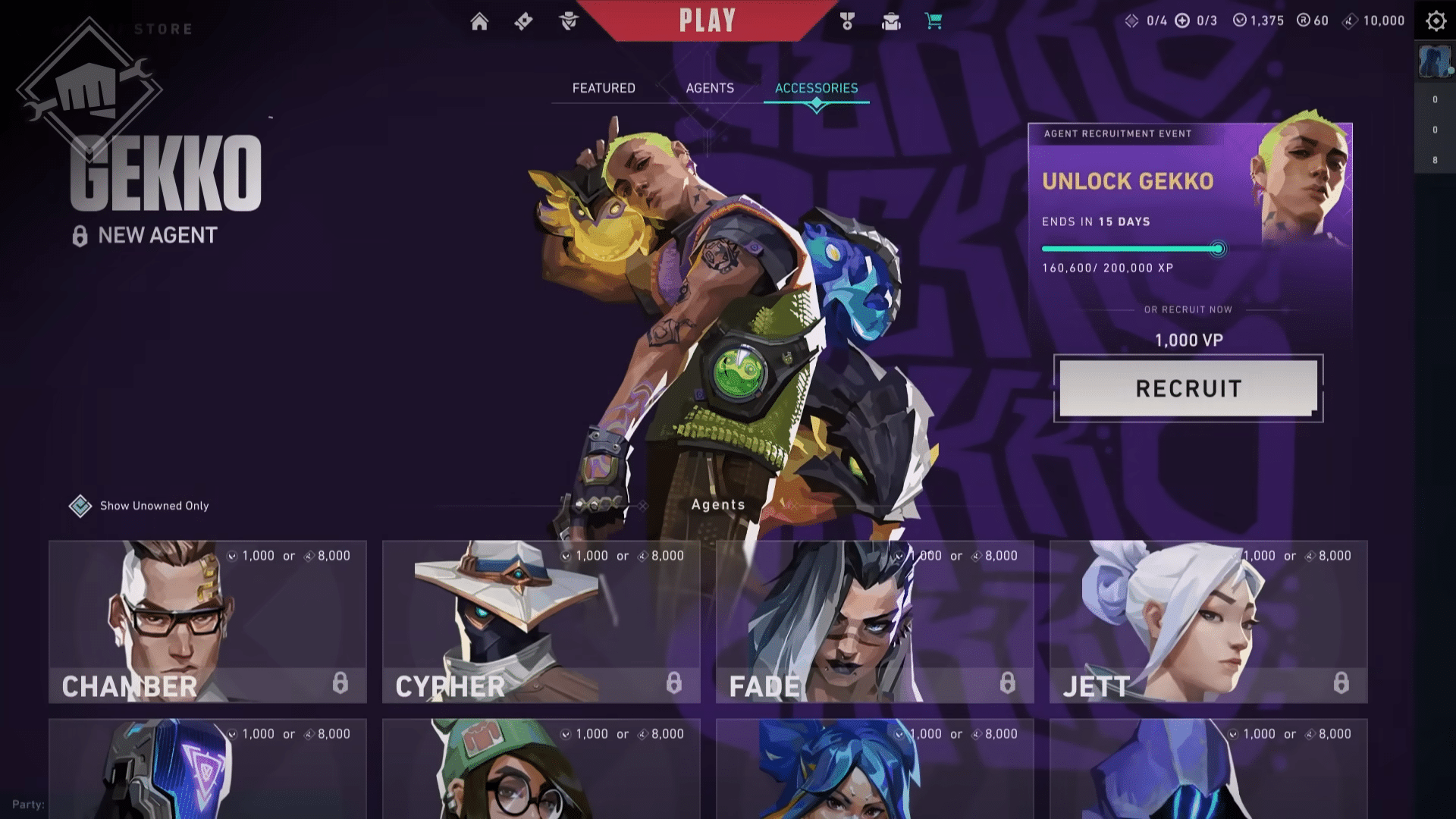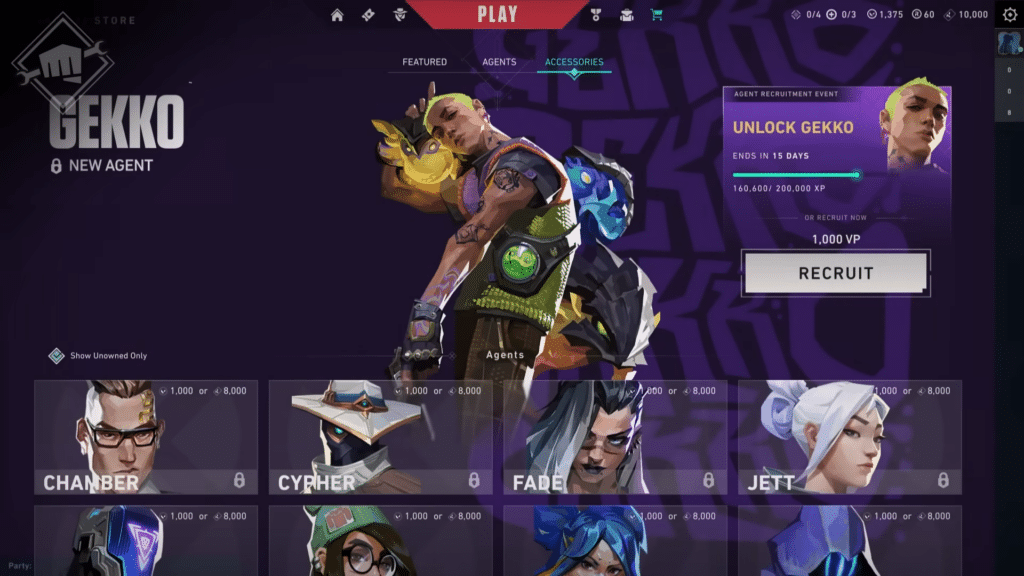 Gone are the days when you needed to activate Agent Contracts and level it up until you reached level 5 to unlock an Agent. Valorant is introducing a more exciting and engaging way to unlock new Agents along with the new Progression System overhaul.
An Agent Recruitment Event will take place whenever a new Agent arrives to Valorant. These are free events that will automatically get updated on day one and will stay active for 28 days. That way, you will never forget to activate a contract before queueing into a game.
Overall, the time it takes to unlock an Agent will remain the same as before. So, there's not much changing there. These Agent Recruitment Events will also reward you with some Kingdom Credits that can be used in the Accessory Store, Agent Store, and Agent Gear.
There is another store called the Agent Store. From the name itself, I'm sure you can already tell that this is where you'll be unlocking all Valorant Agents from now on, at least after Agent Recruitment Events are over.
Alternatively, you can still unlock Agents the easy way by using Valorant Points. However, buying an Agent using Valorant Points will no longer reward you with their respective free items and skins.
This is where the Agent Gear feature comes in. It's a sub-store where you can purchase Agent-based skins that were previously available via Agent Contracts. All Agents will have 10 Gear Tiers that will each reward you with some Agent-based cosmetics.
Daily Rewards Revamp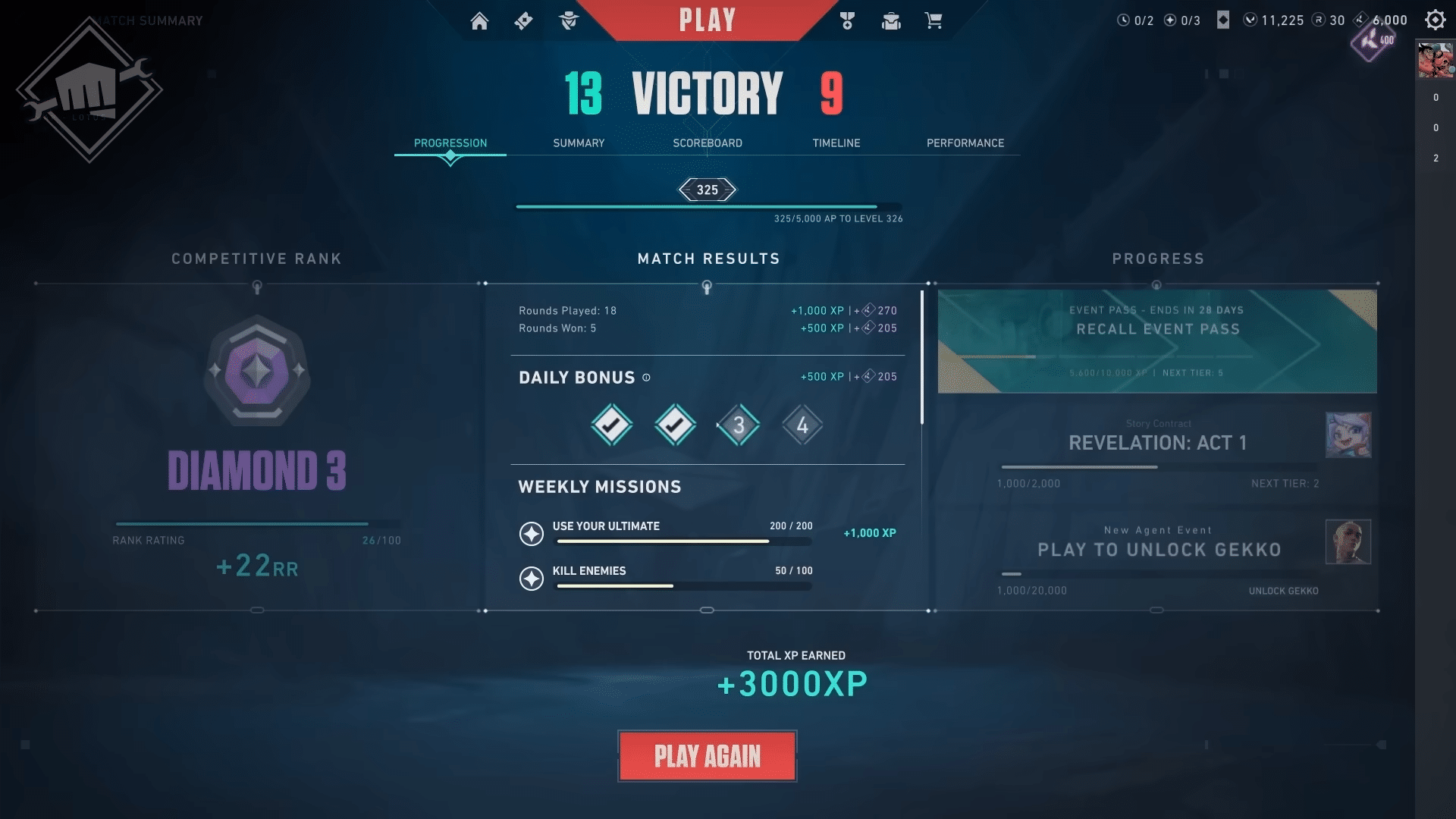 Finally, Daily Missions will finally get a revamp in the new Progression System. Dailies are now called Checkpoints and can be directly viewed after every match. Every game mode will reward you with Checkpoint Progress, aside from Deathmatch. However, different game modes will reward different amounts of Checkpoint Progress.
There will be a total of four Checkpoints, each with four charges available each day. Diamonds represent checkpoints, while the charges are represented by the sides of each diamond. This means that you'll need to get a total of 16 charges to complete all daily missions and earn all rewards.
Speaking of rewards, completing each Checkpoint (4 charges) will reward a bonus amount of XP for your Battle Pass, Event Pass, Agent Recruitment Event, and some Kingdom Credits. This means that completing your Dailies is more valuable than ever before.
Luckily, Riot isn't forcing everyone to play and complete all Checkpoints every day. Dailies can now stack, and there are even some catch-up bonuses that you can get to help you earn those rewards, even if you don't have the time to play each day.
Dailies will still reset every 24 hours, similar to the Daily Missions we had in previous Episodes.
Summing It Up
Overall, the new Valorant Progression System definitely looks promising. Most, if not all, features are improvements over the existing ones and allow players more freedom to choose what they want to unlock.
It's also less punishing for players who aren't able to play a handful of games of Valorant every day. I'm sure everyone is excited for the new Valorant Progression System to release and can't wait to earn those Kingdom Credits.
What'll you be buying using the new Kingdom Credits first?