NHL 23 is the latest entry in the long-running ice hockey sports game series from EA Sports. This will be the 32nd installment in the series and introduces mixed women's and men's teams in HUT. It's coming to current-gen and last-gen consoles, but the series still hasn't seen a PC release yet. With a few weeks to release, here is the NHL 23 Pre-Order Bonus Content.
NHL 23 Pre-Order Bonus Content
If you pre-order NHL 23, you will get the following additional content.
X-Factor Women's HUT Choice Pack (1 of 4)
5 World of Chel X-Factor Zone Ability Unlocks
Signed Sarah Nurse World of Chel Jersey (Digital)
Be A Pro X-Factor Slot Unlocks (2), XP Boost, and Bonus Trait Points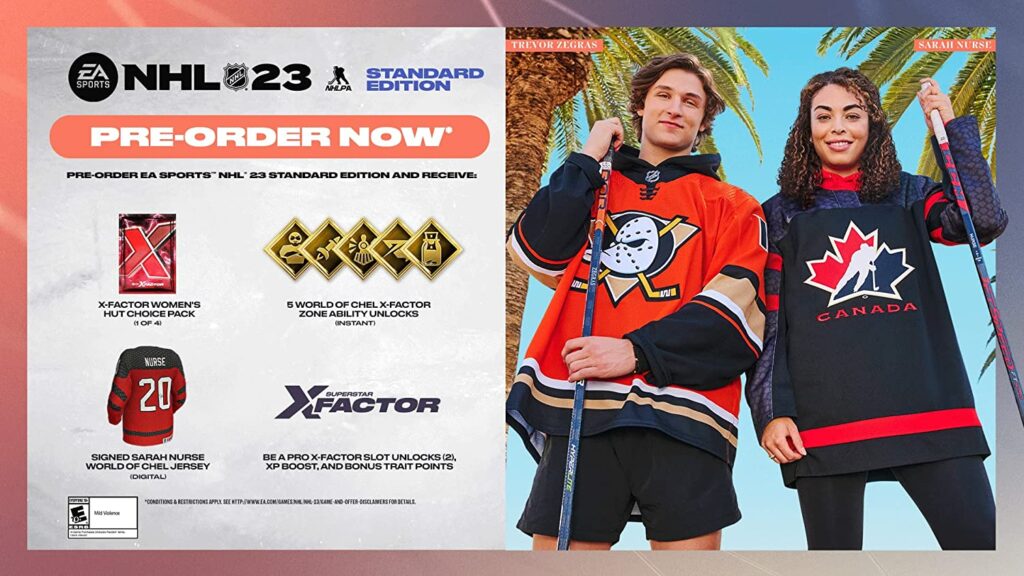 The bonuses are a combination of cosmetics, in-game currencies, and ability unlocks. The HUT Choice Pack is essentially loot boxes that will give you different players. The "signed" jersey is a cosmetic item, and the rest are XP boosters, trait points, and other ability unlocks.
All in all, it's a pretty decent pre-order bonus content pack that should help you out in the early hours of the title. These will give you an edge in gameplay as you'll be unlocking traits and abilities faster, and the loot boxes should get you a few players early on too.
Pre-Order NHL 23
You can now pre-order NHL 23 from the following links digitally.
Now, something to keep in mind. If you buy the PS4 version, you won't get the PS5 version for free, or vice-versa. If you buy the X-Factor edition of either platform, however, you'll have access to the other version.
The X-Factor edition costs $99, though, so it's probably a good idea to buy the platform version you're interested in and stick to it.
NHL 23 Release Date
The title is coming to PS4, PS5, Xbox One, and Xbox Series S|X on 14th October 2022.
While you're here, check out our other pre-order guides for other upcoming releases, including Asterigos Curse of the Stars, New Tales from the Borderlands, and Ghostbusters: Spirits Unleashed.
What do you think of NHL 23 Pre-Order Bonus content? Do you think it warrants an early purchase? Share your thoughts in the comments below and let us know.