It seems like No More Heroes 1 & 2 For PC is setting course for PC. After recently releasing Nintendo Switch ports for the games a few weeks ago, the bizarre hack and slash adventure title is now going to slash its way to the PC very soon, an announcement should be imminent.
No More Heroes 1 & 2 For PC – Travis Touchdown Hitting Hard
No More Heroes 1 & 2 For PC Has just been rated for the PC by the ESRB. The rating board responsible for rating video games in the United States, Canada and Mexico, among other territories.
An ESRB is more or less an early announcement for a title that is soon to come to the respective platform as the title is going through rating scrutiny at that respective rating authority.
Spotted by DuskGolem, a known Resident Evil leaker, this is a curious listing.
Here is the image in full quality: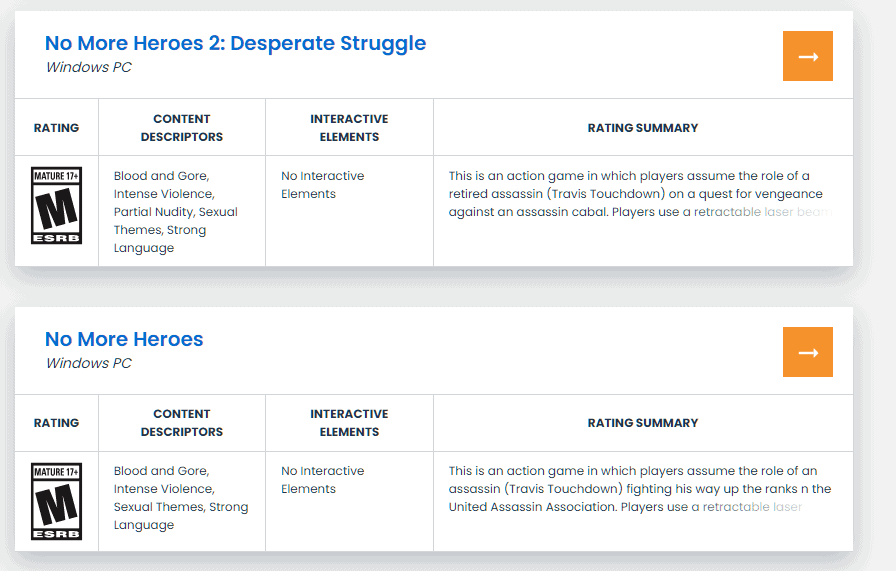 You can see the individual listings by going to their respective links below:
No More Heroes & No More Heroes 2
The More More Heroes series is one of the most overlooked Nintendo IP's that has re-released time and again on different platforms and it seems this time the adventure is going to continue on the PC.
No More Heroes 3, an upcoming Nintendo Switch exclusive, set for release in 2021 is still a highly anticipated game, so it comes as no surprise that Grasshopper studios and Nintendo are taking a page out of Sony's book to release their once exclusive title to the PC.
The series is definitely a very niche game and has picked up momentum in the last few years. Hopefully with the upcoming No More Heroes 3, the series can pick up fan interest once more.
With the release of these two titles to the PC, can gauge fan interest. While it is not yet known what stores the game will release on, fans will undoubtedly be expecting the game to hit Steam, and would hope for it to not be an Epic Games exclusive title.
For now, all we can do is wait for an official announcement, which shouldn't be too far off.