I can be a bit of a masochist at times, I'll admit. Some of my favorite games include Super Meat Boy (the bandage girl levels are especially a treat), Dark Souls, and Ninja Gaiden. These are all terribly frustrating, throw-your-controller-at-the-tv type games. This is in contrast to Overcooked, where your target usually happens to be another human being. Luckily, I also enjoy this type of game. So, when I knew there was a chance for me to test the strength of my relationship I was ecstatic. Without further ado, this is an Overcooked: All You Can Eat PC review.
Overcooked: All You Can Eat PC Review, What To Expect
For the uninitiated, Overcooked: All You Can Eat is a collection of Overcooked 1 and 2 plus all the possible DLC. There are also some improvements here and there and a few new tasty additions. The game came out as a launch title for next-gen consoles, but only recently was it made available on PC through Steam.
I have played Overcooked and Overcooked 2 separately. I have destroyed a few controllers and friendships. That is to say, none of this is new to me. So, this is not a review of the core mechanics of Overcooked as a franchise, but more so an Overcooked: All You Can Eat PC review.
This game does not bring a lot to the kitchen counter, but what it does promise is the quintessential Overcooked experience. The title promises all the levels from all Overcooked titles and DLC, seven new levels, three new chefs, 60 fps gameplay in glorious 4K, faster load times, and new trophies/achievements.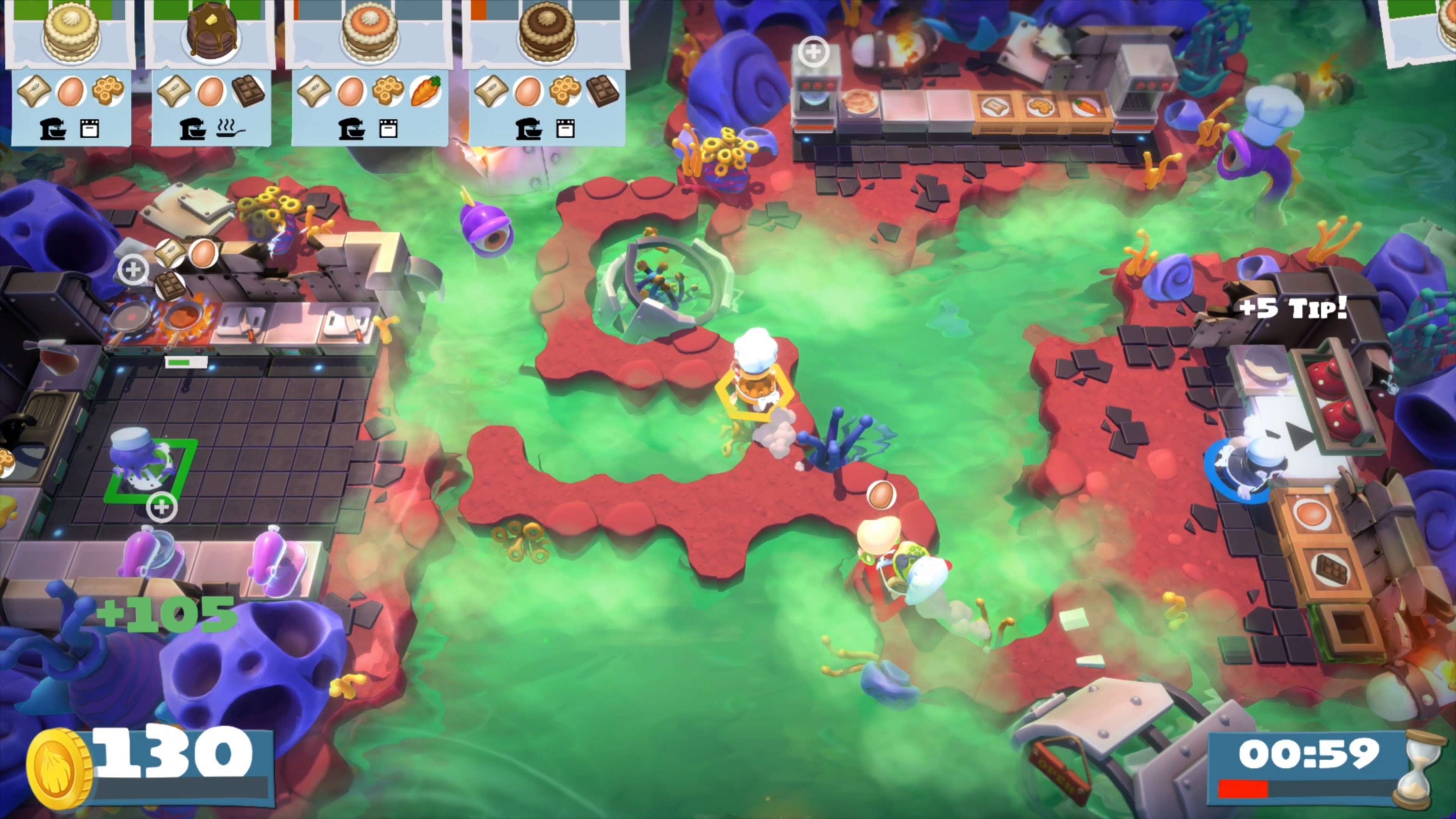 Overcooked Is A Fun Game, No Matter How You Slice It
There is a lot of fun to be had here. This is the exact same game as Overcooked 1 and 2, so obviously it works. But what about the new features? Well, some of them really work.
In this Overcooked: All You Can Eat PC review, we take a look at what makes this game different from the original titles.
I had not gone through all the DLC yet. Moreover, All You Can Eat gives you the option to go through levels at your own pace. Naturally, I caught up on all the maps I had not tried before. And, when some of them stressed us up too much, we turned on assist mode.
Assist mode is a cool new feature that I personally enjoyed. In essence, it made the game easier. It also gives you the option to skip levels, which is something that increased my playtime by a significant margin.
Lastly, you wouldn't expect it, but playing Overcooked in 4K is a treat. The graphical improvements the game got were truly something I did not see coming. Going like "ooh, that's pretty" shouldn't have a place in Overcooked, but they went ahead and did it.
A Rough Chop
However, it didn't go all smoothly. In a very Overcooked fashion, it feels this dish was a little rushed. While the core game was as great as any Overcooked experience, getting to the game is what can be annoying.
To start off, controller support is iffy. Getting an Xbox controller to work on this game was a nightmare. And for a new release, you generally don't want to be hacking your way in. It took me at least 30 minutes of tinkering to finally get to the game.
But, there is always online multiplayer. You don't need controllers, right? Well, you kind of do because – at the time I played the game – the online campaign was flat out not working. And while I was able to use Steam multiplayer for the arcade gamemode, campaign never even budged.
Also, the line about faster load times – I did not really feel that. Granted, I never had too much trouble with the game's loading times. But, I was not impressed nevertheless. All of that and occasional crashes and glitches made this experience a little too frustrating for me.
Verdict
Overcooked is a fun franchise, but as stated this is an Overcooked: All You Can Eat PC Review. The gameplay is undoubtedly fun, but getting to the fun is the hard part.
An argument could be made for this game if you have never played Overcooked or Overcooked 2 and plan on only having couch parties. But otherwise, you should just stick to the copy of the game you already have.
This can all be fixed eventually, of course. But as of right now, there will be no Michelin stars being awarded.
This review is based on the PC version of Overcooked! All You Can Eat. The key was provided by Team17 Digital