Party Animals is an upcoming multiplayer physics-based brawler/party game developed by Recreate Games. The title finally has a release date and is now up on PC, and Xbox for pre-purchase. Here is the official Party Animals pre-order bonus you'll receive for an early purchase.
Party Animals Pre-Order Bonus
If you pre-order Party Animals, you'll receive the Royal Nemo Outfit, 240 Nemo Bucks, and the Royal Nemo Avatar.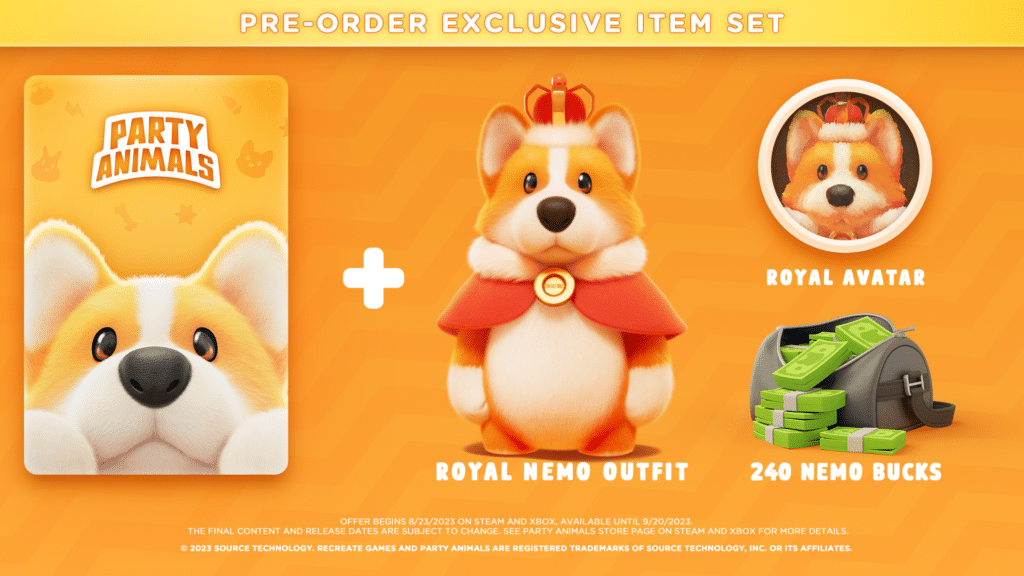 For pre-ordering the game, you're getting two cosmetic items, which are the outfit, and the avatar. Apart from that, you'll also get 240 Nemo bucks, which is the in-game currency.
Pre-Order Party Animals
You can now pre-order the game from the following links.
The standard edition is priced at $20, but there is also a deluxe edition available for purchase as well.
Party Animals Deluxe Edition
The deluxe edition costs $30 and includes the following additional content.
Party Animals Base Game
Nemo Bucks*1300
Bathrobe Harry Outfit & Avatar & Frame
Bathrobe Coco Outfit & Avatar & Frame
Bathrobe Garfat Outfit & Avatar & Frame
Golden Nemo Skin & Avatar
Golden Macchiato Skin & Avatar
Golden Coco Skin & Avatar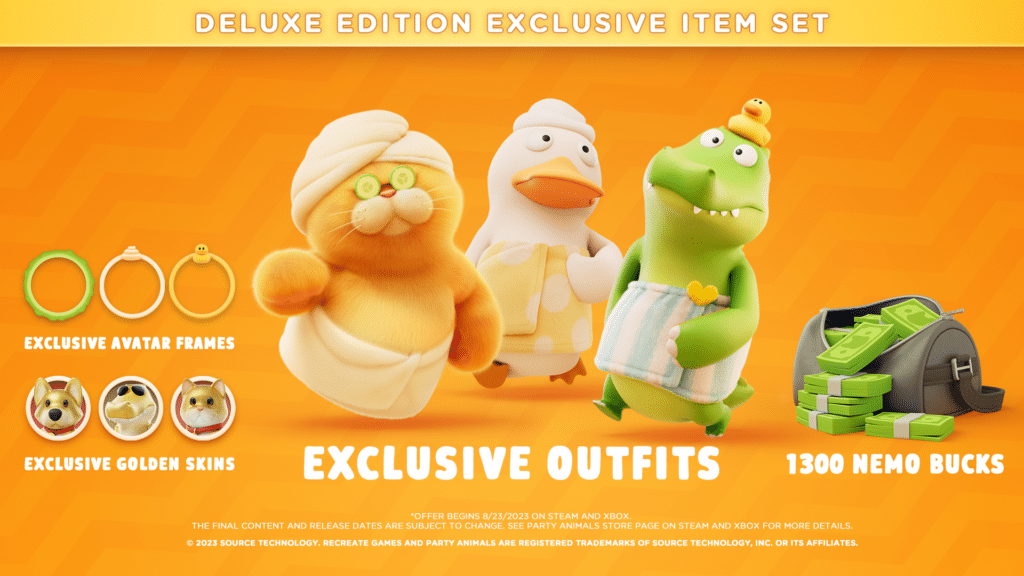 Party Animals Release Date
Party Animals is coming to PC, Xbox One, and Xbox Series S|X on 20th September 2023.
While you're here, make sure to check out our other pre-order guides for upcoming releases, including Ghostrunner 2, Lords of the Fallen, and EA Sports FC 24.
What do you think of the Party Animals pre-order bonus content? Do you think it warrants an early purchase? Share your thoughts in the comments below and let us know.