PayDay 3 is a game that has been on our radar for a while, and while a proper show and gameplay is yet to show for the game, Aggiornamenti Lumia, a known source for harvesting content that is not visible on the Microsoft Store, has just shared the 2023 PayDay 3 Release Date.
PayDay 3 Release Date Leaked by The Microsoft Store
According to a tweet by Aggiornamenti Lumia, the release date for the title is September 21st, 2023. This could mean that the title is currently hidden in listing on Microsoft Store with a proper debut set for either the Xbox Showcase, or during Summer Games Fest.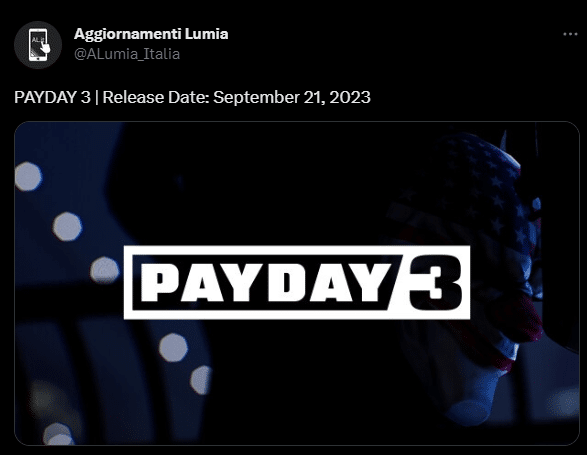 As always, Aggiornamenti Lumia has a remarkable track record, considering their source is literally the Microsoft Store, which is easily the best leaker in the gaming industry after the human ones.
While an official announcement is still lacking from the developer or publisher, it is now only a question of when the release date gets officially announced. Fans are also wondering if the developer will also be able to support the console version this time on par with the PC version, which was a major issue with PayDay 2.
What are your thoughts on the leak? Let us know in the comments section below.