Gaming on Android is more popular than ever; the Pimax Portal review explores a device that can make Android gaming even more enjoyable. At its heart, the Portal is an Android device capable of easily running any demanding game, but it offers a lot more than just Android gaming.
The Nintendo Switch-inspired design opens many doors (or Portals) for the Pimax Portal. The sleek device has magnetically detachable controllers that enhance its use potential. It is where the Pimax Portal shines, giving players options to play video games as they want to play. Of course, with powerful internals, it is a great emulation device, further opening up options for gamers.
We didn't receive the VR accessories with the Portal, so we couldn't test its VR functionality. The Pimax Portal review aims to see what awesome stuff the handheld offers and what features keep it from being great.
Package – Pimax Portal Review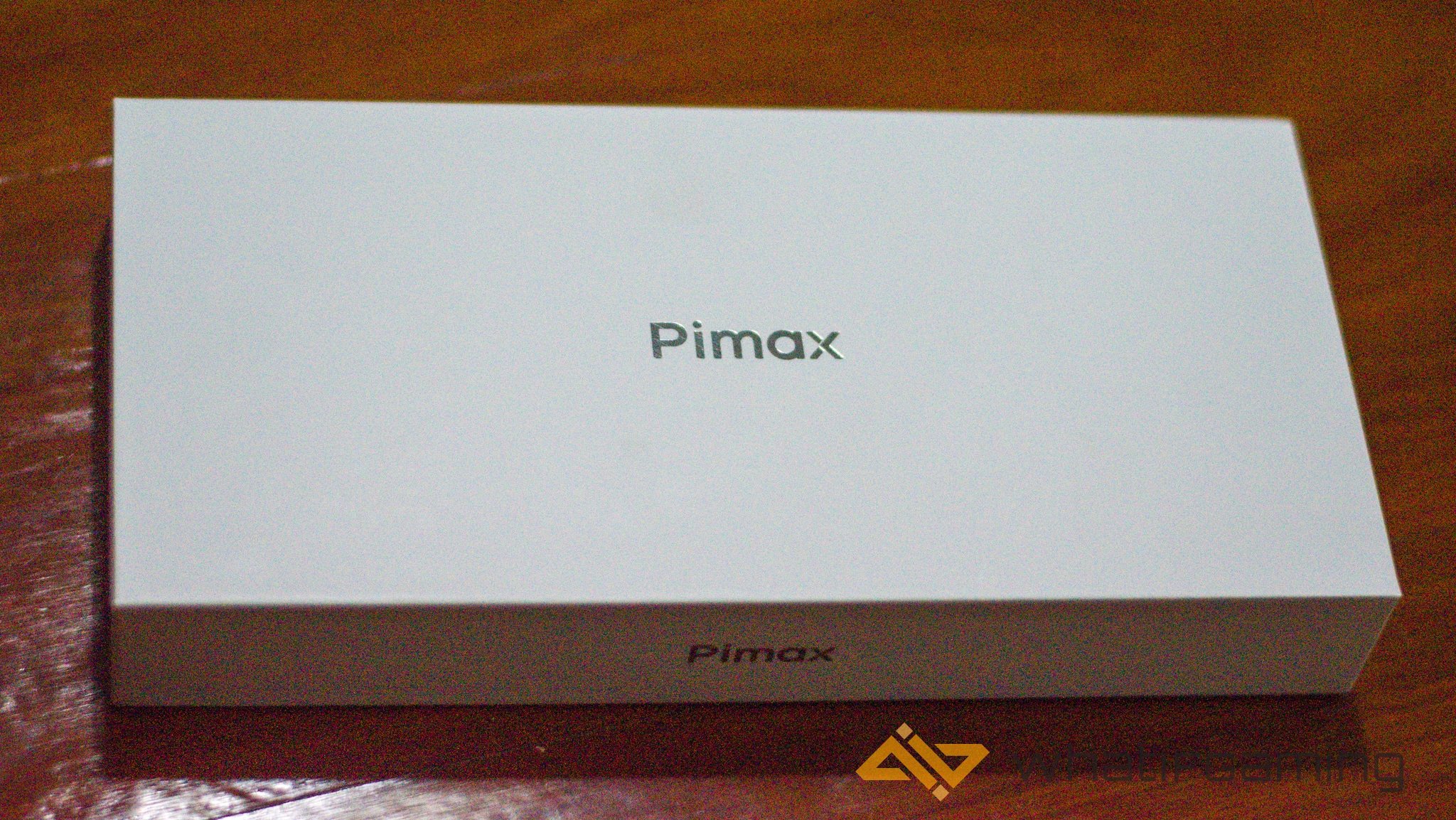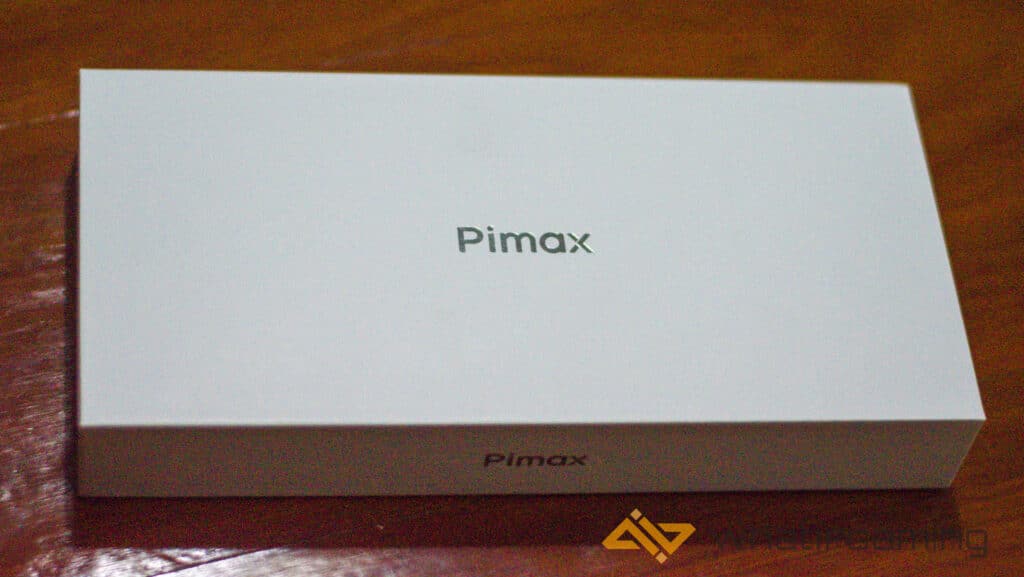 The Pimax Portal comes in a neat white box that holds the console secure and safe. It also looks and feels premium, reflecting the price of the handheld. You'll find the Portal, a USB Type-C cable, some paperwork, and a microfiber cleaning cloth.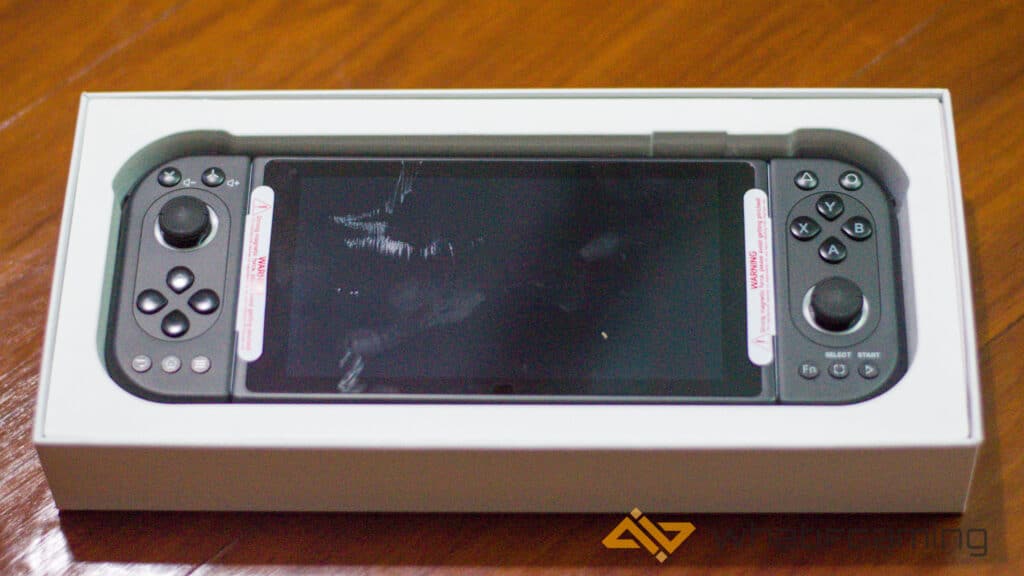 My unit came a little dirty with some adhesive on the screen. Thankfully, there is a screen protector pre-installed, so there was no actual damage to the screen. The microfiber cloth came in handy when clearing the adhesive away. The overall packaging is solid and will protect the console from any shipping damages, but it also packs minimal goodies.
Tech Specs – Pimax Portal Review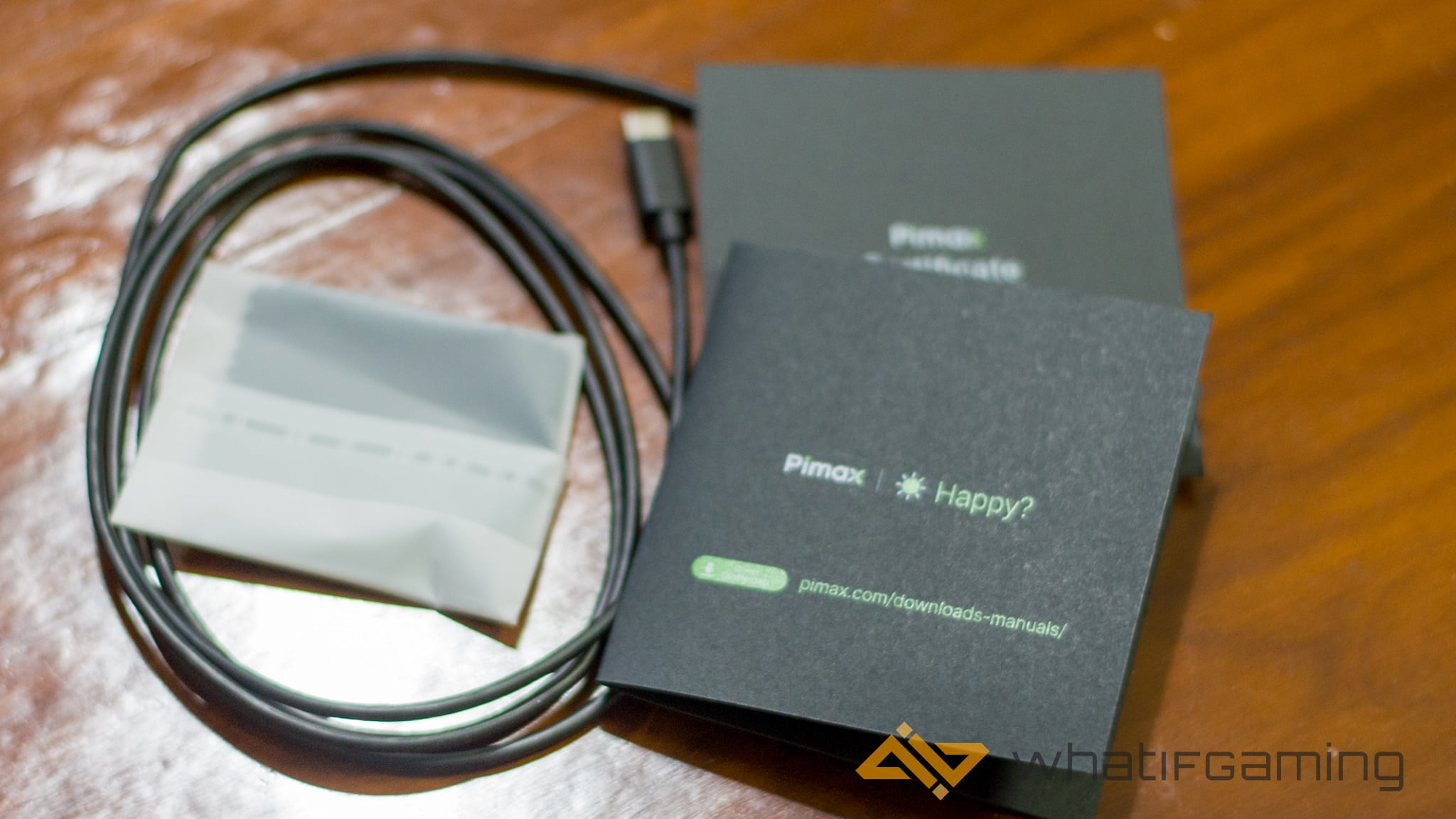 | | |
| --- | --- |
| Chipset | Qualcomm Snapdragon XR2 |
| Cores/Threads | 8 Cores 8 Threads @ 1.8 to 2.84 GHz |
| GPU | Andreno 650 @900 MHz |
| Screen Size | 5.46 inches |
| Screen Type | QLED |
| Screen Resolution | 4K 3840 x 2160 |
| Screen Refresh Rate | 144Hz |
| Memory | 8 GB of RAM |
| Storage | 128 or 256 GB |
| Connectivity | Wi-Fi 6E, Bluetooth 5.1, USB-C, Micro HDMI |
| Console Battery | 4000 mAh |
| Weight | 367g |
Design – Pimax Portal Review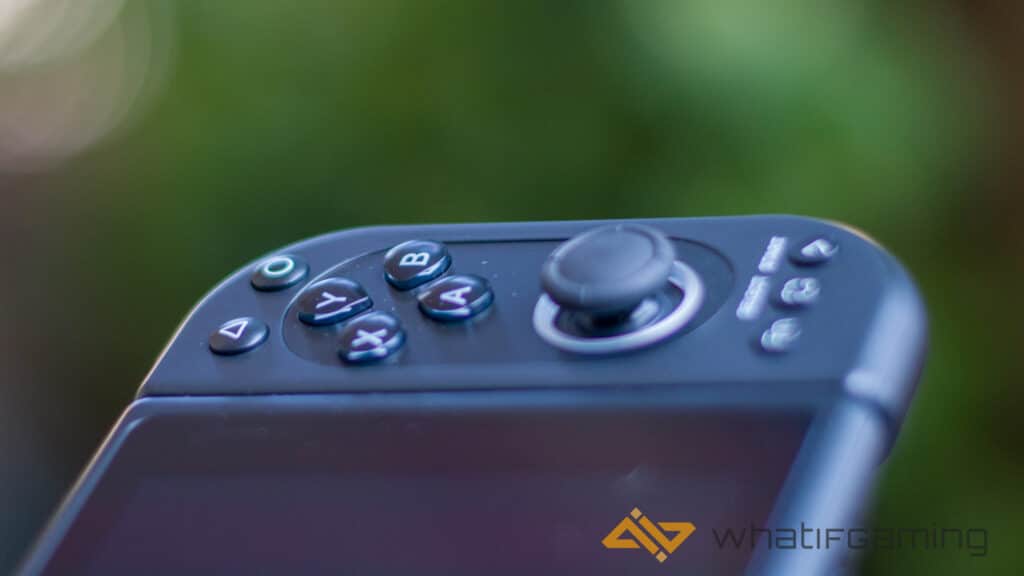 Inspired by Nintendo Switch
Sturdy build with quality materials
Comfortable to hold for short brusts
The design is arguably the best thing about the Pimax Portal. It has a unique design, especially in the Android handheld gaming world. Unlike Steam Deck, Nintendo Switch inspires the device; it's slim, small, and light. There is no point in changing what works, and Pimax did a great job enhancing Switch's design. The pitch-black design looks beautiful and adds to the overall experience. It's a light device that doesn't strain the wrists much during longer gaming sessions.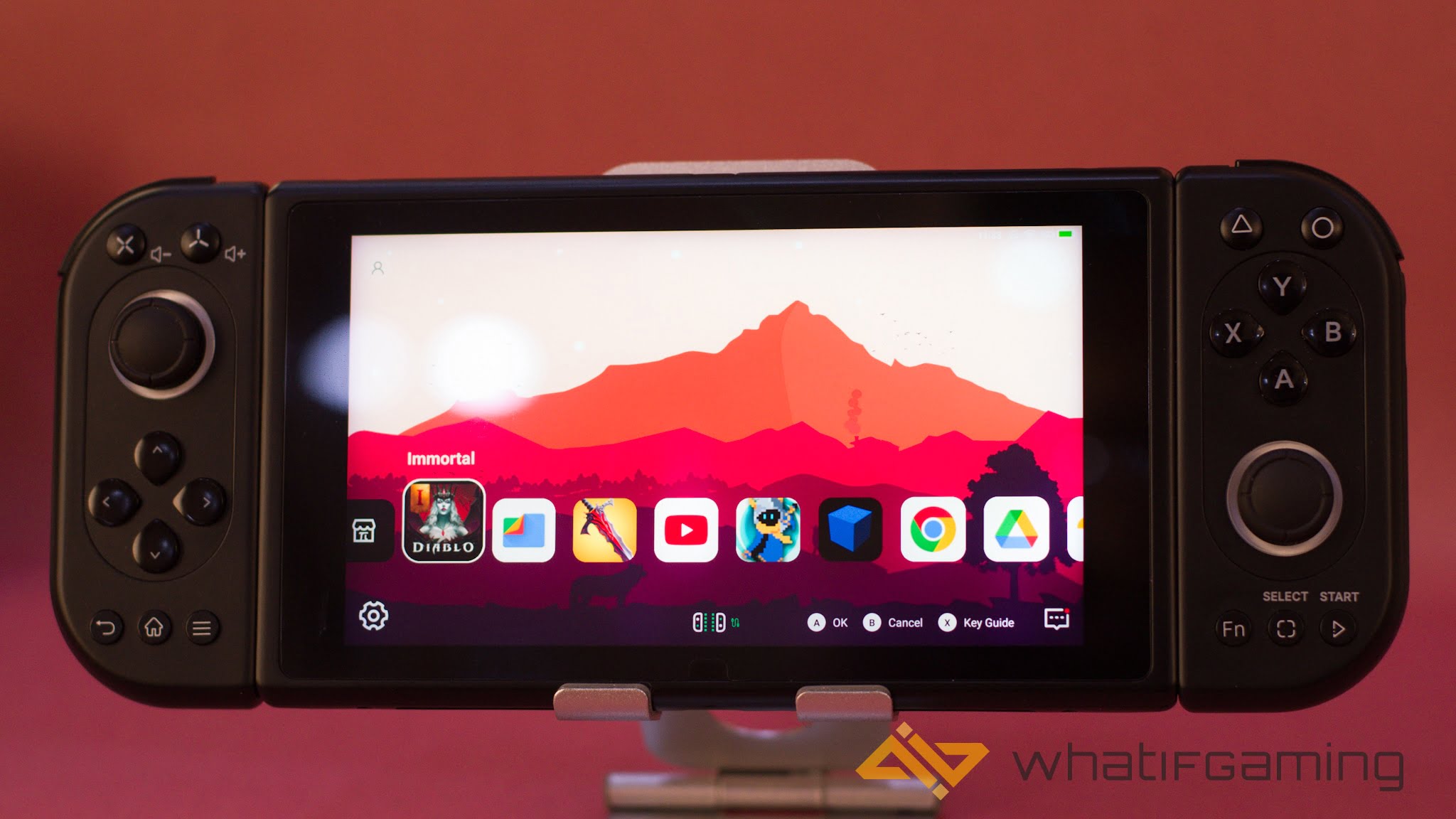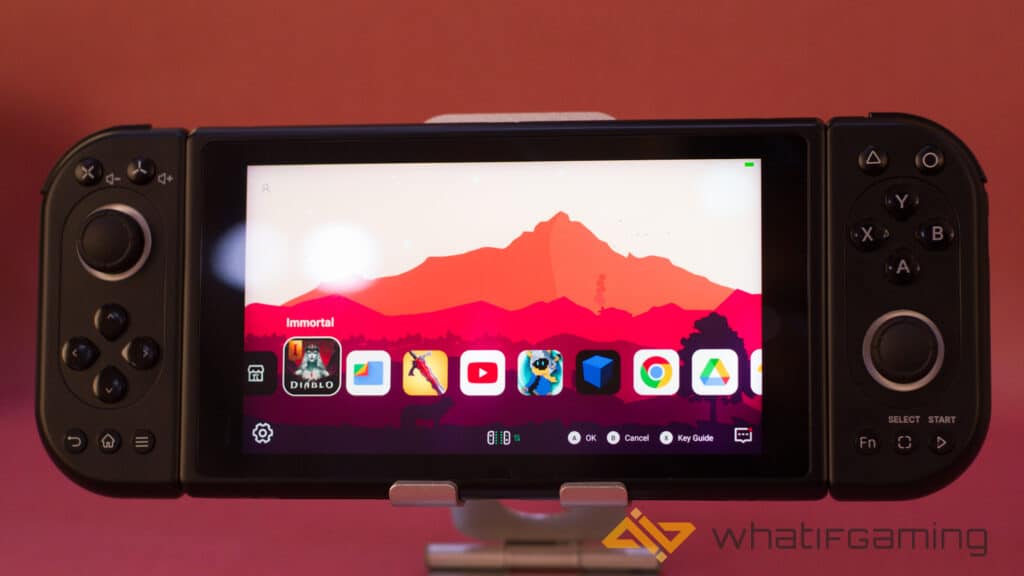 The controls are also black but come with a matte finish. The non-glossy surface makes them somewhat prone to fingerprints and adds some grip so they won't fly away in a heated gaming session. There's a big fan on the back to keep things cool. Overall, I'm very satisfied with the design of the Pimax Portal; it's a comfortable device that, while not exactly pocketable, is still fun to carry around.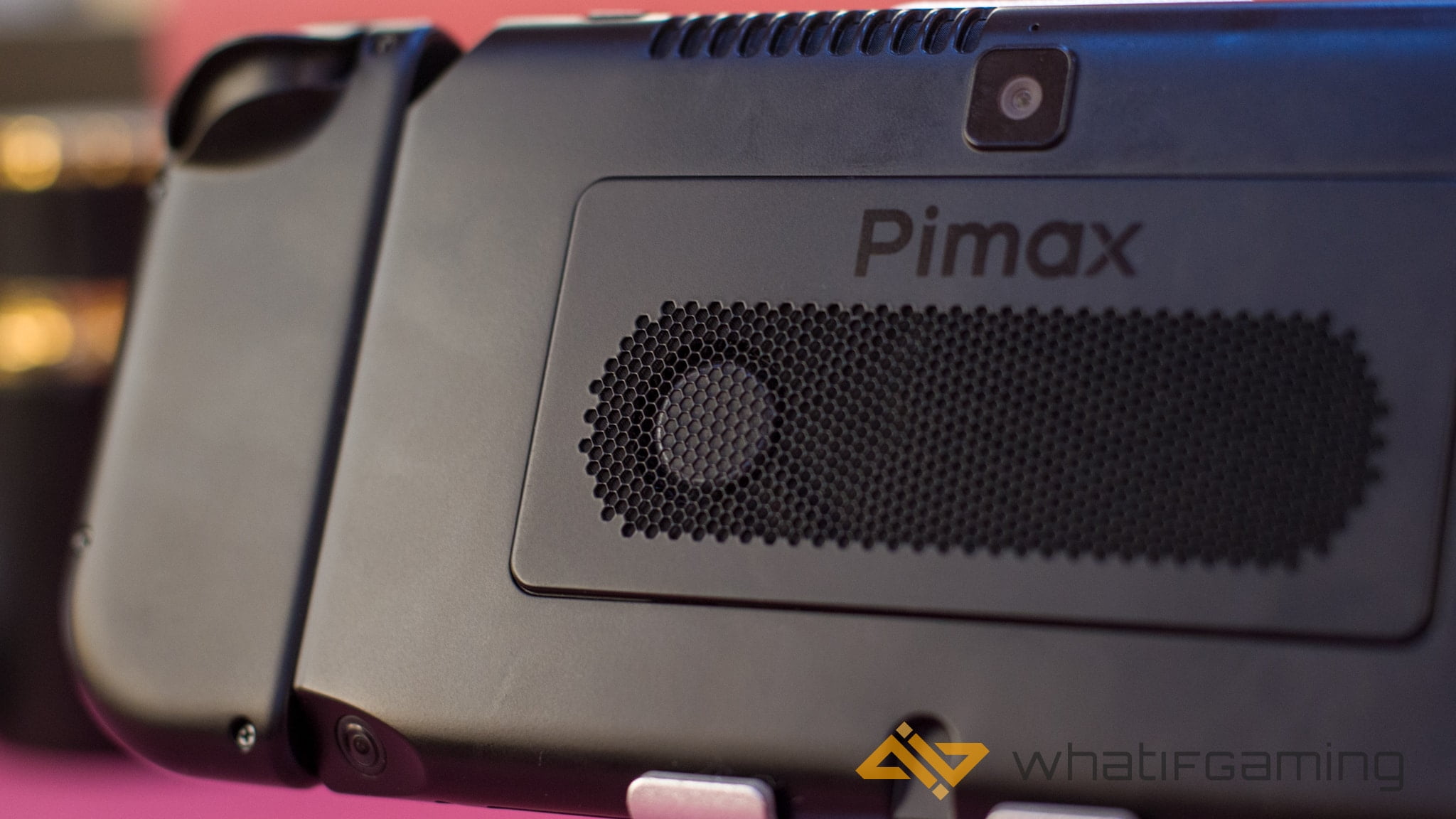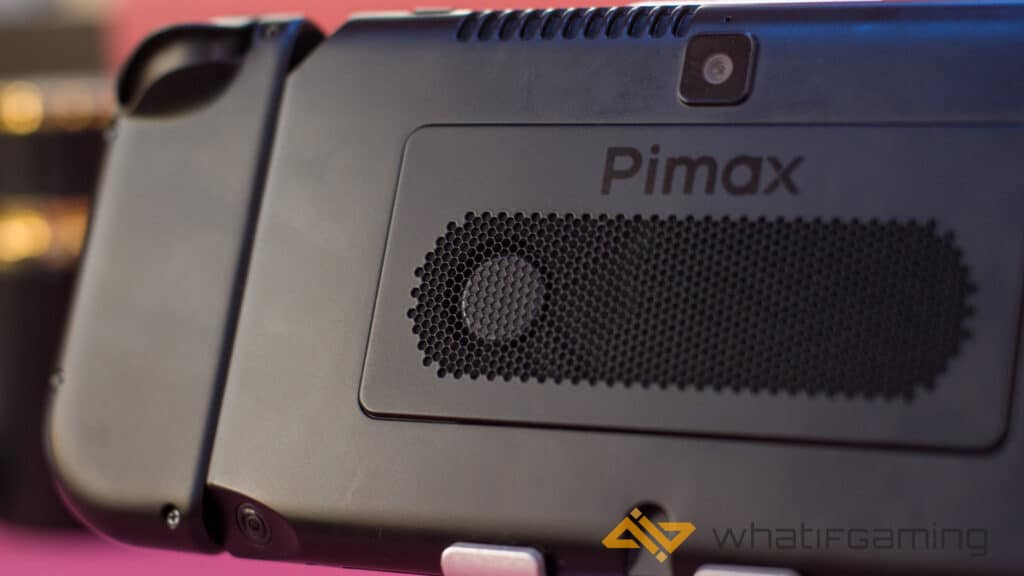 The device also has five cameras on the back, which will be used with the VR mode. Unfortunately, the VR holder, controller sleeves, and software weren't ready at the time of writing. So, while excited about a VR Android console, I couldn't test out those features.
Build Quality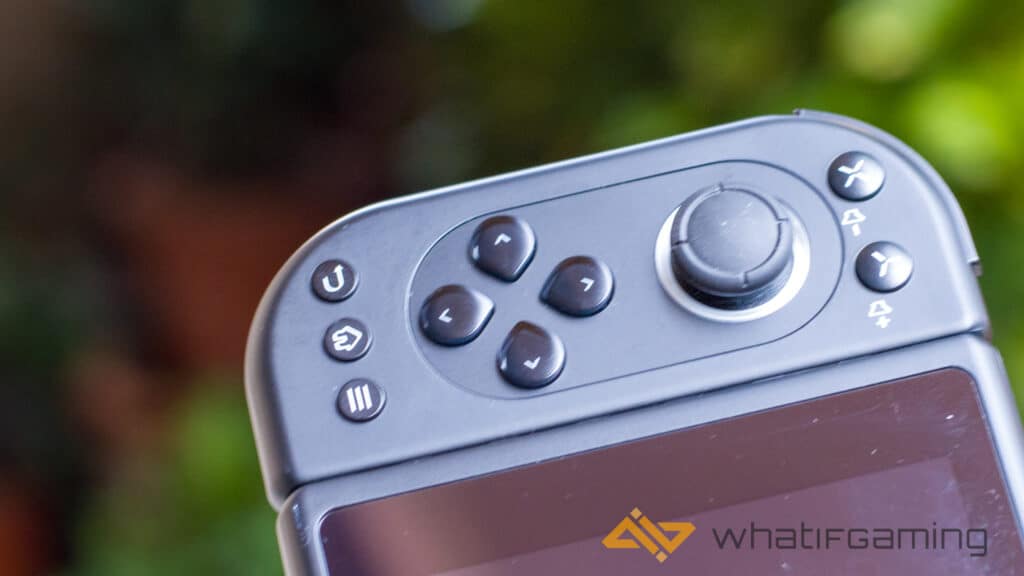 The Pimax Portal is primarily made of good-quality plastic. It is comfortable to hold with no jutting edges or corners. The creators made sure the build quality remained excellent throughout the device. The Portal feels sturdy, and the magnetic controllers are also well-made. I couldn't see any wonky artistry, gaps, or loose screws on the device. Everything fits perfectly, making the machine reliable.
Controller – Pimax Portal Review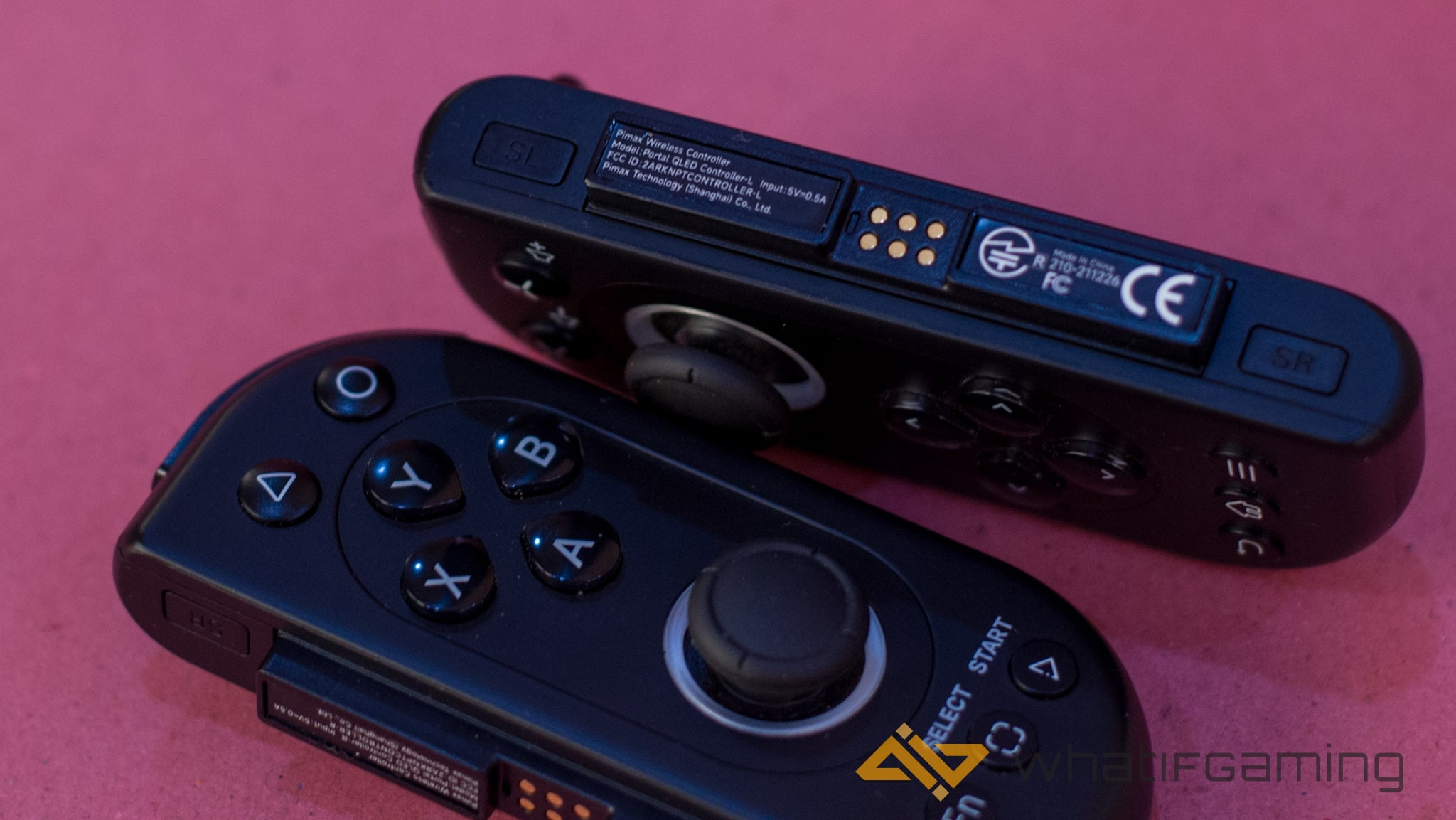 Magnetic controllers get off easily
Good button placement
Responsive analog stick
Plenty of buttons to play with
The controller is what makes the Portal stand apart from the competition. The detachable nature of the controller means you can easily dock the console and play games, even have another player join you with a bit of setup. The controllers are small, but they are responsive and work well, so I don't have a lot of complaints.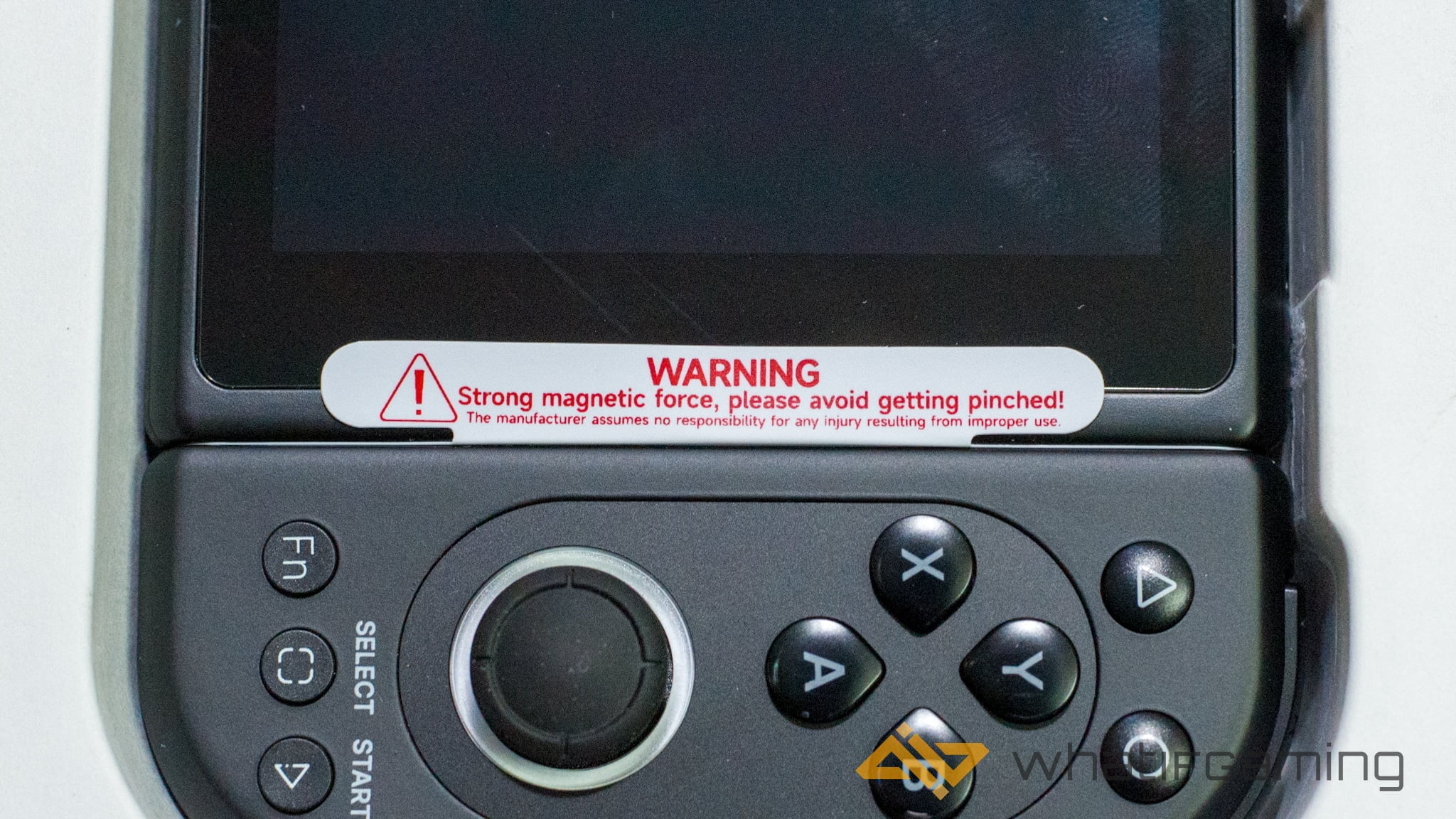 The controllers are so magnetic that they snap into place with substantial force. There are labels on the console when you unbox it and inside the controller that warn about the strong magnets. Yes, they can easily make you bleed if you have part of your palm between them. Think of the Portal and the controller as super best friends; you don't want to be the fourth wheel here.
Buttons
There are plenty of buttons on the Pimax Portal. The face and directional buttons are shaped like tears, which is highly unconventional. There is good travel and some clickiness to them, so the problem isn't responsiveness. The odd shape might dig into digits for some people, but I had no trouble or discomfort using them. They are placed so that both controllers feel the same when you detach them for multiplayer or co-op games. It's a simple design that works well.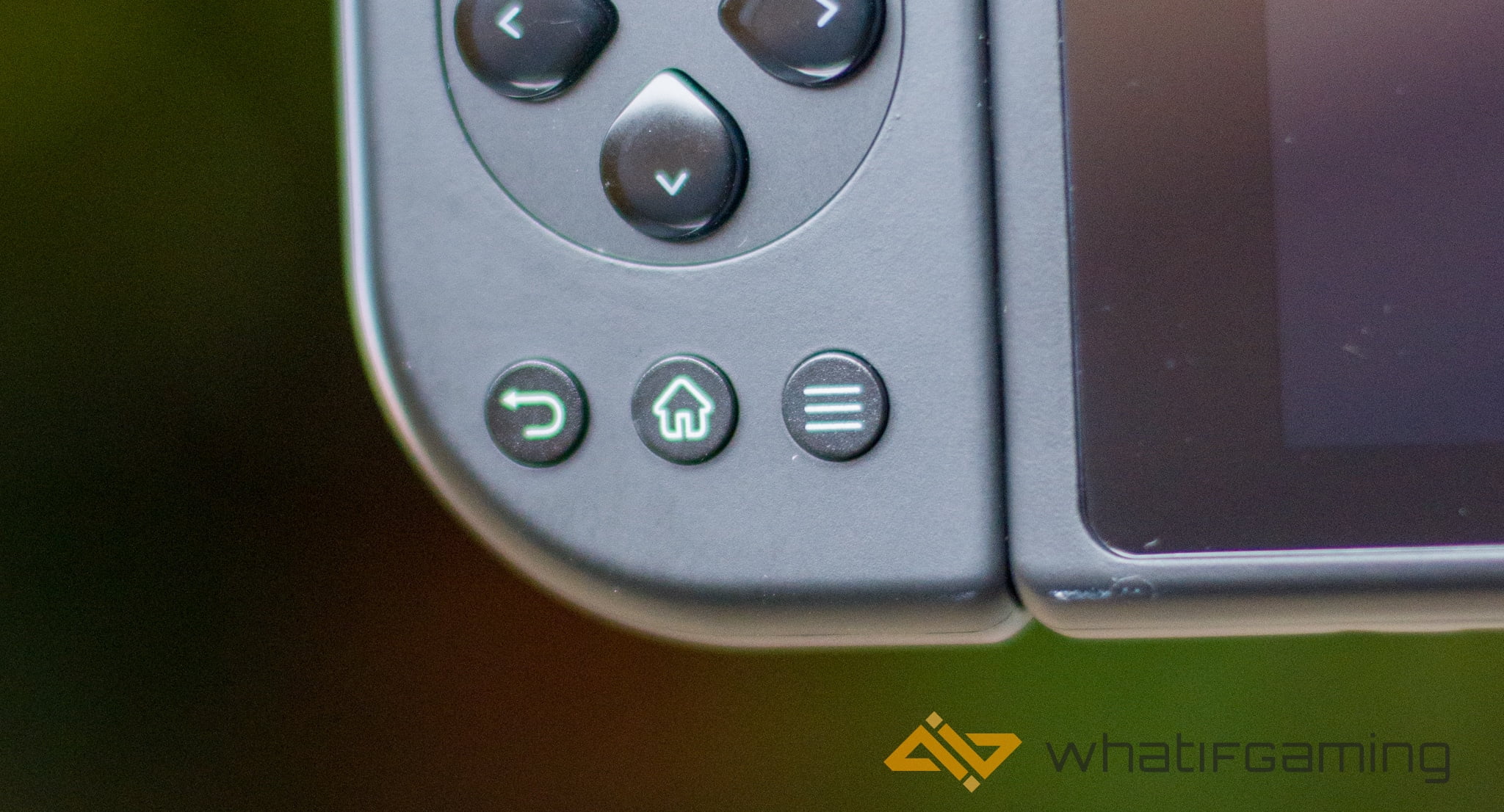 You'll also find dedicated Android controls on the left controller side, so you don't have to use the touch screen. The Back button lets you go one screen back, the Home button takes you to the home screen, and the Menu button often pops up more options.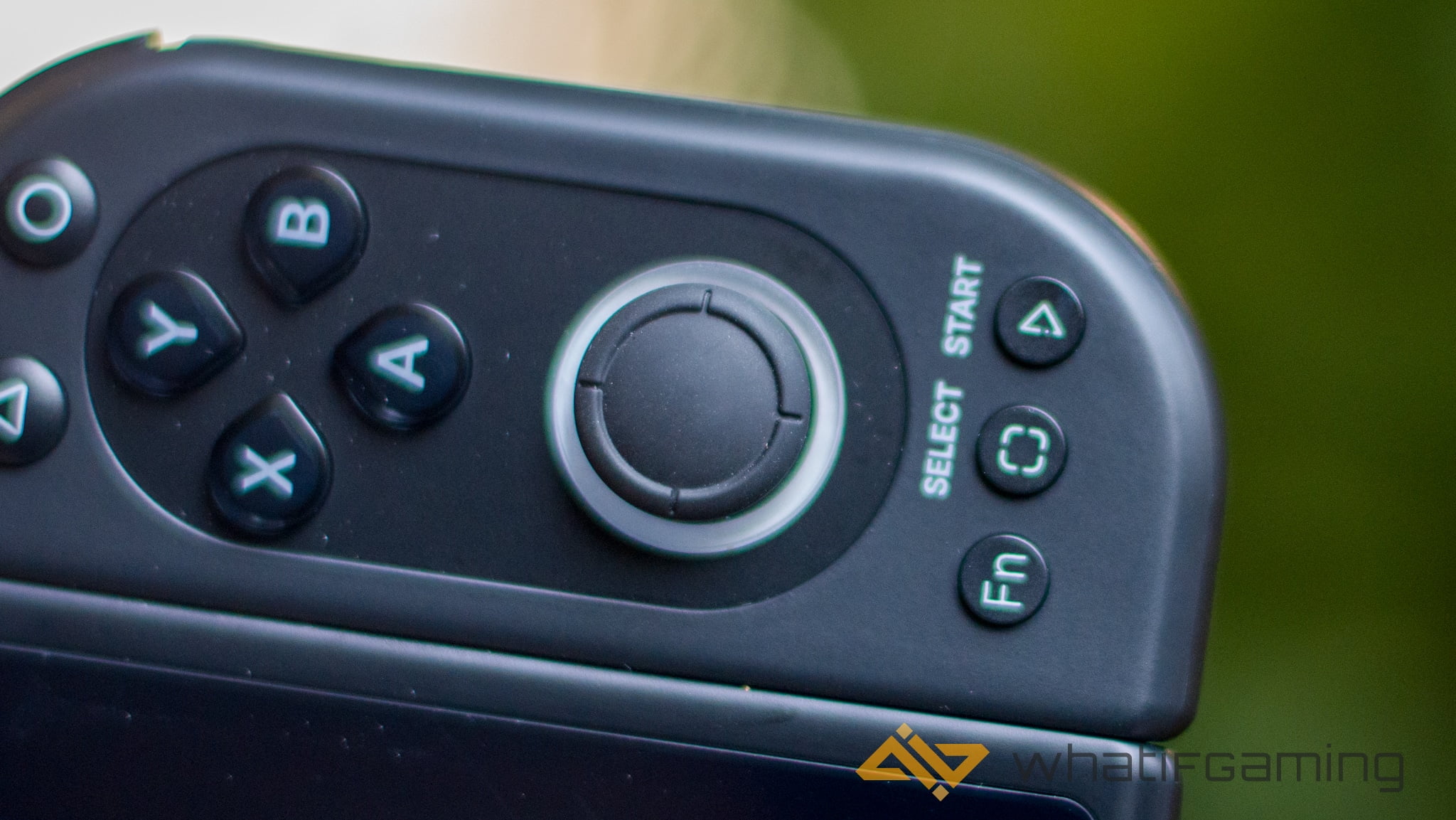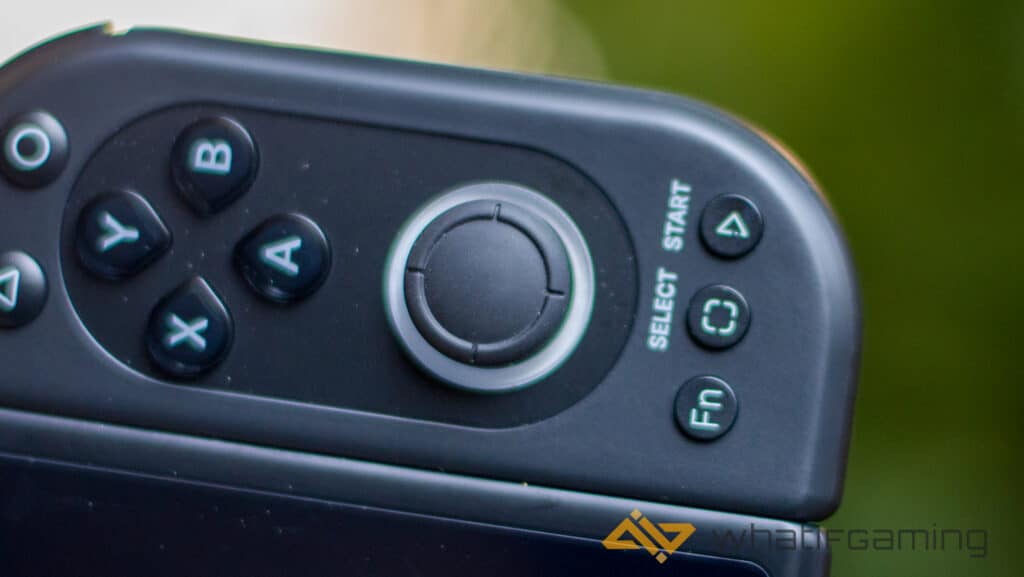 The right controller side houses the Function button that brings the side menu out. There are also Start and Select buttons right next to it. That's a healthy selection of mapped controls already on the Portal. The function button also works as a volume controller; hold the function button and press the extra buttons on the left controller side to adjust the volume.
Analog Sticks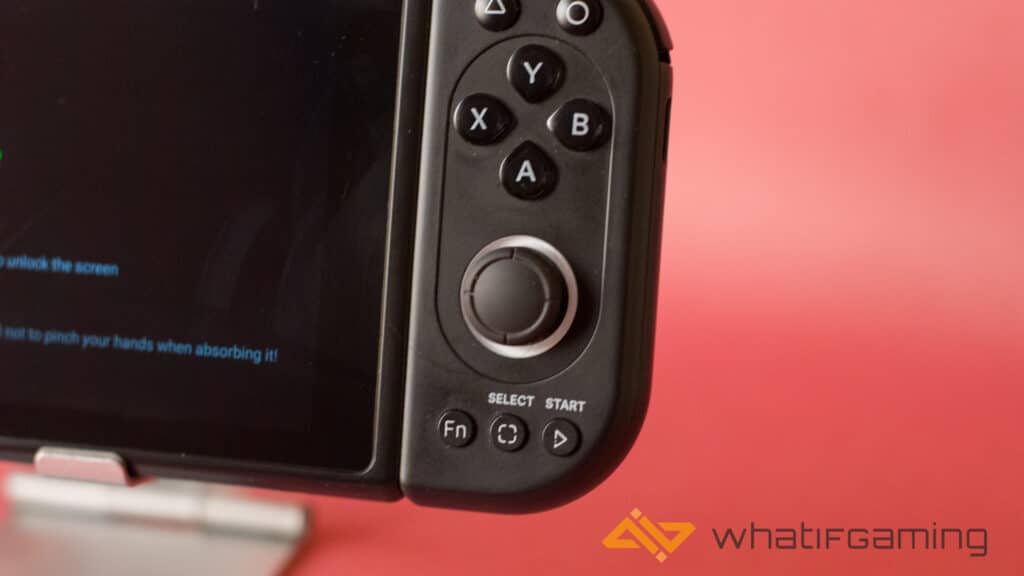 The analog sticks make or break a controller; thankfully, the ones on the Portal are good. They aren't as long as console sticks but stick out enough to be comfortable. Unfortunately for me, they aren't comfortable with shooting games at all. I couldn't properly aim in Call of Duty Mobile or any other mobile FPS. I could strafe and move just fine, but the fine movements required to pull off headshots were missing here.
The sticks have a slight convex design, with the center bulging slightly. The rims of the stick are textured to provide better grip. They work pretty well with adventure games, and I've even played Monster Hunter Freedom Unite for the PSP for around 40 hours with no problems at all.
Triggers and Bumpers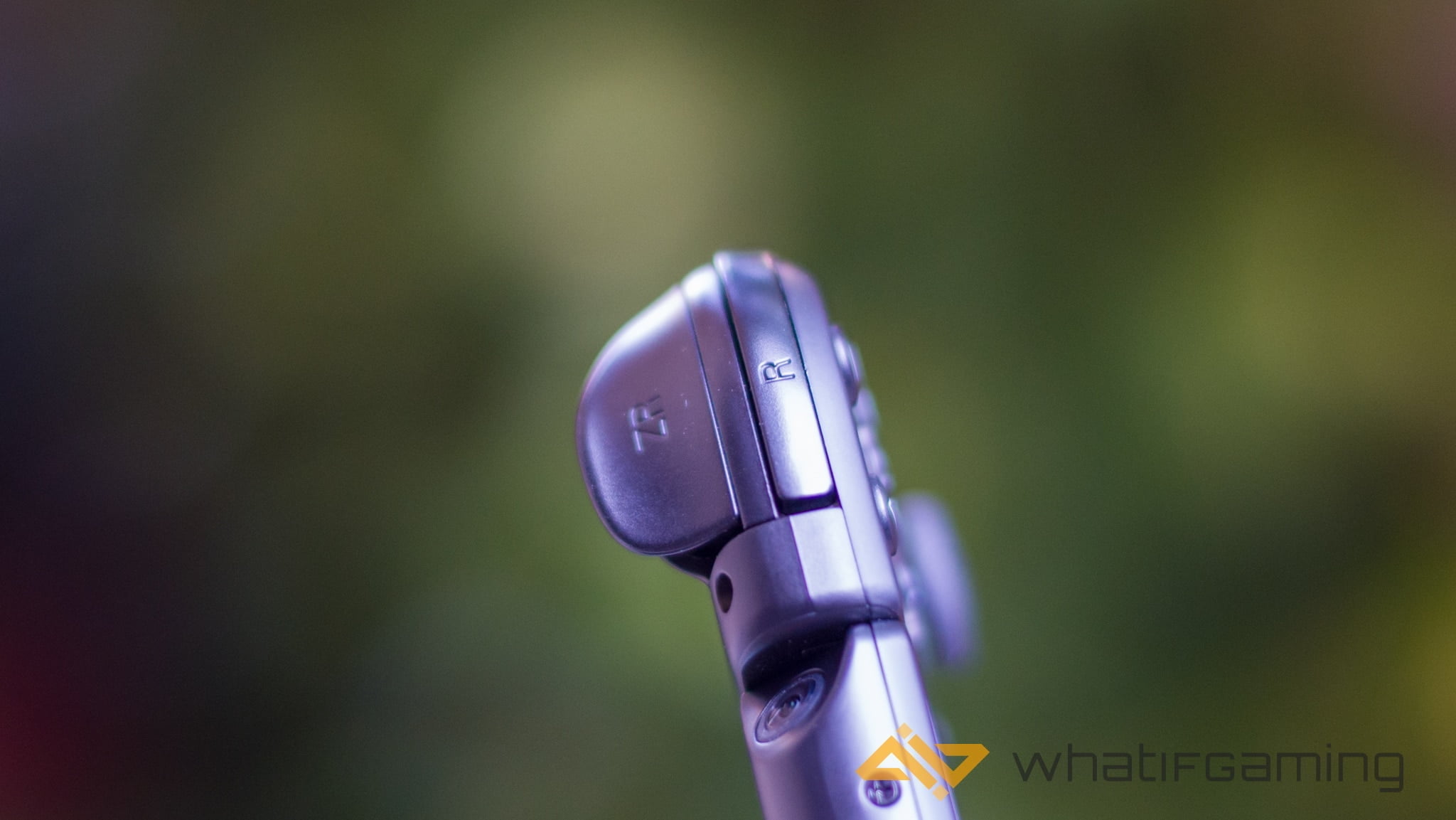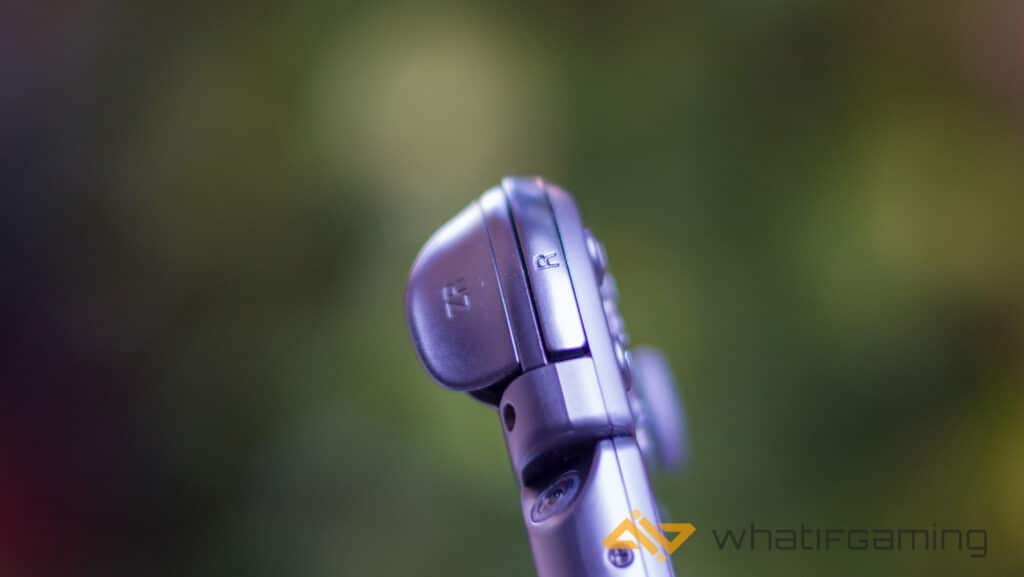 The triggers on the Pimax Portal have a surprising amount of travel. They also click at the end, which I find odd, but others might prefer. The triggers are a little hard for my long fingers, too; they are positioned a little low to press comfortably for me.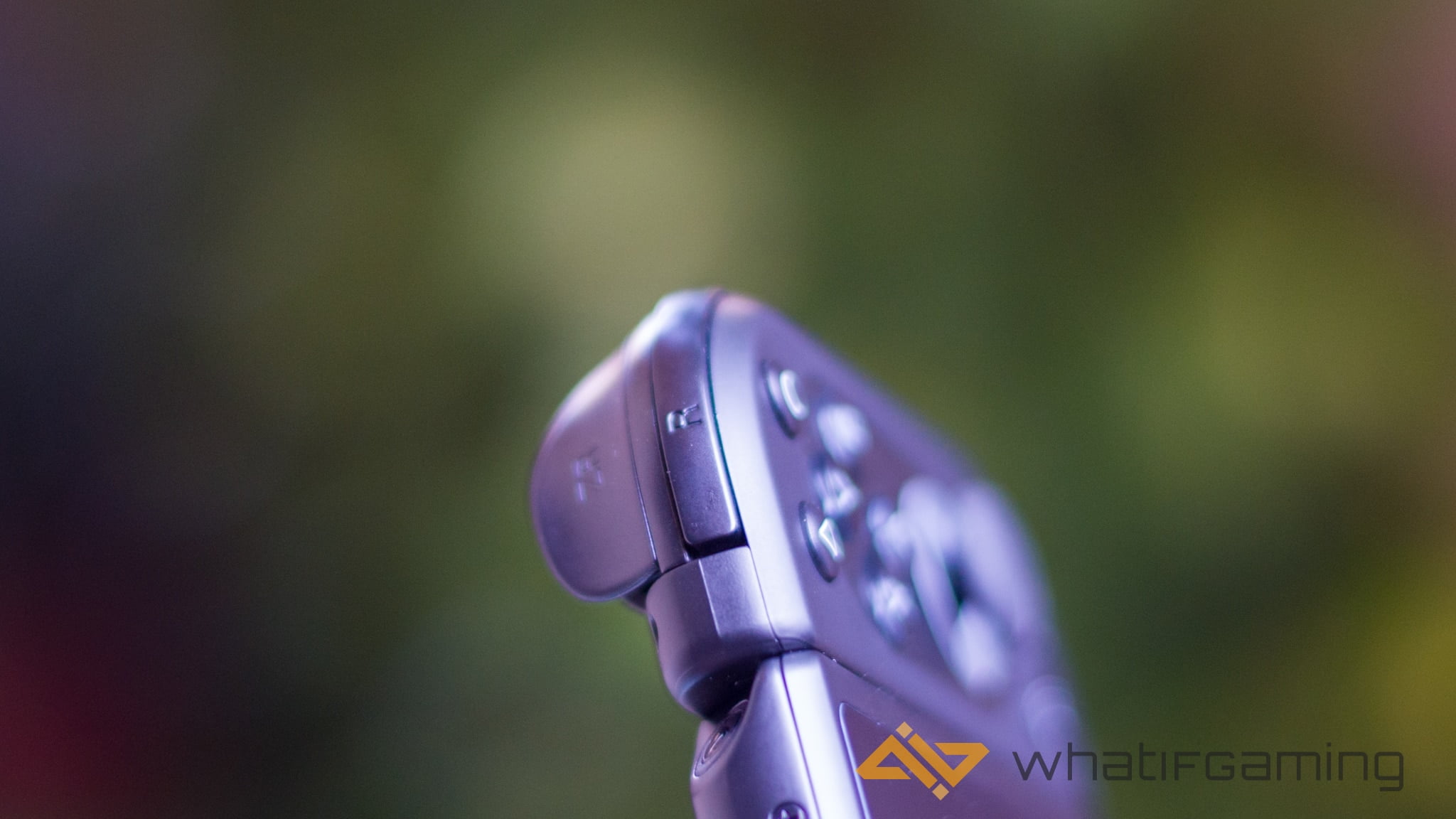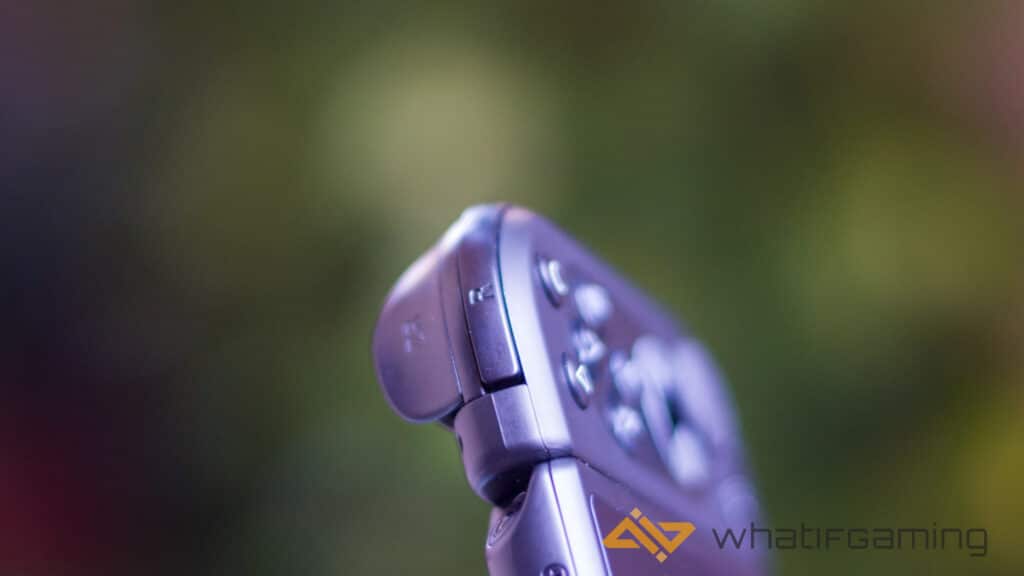 The bumper buttons are great. They are between tactile and squishy; they also don't make a sound or click when pressed. The position is also extremely comfortable to reach, at least for me. Overall, the triggers and bumpers do a pretty solid job adding to the gaming experience.
Additional Buttons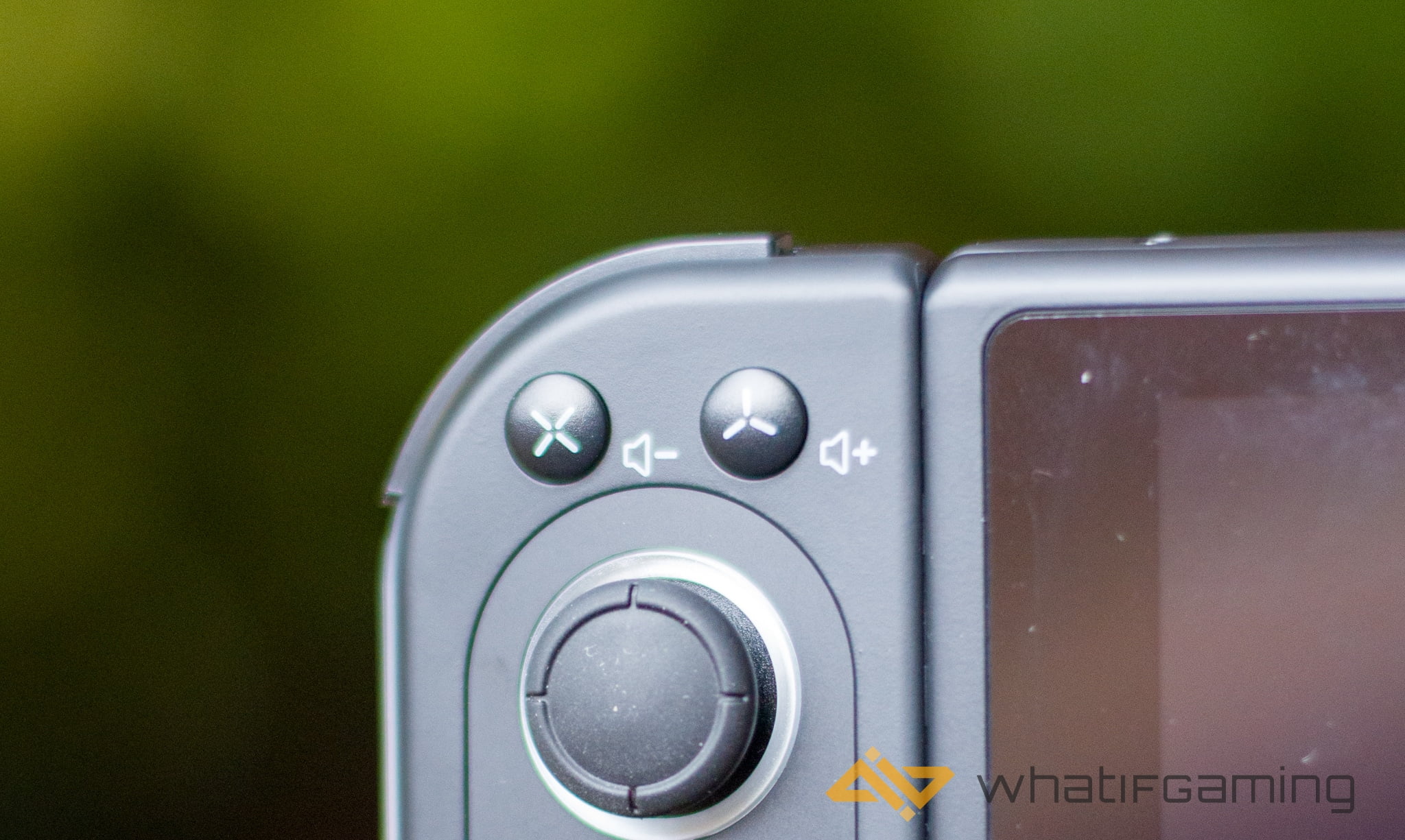 The controller sides have two additional buttons on the top. There are a total of 4 extra buttons on the controller. These buttons can be mapped to anything in the games. I've mostly used them for L3 and R3, but you can map them to any or duplicate function. A bit of setup is involved in getting them to work, though.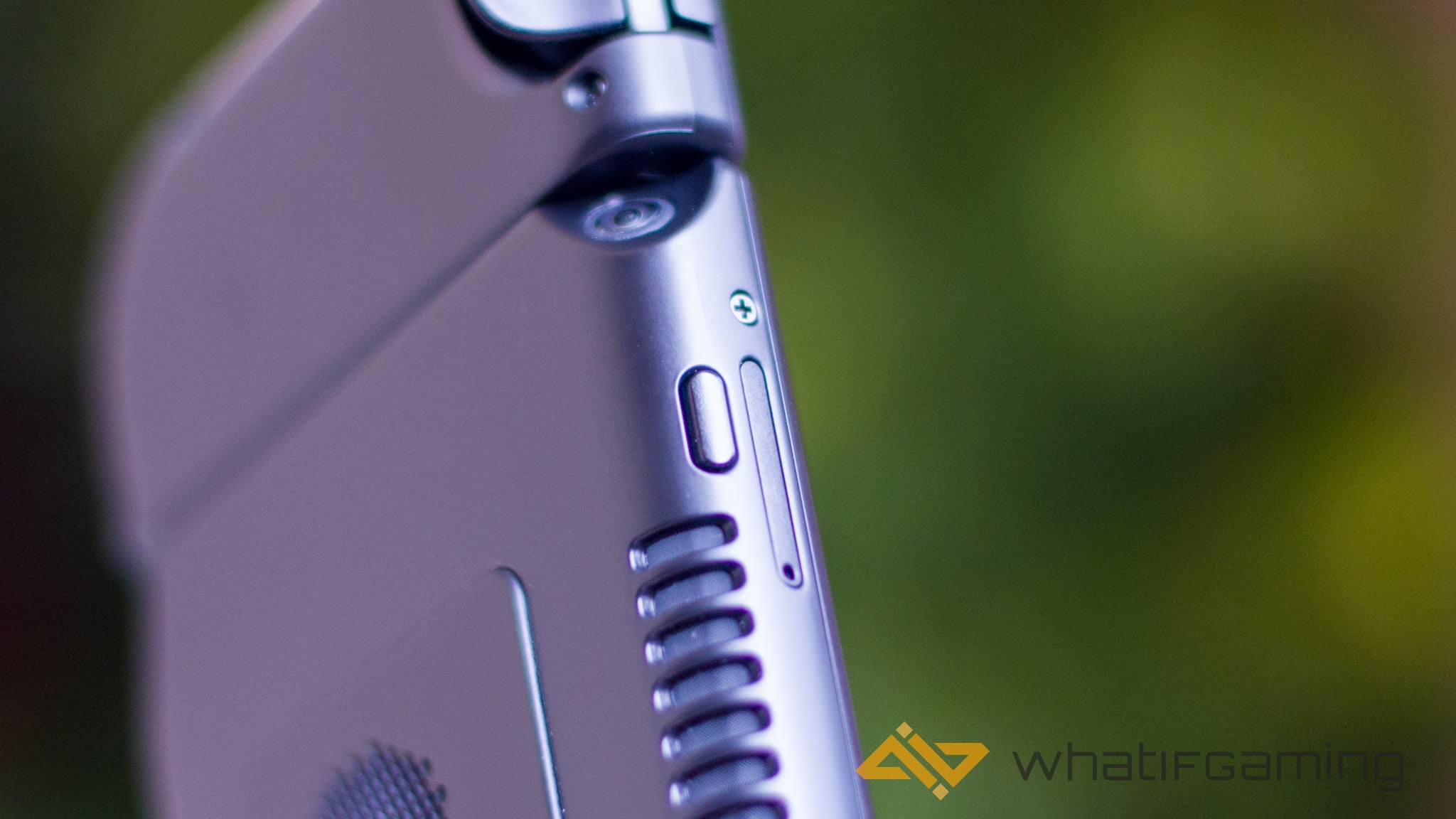 There is also a power button on the top of the console. It acts just like a power button on a phone. Press it to wake up the device or turn the screen off. Long pressing brings up the Power Menu, letting you turn the device off or restart it.
Joycon-like Features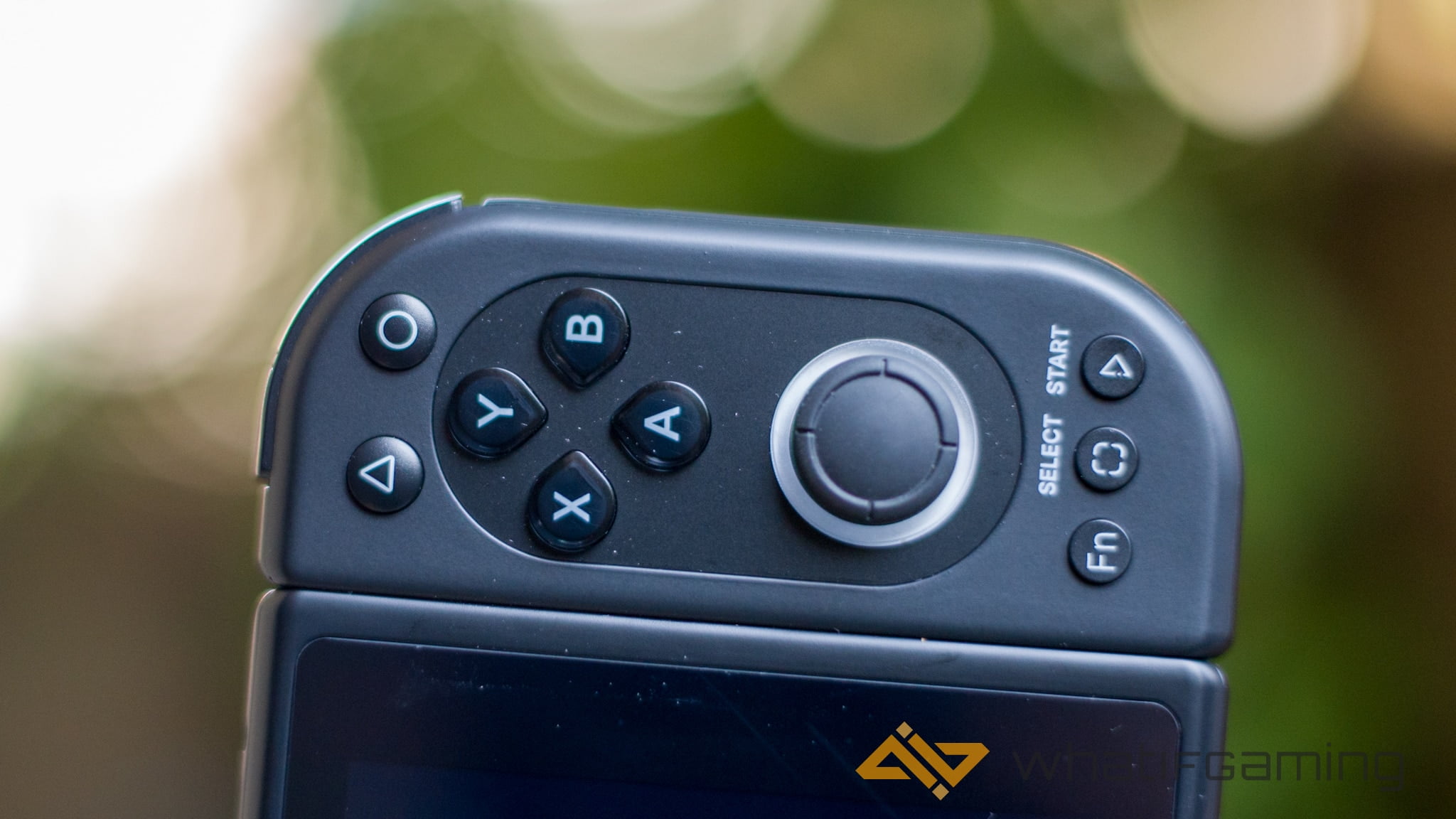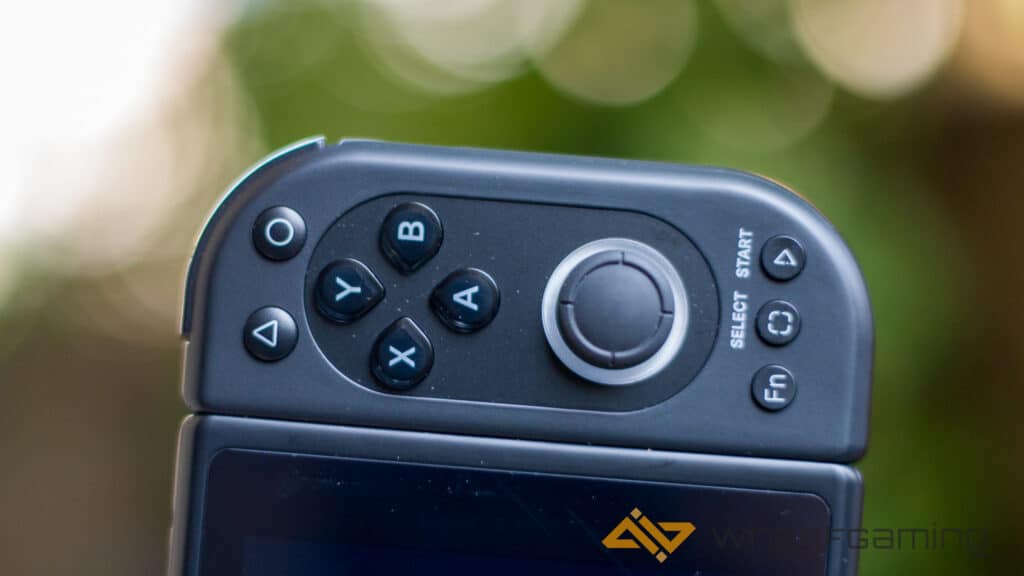 The Pimax Portal review would only be complete by discussing the detachable controllers. Both controller sides can easily be removed and used as standalone controllers. The controller has tiny buttons that act as bumper buttons, too, so you can play Mario Kart on a split screen via emulation. I couldn't find an Android game that would use these features; finding games with simple controller support is hard enough.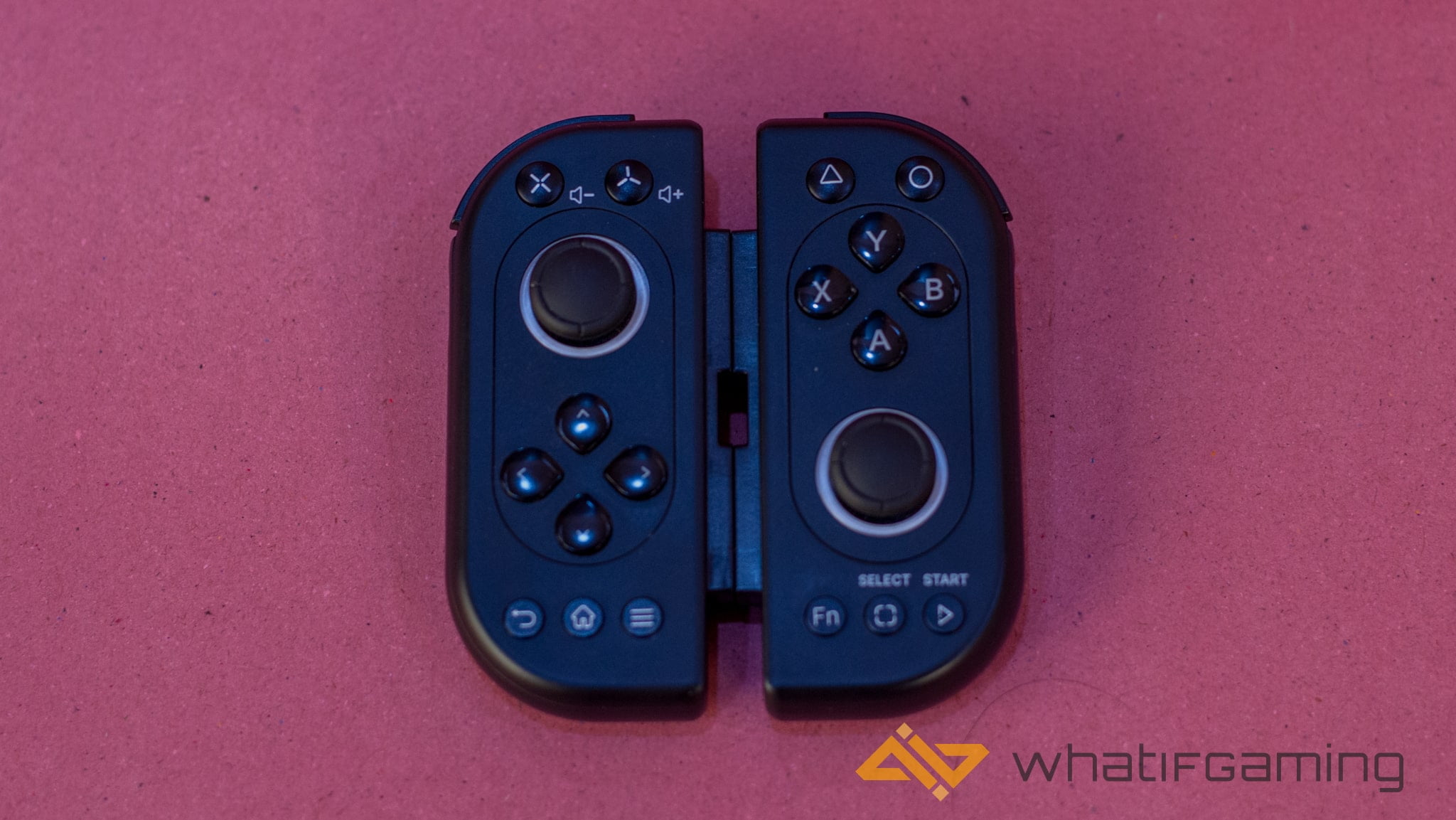 The joycon-like feature is unique but would be much better suited for VR games. I could only make them work separately after plenty of tweaking in a Nintendo 64 emulator. It was a good experience, but I'd rather use external controllers for an easier experience and more comfortable gaming sessions.
Lights – Pimax Portal Review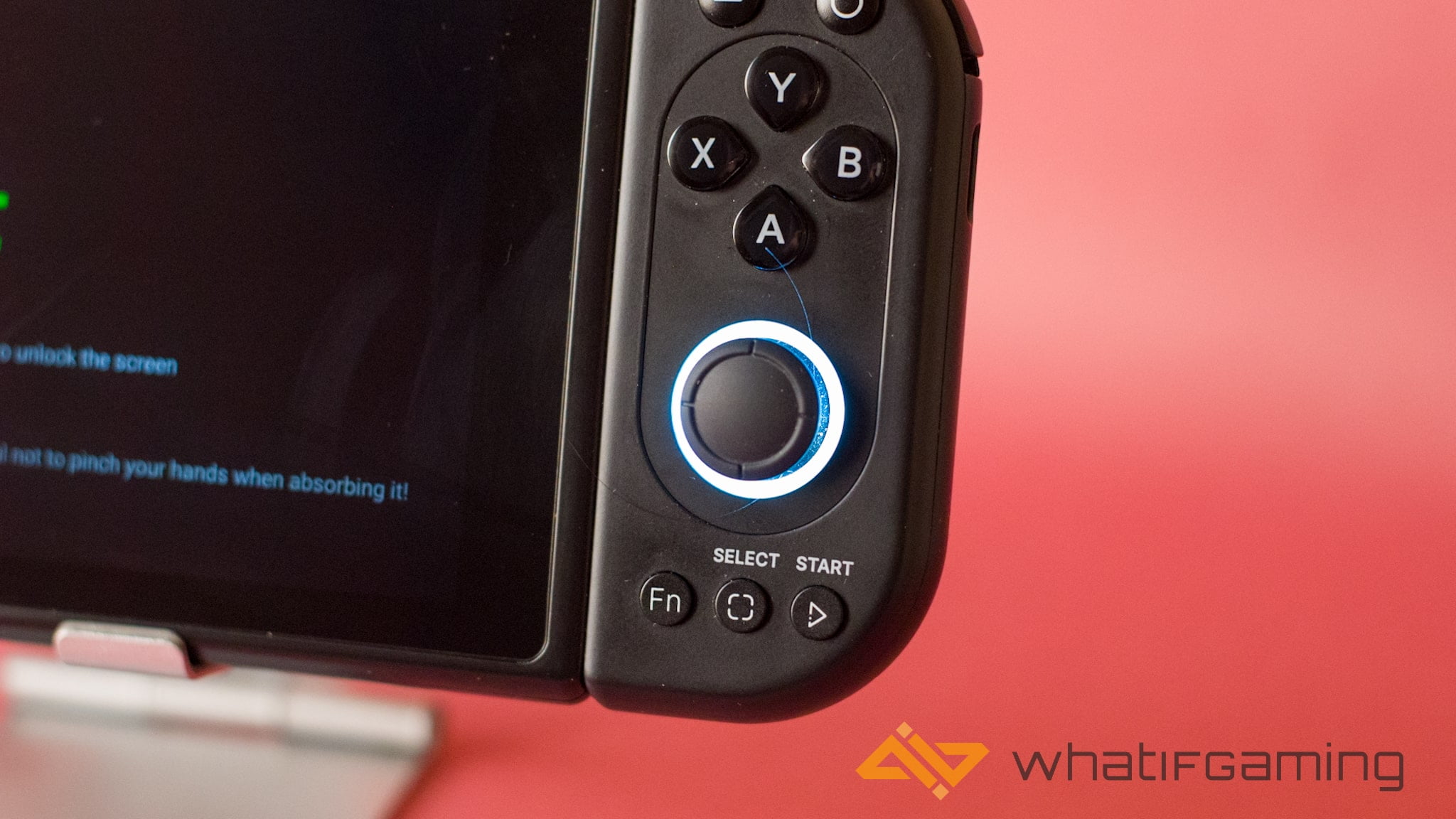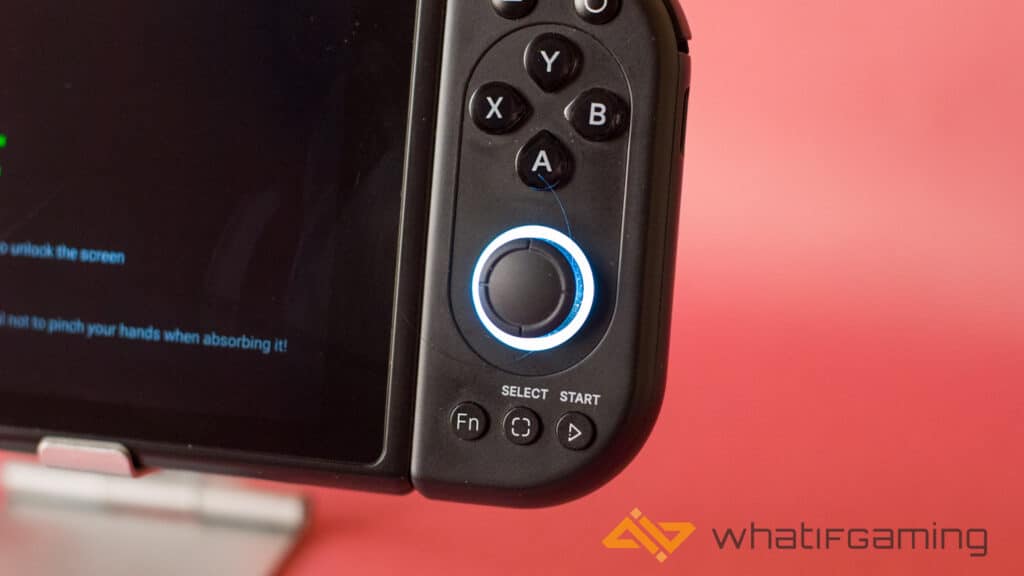 Lights off no customization
Can be annoying at night
The analog sticks have RGB lights. That sounds cool, but it is half-baked, like many features on the Pimax Portal. There is no way to turn the lights off, so they go off whenever possible. They are also surprisingly bright, which is great when playing outdoors but a nightmare in a dark room. I place the Portal face down at night to avoid the floodlights from waking me up.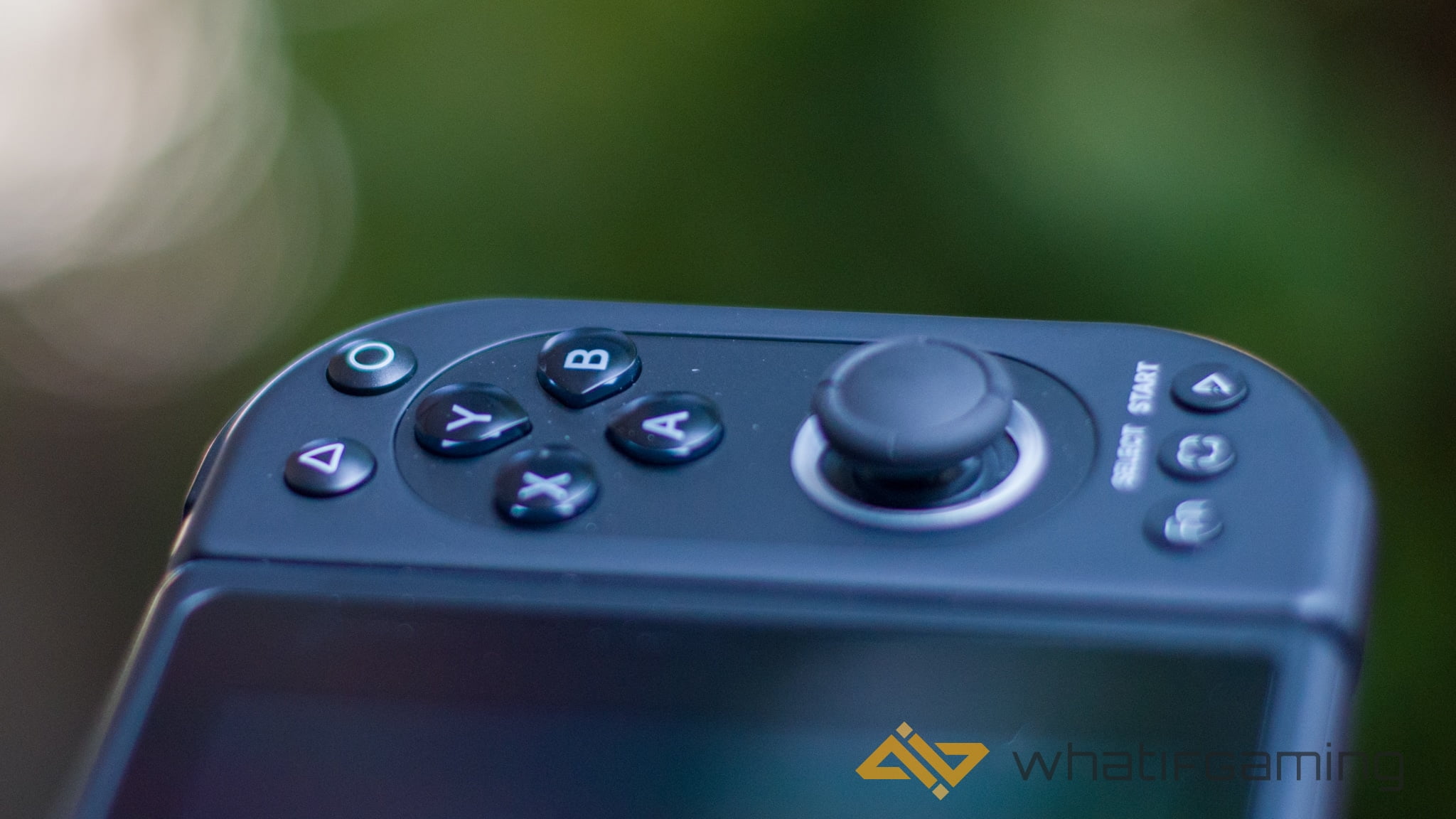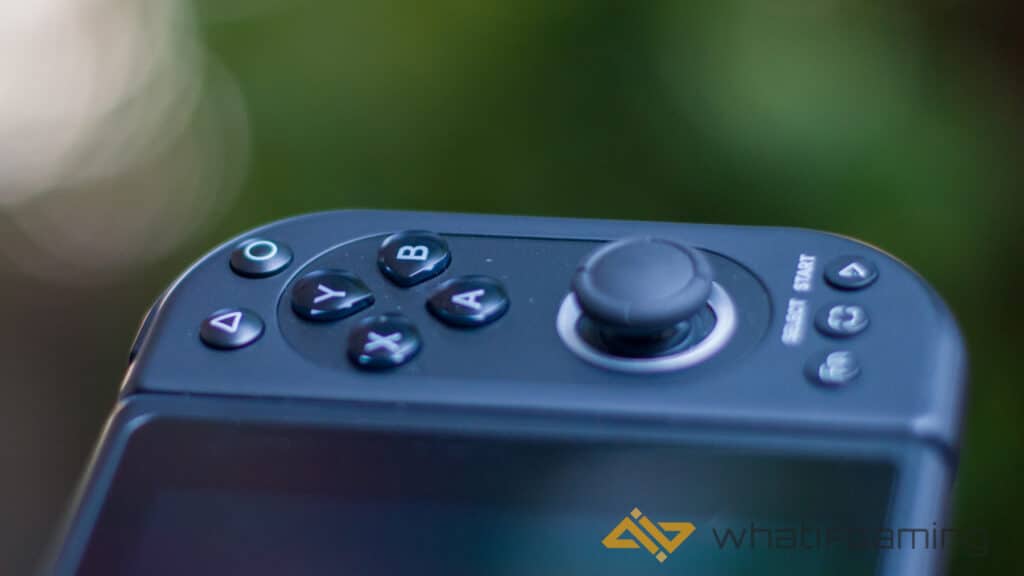 The lights are not used in games either. I thought they would reflect what's on the screen, but that wasn't the case. The lights do act as notification lights, well, sometimes when they feel like it. It's a cool feature, but it's implemented poorly and half-baked. Thankfully, Pimax is aware of this, and future updates might change how the lights work.
Screen – Pimax Portal Review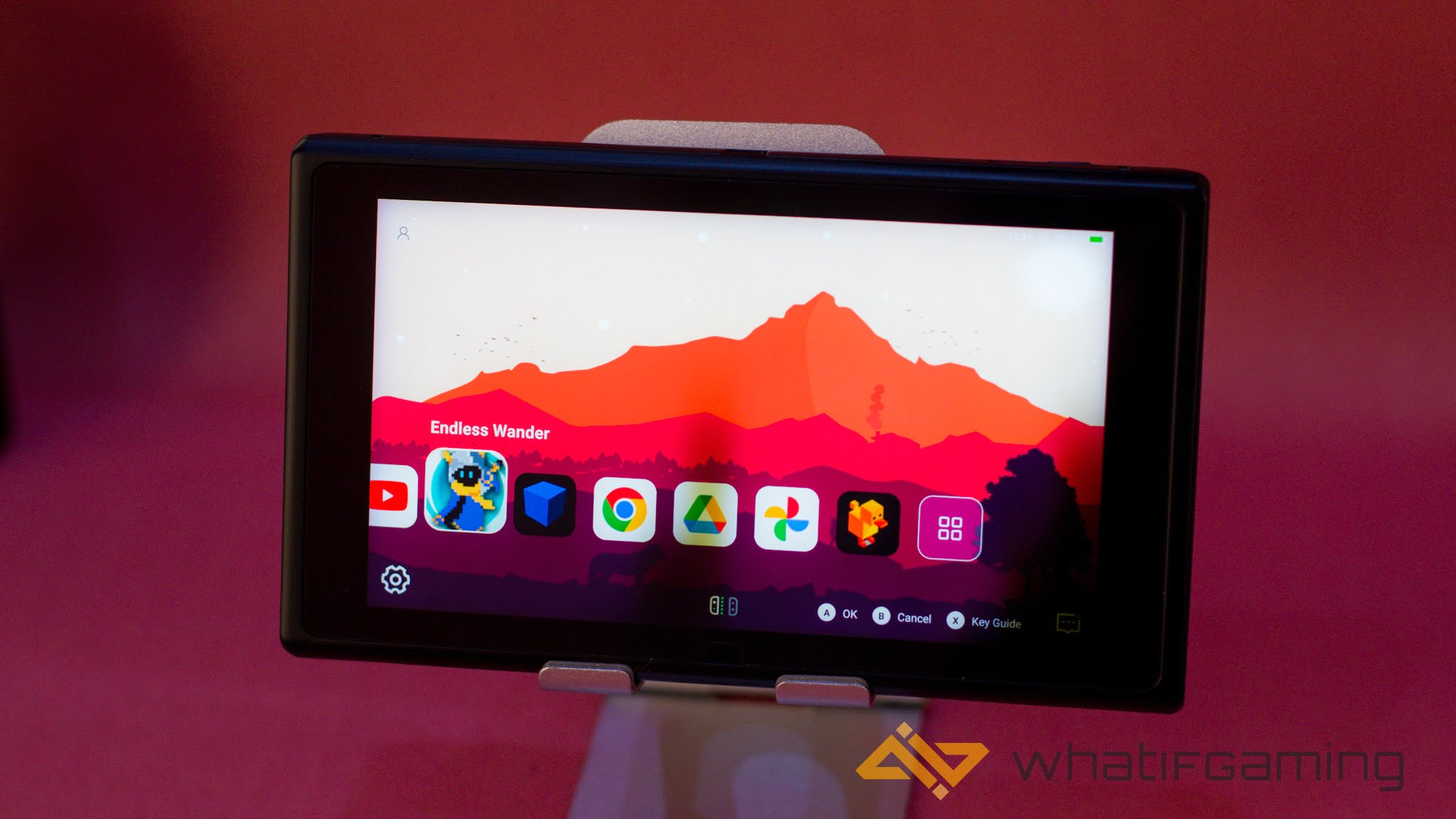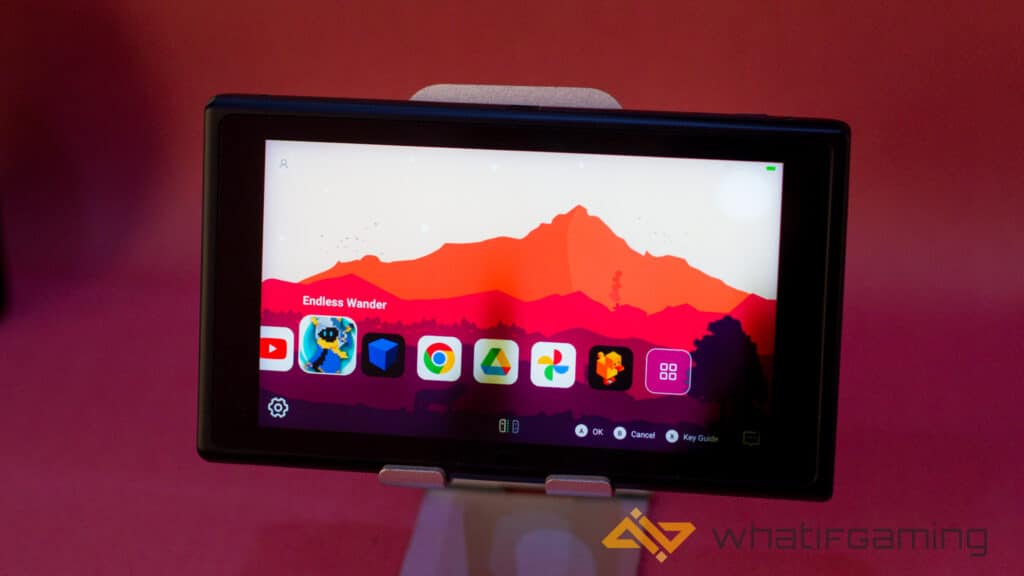 4K QLED screen looks sharp
Touchscreen makes navigation a breeze
Some blooming issues
High refresh rate makes everything smooth
There are a couple of models of the Pimax Portal: a base model with an LCD screen and more premium models with a QLED display. I received the QLED version with a 4K screen resolution. It's a good screen, but it isn't a stand-out feature. The screen also has a refresh rate of 144 Hz but doesn't support a variable refresh rate, which is a big miss, in my opinion.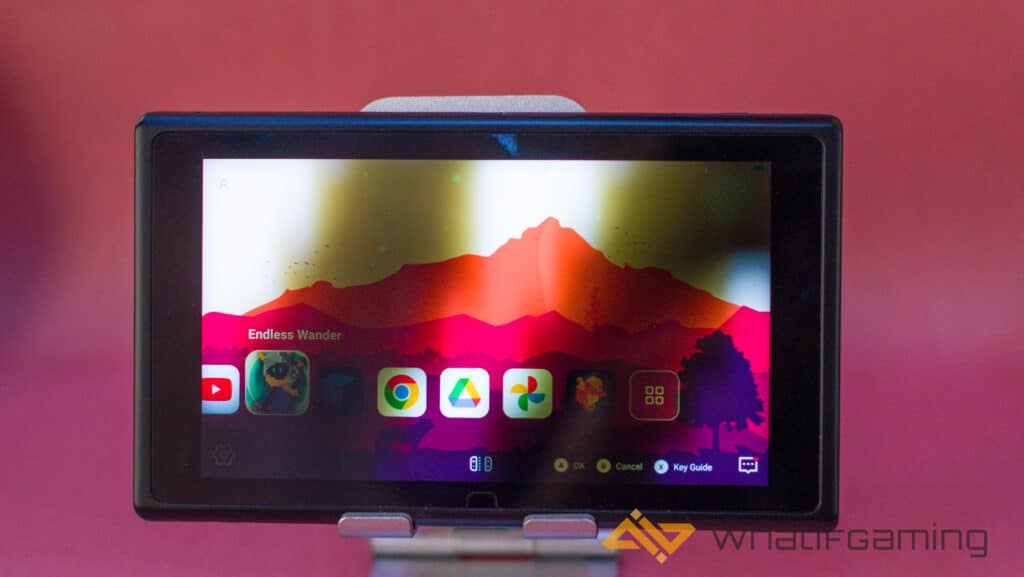 There is quite a lot of blooming on the screen as well. The website states it is a QLED + mini LED display, which is confusing; it acts more like an LCD. A small white object on the screen will have a visible white bloom around it. It's more evident on the lock screen, too. Nothing will distract you from gameplay, but it's something to note.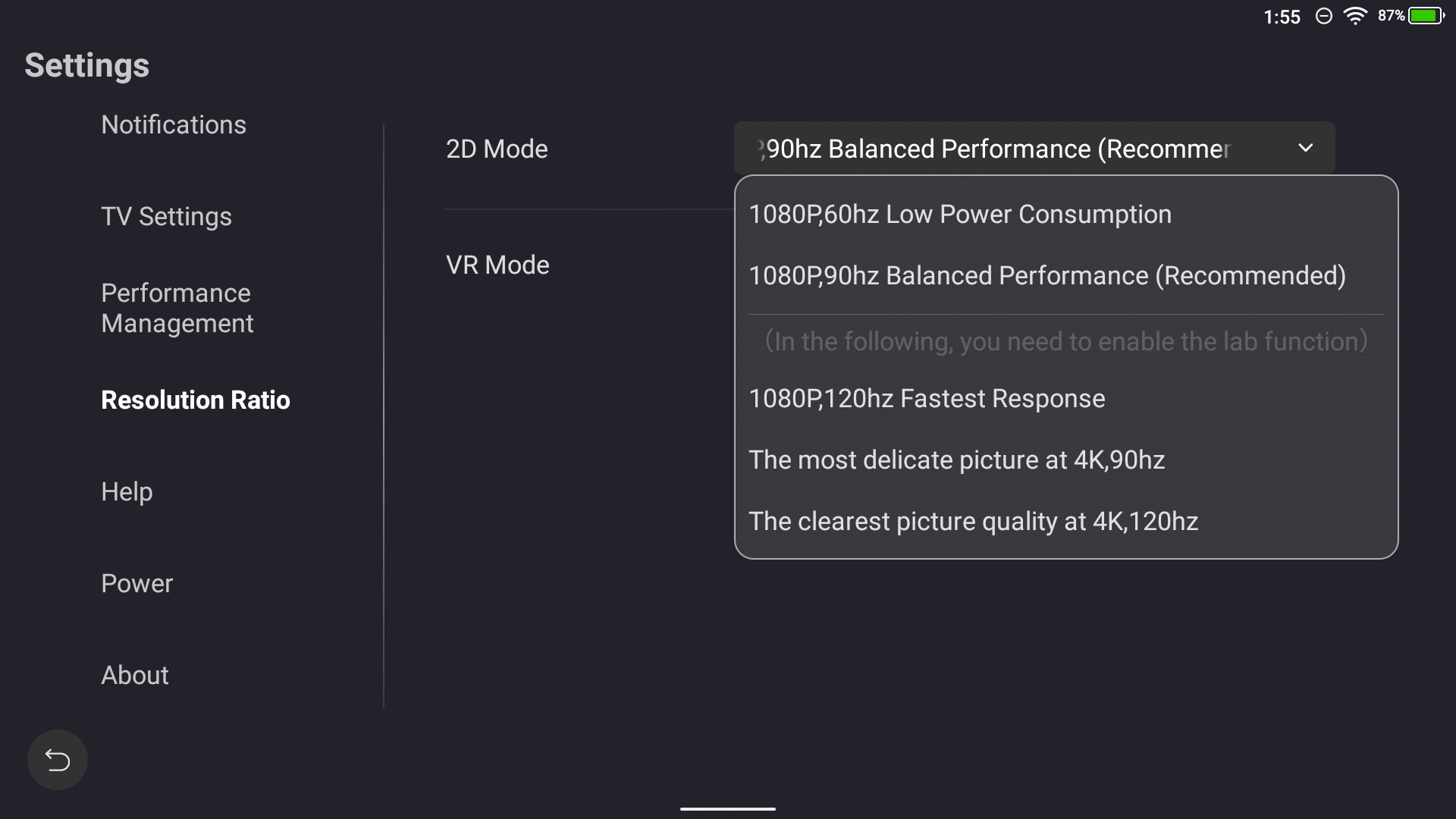 The 4K resolution is there for VR; the Portal isn't strong enough to run demanding games at 4K resolution at a stable frame rate. So, if you aim to play Genshin Impact at 4K on a handheld, it might run a little sluggish. You must also go deep into the settings and enable "Lab Settings" to access screen resolution and refresh rate options. The resolution and frame rate are not separately selectable, so you are stuck with Pimax's options. I ran the Portal at 1080p and 90Hz, which is the recommended setting most of the time.
Performance – Pimax Portal Review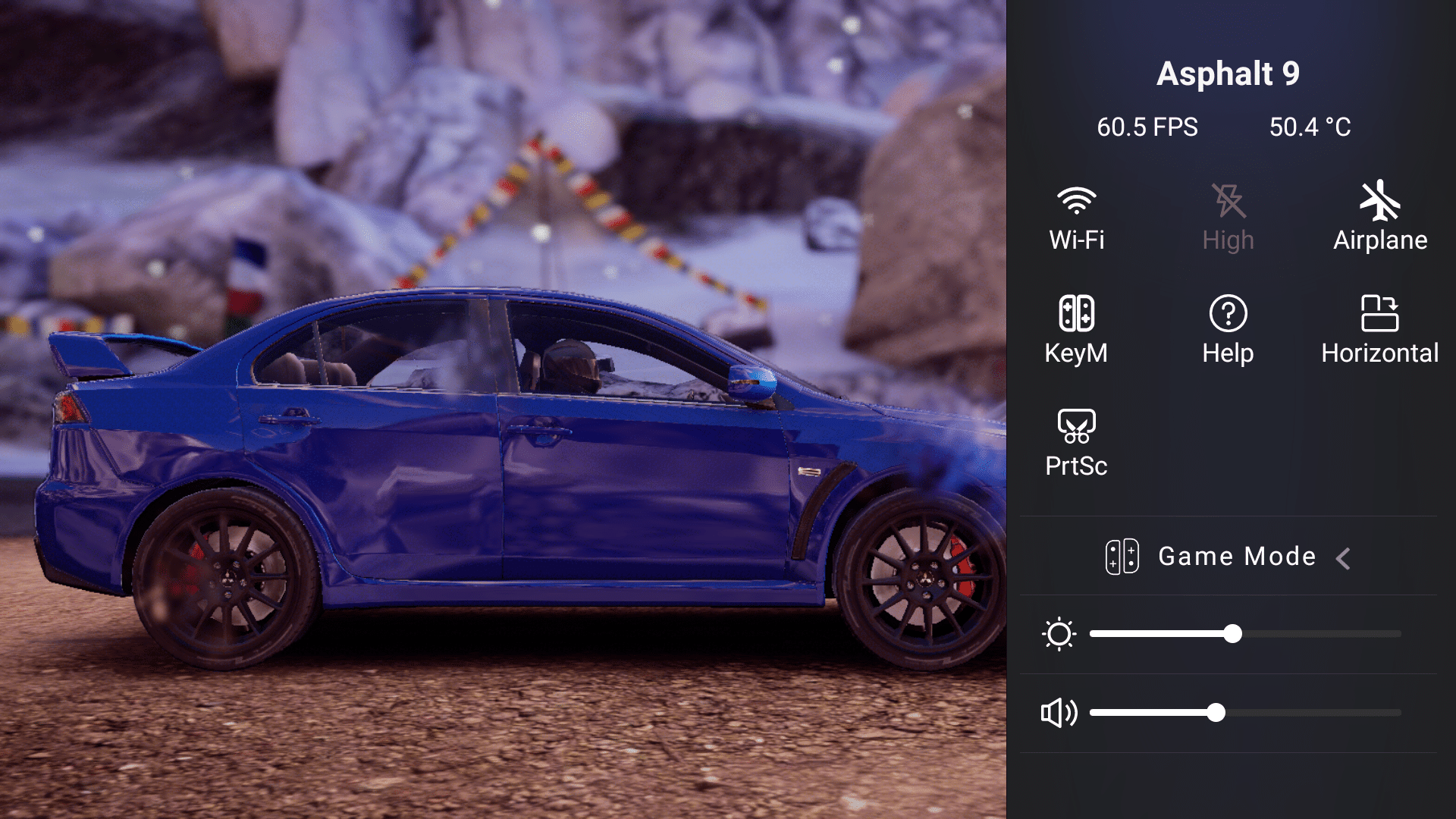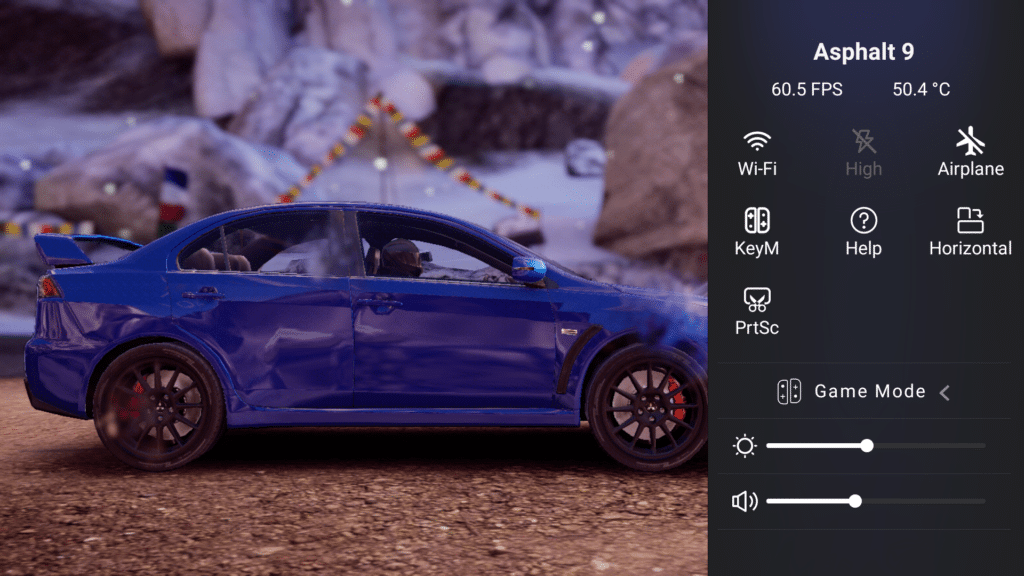 Runs Android games with ease
Great for emulating older consoles
Struggles with the latest Nintendo Switch titles
Respectable scores in benchmarks
Ample cooling that doesn't throttle performance
The Pimax Portal is a beast of a machine. I had no trouble running Android games on the little powerhouse. It ran anything I threw at it with ease. From Tower of Fantasy to Fortnite, I played many native Android games on the console. I also enjoyed running emulators on the Portal with varying levels of success.
Android Games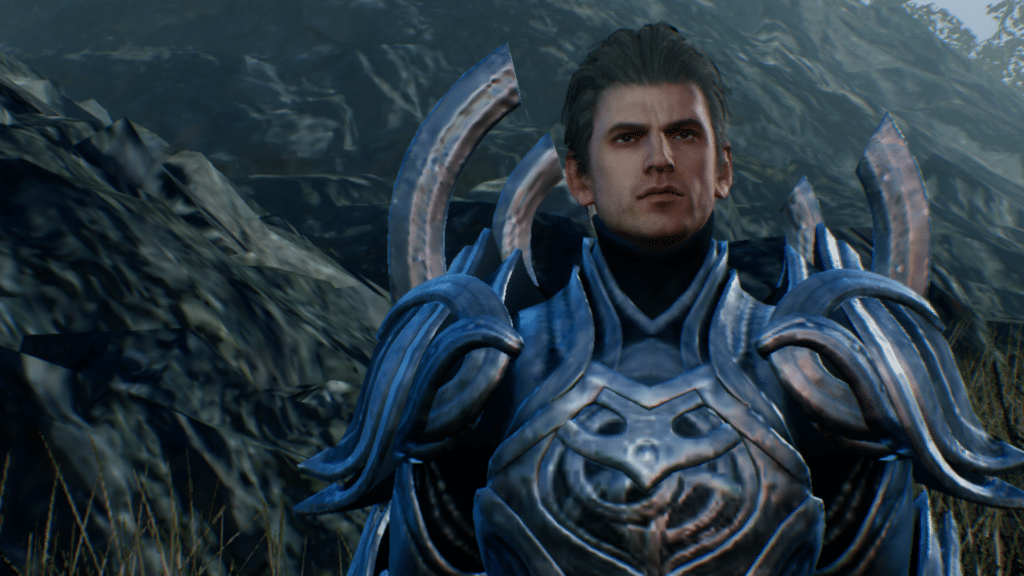 The Pimax Portal is perfect for Android Games. I tested Diablo Immortal, Call of Duty Mobile, Genshin Impact, Fortnite, and even Dysmantle on the console, and it easily tackled them all. Sure, I had to tone down some settings here and there on Genshin Impact, but the gameplay was stable, and the game ran smoothly throughout my play sessions.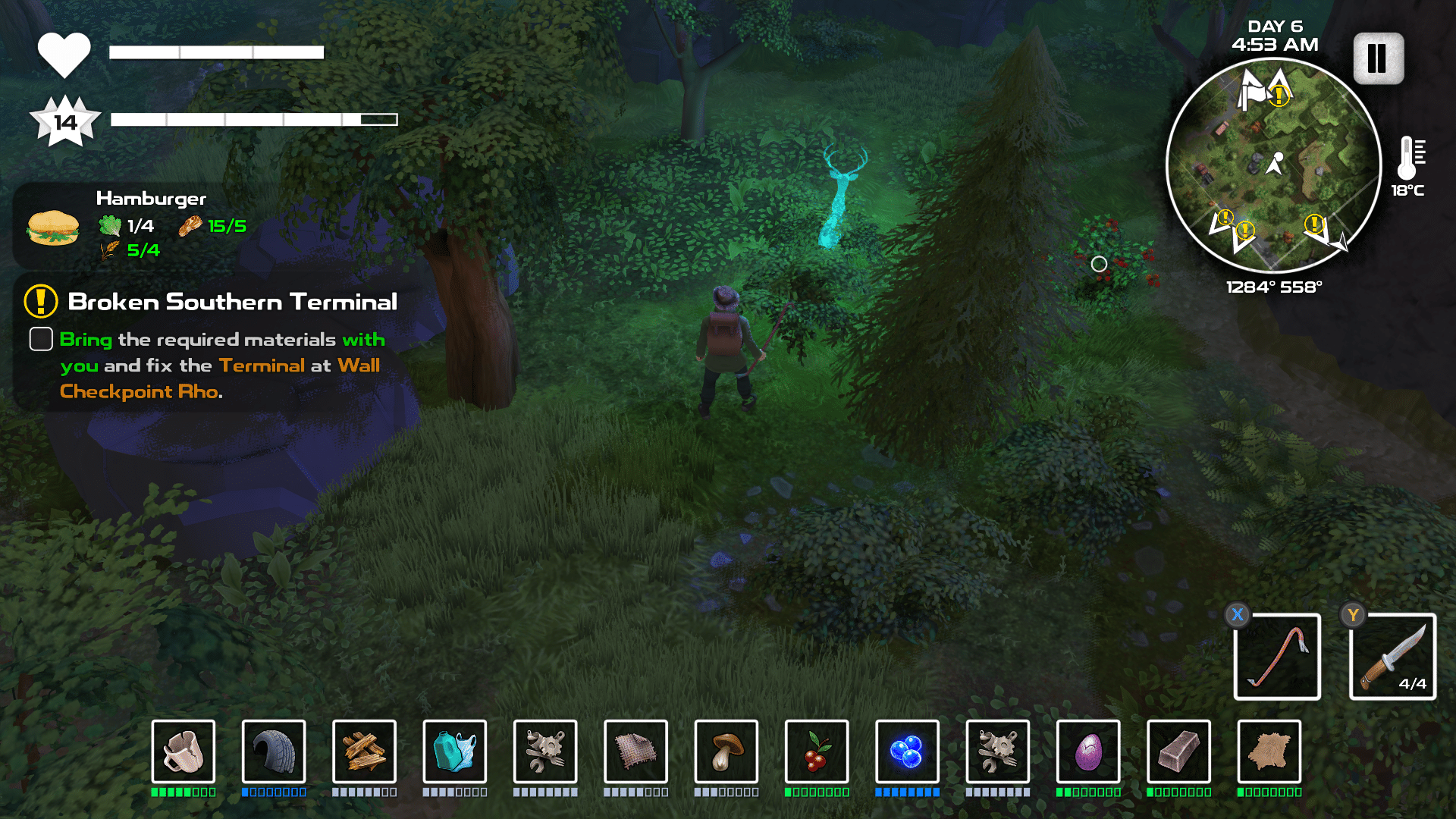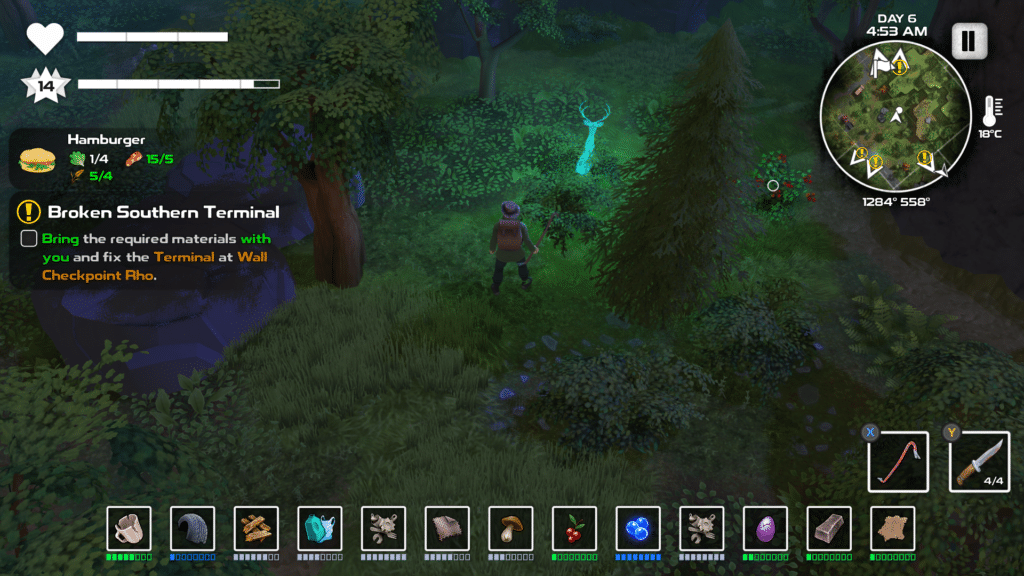 If you want to run Android games without worrying about your phone heating up or slowing down, the Pimax Portal is perfect. Dedicated Android gamers won't have any problems running the most demanding games on the console. The virtual button mapping feature is also a huge plus, letting you easily play games without controller support.
Emulation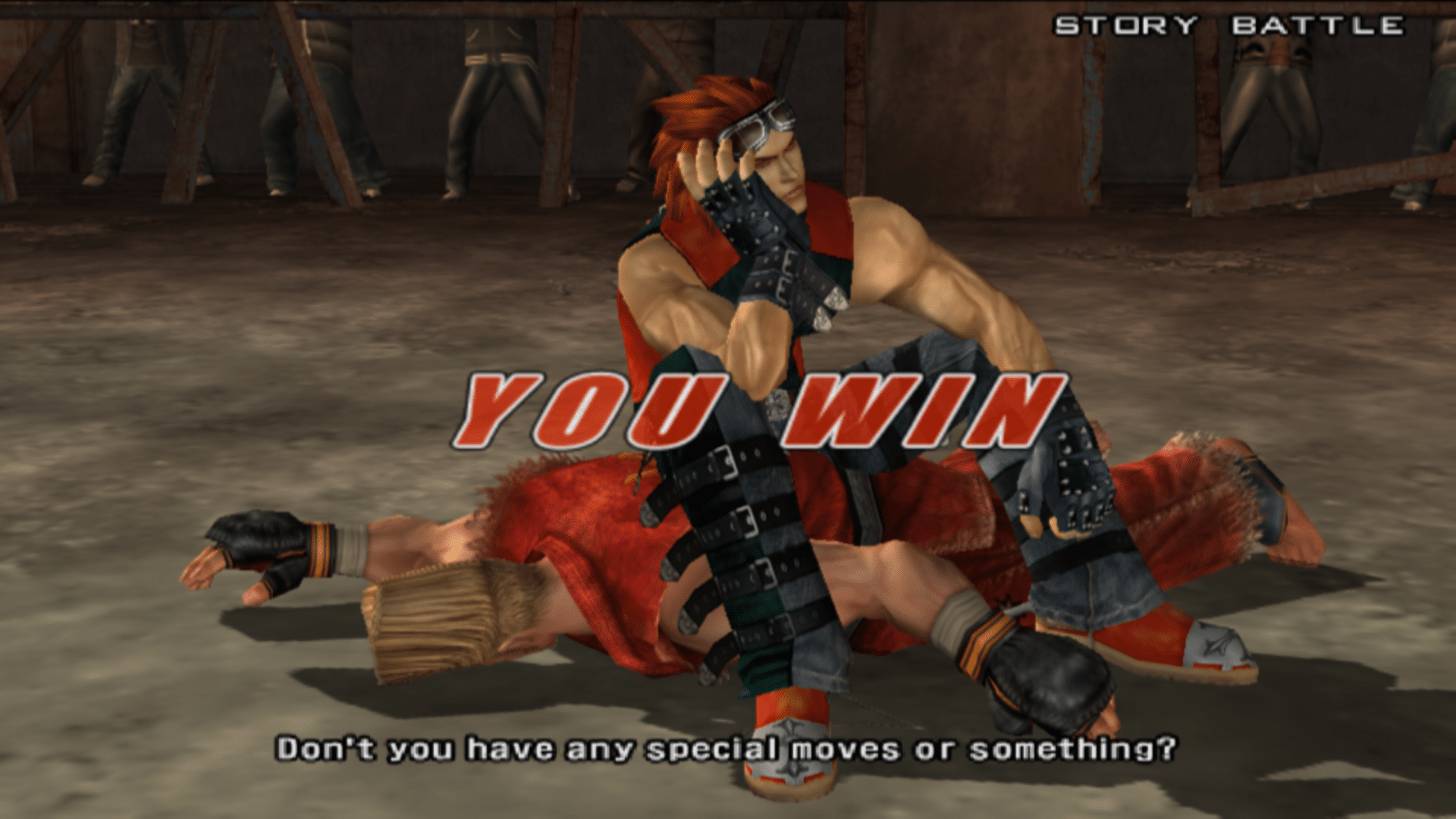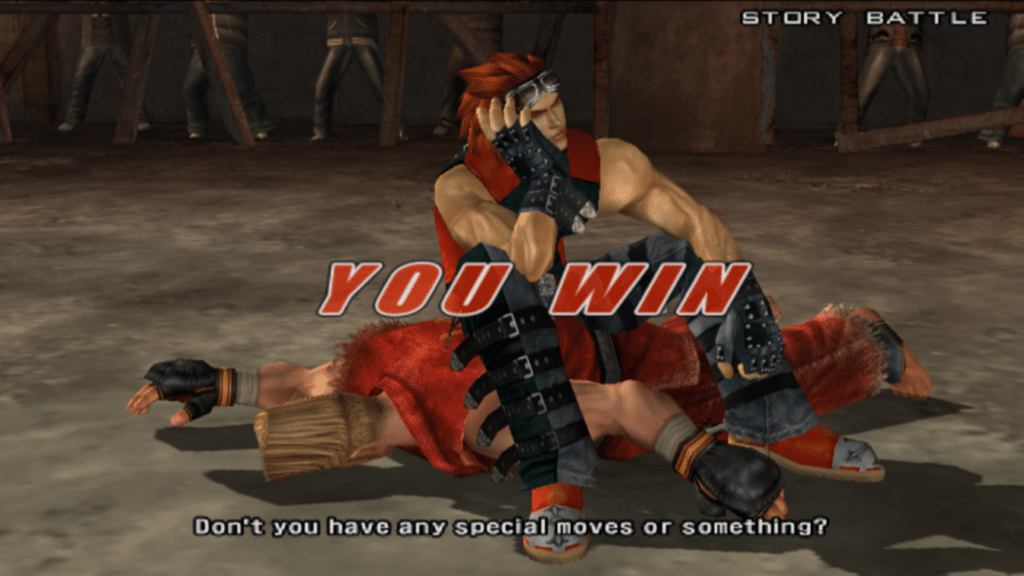 The Pimax Portal does emulation well, especially for older consoles. I could emulate Nintendo DS, Nintendo Wii, and even some Nintendo Switch games on the console. Android emulation isn't yet mature, but it is still good enough for most older consoles. Don't expect to run Legend of Zelda's Tears of the Kingdom on the Portal, though any older titles are easy to emulate. Switch games also had some graphical hiccups here and there, and I wouldn't recommend them on the Portal.
However, playing PlayStation 1 and 2 games is a joy on the Portal. They run extremely well, and I had no trouble running the most demanding games at a stable frame rate. Burnout Revenge, Grand Theft Auto: San Andreas, Need for Speed Most Wanted all work fine. Shadow of Colossus had some frame rate issues, but it was still playable. PlayStation 1 games are a breeze to emulate here; I ended Dino Crisis 2 on the Portal. Yes, I played through the whole game for the review and had a lot of fun.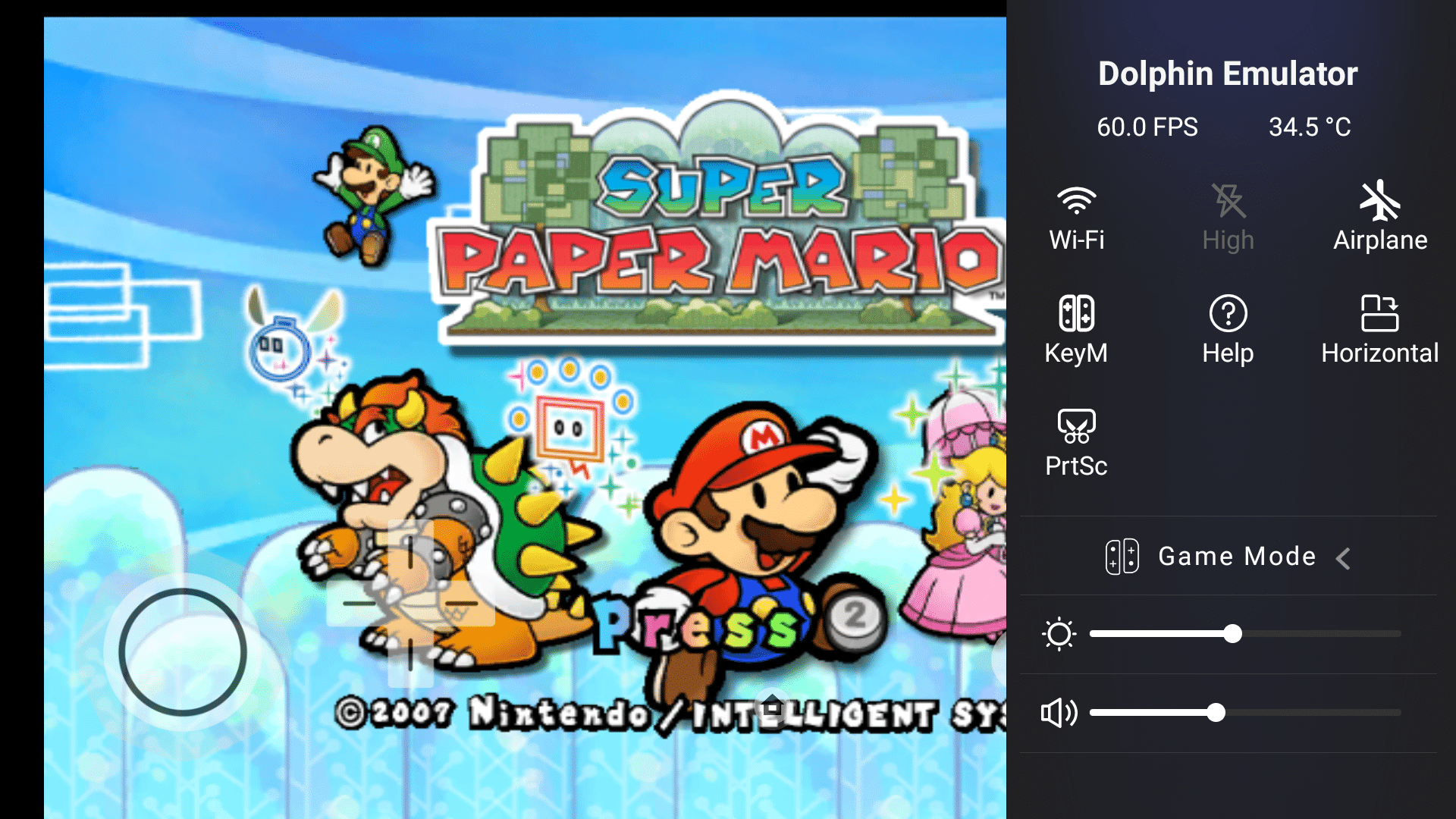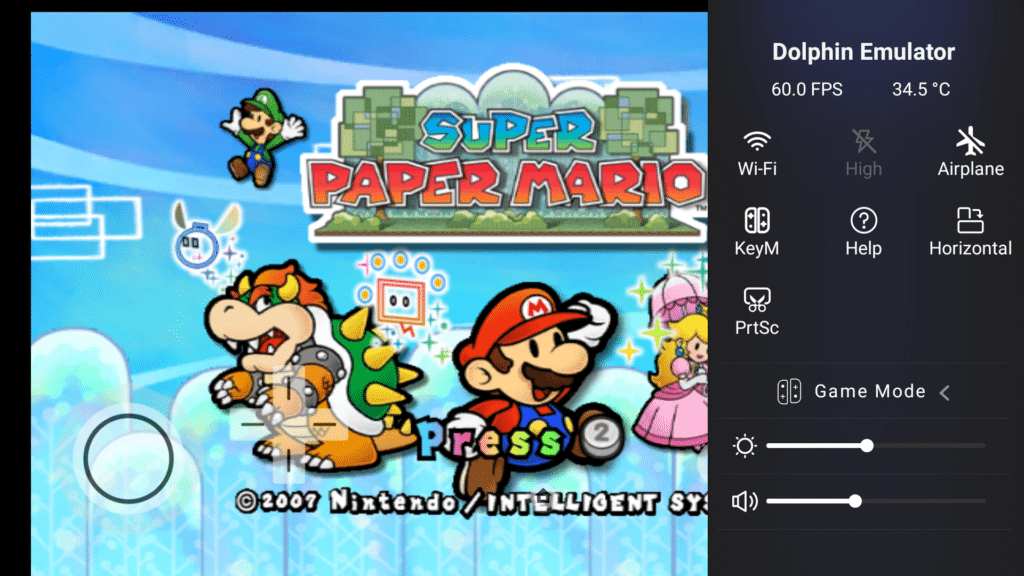 Nintendo 64 games also run smoothly on the console. Mario Kart works flawlessly; the same goes for Mario 64. It's an overall good experience; if you aim to emulate older consoles, you'll have a great time with the Portal.
Cooling – Pimax Portal Review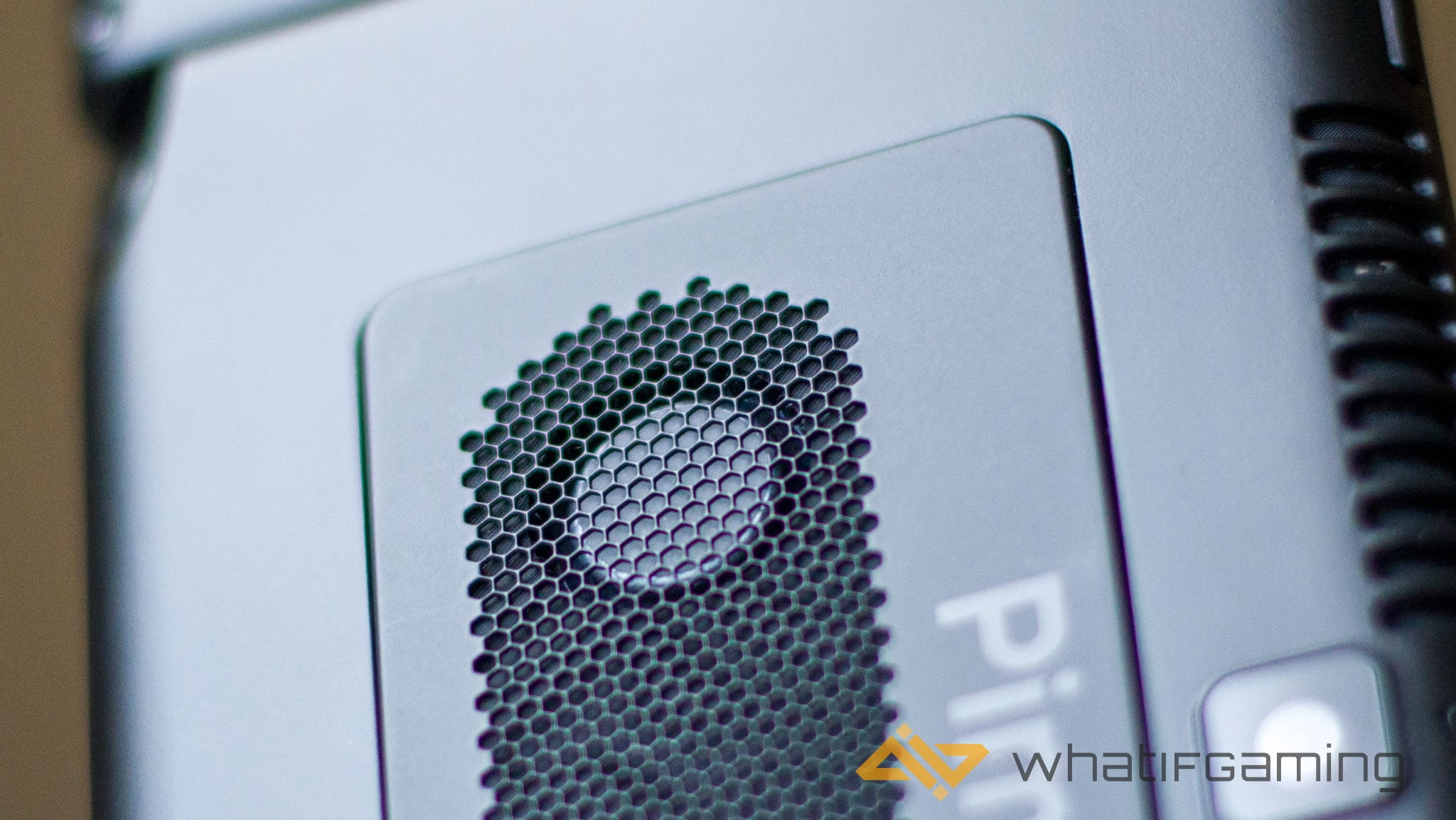 A dedicated fan on the back of the console keeps the internals chilled during gameplay. It's placed so the exhaust won't even come in contact with your hands, keeping them from getting roasted.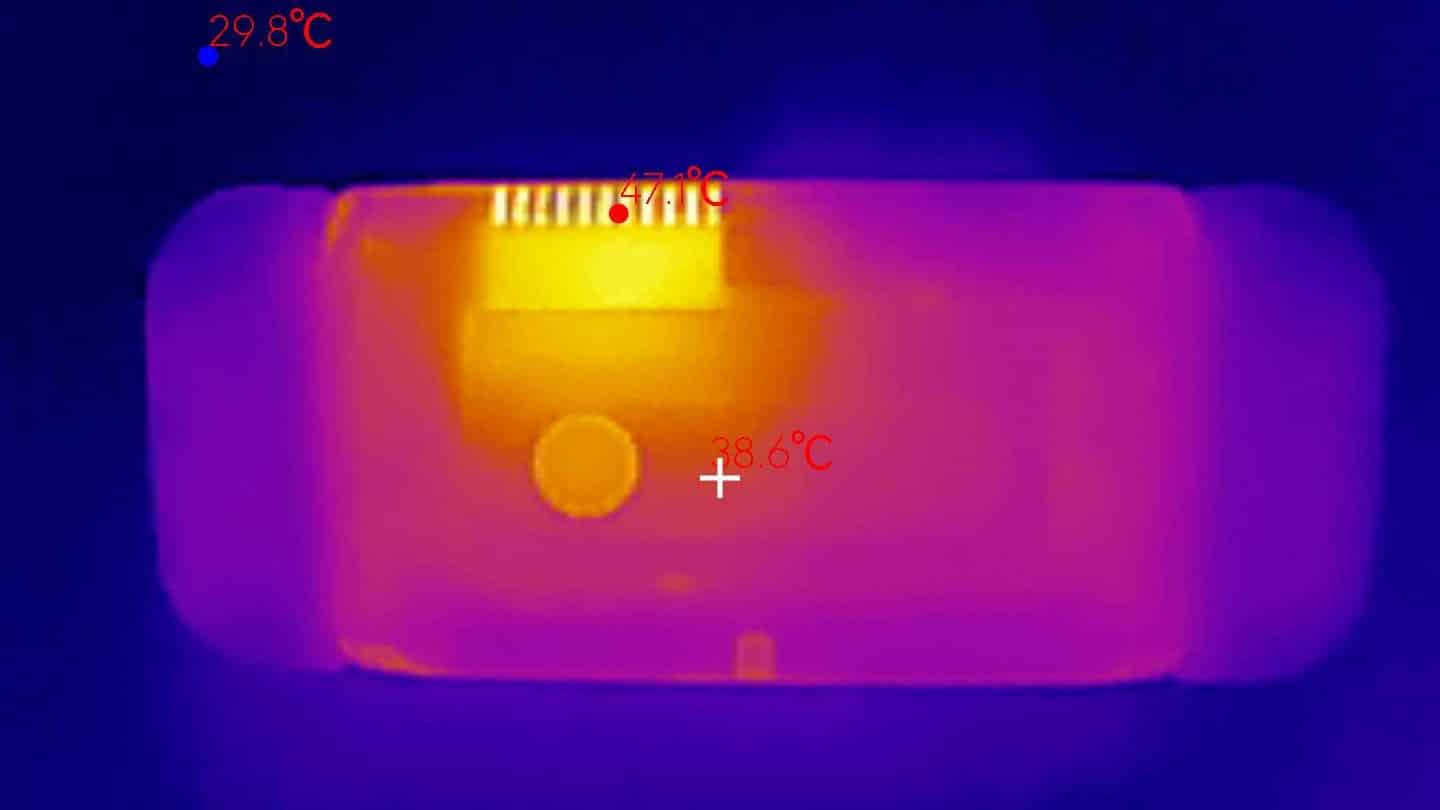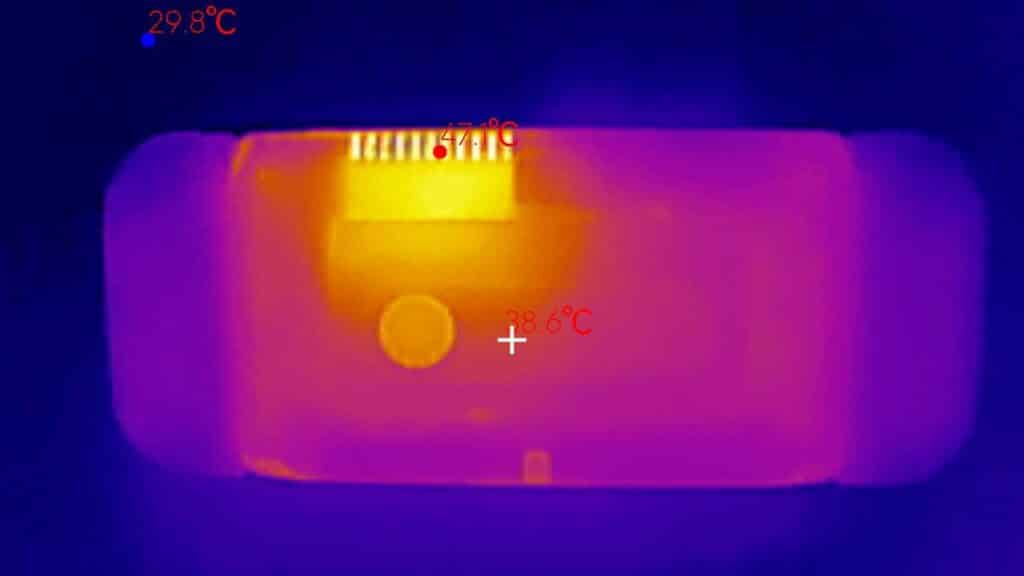 The fan is also surprisingly quiet even under load, a good feature if you don't want to disturb people around you. While subtle, it can be cranked to the max in the settings. Put it manually on level 5; you can hear the fan and feel the air blown out.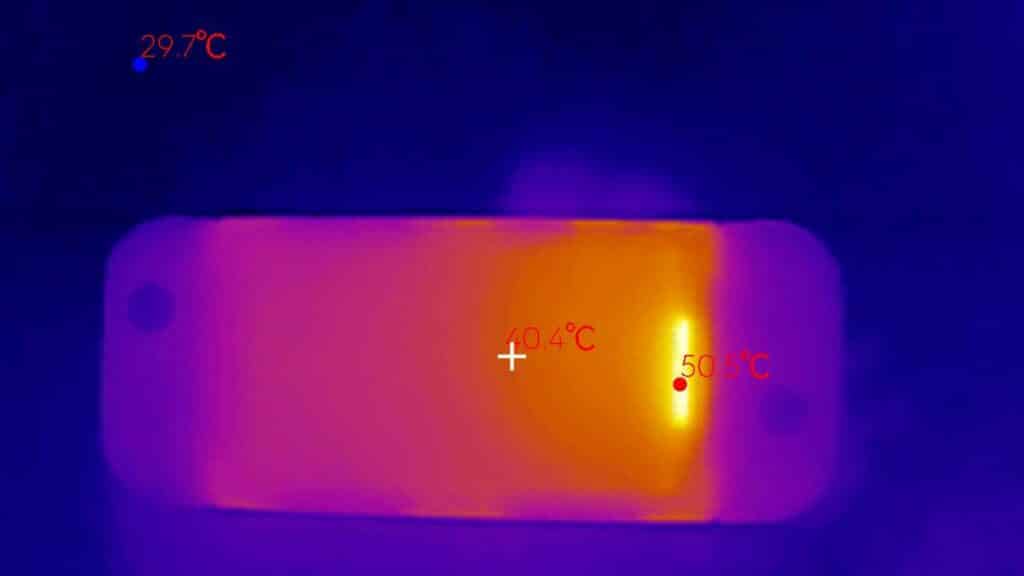 The device gets toasty under consistent load, but the heat doesn't reach the controllers. That's partially because of excellent cooling and partially because the controllers are independent from the main body.
Benchmarks – Pimax Portal Review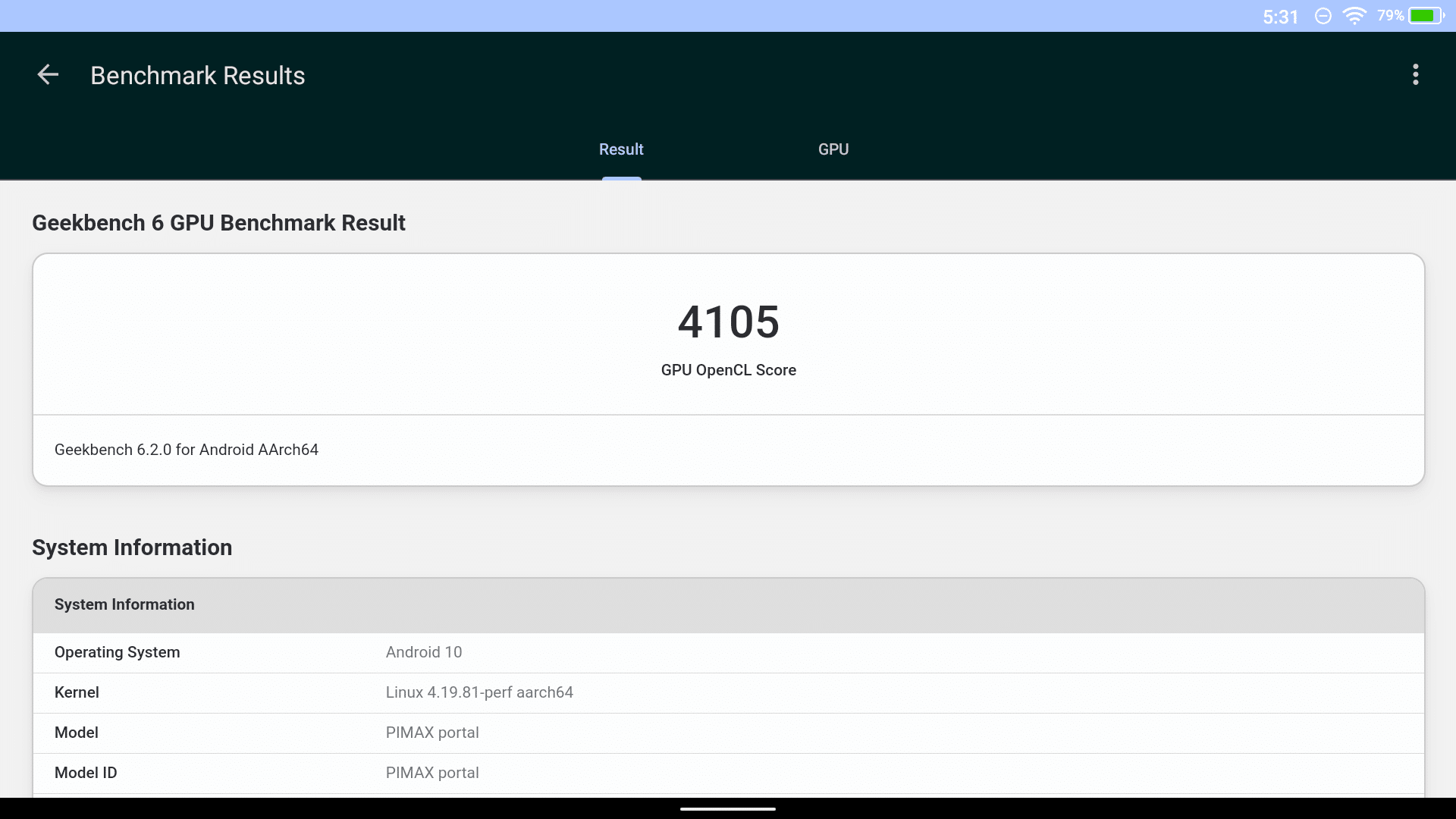 Benchmarks don't matter much, but the Pimax Portal, with its good internals, scores well on them too. I included these to see how well the Portal stacks against similar consoles and smartphones.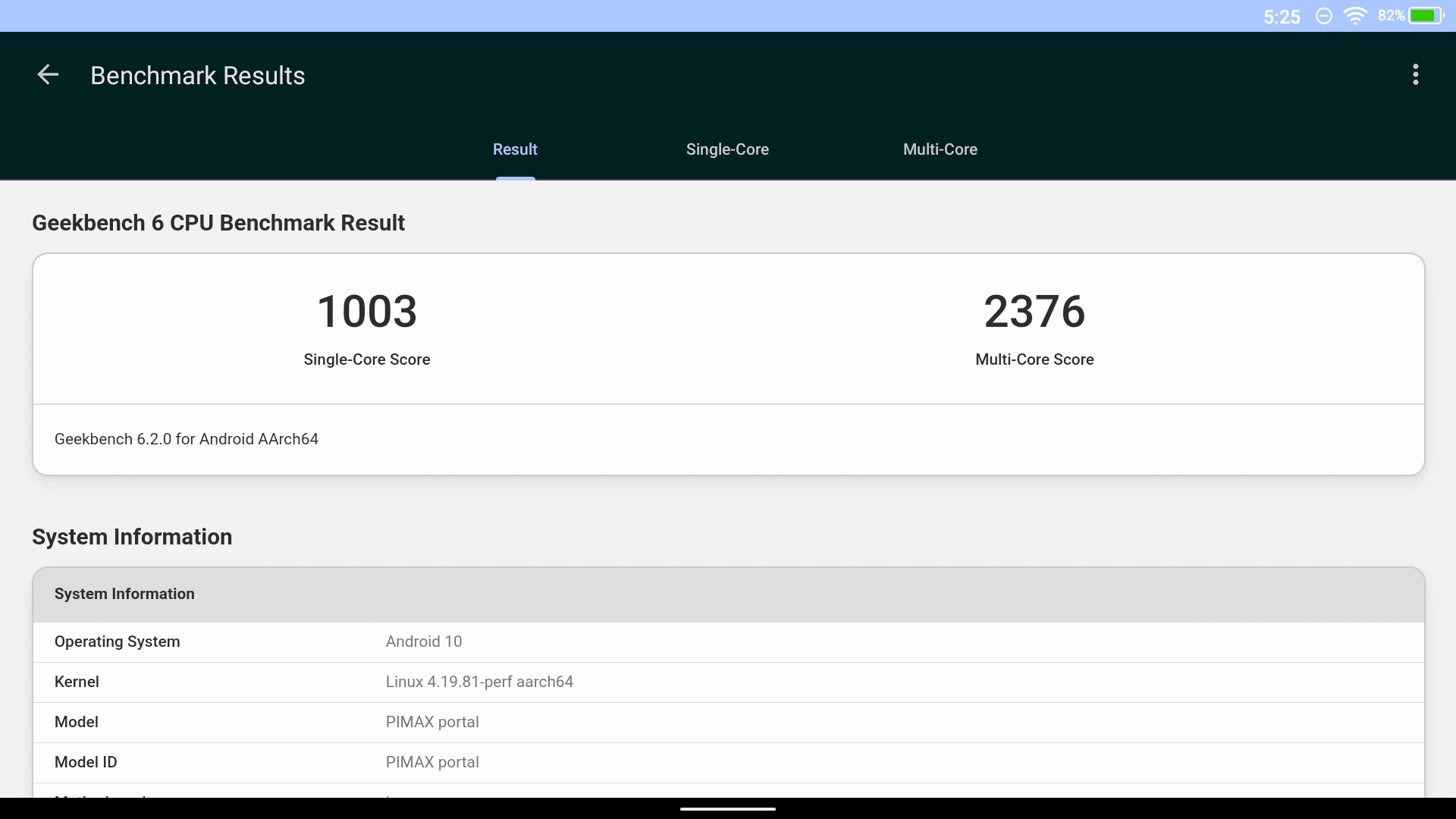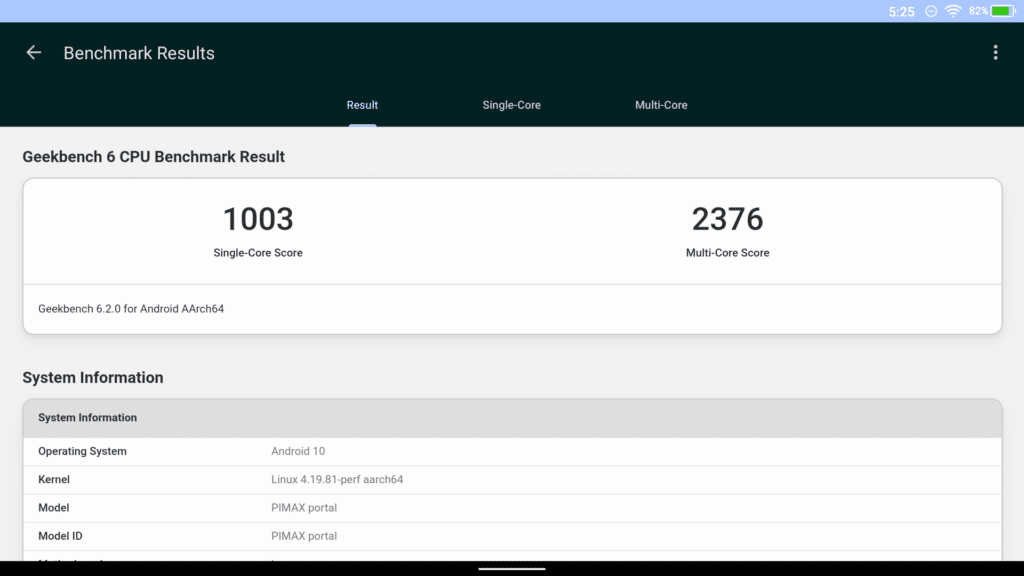 It's a little beast when it comes to CPU and GPU workloads. It is not as fast as Apple chips, but they don't let you play the Prince of Persia trilogy on your device. The GPU score is around half what the Samsung Galaxy S23 Ultra produces, a little lower than I expected, but it still generates great results.
Connectivity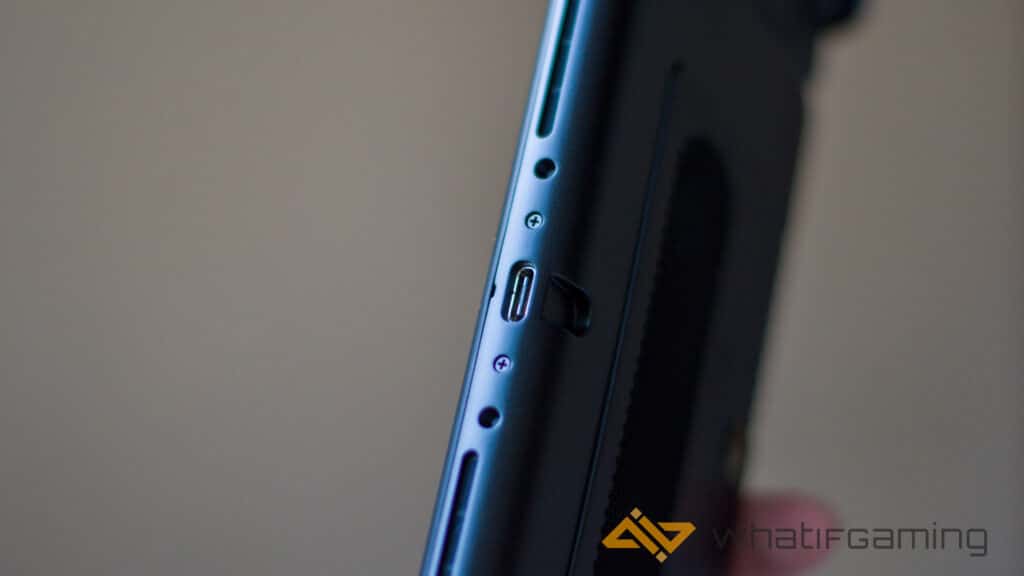 Wi-Fi 6E makes cloud gaming possible
Bluetooth and USB Type C
Mini HDMI port for docking
No headphone jack
The Pimax Poirtal comes equipped with almost every connectivity option. There is Wi-Fi 6E for good internet speeds, even during online games. The Bluetooth 5.1 works fine with a good pair of earphones. I tested the AceZone Aspire and the Acefast Crystal T8 earphones with the console; both worked perfectly.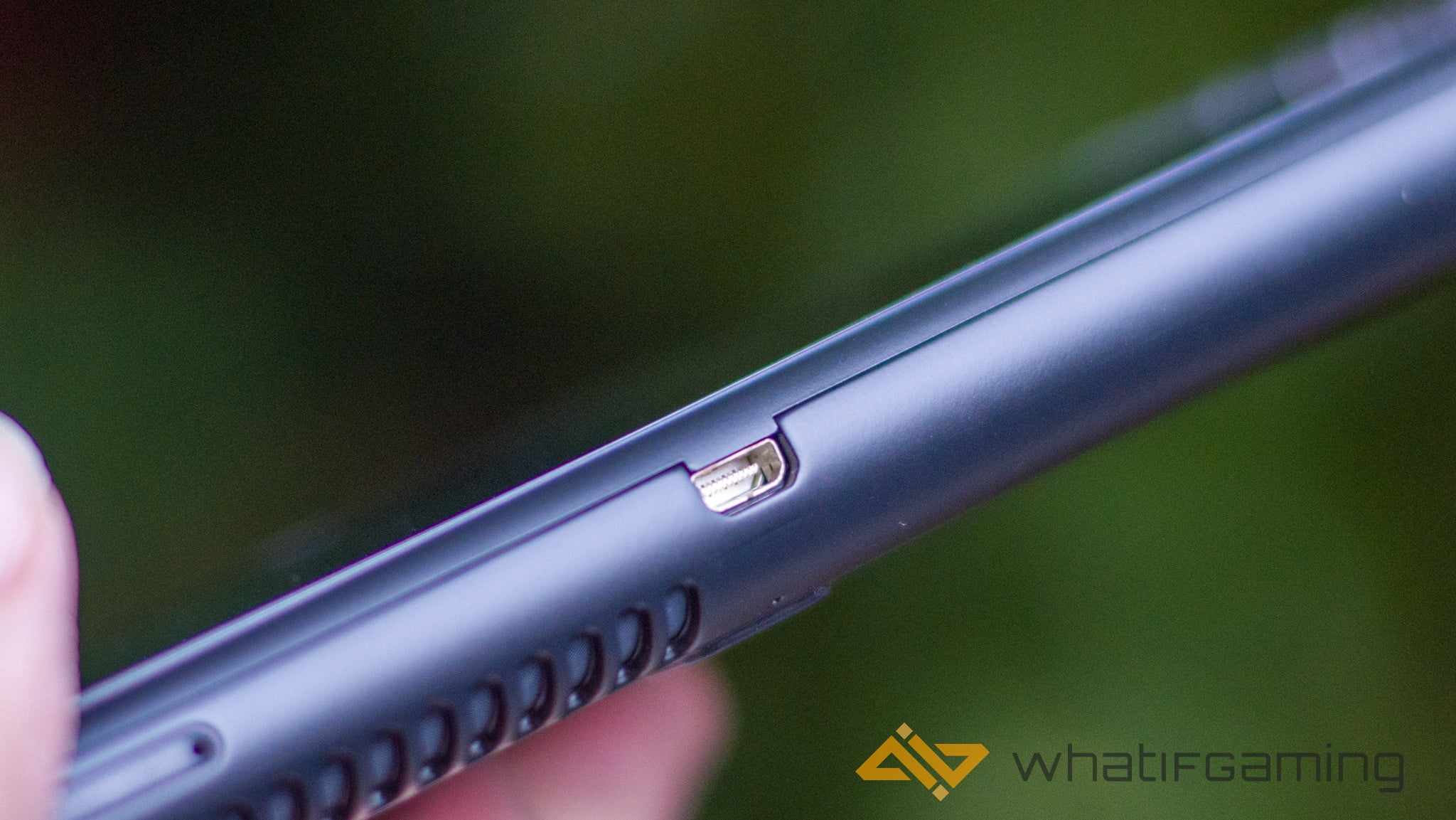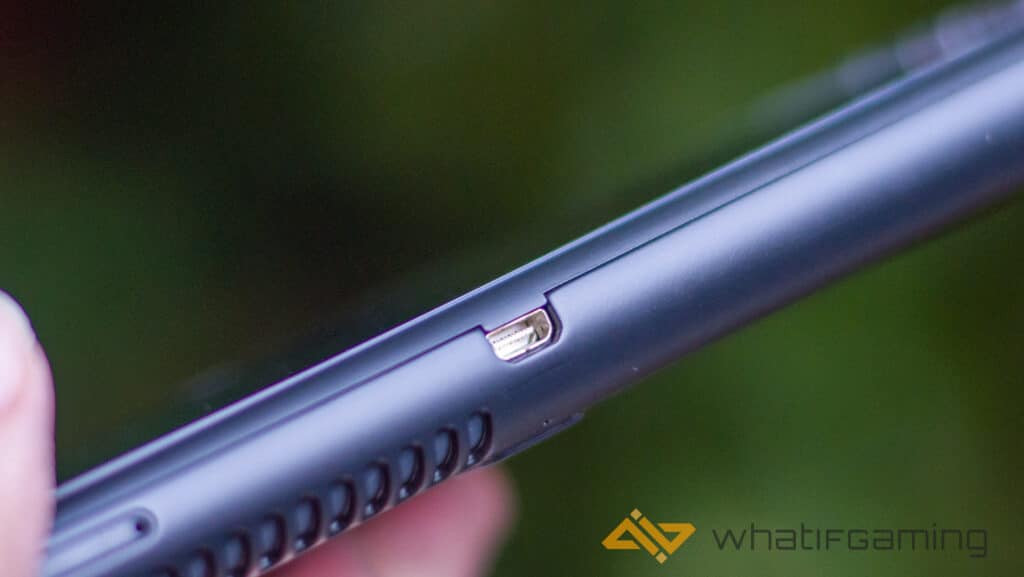 There is no audio jack here, though; that is a miss. A wired earphone would've been great for latency, but there is no option here. Modern Bluetooth tech is already great at minimizing latency and lag, though, so it's not that big of a deal. However, competitive gamers need any edge they can get.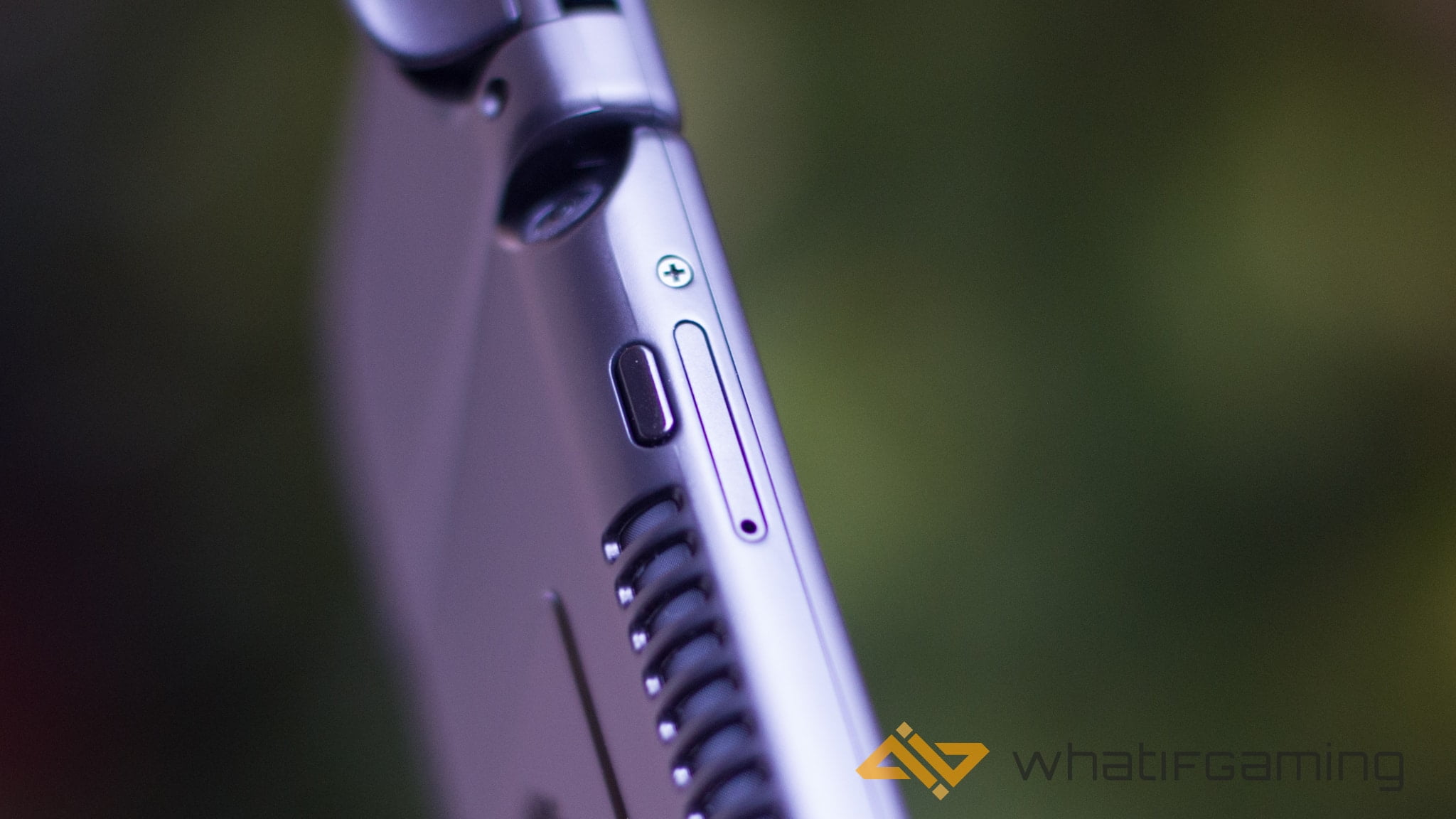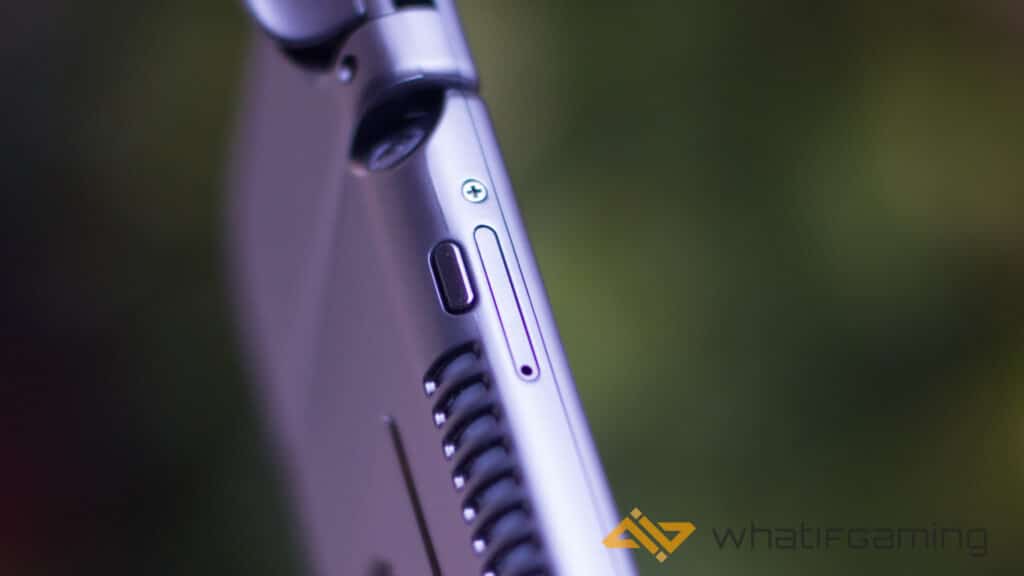 There is also a mini-HDMI port on the top, letting you connect the Portal with the TV. I used the Acefast GaN Charging Hub to connect to my TV. It's a seamless experience and lets you enjoy big-screen games. Detach the controllers and sit back on your console to play your favorite old-school RPG. The device has a microSD card slot that lets you expand storage cheaply. I got a 256 GB card to store my PlayStation 2 library; it's more than enough for my use case.
Battery – Pimax Portal Review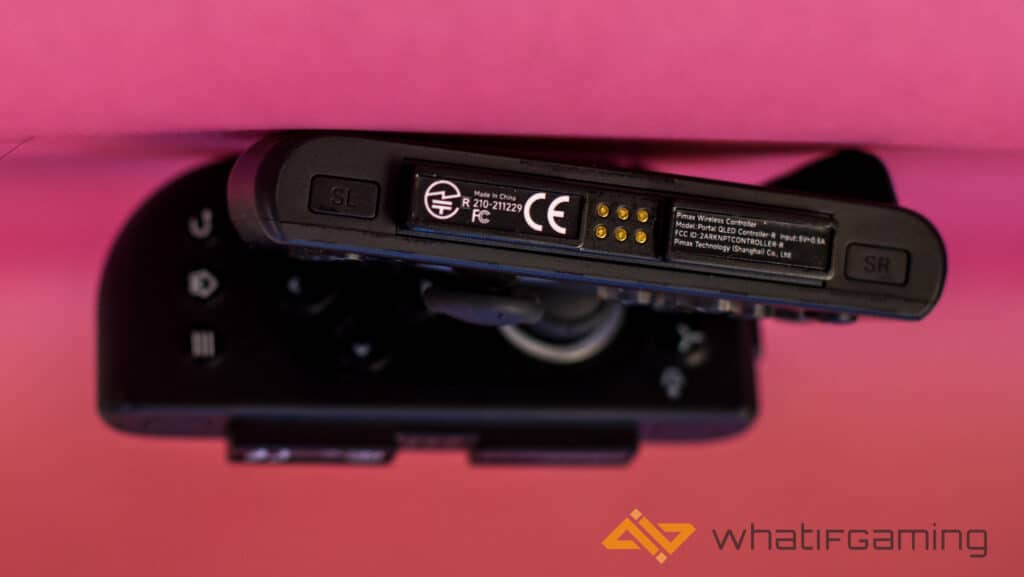 Respectable battery timings
Can run around 2-4 hours depending on the game
The Pimax Portal review wouldn't be complete without the battery life discussion. There is a 4000 mAh battery inside the Portal, with the controllers having a smaller one. The battery lasted 3-4 hours on a single charge during my testing. The timings depend on what type of game you are playing and the screen resolution, refresh rate, and brightness. I kept the screen at 1080p with a refresh rate of 90 Hz with screen brightness at 50%.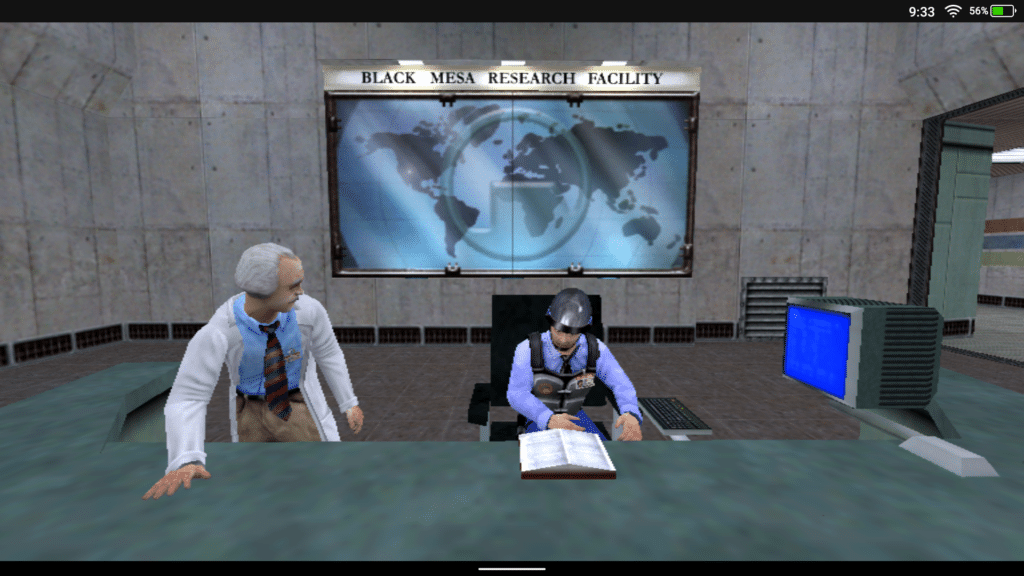 Native Android games on the lighter side, like Endless Wanderer, let me play for around 5 hours. Emulation takes a bigger toll on the handheld; that also depends on the game you are playing. I got approximately 3.5 hours of playtime with the PlayStation 2 version of Need for Speed Most Wanted. It's a good battery that charges fast, too, so you can top it up in an hour or so.
Software Features – Pimax Portal Review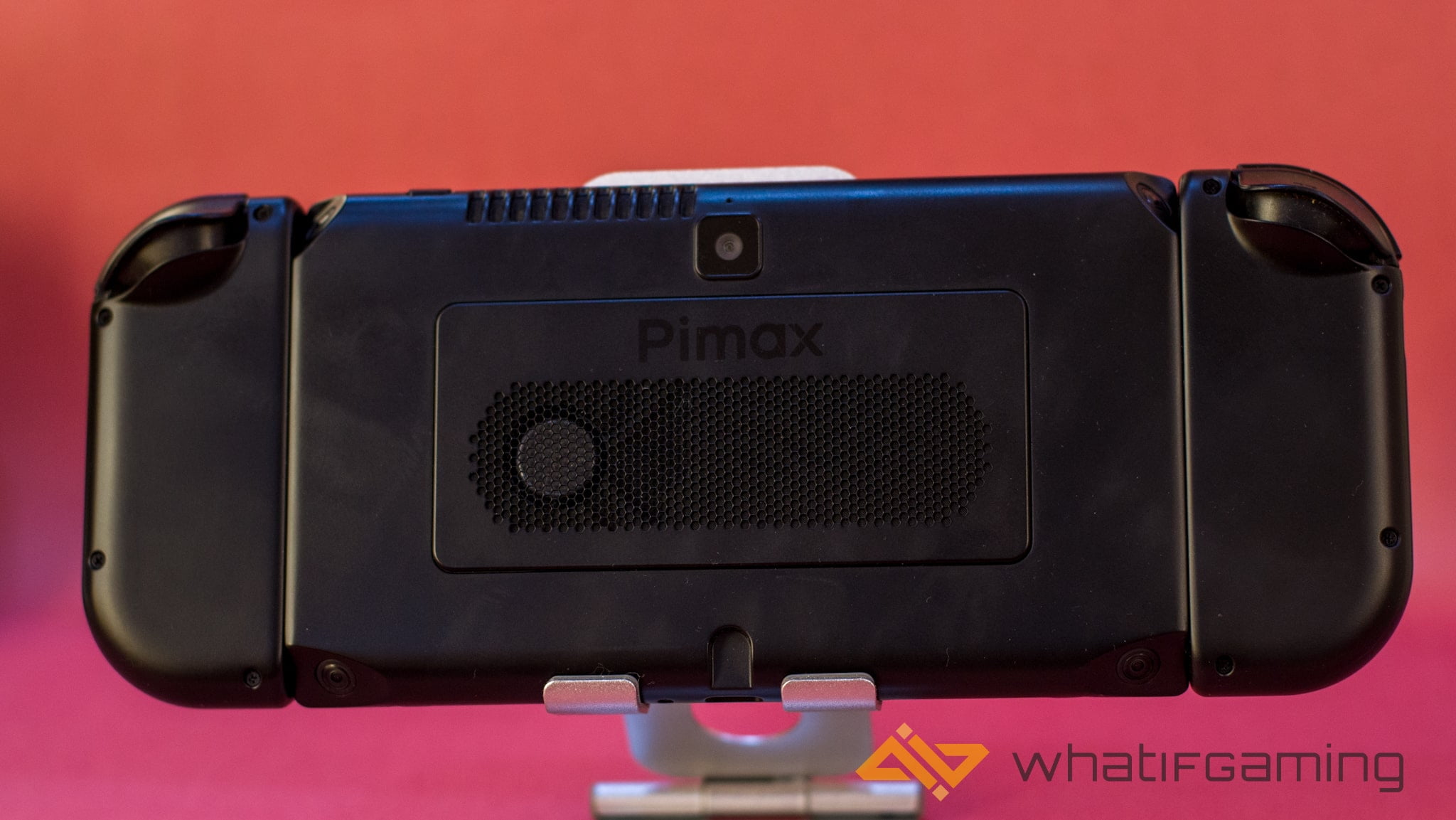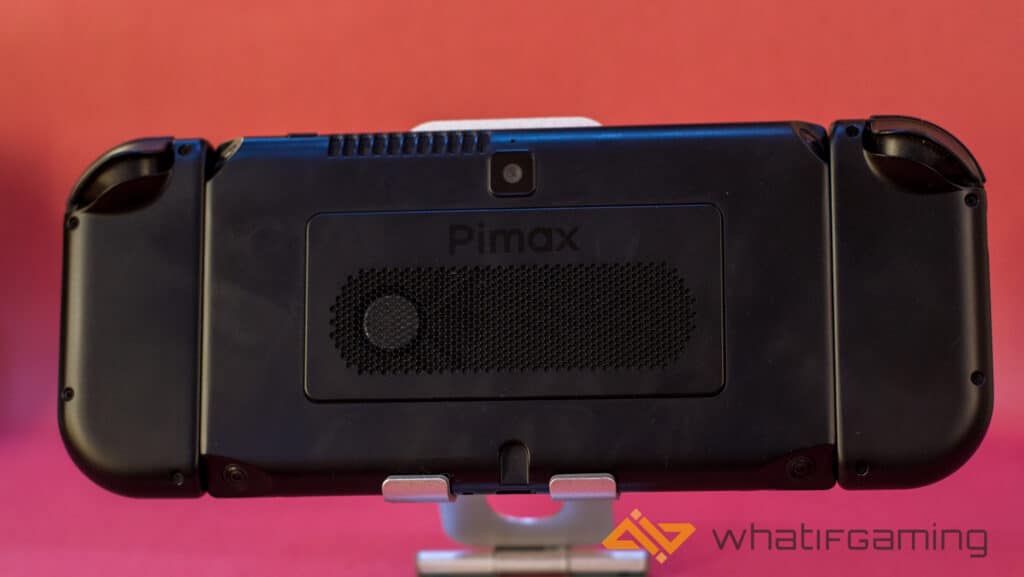 Serviceable home screen
App drawer lacks options and details
Side menu lacks customization
Keymapping is excellent
The software is half-baked in the Pimax Portal; there is no other way to go about it. It needed more polish time; now, it slows the overall experience.
User Interface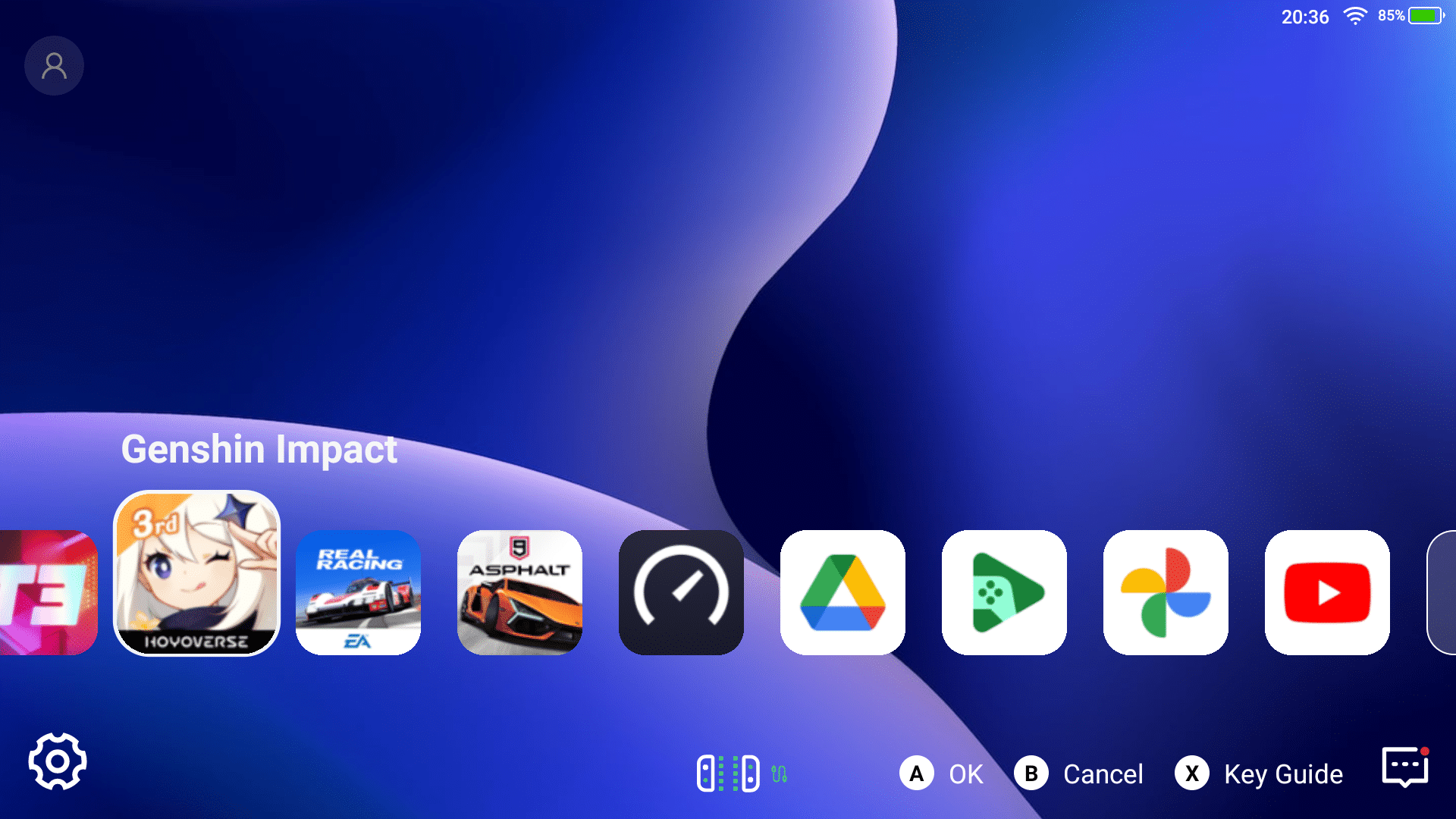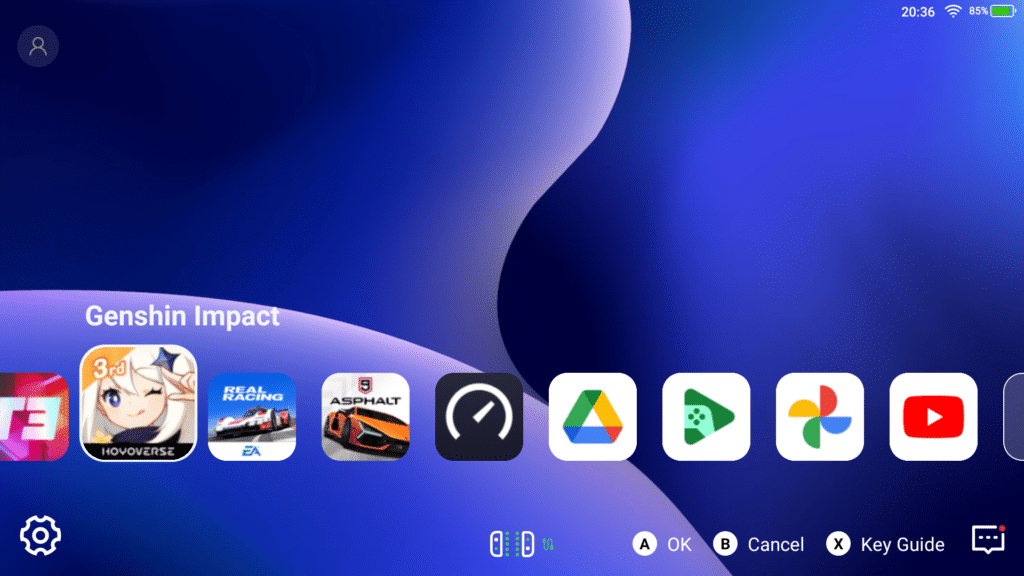 The user interface is designed OK; it's not the best, but it does the job. You cannot edit or modify the home screen in any way. Well, you can change the wallpaper, but that's about it. The icons cannot be rearranged or hidden from the home screen. I wanted to hide the VR and Portal Shop icons, which are always the first on the screen, but there was no way.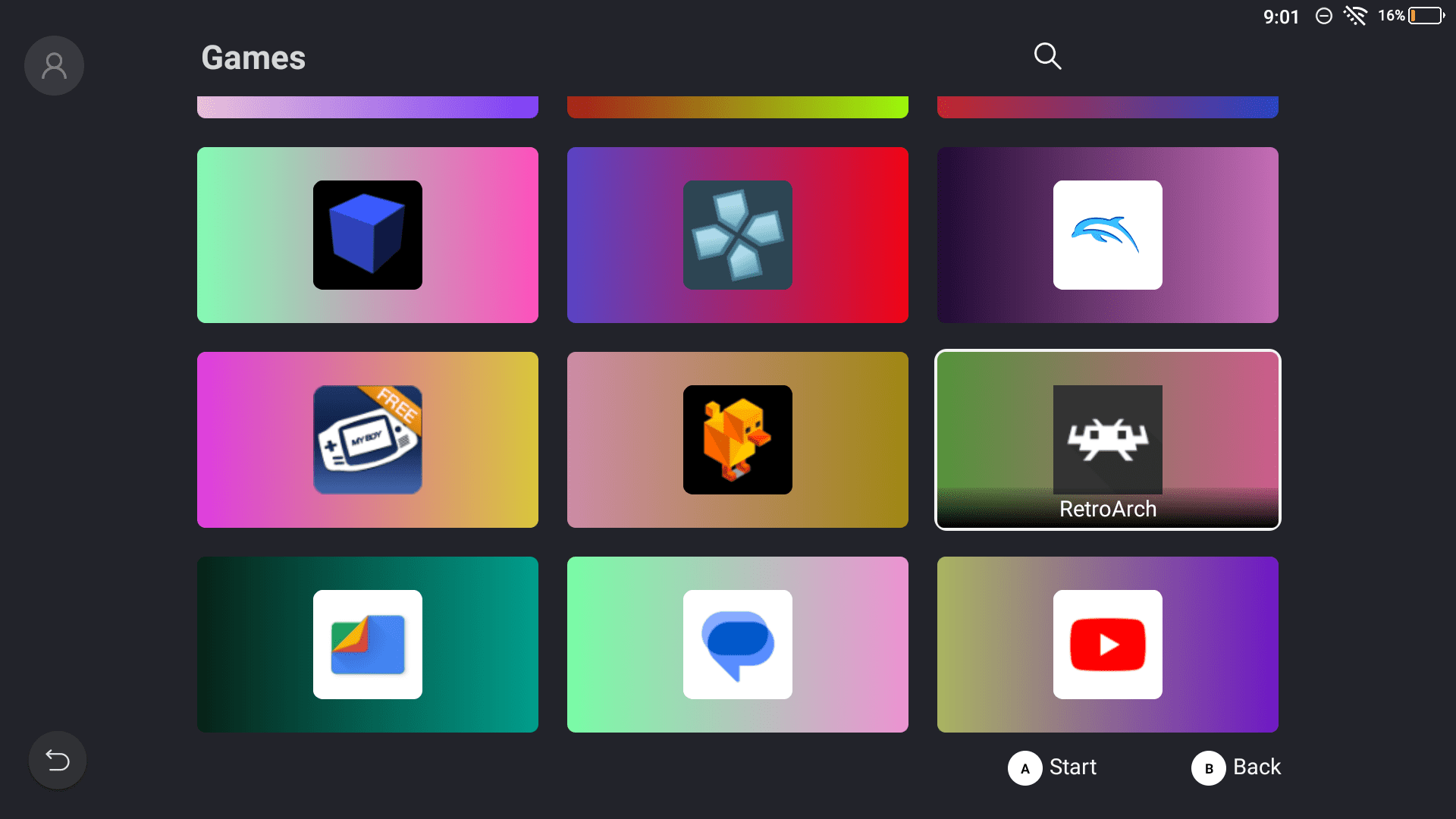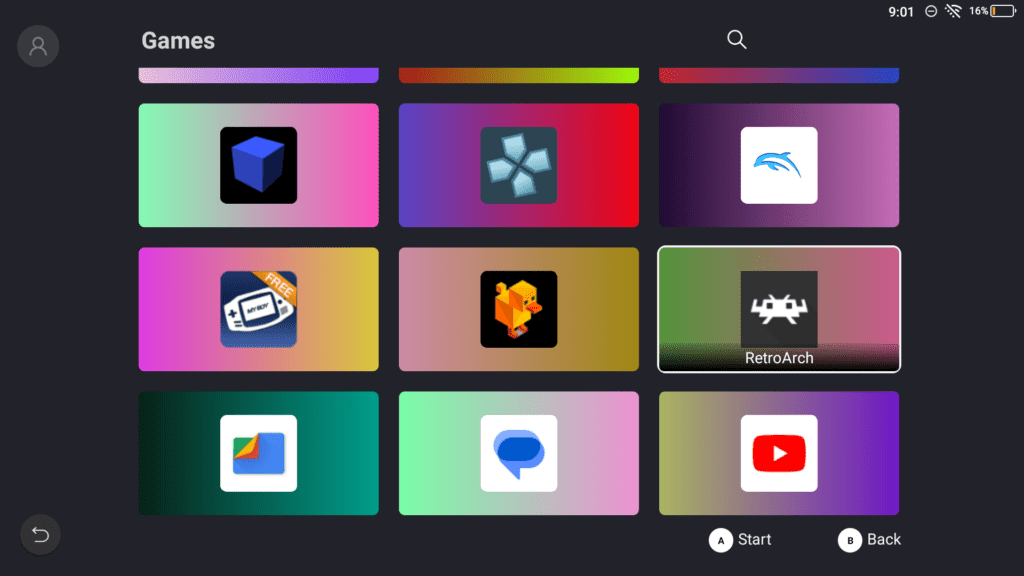 The library isn't great either; the "app drawer" is arranged automatically with small icons inside a large tile. It looks awkward and unintuitive, especially if you haven't memorized which icon belongs to which game. That's right, there is no text in the library either unless you select and highlight an app.
Side Menu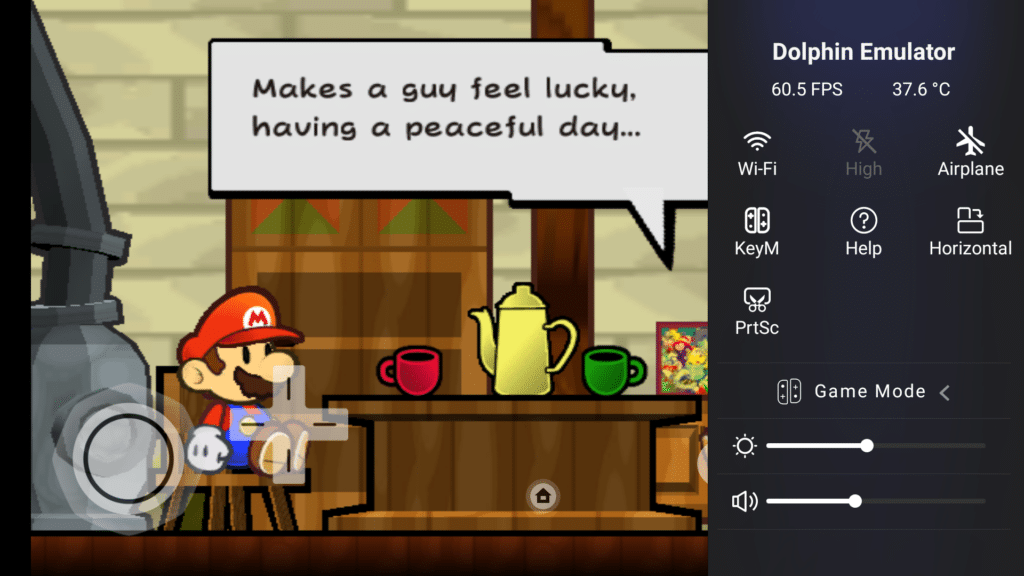 Press the function button to bring out a side menu with quick settings. The menu shows the FPS and temperature and has icons for many settings. Wi-Fi, Airplane Mode, Help, Screen Orientation, and Screenshot icons are all there. You can also adjust the screen brightness and volume here.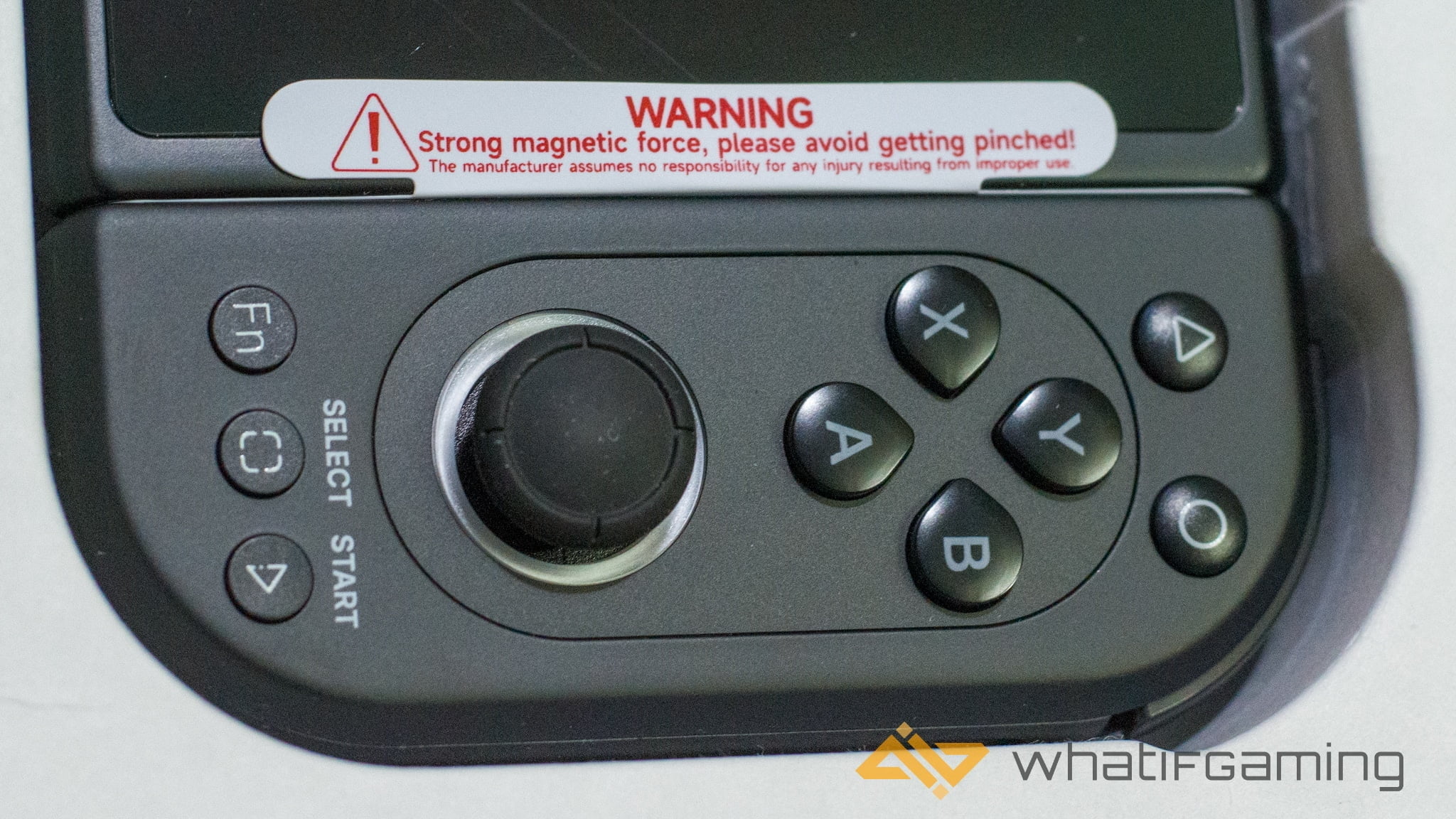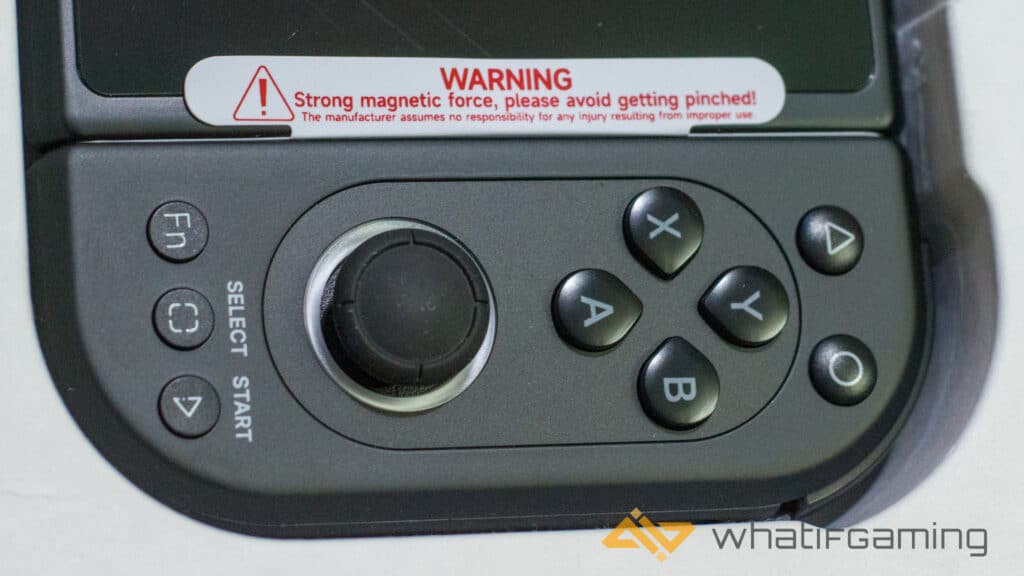 There's a lightning icon that is always greyed out for me. I do not know what that does, but it seems like a power option. You cannot make short video clips on the Portal; at least, I couldn't find the option to do so. The menu is also where you can bring up the excellent button mapper; more on it below.
Button Mapping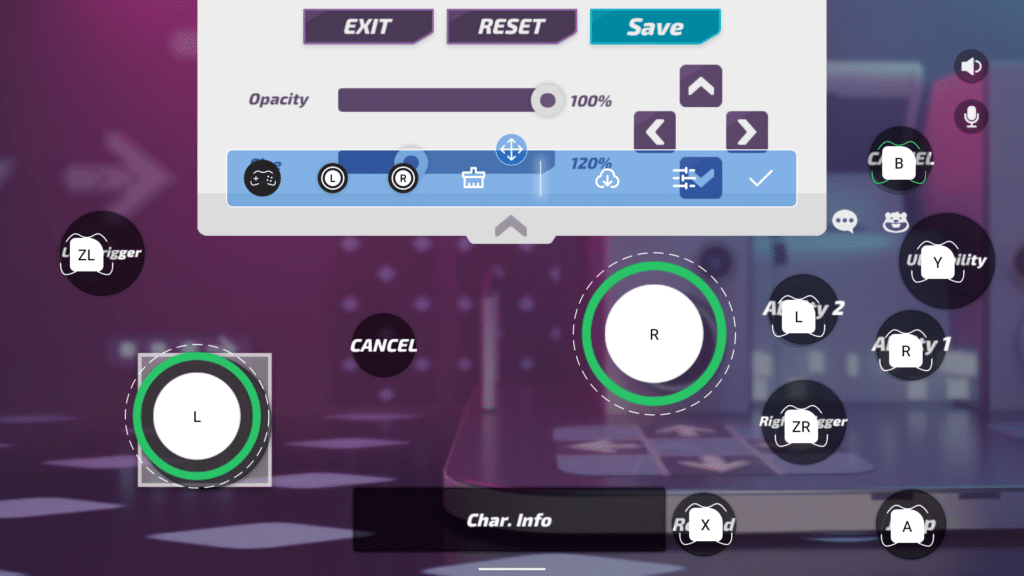 Virtual button mapping is a game-changer. Any Android game that doesn't work with a controller can work with the button mapping tool. Bring the side menu out with the function key, select Key Mapping, and you are in the mapping mode.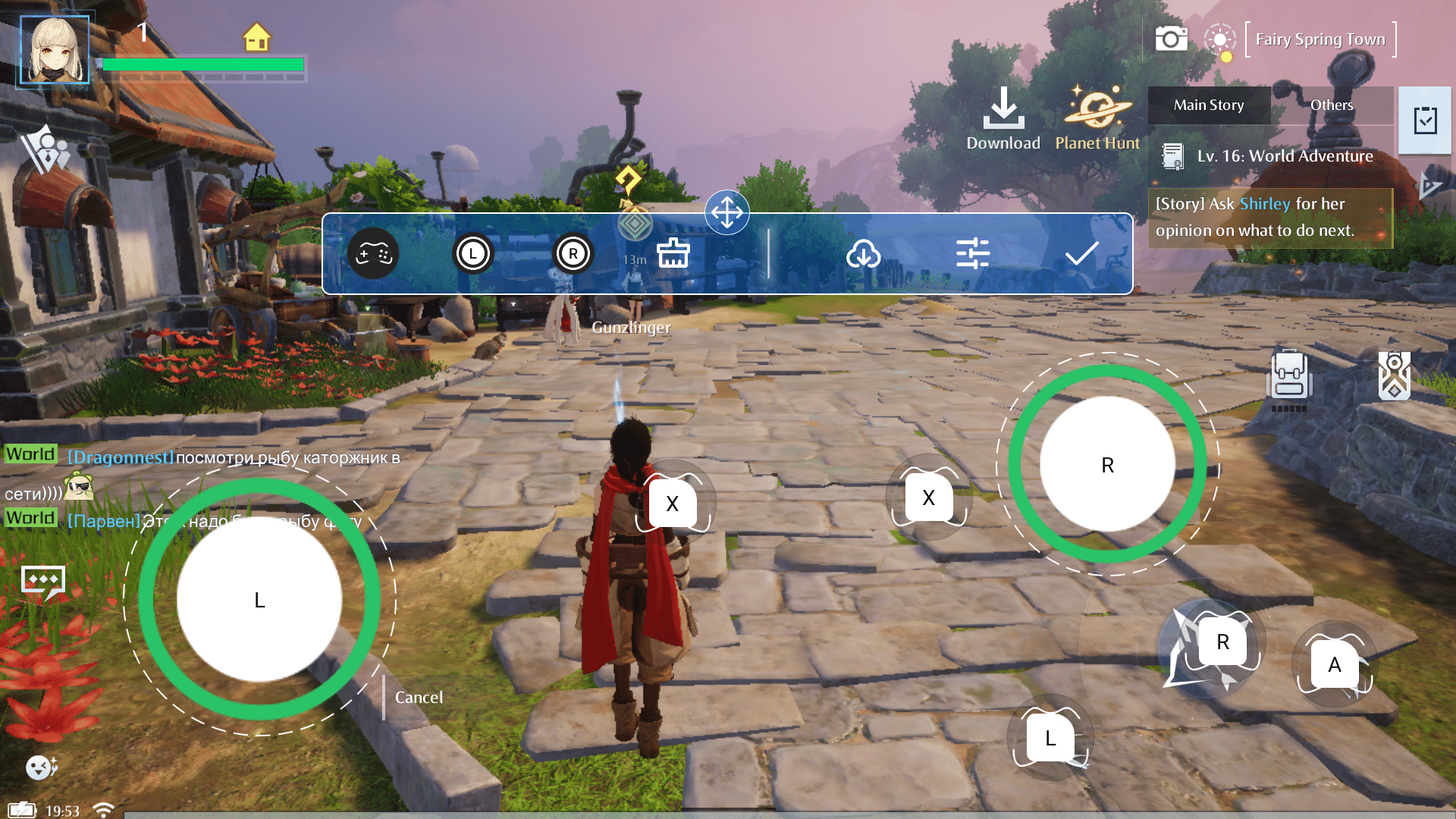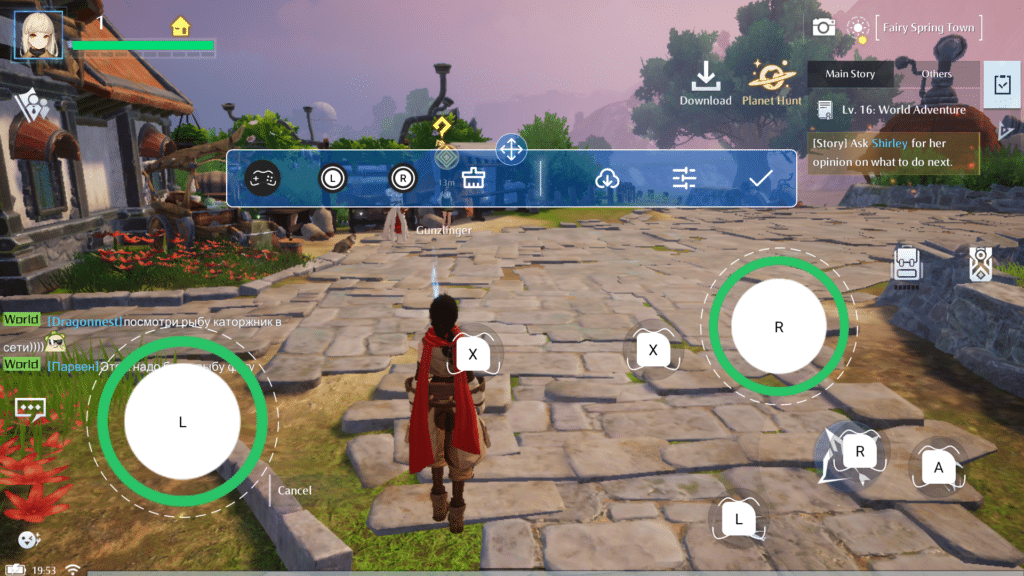 A toolbar lets you drag and drop any key or function anywhere on the screen. Place analog stick functions on the screen to move your character and even aim with the stick. Place any of the face buttons or direction keys on-screen functions, and you can use the hardware buttons. The tool also lets you adjust the transparency of the icons so you can completely make them invisible during gameplay.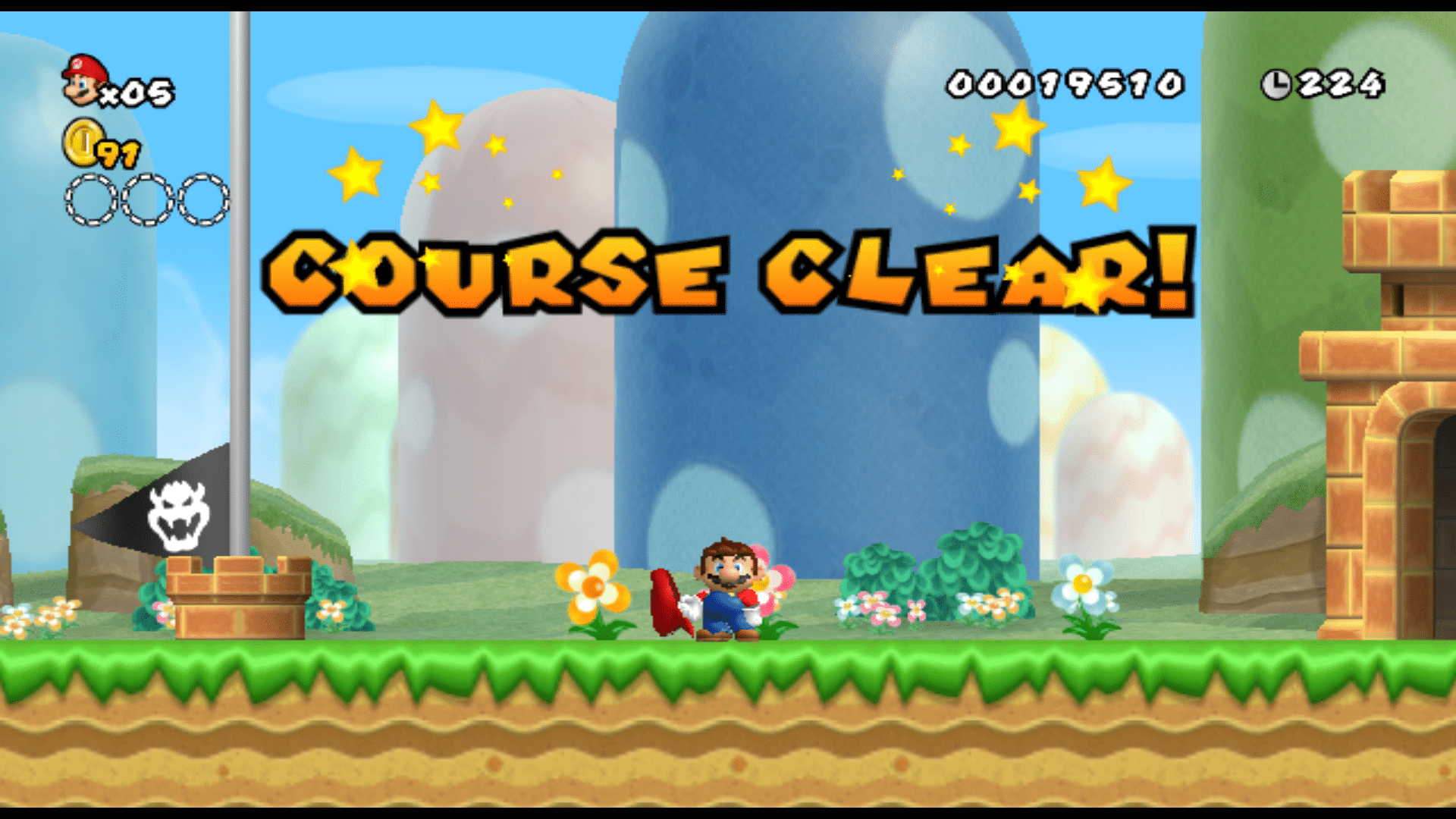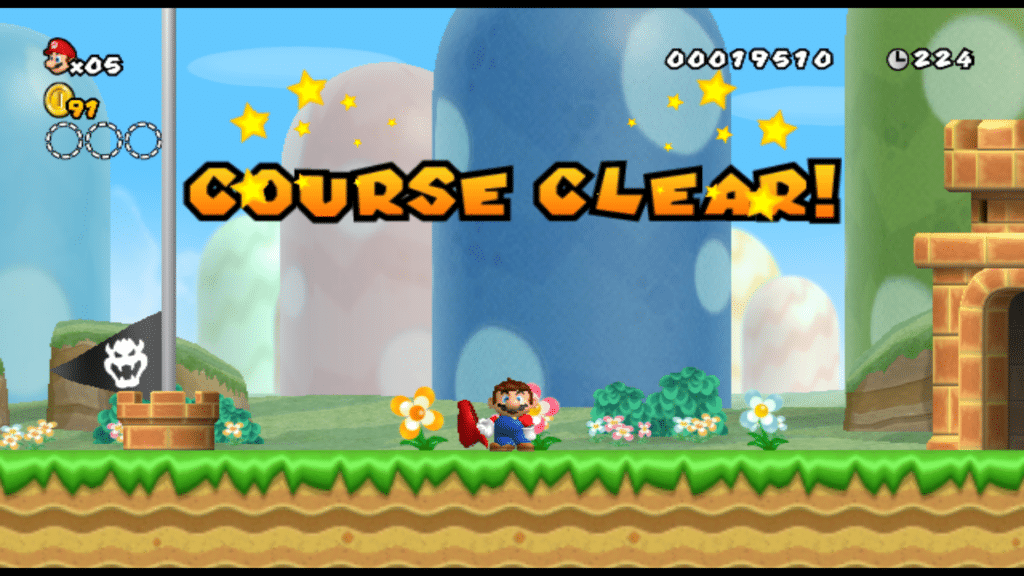 I had a lot of fun mapping buttons for Genshin Impact; the game works well with the virtual buttons mapped to the controller. Unfortunately, this brings us to the software hiccups. The aiming could be better with the analog stick. I've mentioned it before, but the issue is magnified when using virtually mapped controls. It's serviceable when rotating the camera; anything finer, and you'll start using the touch screen. It's jarring and imprecise, making aiming with the left analog stick a chore.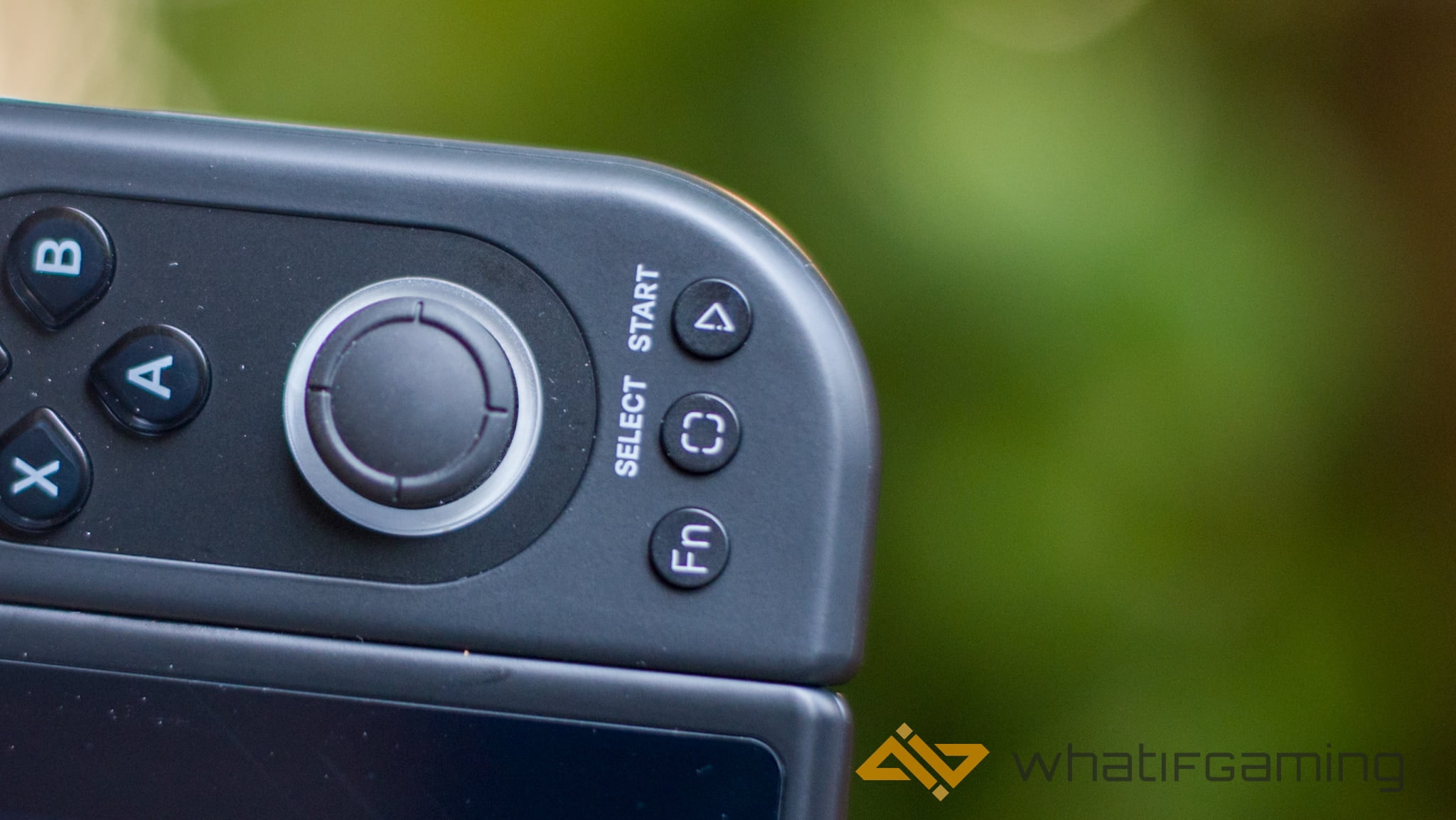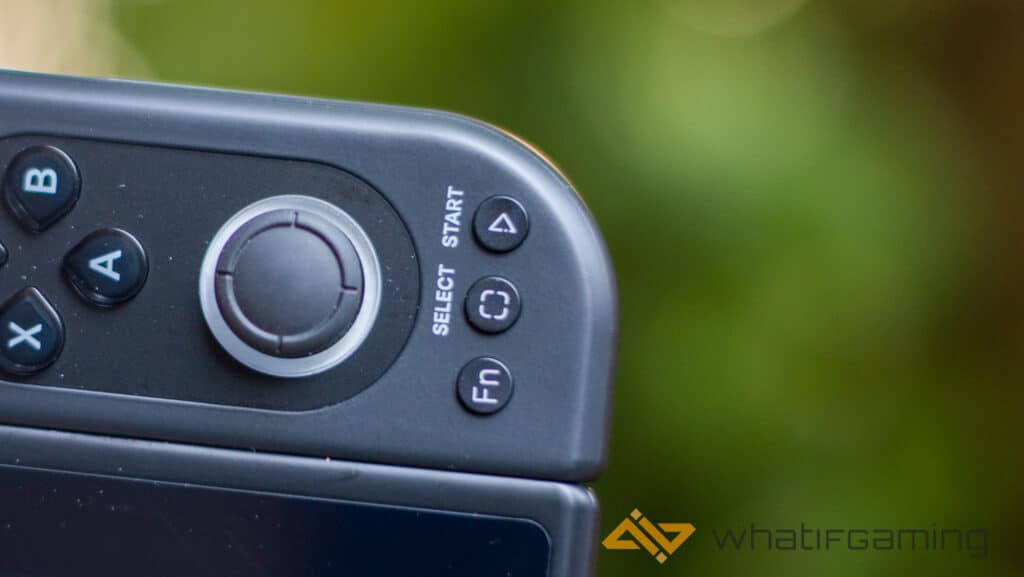 Some games even move the character back when you release the right analog stick. Again, this is a software-tuning issue here. The virtual stick recognizes the analog's automatic return to its initial centre position. The virtual movement makes your character turn back every time you release the movement stick.
Another huge oversight is that the quick menu doesn't pop out in portrait mode games. So, you cannot map buttons in games running in portrait mode.
OS and Launcher – Pimax Portal Review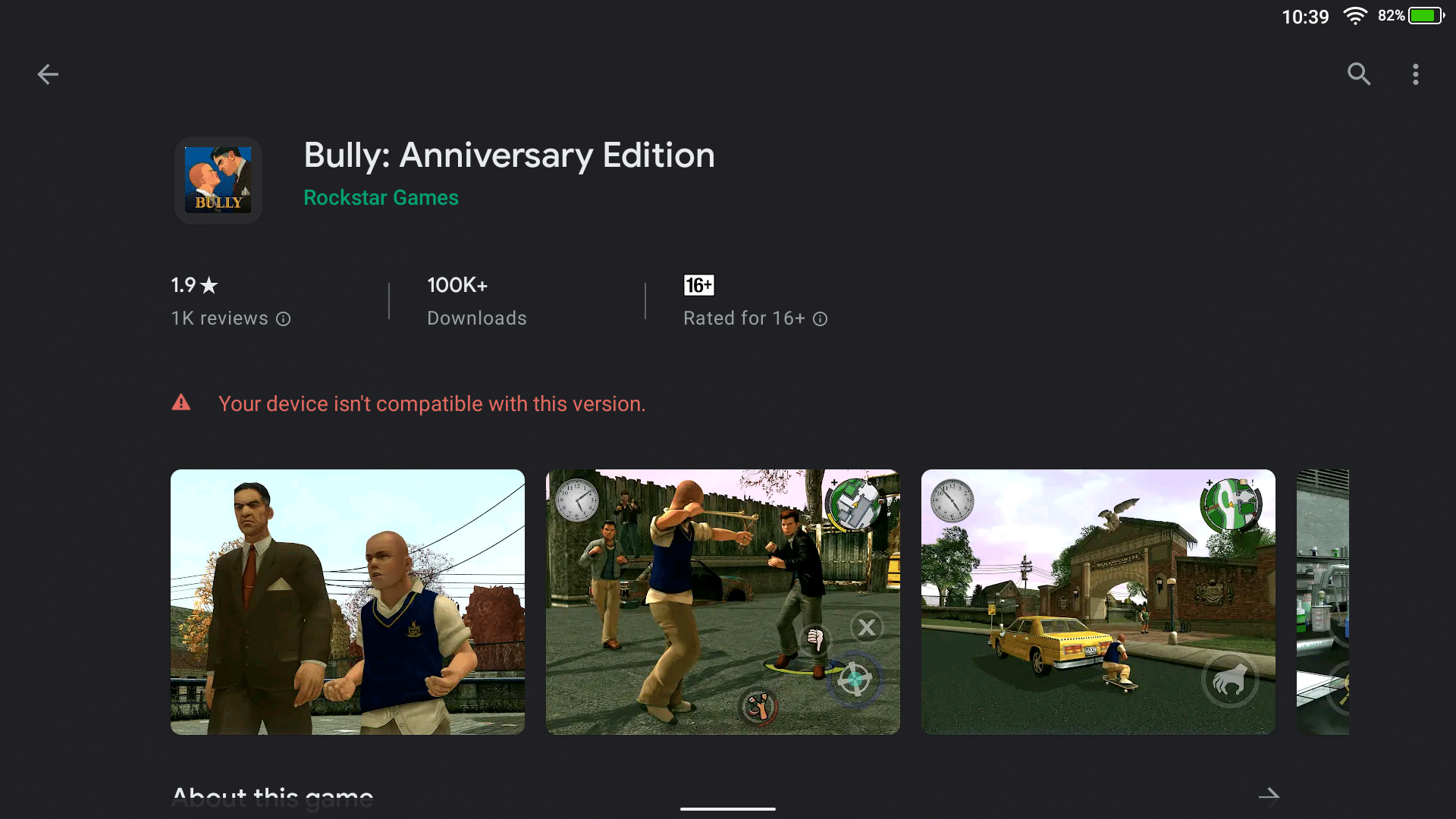 It runs on Android 10
Cannot run media streaming apps like Netflix
Speakers are weak
The Pimax Portal uses Android 10 as its operating system. It's an old version of Android, which leaves some games unable to run. It's not a big issue, but it could be a problem when more developers demand the latest versions of Android.
The launcher cannot be changed, even if you dig deep into the settings and try to change it. The Portal reverts it to the default launcher, which gets the job done but still has a lot of room for improvement.
Limitations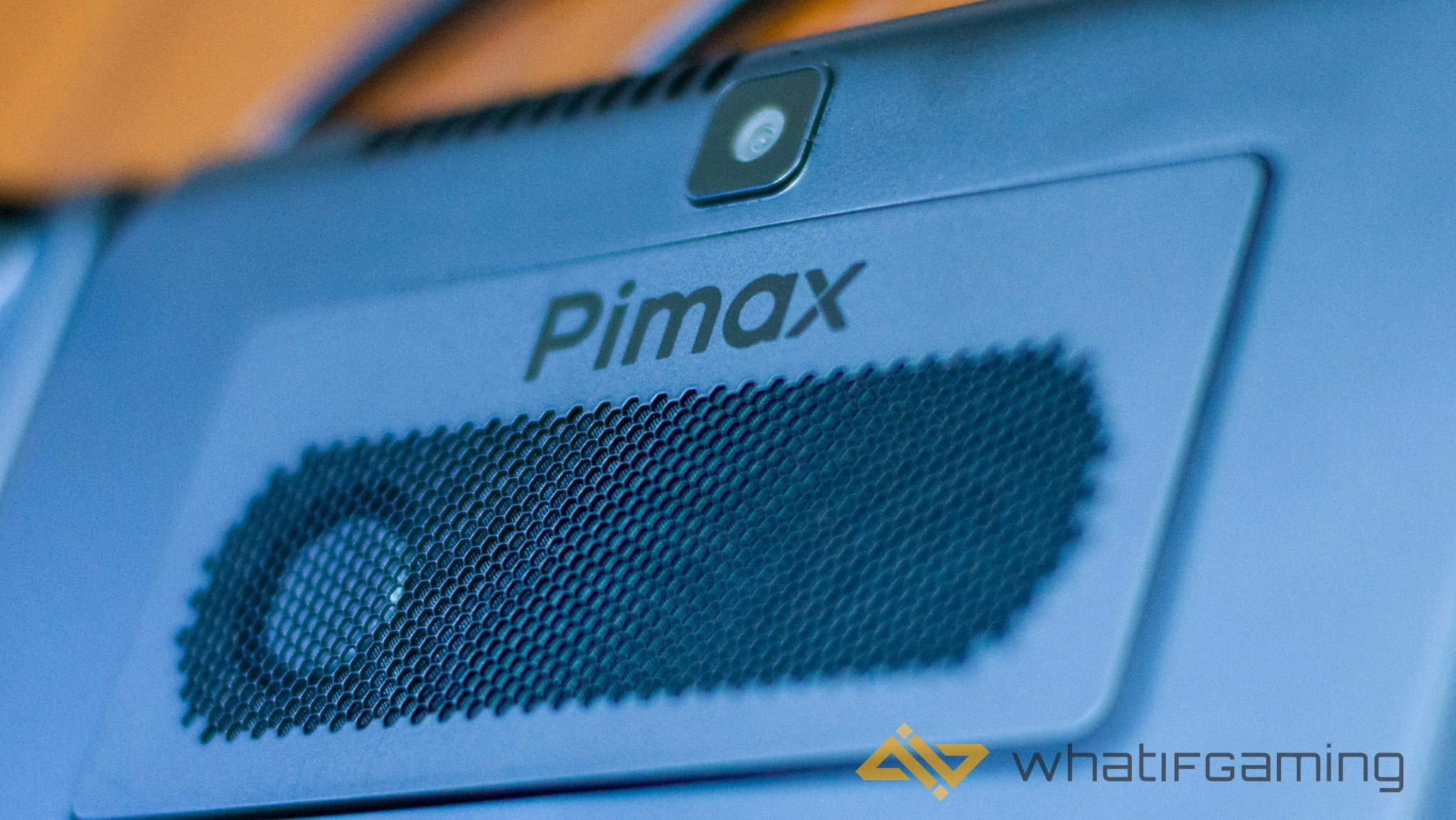 Some games and apps refuse to run at all. The latest Mortal Kombat Onslaught game is the biggest example, which installs just fine but refuses to run at all.
Another app that doesn't work is Netflix. So, if you want to play Netflix Games on your Portal, you cannot do that either. Watching Netflix series and movies is already out of the question. I couldn't run Amazon Prime, but some users report running it themselves.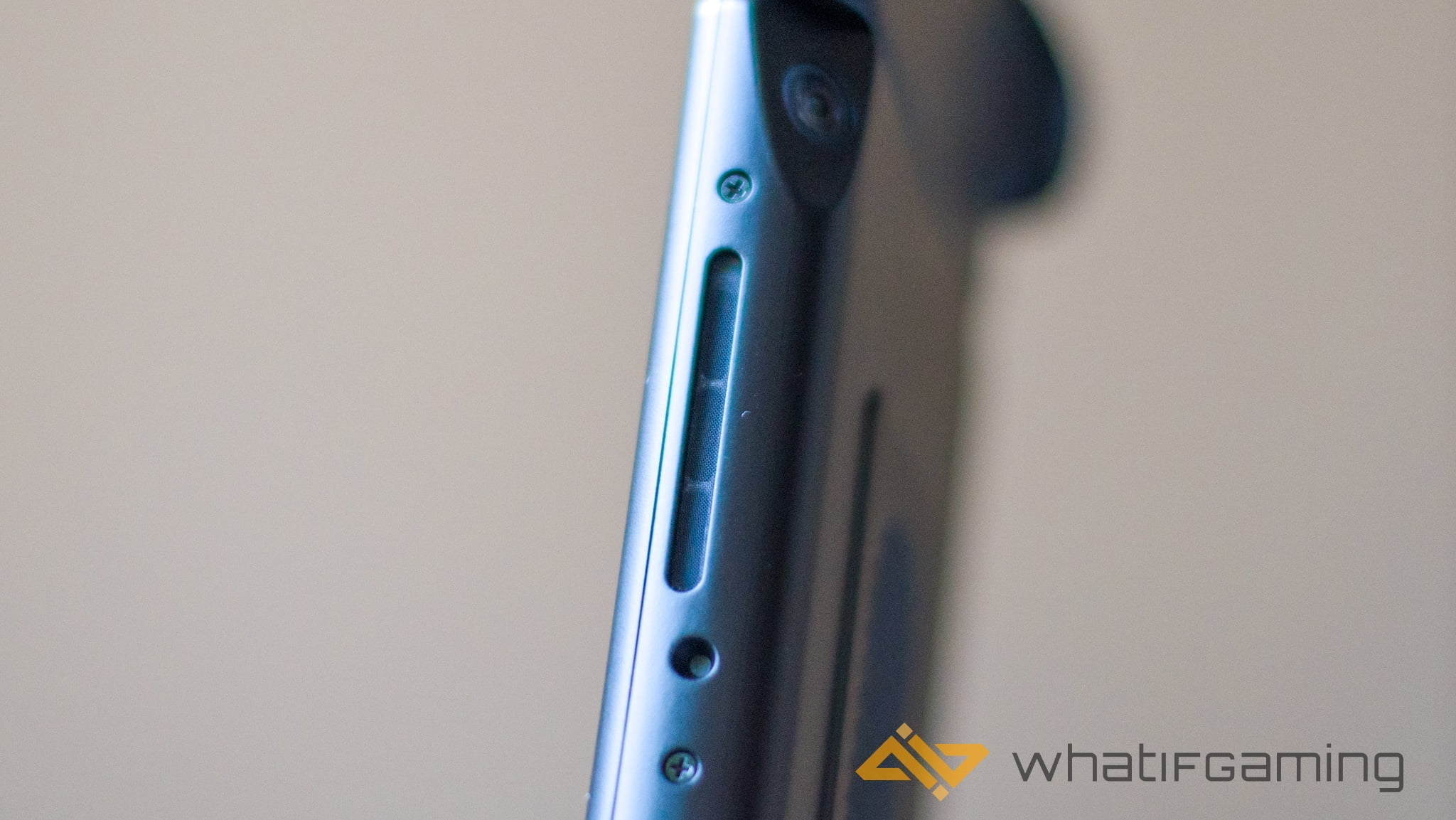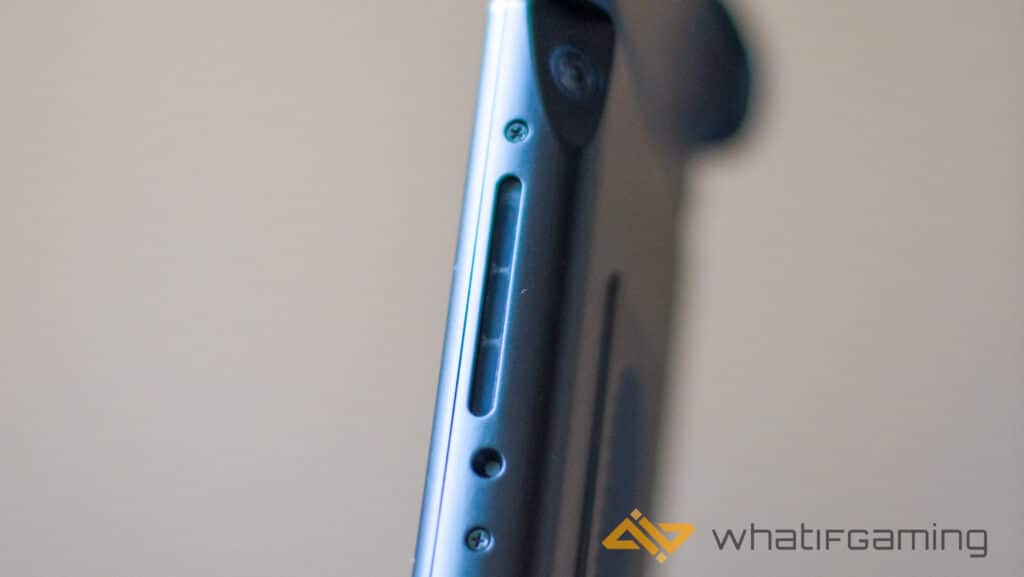 The Portal has stereo speakers, but they are not powerful at all. They sound muffled and tiny, even when compared to smartphone speakers. I wouldn't say I liked using them at all; they are jarring to the ears and aren't even loud enough to be used in a slightly noisy room. I couldn't hear them in a room with a fan; they were that muted.
Price – Pimax Portal Review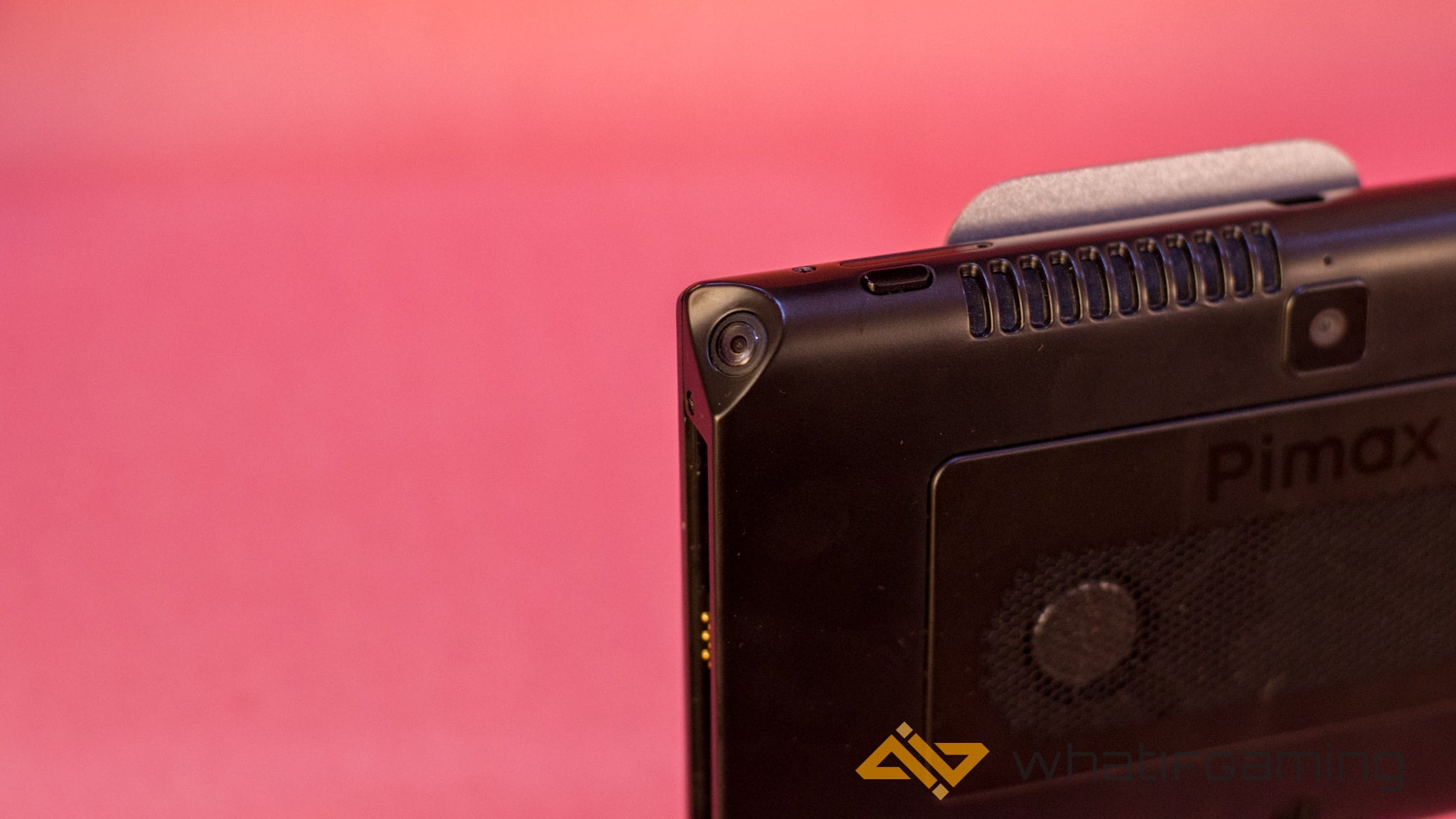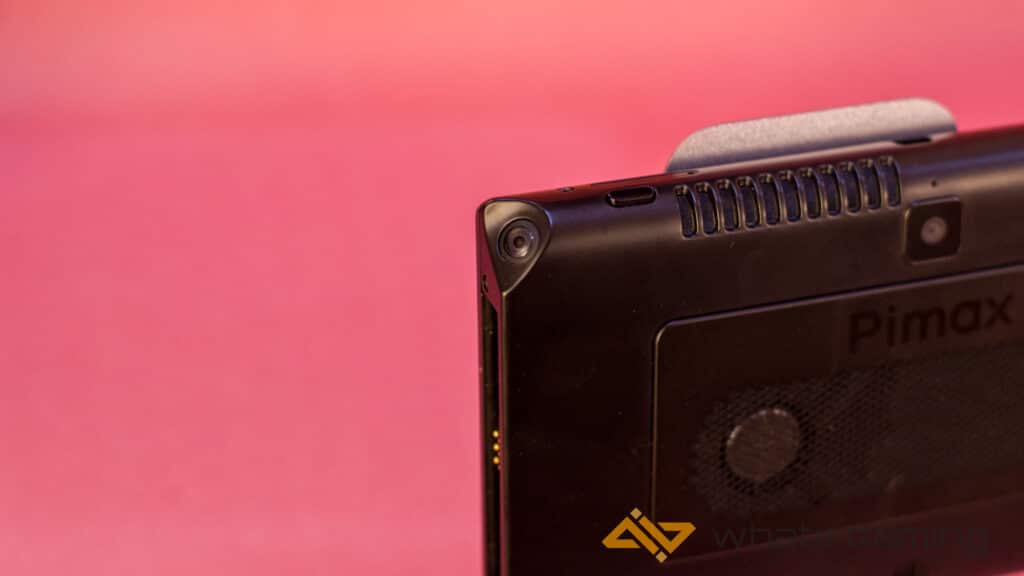 There are a couple of models for the Pimax Portal.
Storage VR Support 8GB RAM 256GB Storage VR Support from 8GB RAM 128GB Storage No VR Support from $369
White 8GB RAM 128GB Storage No VR Support from $299
| | | | | |
| --- | --- | --- | --- | --- |
| | Memory | Storage | VR Support | Price |
| Portal QLED | 8GB RAM | 256GB | Yes | From $549 |
| Portal LCD | 8GB RAM | 256GB | Yes | From $399 |
| Portal LCD White | 8GB RAM | 128GB | No | From $369 |
| Portal Retro | 8GB RAM | 128Gb | No | From $299 |
I wouldn't recommend the top-of-the-line Portal, as no VR support is activated yet. The VR headset is not ready, the controller shells are not there, and there is no software support. So unless you want to spend extra for features that don't have a release date, you are better off getting one of the lower-end models.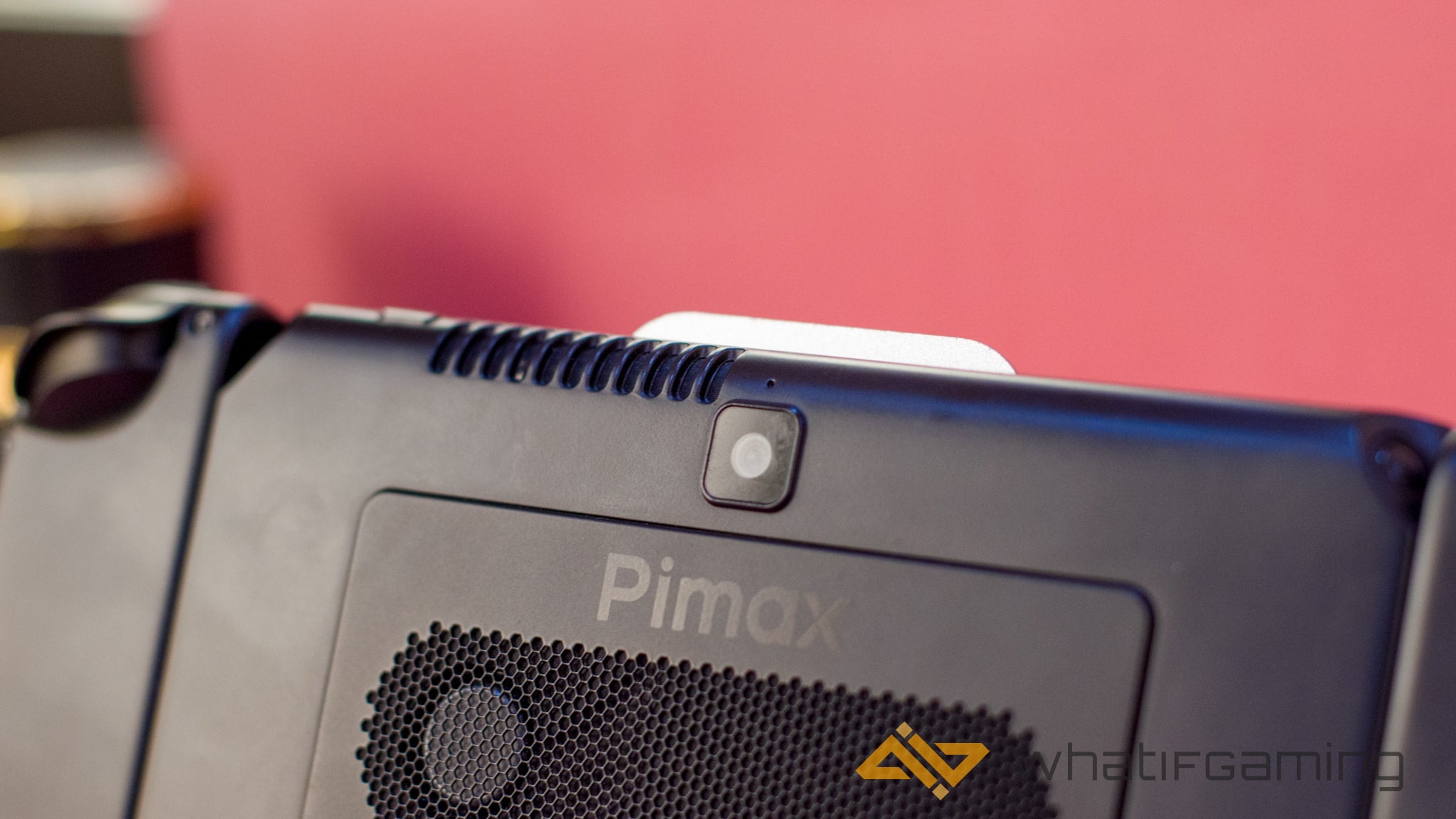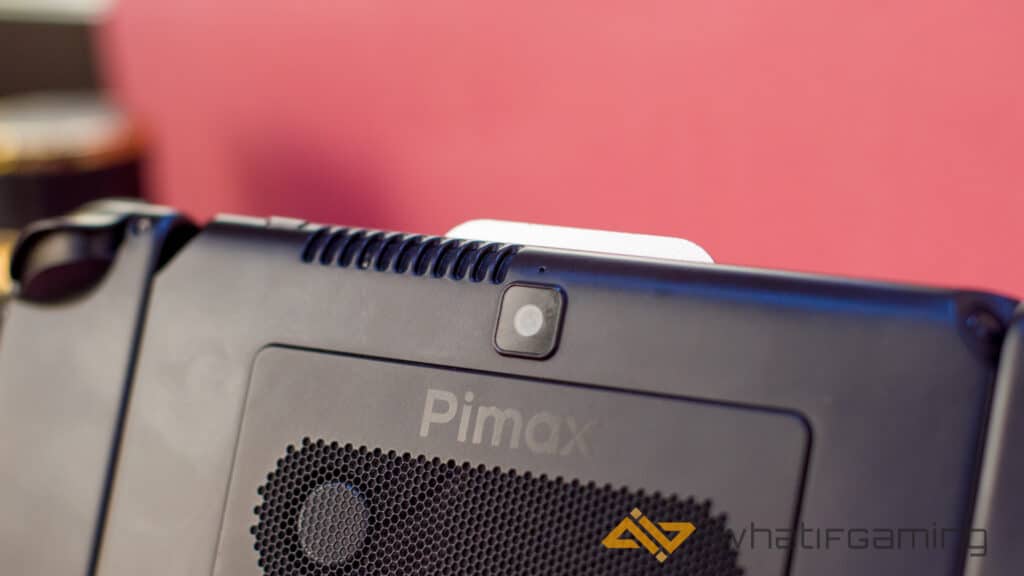 The Portal Retro has the best value for money right now. It directly gives competition to bigger handheld players like Ayaneo and looks and performs just as well. It also has a 2K LCD screen with a non-detachable controller or cameras, making it lighter and sturdier.
Is Pimax Portal for you?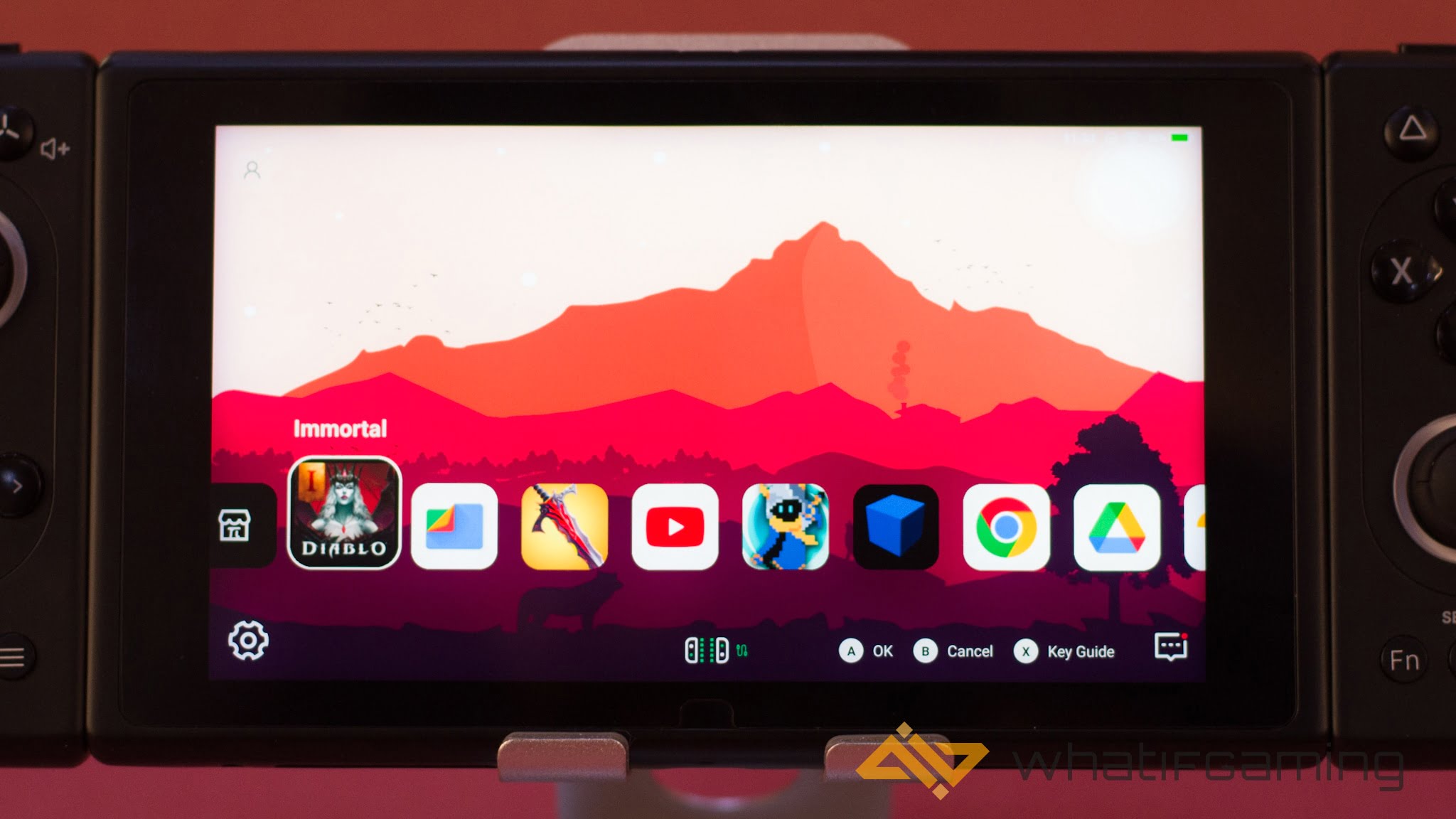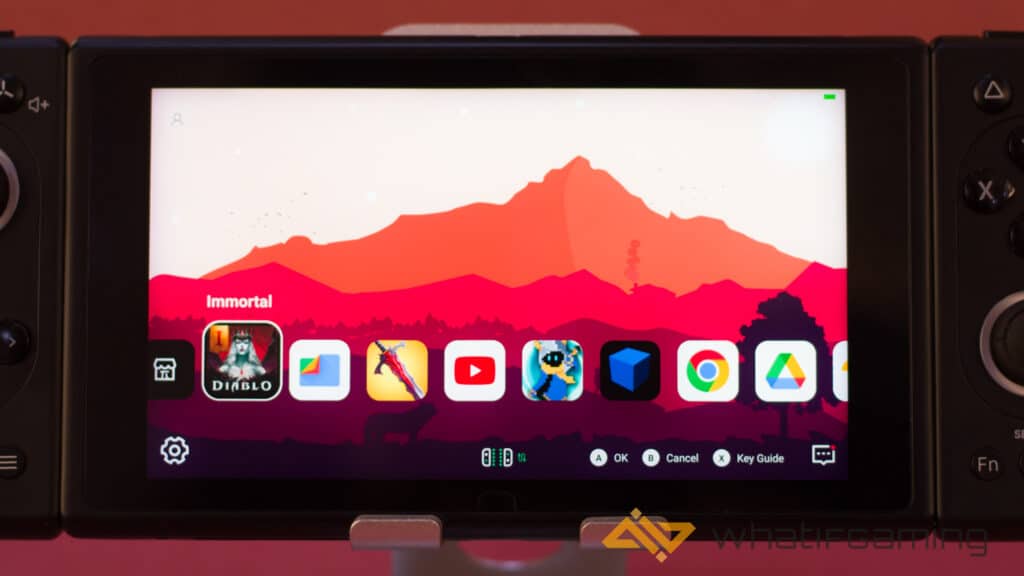 The Pimax Portal is for you if you love playing Android games and need extra power. It's also for you if you love emulating older consoles on a handheld. The device is not powerful enough to run the best Nintendo Switch games, though, so don't have super high expectations. Anything from Wii, PS2, or N64 is easy for the Portal to run.
Conclusion:
The Pimax Portal is an excellent handheld machine weighed down by under-cooked software features. It has the raw power, the looks, and the cooling to be one of the best Android handhelds on the market. However, its software side is a big downside to the overall experience. If you can overlook the clearly beta software, there is a brilliant emulation powerhouse in the Portal.