An odd listing for Prince of Persia Remake has been spotted on a Guatemalan retailer website, but the listing has only appeared for the PS4 and the Nintendo Switch. This is odd considering Ubisoft has always made Prince of Persia available on as many platforms as possible.
Prince of Persia Remake – Is it real? Or a mirage
There were rumors of a Prince of Persia Remake earlier this year, but nothing came of it. A new listing on the retailer website might rekindle that hope, but considering it's using a recycled artwork, it doesn't give us much hope in the listing being real.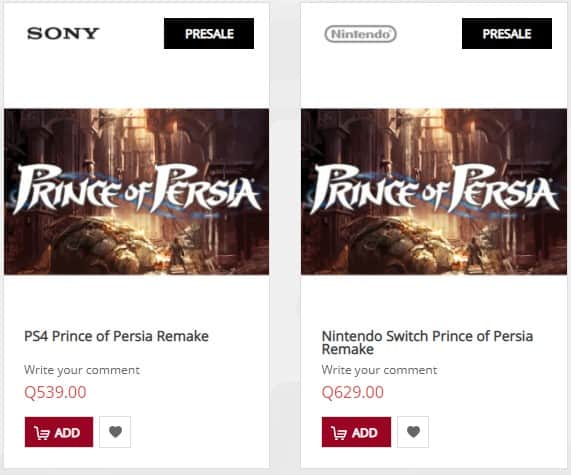 Max has listed the PS4 and Nintendo Switch version. Both the versions have been listed for a release of November 2020.
We recently had a similar encounter with Mass Effect Trilogy listed at GAME, a leading retailer in the UK. However, that was later updated by GAME to be a communication error, meaning it may or may not be true.
Ubisoft has done enough this generation for releasing remasters with Spyro and Crash, and the Call of Duty Modern Warfare remasters.
Prince of Persia has made some recent appearances, but as a guest character in For Honor for a limited time event, and recently as a VR escape room.
Ubisoft does know that the IP is in demand, but perhaps with Rainbow Six, Hyperscape, Crash, Call of Duty, and so many other IP's, it will be hard for Ubisoft to give the right team and time to make a proper Prince of Persia game.
Previously, the reception of Prince of Persia has been lackluster, paired with low sales, might make Ubisoft hesitant on spending too much money on reviving the IP. However, at the same time, that venture paid off with Crash and Spyro.
We are well overdue for a Prince of Persia Remake, but at the tail-end of a console generation, it could be big gamble for Ubisoft that can make the series come back to life, or send it back to the forgotten sands of time.
What are your thoughts on the listing? Let us know in the comments section below if you believe the listing is real.