Raft, like any survival game, can be pretty challenging when it comes to new players. What's new is that this difficulty is not exclusive to new players. It's also mutual with people who want to have some time to be creative without the constraints of the surviving mechanics. While a game like Minecraft has a creative mode with a multitude of options, Raft's creative mode is a tad bit limited.
Nevertheless, Raft has cheats, formally known as console commands. You can sort these cheat codes or console commands into three classes. The first class is responsible for the attributes, including but not exclusive to health, thirst, and hunger. The second class is responsible for spawning creatures, and the third is mostly irrelevant. But first, how can you enter cheats?
How to Enter Cheat Codes in Raft
You can type any cheat code or console command in the chat, which you can open by simply pressing the key "Enter" on the keyboard.
Most games usually require you to press a different keyboard key, which the players can only specifically use in command input. But apparently not Raft, since the game allows its players to type down the command in the chat preceded by a "`" – backtick symbol. Also, similar to the command usage in Minecraft.
Unfortunately, though, the game removed the ability to type in commands after the game left the early access phase. This means the following console commands are NOT for active use. However, you can stick with us, and we'll reveal two more ways to use cheats in Raft.
Every Raft Console Command
As I previously clarified, we can sort the cheat codes and console commands into three different classes. One of them is irrelevant, which is the "other commands" section. And the other two are respectively responsible for the attributes and spawning or conjuring creatures, like sharks and goats.
Since the community most likely wouldn't have used half of those commands, we've put a simple dumbed-down list consisting of the best cheat codes at the time. And most likely, the ones you would've used more frequently than others.
You have two routes to choose from here on end. The first is that you scroll down a bit for a brief description of each cheat code and what it did, supposing you don't have a full understanding of what they do. The second is to simply cut to the chase and read the following list, which goes as follows:
| Effect | Command |
| --- | --- |
| God Mode | /godmode |
| Modifying Hunger | /set Hunger X |
| Modifying Thirst | /set thirst X |
| Modifying Blockhealth | /set Blockhealth X |
| Modifying Oxygen | /set Oxygen X |
| Spawn a Chicken | /spawn chicken |
| Spawn a Shark | /spawn Shark |
Attribute Commands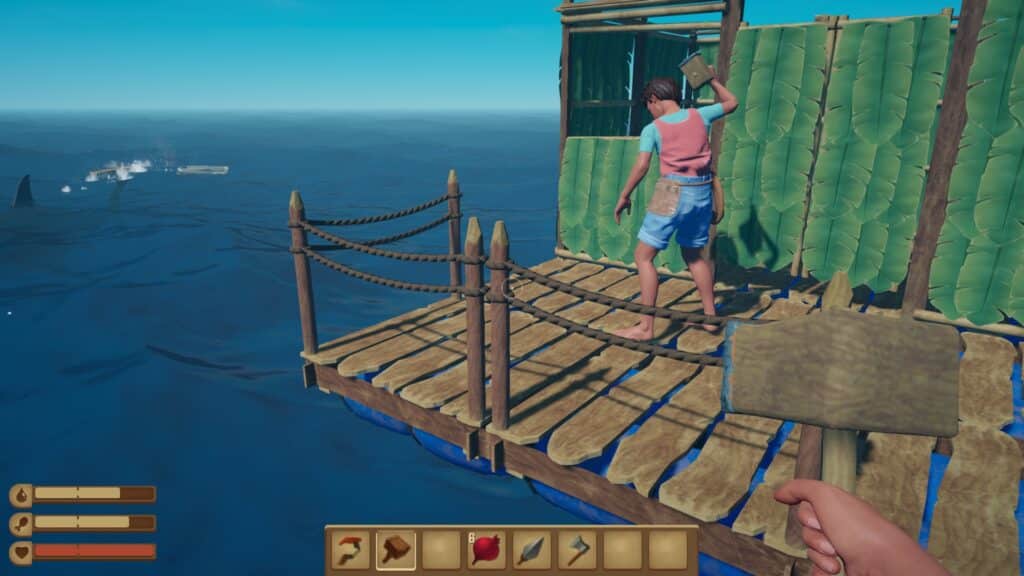 Please keep in mind: you will have to replace the "X" in every command with the value you would like.
Hunger: /set hunger X

This command will set the main hunger attribute to the given value.
Thirst: /set Thirst X

This command will set the main thirst attribute to the given value.

Blockhealth: /set Blockhealth X

This command will set the main health attribute to the given value.

Bonushunger: /set Bonushunger X

This command will set the secondary "bonus" hunger attribute to the given value.

Gamemode: /set Gamemode X

Similar to Minecraft, this will effectively alter between the two gamemodes, which are survival and creative.

FPS: /set fps X
Oxygen: /set Oxygen X

This command will set the primary oxygen bar to the given value.
Spawning Commands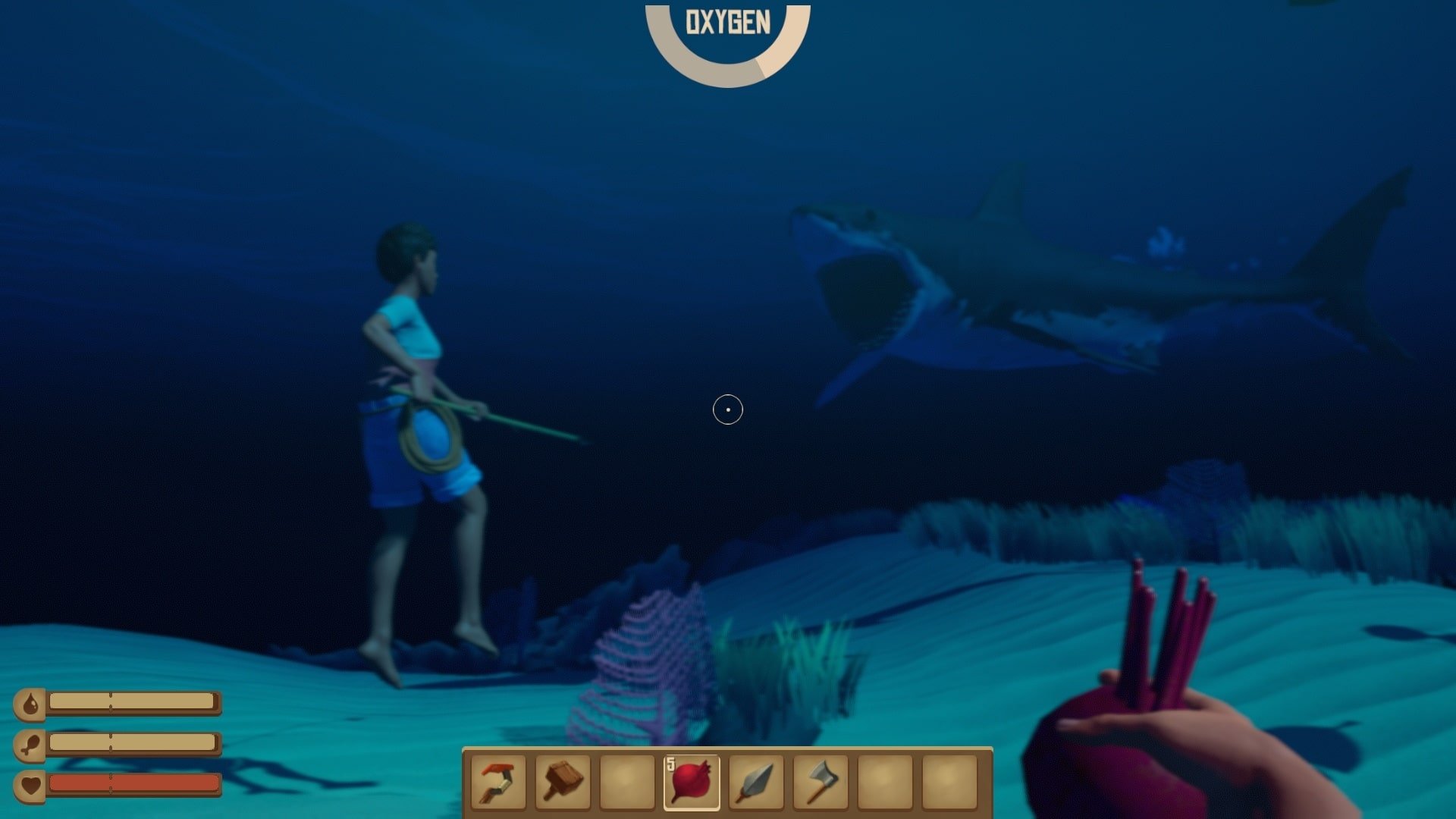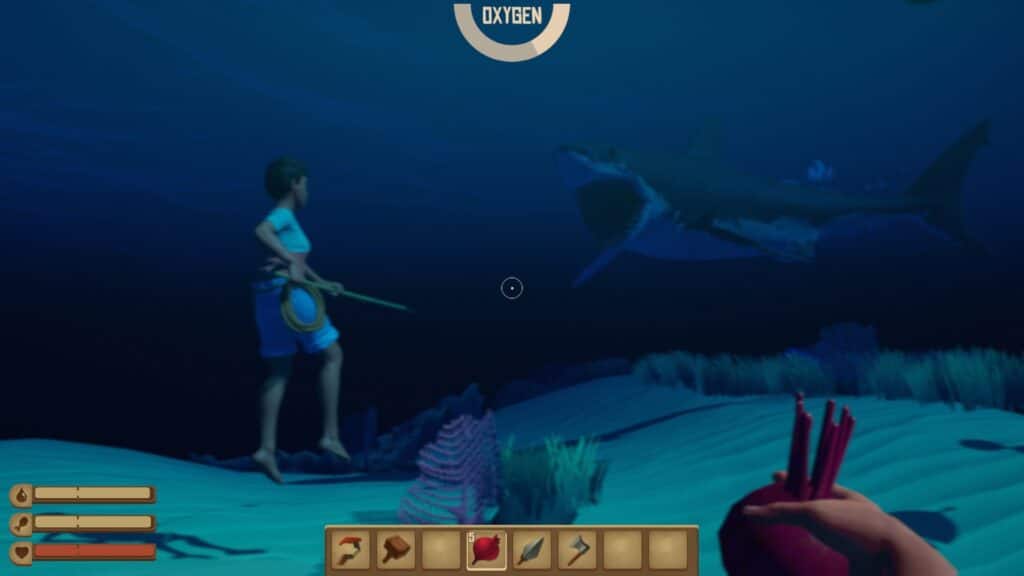 Raft
Shark: /spawn Shark

From here it gets pretty simple, this command in Raft spawns a shark.

Pufferfish: /spawn pufferfish

This command will spawn a pufferfish.

Stonebird: /spawn stonebird

This command will spawn a stonebird.

Llama: /spawn llama

Apparently, this one will spawn a llama.

Goat: /spawn goat

This one command will spawn a goat.

Chicken: /spawn chicken

This command will spawn a chicken.

Boar: /spawn Boar

This command will spawn a boar.

Landmark big: /spawn landmark_big
Landmark pilot: /spawn landmark_pilot
Landmarkraft: /spawn landmark_raft
Landmark: /spawn landmark
Other Commands
Shift: /shift
God Mode: /godmode
Clear: /clear
How to Enable the Console Commands in Raft?
Currently, there is no method to restore the console commands in Raft. But you can use a mod that mimics many of the helpful cheats in the game. The mod in mind is called "KUtility," and you can, in fact, download the mod effortlessly.
However, since Raft does not have any formal built-in mod support, you will have to download the Raft Mod Loader. This, currently, is the best way to download, install, and use a mod in Raft without breaking a sweat trying to figure out if the software is safe.
Nevertheless, it's a general rule of thumb in downloading mods, but I'll mention it once more, some mods can and will contradict each other, which may result in your game breaking. So be careful with the game files, or you'll have to put in the effort for the next hour or so trying to repair or reinstall Raft from the beginning.
Downloading the Raft Mod Loader is pretty easy and convenient, so you shouldn't run into any sort of issues trying to install it. But beware that the Raft Mod Loader will only support the official Steam release of the game and non-other.
Raft Trainers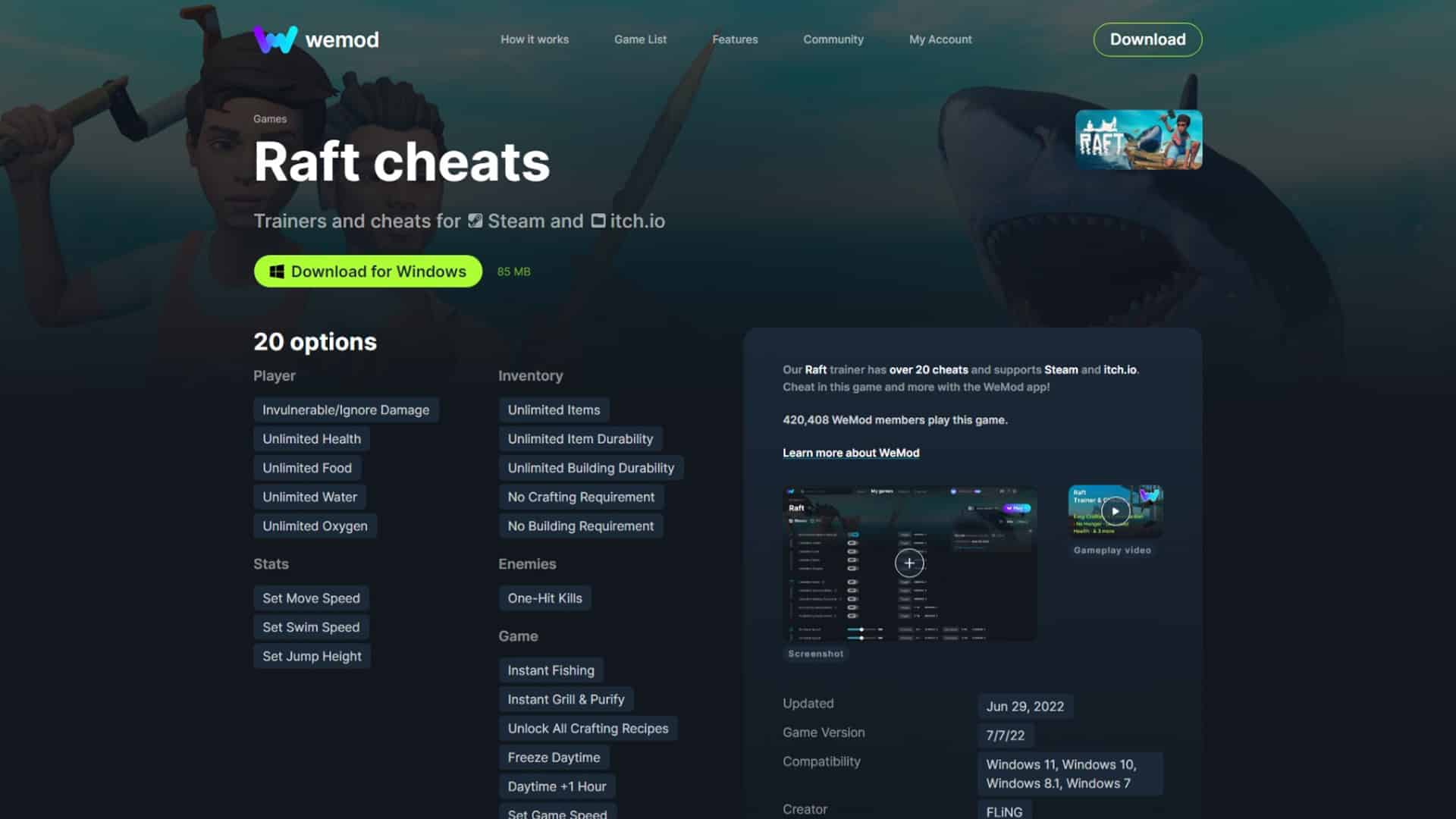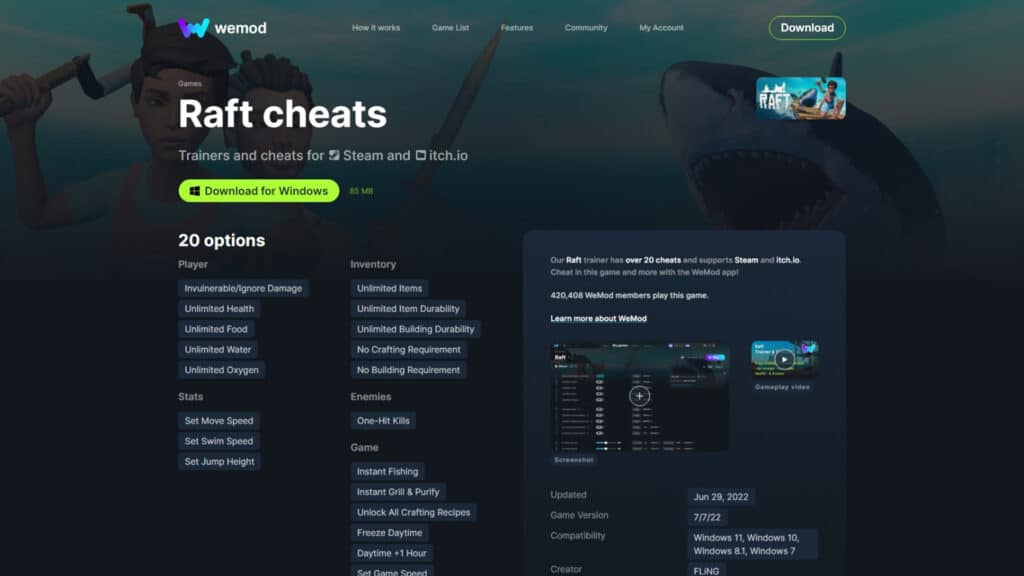 Regardless, we are not finished. There's one more dishonest way of progressing in Raft. It's pretty much used in every video game on the PC ever. I don't doubt that you may have heard of game trainers. Especially the brand pristine trainer software that supports a huge community of trainers. Yes, I'm talking about WeMod.
Raft, like any other game, has a community so keen to cheat the game that they made it into the WeMod community. FLiNG, who is a popular figure in the trainer-creation community, made the most commonly used WeMod trainer for Raft.
How to use WeMod for Raft
Using WeMod is pretty easy and convenient. And to be frank, I regularly use WeMod, especially in strategy games, and I guess there's no harm in using it in Raft too. For the sake of fun, of course. You can download and install the WeMod client, which is completely safe, and then you can log in as a guest. Or you can create an account.
Creating an account would be optimal if you're looking to buy a premium subscription to WeMod, which is pretty helpful too. Although Raft's cheats trainer will have premium-exclusive features, this shouldn't be applicable to all the other helpful cheats. WeMod knows what you want, and it's not going to block you from doing it.
After installing the client, WeMod will try and detect any game that you have installed on your PC, and if it doesn't, you can manually install it by clicking the install button and redirecting WeMod to the game's official .exe.
It's worth mentioning that while the Raft Mod Loader only supports the steam version of Raft, WeMod supports both the steam and itch.io versions of the game. And since that's the case, be sure to choose the right version before launching the game with WeMod, since the cheats will work differently depending on Steam or itch.io.
Conclusion
There's plenty to do with the cheats in Raft. And there are plenty of choices to make. I honestly prefer the WeMod trainer solution rather than the Raft Mod Loader. For a multitude of reasons, the most thorough of all is that it offers many options for cheating.
It's a pretty good tool to use not just in Raft but in many single-player games. However, Raft is not just a single-player game, and since this is one of the rare occasions where the cheats work in the multiplayer, you'll have to be nice and ask the players in the same session if they want a cheater among them on their raft.
You may also want to check on guides that actually help you in how to progress the game, like finding the blueprint for an engine in Raft or something. Nevertheless, as always, we're always eager to hear your feedback. Did the guide help you? Is there anything we've missed? Feel free to tell us all about it down in the comments.